On Behalf of the EAA Exco and all chapter members I am pleased to present the 2018 Chairman's Report for the period April 2018 to April 2019. I would also like to thank our EAA Exco and Chapter Chairpersons for the dedication and contribution they have availed throughout the year.
2018 has been a challenging year for the EAA as we have seen significant changes in the recreational aviation environment in South Africa in the past year.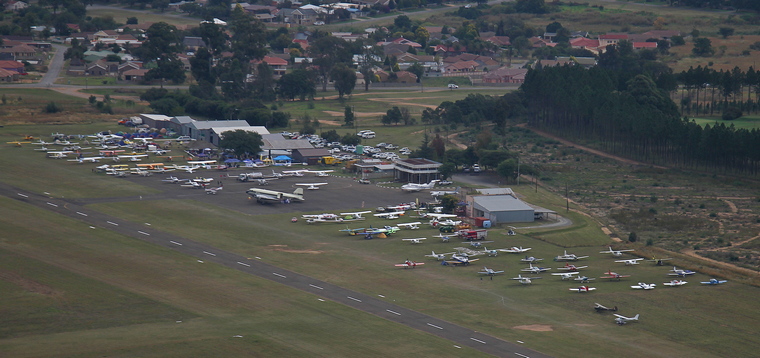 Chapter 322
Chapter 322 celebrated its 50th year in existence in South Africa formed in April 1969. It was also a bitter sweet moment as just prior to the birthday, the man largely responsible for the formation pf Chapter 322 Mike Spence passed away. Mike played a significant role in the chapter over the years and within the aviation industry. You will see the EAA 322 50th Flag in attendance today in tribute to a longstanding association of experimental and amateur builder enthusiasts
Clive King who took over the chapter reigns from Dr Mike Brown in 2017 was unable to continue the chairman's role and resigned in Oct 2018. Neil Bowden stepped into the chair until the AGM in November and past 2016 chairman Karl Jensen was re-elected as 322 Chapter president for the 2018 19 year.
The monthly meetings at the Dicky Fritz Moth hall in Edenvale continue to provide informative talks on a host of relevant and fun topics keeps the momentum of this chapter at an all-time high.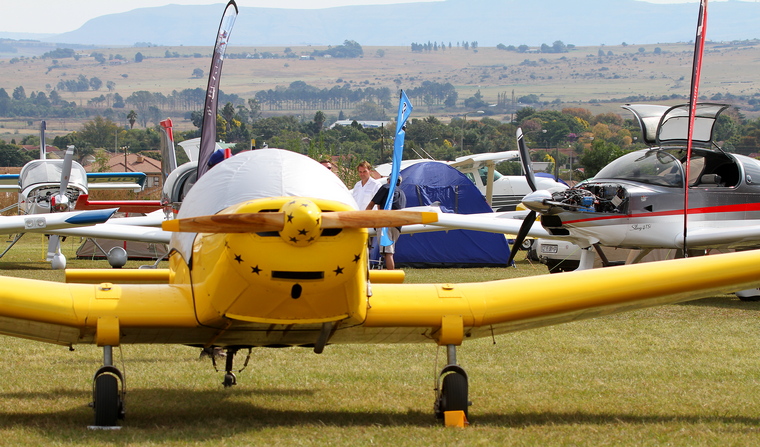 Chapter 322 members also provide most of the impetus in arranging the annual 2018 EAA Sun 'n Fun. The A team that consisted of the Brits Flying Club as well as 322's Sean Cronin, Marie Reddy Eugene Couzyn, Nigel Musgrave, Neil Bowden, Rob Jonkers, Mark Clulow and a host of support folk made the 2018 SnF a great success. The camaraderie and aviation fellowship that this event brings at the onset of summer is greatly appreciated by all members and visitors. Thanks again 322.
The Chapter members were entertained this year to a number of Saturday morning build visits and in particular the build visit at Krugersdorp where Derek Frasca showcased his very impressive Radial Rocket. The members were taken through the 9-year build process that Derek had completed and the aircraft will be flown shortly. These types of visit provide the enthusiasm and interest to members who share the passion of aviation.
Chapter 322 has participated in many Fly In's breakfasts and regularly participates in aviation activities on the 2018 aviation calendar. The highlights where many $100 breakfast flights, most weekends on the EAA chat group WhatsApp are well publicised and make aviation more fun.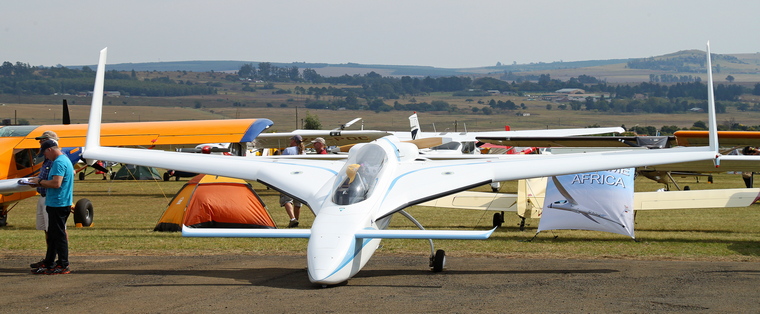 Special Thanks to member Richard Nicholson and the Nicholson family that convene the annual EAA Tail draggers Fly inn in conjunction with the Nylstroom Flying Club. A total of 85 aircraft took part in this annual event. It has become an institution on the SA Aviation calendar and is well attended by all.
Congratulations to Neil Bowden and his awesome team for many years of setting up the camp site at the 2018 International EAA Convention in Oshkosh USA. The team provides wonderful breakfasts and dinners and a well-stocked bar at Camp Plakkersfontein for all SA attendees. The 2019 year celebrates EAA 322 50th anniversary in South Africa as well as the 50th anniversary of the EAA Convention USA held at Oshkosh. Neil has also brought the camp concept to our local events and is a great way to bring our members together.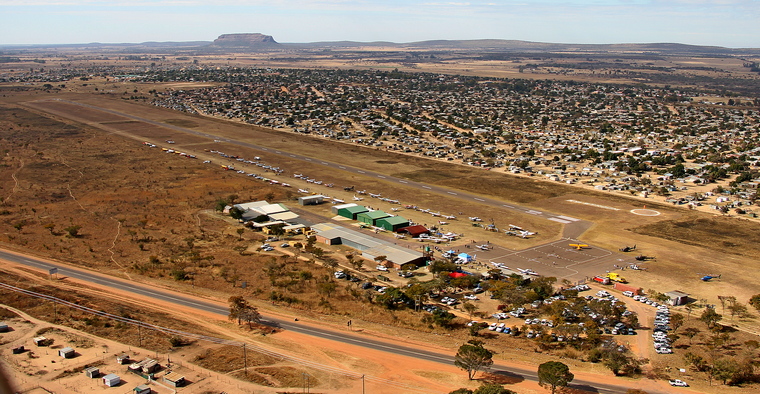 Many thanks to Capt. (Ret) Karl Jensen for his tireless efforts and involvement in the Aero Club Safety First Campaign Roadshow and various other initiatives he spearheads for the EAA. Karl's preparation of information is very succinct and entertaining and certainly conveys the EAA message at many aviation forums in South Africa.
Special mention to EAA 322 Donovan Kemp and the General Brian Stableford for availing themselves and Dons 182 to go and rescue the Flamingos near Kimberly as part of a social conscience requirement in assisting our environment.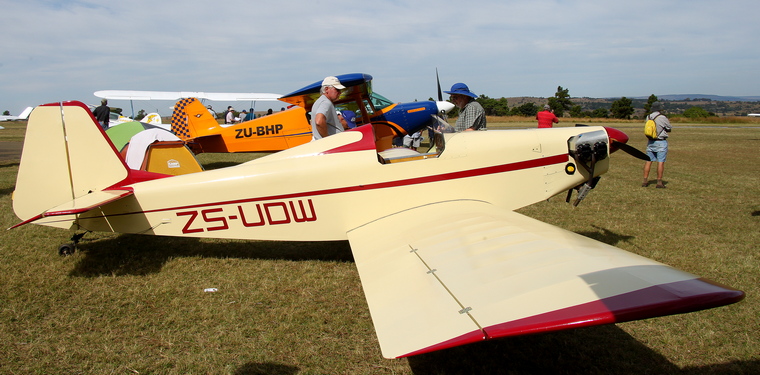 EAA 322 member John Illsley completed his Master's Degree with distinction doing his thesis on the inter relationship between military and civil aviation in South Africa for the period 1912 to 1940. John is a world-renowned historian on SA Aviation and we are extremely proud and honoured of his achievements and equally honoured to have him as a member. John is also busy with a Comper Swift Replica with a 7-cylinder Pobjoy radial. This to compliment his growing fleet alongside his Aeronca C3 he completed several years ago. The PBHS Aeronautical society, an extra mural activity that John created celebrated its 25th anniversary at the school in 2018. They have exposed many young men to all branches of aviation and there are now many products of this wonderful initiative that are professional and recreational aviators worldwide. Well done and Many thanks to John for his untiring efforts.

We have also seen our younger active members achieving their further goals Two in particular Greg Clegg who achieved his commercial pilots licence and Stephen Haupt who gave a fantastic presentation at one of the popular 322 meetings on his journey from a sprog flying models to first officer at Cathay Pacific all at the tender age of 24 years old. He thanked his dad Mike fellow EAA'rs and to the many members that provided mentorship through his journey. Dr Frank Perssons son Jade has also picked up the baton from his dad and gained his PPL as well attending now medical school. Success breeds Success

Several members are building projects we see in the pipeline as mentioned the impressive Radial Rocket, a duo of Corby Starkets, a VP1 that are taking shape and a restoration of a Nieuport Babe and a PZL Wilga. A few RV's namely the Hopkin's ZU-NDH that will all soon grace the local skies. Please watch the EAA SA Chat group and the social media pages for up to the minute progress on some of the builds.
Chapter 322 concluded 2018 with a gala evening of awards at the Chapter 322 annual chairman's dinner. Recognition and prizes where handed to the 322 members present, testament to the hard work and continual passion that the Chapter bestows on its members and the EAA in South Africa.
Well done to all Chapter 322 members for fostering and continuing the efforts of this superbly successful world recognised chapter and a very happy 50th birthday year.

EAA Taildraggers Fly In at Nylstroom in July

Another successful Tail Draggers Fly In took place in July with a host of aircraft visiting this annual event. Superbly organised by Richard and Mariette Nicholson
Chapter 1502 Grass Roots Airfield KZN

This Chapter remains vibrant and plays a steady role in providing great aviation experiences in true grass roots style in the greater KZN area. The initiative by Alan Lorimer to host a regular breakfast fly-in at Grass Roots on the first Sunday of each month has met with good success.
In attendance is usually anywhere between 20 and 40 folk on a regular basis, but it seems that Grass Roots airstrip is too daunting for the recreational pilots to attempt to make it a fly-in event. So many drive in nevertheless the fostering of grass roots aviation is paramount at these breakfasts.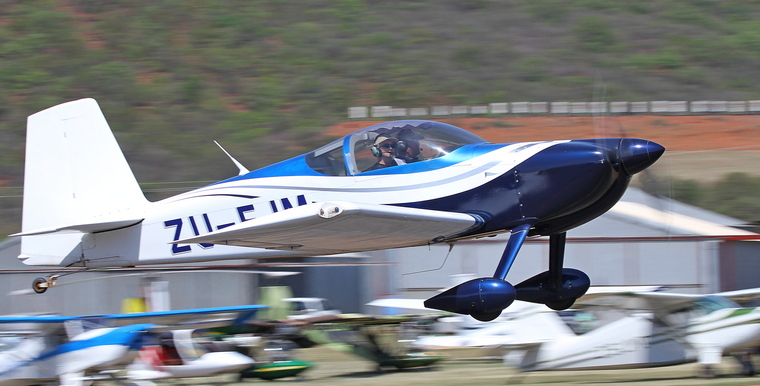 The committee's decision to attach their monthly Ch1502 meeting to this breakfast has been a good one, as we get the business done briskly - sometimes with member participation. Chapter 1502 had 84 members on the books as of end October last year.
The Chapter has also built up a stock of equipment and useful tools for the use of members that was begun a few years ago, and will continue in the future. Almost all of the Chapter assets are now housed at Grass Roots airfield.
Chapter 1502 Activities, Fly Aways and Fly-ins:

The end of year function 2018 was a Chapter Bring & Braai & share format where members pitch in to assist in preparation and in the execution on the day. Cooking and is cheerfully done by many, which bonds the Chapter in great way and provides mutual benefit to the members as they celebrate the year end of a great bunch of like-minded enthusiasts.

Howick
- A very successful Fly-in which enjoyed perfect weather. Very well attended and a very good breakfast saw many aircraft attend.
Air Scout Day
- This was a special day, particularly for the 5 scouts who got their first flights in light aircraft.
Creighton
- A weekend of fun for those who attended. Some aircraft flew in on Friday afternoon and slept over. Others who arrived on Saturday spent the night and flew home on Sunday. All in all it seems that everybody had fun, and families were involved in the Aloe Festival and the steam train rides as well.
Remembrance Day Breakfast
- On the 11 November the weather was great but windy and unfortunately precluded any aircraft from landing at Grass roots. A wonderful group of folk, including ladies, got together to remember the fallen in the many conflicts over the last 100 years.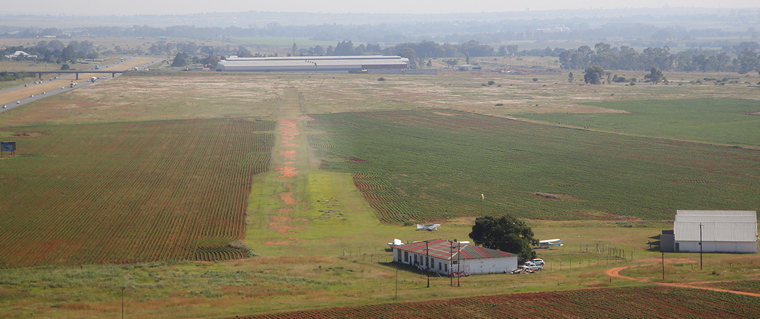 Regular B/S Session where interesting topics presented by members and speakers fosters the spirit of Sport Aviation at these sessions.
Chapter 1502 has a number of builds and restorations underway which is great for the EAA in this area. There are 14 projects underway and 4 restorations and in the 2018-year 4 aircraft took to the sky for the first time. This is a great achievement by the 1502 members.
Many Thanks to Gerald Maddams and his team for a successful chapter and for all the assistance as well from Gerald with this year's convention.



Advocacy and Regulations:


The NTCA regime has become a complex division within the SA CAA and with the advent of RAASA now being recalled back to the SA CAA, has been completed The EAA remains close to the regulatory and advocacy discussions that pertain to amateur and experimental aircraft and NTCA aircraft in South Africa. The Aero Club held strategic sessions in order to review recreational aviation in South Africa and the EAA played an integral part in this.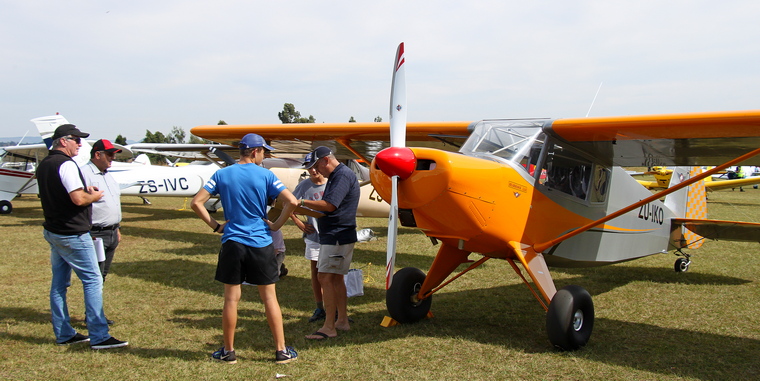 RAASA has been re incorporated into the SA CAA from the 1st of April 2019. Leading up to this transition the EAA was represented at the various forums that where held prior to the transition. EAA vice president Sean Cronin as well as Chapter 322 Chairman Karl Jensen where instrumental in showcasing the EAA to the SA CAA at the various stakeholder meetings held with all the ARO's during the year.


EAA of South Africa's National Convention 2018:

Held here at Vryheid we would like to extend our thanks and appreciation once again to the sponsors for their generous donations of prizes and other assistance, which went a long way towards making the 2018 convention a huge success. Special thanks to Morne and the Vryheid team.

A superbly well organised fun rally around the environs of the Vryheid area was provided by Rob Jonkers and his team. Rob and the SAPFA team contributed huge time and effort with the fun rally, enhancing pilot skill and camaraderie and safe flying amongst the pilots.
Grand prizes were awarded for the various categories of aircraft that were judged on the day. Special gratitude to the judges and the entrants alike that went to great lengths to ensure our standard of build in this country ranks with the best if not better than any experimental and amateur built aircraft in the world
Marie Reddy despite a heavy work schedule pulled out all the stops with the arrangements of the convention, dinner and prize giving, these just get better every year. Many members were also recognised for their efforts during the year at the prize giving.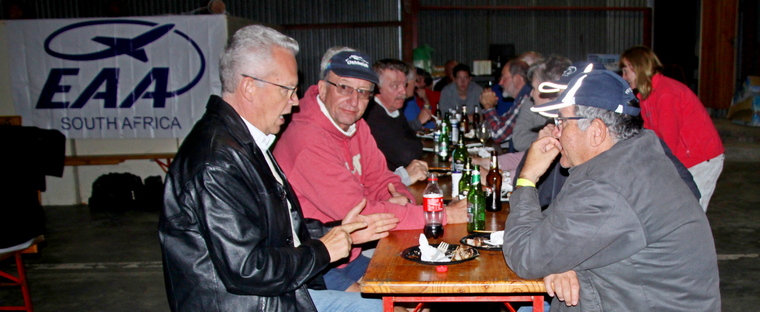 A special thanks to our safety officer Nigel Musgrave who nails the safety requirements of the Convention and various Fly Inns held throughout the year. Nigel is pivotal in ensuring our safety and is hugely appreciated.
After the convention we were all saddened by the unfortunate incident that claimed the lives of long time EAA member Claus Keuchel and his partner Maxine on their return home.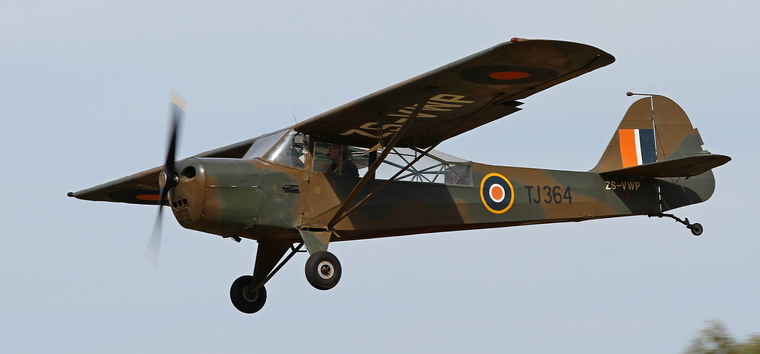 The EAA Auditorium and Talk Show Legends


The Auditorium is undergoing a revamp in 2019, many thanks to Marie Reddy Eugene Couzyn and Jeremy Woods that have started this process.
In Sept 2018 Jeremy Woods along with Marie Reddy arranged a talk show evening with Lt Col Musa Mbhokta an SAAF air force pilot who for the second time gave a riveting talk on his career as an air force pilot. A consummate professional that rose from humble beginnings and progressed to reach a pinnacle in military aviation. Many thanks to the Auditorium team.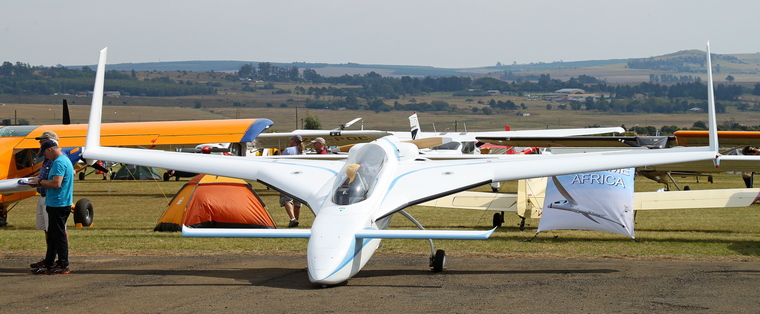 Young Eagles:
An event was to be held at Rand Airport however was not able to continue so we need to ensure that future events take place. Various Young Eagle flights took place at the Tail draggers and Sun n Fun during 2018.

Conclusion:


As we review the results of a challenging year, we can once again be reminded that none of this is possible without the generous volunteer work of our EAA'rs. Everything just happens when volunteers are committed, and it makes the whole task all seem worthwhile.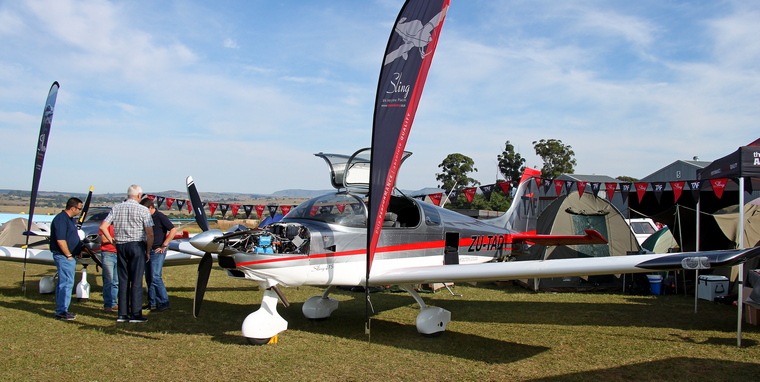 Despite challenges in the recreational aviation sphere the EAA continues to provide a platform where aviation enthusiasts can continue to contribute and also reap the benefits of teamwork, camaraderie and sharing of experiences and expertise. Our EAA members continually avail themselves and their resources to all kinds of aviation initiatives as a worthy effort of giving back and promoting aviation to all in SA.
We are seeing efforts by dormant Chapters to rekindle the participation and we have had 4 requests as hosts for the 2020 Convention.
The sterling efforts of media guys namely African Pilot Athol Franz and team, Pilot's Post's Juri Keyter and Willie Bodenstein as well as Flightline Weekly Garth Calitz for the up to date coverage and hordes of pictures and real time videos of all the events throughout the year is simply spectacular. Also thanks to Adolf Spangenberg for providing the Video on demand facility that also showcases the EAA.
I would like to take this opportunity to thank everyone within EAA National and all the Chapters for their continued involvement as without it we would not be able to achieve and promote many facets of Experimental and Amateur built aviation in South Africa.
EAA National president Paul Lastrucci