Compiled by Willie Bodenstein




SOUTH AFRICAN AIRWAYS OPERATES FIRST A350 AIRCRAFT COMMERCIALLY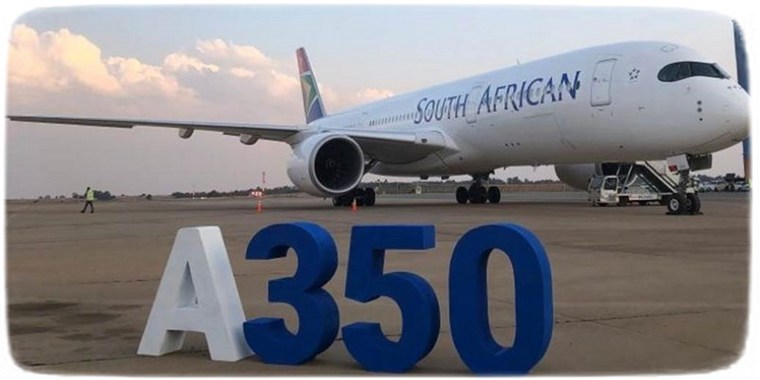 South African Airways (SAA) started operating its first Airbus A350-900 aircraft for the first time commercially in the domestic market on 24 December 2019. The aircraft departed from Johannesburg to Cape Town, operating as flight SA323, and returned as flight SA336 from Cape Town to Johannesburg and landed at approximately 4PM.
The aircraft is one of four new Airbus A350-900 jets in SAA's fleet, which is set to improve the airline's customer offering and commercial prospects.
The introduction of the A350s will contribute to the airline's operational efficiencies and forms part of fleet renewal to enable SAA to compete and serve its customers better through the introduction of new products.
SAA will also achieve approximately 25% savings in fuel consumption and emissions. Besides lower operating costs, it will also reduce SAA's exposure to South Africa's recently imposed Carbon Tax because it is more environmentally friendly and helps it achieve global emissions offset mechanism targets, for international aviation requirements.
The airline will also benefit from the approximately 40% lower costs for maintaining the A350-900 XWB's airframe over a 5-year period - that is, the aircraft excluding the engines, compared with some of its four-engine aircraft generation it will replace on the Johannesburg-New York-Johannesburg and other routes.
As additional aircraft are introduced, more routes will be operated by the Airbus A350-900s, such as SAA's ultra-long-haul routes between Johannesburg and New York's John F Kennedy International Airport (JFK). The A350 will replace the Airbus A340-600 and will still operate Johannesburg - New York on a nonstop basis.
The A350-900 XWB has excellent range/payload performance on long-haul flights departing from Johannesburg (the hot-and-high consideration). SAA will achieve approximately 25% lower operating costs (cash) using the A350-900 XWB, over a 5-year period, compared with some of its four-engine aircraft generation that have similar range and payload capabilities.
The commonality and common type rating between the Airbus A350-900 XWB powered aircraft and the other Airbus aircraft in SAA's fleet translate directly into cost saving for training pilots, crew, engineers and technicians as well as for spares inventory.
ETHIOPIAN GROUP CEO NAMED 'AIRLINE EXECUTIVE OF THE YEAR' BY CAPA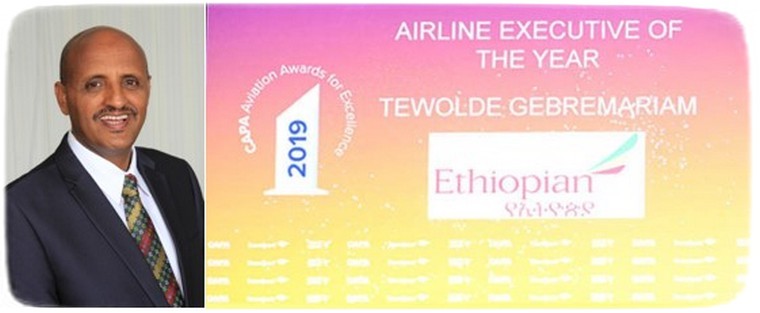 Ethiopian Airlines Group CEO Mr Tewolde GebreMariam has been recognized as 'Airline Executive of the Year' at the annual Global Aviation Awards for Excellence organized by Centre for Aviation (CAPA) in Malta on 5th December 2019. Mr Tewolde GebreMariam won the title for his commendable individual influence on the aviation industry, demonstrating outstanding strategic thinking and innovative direction for the growth of Ethiopian Airlines and the aviation industry at large.
CAPA Chairman, Emeritus Peter Harbison on his part remarked, "Tewolde GebreMariam has become a giant in African aviation over the past decades. He has guided a marginal airline into becoming a major global force, with a modern fleet and a world class operation. This past year he has been most strenuously challenged following the MAX accident, and emerges with an even stronger reputation. We are proud to present him with this award and look forward to him continuing to lead the airline to even greater heights."
Regarded as the pre-eminent awards for strategic excellence in aviation, CAPA first established the awards in 2003 to recognize successful airlines and airports based in the Asia Pacific region. The awards later expanded to the global stage in 2012 to acknowledge aviation excellence worldwide.
Mr Tewolde has also been listed as one of the 100 Most Influential Africans in 2019 by New African Magazine this week.

AIR SENEGAL TO GROW ITS FLEET WITH EIGHT A220S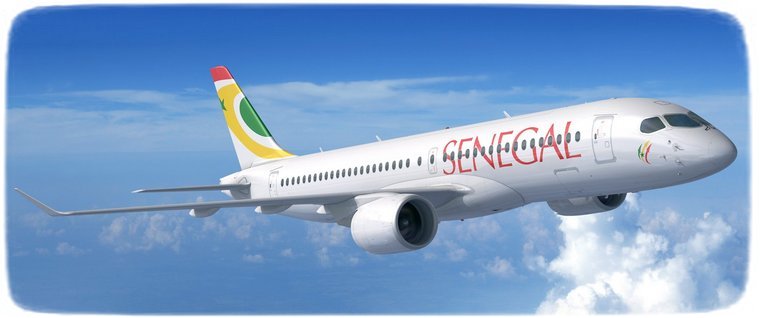 Air Senegal, the new national carrier of Senegal, has signed a Memorandum of Understanding (MoU) for eight A220-300 aircraft. The MoU was signed today in the presence of HE Alioune SARR, Minister of Tourism and Transport Senegal.
The A220s' efficiency will enable Air Senegal to reduce the airline's operating costs while offering passengers unrivalled comfort throughout its fleet. Earlier in 2019, the carrier was the first African airline to fly Airbus' new generation widebody aircraft, the A330neo, featuring latest technology engines, new wings with enhanced aerodynamics and a curved wingtip design, drawing best practices from the A350 XWB.
The A220 is the only aircraft purpose-built for the 100-150 seat market; it delivers unbeatable fuel efficiency and widebody passenger comfort in a single-aisle aircraft. The A220 brings together state-of-the-art aerodynamics, advanced materials and Pratt & Whitney's latest-generation PW1500G geared turbofan engines to offer at least 20 percent lower fuel burn per seat compared to previous generation aircraft, along with significantly lower emissions and a reduced noise footprint. The A220 offers the performance of larger single-aisle aircraft. By the end of October 2019, the A220 had accumulated 530 orders.
CABO VERDE AIRLINES EXPANDS TRANSATLANTIC NETWORK


Cabo Verde Airlines will launch flights in December to Washington DC and Porto Alegre in Brazil. Washington Dulles airport says that the Cape Verdean carrier will operate thrice-weekly flights from the island of Sal, starting on 8 December. The US capital will be the airline's second destination in the USA after Boston, which is being served from Cape Verdean capital Praira, on the island of Santiago.
Flights to Porto Alegre will begin on 11 December at twice-weekly frequency from Sal, the airline's website indicates. Cirium schedules data shows that Capo Verde Airlines operates flights to Brazilian cities Fortaleza, Recife and Salvador. The carrier's international network additionally includes Dakar, Lisbon, Luanda, Milan, Paris and Rome. Capo Verde Airlines' website suggests that the airline has plans to start flights to Lagos this year.
In March, Icelandair Group said that a plan to acquire, through its leasing arm operation Loftleidir, a 51% shareholding in Cabo Verde Airlines - previously known as TACV- had been accepted. Cabo Verde Airlines operates three Boeing 757-200s and a single ATR 42-300 turboprop, Cirium's Fleets Analyzer shows.
AIR SEYCHELLES SECOND A320NEO IN 2020



Air Seychelles, the national airline of the Republic of Seychelles has today confirmed the delivery of its second A320neo aircraft in April 2020. The new generation aircraft which forms part of the airline's plan to refresh its fleet, will generate unbeatable efficiency, lowest operating costs and will significantly reduce environmental footprint.
Equipped with 12 Business and 156 Economy Class seats, similarly to the current A320neo aircraft, the latest addition to the fleet will also be named after one of Seychelles critically endangered bird, as part of the airline's commitment to raise awareness about the protection of the Seychelles ecosystem and its endemic species.
In addition to providing increased capacity across the airlines network, the newest acquisition will further improve the operational performance of the airline allowing better schedule flexibility within the overall flight programme, especially when conducting the aircraft allocation plan according to a specific route, apart from standardizing the galley equipment on board the aircraft.
Following a successful three months of operation and having completed 298 flights, to date, the new aircraft has generated 20 per cent fuel savings on average per flight, with approximately 50 per cent reduced noise footprint and nitrogen oxides (N0x).

AMERICAN AIRLINES FIRST TO LAUNCH MOBILE APP PASSPORT SCANNING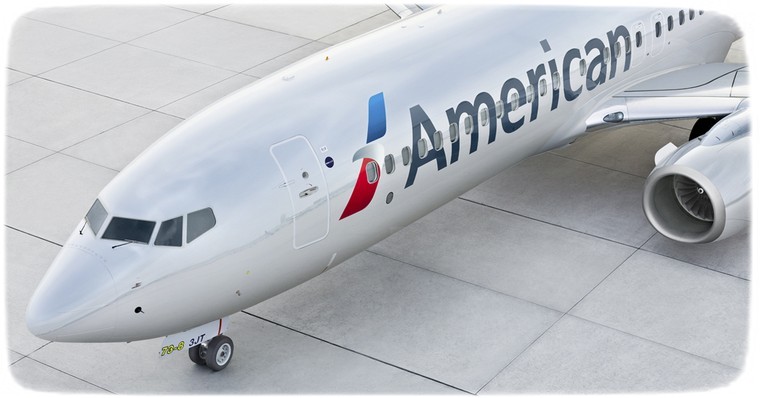 Checking in for an international flight just got easier as American Airlines launches passport scanning in its mobile app. American is the first airline to offer passport chip scanning that securely transmits passport information directly from the Near Field Communication (NFC) chip embedded in the passport. This allows customers to head directly to the gate for international flights without having their documents rechecked by a customer service agent.
Currently, customers departing on international flights who check in on the app, have their passports rechecked at the airport. This step is required even if the customer has uploaded a photo of their passport via the mobile app. With this new enhancement, the customer will be prompted to enter their passport information and then scan their passport with an iOS or Android device. The app provides easy-to-follow instructions for the process.
Mobile passport scanning is the latest in a long line of new customer features American has implemented to the airline's app to make travel easier for customers. Other recent introductions include boarding notifications, Siri shortcuts and a dark mode option. American has also rolled out additional services to improve the travel experiences, including biometric international boarding, virtual 3D aircraft tours online, a redesigned self-service kiosk menu that simplifies the check-in process and an improved family seating approach, which ensures adults and kids under 14, when traveling together on the same reservation, are seated together.

A WORLD FIRST - AN AUTONOMOUS BAGGAGE TRACTOR TESTED IN REAL CONDITIONS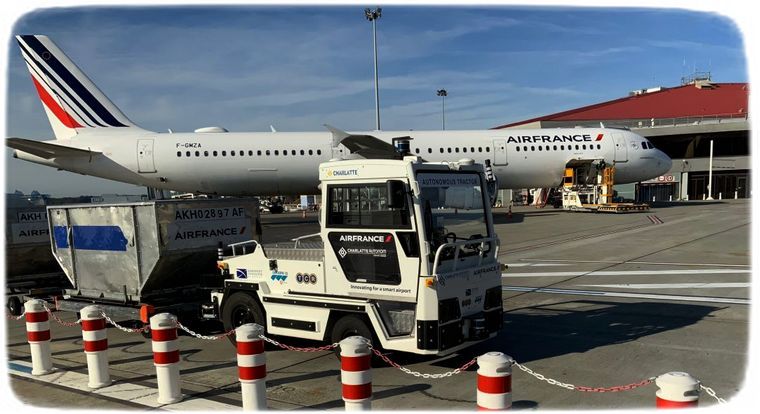 The testing of this AT135 baggage tractor developed by the subsidiary of companies Charlatte Manutention and Navya, Charlatte Autonom, is the result of a close collaboration between several recognized air transport players, who have been working together to design the airport of the future. The testing in real conditions of this baggage tractor took one step closer to creating the smart airport of the future.
THE TASKS OF THE AUTONOMOUS TRACTOR
Once the passengers' baggage has reached the baggage sorting area, the autonomous baggage tractor intervenes in the following way -
- An agent from Groupe 3S, an Air France subcontractor, places the baggage in containers connected to the autonomous tractor.
- The baggage tractor is a smart vehicle that moves autonomously around the airport to reach the Air France aircraft. Its destination is pre-programmed via a touchscreen by an agent from the Groupe 3S.
- As it nears the aircraft, the tractor stops and the agent takes control of the vehicle and subsequently loads the baggage in the aircraft hold.
- The vehicle returns to the baggage sorting area taking the same route in the reverse direction.
To carry out its tasks and integrate ramp traffic, the vehicle is equipped with intelligent sensors that enable it to recognize its environment, position itself with great precision, detect obstacles at 360° and make decisions. Thanks to its sensors (Lidar, camera, GPS, odometer) and its autonomous steering software, the vehicle can move around the airport autonomously. The AUTONOM TRACT also communicates with the hub's traffic signals.
The autonomous electric baggage tractor has been operational at Toulouse-Blagnac airport since 15 November and has been able to navigate the environment autonomously thanks to specific authorizations.
FOR THE THIRD TIME, LOT RANKS THE BEST AIRLINE IN EASTERN EUROPE ACCORDING TO THE RANKING OF GLOBAL TRAVELER USA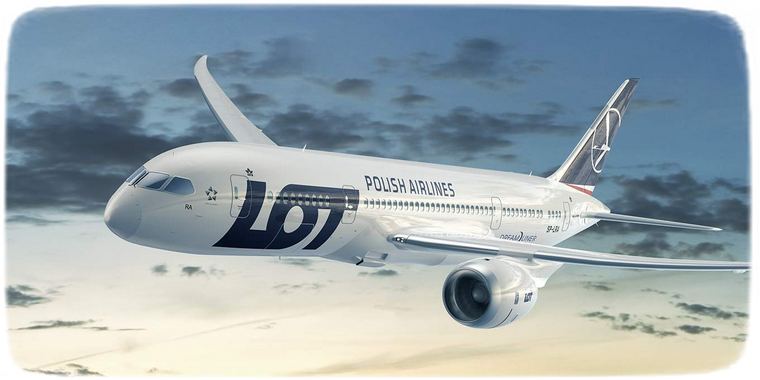 Global Traveler is an American magazine for managers who travel frequently in the USA and around the world. These are the Global Traveler readers who, together with experts, choose best hotels, airlines and loyalty programs every year. LOT Polish Airlines has once again won the title of 'Best Airline in Eastern Europe' awarded by the American Global Traveler magazine. The prestigious award is a proof of the international recognition of the LOT brand and appreciation of the development of the airline in this part of Europe.
The LOT offer comprises as many as 110 scheduled flights all over the globe. Since the beginning of 2016, the Polish carrier has announced the launch of more than 70 direct flights, including from Warsaw to Miami, Los Angeles, Newark, Seoul, Tokyo and Singapore, from Cracow to Chicago and New York, and from Rzeszow to Newark. In 2020, LOT is going to launch a number of new connections, including, inter alia, from Warsaw. The already announced destinations include: Beijing-Daxing from 15th January and San Francisco from 5th August.
Today, LOT operates flights from Budapest to New York, Seoul, London-City airport, Warsaw and Cracow. Next year, as part of the development of the hub in the capital of Hungary, passengers from Hungary will be able to choose from a total of 13 connections, including, inter alia, to: Brussels, Belgrade, Stuttgart, Bucharest, Prague, Sofia, Dubrovnik and Varna. Moreover, the number of flights to Seoul will also be increased from 3 to 4 per week, and flights to New York will be operated at a frequency of 7 flights per week, which is an excellent option for passengers travelling for tourism and business.

LATAM ANNOUNCES NEW CODESHARE AGREEMENTS WITH DELTA



LATAM Airlines Group ('LATAM') announced that its affiliates LATAM Airlines Peru, LATAM Airlines Colombia and LATAM Airlines Ecuador have signed codeshare agreements with Delta to provide greater connectivity with the United States starting the first quarter of 2020, subject to applicable regulatory approval.
The new codeshares follow the announcement of LATAM's and Delta's framework agreement on September 26, 2019, which will combine the carriers' highly complementary route networks to provide customers with a seamless travel experience and greater connectivity to destinations worldwide.
The carriers are working to provide a smooth transition through the strengthening of their existing interline agreement, establishing reciprocal lounge access and mutual frequent flyer benefits as well as developing bilateral codeshare agreements.
DELTA PLANS MOVE TO BEIJING DAXING INTERNATIONAL AIRPORT IN MARCH 2020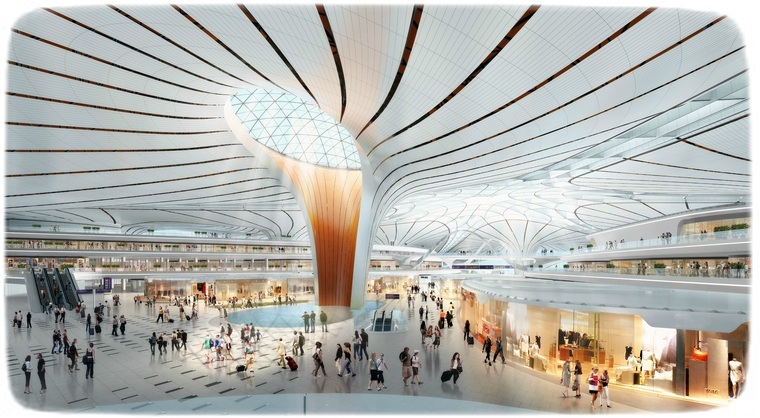 Delta Air Lines (NYSE: DAL) will move from the Beijing Capital International Airport (PEK) to the Beijing Daxing International Airport (PKX) in March 2020. Delta's relocation will come at a time when its SkyTeam partner China Eastern has announced moving its services to Daxing Airport, which will ensure smooth and convenient international-domestic connections for customers from both airlines.
Delta's two nonstop daily services from Beijing to Detroit and Seattle will move to Daxing Airport, from which customers will eventually have access to over 30 cities across China through codeshare flights with China Eastern. Moreover, China Eastern's new international VIP lounges at Daxing Airport will be open to Delta One customers and SkyMiles Diamond, Platinum or Gold Medallion members. China Eastern is expected to move most of the flights except for the Beijing-Shanghai route to Beijing-Daxing services in the first quarter of 2020.
Beijing Daxing International Airport, one of the world's leading integrated transportation hubs, covers a terminal area of 700,000 square meters and is expected to handle 72 million passenger trips a year by 2025. Located around 46 kilometers to the south of the Beijing city center and on the border of Hebei Province, the new airport is accessible via the new subway Daxing Airport Express, and Beijing-Xiong'an Intercity Railway.
FIRST AIRBUS A350-1000 JOINS AIR CARAÏBES' FLEET



Air Caraïbes (a member airline of Groupe Dubreuil) has taken delivery of its first A350-1000, the largest member of Airbus' new-generation A350 XWB Family, making it the first French operator of the type. The airline plans to operate its A350-1000s alongside its three A350-900s and six A330s on routes from Paris to the French Caribbean. The new aircraft will seamlessly integrate into Air Caraïbes existing fleet thanks to Airbus' unique fleet commonality and provide the airline with additional flexibility. In total, Groupe Dubreuil has three A350-1000s on order.
The A350 XWB features the latest aerodynamic design, a carbon fibre fuselage and wings, plus new fuel-efficient Rolls-Royce engines. Together, these features translate into unrivalled levels of operational efficiency with a 25% reduction in fuel burn and emissions. The A350 XWB's Airspace cabin is the quietest of any twin-aisle and offers passengers and crews the most modern in-flight products for the most comfortable flying experience.
At the end of November 2019, the A350 XWB Family had received 959 firm orders from 51 customers worldwide, making it one of the most successful widebody aircraft ever.


HOKKAIDO AIR SYSTEM TAKES DELIVERY OF FIRST ATR 42-600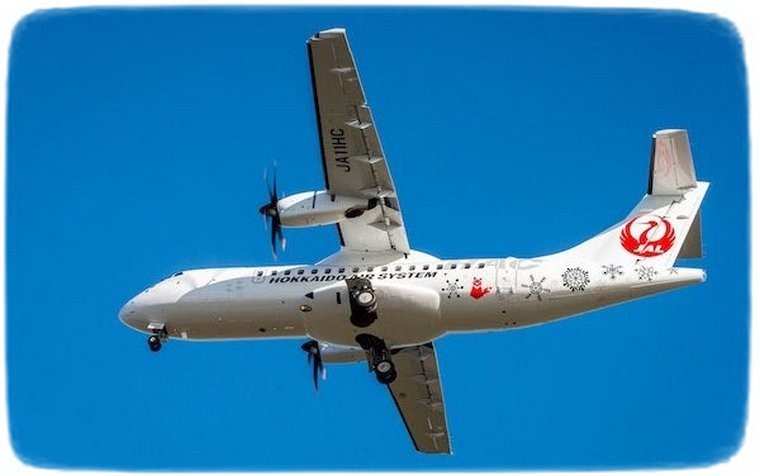 ATR delivered the first of two ATR 42-600 aircraft to Hokkaido Air System, a JAL Group Company. This delivery marks the first step in HAC's replacement of its Saab 340 fleet. The delivery of this aircraft will ensure that essential regional air connectivity in Hokkaido can continue.
The ATR 42-600 will offer HAC increased capacity for the same operating costs - generating opportunities for the airline to increase revenues. It will also provide HAC's passengers with a modern, comfortable cabin featuring latest generation 18"-wide seats as well as more space for luggage in the overhead bins.
ATR's market estimates forecast that around 900 30-50 seat aircraft will soon need to be replaced as older and inefficient aircraft come to the end of their lives. The ATR 42-600 is part of ATR's unique family of regional aircraft, including the ATR 72-600, the ATR 42-600S (Short Take-Off and Landing) and the ATR 72-600F, the only brand-new regional freighter. Together, they represent the ideal and modern solution to ensure that essential connectivity is maintained for local communities all over the world, while flying sustainably, emitting up to 40% less CO2 compared with regional jets.
'NEWSWEEK' NAMES AMERICAN AIRLINES AMONG AMERICA'S MOST RESPONSIBLE COMPANIES



American Airlines was named to Newsweek's 2020 list of America's Most Responsible Companies, appearing among the top 100 companies in the publication's inaugural ranking. American ranked highest among U.S. airlines included on the list.
American's approach to corporate responsibility is guided by three strategic objectives: to make culture a competitive advantage, to create a world-class customer experience and to build the airline to thrive forever. The company's commitment to corporate responsibility is detailed in its latest Corporate Responsibility Report.
Newsweek's list was developed from an analysis of publicly available key performance indicators in the areas of environmental, social and corporate governance, in addition to an independent survey.
PRATT & WHITNEY GTF ENGINE REVENUE FLIGHT HOURS TRIPLE IN 2019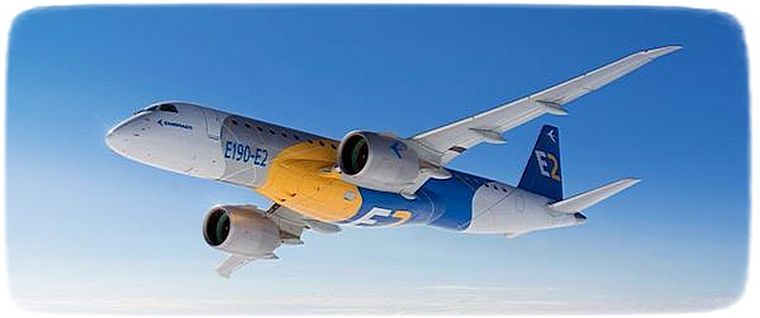 Pratt & Whitney GTF™ engine revenue flight hours tripled in 2019 across the combined GTF-powered fleet of Airbus A320neo family, Airbus A220, and Embraer E190-E2 and E195-E2 aircraft. Over the past year, the GTF-powered aircraft fleet nearly doubled in size and Pratt & Whitney welcomed 13 new airlines to the in-service GTF family including Delta Air Lines, Wizz Air, Cebu Pacific and Azul. Pratt & Whitney is a division of United Technologies Corp.
There are now more than 600 GTF-powered aircraft in operation with 44 airlines around the world, with more than 4.5 million total engine flight hours. Pratt & Whitney estimates that its GTF engine customers collectively have saved more than 240 million gallons of fuel valued at over $440 million USD, while avoiding more than 2.3 million metric tonnes of carbon emissions since the engine entered service in 2016.
The GTF engine continues to attract new orders, with more than 10,000 orders and commitments to date from more than 80 customers. Several of these airlines have also signed multi-year contracts for Pratt & Whitney's EngineWise® Comprehensive service agreements, dedicated to sharing the company's engine expertise and fleet intelligence with customers so they can optimize engine performance.
Since entering into service in early 2016, the GTF engine family has delivered on its promised ability to reduce fuel burn by 16 to 20 percent, and to dramatically reduce regulated emissions and noise footprint.
AIRBUS BEGINS DELIVERIES OF FIRST A350 XWBS WITH TOUCHSCREEN COCKPIT DISPLAYS OPTION TO CUSTOMERS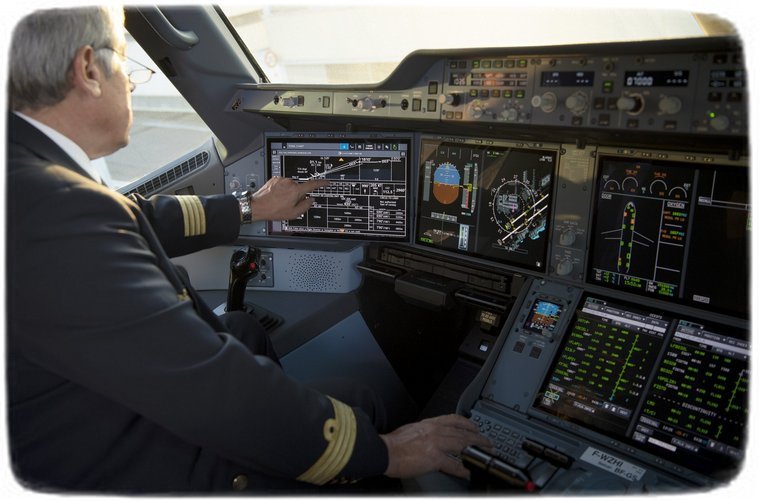 Airbus has commenced deliveries to airlines of the first A350 XWBs equipped with pioneering new touchscreen cockpit displays. Specially developed for the A350 XWB together with Thales, they will confer enhanced operational efficiencies, greater crew interaction, cockpit symmetry and smoother information management. On 18 December, China Eastern Airlines took delivery in Toulouse of the first A350 XWB equipped with the new devices. To date, around 20 airlines have selected the option for their new A350 XWBs.
Of the A350 XWB cockpit's six large screens, three can now become touch capable: the two outer displays plus the lower-center display. These displays now offer touchscreen capability for the pilots when presenting Electronic Flight Bag (EFB) applications. This new method of input complements the existing physical keyboard integrated into the retractable table in front of each pilot and also the keyboard and trackball "keyboard-cursor control unit" (KCCU) located on the center console.
The new technology, which was recently certified for the A350 XWB by EASA in November, facilitates 'pinch-zooming' and panning gestures and will facilitate more flexibility and better interaction between both pilots, particularly during these scenarios: (a) before take-off (for computing take-off performance while entering data into the flight management system "FMS"); (b) in-flight/cruise (for accessing en-route navigation charts); and (c) during approach preparation (for consulting the terminal charts before entering FMS data). Moreover, during high workload phases of flight, the touchscreen capability reduces the need for pilots to make multiple cursor inputs and avoids them having to flip between different displays when using the EFB applications collaboratively on the lower center display.
AMERICAN AIRLINES DONATES LAST 2 MCDONNELL DOUGLAS MD-80 AIRCRAFT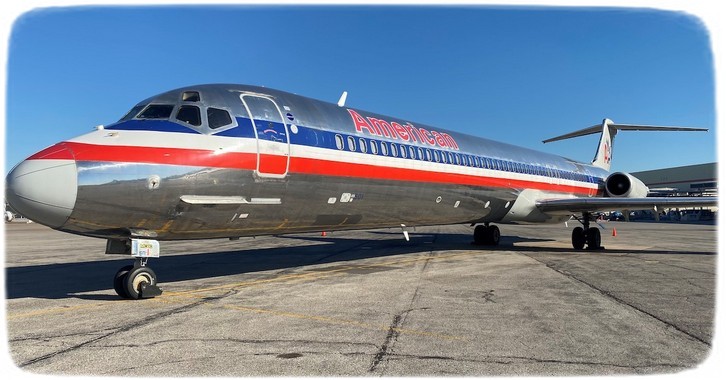 After retiring the last of its McDonnell Douglas MD-80 fleet to Roswell, New Mexico, in early September 2019, American is donating the last two MD-80 aircraft to CareerTech in Oklahoma City, and Lewis University in Romeoville, Illinois. The airline will ferry the first of the donated planes to Will Rogers World Airport (OKC). The other aircraft will be ferried to Lewis University Airport (LOT).
The donations to the two schools provide aviation maintenance students the opportunity to gain practical experience by working on a commercial aircraft.
"As we look to the future of American's Tech Ops work force, it's important to train the next generation of aviation maintenance students so we have a development pipeline for skilled technicians," said Kevin Brickner, Senior Vice President of Technical Operations for American. "Just like the MD-80 inspired our own team members in their career development for more than 35 years, the aircraft will do the same for students for years to come. We are proud to partner with CareerTech and Lewis University on this donation."