Compiled by Willie Bodenstein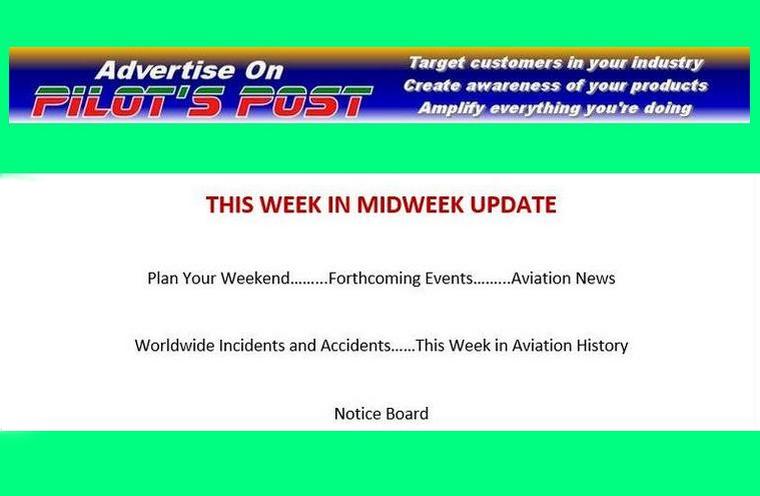 Dear Aero Club Member, it is the Aero Club & Member Association renewal time for the year 2020. Many thanks for your continued support for recreational aviation in South Africa. The year 2020 is a significant year being the Centenary of the Aero Club and we will take the opportunity to bring to the fore the importance that recreational aviation has for the growth of aviation in SA, particularly poignant in preserving our free flight while working with the regulator transitioning from the domain of RAASA to the CAA and the regulatory changes that it brings. We will keep you posted on the overall status & progress.

To renew your membership or join the Aero Club and its Sections, go to www.aeroclub.org.za/member-renewals-and-new-memberships where you can use the Aeropay System, or you can pay via EFT. If you have any difficulties, please contact the Aero Club office by email or phone as given below, Sandra & Charne are ready to assist.

The Aeropay System
Visit the Aero Club website on www.aeroclub.org.za
Click on Memberships and then on the Aeropay link
Log in to your membership and follow the steps
Once your payment is processed you can download or print your Membership certificate and Tax invoice.

Electronic Funds Transfer (EFT)
The Aero Club of South Africa
Standard Bank
Acc: 202506231
Branch: 001155 Midrand
Reference: Your Name and Surname
Send proof of payment to: sandra@aeroclub.org.za


The Aero Club of South Africa
Tel : 011 082 1100
Fax : 086 635 3755
E-mail : office@aeroclub.org.za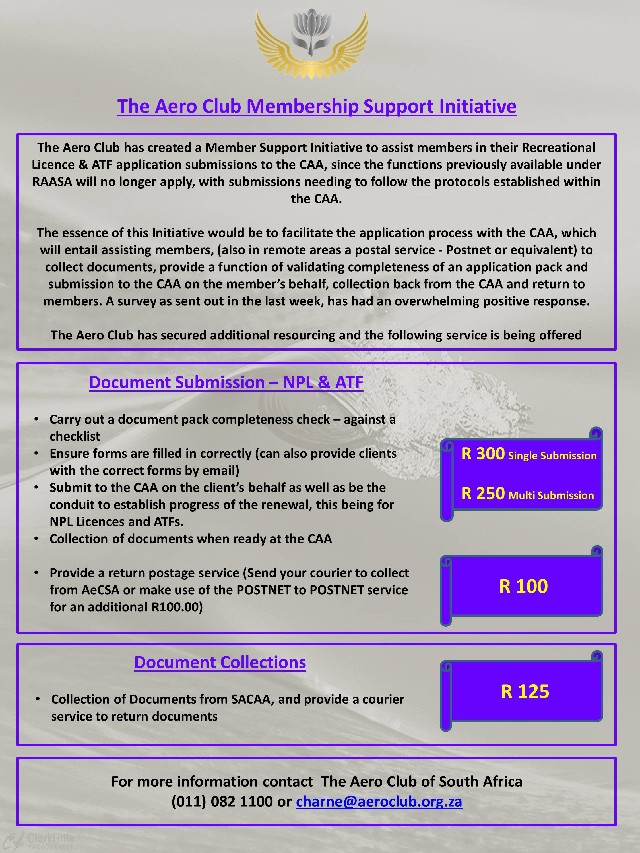 18: SAC Gauteng Regionals Vereeniging Airfield. Contact: Annie Boon
chunge@mweb.co.za
18: Training on how to plot and fly a Nav Rally to World FAI standard. Time: Arrive from 08:30. Aerosud Canteen Pretoria. Organiser - Mary de Klerk. Contact
mary@sapfa.co.za
Tel: 084 880 9000Cost: R250 per person Includes light refreshments and finger lunch. VERY IMPORTANT : Book online at
www.sapfa.co.za/index.php/component/competition/?view=pilot
in order for us to adequately cater for the numbers. BRING : Plotting Tools (Please be organised with your tools). Lap Board that will fit an A3 map and fit into the aircraft (remember that you will be plotting inside the cockpit)



25: Rand Airport Challenge Rally - Rand Airport. Contact: Frank Eckard e-mail:
frank.eckard@mweb.co.za
cell: 083 269 1516
25: SAPFA AGM - Time: 2 PM Rand Airport. Contact: Rob Jonkers e-mail:
rob@aerosud.co.za
cell: 082 804 7032
25: RC Vintage Fly-in, Vlakfontein, Benoni. Contact Juanita 083 630 8975
31: Witbank Speed Rally and 2nd Grand Prix Section - Witbank Airfield. Contact: Rob Jonkers Contact
chairman@sapfa.co.za
Tel: 082 804 7032 or Jonty Esser Contact
jonty@promptroofing.co.za
Tel: 082 855 9435 Please enter online at
www.speedrally.co.za


1: Witbank Speed Rally and 2nd Grand Prix Section - Witbank Airfield. Contact: Rob Jonkers Contact
chairman@sapfa.co.za
Tel: 082 804 7032 or Jonty Esser Contact
jonty@promptroofing.co.za
Tel: 082 855 9435 Please enter online at
www.speedrally.co.za
7 - 9: SAPFA Committee Bosberaad - Paddafontein. Contact: rob@aerosud.co.za Cell: 082 804 7032
29: Rally Navigation Training Course - Venue Aerosud. Contact: Mary de Klerk e-mail:
maryd@expandingbranding.co.za
cell: 084 880 9000


7: Brakpan Fun Rally - Brakpan Airport - Contact: Frank Eckard e-mail:
frank.eckard@mweb.co.za
cell: 083 269 1516
7-8: SAC KZN Regional Aerobatics. Ladysmith Airfield. Contact Annie Boone:
chunge@mweb.co.za
21: Bethlehem Speed Rally - Bethlehem Airfield - Contact: Jonty Esser e-mail:
jonty@promptroofing.co.za
cell: 082 855 9435
21: The Airplane Factory Fly-in, Tedderfield. Contact: Shanelle 011 948 9898
21-22: Fashkosh Airshow Stellenbosch Airfield. Contact: Anton Theart at
gm@stelfly.co.za
or 079 873 4567
13 to 5 April: Sun 'n Fun, Lakeland Florida USA. Contact: Neil Bowden at
Neil1@telkomsa.net
or on 084 674 5674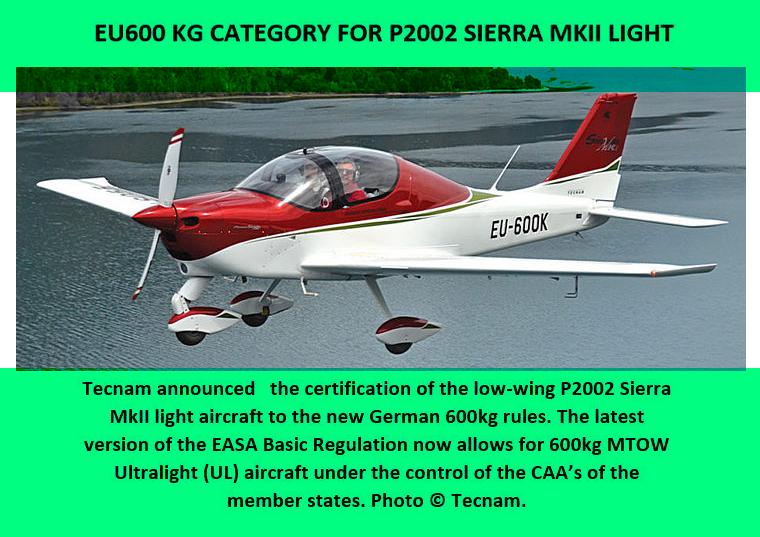 Germany is the first country to declare the opt-out, implementing the new- regulation German 600kg technical LTFUL 2018 rules. It is also the first country to develop and publish the necessary airworthiness requirements for these aircraft, delegating the certification process to the DULV (Deutscher Ultraleichtflugverband e.V.) agency. The new certification of the Sierra MkII is of great importance, since the German Type approval is recognised in many European countries. The increased weight allowance means greater safety, as the aircraft can be equipped with a parachute, more avionics and more fuel.
All else remains unchanged. The Tecnam P2002 Sierra MkII retains all the features and flying qualities that have established the aircraft's position in the marketplace: an improved cabin for greater comfort, the latest avionics, new paint colours, several interior options and a redesigned cowling for the 100HP Rotax engine.
The MkII offers state-of-the-art technology in a jet-style cockpit. Customers can choose from an extensive range of options, starting with the basic analogue instruments needed for visual flight, a six-pack analogue with Garmin GPS, the Garmin G3X which features twin 10.6-inch screens, and the Garmin G3X touch suite.
The largest range of options is for Interior and exterior styling, with four choices for every style package: Standard, Premium and Power. For the exterior, the range of paint schemes includes new metallic colours which can be matched to the seats, cabin sides and instrument panel covering. The customer is free to choose whatever suits their imagination and taste.
In non-European countries, the P2002 SIERRA MkII is available in the Ultralight, US Light Sport Aircraft and Experimental categories, whereas the certified version, the P2002JF, is available as the European CS-VLA and soon the CS23 IFR.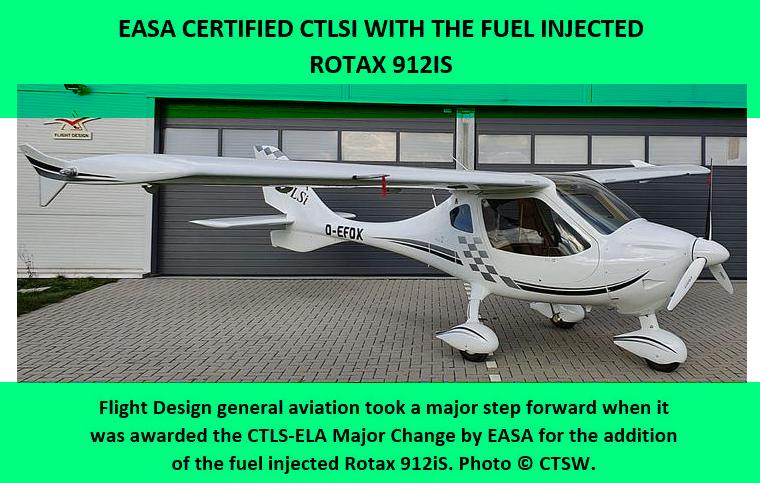 The EASA Certified CTLSi, a totally modern aircraft with an advanced Dynon three-screen HDX avionics suite, autopilot with level button is now available for immediate delivery at a surprisingly affordable price. The first two aircraft will be delivered immediately from the Flight Design facility at Eisenach-EDGE airport.
"This update was very demanding technically as it encompassed several significant updates to the aircraft said Daniel Guenther, including the Dynon HDX screens, new noise tests and many associated systems." "Our team was working very hard to complete this as demand for the 912iS fuel injected Rotax engine model is strong" said Daniel.
"I am very pleased to see this new option for private owners, flight schools and flying clubs" said Christophe Briand, Owner of Flight Design France and Flight Design West, The Regional Center for Western Europe. "We see many new applications where a customer would want to use an established and dependable aircraft with a well-known company behind it"
"In France the CTLS is very popular for training, our highest time aero club has accumulated more than 5000 hours of flight training on the CTLS. The CTLS-ELA has demonstrated its robust structure, suitability for training and cost efficiency of less than 50€ per hour Operating cost for training in aeroclubs and with professional flying schools. We even have long term lease options to offer", said Christophe.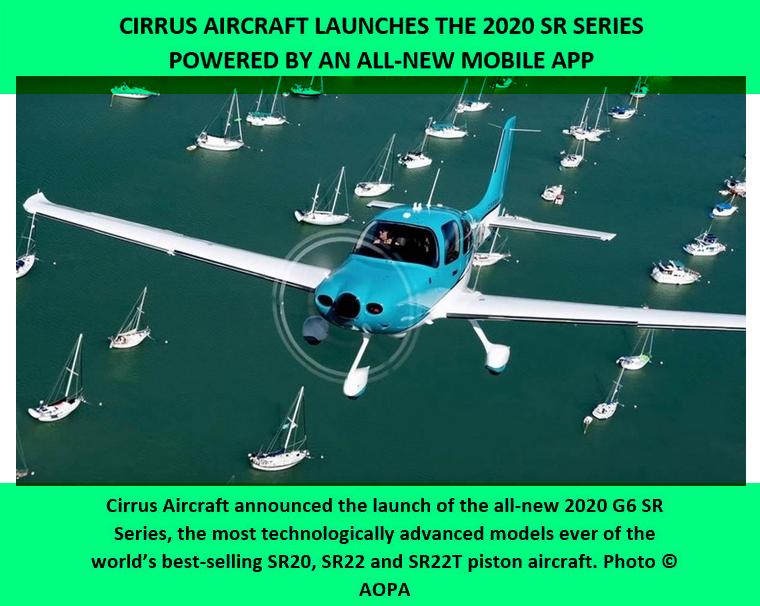 The highlight of the new model year is the introduction of the Cirrus Aircraft App powered by Cirrus IQTM - providing a digital connection to the aircraft from virtually anywhere in the world. Further enhancements include re-imagined interior and exterior aesthetics, along with an optional 4-blade SR22T propeller from Hartzell.
"The SR Series has been the world's best-selling high performance single-engine piston aircraft for seventeen consecutive years," said Zean Nielsen, CEO at Cirrus Aircraft. "That success doesn't stop our team from pursuing relentless innovation. The addition of the Cirrus Aircraft App is a bold new step towards a fully connected aircraft and we're proud to be leading the way once again."
The 2020 G6 SR Series redefines the aircraft ownership experience with the introduction of the Cirrus Aircraft App for the iPhone, powered by Cirrus IQ. As the next step in ultimate connectivity, Cirrus IQ enables remote communication between aircraft and pilot via the Cirrus Aircraft App, enhancing the ownership experience and maximizing safety and operational efficiency. Owners and operators of SR Series aircraft equipped with Cirrus IQ can now remotely access important pre-flight status information, including fuel and oxygen levels, battery voltage, oil temperature, aircraft location and flight hours at the touch of a button through the Cirrus Aircraft App.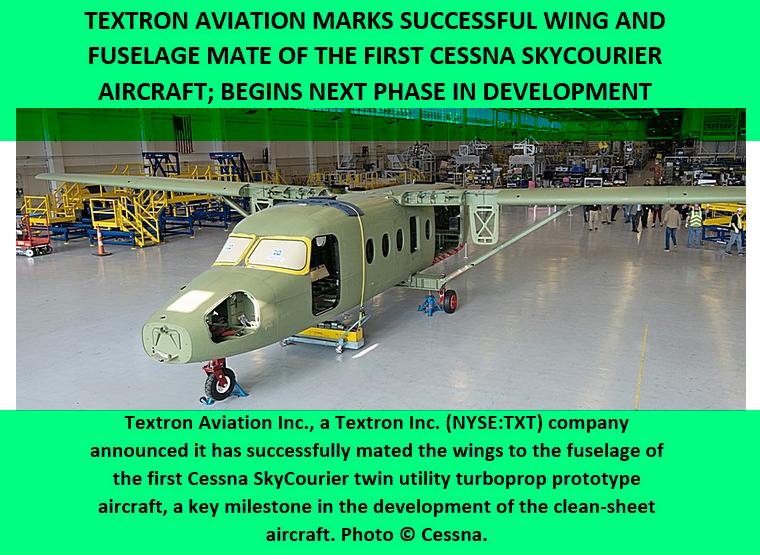 "As expected, the operation was sound as the wings were secured on the fuselage, and the new Cessna SkyCourier took another major step in its development," said Chris Hearne, senior vice president, Programs and Engineering. "The Cessna SkyCourier's rugged, high-wing design will give the aircraft excellent operational and performance characteristics for its diverse mission profile."
The program is progressing considerably with the assembly of the prototype and additional five flight and ground test articles. Landing gear testing continues as well as avionics ground testing. First flight of the Cessna SkyCourier is anticipated in 2020.
The Cessna SkyCourier will be offered in various configurations including freighter, passenger or combi, all based on a common platform with a 6,000-pound payload. The freighter configuration is designed to accommodate three standard air cargo containers (LD3) while the passenger variant carries up to 19 passengers and baggage.
The Cessna SkyCourier is designed for high utilization and will deliver a combination of robust performance and lower operating costs. Cessna SkyCourier will feature the popular Garmin G1000 NXi avionics suite and offer highlights such as a maximum cruise speed of up to 200 knots and a maximum range of 900 nm. Both freighter and passenger variants of the Cessna SkyCourier will offer single-point pressure refueling to enable faster turnarounds.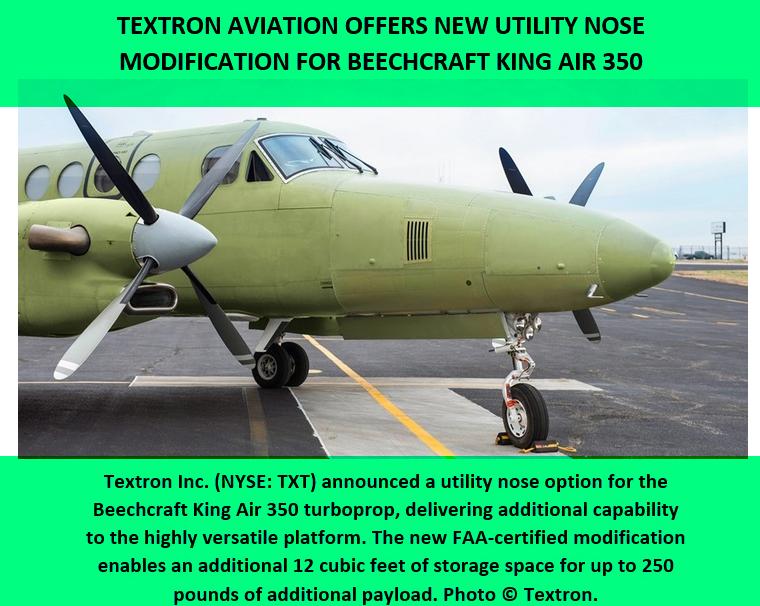 "This modification is a response to customer interest in optimizing the flexibility of our King Air 350 platform - equipping the aircraft with additional space for baggage or for special mission applications - and increasing loading configurations," said Bob Gibbs, vice president, Défense & Special Missions Sales. "The Beechcraft King Air offers the widest range of mission capabilities of our broad product line-up, and we remain committed to continuously enhancing the platform to ensure our customers have the capability to succeed, no matter the mission."
With the utility nose option, operators now benefit from added storage space for equipment such as cameras and other sensors in surveillance configurations, or oxygen bottles and medical equipment for air ambulance operations. The upgrade can be installed on various configurations of the King Air 350, including the 350C cargo variant and 350ER extended range aircraft and is also compatible with the PT6A-60A engines or PT6A-67A engines.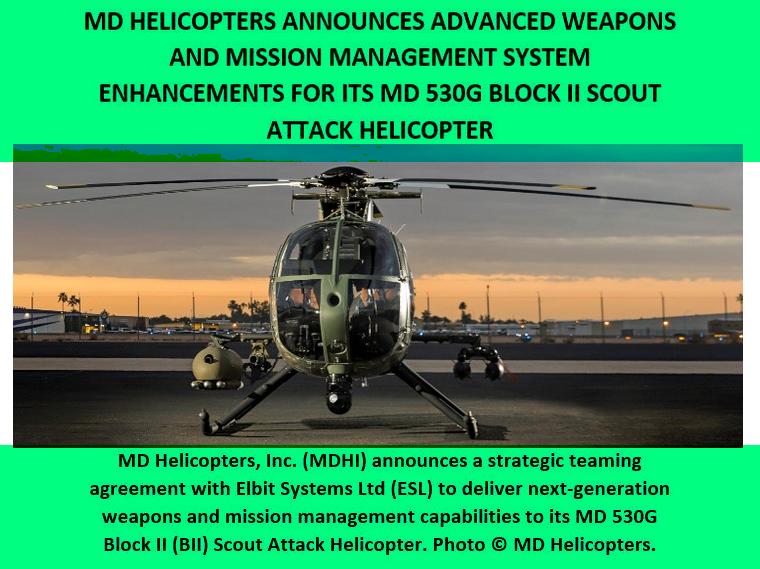 The proven, pilot-centric Integrated Weapons System (IWS) is comprised of a Helmet Display and Tracking System (HDTS), Weapons Management System (WMS) and Mission Management System (MMS).
In line with MD Helicopters' commitment to delivering excellence and innovation in design, the integrated, advanced avionics suite utilizes an intuitive Human Machine Interface (HMI), multi-functional smart displays and next-generation applications to deliver a fully compatible multi-mission cockpit that reduces pilot workload, increases efficiency of crew operations and delivers increased lethality for a range of operational parameters.
The HDTS configuration supports both daytime and night-time operation, allowing the pilot to intuitively manoeuvre the aircraft into attack positions and engage targets heads-up and eyes out.
The advanced digital WMS will allow the MD 530G BII Scout Attack Helicopter to support a comprehensive array of suppressive firepower options as well as unguided and guided munitions, including Hellfire Missile and, with authorized customer demand, APKWS. Standard configuration includes support for M260 Rocket Pods, HMP 400 Digital Gun Pods, RMP Digital Gun/Rocket Pods and the M134D-H Mini-Guns. Critical weapons management functions, such as weapon activation and HDTS operation, will be integrated into the cyclic grip and collective for both pilots.
The main component in the MD 530G BII Scout Attack Helicopter MMS is the Digital Mapping application (DMAP) managed by a touch screen graphical user interface (GUI). This moving map display will give pilots greater situational awareness with aircraft positions, known threats and friendly locations plotted. The aircraft's EO/IR solution will integrate directly with the new MMS to enable, detect and store intelligence. Detect and store intelligence ensures that once a target has been acquired, the crew can choose to attack with guided weapons from a distance, or unguided munitions using the ballistics Continuously Calculated Impact Point (CCIP) displayed over the HDTS.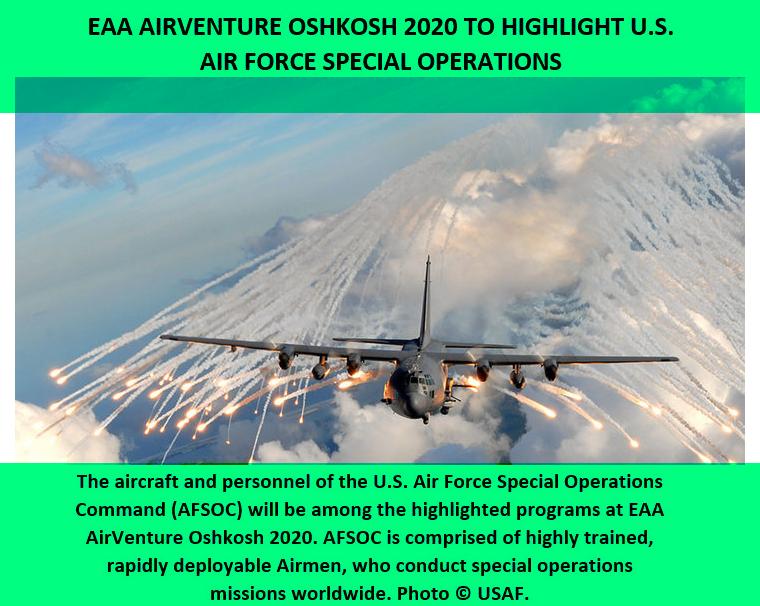 Airmen who undertake Special Operations careers specialize in unique skills such as parachuting, scuba diving, rappelling, motorcycling, survival skills, and more. Aircraft in the command include specialized mobility aircraft such as the MC-130, CV-22 and C-146, Close Air Support aircraft such as the AC-130 gunship and Intelligence, Surveillance and Reconnaissance (ISR) aircraft such as the MQ-9 and U-28.
"Even those who have a solid familiarity with the U.S. Air Force often know little about its special operations units and the important mission they fulfill, so we want to bring some visibility to that at Oshkosh in 2020," said Rick Larsen, EAA's vice president of programs, publications, and marketing, who coordinates AirVenture features and attractions. "The Air Force has been extremely cooperative through the years at showcasing its remarkable people and aircraft at AirVenture and we look forward to discovering even more in 2020."
AFSOC was officially formed in 1990, but has a heritage that reaches back to Army Air Forces operations during World War II. In the three decades since AFSOC's formation, it has been involved in missions around the world in both independent campaigns and in conjunction with other military branches.
"We are excited to highlight specialized airpower at the nation's largest air show, but it's the Airmen flying these aircraft who provide our real value to the nation. Humans are more important than hardware. The 20,000 innovative problem solvers in this command are exactly what we need to maintain our competitive advantage in the future and I am proud to showcase them at Oshkosh," said U.S. Air Force Lt. Gen. Jim Slife, commander of Air Force Special Operations Command."
The exact aircraft and activities will be announced as they are finalized, but are expected to include aircraft flying during AirVenture air shows and presentations by USAF Special Operations units throughout the week.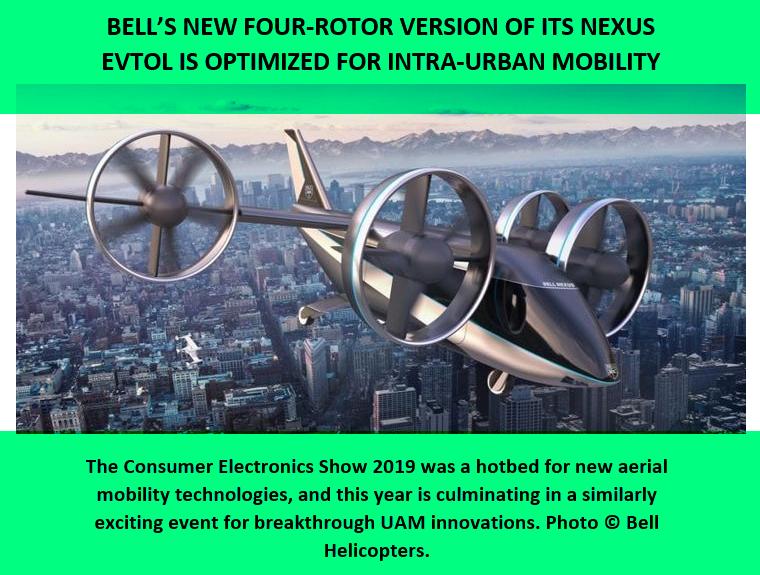 Last year, we saw the initial unveiling of Bell's Nexus prototype which featured six ducted fans with variable tilt angles to facilitate vertical takeoff and landing. The original prototype, now dubbed the Nexus 6HX due to its six hybrid-electric powered rotors, is accompanied by a fully-electric version.
Whereas the Nexus 6HX touts a range of up to 150 miles, the vehicle was originally optimized with inter-urban mobility, which necessitated the use of hybrid-electric propulsion. The specialized Nexus 4EX is instead designed specifically with up to 60-mile intra-urban flights in mind, which enabled the powerplant to be completely reliant on the latest battery technologies.
Bell CEO Mitch Snyder commented on the design choices that ultimately led to a reduced fan count and the hurdle to an all-electric powerplant:
One vehicle was compromising the attributes of each, and so we went at it in a different direction," said Snyder. "We looked at . . . what was coming from the market and what they wanted. And we were also able to progress our technology further and understand it and say, 'You know what? I think we can build an all-electrical aircraft.'
Snyder also spoke about the emphasis Bell is placing on safety and the path it plans to take to achieve EASA's level of safety recently identified in its certification standards for small VTOL aircraft. "With this form of transportation, we want to make it safe, we want to make it quiet and we want to make it clean and green," said Snyder. "And the most important thing here, besides the safety, is we want to make it affordable and accessible to everyone."
Bell is looking to have a certified system ready to serve the public in the middle to late 2020s, with a demonstrator to "come in appropriately" between now and then. In the interim, the company plans to continue technological development in venues such as its Systems Integration Lab (SIL), as well as regulatory development by working with the FAA to level-set all aerial mobility infrastructure to a common vision.
Why it's important: Original equipment manufacturers (OEMs) are coming to the realization that the demands of an eVTOLs powerplant are largely determined by the missions it is intended to serve. As the industry hones in to what the market is demanding of a new aerial mobility service, more OEMs will under an optimization of their vehicles to make best use of electric propulsion technologies where applicable.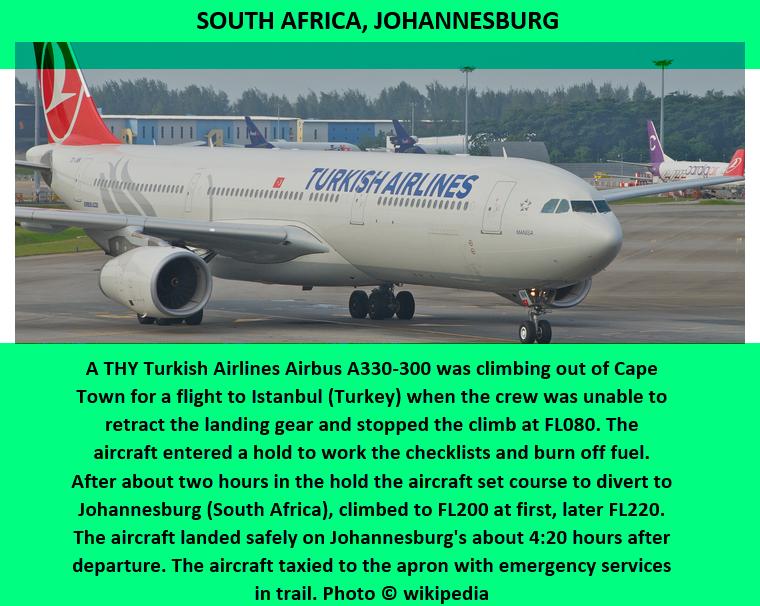 Iran, farmland on the outskirts of Tehran: A Ukrainian passenger Boeing 737-800 jet carrying 176 people crashed just minutes after taking off from the Iranian capital's main airport, turning farmland on the outskirts of Tehran into fields of flaming debris and killing all on board. The plane carried 167 passengers and nine crew members from different nations on its flight to the Ukrainian capital, Kyiv, Biniaz said. The crash killed all on board, Iranian emergency officials and Ukraine's Foreign Ministry said. The majority of the passengers were Iranian nationals.
UK, Manchester: Twenty-year-old Demi Burton has been sentenced to six months in prison after going on an allegedly intoxicated rant in the middle of her flight. Demi Burton was on an Etihad Airways flight from Abu Dhabi to Manchester, England, in May when the incident occurred. The 20-year-old, who is from the U.K., reportedly went on an "aggressive," sexually-explicit rant after being told she would no longer be served alcohol. Ultimately, several staff members tried to calm Burton down, but she reportedly became violent and headbutted a flight attendant. Court documents state that it took as many as six people to restrain the 20-year-old, after which an anaesthesiologist was brought in to help sedate her.
USA, Seattle: Boeing's 737 Next Generation airliners have been struck by a peculiar software flaw that blanks the airliners' cockpit screens if pilots dare attempt a westwards landing at specific airports. Amid the various well-reported woes facing America's largest airframe maker, yet another one has emerged from the US Federal Aviation Administration; a bug that causes all pilots' display screens in the 737-NG airliner family to simply go blank. That bug kicks in when airliner crews try to program the autopilot to follow what the FAA described as "a selected instrument approach to a specific runway". Seven runways, of which five are in the US, and two in South America - in Colombia and Guyana respectively - trigger the bug. Instrument approach procedures guide pilots to safe landings in all weather conditions regardless of visibility.
Portugal, Port: A Transavia France Boeing 737-800 on a flight from Porto to Funchal (Portugal), was enroute short of Funchal when the first officer took control of the aircraft after the captain had fainted. He turned around and returned to Porto. The captain received first aid from a doctor travelling as passenger on board. The first officer was not certified to perform landing at Funchal, therefore turned around and returned to Porto.
Netherlands, Amsterdam: A KLM Boeing 737-800, was climbing out of Amsterdam's on a flight to Glasgow, UK when the right-hand engine suffered a failure emitting a loud bang, streaks of flames and severe vibrations. The crew stopped the climb shut the engine down and returned to Amsterdam for a safe landing on runway 18R about 25 minutes after departure.
Sri Lanka, near Haputale: A Sri Lankan Air Force Harbin Yunshuji Y-12 II military plane crashed on a surveillance mission under unknown circumstances. All four occupants died in the crash. One person on the ground was injured as a result of the crash.
USA, San Francisco:
A China Airlines Boeing 747-400 freighter on a flight from San Francisco to Taipei (Taiwan) with 7 crew, was in the initial climb out of San Francisco's runway 28R, when the crew declared PAN PAN PAN reporting a bird strike that had taken out some of their flight instruments. The aircraft stopped the climb at 6000 feet and the crew indicated they were still considering how to proceed and that there were no procedures for the faults. The crew decided to dump fuel and return to San Francisco. The aircraft landed safely back on San Francisco's runway 28R about 75 minutes after departure.
Pakistan, Karachi: A Pakistan Air Force FT-7 aircraft crashed in north-eastern Punjab province near Mianwali district. The aircraft was on a routine operational training mission. Both pilots onboard died in the accident. There was no immediate word on the cause of the crash.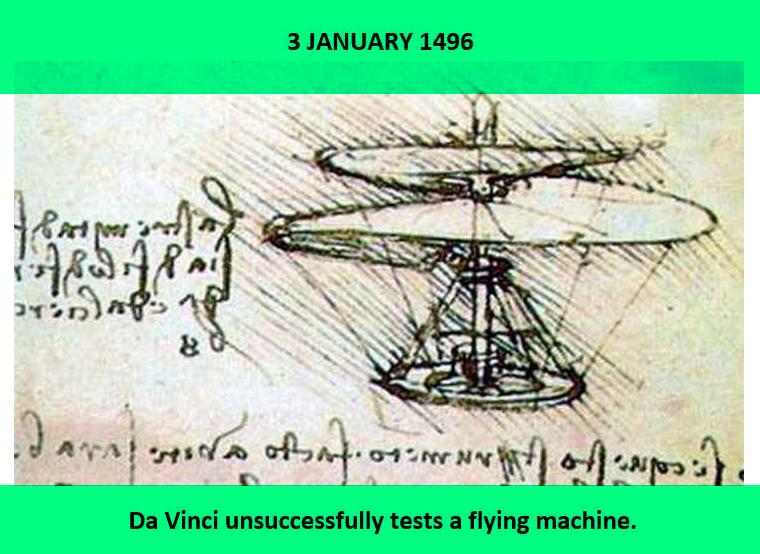 Leonardo da Vinci, artist, scientist, musician and engineer is without a doubt one of the most famous people of all time.
Italian born da Vinci has managed to combine his gifts for extraordinarily creative work. Da Vinci was obsessed with flying and conceptualized several different machines. While many of his designs languished in his notebook as their builds were impossible in da Vinci's lifetime, he did manage to build a flying machine resembling a helicopter.
Da Vinci's machine was powered by four men that would turn the screw type rotor. It did not work because the body of the machine itself rotated in the opposite direction to the rotor.