Compiled by Willie Bodenstein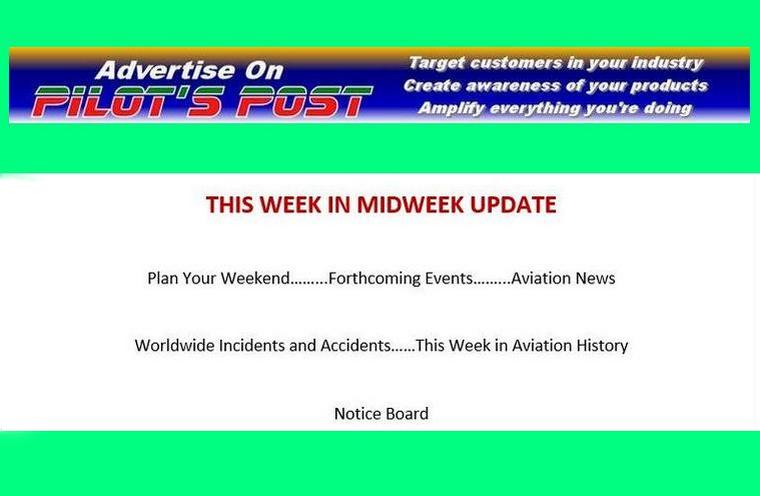 7 - 9: SAPFA Committee Bosberaad - Paddafontein. Contact:
rob@aerosud.co.za
Cell: 082 804 7032
8: EAA Chapter 322 Breakfast Fly away to Rustenburg.



29: Rally Navigation Training Course - Venue Aerosud. Contact: Mary de Klerk e-mail:
maryd@expandingbranding.co.za
cell: 084 880 9000

7: Brakpan Fun Rally - Brakpan Airport - Contact: Frank Eckard e-mail:
frank.eckard@mweb.co.za
cell: 083 269 1516
7-8: SAC KZN Regional Aerobatics. Ladysmith Airfield. Contact Annie Boone:
chunge@mweb.co.za
21: Bethlehem Speed Rally - Bethlehem Airfield - Contact: Jonty Esser e-mail:
jonty@promptroofing.co.za
cell: 082 855 9435
21: The Airplane Factory Fly-in, Tedderfield. Contact: Shanelle 011 948 9898
21-22: Fashkosh Airshow Stellenbosch Airfield. Contact: Anton Theart at
gm@stelfly.co.za
or 079 873 4567
13 to 5 April: Sun 'n Fun, Lakeland Florida USA. Contact: Neil Bowden at
Neil1@telkomsa.net
or on 084 674 5674

4: Robertson fly-in breakfast. Contact Alwyn du Plessis 083 270 5888
3 - 5: Groblersdal Flying Club fly-in. For more information contact Richard at 082 490 6227 or
flybenchmark@gmail.com
2 - 4: SAPFA Rally Nationals & Fun Rally - Stellenbosch Airfield. Contact Frank Eckard e-mail:
frank.eckard@mweb.co.za
cell: 083 269 1516
4: Wings and Wheels Festival at Uitenhage airfield. Contact Lourens Kruger E-mail:
lmk@telkomsa.net
Cell: 082 320 2615
18: Heidelberg Airshow. Contact Franz van Zyl 082 560 2275
18: Aero Club of South Africa Centenary Banquet venue TBA. Contact Marie Reddy E-mail:
marie.reddy@gmail.com
Cell: 083 259 7691
21: Aero Club of South Africa Annual General Meeting EAA Auditorium Rand Airport. Contact Sandra Strydom E-mail:
sandra@aeroclub.org.za
Tel: 011 082 1100
24 -25: Garden Route Airshow Brett Scheuble brett@gardenrouteairshow.co.za 084 418 3836
30 to 3rd May: 2020 Aero Club Airweek - Middelburg Airfield - Contact Rob Jonkers e-mail:
rob@aerosud.co.za
cell: 082 804 7032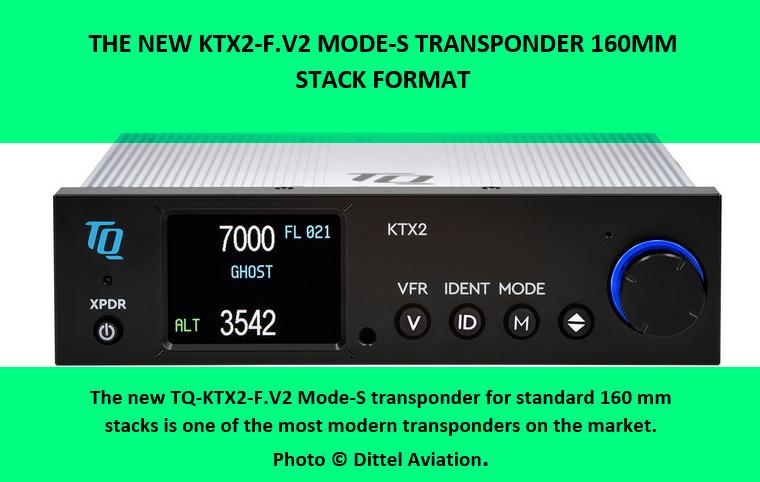 Low weight, compact dimensions, featuring low power consumption, with a brilliant, transflective colour display suitable for direct sunlight. TQ, who took over the Dittel Avionik product line 3 years ago, is one of Germany's largest electronic companies.
Future-proof compatibility with the ADS-B Out and intuitive operation result in an excellent price-to-performance ratio and the KTX2.V2's exclusive loop-through antenna eliminates the need to install a second antenna for any ADS-B In hardware.
An optional plug-and-play Adapter for Bendix-King KTxx connection, makes installation a breeze. The TQ-KTX2-F.V2 Mode-S Transponder complies with Class 1 Level 2els. Approvals include EASA ETSO / FAA TSO, FCC. Weight: approx. 580 g. Dimensions: 158,4 x 41 x 155,8 mm.
Coming soon: Aviation Radio KRT2-F Aviation radio KRT2-F 160mm
For more information, or to apply to become a TQ reseller/installer, contact PJ Aviation cc, 083-265-0581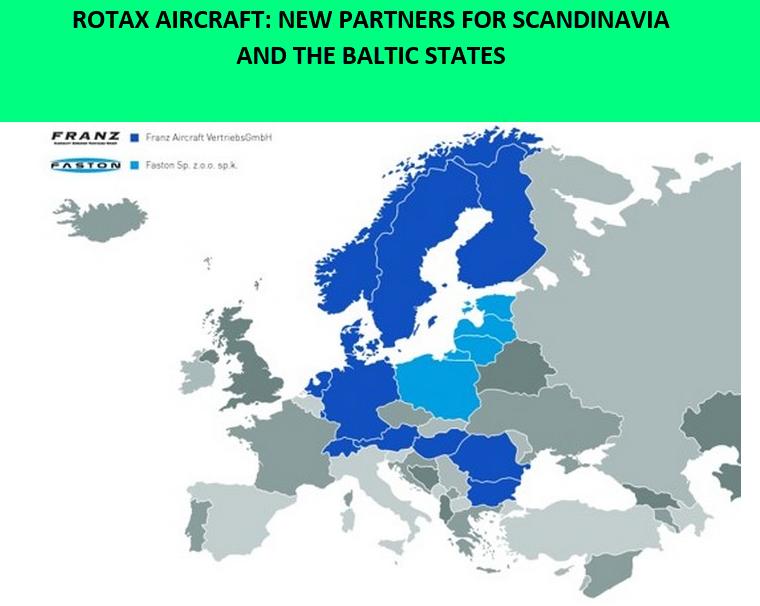 In the last 35 years BRP-Rotax and Lycon Enginering AB have launched more than 15 new engine models in the Scandinavian and Baltic market in the last 35 years and above all supported the customer with spare parts as well as service and maintenance of the engines. Yard Johansson, CEO of Lycon Engineering AB, has decided to start his well-earned retirement after so many years and to terminate the co-operation by the end of January 2020. The sales area of Lycon will be divided and taken over by two very reliable and also long-term distribution partners of BRP-Rotax.
Franz Aircraft Vertriebs GmbH, a distributor for BRP-Rotax since 1986, is an authorised maintenance operator in accordance with EASA-Part-145 (DE.145.0318) and a BRP-Rotax authorised organisation for overhaul of certified Rotax 4-stroke-aircraft engines, as well as UL Rotax 2- and 4-stroke aircraft engines.
The distribution area consists of Germany, The Netherlands, Switzerland, Liechtenstein, Austria, Hungary, Bulgaria and Romania. Now, Franz Aircraft is taking over the Scandinavian area with Denmark, Sweden, Norway and Finland.
Since 1999 the company Faston SP. z.o.o. sp.k. is taking care of the market in Poland and supporting the customers in regards of spare parts and services. Faston is also an authorised maintenance operator in accordance with EASA-Part-145 (DE.145.0318) and a BRP-Rotax authorised organisation for overhaul of certified Rotax 4-stroke-aircraft engines, as well as UL Rotax 2- and 4-stroke aircraft engines. By the beginning of February, the company Faston will take over the area of the Baltic countries like Estonia, Latvia and Lithuania.
With more than 190.000 engines sold and a global operating 4-stroke-fleet of more than 50.000 engines, Rotax aircraft engines lead the light sport and ultralight aircraft market. Rotax offers a worldwide network consisting of 17 authorized distributors and more than 220 points of sales and service supporting 270 OEMs with more than 400 Rotax powered models and customers worldwide. Therefore, Rotax aircraft engines are supplied to more than 80% of all aircraft manufacturer in its segment.
Comet Aviation, Rotax's South African distributor announced that Mr Veit Manninger from BRP-Rotax Aircraft Engines in Austria will be in South Africa and will be he will be visiting some of our key OEM's, Repair and Service Centres during his week here.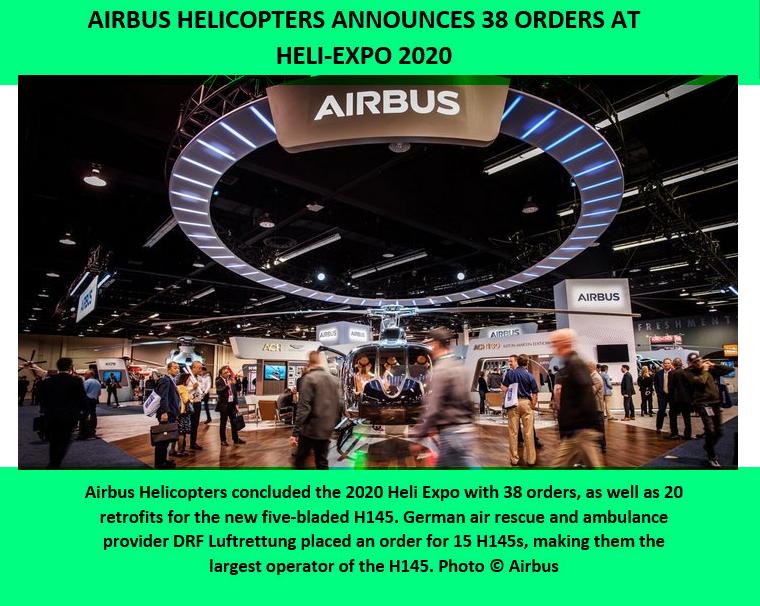 Show highlights included the increased power of the H125 that will enable operators to lift up to an additional 190 kg (419 lbs), Shell Aircraft confirming their interest in using the H160 for offshore transportation missions and Metro Aviation ordering an additional 12 new EC145e helicopters.
Customs and Border Protection will add 16 new H125 helicopters to their fleet, with deliveries beginning later this year from Airbus' production facility in Columbus, Miss. Another H125 order was signed with Ascent Helicopters in Western Canada.
Airbus received an order for three new H135s from NASA, marking the first-time partnership between the U.S. space program and Airbus Helicopters. The agency will use the aircraft for a variety of missions, including missile launch security at Kennedy Space Center in Florida, emergency medical services and qualified personnel transport.
Also announced at the show, Airbus' global helicopter fleet reached 100 million flight hours. To all the pilots, operators, engineers, technicians, mechanics, ground crew and passengers who helped make this milestone possible.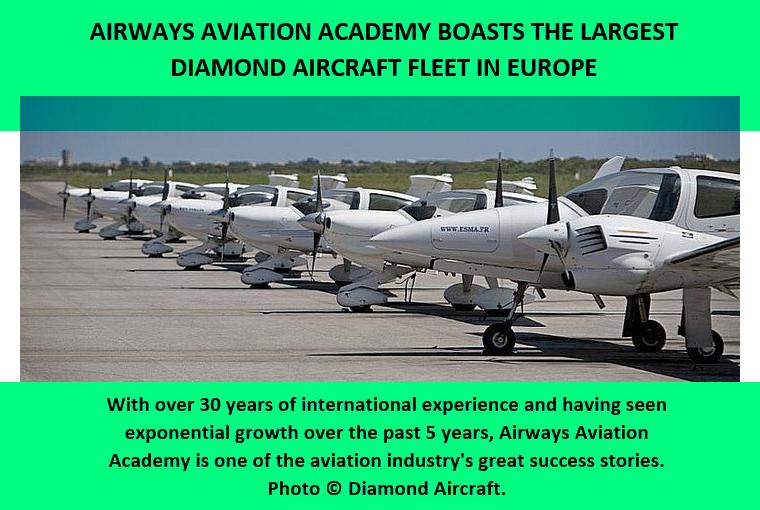 With seven first class academies located across France, the UK, Spain, Montenegro and three in Australia, Airways Aviation today boasts the largest privately-owned group of multidisciplinary aviation academies of its kind, having delivered professional education & training to in excess of 8,000 Airline Pilots, 12,000 Cabin Crew, 3,000 Aircraft Maintenance Engineers and 10,000 Ground Handling students.
The Airways Aviation Group currently also owns and operates the largest fleet of Diamond DA40 and DA42 pilot training aircraft in Europe and is also owner of one of the largest Diamond Aircraft training fleets in the world. The Airways Aviation fleet flies in excess of 45,000 hours per annum and anticipates an increase of flying activity of between 12% and 15% over 2020.
Airways Aviation are also a certified and approved Part 145 service and maintenance facility and plan a further increase of its fleet by up to 22 new aircraft over the period 2020 - 2023 based on projected demands on its pilot training business.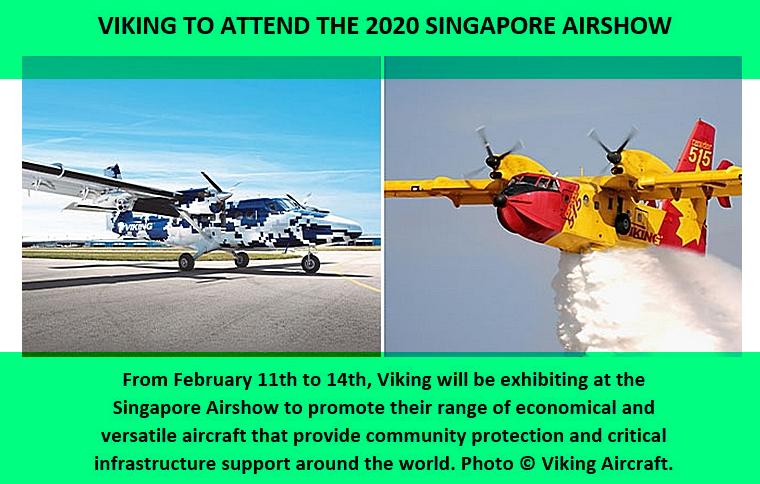 In addition, as part of their Guardian 400 World Tour, they will have their mission-equipped Twin Otter Guardian 400 demonstration aircraft available for public viewing on static display.
Held biannually at the Changi Exhibition Centre in Changi, Singapore, the 2018 Airshow hosted 54,151 trade attendees from 147 countries and regions, including government and military delegations and corporate executives. This year's event is expected to grow and Viking is excited to once again have representatives on-site to provide delegates with information on the latest innovations in our exceptional utility aircraft and product support programs.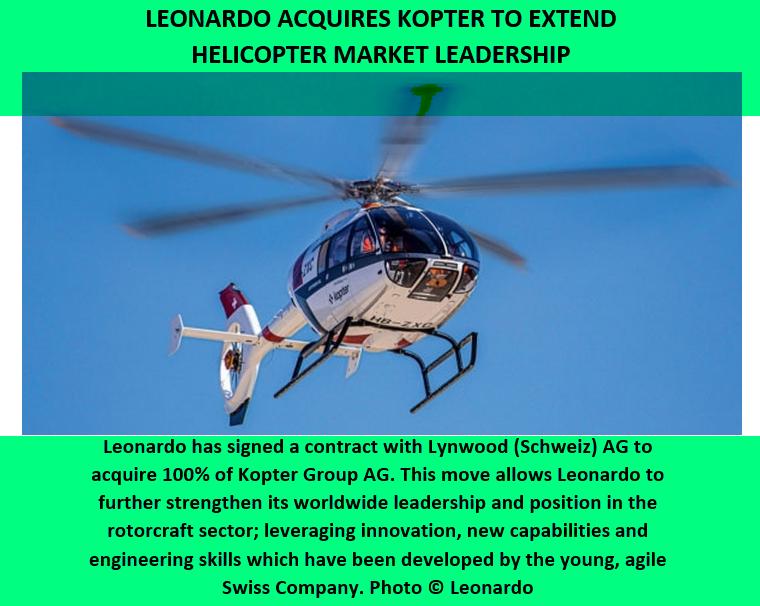 Kopter's SH09, a new single engine helicopter, is a perfect fit for Leonardo's state of the art product range offering opportunities for future technological developments.
The Swiss company's competencies will boost future developments towards more disruptive technologies, mission capabilities and performances, including innovative hybrid/electrical propulsion solutions. This acquisition will replace the planned investment aimed at the development of a new single engine helicopter. Within the Helicopter Division of Leonardo, Kopter will act as an autonomous legal entity and competence centre working in coordination with us.
The purchase price, on a cash and debt free basis, consists of a $185 million fixed component plus an earn-out mechanism linked to certain milestones over the life of the programme, starting from 2022. The closing of the transaction is subject to certain conditions and is expected to take place during the first quarter of 2020.
Primarily based in Switzerland, Kopter has been operating since 2009, originally designated Marenco Swiss Helicopter and later rebranded as Kopter Group AG in 2018. The brand-new SH09 single engine helicopter programme has been launched to bring new capabilities and modern design to the civil market with a most cost/effective and versatile platform. The SH09 combines the latest available technologies and safety features, providing excellent performance at affordable cost for a variety of applications.
Combined with excellent engineering skills and agility and a modular architecture suitable for future developments towards more disruptive technologies, mission capabilities and performance including hybrid/electric options, the acquisition of Kopter will allow Leonardo to take further important steps towards an even greater range of offer and market footprint.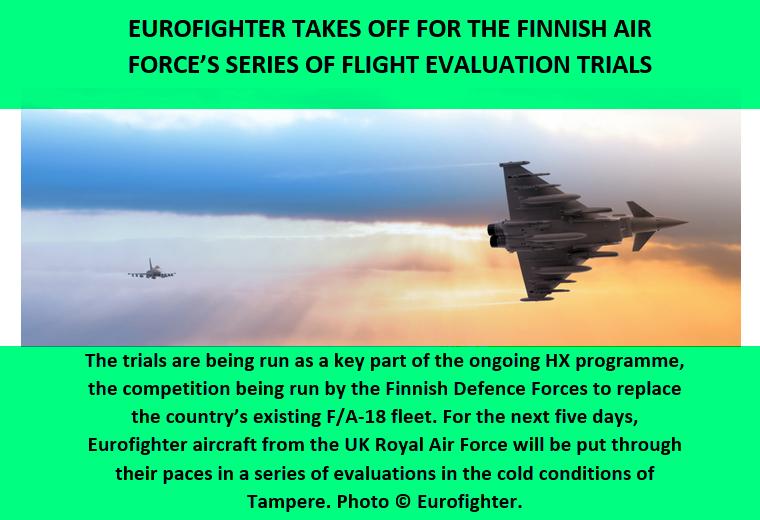 Eurofighter will be tested under cold weather conditions to verify the performance claims made in the responses to the Request for Quotation documents submitted in last year, along with performance values previously verified in laboratory tests.
The trials programme will enable the Finnish Air Force to assess the performance of each aircraft, systems and sensors in the Finnish operating environment. The Eurofighter trials will be led by air crew from BAE Systems' Flight Operations team, led by Chief Test Pilot, Steve Formoso and test pilot Luke Gili-Ross.
Eurofighter is a robust, combat proven swing role fighter that can be deployed and operated worldwide in the most difficult and demanding of conditions, both in terms of environment and threat. We believe Eurofighter meets the operational requirement of the Finnish Air Force today and is optimised to defend Finland for many decades to come.
There are close to 500 Eurofighters in service with European nations that provide the backbone of their air combat capability including 24/7 Quick Reaction Alert both at home bases and whilst deployed at locations such as those used as part of the NATO Baltic Air Policing role.
The HX fighter acquisition programme presents Finland with a unique opportunity to take control of its own security, defence and industrial future. By choosing Eurofighter, the Finnish Air Force would not only be acquiring the most advanced multi-role aircraft on the market and one proven in service across the globe, it would be choosing everything Finland needs to independently operate, maintain and control its own aircraft - here in Finland, however it wants.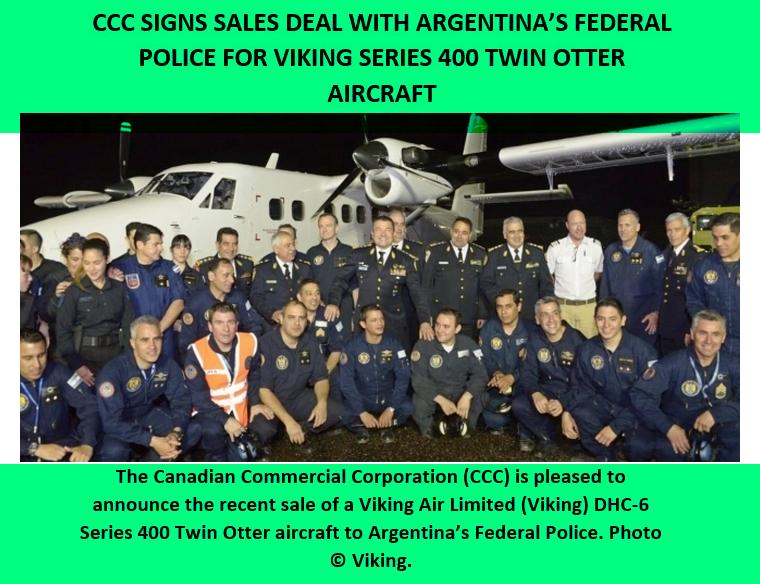 The Twin Otter, manufactured at Viking's facilities in Sidney, British Columbia, and Calgary, Alberta, is a 19-passenger utility aircraft renowned for its reliably and versatility. The contract also covers pilot training in Canada, including flight simulation, for six Argentinian pilots.
CCC's expertise in international contracting facilitated this transaction on behalf of Viking, reducing procurement risk and enabling Argentina to quickly acquire a custom aircraft to address safety and security needs.
This procurement aligns with the 2011 Memorandum of Understanding between the Ministry of Security of Argentina and CCC for the acquisition of security equipment.
The second phase of the contract will see the aircraft fitted with firefighting capabilities and other enhanced systems. The versatility of the fully outfitted Twin Otter for multiple roles (such as firefighting, transportation, search and rescue, medical evacuations and other capabilities) will make this Argentina's first truly multi-purpose aircraft.

WORLWIDE INCIDENTS AND ACCIDENTS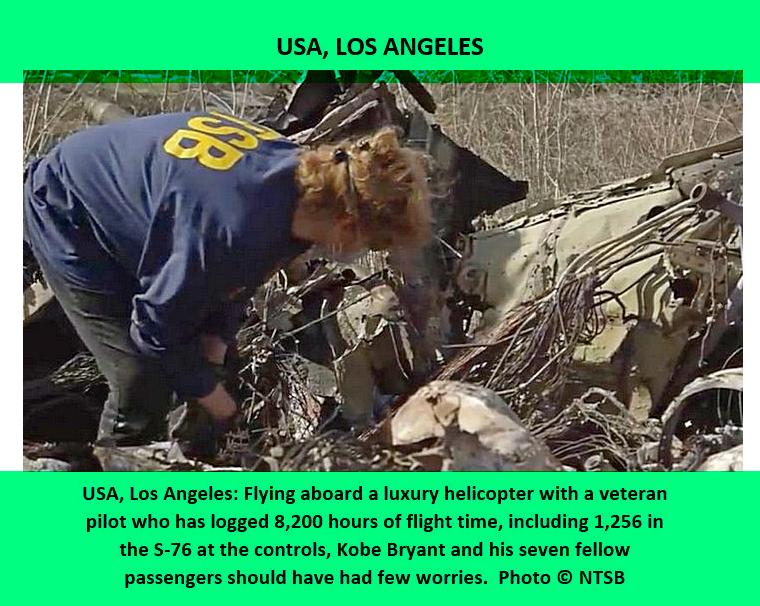 USA, Los Angeles: Flying aboard a luxury helicopter with a veteran pilot who has logged 8,200 hours of flight time, including 1,256 in the S-76 at the controls, Kobe Bryant and his seven fellow passengers should have had few worries. Photo © NTSB

However, the Sikorsky rose to 2,300 feet then began a left descending turn before barrelling into a steep mountain slope at a high rate of speed, impacting with such force that it left a crater and scattered wreckage over a wide area. The 'copter came to rest 1,085 feet above sea level, about 30 feet below the crest of the hill where it struck. A number of questions have been asked; was Ara Zobayan the pilot, flying too fast, more than 150 miles per hour and too low in moments before the crash? Had he become lost? Did the helicopter, despite all of the safety features built into it, incur a mechanical failure? Why was flying he in very scary conditions? We will have to wait for the NTSB's preliminary which will take time.
Alaska, Cordova: An Alaska Airlines Boeing 737 flying from Anchorage was struck by lightning as it prepared to land in Cordova. The Boeing 737-700, with 60 passengers, landed safely and no one was hurt.

USA, Fairbanks, Alaska: A Delta Airlines Airbus A350-900, on a flight from Detroit to Seoul (South Korea) with 189 people on board, was enroute over the Beaufort Sea, when the crew received abnormal indications from one of the engines. They diverted to Fairbanks where they landed safely about two hours later, vacated the runway and stopped for an inspection by emergency services.
USA, Memphis: A Skywest Canadair CRJ-900 operated on behalf of Delta, on a flight from Detroit, to San Antonio, was enroute about 70nm north of Memphis, when the crew decided to divert to Memphis due to a hydraulic failure. On approach to Memphis, the crew advised they would need to perform an alternate gear extension. They were planning for a low approach to check whether the landing gear was down and they would have no nose gear steering. The aircraft performed a low approach to Memphis' runway 36C, emergency services reported both main and nose gear appeared to be down and in position. The aircraft positioned for another approach to runway 36C and landed safely.
France, Lyon: A Hop! Canadair CRJ-700 on behalf of Air France, on a flight from Lille to Lyon (France), was on approach to Lyon where low visibility procedures were in effect and was cleared for an ILS Cat III approach to runway 35R. During the final approach, the aircraft however veered to the left and the aircraft initiated a go around and overflew the threshold of runway 35L (instead of assigned runway 35R). The aircraft positioned for another approach and landed without further incident.
USA, Pitkin County: Experts say the parachute system on a Cirrus SR-22 T that crashed near Aspen earlier this week worked exactly as planned to keep the two people on board safe and injury-free. Tyler and Kristina Noel, from Wisconsin, had filed a flight plan to make the quick trip from Aspen to Eagle. Soon after take-off they encountered an issue and couldn't make it back to the airport. The Cirrus Airframe Parachute System was deployed and they walked away from the crash uninjured.
Canada, Terrace: A Westjet de Havilland Dash 8-400 on a flight from Vancouver to Terrace with 42 passengers and 4 crew, landed at Terrace but suffered the collapse of the nose gear and came to a stop on the runway. The passengers disembarked onto the runway and were taken to the terminal.

THIS WEEK IN HISTORY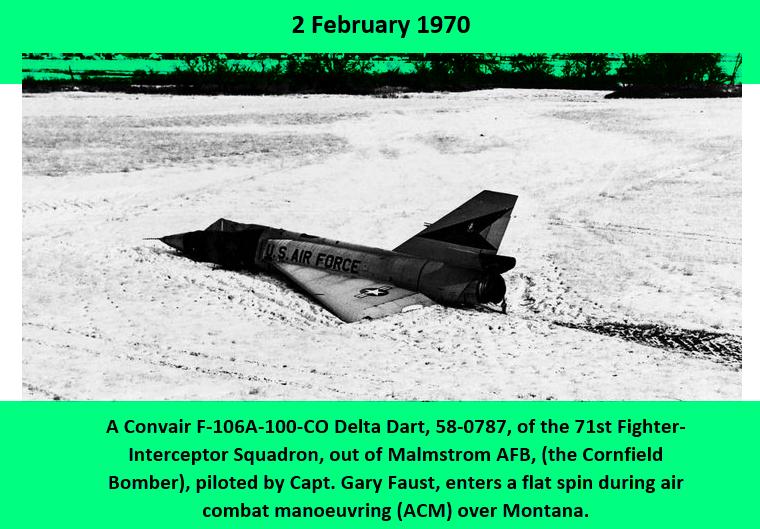 Faust follows procedures and ejects from the aircraft. The resulting change of balance causes the aircraft to stabilize and it landed wheels up in a snow-covered field, suffering almost no damage. The aircraft is then sent back to base by rail, repaired and returned to service. Preserved initially at Griffins AFB, New York, it is now on display at the National Museum of the United States Air Force.