Compiled by Willie Bodenstein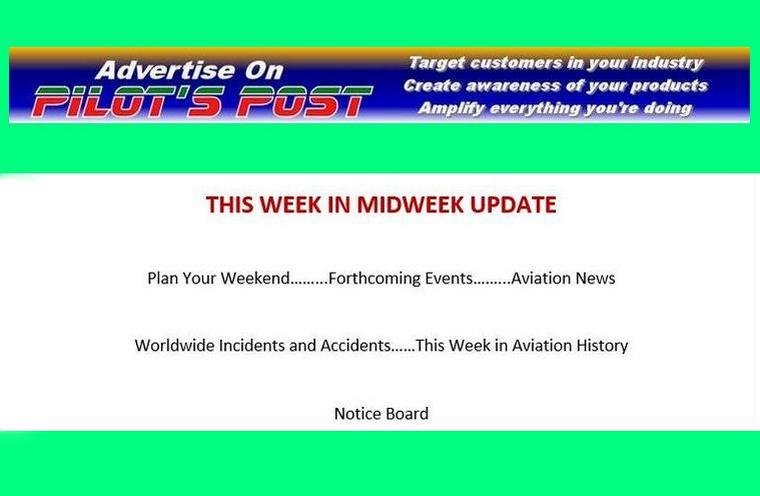 Dear Member,
This is a reminder of the upcoming 79th Annual General Meeting of the members of The Aero Club of South Africa. The details of this meeting are as follows:
Date: 17 March 2020
Time : 18:00 for 18:30
Place: EAA auditorium, Hurricane Ave, Rand Airport, Germiston

Available on the Aero Club website are the following documents:
• The Agenda
• The Draft Minutes of the last AGM no 78
• Proxy form
• Nomination for Council Seat
Should you wish to place any items on the Agenda under General, please notify the Aero Club Office at office@aeroclub.org.za for inclusion. Any nominations to be made to serve as Council office bearers can be to the same address. See you there.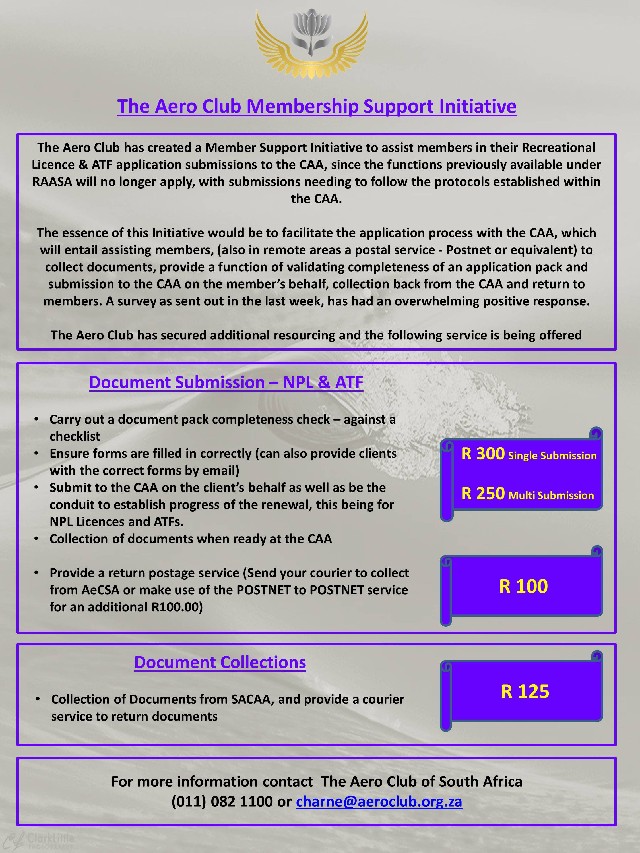 22: Panorama Breakfast Fly-in. All welcome.
22: Large Scale RC Aerobatics at Henley Airfield



22: Rally Navigation Training Course Brits airfield Contact Jonty Esser E-mail:
jonty@promptroofing.co.za
Cell: 082 855 9435


3: Worcester SAAMA RC Jet Weekend. Contact Michael Basson 072-266-7199
4: EAA Chapter 322 at Dickie Fritz Moth Hall, Edenvale
7: SAAF Museum AFB Swartkop Open and practice day
7: Brakpan Fun Rally - Brakpan Airport - Contact: Frank Eckard e-mail:
frank.eckard@mweb.co.za
cell: 083 269 1516
7-8: SAC KZN Regional Aerobatics. Ladysmith Airfield. Contact Annie Boone:
chunge@mweb.co.za
21: Bethlehem Speed Rally - Bethlehem Airfield - Contact: Jonty Esser e-mail:
jonty@promptroofing.co.za
cell: 082 855 9435
21: The Airplane Factory Fly-in, Tedderfield. Contact: Shanelle 011 948 9898
20-21: Fashkosh Airshow Stellenbosch Airfield. Contact: Anton Theart at
gm@stelfly.co.za
or 079 873 4567
13 to 5 April: Sun 'n Fun, Lakeland Florida USA. Contact: Neil Bowden at
Neil1@telkomsa.ne
t or on 084 674 5674


2: EAA Chapter 322 at Dickie Fritz Moth Hall, Edenvale
2 - 4: SAPFA Rally Nationals & Fun Rally - Stellenbosch Airfield. Contact Frank Eckard e-mail:
frank.eckard@mweb.co.za
cell: 083 269 1516
3 - 5: Groblersdal Flying Club fly-in. For more information contact Richard at 082 490 6227 or
flybenchmark@gmail.com
4: SAAF Museum AFB Swartkop Open and practice day
4: Robertson fly-in breakfast. Contact Alwyn du Plessis 083 270 5888
4: Wings and Wheels Festival at Uitenhage airfield. Contact Lourens Kruger E-mail:
lmk@telkomsa.net
Cell: 082 320 2615
18: Aero Club of South Africa Centenary Banquet venue TBA. Contact Marie Reddy E-mail:
marie.reddy@gmail.com
Cell: 083 259 7691
21: Aero Club of South Africa Annual General Meeting EAA Auditorium Rand Airport. Contact Sandra Strydom E-mail:
sandra@aeroclub.org.za
Tel: 011 082 1100
22-26: PASA Sky Diving South African Nationals 2020. Venue: Johannesburg Skydiving Club. Contact:
pottie@jsc.co.za
24 -25: Garden Route Airshow Brett Scheuble brett@gardenrouteairshow.co.za 084 418 3836
30 to 3rd May: 2020 Aero Club Airweek - Middelburg Airfield - Contact Rob Jonkers e-mail:
rob@aerosud.co.za
cell: 082 804 7032


1: SAPFA Middelburg Speed Rally Middelburg airfield. For more information contact Jonty Esser E-mail:
jonty@promptroofing.co.za
Cell: 082 855 9435
1-3: North meets South at Gariep Dam. MISASA and SAGPA, all aircraft welcome, (must be AeroClub members). Contact Donald Hicks 083 626 3180 or E-mail
Wendonair@gmail.com
6: EAA Chapter 322 at Dickie Fritz Moth Hall, Edenvale
9: SAAF Museum Airshow at AFB Zwartkops. Contact Mark Kelbrick E-mail:
markkelbrick@yahoo.com
or Cell 082 413 7577
16: Lowveld airshow at Nelspruit airfield. Contact Naranda Leeuwner Cell: 072 447 5968 or E-mail:
Naranda.leeuwner@kishugu.com
12 -15: NAMPO Harvest Day at NAMPO Part outside Bothaville. For more information contact Bennie Zaayman Wim Venter: E-mail:
Wim@grainsa.co.za
Cell 082 414 8099
23 -24: SAC Eastern Cape Regionals Wings Park, East London. Contact Annie Boon E-mail:
chunge@mweb.co.za
22 - 24: SAPFA President's Trophy Air Race at Ermelo airfield. Contact Rob Jonkers E-mail:
chairman@sapfa.co.za
Cell: 082 804 7032 or go to
www.sapfa.co.za
E-mail: Race@sapfa.org.za
30: Botswana International Airshow at Matsieng Flying Club. Contact Hentie Cell: +267 713 10935 or E-mail:
hentie@dwddrilling.com
31: Fly-Mo fund raising breakfast fly-in at Springs airfield. Contact Fanie Bezuidenhout E-mail:
ansan@tiscali.co.za
Cell: 083 789 5507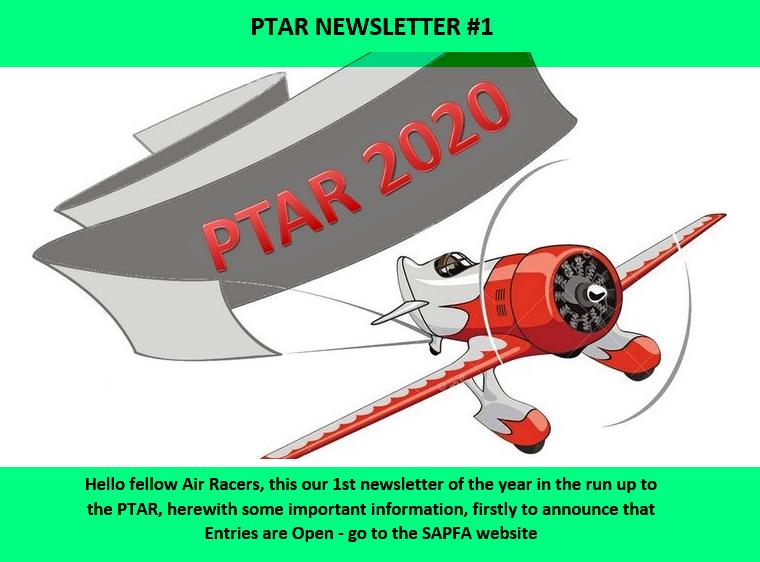 Date: Friday and Saturday 22 & 23rd May 2020
Where: Ermelo Airfield, Mpumalanga
The fees are as follows:
Entry Fee R 3 850 per aircraft as the early bird fee (This amount can be paid into the SAPFA bank account - Nedbank Limited, Account Number 1876019840). Fees will increase after 30th April to R 4500


Membership fees Aero Club & SAPFA R 850 per crew member - to register or renew:
FAI licence R 225 per crew member (Also can be purchased on line on the Aero Club Bluebox payment system)
If neither of the crew are SAPFA members then the total fee per crew is
R 2150. If preferred, this total amount can be paid to SAPFA, SAPFA will apportion to Aero Club the membership fees.
Additional banquet tickets R 450 each (The two crew members get a banquet ticket each as part of the Entry fee of R 3 850)
Accommodation & Car Hire - Options for Accommodation and Car hire will follow
The race format will follow what was established in 2019 in Saldanha, which has also been successfully executed in the Speed Rally series. There will be some updates to the rules based on a debrief and planning meeting being held on the 19th February 2020, 18h00 at Brakpan Airfield. Anybody is welcome to attend to discuss the format and propose changes in the run up to PTAR 2020, as this will be an officials and racers meeting.
Organisation of the event in Ermelo is progressing well, the Race Committee have held an initial meeting with the club in 2019, have prepared the proposed airfield layout and are busy getting the necessary approvals in place. Our next meeting will take place shortly to confirm the remainder of the logistics such as accommodation and car hire.
Home Page for PTAR -
http://www.sapfa.co.za/index.php/presidents-air-race
(watch this space)
For Entries: -
http://www.sapfa.co.za/index.php/component/competition/?view=pilot
Further details of the planning and run up to PTAR 2020 will be communicated in due course. Your comments are most welcome to
chairman@sapfa.co.za
Till next time, fly safe
Rob Jonkers (Race Director)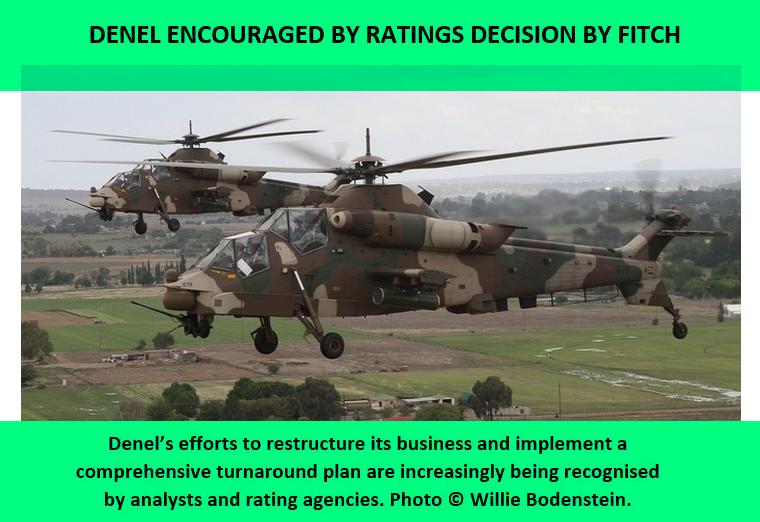 Danie du Toit, the Group Chief Executive of Denel says the decision by Fitch Ratings in London to affirm its long-term rating and to assign a "stable outlook" to the business is encouraging and will give further momentum to the efforts to restore the company's credibility after a period of state capture.
"We note the many concerns about aspects of the business that are still raised by Fitch and continue to implement measures to mitigate these factors," says Du Toit. "But we are also heartened by the positive aspects of our turnaround plan that are highlighted in the rating report.
In its report Fitch affirms Denel's National Long-Term Rating at 'B(zaf)' and the National Short-Term Rating at 'B(zaf)'. In addition, it has removed the previously assigned Rating Watch Negative and replaced it with a Stable Outlook.
Du Toit says the Fitch decision provides Denel "breathing space" to continue with its efforts to restructure the business, exit from non-core entities and find new markets for its advanced defence and high-technology products and services.
It also recognises that the ongoing efforts by the Board and management to restore good corporate governance are producing results and affirms the wisdom of government's decision to provide a R1.8bn recapitalisation to the business.
Fitch describes this as "a significant capital injection" which is likely sufficient to restart operation processes but is unlikely to contribute to any meaningful deleveraging in the short-term.
It also notes that this is evidence of the government's "ability and willingness to support Denel" and is supportive of Fitch's National Long-Term Rating given to the company.
"We are confident that we will receive further support from our shareholder and that we will meet all the expectations of government, our clients and the South African public to turn Denel into a viable business again," says Du Toit.
Fitch also emphasises the implementation of Denel's turnaround plan with a focus on operational cost reduction, exiting onerous contracts, divestment of non-core assets and realising value through strategic equity partnerships.
Despite recent trade disruptions, Denel "continues to display a solid order backlog and the effective implementation of the turnaround strategy will stand the group in good stead to benefit from these orders."
In explaining its decision, Fitch notes that is making the assumptions that Denel's revenue will continue to decline but "return to solid growth" after the 2022 financial year. Operating losses will be reduced, and the group is expected to return to profitability from the 2023 financial year.
Du Toit says Denel is taking note of concerns about liquidity constraints and poor operating performance of the underlying business units, which have an impact on its short-term risks.
"We are addressing all these issues in a structured manner and with the support of our stakeholders in government. It is, however, clear that the turnaround is gathering momentum and I am confident that this will be increasingly reflected in the views of analysts and the broader business community," he says.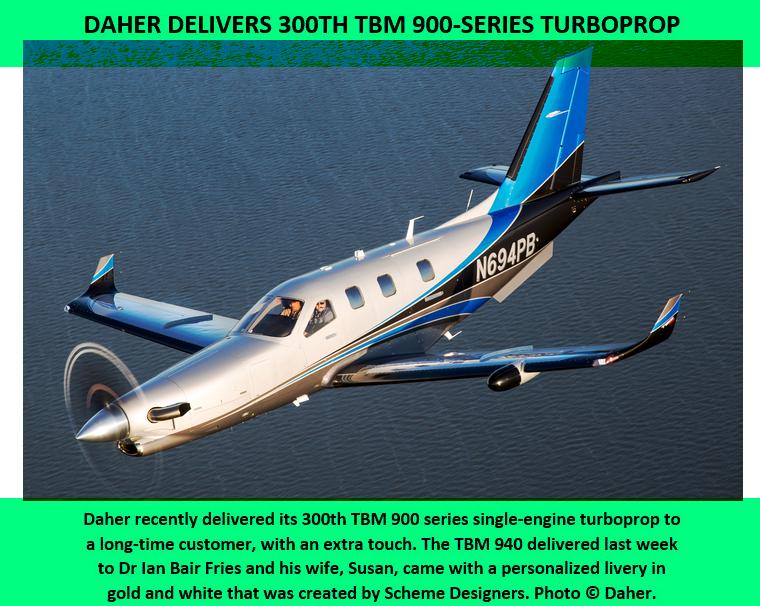 Before delivery at the Daher Aircraft subsidiary in Pompano Beach, Florida, the company added a painted image of a carnation on the airplane. For 50 years, Dr. Fries wore a carnation in honour of his patients.
The airplane also is the fourth TBM-family airplane to be owned by the Fries. "We are grateful to Dr. and Mrs. Fries for their more than 20-year loyalty to the TBM," said Daher Aircraft CEO and Daher aircraft division senior v-p Nicolas Chabbert. "So it was very appropriate they received the symbolic 300th TBM 900-series aircraft as their latest acquisition."
Over the past two decades, the Fries have owned a TBM 700B, TBM 850, and TBM 900. "The TBM fits our transportation profile-I can plan for a 1,000-nautical-mile flight under almost any conditions," Dr. Fries said. "And it is a pleasure to work with many of the same people for years, which is a credit to Daher."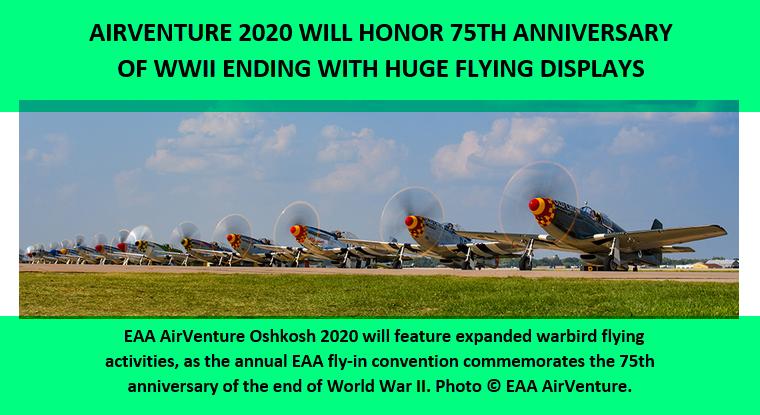 EAA AirVenture will tell the many aviation stories of the Greatest Generation and the worldwide conflict during its renowned afternoon air shows. It will feature flying displays and groups that are favourites for EAA audiences. Highlighting the weeklong commemoration will be major air show flying activities on Wednesday, July 22, and Friday and Saturday, July 24-25.
"Marking the 75th anniversary of the end of World War II and telling all the aviation stories involved is a mammoth task," said Rick Larsen, EAA's vice president of programs, publications, and marketing, who coordinates AirVenture features and attractions. "Our goal is to create the go-to event that properly commemorates the aviation story of World War II, from the Eagle Squadrons and American Volunteer Groups through the final Allied victories in 1945."
Specific aircraft and flying demonstrations are still being finalized for EAA AirVenture 2020, but will feature aircraft from both the European and Pacific Theatres. Additional highlights will tell the stories of remarkable heroism and pioneering technology that changed the course of the war. Further details on individual highlights and aircraft will be announced as they are finalized.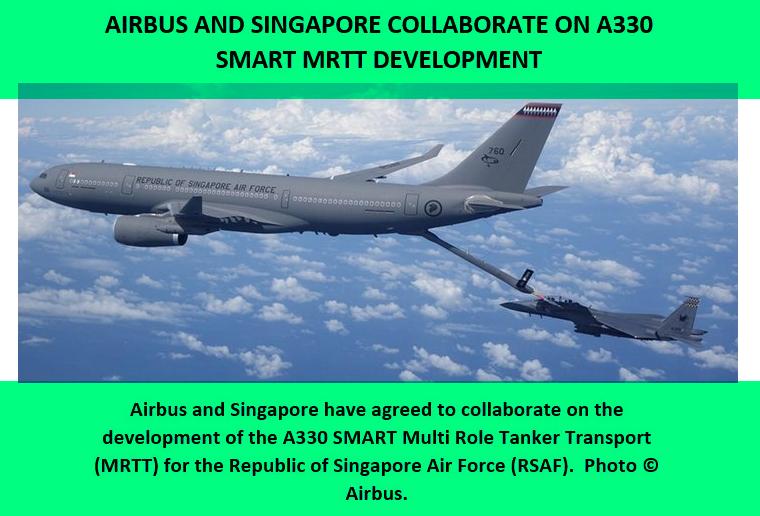 The SMART MRTT programme will develop, certify and implement Automatic Air-to-Air refuelling (A3R) capability as well as enhanced maintenance solutions for the A330 MRTT.
With this collaboration, Singapore becomes a key partner for the new automated aerial refueling capabilities. Under the agreement, a RSAF A330 MRTT will take part in the ongoing development, flight test campaign and final certification programme. The flight test campaign, which has already started, is aiming for certification in 2021.
While development of SMART MRTT capabilities further strengthens Airbus' leading position and technological edge in the tanker market, the enhanced maintenance solution is designed to improve A330 MRTT's availability and overall mission success rate.
Airbus Head of Military Aircraft, Alberto Gutiérrez said: "With this agreement, the Singapore Air Force leads the evolution of the A330 MRTT, helping us to bring new hands-off capabilities to the benchmark of next-gen tanker operations".
The A3R system requires no additional equipment on the receiver and is intended to reduce air refuelling operator (ARO) workload, improve safety and optimise the rate of air-to-air refuelling (AAR) transfer in operational conditions to maximise aerial superiority.
Once the A3R system is activated by the ARO, the Boom Flight Control System becomes fully automated and progresses to transfer fuel upon contact with the receiver. During this process, the ARO simply monitors the operation. In the event of an anomaly due to receiver stability deviations or malfunctions on the tanker, the A3R system is able to disconnect and/or clear the Boom away from the receiver safely.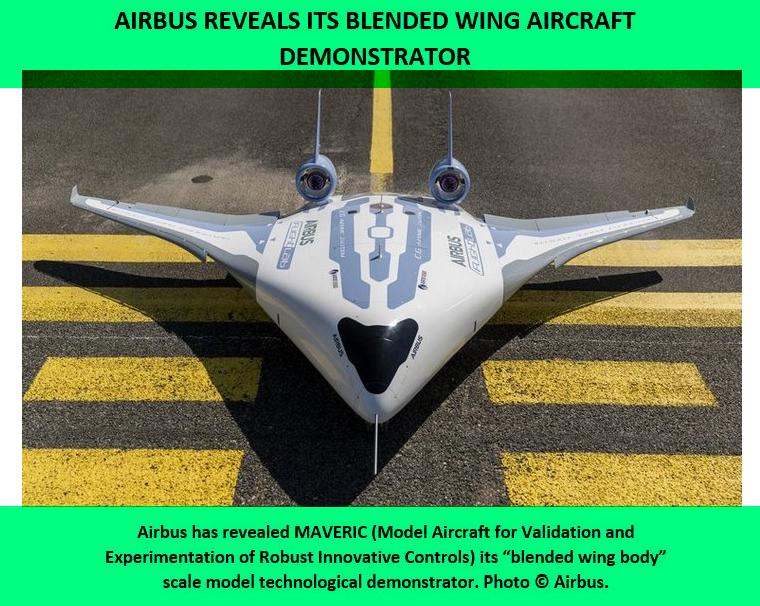 At 2 metres long and 3.2 metres wide, with a surface area of about 2.25m², MAVERIC features a disruptive aircraft design, that has the potential to reduce fuel consumption by up to 20% compared to current single-aisle aircraft. The "blended wing body" configuration also opens up new possibilities for propulsion systems type and integration, as well as a versatile cabin for a totally new on-board passenger experience.
Launched in 2017, MAVERIC first took to the skies in June 2019. Since then the flight-test campaign has been on-going and will continue until the end of Q2 2020.
Airbus is using its core strengths and capabilities of engineering and manufacturing, in close collaboration with an extended innovation ecosystem, to accelerate traditional research and development cycles. By doing this Airbus is able to achieve proof of concepts, at a convincing scale and speed, thereby driving forward maturity and increasing their value.
Through AirbusUpNext, a research programme, Airbus is currently working on a number of demonstrator projects in parallel; E-FAN X (hybrid-electric propulsion), fello'fly (v-shaped "formation" flight) and ATTOL (Autonomous Taxi Take-Off & Landing).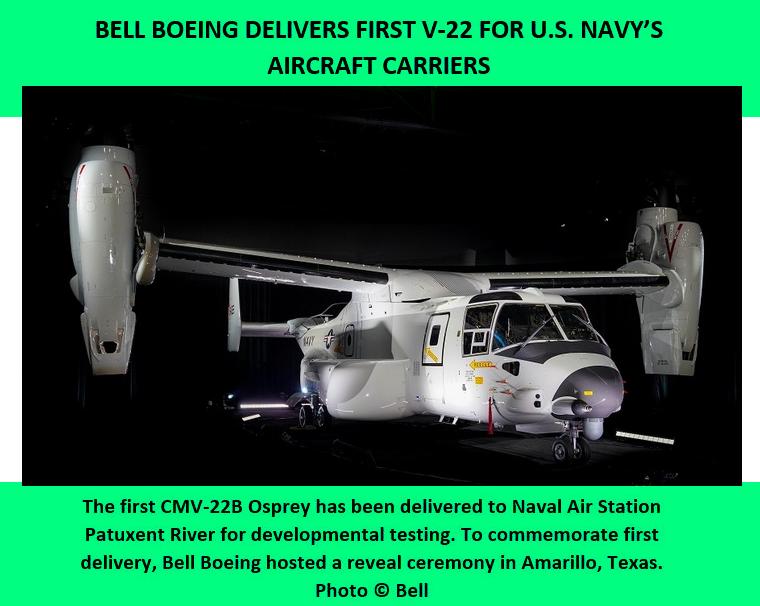 Boeing [NYSE: BA] and Bell Textron Inc., a Textron Inc. (NYSE: TXT) company, delivered the first CMV-22B Osprey, which is the V-22 variant the U.S. Navy will use for transporting personnel and cargo to aircraft carriers at sea.
"The CMV-22B brings expanded capabilities not only to the carrier onboard delivery mission, but to the high-end fight," said U.S. Navy Captain Dewon Chaney, Commodore, Fleet Logistics Multi-Mission Wing. "We are anxious to get it to the fleet and show off its immense capabilities and agile flexibility."
The Navy selected the Bell Boeing V-22 Osprey to replace the C-2A Greyhound fleet. Bell Boeing will deliver 48 of the tiltrotor aircraft.
The CMV-22B, which first flew in December, carries up to 6,000 pounds for more than 1,150 nautical miles. It's the only aircraft that can transport major components of the F-35C engine directly to a carrier flight deck, a critical capability for Navy logistics and support.
"The Osprey will transform carrier fleet operations," said Kristin Houston, vice president, Boeing Tiltrotor Programs and director, Bell Boeing V-22 Program. "We've brought together the best teams for aircraft design, training, and sustainment to ensure the Navy is ready for any mission from day one."
Navy aircrews and maintainers trained with the U.S. Marine Corps, which has employed the V-22 since 2007, to accelerate the transition. The CMV-22B will be based at Naval Air Station North Island in San Diego and Naval Air Station Norfolk.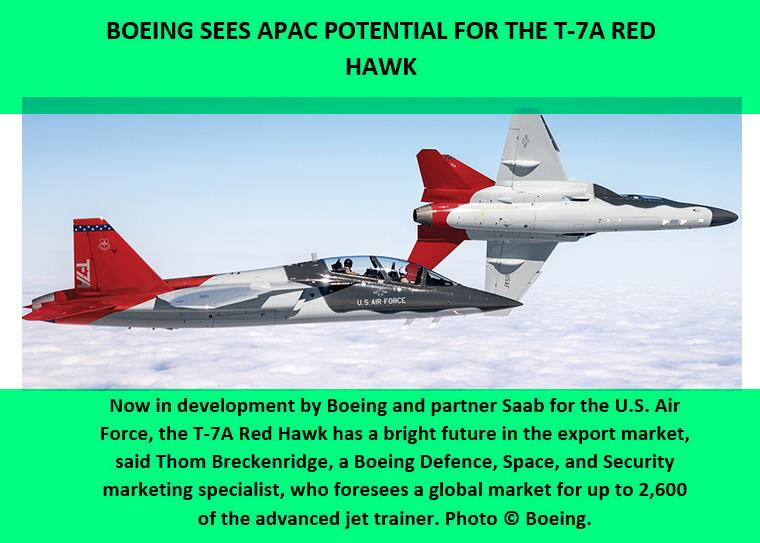 The Asia-Pacific region shows particular promise as a number of countries are either introducing or preparing to introduce fifth-generation fighters. In addition to training, the aircraft has the potential to be employed for other tasks, such as air-to-air adversary training and light attack.
Breckenridge noted that the T-7A is a "perfect complement" to new-generation fighters, including the Lockheed Martin F-35 that has been bought by Australia, Japan, South Korea, and Singapore. Boeing and Saab are sharing the global marketing effort.
The aircraft has a 10- by 19-inch reconfigurable wide-area display, the ability to train in inflight refuelling techniques and an embedded system that allows weapons and sensor training to be undertaken virtually while in flight. The live insertion of threats and air combat opponents enhances the training potential of the type. The aircraft has an open architecture design that permits export customers to tailor the system to meet their own requirements.
Boeing and Saab have started building, respectively, the forward and aft fuselage sections of the initial production aircraft.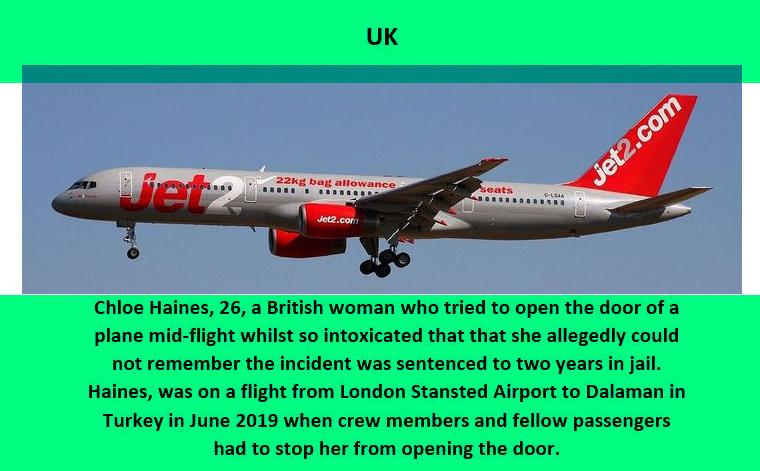 "Ms. Haines' behaviour was one of the most serious cases of disruptive passenger behaviour that we have experienced, and we have banned her from flying with us for life," said Steve Heapy, CEO of Jet2.com and Jet2holidays in a statement. Two Royal Air Force fighter jets were scrambled to escort the jet back to Stansted Airport following the incident. Jet2 billed Haines, from High Wycombe, west of London, more than £85,000 ($110,000) after her "extremely disruptive behaviour" caused the flight to be diverted.
UK, Heathrow: A Qantas Boeing 787-9 was taking of from Heathrow for a flight to Perth when the crew received indication the tail had contacted the runway surface. The crew stopped the climb at 6000 feet, entered a hold to dump fuel and returned to Heathrow for a safe landing about 55 minutes after departure. A post flight inspection revealed both tail strike sensors had triggered. Engineers inspected the aircraft and found no damage to the fuselage. The flight needed to be cancelled nonetheless due to crew duty time limitation.
Turkey, Istanbul: A Pegasus Airlines Boeing 737-800 was descending from Vienna towards Istanbul when the captain lost consciousness prompting the first officer to declare emergency and request an ambulance for the captain. The captain regained consciousness just as the aircraft joined the final approach. The aircraft continued for a safe landing on Sabiha Gokcen's runway 24. The captain was taken to a hospital and is reported to be on the way to a full recovery.
France, Bordeaux: An Air Baltic Bombardier C-Series CS-300 on a flight from Riga (Latvia) to Malaga, (Spain), was enroute at FL390 about 80nm south of Bordeaux (France) when the left-hand engine suffered an uncontained failure and was shut down. The crew diverted the aircraft to Bordeaux where the aircraft landed safely.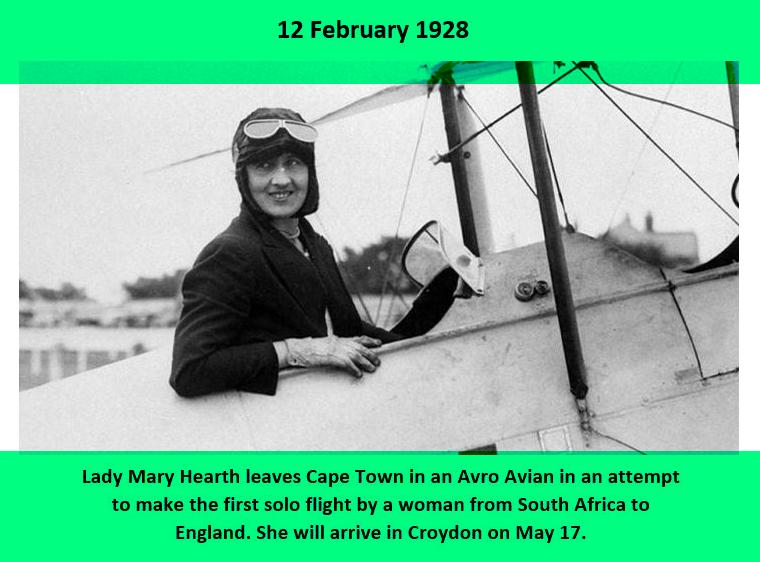 Mary, Lady Heath (10 November 1896 - 9 May 1939) was an Irish aviator and was one of the best-known women in the world for a five-year period from the mid-1920s.
She was Britain's first women's javelin champion and set a disputed world record for the high jump. In 1924 she participated in the 1924 Women's Olympiad winning the silver medal in the long jump. In 1926 she again represented the United Kingdom at javelin at the 1926 Women's World Games in Gothenburg, coming fourth with a throw of 44.63 metres.
The following year, Lady Heath became the first woman to hold a commercial flying licence in Britain and along the way, set records for altitude in a small plane and later a Shorts seaplane, was the first woman to parachute from an aeroplane (landing in the middle of a football match). After her great flight from the Cape, she took a mechanic's qualification in the US, the first woman to do so.
"Britain's Lady Lindy," as she was known in the United States, made front-page news as the first pilot, male or female, to fly a small open-cockpit aircraft from Cape Town to London (Croydon Aerodrome). She had thought it would take her three weeks; as it turned out, it took her three months, from January to May 1928.
On 9 May 1939, aged 42, she died in St Leonard's Hospital, Shoreditch, London following a fall inside a double-decker tram.