Compiled by Willie Bodenstein




AIRLINK IS INDEPENDENT - NOT TO BE CONFUSED WITH SA EXPRESS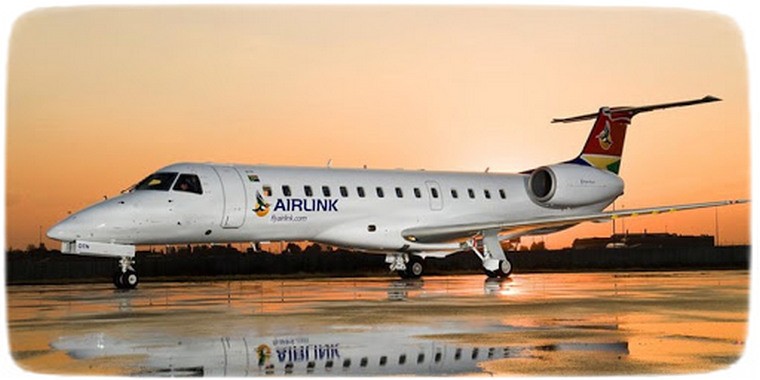 Airlink, the privately-run South African airline, is completely independent and not to be confused with the State-owned feeder airline, SA Express, which the Johannesburg High Court ruled should be placed in Business Rescue.
Airlink competes against SA Express on routes linking Johannesburg with Walvis Bay, Kimberley, Gaborone, Bloemfontein, Hoedspruit, Bulawayo and Mthatha.
For clarity, all Airlink flights and tickets carry the prefix "SA8", while all SA Express flight numbers start with the prefix "SA1".
"Airlinks flights will operate under the "SA8" flight code until 10 June 2020, after which they will be operated under Airlink's unique "4Z" code. "4Z" tickets are already available through travel agents, tour operators and online at www.flyairlink.com," explained Airlink's CEO Mr Rodger Foster.
TRAVEL INSURANCE CONSULTANTS REINSTATE SAA INSOLVENCY COVER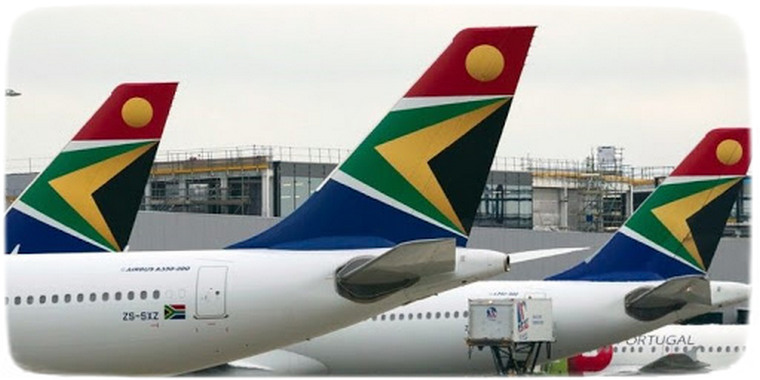 African Airways (SAA) announced that Travel Insurance Consultants (TIC) have reinstated the travel supplier insolvency cover on the airline. This milestone represents a significant step forward for SAA, the global travel agency community and customers alike. In practice, this means that both TIC and the Bryte Insurance Company are now offering these essential insurance services across the travel trade and providing protection for customers choosing to fly with SAA.
From Friday February 14, TIC will provide travel insolvency cover on all policies sold on SAA tickets. Flight Centre, through all its wholly-owned brands, including; Flight Centre Travel Group, FCM Travel Solutions, Corporate Traveller, Flight Centre Business Travel, Cruiseabout and Flight Centre Associates will start selling SAA from today.
"This is an important day for SAA. Customers can now purchase tickets with renewed confidence in the knowledge that they are protected on every step of their journey through either TIC or Bryte Insurance," said Deon Fredericks, Acting CFO of SAA.
SA EXPRESS OPERATIONS CONTINUE AS NORMAL



Regional and domestic airline South African Express (SA Express) confirms that all operations continue as normal. Despite a plethora of well-known historical challenges, SA Express stated that its board and executive team have made positive progress to ensure the long-term sustainability of the airline. While the manner in which the introduction of the Business Rescue process occurred is unfortunate, this now provides the environment to facilitate the conclusion of initiatives that had already been initiated by the board and executive team.
In just under 24 months, SA Express' Board of Directors and Executive team worked tirelessly to rebuild operations and reinstate governance structures while implementing the airline's robust turnaround strategy.
SA Express continues to affirm its critical importance to South Africa's developmental objectives through its expansive aviation value chain which impacts multiple industries. At route level, SA Express makes a positive contribution and is an invaluable strategic national asset whose mandate includes economic development and job creation that is desperately needed in the country.
The Business Rescue process is well-coordinated with no disruptions to customers and employees. SA Express' Board of Directors and Executive Committee will continue to protect this national asset by pursuing and laying charges against those embroiled in malfeasance, irregularities and contraventions of the Public Finance Management Act (PFMA).
BRITISH AIRWAYS INCREASES FLIGHTS TO WINTER SUN HOT-SPOTS FROM LONDON GATWICK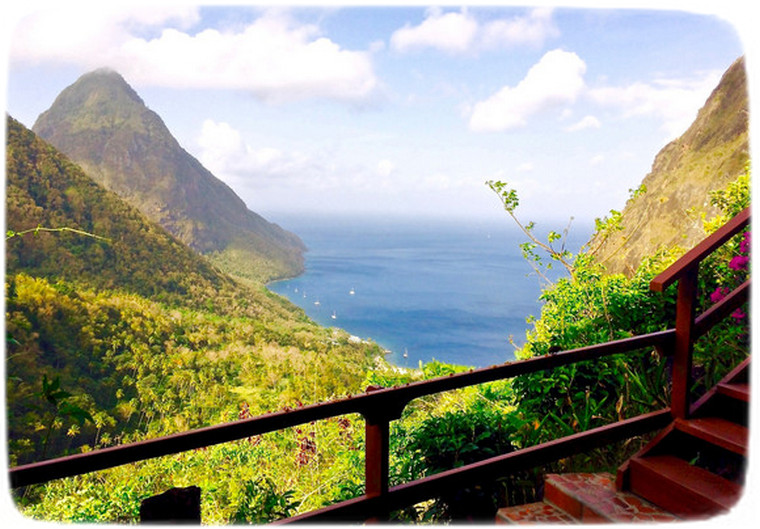 British Airways customers travelling to hot-spots St Lucia, Cape Town and Cancun from London Gatwick will have even more flights to choose from next winter.
From 10 January 2021, there will be two extra flights a week from London Gatwick to the ever-popular Cape Town, which enjoys beautifully warm temperatures for the first three months of the year. The new services will mean that customers can choose from 19 flights a week to Cape Town from London to suit their schedule, with the outbound and return flights overnight to maximise time in South Africa, alongside 14 to Johannesburg, again overnight both ways, and three to Durban.
Adam Carson, British Airways' Managing Director of London Gatwick, said: "We know our customers crave some winter warmth as these are incredibly popular destinations. To make it even easier to get there we're increasing the number of flights to St Lucia, Cancun and Cape Town from London Gatwick and we've put them on days that work well to maximise travellers' time and annual leave."
British Airways flies to more than 70 destinations from London Gatwick, offering a variety of routes to suit both business and leisure travellers. As always, members of the British Airways Executive Club can earn Avios on their British Airways booking. Avios can be spent on Reward flights, upgrades, hotels, car rental and cutting the cost of a flight. When using Avios part payment, customers can pick from a range of savings by destination and cabin and they still collect Avios and Tier Points on their bookings.
AIR MAURITIUS SUSPENDS ALL DIRECT FLIGHTS TO HONG KONG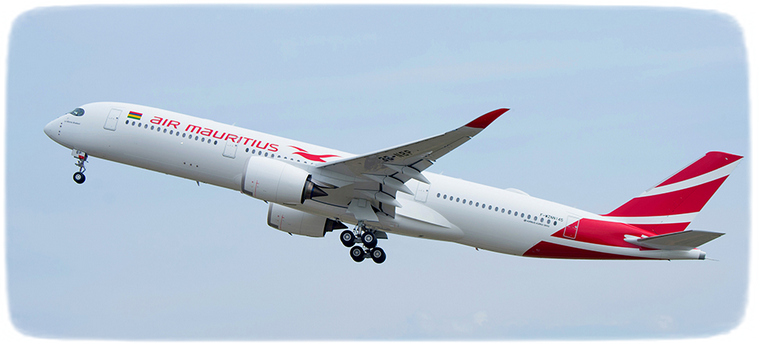 All direct Air Mauritius flights to and from Hong Kong have been suspended until further notice, with effect 04 February 2020. These measures follow a re-evaluation of the Coronavirus situation and the travel restrictions currently in force.
Eligible passengers travelling from and to Hong Kong will be rerouted through our hubs in Singapore and Kuala Lumpur.
Air Mauritius also wishes to inform the travelling public that with the travel restrictions now in force in Mauritius, "any foreign national having resided in China or with a history of travel to and from China within the last 14 days" will not be allowed boarding on Air Mauritius flights as they "will not be allowed entry or transit in the Republic of Mauritius".
AERCAP DELIVERS THE FIRST NEW AIRBUS A320NEO AIRCRAFT TO EGYPTAIR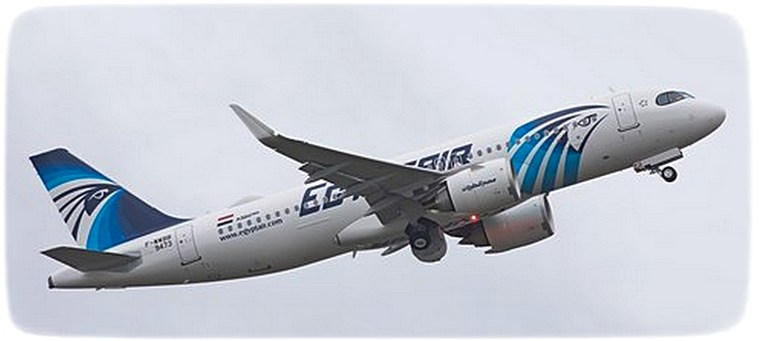 AerCap Holdings N.V. today announced it has delivered a new Airbus A320neo aircraft on lease to EGYPTAIR, the first of a 15 A320neo Family aircraft deal with EGYPTAIR. With this delivery, EGYPTAIR will become the first airline based in mainland Africa to operate the aircraft type.
AerCap is the world's largest Airbus A320neo Family lessor, with 325 owned and on order.
"We are very pleased to deliver to EGYPTAIR their first A320neo and to be a part of their fleet modernization plan," said Aengus Kelly, CEO of AerCap. "We wish the EGYPTAIR team every success as they continue on their journey to achieve their sustainable growth ambitions with the addition of the most modern, fuel-efficient aircraft."
TURKISH AIRLINES ADDED MALABO, THE CAPITAL OF EQUATORIAL GUINEA, TO ITS FLIGHT NETWORK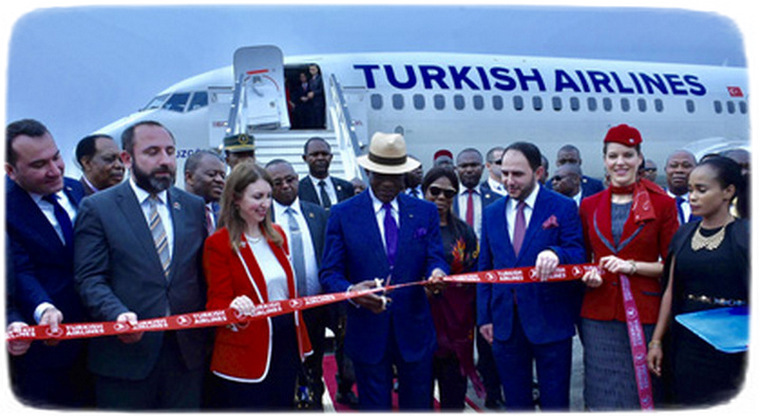 As the airline that flies to more countries than any other, Turkish Airlines continues to expand its flight network. The Flag carrier started its operations to Malabo on February 7, making the capital of Equatorial Guinea its 319th destination.
As the 60th destination of the global carrier in the continent of Africa, flights to Malabo will be operated on Istanbul - Port Harcourt - Malabo - Istanbul route with Boeing 737-900 type aircrafts.
On the new route, Turkish Airlines Chairman of the Board and the Executive Committee, M. Ilker Ayci stated, "A new era has begun in Turkish aviation and tourism sector with the Istanbul Airport. Our new and improved operation hub offers us an unparalleled performance advantage when it comes enhancing our flight network. Today, in line with our continuing growth strategy, we are happy to announce the addition of Malabo to the ever-expanding flight network of Turkish Airlines. From this day forth, passengers traveling to Malabo will be able to enjoy the Turkish Airlines comfort and hospitality. We firmly believe that our new route will further enhance the relations between Turkey and Equatorial Guinea in all areas."
Malabo, the capital of Equatorial Guinea, is the second largest city of the country. Apart from being an oil-rich city, it is also at the forefront with tourism activities. With its natural wonders, rich world cuisine and historical architecture, Malabo is one of the most prominent destinations in Africa.
BRITISH AIRWAYS OPENS UP AFRICAN DESTINATIONS THROUGH CODESHARE AGREEMENT WITH ROYAL AIR MAROC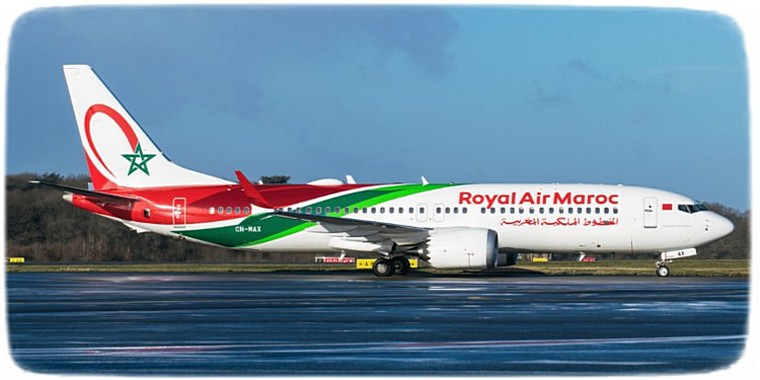 British Airways and Royal Air Maroc have announced a new codeshare agreement which will open up new routes across Morocco including Casablanca and Agadir. It will also give customers more flight flexibility between London Heathrow and Marrakesh.
Customers will be able to book from 13 February when the new agreement takes effect and codeshare flights will operate from 20 February, prior to the Moroccan airline's joining of the oneworld alliance on 1 April 2020.
British Airways' first African codeshare will give its customers more choice of services between Heathrow and Marrakesh as well as daily access to Royal Air Maroc's hub in Casablanca, which is not currently served directly by British Airways.
Casablanca also serves as the perfect hub for connections onto other Royal Air Maroc destinations, including Abidjan in the Ivory Coast, Freetown in Sierra Leone and Agadir in Morocco.
Both Royal Air Maroc and British Airways' customers will be able to earn loyalty points when flying on either carrier. As always, members of the British Airways Executive Club can earn Avios on their British Airways booking including eligible codeshare flights. Avios can be spent on Reward flights, upgrades, hotels, car rental or cutting the cost of a flight. When using Avios part payment, customers can pick from a range of savings by destination and cabin and they still collect Avios points on their bookings.
EMIRATES CELEBRATES 30 YEARS OF CONNECTING RIYADH TO THE WORLD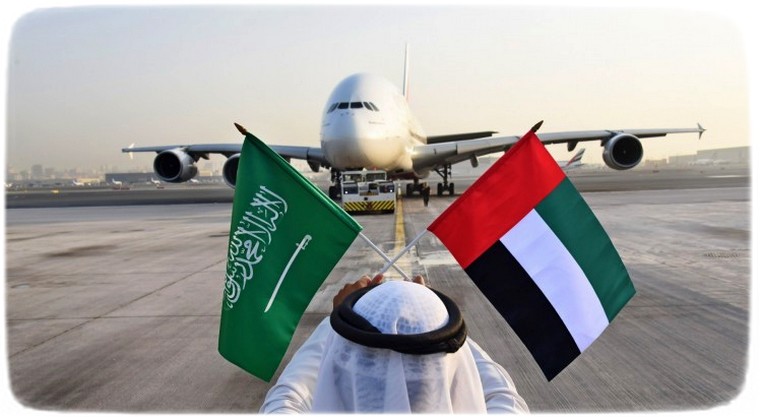 Emirates is celebrating a milestone in its operations to The Kingdom of Saudi Arabia, marking 30 years of service to Riyadh. Since the first Emirates flight between Riyadh and Dubai in February 1990, the airline has carried over eight million passengers on the route, demonstrating the strong links between the Kingdom of Saudi Arabia and the UAE.
Riyadh is one of Emirates' key gateways in Saudi Arabia. The route began with two services a week utilising a Boeing 727 aircraft, and in 1997, the service was upgraded to the larger Boeing 777. In 2009, the service became daily due to high demand. Demand progressively grew and in 2011, the daily service was upgraded to twice daily, in 2012 to three daily and in 2013 to four daily services. Emirates currently serves one of its daily flights to Riyadh with its latest Boeing 777-300ER aircraft fitted with the 'Game Changer' First Class suites and another daily flight with its flagship A380.
Emirates SkyCargo has also played an important role in connecting KSA to the world. In the past five years, Emirates' flights to and from Riyadh carried over 138,000 tonnes of cargo. Currently, major cargo imports and exports include general cargo, chilled meat, electronic equipment and personal effects.
LUFTHANSA GROUP ACHIEVES A TOP POSITION AMONG AIRLINES IN CDP CLIMATE PROTECTION RANKING 2019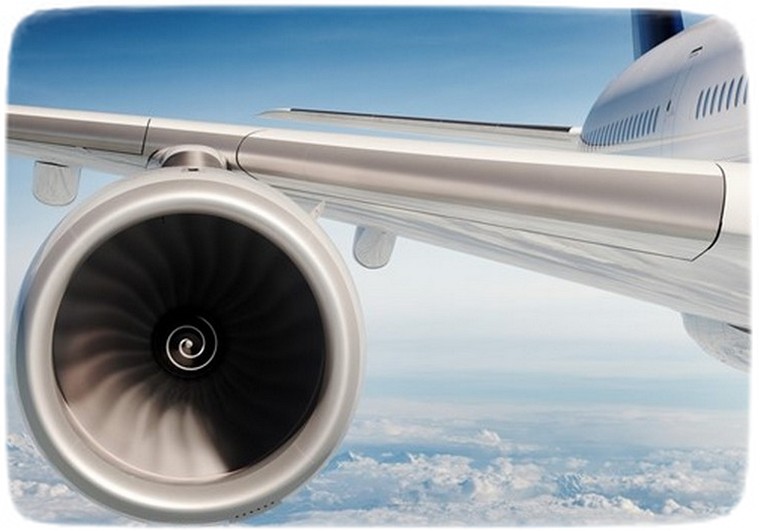 The Lufthansa Group has achieved the Climate Scoring result "B" in the 2019 climate change reporting of the non-profit rating organisation CDP. As in the previous year, the airline group is thus once again listed in the second highest ranking band and thus occupies one of the top positions among the airlines. CDP conducts the world's largest annual climate ranking, which includes extensive information and data on CO2 emissions, reduction strategies and climate risks of the participating companies.
"The good rating in the global CDP ranking confirms our commitment to a sustainable future. One key to achieving this is the use of sustainable aviation fuels. Passengers worldwide already have the opportunity to fly CO2-neutral with it via our platform 'Compensaid'," says Christina Foerster, Member of the Executive Board of Deutsche Lufthansa AG responsible for Customer & Corporate Responsibility.
The Lufthansa Group has been participating in the CDP reporting since 2006, providing relevant interest groups with transparent information about its climate protection strategy and measures to reduce CO2 emissions. The CDP data is also used to a large extent in other assessments by leading rating agencies. CDP Climate Scores are awarded annually on a scale from "A" (best result) to "D-". Companies that provide no or insufficient information are marked with "F".

BBAM ORDERS THREE 737-800 BOEING CONVERTED FREIGHTERS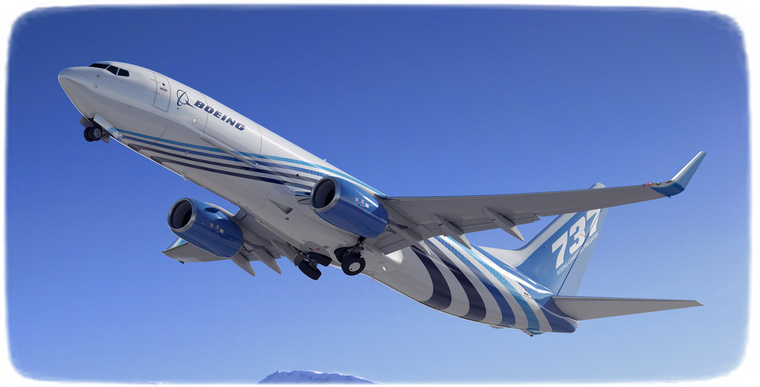 BBAM and Boeing [NYSE: BA] announced the lessor has ordered three 737-800 Boeing Converted Freighters (BCF), underscoring the growing e-commerce and express sector of the air cargo market. BBAM has one of the world's biggest Next-Generation 737 fleets and has chosen the BCF program to convert three airplanes in its existing fleet.
The 737-800BCF is built on the Next-Generation 737 platform, well known for its reliability and efficiency. The airplane carries up to 52,800 pounds (23.9 metric tons) of payload with excellent operating economics to maximize operators' profits. Since entering service in 2018, the 737-800BCF has won 130 orders and commitments.
According to the Boeing Commercial Market Outlook, 2,820 freighters will enter the global fleet to meet market demand, including 1,220 standard-body passenger-to-freighter conversions. Responding to strong market demand, Boeing announced plans to add a 737-800BCF production line at Guangzhou Aircraft Maintenance Engineering Company Ltd. (GAMECO) this summer.
BBAM is the world's largest dedicated manager of investments in leased commercial jet aircraft providing over 200 airline customers in more than 50 countries with fleet and financing solutions over the last three decades. BBAM is the only manager in the aircraft leasing industry focused exclusively on generating investment returns for third-party investors. BBAM currently has more than US $27 billion of assets under management and employs over 150 professionals at its headquarters in San Francisco and in additional offices in Tokyo, Singapore, Zurich, Dublin and Santiago.
TAP CARRIED 1.23 MILLION PASSENGERS IN JANUARY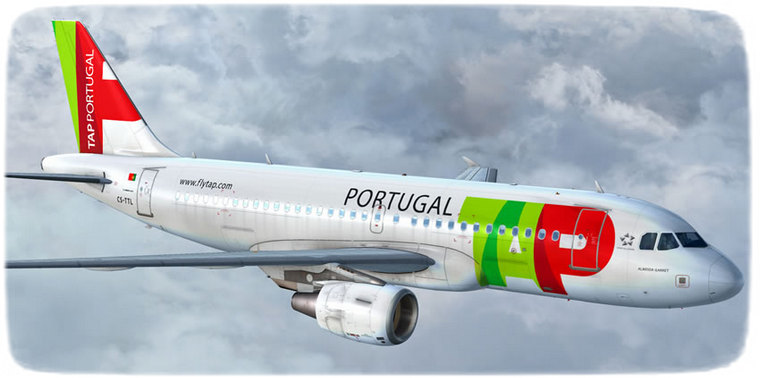 TAP carried 1.23 million passengers in January, 145 000 more than in the same month last year, which represents a growth of 13.3 percent. This growth considerably exceeds the traffic data recorded five years ago, when TAP carried only 779 000 passengers in January. In other words, the Portuguese airline had a growth of 59 percent.
Last month, the biggest growth in passengers was recorded on European routes (excluding Portugal), with 83 000 more passengers, an increase of 13.2 percent, followed by the North American routes, where TAP had more 28 000 passengers over the same period of the previous year.
In January, the number of passengers carried grew above the increase in supply, which translated into an improvement of 2.7 percent in load factor, which stood at 75.3 percent. ASK (available seat per kilometer, a measure of supply) grew by 12.8 percent, and was surpassed by the growth of the RPK (revenue per kilometer, a measure of demand), which was 17 percent.
With the arrival of new state-of-the-art aircraft and the optimization of the network, today TAP has a wider operation, leveraging partnerships on several continents to ensure a consistent offering which allows it to benefit from Portugal's privileged geographical position.
BOMBARDIER QUITS COMMERCIAL AVIATION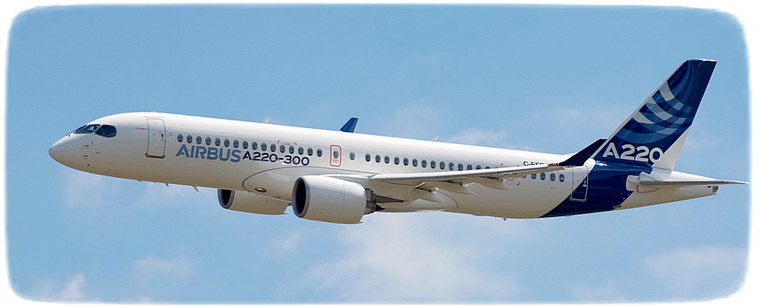 Airbus and the government of Quebec now hold sole ownership of the A220 airliner program after Bombardier transferred its remaining interest in Airbus Canada Limited Partnership (Airbus Canada). The transaction, announced late Wednesday, marks the completion of Bombardier's strategic exit from the commercial aviation sector.
The Europe-based Airbus group said that it now holds a 75 percent stake in the A220 joint venture. The government of Quebec is increasing its holding to 25 percent with any cash consideration being made.
Under a revised agreement, Airbus has an option to redeem Quebec's holding in Airbus Canada in 2026, which is three years later than previously stated. Airbus's Quebec-based subsidiary Stelia Aerospace has acquired work package capabilities for the A220 and A330 programs from Bombardier's operation in Saint Laurent, Quebec.
At the end of January, net orders for the A220 narrowbody stood at 685 units. Airbus said this represented a 64 percent increase since it took majority ownership of the program on July 1, 2018.
AIR CANADA TO OFFER CUSTOMERS THE CONVENIENCE OF PAYPAL FOR PURCHASING TICKETS IN CANADA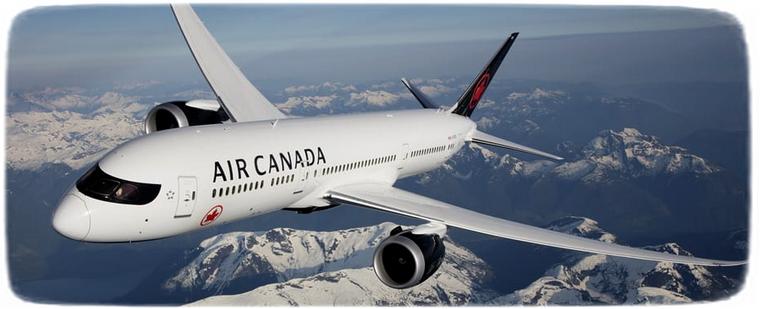 Air Canada has introduced a new payment option for customers by enabling them to use PayPal when purchasing tickets online at aircanada.com in Canada. The popular online payment system offers a secure and convenient means to buy tickets, with customers able to pay for their flights with their preferred payment method - bank account, credit cards or Visa Debit card - linked to their PayPal account.
"Air Canada's strategy is to continually provide customers the opportunity to make their purchase using their preferred method of payment. We are therefore pleased to announce our agreement with PayPal, the popular online payment system that is secure, fast and convenient to use. Having now made PayPal available for ticket sales in Canada, we will look to expand the program to other markets as opportunities arise," said Keith Wallis, Senior Director, Payments and Distribution, at Air Canada.
"We're excited to add Air Canada-our first airline partner in Canada-to a growing fleet of airlines across the globe that leverage our global e-commerce platform to expand their reach," said Paul Parisi, PayPal Canada President. "Our two companies share the same goal to provide a great checkout experience for travellers, so they spend less time buying tickets online and more time enjoying their trip."
PayPal has more than 300 million active users worldwide.
LOT POLISH AIRLINES BUYS THOMAS COOK'S GERMAN UNIT CONDOR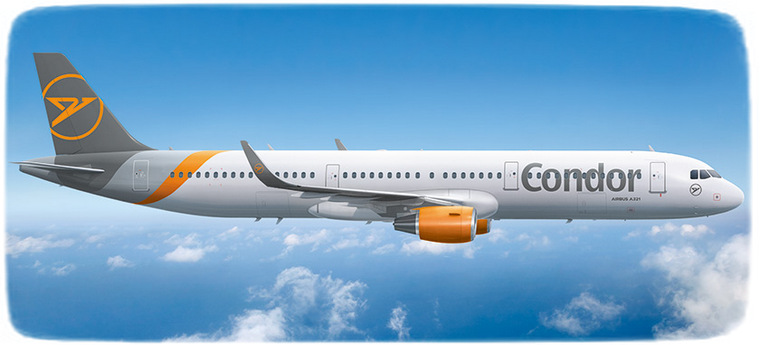 LOT Polish Airlines made the best offer for the purchase of the German affiliate of defunct Thomas Cook Airlines, Condor. German media and the Aviation Market announced the Polish carrier's interest in purchasing Condor. It turned out then that the Polish Aviation Group (Polska Grupa Lotnicza, PGL) which includes LOT Polish Airlines submitted an offer for the purchase of a charter carrier belonging to Thomas Cook.
Thomas Cook announced in September 2019 that it was going into liquidation. The carrier operated a fleet of 103 aircraft operating to many holiday destinations. In Germany, it operated under the Condor brand. Condor alone serves nearly 7 million customers annually and services 80 destinations around the world.
Currently, both the Lufthansa Group and LOT Polish Airlines are members of the Star Alliance. Now LOT will gain a much stronger position on the domestic market of the German national carrier, which may intensify the competition.
The current Condor fleet consists of 51 aircraft: 9 Airbus A320s, 10 A321s, one A330-200, 15 Boeing B757-300ER and 16 B767-300ER. Condor operates scheduled flights to destinations in Africa, the Caribbean, Europe, the Indochina Peninsula, South Asia and North America. Its main operating base is located at Frankfurt airport, but it also has bases in other German cities, such as Düsseldorf, Hamburg, Hanover, Leipzig, Munich and Stuttgart.
Recently, Condor modified its logo and its livery, essentially the tail of the aircraft, to distinguish itself from the former Thomas Cook branding.
A330-800 RECEIVES JOINT EASA AND FAA TYPE CERTIFICATION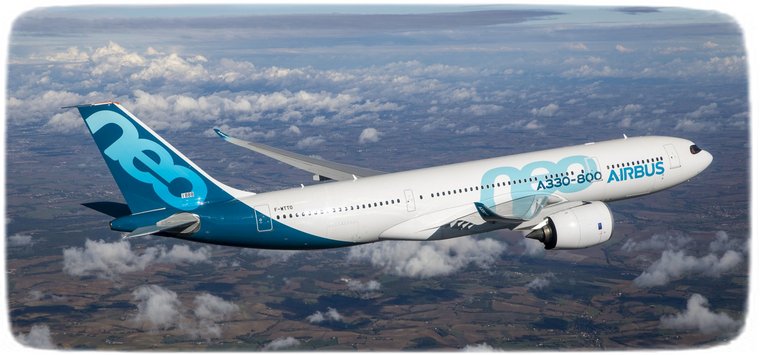 The A330-800 has received joint Type Certification from the European Aviation Safety Agency (EASA) and the Federal Aviation Administration (FAA). The aircraft's certification flight-test campaign was successfully performed by aircraft MSN1888, which completed the programme in 370 flight test hours and 132 flights since its first flight in November 2018.
Certified initially with a maximum take-off weight (MTOW) of 242 tonnes for a range capability of up to 7,500 nautical miles, the A330-800 will typically seat 220 to 260 passengers in three classes, or up to 406 travellers in a single-class high-density configuration. To date the A330neo Family has won 337 firm orders from 22 operators.
In the A330-800, passengers can expect the highest levels of comfort, with the aircraft featuring the award-winning Airspace by Airbus cabin with larger overhead storage, advanced cabin mood lighting and the latest in-flight entertainment and connectivity. Operationally, the A330neo shares a common pilot type-rating with the larger A350 XWB, which facilitates minimum flight training cost and maximum pilot productivity. Maintenance personnel will also benefit from the aircraft's new Skywise data connectivity features which will help them to predict potential issues before they arise, thus ensuring maximum productivity of the aircraft in revenue service.
The A330 is the most popular widebody family ever, operating over one million flights every year. It has received over 1,800 orders from 120 customers with 1,400 A330s currently in operation today. The A330neo is the latest addition to the leading Airbus widebody Family, which also includes the A350 XWB, featuring unmatched space and comfort combined with unprecedented efficiency levels and unrivalled range capability.
AUSTRIAN AMONG THE TOP 10 MOST PUNCTUAL AIRLINES IN EUROPE AGAIN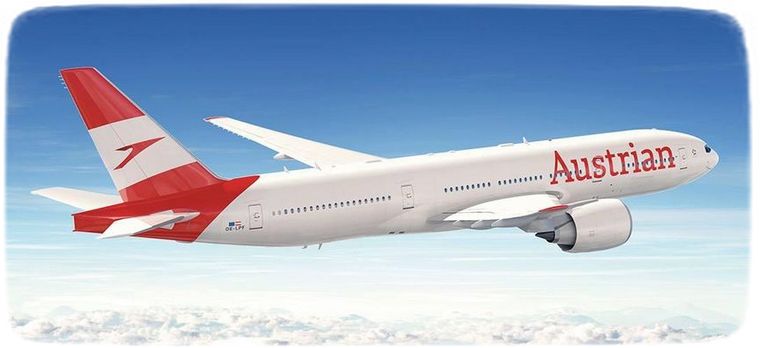 In 2019, Austrian Airlines was once again among the most punctual airlines in Europe. This is confirmed by a recently published study by the travel data and analytics expert Cirium. 79 percent of all arrivals were on time. That means 10th place in the ranking (see table). "I am pleased, that we are among the most punctual airlines in Europe again. However, there is still room for improvement", says Austrian Airlines CEO Alexis von Hoensbroech. "Punctuality is as important to us as the red-white-red on our planes."
In 2018, punctuality was still down on the previous year. The deterioration was mainly due to known problems in European aviation: Congested airports and air traffic controls, increased weather caprices and the resulting rotational delays - in other words, when an aircraft is not available in time for the next flight due to a prior delay. Bottlenecks at some European air traffic controls in particular prevented higher punctuality in 2019 as well.
To increase punctuality, various measures were taken already. Two reserve aircraft were available in the summer of 2019. In addition, Austrian Airlines and Vienna Airport developed various improvements for more punctuality in the "ChronOS@VIE" project. These include automated bus boarding, which enables passengers to get from gate to aircraft faster. For certain arriving flights from the Schengen area, there has been a further exit option for passengers via an additional staircase at the rear door of the aircraft since July. In this way, an aircraft can be made operational again more quickly - which also resulted in noticeable improvements.
A NEW ERA OF AEGEAN WITH AIRBUS A320NEO POWERED BY PRATT & WHITNEY GTF ENGINES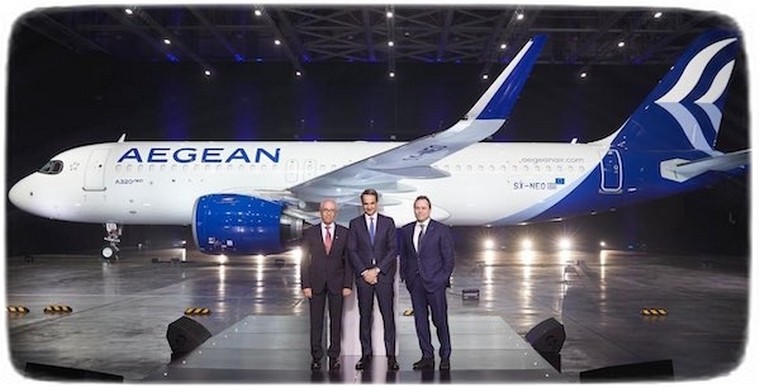 The official presentation of new livery, branding and first of three new generation Airbus A320neo, powered with Pratt & Whitney GTF engines - this is the beginning of new era of growth has begun for AEGEAN. During the official reveal ceremony with the attendance of the Greek Prime Minister Kyriakos Mitsotakis, stakeholders and employees, Eftychios Vassilakis, Chairman of AEGEAN, and Dimitris Gerogiannis, CEO, stressed that AEGEAN's long-lasting investment in Greece is a token of its faith in the country's potential and prospects for development.
Having already expanded the initial order with 12 additional aircraft, AEGEAN is expected to receive by 2025 a total of a minimum 46 aircraft, A320neo and A321neo, with an option for 12 additional aircraft (up to 58 aircraft). This is the largest private investment in Greece, valued at $2,5-3bn at market prices ($6-6,5bn at list prices). For the next 6 years, AEGEAN will invest more than $500mn per year for the expansion and modernization of its fleet. Until July 2020, AEGEAN will receive a total of 6 new aircraft reaching a fleet of 65 aircraft, adding 1.5 million seats (19 million seats in total for the year) and supporting the expansion of its network in 155 destinations and 44 countries in 2020.
Pratt & Whitney celebrated the delivery of the airline's first Airbus A320neo aircraft, leased through Aviation Capital Group and equipped with GTF™ engines. "We are very pleased to take delivery of our first GTF-powered A320neo aircraft, the first out of 46 in total that will be delivered within the next five years initiating our new era," said Eftichios Vassilakis, Chairman of AEGEAN Airlines. "The fuel savings and reduced emissions enabled by the GTF engines will enhance our competitiveness, and the ability to reach further destinations will benefit our passengers and Greek tourism overall."
The new aircraft will start their flights within February, with the first aircraft operating the flight Athens-Munich on Friday, February 14th 2020.

AIR FRANCE, KLM, DELTA AND VIRGIN ATLANTIC LAUNCH WORLD'S LEADING PARTNERSHIP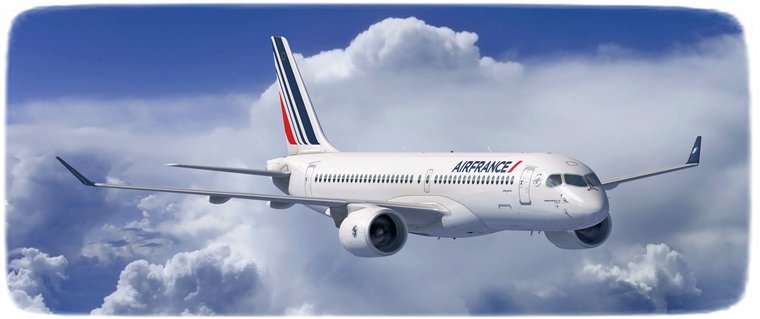 The new partnership provides customers with more convenient flight schedules and a shared goal of ensuring a smooth and consistent travel experience, whichever airline people fly. The partnership also provides the flexibility to book flights on any of the four carriers through their respective mobile apps, websites, or via travel agents. Customers will enjoy award-winning service, top-tier premium cabin products and complimentary food, drink and seat-back in-flight entertainment in all cabins on all trans-Atlantic flights.
Enhanced customer benefits starting from 13 February mean that loyalty programme members will be able to earn and use miles or enjoy elite benefits for flights on any of the four airlines' worldwide operations, including a trans-Atlantic trip, intra-Europe hops, or domestic U.S. journey, offering more opportunities to quickly move through loyalty tiers and reach a higher status. Eligible Elite loyalty programme members can also enjoy priority boarding and relax in over 100 airport lounges when travelling internationally.
Other highlights include: Up to 341 peak daily trans-Atlantic services, covering the top 10 routes on a nonstop basis. Onward connections to 238 cities in North America, 98 in continental Europe and 16 in the UK. A choice of 110 nonstop trans-Atlantic routes
The enhanced network is also fully available to cargo customers and is built around the carriers' hubs in Amsterdam, Atlanta, Boston, Detroit, London Heathrow, Los Angeles, Minneapolis, New York-JFK, Paris, Seattle and Salt Lake City. It creates convenient nonstop or one-stop connections to every corner of North America, Europe and the U.K.
The customer benefits effective this month are just the start with more initiatives being rolled out later this year such as the launch of more codeshare routes, aligning schedules to reduce connection times and smoothing the airport experience from check-in to baggage claim. Customers will also soon be able to check-in and select their seat through any of the partner airline mobile apps or websites.
AEROLÍNEAS AGENTINAS REACHED ITS HIGHEST PUNCTUALITY RECORD FOR JANUARY IN THE LAST 10 YEARS


In January, Aerolíneas Argentinas reached the highest punctuality record for such month in the last 10 years, with 88% of its flight departing on time. Additionally, the completion factor (actual flights vs. flight scheduled) was 99.27%, which is the third best figure in the company's history. The number of passengers carried was of 1,144,291, with a load factor that increased by 5% with respect to January 2019. "We have a strong operational team that devotes large effort and works very hard for flights to depart on time. We have very high safety standards and we aim at providing the best service to our passengers," explained Pablo Ceriani, President of Aerolíneas Argentinas.
The most popular destinations were Córdoba, Ushuaia, Bariloche, El Calafate, Salta, Mendoza, Iguazú, Mar del Plata, Río de Janeiro and Neuquén. "These figures reveal a good summer season, with an important tourist movement in the main destinations within the country, as well as a good number of foreign tourists coming to our country, which is what we should aim at to set economy in motion," added Pablo Ceriani, President of Aerolíneas Argentinas. It is worth noting that, in the case of Río de Janeiro, the company decided to operate some of its 43 weekly frequencies with Airbus 330 aircraft (with a 243 seating capacity), thus increasing the number of seats offered between both cities and boosting regional connectivity. Along the same lines, starting June 29, the company has decided to add 3 new frequencies to Madrid in order to encourage receptive tourism. Aerolíneas Argentinas serves 37 destinations within Argentina and 21 international destinations in Europe, the United States and Latin America, being the main air carrier in the Argentine Republic.