Compiled by Willie Bodenstein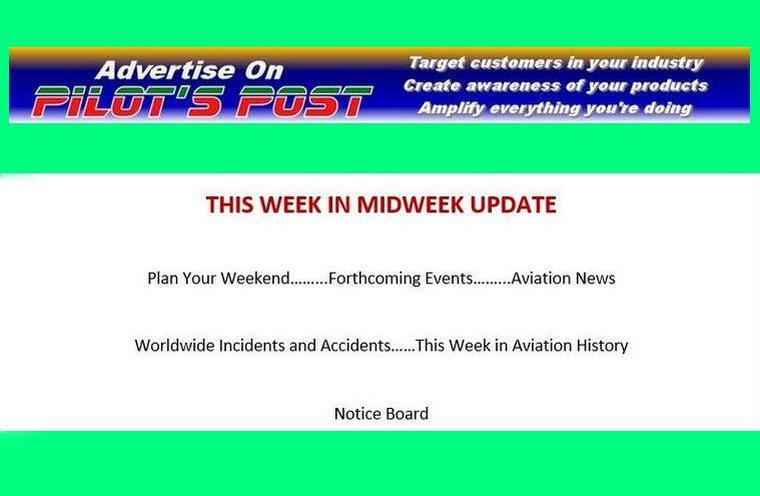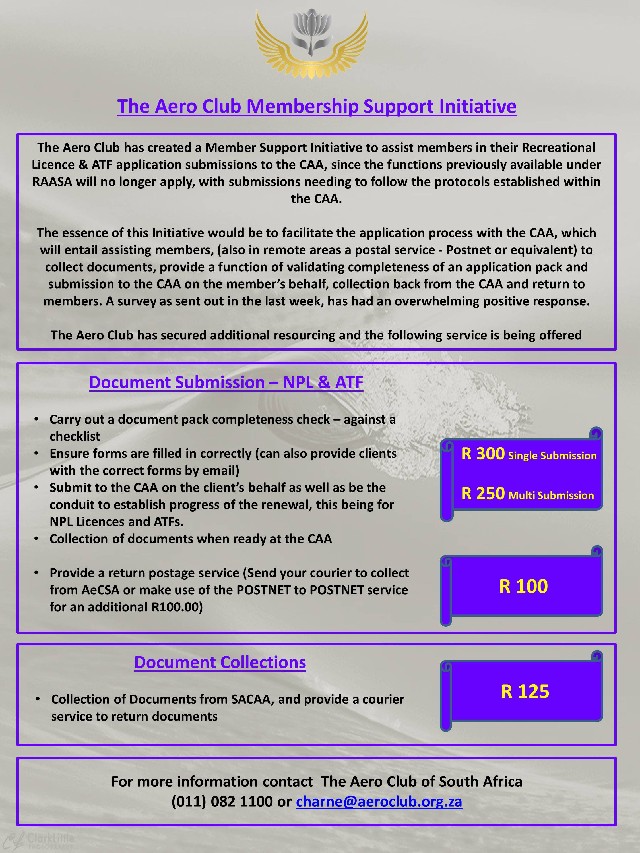 4: EAA Chapter 322 at Dickie Fritz Moth Hall, Edenvale
28 Feb to 1 March: Grassland 2020 Sleep Over Boogie. PPG, PPT, Microlights, LSA's and Gyrocopters welcome. Contact Riaan 061 719 2430 or Pieter 082 451 1546



4: EAA Chapter 322 at Dickie Fritz Moth Hall, Edenvale
7: SAAF Museum AFB Swartkop Open and practice day
7: Brakpan Fun Rally - Brakpan Airport - Contact: Frank Eckard e-mail:
frank.eckard@mweb.co.za
cell: 083 269 1516
7-8: SAC KZN Regional Aerobatics. Ladysmith Airfield. Contact Annie Boone:
chunge@mweb.co.za
18: EAA Talkshow with guest Captain Karl Jensen interviewed by Captain Scully Levin. Booking essential. To RSVP contact Marie Reddy 083 259 7691
21: Bethlehem Speed Rally - Bethlehem Airfield - Contact: Jonty Esser e-mail:
jonty@promptroofing.co.za
cell: 082 855 9435
21: The Airplane Factory Fly-in, Tedderfield. Contact: Shanelle 011 948 9898
20-21: Fashkosh Airshow Stellenbosch Airfield. Contact: Anton Theart at
gm@stelfly.co.za
or 079 873 4567
13 to 5 April: Sun 'n Fun, Lakeland Florida USA. Contact: Neil Bowden at
Neil1@telkomsa.net
or on 084 674 5674
2: EAA Chapter 322 at Dickie Fritz Moth Hall, Edenvale
2 - 4: SAPFA Rally Nationals & Fun Rally - Stellenbosch Airfield. Contact Frank Eckard e-mail:
frank.eckard@mweb.co.za
cell: 083 269 1516
3 - 5: Groblersdal Flying Club fly-in. For more information contact Richard at 082 490 6227 or
flybenchmark@gmail.com
4: SAAF Museum AFB Swartkop Open and practice day
4: Robertson fly-in breakfast. Contact Alwyn du Plessis 083 270 5888
4: Wings and Wheels Festival at Uitenhage airfield. Contact Lourens Kruger E-mail:
lmk@telkomsa.net
Cell: 082 320 2615
18: Aero Club of South Africa Centenary Banquet venue TBA. Contact Marie Reddy E-mail:
marie.reddy@gmail.com
Cell: 083 259 7691
21: Aero Club of South Africa Annual General Meeting EAA Auditorium Rand Airport. Contact Sandra Strydom E-mail:
sandra@aeroclub.org.za
Tel: 011 082 1100
22-26: PASA Sky Diving South African Nationals 2020. Venue: Johannesburg Skydiving Club. Contact:
pottie@jsc.co.za
24 -25: Garden Route Airshow Brett Scheuble
brett@gardenrouteairshow.co.za
084 418 3836
30 to 3rd May: 2020 Aero Club Airweek - Middelburg Airfield - Contact Rob Jonkers e-mail:
rob@aerosud.co.za
cell: 082 804 7032 or Contact Sean Cronin E-mail:
sean@glutek.co.za
Cell: 083 447 9895


1: SAPFA Middelburg Speed Rally Middelburg airfield. For more information contact Jonty Esser E-mail:
jonty@promptroofing.co.za
Cell: 082 855 9435
1-3: North meets South at Gariep Dam. MISASA and SAGPA, all aircraft welcome, (must be AeroClub members). Contact Donald Hicks 083 626 3180 or E-mail
Wendonair@gmail.com
6: EAA Chapter 322 at Dickie Fritz Moth Hall, Edenvale
8 -10: 20th Battlefields fly-in to Dundee KZN. For more information contact: Dave O'Halloran E-mail:
gm@battlefieldslodge.co.za
Cell: 079 496 5286
9: SAAF Museum Airshow at AFB Zwartkops. Contact Mark Kelbrick E-mail:
markkelbrick@yahoo.com
or Cell 082 413 7577
16: Lowveld airshow:
CANCELLED

16: The Coves annual fly-in. Please note this is a closed event by invitation only. Contact JP Fourie Cell: 083 625 4804
12 -15: NAMPO Harvest Day at NAMPO, Bothaville. For more information contact Bennie Zaayman Wim Venter: E-mail:
Wim@grainsa.co.za
Cell 082 414 8099
20: SAC Free State Regional Aerobatics and day Airshow New Tempe, Bloemfontein. For more information contact: Conrad Botha E-mail:
rowco24cc@mailbox.co.za
Cell: 082 465 4045
23 -24: SAC Eastern Cape Regionals Wings Park, East London. Contact Annie Boon E-mail:
chunge@mweb.co.za
22 - 24: SAPFA President's Trophy Air Race at Ermelo airfield. Contact Rob Jonkers E-mail: chairman@sapfa.co.za Cell: 082 804 7032 or go to
www.sapfa.co.za
E-mail:
Race@sapfa.org.za
30: Botswana International Airshow at Matsieng Flying Club. Contact Hentie Cell: +267 713 10935 or E-mail:
hentie@dwddrilling.com
31: Fly-Mo fund raising breakfast fly-in at Springs airfield. Contact Fanie Bezuidenhout E-mail: a
nsan@tiscali.co.za
Cell: 083 789 5507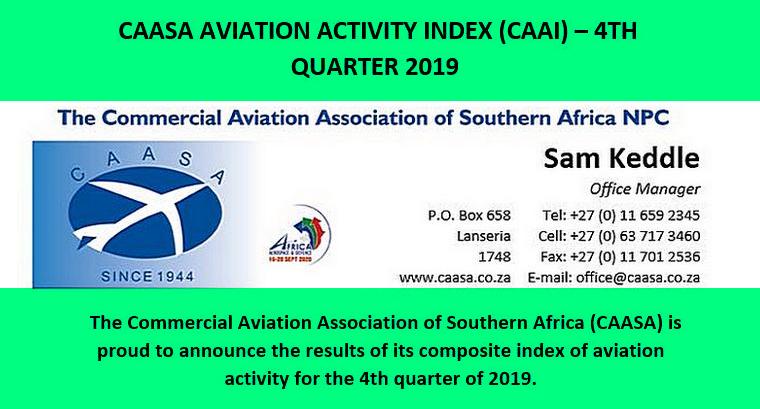 The CAASA Aviation Activity Index (CAAI) is based on 26 different indicators and provides an objective & balanced gauge of economic activity in the commercial aviation industry. Due to the short-term volatility inherent in purchasing and selling aircraft, where units are small, but the currency values are very high, the CAAI includes a trend that is based on a 4-quarter moving average, as illustrated by the graph.
Summary of key trends depicted by the CAAI for the 4th quarter of 2019:
1. The index value increased substantially from the 3rd quarter to reach a level of 130.7, which represents a 31% increase in commercial aviation activity since the base period (1st quarter of 2014). This is, however, considerably lower than the all-time record that was attained in the 4th quarter of 2018, namely 204. One of the reasons for the sound recovery of both the index value and the trend is related to the highly successful 2018 Africa Aerospace & Defence (AAD) exhibition, which was the first AAD since the election of a new executive administration in South Africa, which is committed to pragmatic policies to encourage economic growth, while also combating the scourge of corruption.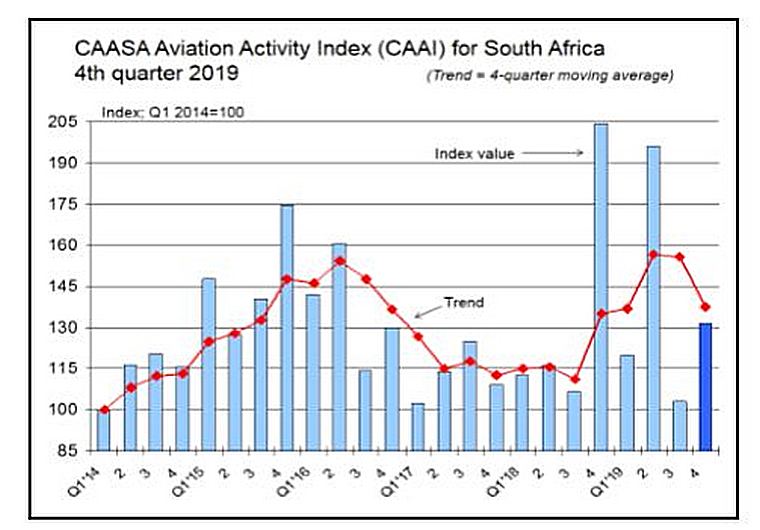 2. An encouraging feature of the latest CAAI results is the fact that, after adjustment for inflationary effects, the commercial aviation industry has outperformed the South African economy over the past six years.
3. It is also apparent that the slump in aviation activity that lasted for eleven quarters (until the 3rd quarter of 2018) has been reversed. Aviation remains a highly capital-intensive sector and it has been under some strain as a result of policy uncertainty, low levels of business confidence, lethargic economic growth and high interest rates.
4. Unfortunately, the recovery in the trend of activity since the 3rd quarter of 2018 has been accompanied by a higher level of volatility, with only ten of the 26 different indicators recording gains over the 4th quarter of 2014.
5. A particular point of concern is the poor performance of air traffic movements (ATMs) at most of the airports managed by the Airports Company of South Africa (ACSA). All nine of these airports recorded lower ATMs in the 4th quarter of 2019, compared to the 4th quarter of 2016.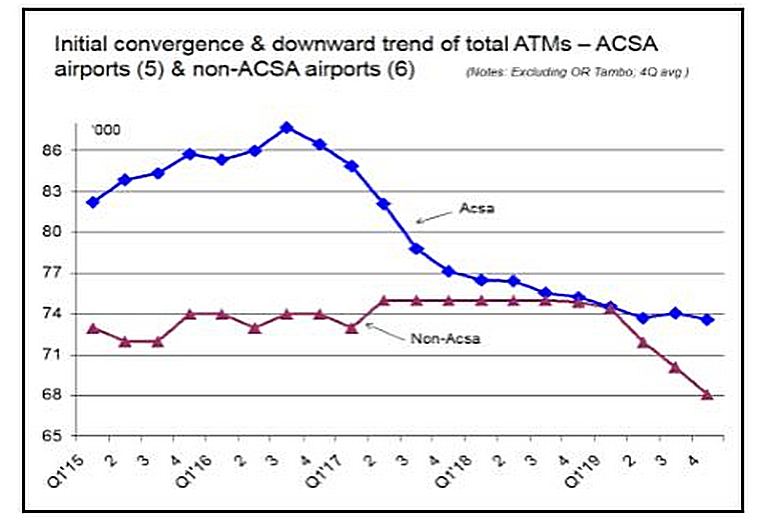 6. In contrast, the six non-ACSA airports included in the CAAI, recorded consistent growth in ATMs until the first quarter of 2019, but a noticeable slump has since set in. It is quite clear that the stringent visa regulations that were introduced in 2015 by the Department of Home Affairs under then Minister Malusi Gigaba have taken their toll on both the South African tourism industry and the commercial aviation industry.

7. In the 4th quarter of 2019, the value of aircraft spares imports reached its second highest level on record, namely more than R1.1 billion.
8. Total aircraft imports (unladen mass of under 15 tonnes) amounted to R487 million in the 4th quarter, slightly lower than the export figure of R554 million.
Background Three key considerations sparked the decision by the Board of CAASA to design the CAASA Aviation Activity Index (CAAI): ? Firstly, the recognition of the indispensable role that commercial aviation plays in facilitating the rapid transport of decision-makers in all spheres of society. ? Secondly, individual data sets reflecting one or more areas of commercial aviation activity often contradict each other, particularly as a result of the capital-intensive nature of the industry's asset base. ? Thirdly, CAASA has identified a need among its members and other stakeholders in aviation to contribute to the knowledge base of conditions in the aviation industry by forging a number of key indicators into a composite index, weighted in terms of their perceived contribution to the general trend in commercial aviation.
Composition of the Index A total of 26 different indicators were selected for inclusion in the CAAI, classified in terms of the following eight groups: # Value of imports of non-powered aircraft # Value of imports of aeroplanes & helicopters (of a mass less than 15t )# Value of imports of aircraft spares ? Value of exports of aircraft spares # Value of exports of aircraft # Air traffic movements at nine ACSA airports # Air traffic movements at six non-ACSA airports
Enquiries: Louise Olckers - General Manager, CAASA e-mail: gm@caasa.co.za; Tel: 011 659 2345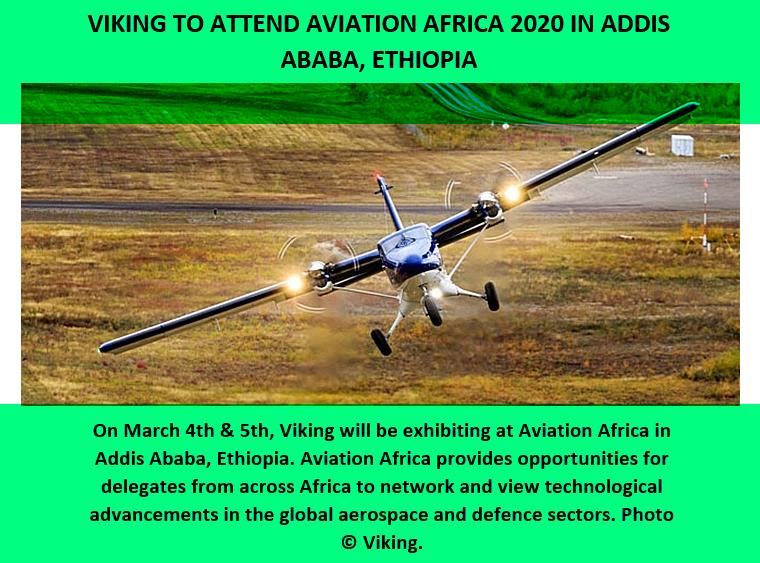 Viking invites delegates to visit us at Stand 29 to learn more about our range of exceptional utility aircraft. For further information, please contact Leona Tardif at leona.tardif@vikingair.com.
Aviation Africa is a two-day summit and exhibition hosted by Ethiopian Airlines. The event features speakers and exhibitors from various industries, with a focus on aerospace and defence. Aviation Africa marks its fifth year in 2020, with over 100 global aviation companies expected to exhibit at the event. The 2019 edition of Aviation Africa featured 860 attendees, 47 airlines represented and 100 sponsors, exhibitors and partners.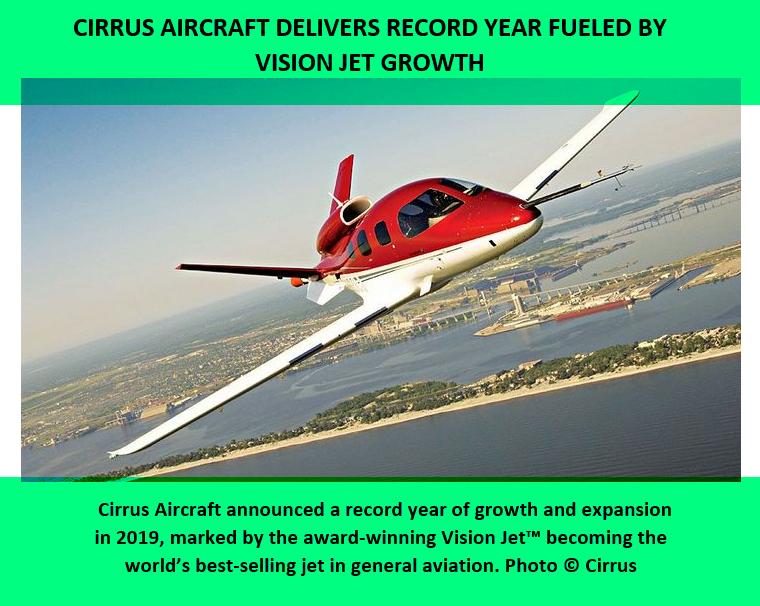 Deliveries of the Vision Jet surpassed 80 aircraft in 2019, representing a 29% increase over the prior year, while consistent growth in SR Series deliveries resulted in a combined total of 465 aircraft shipments in 2019. With 384 aircraft delivered in 2019, the SR Series maintained its distinction as the best-selling high-performance piston aircraft in its segment for eighteen consecutive years. These combined gains in 2019 represent a 5% increase in total deliveries over 2018 and made it the fifth year in a row that Cirrus Aircraft has grown annual airplane shipments.
2019 is the sixth consecutive year that Cirrus Aircraft has delivered more than 300 SR Series aircraft. Additionally, the Vision Jet continues to deliver into new global markets and has now surpassed 170 Vision Jets in service around the world. Expansion of Cirrus Services™ also fuelled enterprise growth, including the opening of a new Cirrus Aircraft facility in the Dallas Metroplex area. Finally, the total number of Cirrus employees grew by over 10% in 2019 as team members were added in all locations including Duluth, Minnesota; Grand Forks, North Dakota; Knoxville, Tennessee and McKinney, Texas.
In January, the company announced the launch of the all-new 2020 G6 SR Series, the most technologically advanced models ever of the world's best-selling SR20, SR22 and SR22T high-performance piston aircraft. The highlight of the new model year is the introduction of the Cirrus Aircraft mobile app powered by Cirrus IQTM - providing a real-time digital connection to the airplane from virtually anywhere in the world. Further enhancements include re-imagined interior and exterior aesthetics featuring a line of bold new collars.
In early 2019, the company announced the launch of the next generation Vision Jet- "G2" - with enhanced performance, comfort and safety. Evolutionary features include increased cruise altitude, speed and range, along with a newly-upgraded Perspective Touch+TM by Garmin® flight deck. In addition to upgrades, several innovative technologies were added to the G2 Vision Jet, including a category-first Autothrottle, Flight Stream connectivity and more. Interior amenities further enhanced the passenger experience with new executive seats, thoughtfully-engineered noise reduction and a passenger productivity console. Later in 2019, Cirrus Aircraft announced the upcoming addition of Safe ReturnTM - a revolutionary emergency Autoland system that enables passengers to land the Vision jet with just the touch of a single button.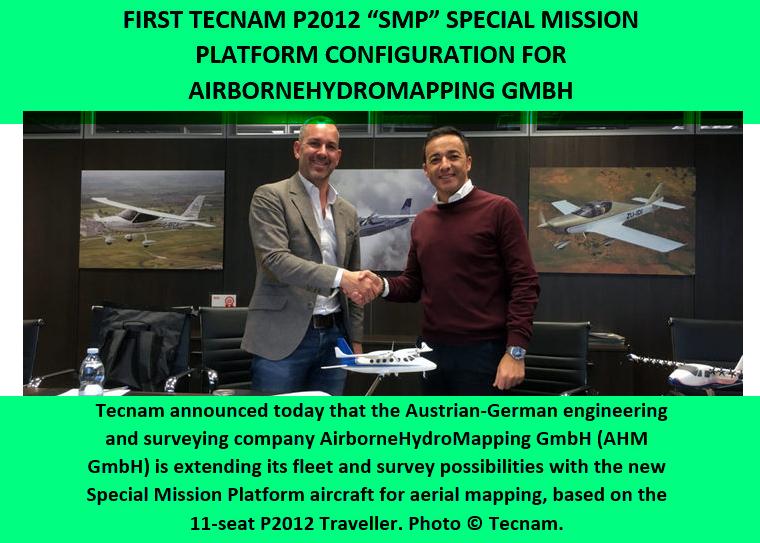 With the great success of the P2006T in Special Mission Platform (about 100 platforms sold and flying worldwide), Tecnam designed the P2012 structure with Special Mission in mind from the very beginning. As an example, all the control lines have been moved sideward, in order to keep the central fuselage section free and allow room for two 735x567mm (28.9×22.3in) hatches, capable of accommodating the majority of sensors, cameras, lidar and mission equipment available worldwide. Twin-engine configuration guarantees the hatches and cabin to be always free from exhaust, so the risk of carbon monoxide will never be an issue with the P2012 SMP.
As with the P2006T SMP, the P2012 is available in several configurations and options, allowing the customer (or the mission system integration service company) to best tune the investment. The standard configuration features, in fact, two hatches with on-ground removable covers, multiple sockets for 28VDC mission power (up to 3.360W available) and a seat retrofit kit to allow restoration of the passenger configuration. There is a wide range of options available to customize the SMP, such as 115/230VAC plugs, 14VDC connectors, mission screen for pilot, operator console, electrically operated sliding doors for hatches, antennae pre-installation and approval. Tecnam also offers a wide range of services, from dedicated fitting plates to turnkey solutions, ensuring that the customer will always be confident about its aerial platform choice: the P2012 SMP.
The Tecnam P2012 features a sleek, modern design with state-of-the-art equipment, fixed landing gear, robust interiors and easy-to-replace parts. Like all Tecnam aircraft, the Traveller offers high efficiency and low maintenance costs with its simple and easily accessed airframe and systems. The aircraft is powered by two Lycoming 6-cylinder TEO-540-C1A turbo engines. It is the first piston-powered aircraft with electronic management of engine power, which, coupled with the Garmin autopilot, enables a reduced workload for pilots and a great extension of the engine life.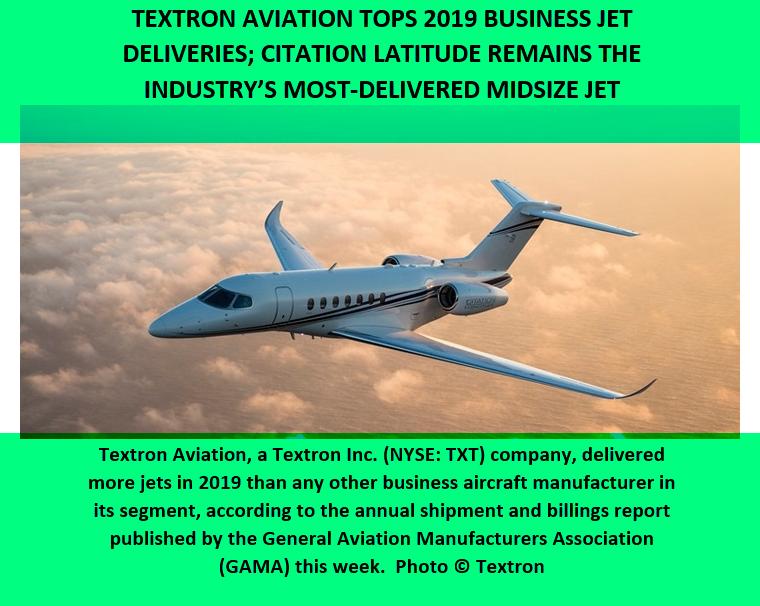 Additionally, the Cessna Citation Latitude remained the most-delivered midsize business jet for the fourth consecutive year. The data from GAMA arrives as the global Cessna Citation jet fleet recently surpassed 40 million flight hours. The jet line-up is recognized as the most popular series of business aircraft ever produced, with more than 7,700 delivered to customers and operators worldwide.
In 2019, Textron Aviation delivered 206 Citation business jets - nearly 60 more than the nearest competitor, according to the GAMA report. Citations joining the worldwide fleet last year include the super-midsize Cessna Citation Longitude, with 13 deliveries since its September 2019 certification.
For the fourth consecutive year, the Citation Latitude topped GAMA's list as the most delivered midsize business jet with 58 aircraft delivered in 2019. The popular midsize jet entered the market in 2015 and quickly established itself as the Citation with the highest average daily utilization. For operators, the Latitude delivers an unmatched combination of best-in-class short-field performance with extended maintenance intervals and lower operating costs. Passengers benefit from the most refined cabin in the midsize class, offering a six-foot stand-up flat-floor cabin, added legroom and class-leading baggage weight capacity.
Every Cessna Citation business jet is backed by Textron Aviation's extensive global customer service team. Through a global network staffed with more than 3,000 employees, customers have direct access to a team of expert service representatives offering maintenance, inspections, parts, repairs, avionic upgrades, equipment installations, refurbishments and other specialized services.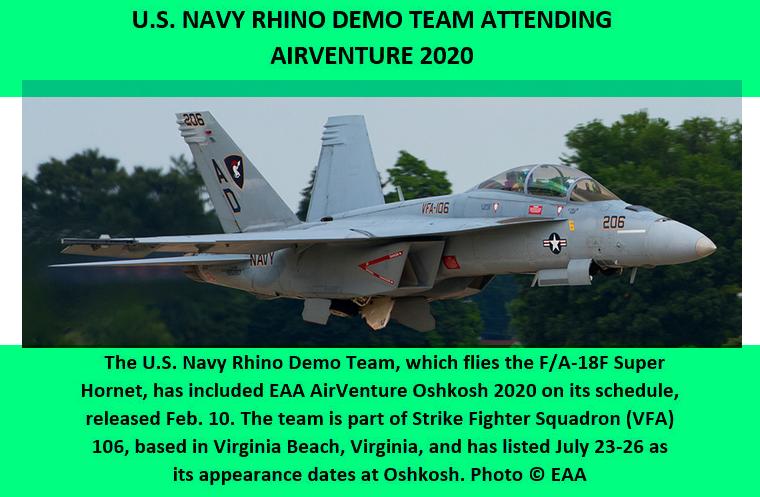 "The demo flight profile highlights the mobility, versatility, and power of the most lethal, carrier-based strike fighter aircraft in the world, the F/A-18F Super Hornet, nicknamed the 'Rhino,'" said VFA-106 commanding officer Dan Catlin. "The team also works with the Navy Legacy Flight program to exhibit the lineage of Naval Aviation to the civilian community."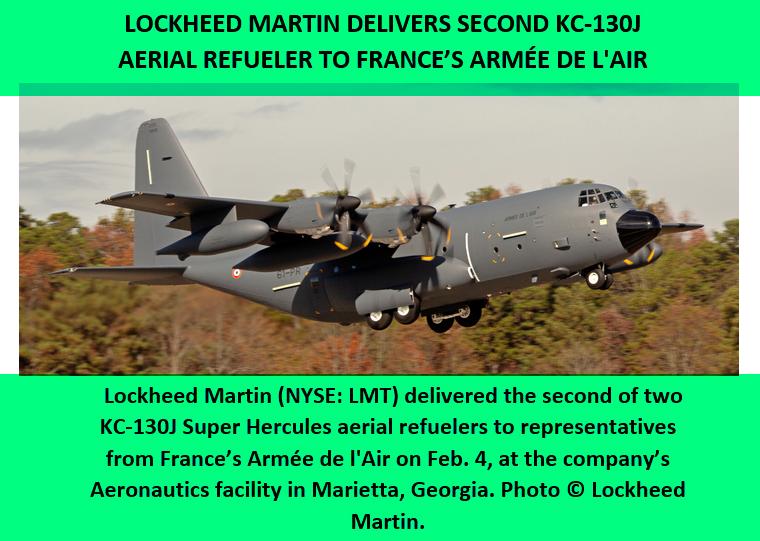 "This additional KC-130J expands the Armée de l'Air's already robust airlift and refuelling resources to not only serve as a national asset, but a global resource as well." -Rod McLean
France has received a total of four Super Hercules aircraft - two C-130J-30 combat delivery airlifters and two KC-130J aerial refuelers - through a Foreign Military Sale with the U.S. government. The two C-130J-30 airlifters were delivered in 2017 and 2018, and first KC-130J delivered in September 2019. All of these Super Hercules are operated in conjunction with France's existing C-130H fleet.
France is the 17th country to choose the C-130J for its airlift and refuelling needs. The C-130J Super Hercules is the most advanced tactical airlifter in operation today, offering superior performance and enhanced capabilities with the range and versatility for every theatre of operations and evolving requirements.
As the preeminent tactical aerial refuelling tanker, the KC-130J is a battle-tested solution that takes full advantage of the tremendous technological and performance improvements inherent in the C-130J Super Hercules aircraft. A true force multiplier, the KC-130J refuels both fixed wing and rotary wing aircraft as well as conducts rapid ground refuelling.
With this delivery, France joins a global community of KC-130J operators. In 2018, Germany announced the acquisition of a C-130J-30/KC-130J fleet, to be operated in partnership with France - making this the first operator relationship of this type in C-130J history.
The C-130J Super Hercules is the global standard in tactical airlift, providing a unique mix of versatility and performance to complete any mission - anytime, anywhere. The Super Hercules worldwide fleet has more than 2 million flight hours and is the airlifter of choice for 20 nations.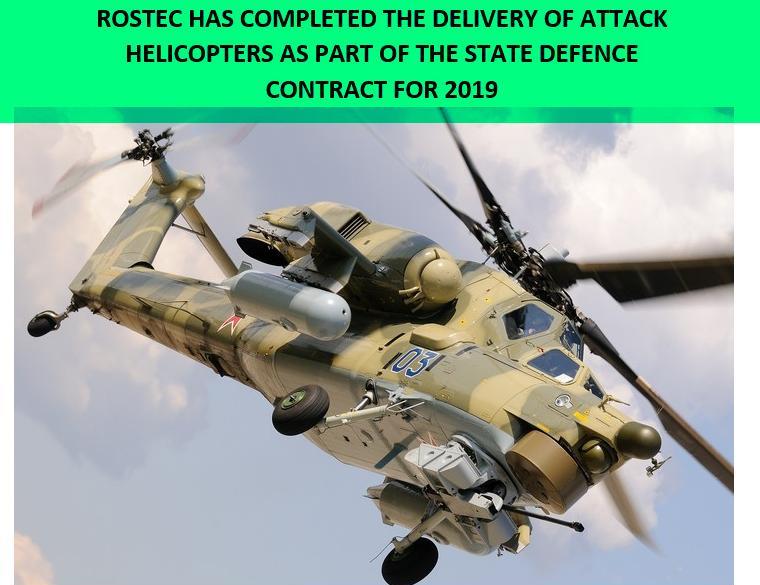 "The enterprises of Rostec are fulfilling the needs of the Ministry of Defence in modern combat helicopters. This year, the forces have received Ka-52 Alligator reconnaissance and strike helicopters, transport and combat helicopters Mi-35M and combat helicopters Mi-28N and Mi-28UB. In addition, we completed the delivery of the first modern Mi-28NM Night Hunter combat helicopters and by 2027 we will produce 98 such machines for the Défense Ministry," said Aviation Cluster Industrial Director of the Rostec State Corporation Anatoly Serdyukov.
The production of helicopters delivered under the state defence contract was carried out at the enterprises of the Russian Helicopters holding - Progress AAC and Rostvertol. The Rostov enterprise, in particular, produces Mi-28NM helicopters. The new Night Hunter looks significantly different from the basic version of the Mi-28N helicopter. The Mi-28NM has acquired a new fuselage shape, modernized engines and an auxiliary power unit, a new avionics system, advanced weapons capability, and can be operated in conjunction with unmanned aerial vehicles and ground command posts.
Currently, Progress AAC is already carrying out experimental design and tests to upgrade Ka-52 helicopter on the contract of the Russian Ministry of Défense and under the supervision of specialists form the Kamov Design Bureau. This will considerably improve performance of the helicopter. The work is underway to increase the target detection and recognition range and expanding the range of weapons used.
State Corporation Rostec is one of the largest industrial companies in Russia. It unites more than 800 scientific and industrial organizations in 60 regions of the country. Its key areas of activity are transport engineering, electronics, medical technology, chemistry and innovative materials. Rostec holdings form three clusters: electronics, weapons and aviation. The corporation's portfolio includes such well-known brands as AvtoVAZ, KAMAZ, Kalashnikov, Russian Helicopters, Uralvagonzavod and others. Rostec is active in the implementation of all 12 national projects.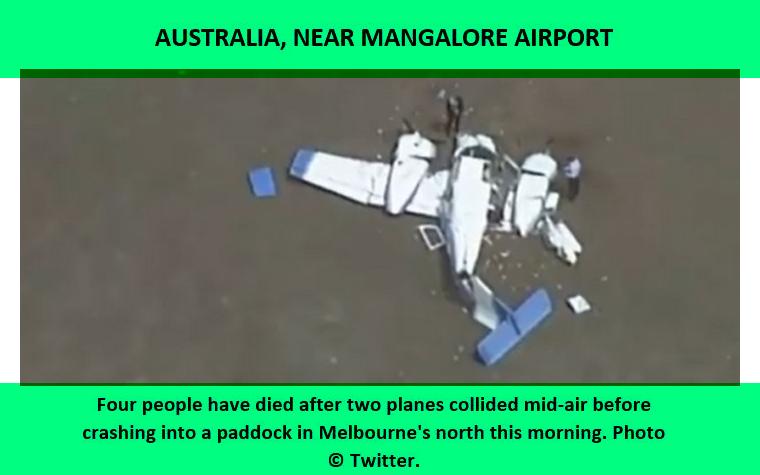 The Piper-Seminole aircraft, operated by flying school Moorabbin Aviation Services with a trainee and instructor on board, had just taken off from Mangalore airfield and reached 1200 metres, when it collided with the Beechcraft Travel Air. It is understood one man aged in his 30s and another in his 40s were in the other planes a privately-owned Beechcraft Travel Air D95A operated by the Peninsula Aero Club at Tyabb. Emergency services were called to two separate crash scenes near Mangalore Airport finding the aircraft a few kilometres from each other.
India, Srinagar: A group of five people were off-loaded from a
IndiGo
A321neo flight for "unruly behaviour" when one of them trying to forcibly open a door of the aircraft as it was taxiing for take-off, insisting that their two companions who lost their boarding passes be allowed to take the flight. The pilot brought the plane back to the parking bay and off-loaded the group. The report has been filed with the relevant authorities as per protocol.
South Africa, Port Elizabeth: A SAA South African Airways Airbus A320-200 on a flight from Johannesburg was on approach to Port Elizabeth when cabin crew noticed an unusual odour. Two flight attendants began to feel unwell. The aircraft continued for a safe landing in Port Elizabeth with emergency services on standby. The airline reported a paint smell was reported in the cabin just prior to landing, oxygen was administered to two flight attendants affected by the fumes.

USA, Fredericksburg: Ryan Guy Parker, the owner of an aircraft washing business at Shannon Airport in Fredericksburg was arrested for allegedly flying an unsafe aircraft without a pilot's licence. Witnesses saw Parker at Shannon Airport flying a small plane that described as "a bucket of bolts" flying about 50 feet above two large airport fuel tanks with 18,000 gallons of fuel as well as flying in patterns for about 10 or 15 minutes. When Parker landed, the aircraft bounced and spun out. Parker told the first witness he had been working on the plane when the throttle got stuck, and that's what sent him into the air.
USA, Coleman County Texas: A Beechcraft B200 King Air, operated by TLC Air LLC was destroyed when it impacted open field terrain northeast of Coleman County, Texas, after reporting electrical problems and trying to return to the point of departure of Abilene Airport, Texas, USA. The three occupants onboard sustained fatal injuries.
USA, Daytona Beach International Airport: A Cessna 510 Citation Mustang experienced a gear up landing at Daytona Beach International Airport, Daytona Beach, Florida. The aircraft suffered minor to moderate damage and the two occupants onboard were not injured during the incident.
Turkey, Istanbul Sabiha Gökçen International Airport: The cause of the plane accident at the runway at Istanbul Sabiha Gökçen International Airport that killed three and injured 180 people on Feb. 5 may be hydroplaning, according to initial findings. It has also been revealed that the Indonesian second officer of the plane could not help the system because the officials at the operations tower spoke Turkish and all the conversations were held by the Turkish captain pilot.
Argentina, Rosario: An Austral Lineas Aereas Embraer ERJ-190 operated by Aerolineas Argentinas landed on Rosario's runway without any obvious anomaly and taxied to the apron. Ground staff alerted the crew to the left nose wheel missing from the nose gear. Tower was informed, a runway inspection conducted which found the missing wheel in the grass off the runway.
USA, Santa Monica Municipal Airport, California: The FAA issued an emergency airworthiness directive (AD) to remove headset amplifier and microphone interface circuit card assemblies from the Cirrus SF50 Vision Jet after a fire accident in December a Cirrus SF50 Vision Jet caught fire prior to departure from Santa Monica Municipal Airport, California. An investigation determined the probable root cause was a malfunction of the headset amplifier and the microphone interface circuit card assemblies for the 3.5 millimeter audio and microphone jacks. This malfunction likely resulted in an electrical short and subsequent uncontained cabin fire without activating circuit protection.

India, Mumbai: SpiceJet Boeing 737 was damaged by the pushback that tug had come at speed and hit the connected baggage freight loader to the engine, damaging the air conditioner and also injuring the loader. There was no passenger or crew onboard."
USA, Grant County International Airport in Moses Lake: Boeing discovered debris that mechanics left inside the wing fuel tanks of several undelivered 737 MAXs during the aircraft assembly process. The company has ordered inspections of all the undelivered MAXs, about 400 of which are stored at various locations. Regarding the additional 385 MAXs that were delivered to customers but have been grounded for almost a year and are parked at airfields around the world, company spokesman Bernard Choi said Boeing is recommending inspections for those airplanes that have been in storage for more than a year. "It's still undecided if we will inspect the rest" of the delivered MAX fleet, he added. "Obviously, we'll do what's right for safety." Boeing has had constant trouble with FOD discoveries in the past couple of years, previously on the 767-based KC-46 military tanker built in Everett and on the 787 Dreamliners built in North Charleston, S.C.
West Indies, Bermuda: A British Airways flight bound for Tampa made an unexpected landing in Bermuda last week after one of the seats began to smoulder. British Airways says it was caused by a cell phone that fell into a fully-reclined seat, causing its lithium battery to overheat and catch fire. Flight attendants contained the fire risk and the aircraft landed safely at the airport, where fire crews were waiting. Passengers evacuated and the plane was inspected.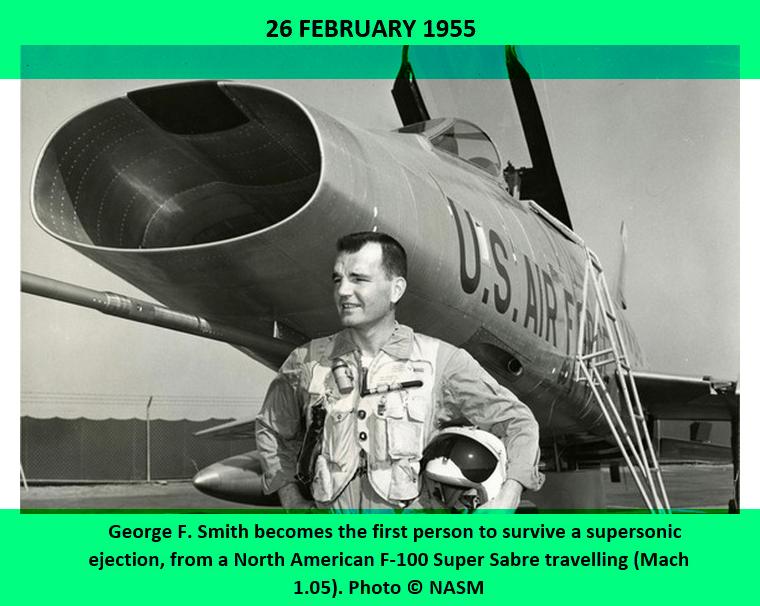 F-100A-20-NA Super Sabre, serial number 53-1659, was sitting on the flight line and needed to be test flown before being turned over to the Air Force and although it was George Franklin Smith, North American production test pilot's day off, Smith was happy to take the flight.
He took from LAX in full afterburner mode and climbed to 35,000 feet (10,668 meters) over the Pacific Ocean to start the test sequence but it was quickly apparent that something was wrong: The flight controls were heavy, and then there was a hydraulic system failure that caused the Super Sabre pitch down into a dive. Smith couldn't pull it out of the dive and the airplane's speed rapidly increased, eventually passing Mach 1.
Smith was unable to regain control of the F-100. He had no choice but to bail out. As he ejected, Smith read the instruments: the Mach meter indicated Mach 1.05-785 miles per hour (1,263 kilometres per hour)-and the altitude was only 6,500 feet (1,981 meters).
The force of the wind blast hitting him as he came out of the cockpit knocked him unconscious. Estimates are that he was subjected to a 40 G deceleration. His parachute opened automatically and he came down approximately one-half mile off Laguna Beach. Fortunately, he hit the water very close to a fishing boat crewed by a former U.S. Navy rescue expert.
The F-100 dived into the Pacific Ocean approximately Ľ-mile (0.4 kilometers) offshore between Dana Point and Laguna Beach.
George Smith was unconscious for six days, and when he awoke he was blind in both eyes. After four operations and seven months in the hospital, he recovered from his supersonic ejection and returned to flight status.