Compiled by Willie Bodenstein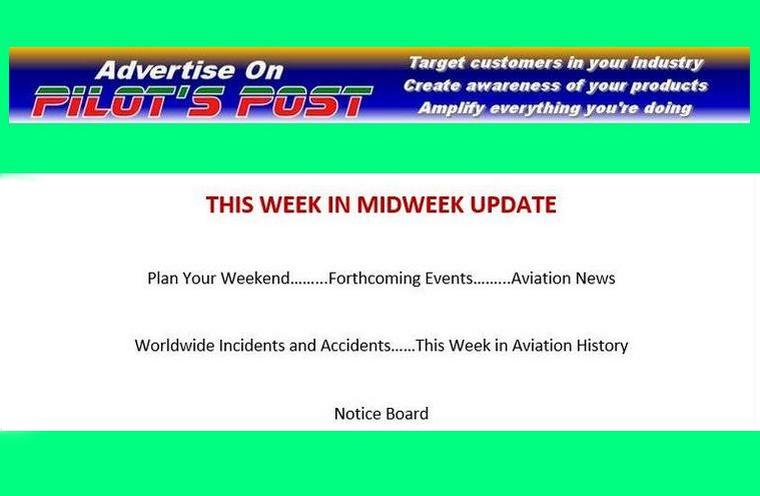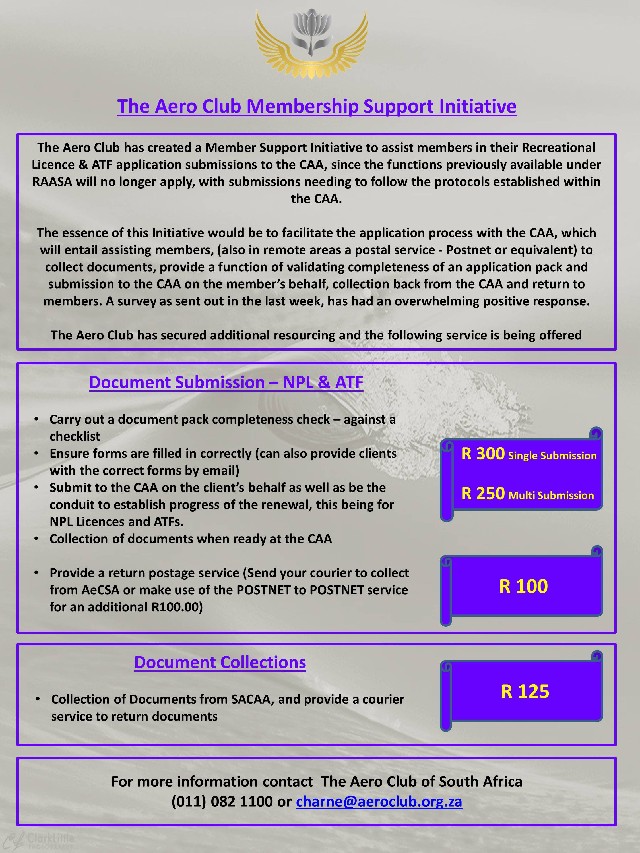 4: EAA Chapter 322 Monthly Meeting at Dickie Fritz Moth Hall, Edenvale
7: SAAF Museum AFB Swartkop Open and practice day
7: Brakpan Fun Rally - Brakpan Airport - Contact: Frank Eckard e-mail:
frank.eckard@mweb.co.za
cell: 083 269 1516
7-8: Northwest Regional Aerobatics. Klerksdorp Airfield. Contact Annie Boone:
chunge@mweb.co.za



17: Aero Club of South Africa Annual General Meeting EAA Auditorium Rand Airport. Contact Sandra Strydom E-mail:
sandra@aeroclub.org.za
Tel: 011 082 1100. Time 18:00 for 18:30. Place: EAA auditorium, Hurricane Ave, Rand Airport, Germiston
21: Bethlehem Speed Rally - Bethlehem Airfield - Contact: Jonty Esser e-mail: jonty@promptroofing.co.za cell: 082 855 9435
21: The Airplane Factory Fly-in, Tedderfield. Contact: Shanelle 011 948 9898
20-21: Fashkosh Airshow Stellenbosch Airfield. Contact: Anton Theart at
gm@stelfly.co.za
or 079 873 4567
13 to 5 April: Sun 'n Fun, Lakeland Florida USA. Contact: Neil Bowden at
Neil1@telkomsa.ne
t or on 084 674 5674


2: EAA Chapter 322 at Dickie Fritz Moth Hall, Edenvale
2 - 4: SAPFA Rally Nationals & Fun Rally - Stellenbosch Airfield. Contact Frank Eckard e-mail:
frank.eckard@mweb.co.za
cell: 083 269 1516
3 - 5: Groblersdal Flying Club fly-in. For more information contact Richard at 082 490 6227 or
flybenchmark@gmail.com
4: SAAF Museum AFB Swartkop Open and practice day
4: Robertson fly-in breakfast. Contact Alwyn du Plessis 083 270 5888
4: Wings and Wheels Festival at Uitenhage airfield. Contact Lourens Kruger E-mail:
lmk@telkomsa.net
Cell: 082 320 2615
18: Aero Club of South Africa Centenary Banquet venue TBA. Contact Marie Reddy E-mail:
marie.reddy@gmail.com
Cell: 083 259 7691
22-26: PASA Sky Diving South African Nationals 2020. Venue: Johannesburg Skydiving Club. Contact:
pottie@jsc.co.za
24 -25: Garden Route Airshow Brett Scheuble
brett@gardenrouteairshow.co.za
084 418 3836
30 to 3rd May: 2020 Aero Club Airweek - Middelburg Airfield - Contact Rob Jonkers e-mail:
rob@aerosud.co.za
cell: 082 804 7032 or Contact Sean Cronin E-mail:
sean@glutek.co.za
Cell: 083 447 9895


1: SAPFA Middelburg Speed Rally Middelburg airfield. For more information contact Jonty Esser E-mail:
jonty@promptroofing.co.za
Cell: 082 855 9435
1-3: North meets South at Gariep Dam. MISASA and SAGPA, all aircraft welcome, (must be AeroClub members). Contact Donald Hicks 083 626 3180 or E-mail
Wendonair@gmail.com
6: EAA Chapter 322 Monthly Meeting. Dickie Fritz Moth Hall, Edenvale
8 -10: 20th Battlefields fly-in to Dundee KZN. For more information contact: Dave O'Halloran E-mail:
gm@battlefieldslodge.co.za
Cell: 079 496 5286
9: SAAF Museum Airshow at AFB Zwartkops. Contact Mark Kelbrick E-mail:
markkelbrick@yahoo.com
or Cell 082 413 7577
16: Lowveld Airshow:
CANCELLED

16: The Coves annual fly-in. Please note this is a closed event by invitation only. Contact JP Fourie Cell: 083 625 4804
12 -15: NAMPO Harvest Day at NAMPO, Bothaville. For more information contact Wim Venter: E-mail:
Wim@grainsa.co.za
Cell 082 414 8099
23 -24: SAC Eastern Cape Regionals Wings Park, East London. Contact Annie Boon E-mail:
chunge@mweb.co.za
22 - 24: SAPFA President's Trophy Air Race at Ermelo airfield. Contact Rob Jonkers E-mail:
chairman@sapfa.co.za
Cell: 082 804 7032 or go to
www.sapfa.co.za
E-mail:
Race@sapfa.org.za
30: Botswana International Airshow at Matsieng Flying Club. Contact Hentie Cell: +267 713 10935 or E-mail:
hentie@dwddrilling.com
31: Fly-Mo fund raising breakfast fly-in at Springs airfield. Contact Fanie Bezuidenhout E-mail:
ansan@tiscali.co.za
Cell: 083 789 5507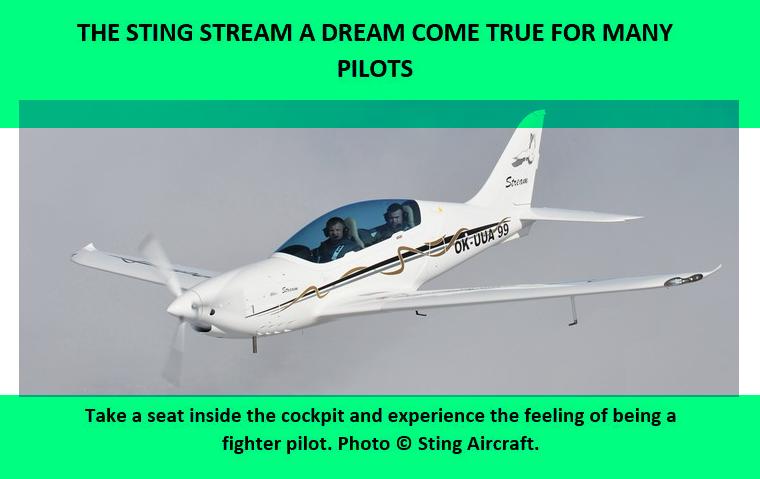 The Stream will astound you. Its luxurious cockpit will envelop you with the best possible equipment. During the flight, you'll have the feeling of being one with the aircraft. You'll really start to enjoy flying.
After you climb into the Stream, you'll experience the same feelings as military pilots. Seats placed behind each other and the well-thought-out shape of the aircraft. The most modern glass cockpit and the maximum amount of control elements on the sidestick. A perfect design, aerodynamically clean, with precise control. A robust retractable landing gear and a ROTAX 912UILS engine with a PowerMax propeller mean just one thing: safety, high speeds and an unbelievable flying experience!
We've given a great deal of care to the protection of the occupants. Kevlar and carbon fibre are a guarantee of the highest possible rigidity and also of the aircraft's low weight. With the use of the most modern production methods and technologies, the production of the Stream is fast, precise and flawless.
The Stream is the future. The Stream is setting the trends for ultra-light flying.

The continued growth was driven by a 70% YOY increase of Piper Archer single engine primary trainer aircraft and an 8% increase of multiengine Seminole trainers. The production of Piper's flagship M600, shifted to the new M600 SLS provisioned with the HALO(TM) Safety System, and Garmin Autoland in the second half of the year.
This planned change resulted in a slight decline in delivery numbers as the company continues with final certification for the HALO system. Both the SETP M500 and pressurized M350 also saw positive volume growth in 2019. International deliveries of Piper products showed continued growth of 5% over 2018 with 29% of Piper products being shipped to countries outside of North America.
In addition to Piper's sales success, the company continued to invest in its production capabilities with the expansion of Piper's additive manufacturing program, which includes the 3-D printing of nearly 400 parts. The company continued with capital investments in new equipment and facilities totalling more than $10 million during 2019. The continued rise in demand for Piper products has resulted in order backlog orders touching 2027. The increased volumes also bode well for the Vero Beach, FL community with a 10% increase in the local workforce.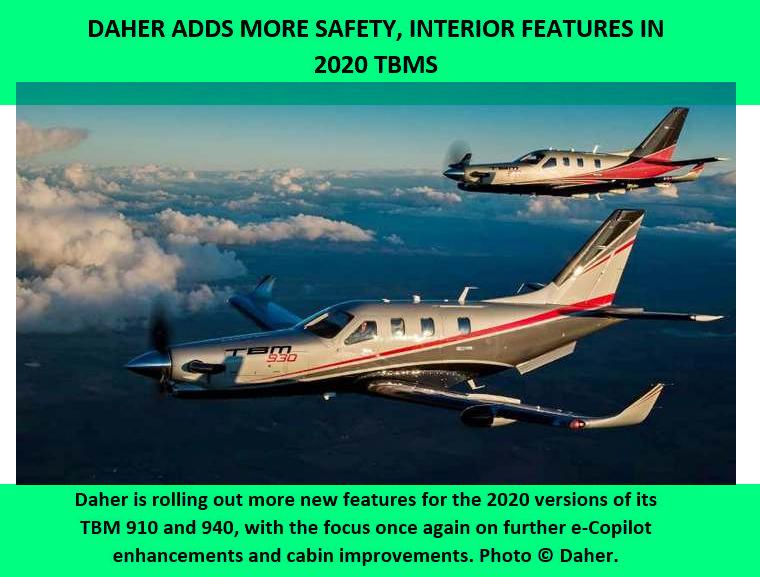 Following on the addition of automated icing protection for both models and autothrottle for the TBM 940 in 2019, this year's e-Copilot extension is HomeSafe, an emergency autoland system-but only for the 940.
HomeSafe, which will be standard equipment on the TBM 940 going forward, is based on Garmin's Autoland system and can automatically guide the aircraft to a landing in the event of pilot incapacitation. It integrates weather, traffic, and terrain information to select the optimum airport for landing, considering such conditions as fuel range, flight distance, and runway length. Certification in the TBM 940 is pending.
Meanwhile, both TBM models will have new leather and material finishes, including six colour choices for seat coverings and side panels, more wood fittings, and three new floor carpet colours. An "enhanced operational package" offers eight pre-selected palettes named after TBM owners' favourite travel destinations such as Atacama or Goose Bay.
Comfort-related enhancements added in the 2020 TBMs are headset stowage hooks behind the rear seats, additional cupholders, and a tablet device holder for the pilot on the side of the central console, as well as an optional quick-change storage unit that offers more space for carry-on items.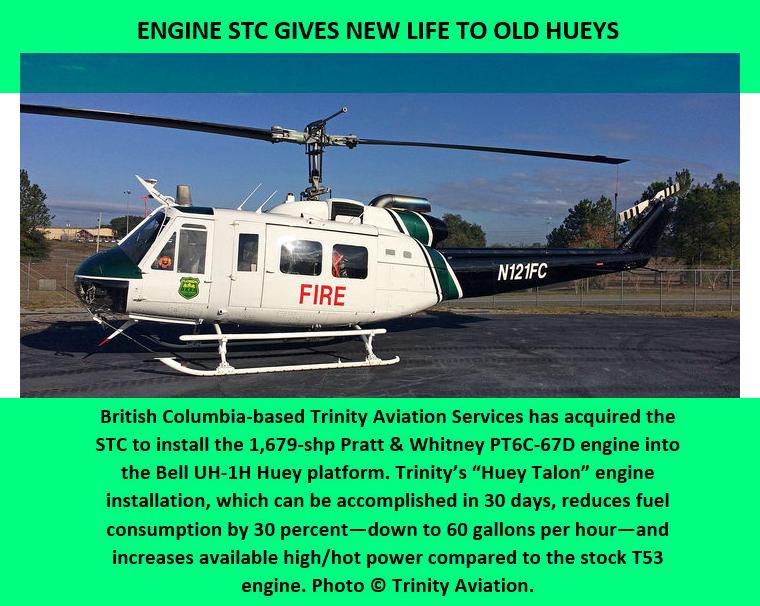 Trinity forecasts fuel savings at $144,000 per 600 flight hours. Photo © Trinity Aviation.
"We feel these aircraft are here to stay. They are well known, forgiving, maintenance-friendly and with the proper TLC, will keep on providing us with a cost-effective workhorse for many years to come," said Trinity Aviation general manager Warren Malmberg.
The new engine comes with a four-year, 1,500-hour warranty and a 4,000-hour TBO. The line-maintenance interval is quadrupled to 600 hours/one year. Overall maintenance cost and hourly operating costs are predicted to be 30 percent less than those of aircraft with the legacy engine. The new engine installation also yields a weight saving of 50 pounds, eliminates bleed-air requirements via installation of an electric oil cooler blower and has a 15,000-foot relight certification.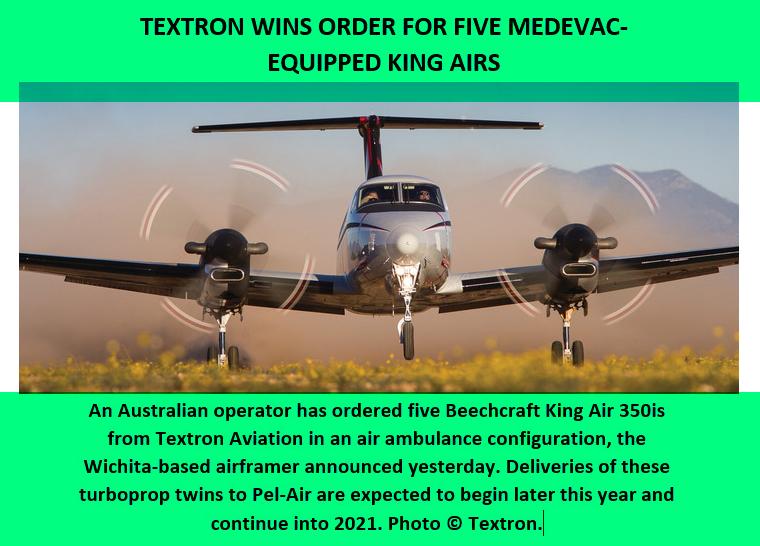 Based in New South Wales, Pel-Air will provide contracted air ambulance service to government agency NSW Air Ambulance, an emergency services provider for NSW Health Service. The new King Airs will be configured for multi-stretcher operations and equipped with aft cargo doors and heavyweight options for additional performance. To be based in Mascot at Sydney Airport, they will replace a mix of King Air B200s and B350s.
"The King Air has proven itself very adept for special missions, particularly for air ambulance operations in New South Wales, where much of the need is to and from rural areas and unimproved runways that dominate our service area," said Pel-Air COO Eugene Lee. "A key to our success has been the timely customer service from Textron Aviation, who has already been supporting Pel-Air's King Air fleet for the past 10 years in the Ambulance Victoria contract."
Nearly 200 King Airs in a variety of configurations are supported in Australia by Textron Aviation.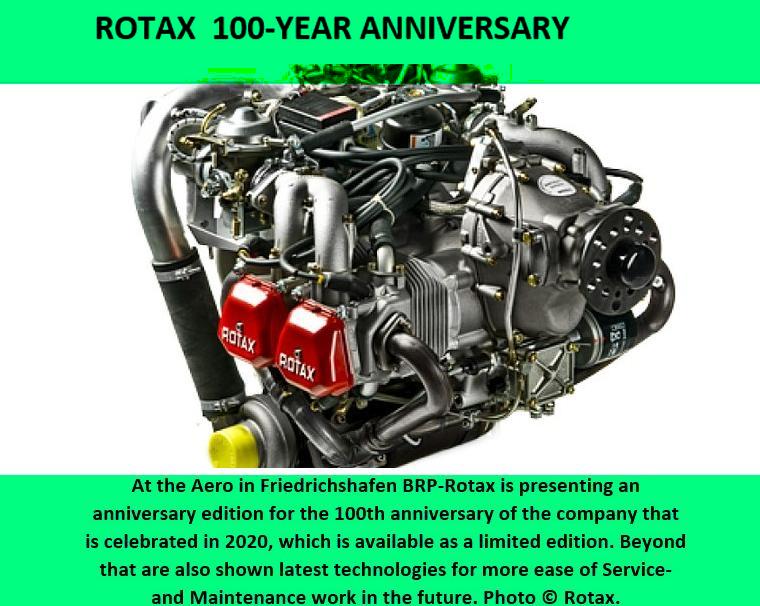 The Aero in Friedrichshafen is one of the most important meeting places of the general aviation worldwide, with more than 600 exhibitors from 35 nations, and offers the perfect platform for the presentation of the latest product developments and for the communication with trade insiders, journalists and visitors.
In hall A3, stand 301, BRP-Rotax Aircraft will be presenting its whole product range of aircraft engines with the focus on the injection technology which gains more and more popularity and the future opportunities of this technology. These contain the power-weight ratio, less fuel consumption, optimum combustion, less maintenance as well as EMS and ECU technologies.
With the 100-year anniversary, BRP-Rotax will present a special designed anniversary model of the 912iS and 915iS which are available in a limited edition, with an exceptional service package. Visitors are warmly welcomed to scrutinize the engines on our exhibition area and receive information about the special features through our qualified personnel.
With more than 190.000 engines sold and a global operating 4-stroke-fleet of more than 50.000 engines, Rotax aircraft engines lead the light sport and ultralight aircraft market. Rotax offers a worldwide network consisting of 17 authorized distributors and more than 220 points of sales and service supporting 270 OEMs with more than 400 Rotax powered models and customers worldwide. Therefore, Rotax aircraft engines are supplied to more than 80% of all aircraft manufacturer in its segment.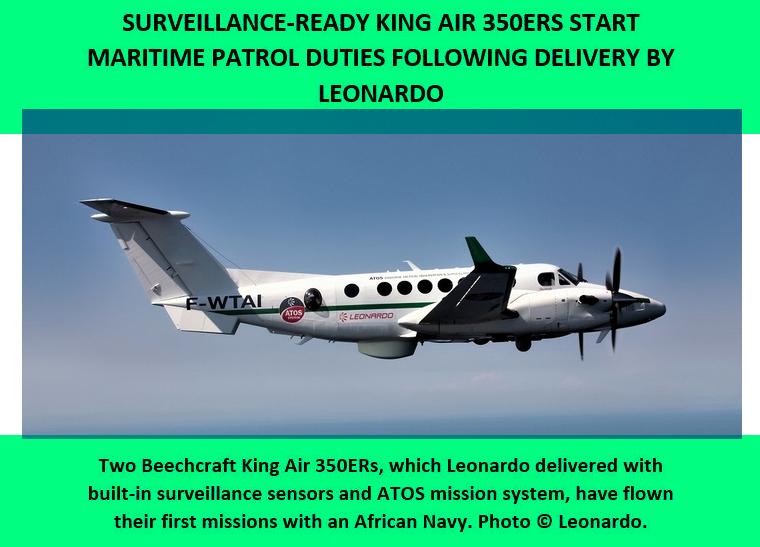 Leonardo was prime contractor for the surveillance capability, drawing on its broad expertise to offer the platform, sensors and mission system as a fully integrated package
This 'surveillance-ready' model allows customers to procure a complete capability from Leonardo directly, choosing from a range of in-house or third-party platforms and sensors and receiving a mission-ready surveillance capability
Leonardo has revealed that two King Air 350ERs, equipped as Maritime Patrol Aircraft (MPA), have gone into service with an African Navy following their delivery by the company, which acted as prime contractor and systems integrator for the aircraft. The MPAs, equipped with Leonardo's ATOS mission system and full complement of sensors including its Seaspray E-scan surveillance radar, will be used for a range of missions including search and rescue, littoral security and the monitoring of illegal migration, fishing and pollution.
The suite of surveillance sensors on-board the two King Air 350ER Maritime Patrol Aircraft includes Leonardo's market-leading E-scan 'Seaspray' maritime radar, which comes with a range of modes including a patented small-target-detection function. An Identification Friend or Foe (IFF) transponder and interrogator, Link 11 datalink and third-party electro-optical turret were also integrated, with Leonardo's ATOS mission system bringing everything together and fusing the data into a workload-reducing 'single tactical picture' for operators.
As well as in Africa, Leonardo is seeing interest from customers in Asia Pacific and the Middle East for its 'surveillance-ready' offering. It expects to see more customers procuring a complete, tailored capability, benefitting from the flexibility in terms of platform and sensor fit that Leonardo's end-to-end expertise and flexible ATOS mission system allows it to offer.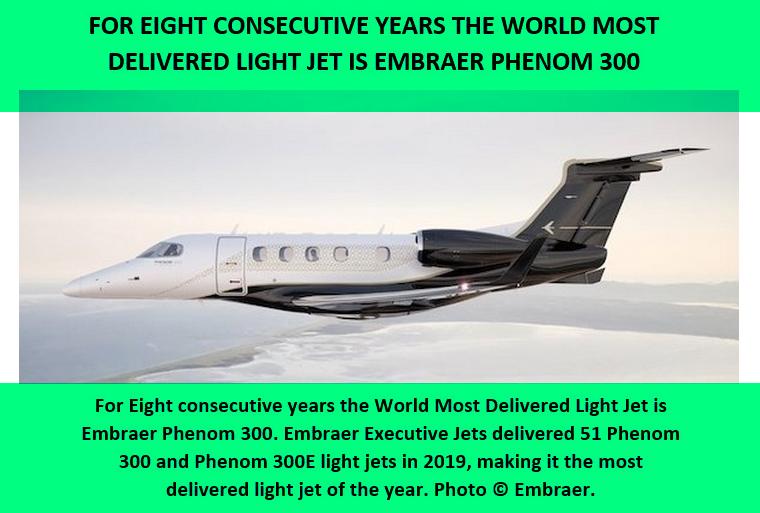 This is the eighth consecutive year that the Phenom 300 achieves this mark, having accrued more than 530 deliveries since entering the market in December 2009. The information was released today by the General Aviation Manufacturers Association (GAMA).
Originally launched in 2005, the Phenom 300 series is the most delivered business jet of the 2010s. In 2019 it had over 20% more deliveries than the closest competitor. The aircraft is in operation in more than 30 countries and has accumulated more than one million flight hours.
Last month, Embraer announced a further enhanced Phenom 300E, which will be available for delivery starting in May 2020. The aircraft now offers more speed, making the fastest and longest-ranged single-pilot jet in business aviation even faster and now capable of reaching Mach 0.80. The Phenom 300E delivers a high-speed cruise of 464 knots and a five-occupant range of 2,010 nautical miles (3,724 km) with NBAA IFR reserves. The aircraft also enjoys a quieter cabin, more legroom in the cockpit, and a brand-new premium interior option, known as Bossa Nova.
In terms of technology, the Phenom 300E received an avionics upgrade to include a runway overrun awareness and alerting system (ROAAS), predictive wind shear, Emergency Descent Mode, PERF, TOLD, and FAA Datacom, among others. Embraer is the first and only OEM in business aviation to develop and certify a runway overrun awareness and alerting system. To round out the enhancements, the Phenom 300E is now the only aircraft in its category to offer 4G connectivity via Gogo AVANCE L5.

Sikorsky, a Lockheed Martin company (NYSE: LMT) today recognized and thanked the County of Los Angeles Fire Department, the City of San Diego Fire-Rescue and the State of California's Department of Forestry and Fire Protection (CAL FIRE) for their commitment to aerial fire-fighting operations with the S-70i™ Firehawk® helicopter.
Each of the three fire services recently took delivery of the new-generation aircraft for wildland firefighting, search and rescue and medical transport. The LACoFD aircraft is prominently displayed here in Sikorsky's expo booth at this week's 2020 Helicopter Association International Heli-Expo, where San Diego and CAL FIRE's aircraft also are on the exhibition floor.
"At hundreds of brush fires and medical rescues, the Sikorsky Firehawk has proven to simply be the best all-in-one aerial firefighting weapon," said Los Angeles County Fire Department Fire Chief Daryl L. Osby. "We can carry more firefighters to the fire line, and repeatedly support them by dropping thousands of gallons of water with precision and with a fast turnaround. And we can perform hoist rescues at close to 10,000 feet altitude, as well as provide critical paramedic service at municipal and extremely remote locations. It took courage for Sikorsky to stick with us as they did in the early 2000s when we tested and adapted the aerial fire-rescue tactics of the first variant. LA County along with Sikorsky Firehawk helicopters have led the way and will continue to lead the way always looking to provide the public with the service they deserve and expect. But look where we are now - the state of California and other municipalities are going to derive benefits from years of pioneering work."
Compared to LACoFD's three S-70A FIREHAWK aircraft, the new-generation S-70i model brings more power, greater manoeuvrability and lift capabilities, as well as enhanced flight safety. Systems integrator United Rotorcraft, a division of Air Methods, configured the three aircraft with an extended landing gear and a 1,000-gallon (3,785 litre) belly water tank manufactured by Kawak Aviation Technologies.
CAL FIRE, which operates the world's largest aerial firefighting fleet, intends to deploy a total of 12 S-70i FIREHAWK helicopters across the state following deliveries by Sikorsky and United Rotorcraft over the next four years. LACoFD also will receive its second of two aircraft this year.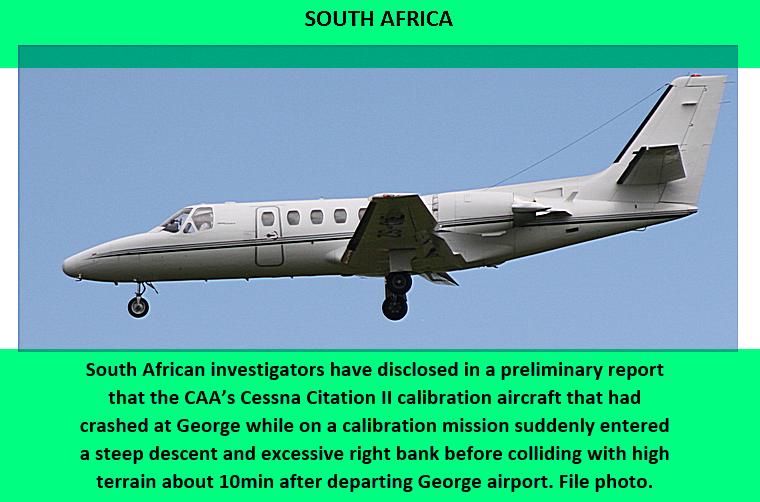 Preliminary flight-data recorder information reveals the aircraft levelled off at about 3,900ft and started banking to the right at 35°. It then began to pitch nose-down, initially at about 10° but increasing over the space of 5s to more than 32°. The jet's airspeed rose to 275kt and its bank increased to an excessive level of 105° before reducing to 75°. During the rapid descent it lost some 1,500ft in the space of a few seconds, the inquiry says, reaching an altitude of 2,400ft. Recorder data shows the steep nose-down attitude was reduced to 17.5° and its right bank brought back to just 10°. None of the three occupants survived.
South Africa, OR Tambo International; On 10 Dec 2019 a Safair Boeing 737-400 on a flight from Johannesburg to Port Elizabeth with 166 passengers and 6 crew, was climbing out of Johannesburg when the crew stopped the climb due to a water leak in the cockpit. The water caused some arcing, which resulted in smoke emanating from the behind the instrument panel on the left side. The crew declared a Mayday and returned to the airport where they landed safely about 30 minutes after departure.

Pakistan, Sukkur: A PIA Pakistan International Airlines Avions de Transport ATR-42-500 touched down on Sukkur's runway on a flight from Ialamabad when the forward left emergency exit door fell into the aircraft. The aircraft rolled out without further incident and taxied to the apron.
Canada, Vancouver-Coal Harbour: A float-equipped Seair Seaplanes de Havilland Canada DHC-2 Beaver was stolen when moored at Vancouver-Coal Harbour Seaplane Base, Canada. The Beaver impacted a float-equipped Harbour Air DHC-3T Vazar Turbine Otter (C-FIUZ) that was also moored in the harbour. It appears that the right-hand wing of the Beaver separated in the accident. The right-hand wing of the Turbine Otter suffered a serious fracture.
Turkey: Istanbul: A Turkish Airlines Airbus A321-231, suffered the loss of both nose landing gear wheels after landing at Istanbul Airport, Turkey. No injuries were reported among the 146 passengers and 7 crew members.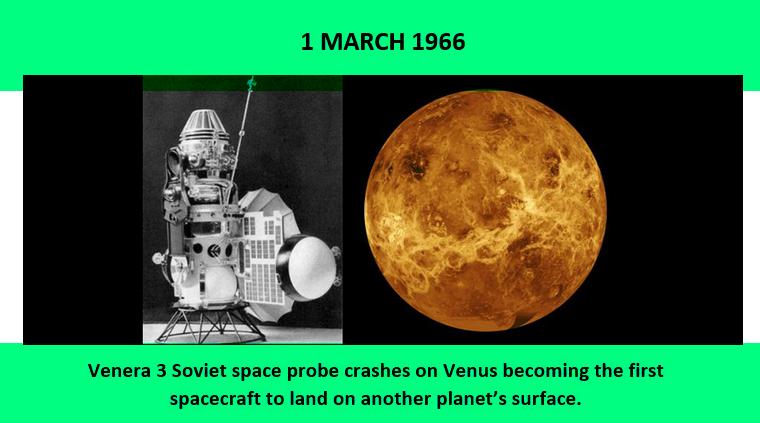 Venera 3 was a space probe that was built and launched by the Soviet Union to explore the surface of Venus. The mission of this spacecraft was to land on the Venusian surface. The probe was sterilised before launch.
The probe comprised of an entry body containing a radio communication system, scientific instruments, electrical power sources, and medallions bearing the Coat of Arms of the Soviet Union. A carrier/flyby spacecraft, which carried the entry probe to Venus served as a communications relay for the entry probe.
Verena 3 was launched on 16 November 1965 from Baikonur, Kazakhstan, USSR. The probe's initial trajectory missed Venus by 60,550km and a course correction manoeuvre was carried out on 26 December 1965 which brought the probe onto a collision course with the planet.
The entry probe crashed on Venus on 1 March 1966, making Venera 3 the first space probe to hit the surface of another planet.