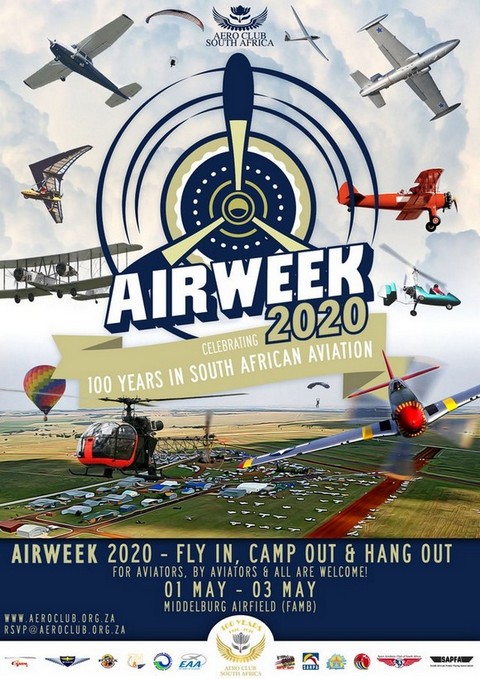 The Aero Club Centenary kicks off this year, celebrating the formation of the Aero Club back in 1920 with an Aero Conference held from the 1st to 6th April by a group of airmen, "Millers Boys", who had served with the Royal Flying Corps and the Royal Naval Air Service.
The defining event that the Aero Club will be holding will be the Centenary Airweek planned to take place from 30th April to 3rd May at Middelburg Airfield. Planning for this event is now in full swing. The Aero Club has been working with the Middelburg Aero Club and the CAA on the approvals for this event, which is categorised as a Fly-in, where specific events are being planned by the various Recreational Aviation disciplines.
A draft program is being developed and will be communicated and expanded as we know more about what each discipline would like to do. The Aero Club website will also be kept up to date with the latest information. So far there is a SAPFA speed rally planned for Friday the 1st May, with the EAA annual convention also taking place on the same weekend.
There will be camping, either bring your own camping gear, or hire tents over the event days. Registration & booking will be available shortly, the cost of which is indicated below.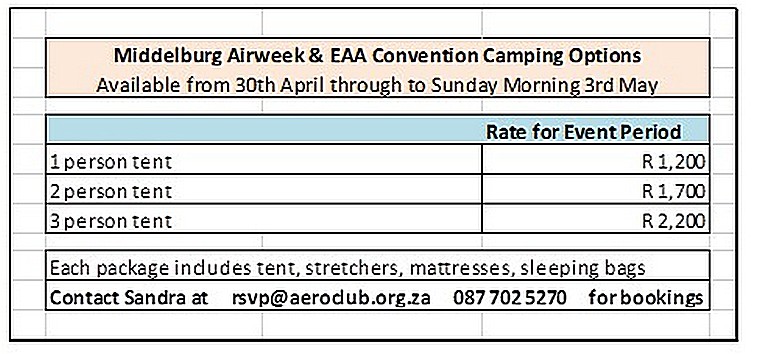 Let this defining Centenary event for all of recreational aviation be a memorable one. We only get to do this once every 100 years.