Compiled by Willie Bodenstein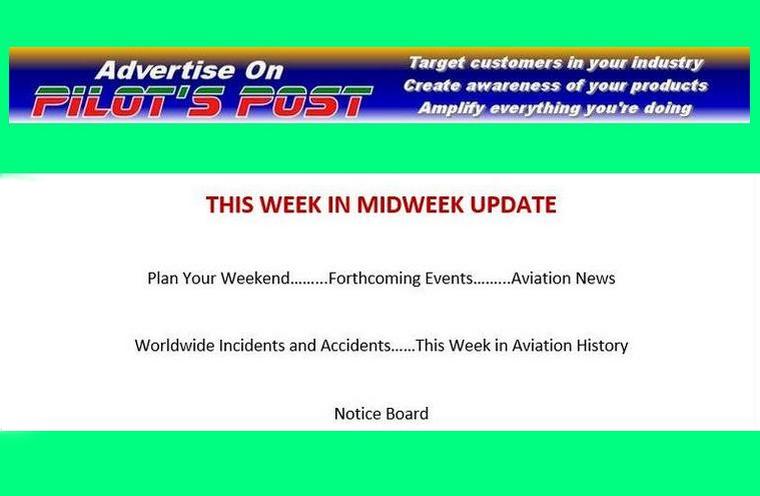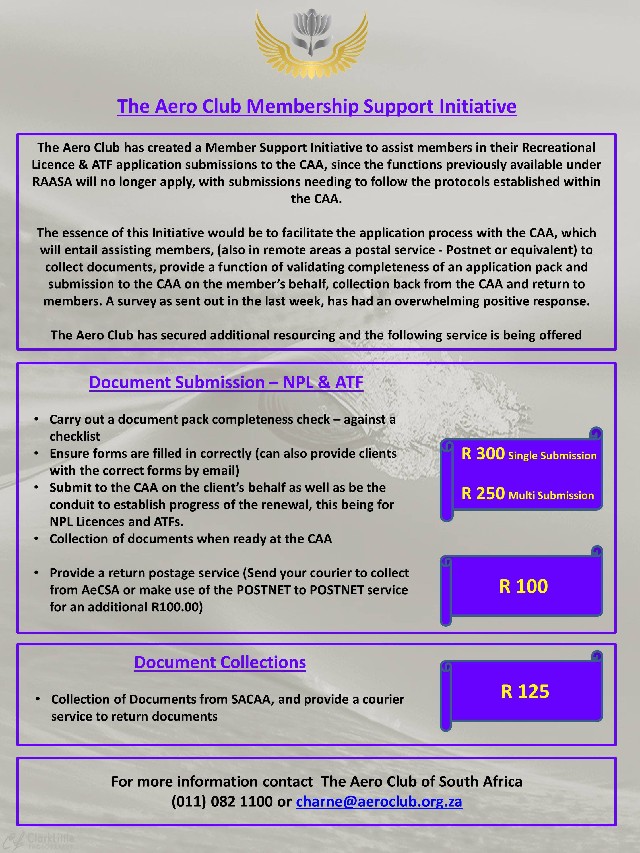 CORONA VIRUS AND AVIATION EVENTS

Please note that any event may not be staged if more than 100 people attend. It will be against the law until further notice.

This effectively means that almost all aviation events have either been cancelled or postponed. Organisers are requested to update Willie as and when events have been cancelled or simply postponed. While Pilot's Post awaits the above notifications, events marked with * are unlikely to be given clearance

If in doubt, please contact the organisers.




21: Bethlehem Speed Rally - Bethlehem Airfield - Contact: Jonty Esser e-mail:
jonty@promptroofing.co.za
cell: 082 855 9435 Postponed
21: Sling Fly-in, Tedderfield. Contact: Shanelle 011 948 9898 Postponed
20-21: Fashkosh Airshow Stellenbosch Airfield. Contact: Anton Theart at
gm@stelfly.co.za
or 079 873 4567 Postponed





2: EAA Chapter 322 at Dickie Fritz Moth Hall, Edenvale*
2 - 4: SAPFA Rally Nationals & Fun Rally - Stellenbosch Airfield. Contact Frank Eckard e-mail:
frank.eckard@mweb.co.za
cell: 083 269 1516*
3 - 5: Groblersdal Flying Club fly-in. For more information contact Richard at 082 490 6227 or
flybenchmark@gmail.com
*
4: SAAF Museum AFB Swartkop Open and practice day*
4: Robertson fly-in breakfast. Contact Alwyn du Plessis 083 270 5888*
4: Wings and Wheels Festival at Uitenhage airfield. Contact Lourens Kruger E-mail:
lmk@telkomsa.net
Cell: 082 320 2615 *
18: Aero Club of South Africa Centenary Banquet venue TBA. Contact Marie Reddy E-mail:
marie.reddy@gmail.com
Cell: 083 259 7691*
22-26: PASA Sky Diving South African Nationals 2020. Venue: Johannesburg Skydiving Club. Contact:
pottie@jsc.co.za
*
24 -25: Garden Route Airshow Brett Scheuble brett@gardenrouteairshow.co.za 084 418 3836 Postponed

30 to 3rd May: 2020 Aero Club Airweek and EAA National Convention, Middelburg Airfield. Contact Rob Jonkers e-mail:
rob@aerosud.co.za
cell: 082 804 7032 or Sean Cronin E-mail:
sean@glutek.co.za
Cell: 083 447 9895*
27 to 1 May: SAAMA Combined Power Nationals at Henley. Model Airfield. *


1: SAPFA Middelburg Speed Rally Middelburg airfield. For more information contact Jonty Esser E-mail:
jonty@promptroofing.co.za
Cell: 082 855 9435*
1-3: North meets South at Gariep Dam. MISASA and SAGPA, all aircraft welcome, (must be AeroClub members). Contact Donald Hicks 083 626 3180 or E-mail
Wendonair@gmail.com
*
6: EAA Chapter 322 Monthly Meeting. Dickie Fritz Moth Hall, Edenvale*
8 -10: 20th Battlefields fly-in to Dundee KZN. For more information contact: Dave O'Halloran E-mail:
gm@battlefieldslodge.co.za
Cell: 079 496 5286*
9: SAAF Museum Airshow at AFB Zwartkop. Contact Mark Kelbrick E-mail:
markkelbrick@yahoo.com
or Cell 082 413 7577 *
16: The Coves annual fly-in. Please note this is a closed event by invitation only. Contact JP Fourie Cell: 083 625 4804
12 -15: NAMPO Harvest Day at NAMPO, Bothaville. For more information contact Wim Venter: E-mail:
Wim@grainsa.co.za
Cell 082 414 8099 *
23: EAA AGM at the EAA Auditorium Rand Airport. Contact Sean Cronin E-mail:
sean@glutek.co.za
Cell: 083 447 9895
23 -24: SAC Eastern Cape Regionals Wings Park, East London. Contact Annie Boon E-mail:
chunge@mweb.co.za
*
22 - 24: SAPFA President's Trophy Air Race at Ermelo airfield. Contact Rob Jonkers E-mail:
chairman@sapfa.co.za
Cell: 082 804 7032 or go to
www.sapfa.co.za
E-mail:
Race@sapfa.org.za
*
30: Botswana International Airshow at Matsieng Flying Club. Contact Hentie Cell: +267 713 10935 or E-mail:
hentie@dwddrilling.com
*
31: Fly-Mo fund raising breakfast fly-in at Springs airfield. Contact Fanie Bezuidenhout E-mail:
ansan@tiscali.co.za
Cell: 083 789 5507*


3: EAA Chapter 322 Monthly Meeting. Dickie Fritz Moth Hall, Edenvale*
6: SAAF Museum AFB Zwartkop Open and practice day*
6: Newcastle Airshow. For more information contact Johan Pieters Cell: 082 923 0078 E-mail:
Johan@champ.co.za
*
13: Maputo Air Land and Sea Airshow. Contact Gavin Neil E-mail:
airshow@acm.co.mz
*
12-15: Zim Navex, Prince Charles Airport , Harare. Contact Marion Kalweit - email:
zimairrally@gmail.com
Tel +263772570009
13: Silver Queen Rally, Zwartkop Air Force Base. Contact Rob Jonkers e-mail:
rob@aerosud.co.za
cell: 082 804 7032
16 - 20: SAC National Championships, New Tempe, Bloemfontein. Contact Annie Boon
chunge@mweb.co.za
20: SAC Air Show, Tempe, Bloemfontein. Conrad Botha
rowco24cc@mailbox.co.za
082 465 4045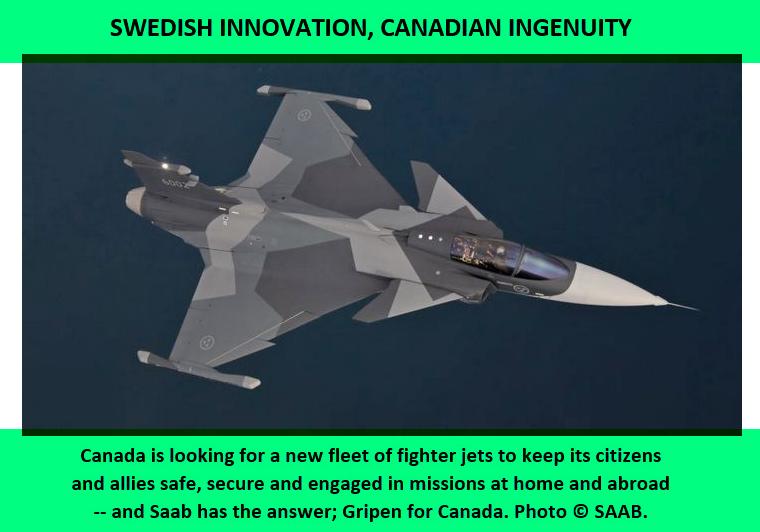 Gripen offers state-of-the-art performance and capability that will best support Canada's specific defence requirements in meeting the threats of today and tomorrow. Designed for optimal performance in extreme Arctic and extreme desert conditions, Gripen's fully interoperable and continuously upgradeable design will support Canada in fulfilling all of its NORAD and NATO commitments. With unbeatable lifecycle and sustainment costs, Gripen is indisputably the best value for the Royal Canadian Air Force, Government of Canada, and Canadian taxpayers. Gripen: highest performance, lowest cost.
Beyond Gripen's unmatched capability and value, Saab's firm commitment to provide significant economic and industrial benefits to Canada through an innovative Transfer of Technology and Knowledge programme and global industrial partnerships will have an unprecedented impact on the Canadian aerospace industry for generations to come.
To make these economic benefits a reality, Saab has assembled a dynamic roster of leading Canadian aerospace companies across multiple regions to offer the best solution for Canada's future fighter to form the Gripen for Canada Team, including IMP Aerospace and Defence, CAE, Peraton Canada, and GE Aviation. Together, these industry innovators offer a genuine 'Made in Canada' solution for that will create long-term, highly-skilled Canadian jobs from coast to coast.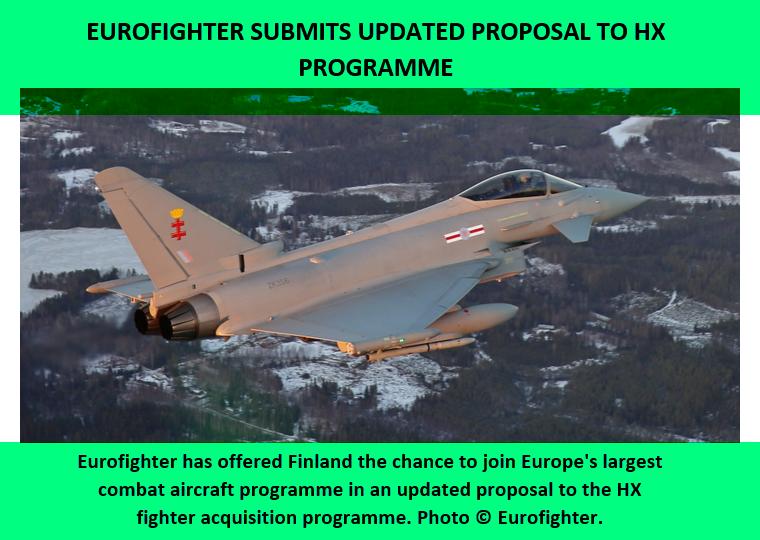 The proposal has been submitted by the UK Government with the support of the Governments of Germany, Italy and Spain, the nations which are represented in the Eurofighter industry consortium. It offers Finland sovereign control of its defence capability and security of supply as well as a combat proven, swing-role aircraft which will form the backbone of European defence for decades to come.
The detailed proposal updates on the original offer made to the HX fighter acquisition programme to replace the Finnish Air Force's F-18 Hornet aircraft.
John Rossall, Campaign Director at BAE Systems which is working alongside the UK Government on the offer to Finland, said: "We are delighted to present our updated proposal to Finland on behalf of the Eurofighter consortium. Our proposal is an invitation to Finland to join leading nations in Europe with a shared defence objective."
"By choosing Eurofighter, the Finnish Air Force would not only be acquiring the most advanced, multi-role aircraft on the market, it would be choosing everything Finland needs to operate, maintain and control its own aircraft in peacetime and in times of crisis."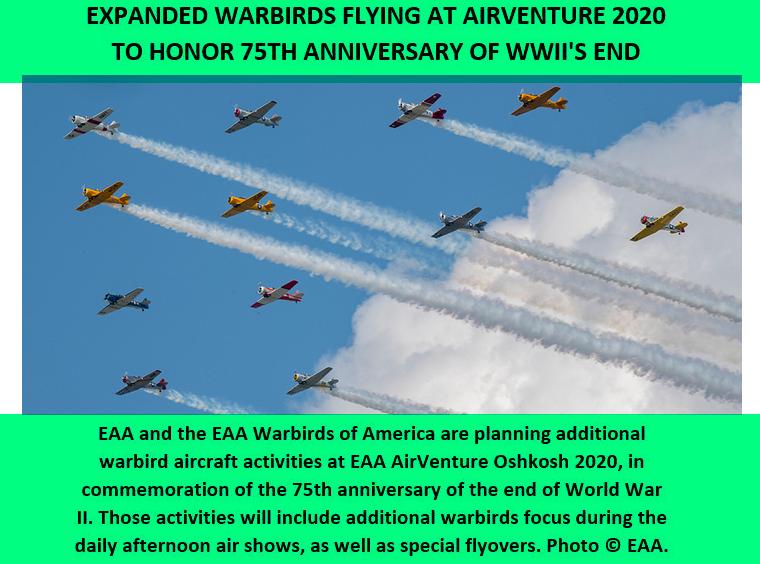 "Our plan for Oshkosh this year is to make it the most comprehensive, chronological flying history of the World War II era," said Dennis Dunbar, EAA's director of flight operations. "As AirVenture is the largest annual gathering of warbird aircraft in the world, the opportunity is here to put together a memorable week that honours those who made the sacrifices more than 75 years ago."
The activities will officially begin on Monday, July 20, with a mass warbird arrival that will populate the warbirds parking area at the north end of the Wittman Regional Airport flightline. Beginning on Tuesday, July 21, look for formation flyovers in the late morning, midday, and early afternoon prior to the daily afternoon air shows. These will include many of the aircraft that have participated in mass flyovers in past years. These flyovers will be coordinated to cause minimum disruption to AirVenture air traffic operations.
The 75th anniversary air shows will be on Wednesday, July 22; Friday, July 24; and Saturday, July 25. A number of warbird aircraft and pilots that have not been seen at Oshkosh for several years are expected to take part in these historic salutes.
"The 75th anniversary will likely be the last major commemoration of World War II where we still have the actual veterans still with us, so it's important that we honour them with our absolute best effort," said Rick Siegfried, former Warbirds of America president and EAA board member, who is chairman of the Warbirds Air Show Committee. "The Warbirds of America are very enthusiastic about participating in these events and added activities as part of this year's gathering at Oshkosh."
In addition, Thursday, July 23, will be Warbird Jet Day, featuring many of the early military jets that are always popular at AirVenture. Additional details on aircraft and activities will be announced as they are finalized.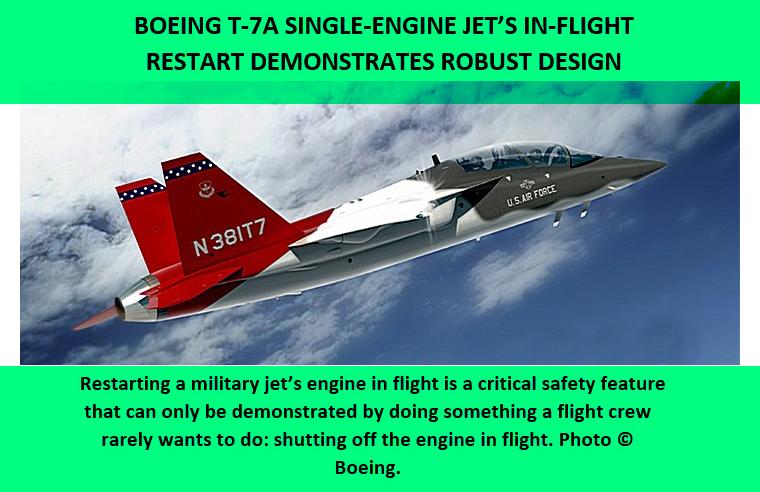 That's all the more daunting in a single-engine aircraft. Yet, a Boeing [NYSE:BA] T-7A trainer crew recently did it, at 20,000 feet above an Illinois test area, then flew the plane for 48 seconds before restarting the GE F404 engine and landing back at Boeing's St. Louis site.
"Engine air start testing requires a large amount of preparation, planning and teamwork," said T-7A Chief Pilot Steve Schmidt. "It's a test of all the subsystems built for backup in the event a pilot would have to shut the engine down in an emergency and power it back up again."
Schmidt performed the test with fellow Boeing Pilot William Berryman. The test was the latest success for a program that's meeting all its critical development milestones. The company expects to deliver the first T-7A Red Hawk to the U.S. Air Force in 2023.
In September 2018, the U.S. Air Force awarded Boeing a $9.2 billion contract to supply T-7A Red Hawk aircraft and training simulators. Designed by Boeing and Saab, the T-7A has already accumulated more than 175 hours of flight time in more than 160 developmental test flights.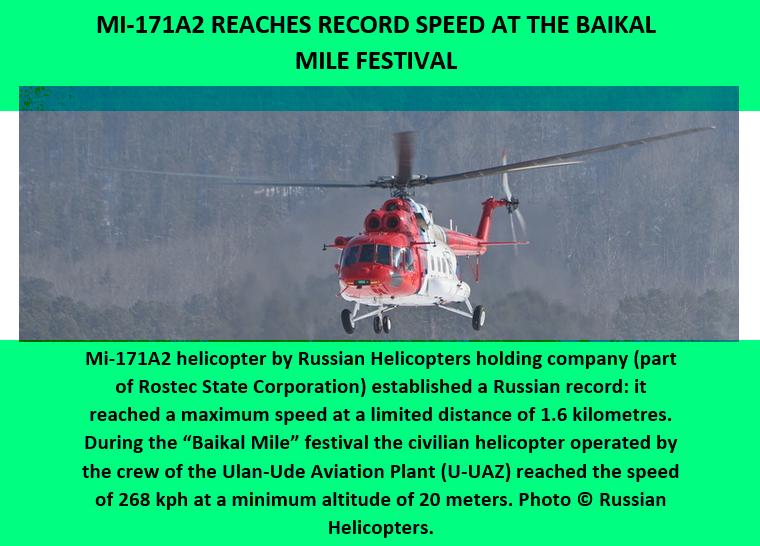 The U-UAZ crew set the record during three competition flights. Prior to that, a series of training flights were made to assess the behaviour of the helicopter and how the measuring equipment works as well as to adjust photography and video equipment for taking pictures and filming.
"Mi-171A2 has the best features of the world-famous Mi-8 type rotorcraft. The rotorcraft was tested in extreme environmental conditions: these helicopters can be operated in temperatures from -50 to +50 degrees Celsius. At the Baikal Mile festival, the rotorcraft demonstrated its best features once again: speed, control, manoeuvrability and stability. The record set at the short distance and at the limited altitude confirmed the great performance of the helicopter, said Executive Director of Rostec State Corporation Oleg Yevtushenko.
Mi-171A2 helicopter has the best features of the world-famous Mi-8/17 type rotorcraft. The helicopter is equipped with VK-2500PS-03 engines (the civilian version of the military helicopter Mi-28 engines) with a digital control system. The helicopter can be used for a wider range of purposes due to upgraded piloting and navigation equipment and avionics. Mi-171?2 may be effectively operated in high mountains, at low and high temperatures, high humidity and overwater. The piloting and navigation equipment allow using the helicopter around the clock, in normal and difficult weather conditions.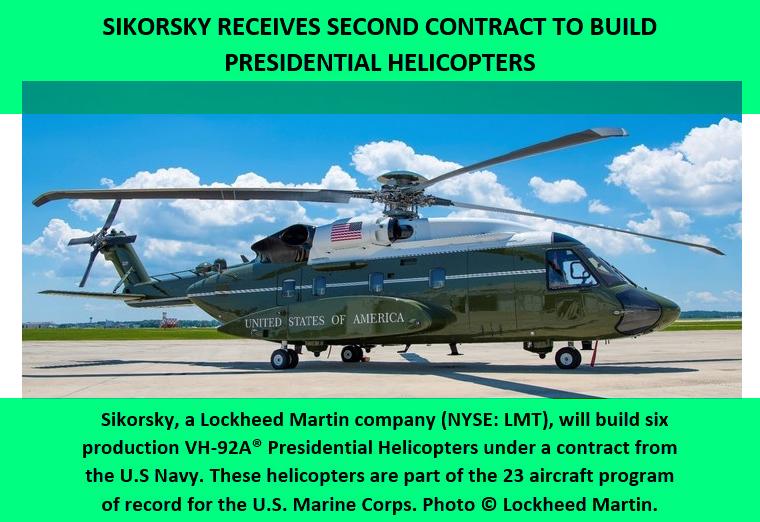 Under the terms of the contract, known as Low Rate Initial Production (LRIP) Lot II, Sikorsky will begin deliveries of six VH-92A helicopters in 2022. The remaining production aircraft will be delivered in 2022 and 2023.
The VH-92A test aircraft at Patuxent River, Maryland, have proven its production readiness by undergoing rigorous U.S. government testing and operational assessments, including more than 1,000 flight test hours establishing the aircraft's technical maturity and readiness of its mission systems.
Sikorsky has transferred five VH-92A helicopters into government tests with the sixth completing modification and entering into government tests this spring. The VH-92A program is on track to enter Initial Operational Test and Evaluation (IOT&E) later this year. All six of the production aircraft from the first Low Rate Initial Production contract are undergoing modifications at Sikorsky's Stratford, Connecticut plant and are on schedule to begin deliveries in 2021.
The VH-92A aircraft will provide safe, reliable and capable transportation for the President and Vice President.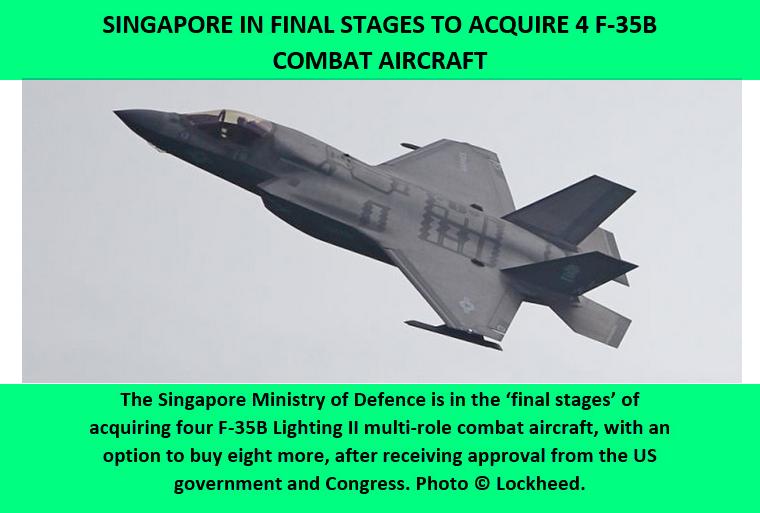 This was revealed by Defence Minister Ng Eng Hen in Parliament, during his ministry's Committee of Supply (COS) debate. "When delivered, which we hope to be around 2026, the F-35Bs will be deployed in Continental US for training and in-depth evaluation," said Dr Ng.
He noted that Singapore had chosen the F-35B variant of the aircraft due to its ability to take-off from a shorter runway and land vertically - an "important feature in land scarce Singapore". More than this, however, the aircraft is also equipped with a full suite of sensors and fighting capabilities, said Dr Ng.
In January, the US government gave approval for Singapore to obtain up to 12 F-35s - developed by Lockheed Martin - at an estimated cost of $2.75 billion.
Earlier in his speech, Dr Ng highlighted the need for Singapore to adapt its military to the current context, which includes a "more militarised and contested" Asia arena at an "inflexion point".
Among the key players, Dr Ng said, the US has made it clear that the Indo Pacific is now its "priority theatre" because of China, and has moved more military assets and troops to its bases in Japan, South Korea and Australia.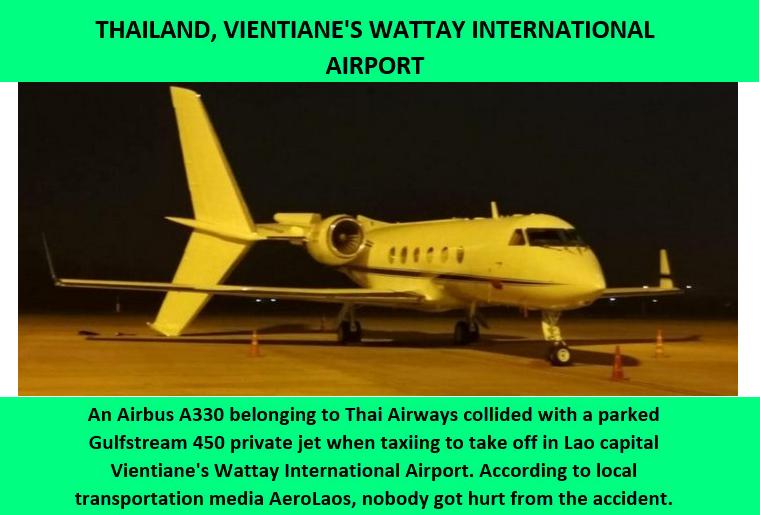 UK, Manchester: An EasyJet plane was taxing for a flight to Alicante, Spain not once, but twice, to turn around on the tarmac due to brawling, boozing passengers. Two separate fights erupted on the plane involving two separate groups of passengers. Some passengers were drinking their own alcohol on board and prior to the flight in the terminal. Police met the aircraft to remove the passengers before it continued to Alicante. After the second attempt, police were called to escort the brawling passengers off the plane back at the gate. The flight was delayed for three hours.
Australia, Lockhart River, Queensland: The wreckage of an Aerohire Pty Ltd Cessna 404 Titan operated by Airconnect Aviation was found on a beach just south of Lockhart River, Queensland, about 800 kilometres north of Cairns. The aircraft crashed during its third landing attempt at Lockhart River Airport in bad weather conditions. All five occupants were killed.
USA, Fort Lauderdale: An Air Transat Airbus A321-200 with 185 people on board was accelerating for take-off from Fort Lauderdale for a flight to Quebec City, Canada when the crew rejected take-off at low speed (about 15 knots over ground) due to losing directional control. The crew declared Mayday but advised they did not need assistance, but advised they had an issue with the nose wheels and requested an inspection of the landing gear. Airport operations were called by tower to perform a runway inspection and check the nose gear of the aircraft. The crew explained their nose wheels were way off, the crew cancelled Mayday. The aircraft later taxied back and eventually departed approximately 80 minutes later.
Brazil, Rio de Janeiro, Santos Dumont Airport: A Gol Transportes Aereos Boeing 737-800 with 106 passengers and 6 crew on a flight from Rio de Janeiro to Sao Paulo Guarulhos was climbing through about FL140 out of Santos Dumont's when the left-hand engine shut down. The crew stopped the climb and attempted to restart the engine without success, declared emergency and diverted to Rio de Janeiro's Galeao Airport for a safe landing about 40 minutes after departure.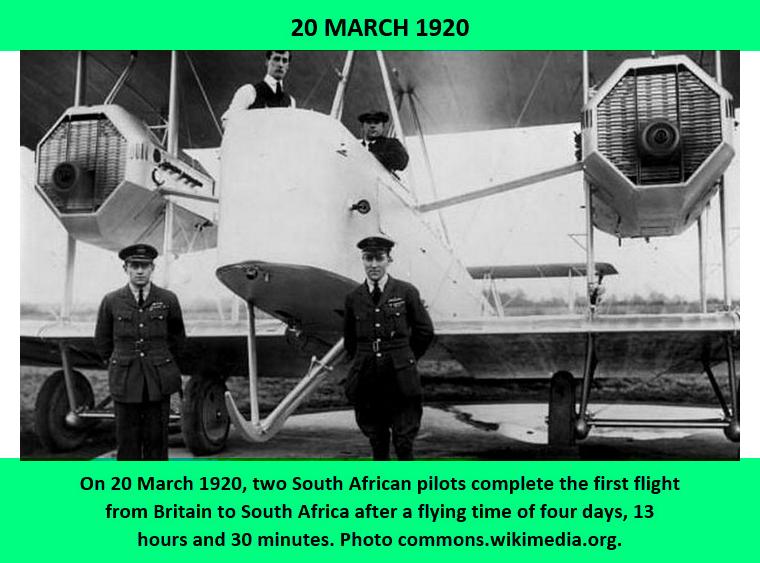 In 1920, Lieutenant Colonel (later General) Pierre van Ryneveld and Major (later Air vice Marshal) Quintin Brand attempted to make the first England to South Africa flight.
The two left Brooklands on 4 February 1920 in the Vimy G-UABA named Silver Queen. They landed safely at Heliopolis, but as they continued the flight to Wadi Halfa, they were forced to land due to engine overheating with 80 miles (130 km) still to go.
A second Vimy was lent to the pair by the RAF at Heliopolis in Egypt (and named Silver Queen II). This second aircraft continued to Bulawayo in Southern Rhodesia where it was badly damaged when it failed to take off.
Van Ryneveld and Brand then used a South African Air Force Airco DH.9 to continue the journey to Cape Town. The South African government awarded them £5,000 each.