Compiled by Willie Bodenstein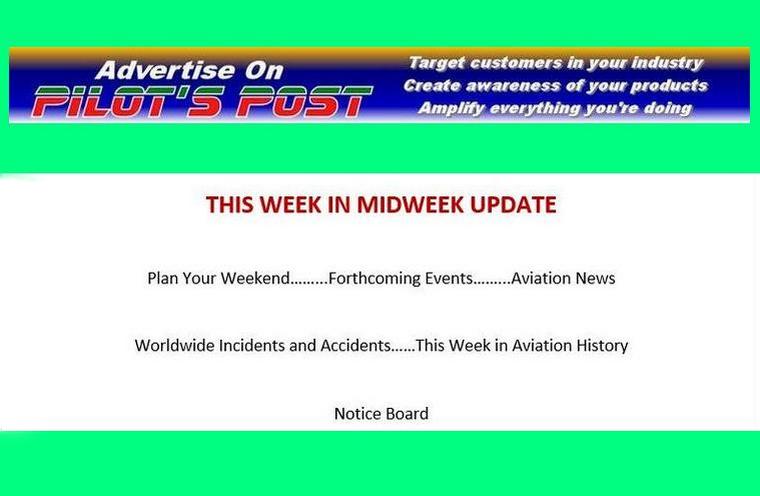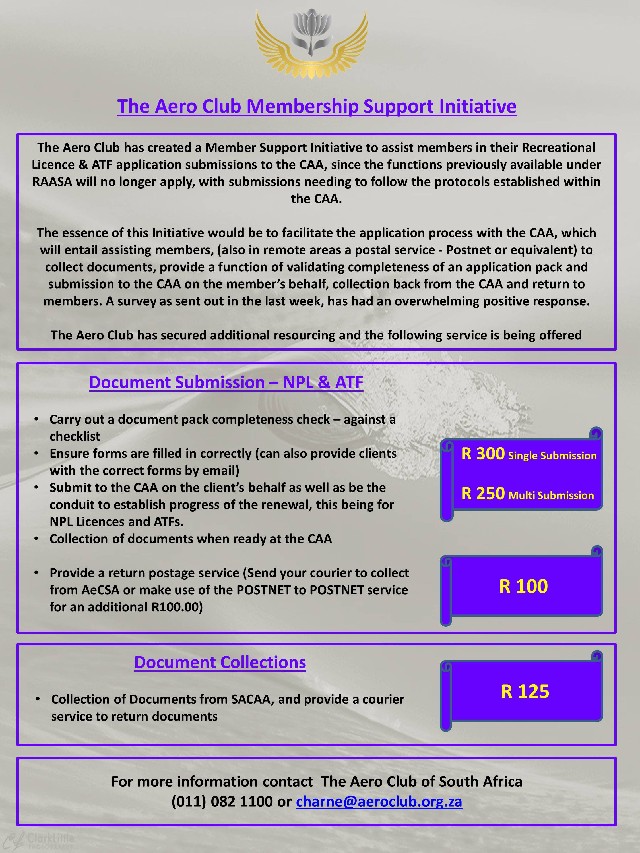 Aero Club Communique March 2020 #3

With reference to Communique #2, where we indicated what the CAA was planning to do on expiry of Licences etc. during lockdown, the CAA have issued an Industry Wide Communique on this topic covering Personnel Licence extensions that will remain valid until 26 June if the expiry date was between 26 March to 30 April 2020 - i.e. a 3 month automatic extension.

There is no mention as yet on medicals or on the hardware side ATFs & CoAs or status of Certificates. We will be following up with the CAA on these other elements.

https://mcusercontent.com/48bc5b9ace82a969314cb314f/files/2c11f71e-e94d-4398-aa3e-c61b6c574e7e/SACAA_Industry_Communique_Corona_Virus_26_March_2020_Final.pdf

These may be trying times, spare a moment to renew your membership if you have not yet done so. We need the funds to support our Recreational Aviation freedom. https://aeroclub.blueboxonline.com/?




CORONA VIRUS AND AVIATION EVENTS

In line with advice from public health organisations and government legislation that prohibits all events with more than fifty people, aviation events advertised on Pilot's Post will most likely be cancelled or postponed. Those planning to attend or participate in any of these events are advised to contact the event organisers directly for confirmation.






1 to 4: AERO Friedrichshafen, Germany Global show for General Aviation. Contact Stephan E-mail: Stephanie.keller@messe-fn.de www.AERO-EXPO.com
Postponed due to COVID 19. New date 14 to 17 April 2021.

2 to 4: SAPFA Rally Nationals and Fun Rally at Stellenbosch airfield. Contact Frank Eckard E-mail: frank.eckard@mweb.co.za Cell: 083 269 1516
Postponed due to COVID 19. Rescheduled to be held at Brits Airfield 23 - 25 July 2020

4: Robertson annual fly-in breakfast. Contact Alwyn du Plessis E-mail: boeredata@breede.co.za Cell: 083 270 5888
Postponed due to COVID 19.

4: Wings and Wheels Airshow Festival at Uitenhage airfield. Contact Lourens Kruger E-mail: lmk@telkomsa.net Cell: 082 320 2615
Postponed due to COVID 19.

5: Groblersdal Flying Club fly-in at Groblersdal airfield. Contact Richard Nicholson E-mail: flybenchmark@gmail.com Cell: 082 490 622
Postpone due to COVID 19

25: Garden Route Airshow at George Airport. Contact Brett Scheuble E-mail: info@gardenrouteairshow.co.za Cell: 084 418 3836
Postponed due to COVID 19. New date 26 September 2020.








1 to 3: Aero Club Air Week at Middelburg airfield. Contact Rob Jonkers E-mail: rob@aerosud.co.za Cell: 082 804 7032
Postponed due to the COVID 19 to a date to be advised.

1 to 3: EAA National Convention at Middelburg airfield. Contact Sean Cronin E-mail: sean@glutek.co.za Cell: 083 447 9895
Postponed due to the COVID 19 to a date to be advised.

1: SAPFA Middelburg Speed Rally Middelburg airfield. Contact Jonty Esser E-mail: jonty@promptroofing.co.za Cell: 082 855 9435
Postponed due to COVID 19. Rescheduled to 21 and 22 August.

2: SAAF Museum AFB Zwartkop Open and practice day

1 to 3: MISASA and SAGPA North meets South at Gariep Dam. Contact Donald Hicks Cell: 083 626 3180 E-mail: wendonair@gmail.com
Postponed due to COVID 19 new date to be confirmed.

5 to 10: Sun 'n Fun Aerospace Expo. Lakeland, Florida, USA. Website: www.flysnf.org
New date 5 to 10 May 2020.

6: EAA Chapter 322 Monthly Meeting. Dickie Fritz Moth Hall, Edenvale

8 to 10: 20th Battlefields fly-in to Dundee KZN
Contact Dave O'Halloran E-mail: gm@battlefieldslodge.co.za Cell: 079 496 5286

9: SAAF Museum Airshow at AFB Zwartkop. Contact Mark Kelbrick Cell 082 413 7577 E-mail: markkelbrick@yahoo.com
Postponed due to COVID 19 new date to be confirmed.

16: The Coves annual fly-in closed event by invitation only. Contact JP Fourie E-mail: jp.fourie@nac.co.za Cell: 083 625 4804
Provisionally cancelled due to COVID 19. A new date may be set.

12 to 15: NAMPO Harvest Day at NAMPO Part outside Bothaville. Contact Bennie Zaayman, Wim Venter: E-mail: Wim@grainsa.co.za Cell 082 414 8099
Due to COVID 19 this event has been re-scheduled for 11 to 14 August 2020

23: EAA AGM at the EAA Auditorium Rand Airport. Contact Sean Cronin E-mail: sean@glutek.co.za Cell: 083 447 9895

23 to 24: SAC Eastern Cape Regionals Wings Park, East London. Contact Annie Boon E-mail: chunge@mweb.co.za

22 to 24: SAPFA President's Trophy Air Race at Ermelo airfield. Contact Rob Jonkers E-mail: chairman@sapfa.co.za Cell: 082 804 7032 Website: www.sapfa.co.za E-mail: Race@sapfa.org.za
Due to COVID 19 this event has been cancelled but will be reviewed later in the year.

30: Botswana International Airshow at Matsieng Flying Club. Contact E-mail: hentie@dwddrilling.com Cell: +267 713 10935
Provisionally cancelled due to COVID 19. A new date may be set.

31: Fly-Mo fund raising breakfast fly-in at Springs airfield. Contact Fanie Bezuidenhout E-mail: ansan@tiscali.co.za Cell: 083 789 5507








3: EAA Chapter 322 Monthly Meeting. Dickie Fritz Moth Hall, Edenvale

5 and 6: Newcastle airshow. Contact Johan Pieters E-mail: Johan@champ.co.za Cell: 082 923 0078

3 to 7: Zim Navex Prince Charles Airport, Harare. Contact Marion Kalweit E-mail: zimairrally@gmail.com Tel +26 377 257 0009

6: SAAF Museum AFB Zwartkop Open and practice day

9 & 10: Aviation Mena 2020 Hilton Cairo Heliopolis, Cairo, Egypt. Contact Alison Weller E-mail: alison@accessgroup.aero Web: www.aviationmena.aero

13: Maputo Air Land and Sea airshow. Contact Gavin Neil E-mail: airshow@acm.co.mz

13: SAPFA Silver Queen Air Rally AFB Zwartkop. Contact Rob Jonkers E-mail: rob@aerosud.co.za Cell: 082 804 7032

15 to 19: SAC National Championships New Tempe - Bloemfontein. Contact Annie Boon E-mail: chunge@mweb.co.za

20: SAC full day Airshow New Tempe - Bloemfontein. Contact Conrad Botha E-mail: rowco24cc@mailbox.co.za Cell: 082 465 4045








1: CAASA Symposium venue TBA. Sam Keddle E-mail: office@caasa.co.za Tel: 011 659 2345


2 to 4: AERO South Africa Wonderboom National Airport, Pretoria. Annelie Reynolds Tel +27 10 599 6150 Website: www.aerosouthafrica.com or Amanda Dube: E-mail: Amanda.Dube@za.messefrankfurt.com


10 - 11: EAA Taildraggers at Warmbaths airfield. Richard Nicholson E-mail: flybenchmark@gmail.com Cell: 082 490 6227


11- 12: Flying Legends United Kingdom. Website: www.flyinglegends.com Due to COVID 19 this event has been cancelled


17 - 18: SAPFA Speed Rally at Thabazimbi airfield. Jonty Esser E-mail: jonty@promptroofing.co.za Cell: 082 855 9435.
Due to COVID 19 this event has been cancelled.


17 to 19: Royal International Air Tattoo United Kingdom. Website: www.airtattoo.com
Due to COVID 19 this event has been cancelled.


20 to 24: Farnborough airshow United Kingdom five-day trade show - no public days
Website: www.farnboroughairshow.com
Due to COVID 19 this event has been cancelled.


21: CAASA AGM at CAASA House Lanseria International Airport
Contact Sam Keddle E-mail: office@caasa.co.za Tel: 011 659 2345


20 to 26: EAA AirVenture Oshkosh, Wisconsin, USA. Camping on the airfield contact Neil Bowden E-mail: neil1@telkomsa.net
Hotels in Appleton contact Calvin Fabig E-mail: calvin@designer.co.za


23-25 Brits Rally Nationals 23 - 25 July 2020. Contact Frank Eckard E-mail: frank.eckard@mweb.co.za Cell: 083 269 1516








21-22: Bethlehem Speed Rally 21 - 22 August 2020 - replaces FAKR ANR. Contact Jonty Esser E-mail: jonty@promptroofing.co.za Cell: 082 855 9435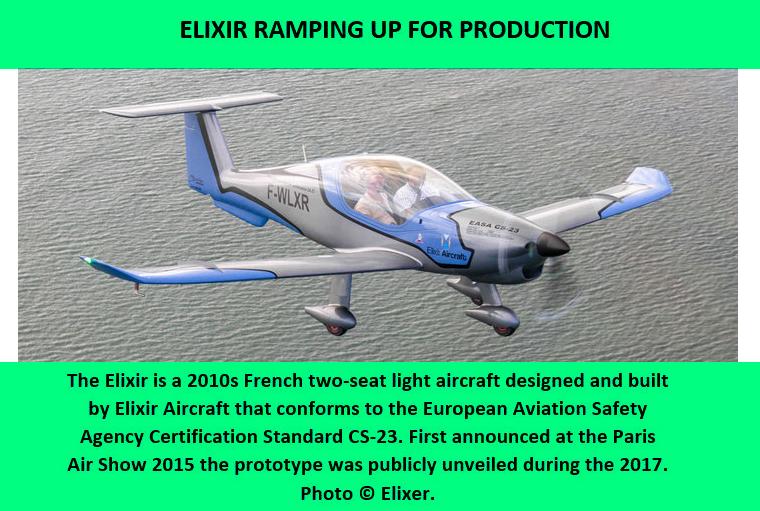 The Elixir first flew on 31 August 2017 from La Rochelle Airport. The aircraft flew for about 40 minutes at around 5000 feet. Starting from March 2018, another campaign of flight test took place.
During the Paris Air Show 2019, the company was counting 87 pre-orders. According to Elixir Aircraft, two thirds of their orders are flight training organizations (private flight schools or aeroclubs), the rest being private pilots mainly based in Europe, but also in the United States.
With certification imminent, the company is now ramping up for production. It is planning to produce 10 to 12 aircraft the first year before increasing in 2021 to reach 30 aircraft per year.
Elixir's production is currently based in Périgny, next to La Rochelle. In the long run, the company plan to move to Rochelle airport, where a 1.500 sqm plant will be built.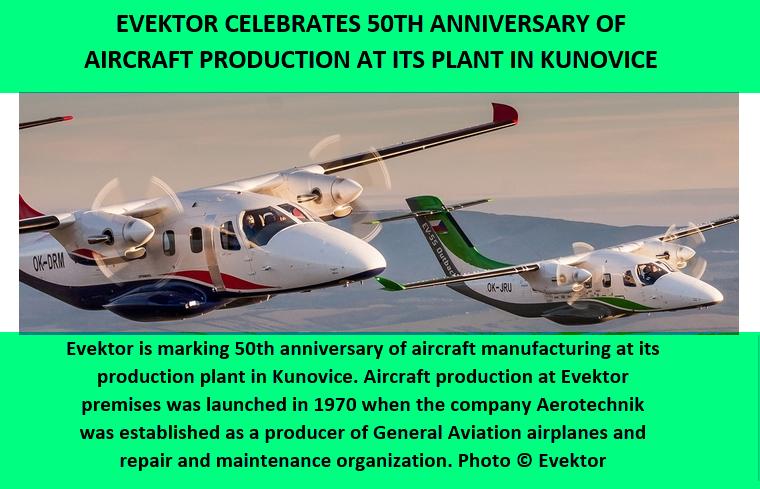 Evektor's history of aircraft manufacturing is based on an over 100-year tradition of aircraft production in the Czech Republic. Aircraft manufacturing was established before the Second World War, in 1936.
Beside repairs and overhauls of "Zlin" and "L-60 Brigadýr" aircraft, in the period from 1980s to 1990s, the company, then called Aerotechnik, was producing the popular L-13 Vivat motor-glider, of which almost 200 were manufactured. In 1996 Aerotechnik was acquired by Evektor, a prominent design and engineering company with extensive activities in aviation and automotive industries.
Evektor-Aerotechnik became one of the leaders and biggest producers of light sport aircraft on the market with over 1400 aircraft delivered to 50 countries globally, with an estimated 1,000,000 flight hours logged. Together with 50-year aircraft manufacturing experience, EASA certified aircraft production, Evektor´s involvement in Civilian, Military and General Aviation programs make Evektor stand apart from the other LSA manufacturers.
Since the second half of 1990s, the company has been producing modern light sport airplanes for pilot touring and flight training. The Evektor "EV-97 Eurostar", manufactured since 1997, with almost 1000 delivered units, has become one of the best in operation proven advanced UL aircraft on the market.
In 1999 Evektor introduced "EV-97 VLA Harmony" very light aircraft for pilot training, which gained the Czech CAA JAR-VLA certification in 2003 and EASA certification in 2005. In 2011 Evektor introduced FAA approved "Harmony LSA" - a further evolution of the SportStar, sporting newly tapered wings, longer fuselage and enhanced cockpit comfort.
The 6th generation of the SportStar, called "SportStar RTC" received EASA type certification in 2012. The same year the Evektor "SportStar SL" gained type certification from the Chinese Civil Aviation Authority CAAC.
Evektor SportStar and its manufacturing plant has become the first and till today, the only CAAC certified aircraft type and aircraft manufacturer from the Czech Republic.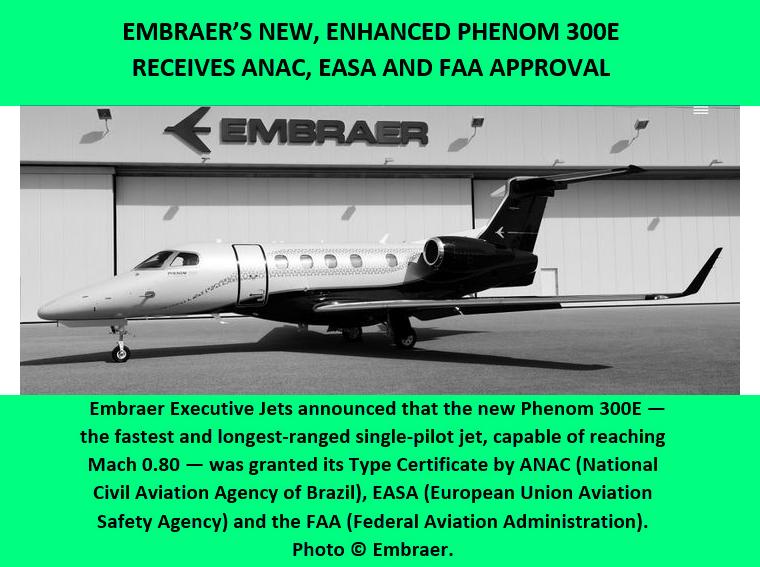 The new Phenom 300E is the most enhanced version of the Phenom 300 series, which was the most delivered business jet series in the 2010s. With its modern, clean-sheet design, best-in-class performance, exceptional comfort and excellent utility, the new Phenom 300E sets the standard for the light jet category.
The new Phenom 300E achieved its certification goals with an intracontinental range of 2,010 nautical miles (or 3,723 km, considering NBAA IFR reserves with 5 passengers), a high-speed cruise of 464 ktas, a maximum payload of 2,636 lb (1,196 kg), a take-off distance of only 3,209 ft (978 m) and an unfactored landing distance of 2,212 ft (674 m). In addition, the new Phenom 300E received both avionics upgrades and enhancements that lowered cabin noise levels.
The enhanced Phenom 300E will be available for delivery starting in the second quarter. The aircraft offers more speed and is now capable of reaching Mach 0.80. It also received an avionics upgrade to include a runway overrun awareness and alerting system (ROAAS), predictive windshear, Emergency Descent Mode, PERF, TOLD, and FAA Datacom, among others. Embraer is the first and only OEM in business aviation to develop and certify a runway overrun awareness and alerting system (ROAAS).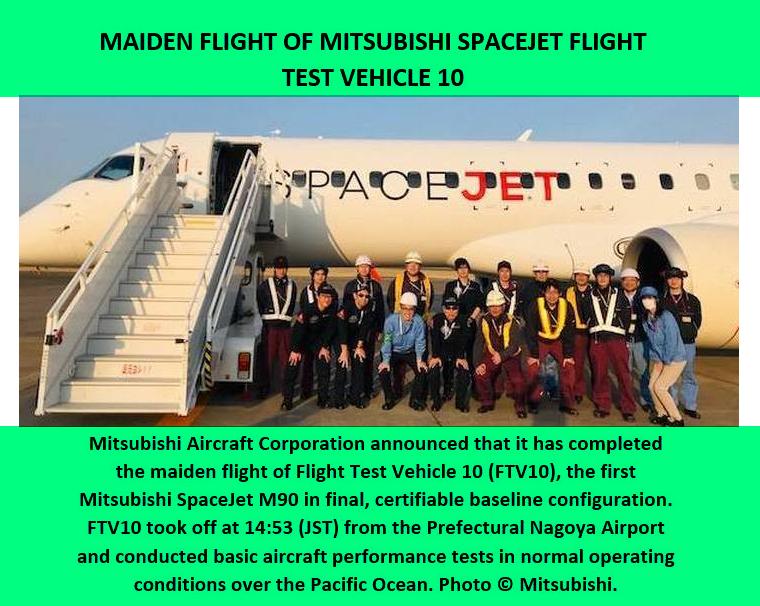 After approximately two hours of flight, the aircraft returned to Nagoya. With the completion of FTV10's first flight, Mitsubishi Aircraft Corporation is prepared to enter the final phase of certification flight testing for the SpaceJet M90, the first commercial jet manufactured in Japan.
"I am very pleased that FTV10, which was handed over from Mitsubishi Heavy Industries in January this year, successfully conducted its first flight today," Hisakazu Mizutani, President of Mitsubishi Aircraft said. "I would like to express my deepest gratitude to all those who are continuously supporting the program. We are excited for this latest step in the certification of the Mitsubishi SpaceJet M90."
"Today's announcement is especially encouraging, as it marks the start of certification flight testing for the first SpaceJet M90 in final, certifiable configuration," added Alex Bellamy, Mitsubishi Aircraft's Chief Development Officer. "We are all proud of this latest accomplishment, which reflects the hard work of a dedicated team, the culmination of an organizational transformation and all of the engineering changes made since 2016. We look forward to continuing our progress toward commercial certification of the M90 program."
Hiroyoshi Takase, a captain aboard FTV10's maiden flight, remarked, "Today's flight test was conducted smoothly and according to plan. The aircraft delivered on expectations and handled just as I anticipated."
In coming weeks Mitsubishi Aircraft plans to continue flight tests on FTV10 in Nagoya, as well as prepare for the ferry flight to Moses Lake Flight Test Center (MFC) to join the remainder of the Mitsubishi SpaceJet M90 test fleet for the final phase of type certification flight test.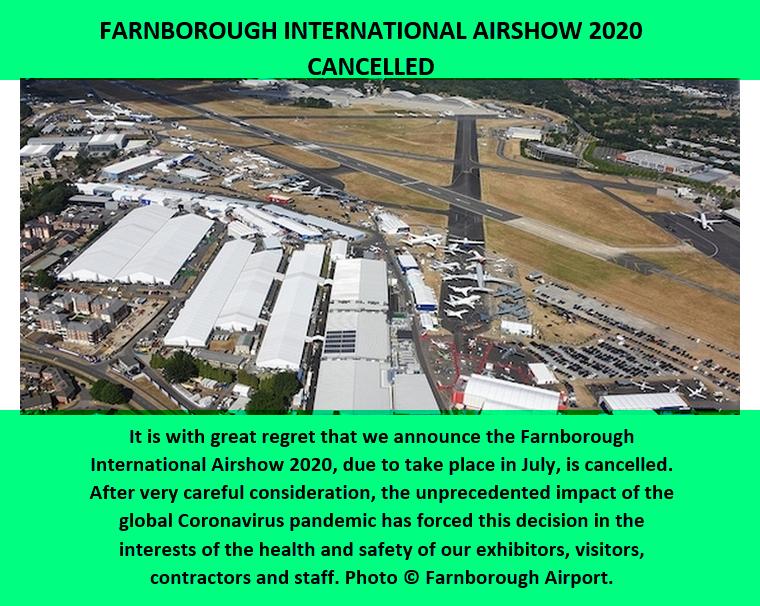 This decision was reached taking into consideration several major factors surrounding the outbreak of COVID-19, all of which we have concluded, make it is impossible for us to create and host the Airshow this July.
We understand this news will be an incredible disappointment to all across the international aerospace industry, not to mention our important exhibitors, suppliers and visitors. We at Farnborough International share your disappointment that we are unable to present the Airshow as planned, but rest assured, we are determined to continue to work together and will ensure the Farnborough International Airshow returns in 2022 better than ever.
It's important to us that we speak directly to anyone who may have concerns about the Airshow's cancellation; however, we are a small team and it may take a few days for us to make contact. We appreciate your patience; these are incredibly difficult times but we are absolutely committed to maintaining strong relationships.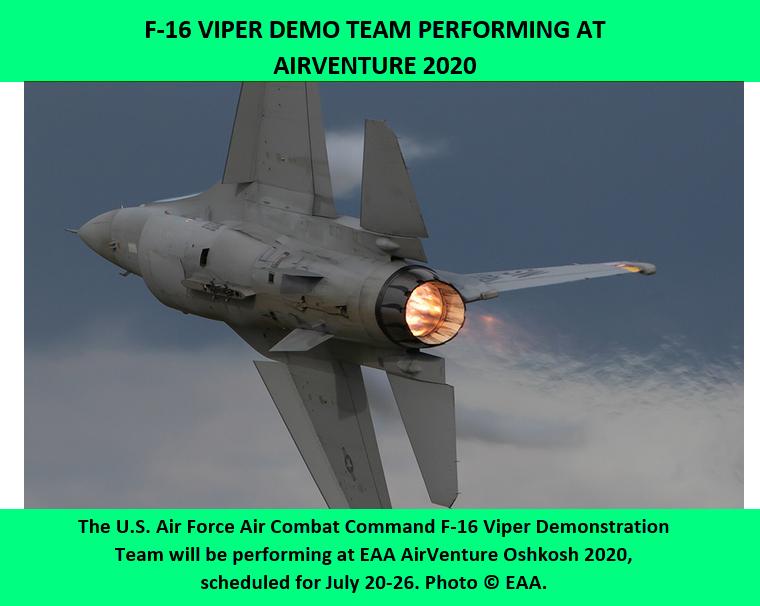 The Viper Demo Team will perform demonstrations as part of the daily air shows during AirVenture, as well as participate in the Air Force Heritage Flight program. Maj. Garret Schmitz is the Viper Demo Team pilot for the 2020 season.
"The Viper Demo Team is always a popular attraction at air shows across the country and we're very excited to welcome it back to Oshkosh this summer as we continue to plan for a full AirVenture event in late July," said Dennis Dunbar, director of AirVenture air show operations. "The F-16 has been an important piece of the U.S. Air Force arsenal for over 40 years and is still an impressive aircraft to watch perform."
The Viper Demo Team last performed in Oshkosh at AirVenture 2018.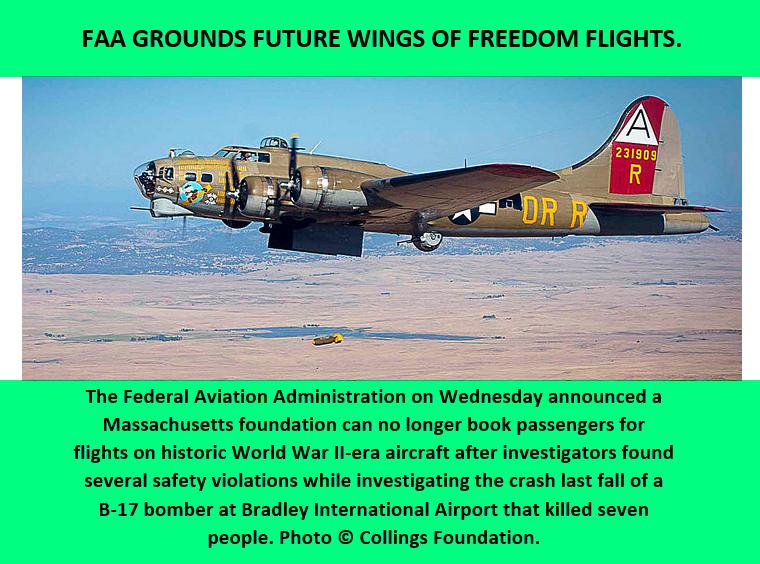 In a letter to the Collings Foundation, Robert C. Carty, the deputy executive -director of the FAA's Flight Standards Service, notified the foundation that the FAA is immediately rescinding the waiver that allowed them to charter flights on vintage aircraft as part of its "Wings of Freedom" tour.
"The FAA has determined through its ongoing investigation that Collings has not been operating in compliance with the conditions and limitations of the (exemption) issued to Collings," the letter states. "In addition, the FAA continues to gather facts that indicate Collings lacked a commitment to safety, insofar as Collings did not take seriously its safety management system program."
To book passengers on vintage aircraft, the company needed to reapply for an FAA exception every two years. The most recent exemption was granted in March 2018. In revoking that waiver, the FAA also denied the foundation's request for a renewal that was submitted in August prior to the Oct. 2 fatal crash, and a revised application filed afterward in November.
The crash of the B-17 bomber at Bradley killed seven, including the two pilots, and injured six others. The crash came moments after the plane developed engine problems just after take-off and sought to make an emergency landing.
Among the shortcomings cited in the letter, it notes:
The crew chief on the flight did not have sufficient training in the aircraft's systems or safety protocols. The crew chief is supposed to assist the flight crew with pre-flight checklists and preparations for flight, the handling of emergencies and safety procedures. Records indicate the crew chief on board during the crash had no formal training. During an interview, the chief described receiving only "on the job training."
Collings did not comply with a requirement to continuously operate a safety and risk management program that included daily maintenance and inspection of systems to identify, minimize or eliminate potential mechanical issues. There were no records of periodic audits of systems on the aircraft. Also, the pilot was also the director of maintenance. "This indicates Collings lacked a safety culture when operating the B-17G."
Inspection of engines 3 and 4 showed existing magneto and ignition failures, and multiple sparkplugs that needed cleaning and had improper electrode gaps. "As a result of these findings and other information, the FAA questions whether the engines were inspected adequately.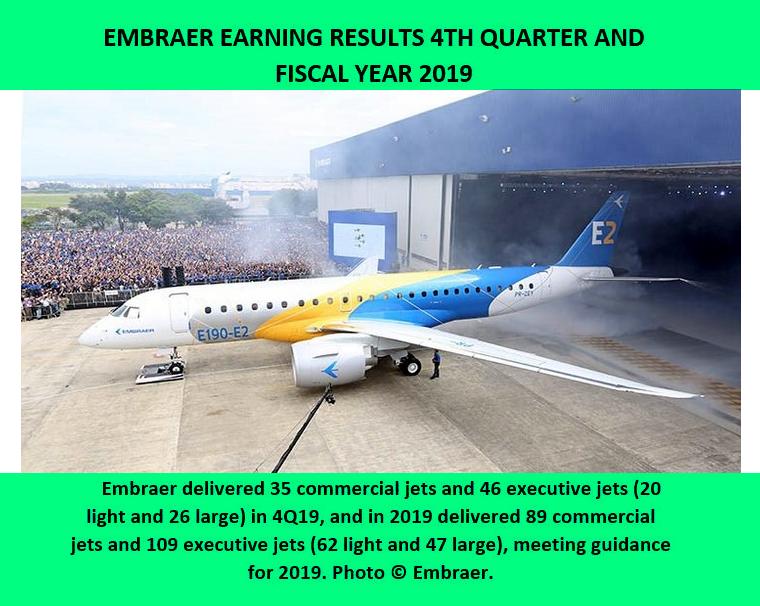 The Company's firm order backlog at the end of 4Q19 was US$ 16.8 billion, an increase compared to the US$ 16.2 billion reported at the end of 3Q19 and US$ 16.3 billion reported at the end of 4Q18. Revenues in 4Q19 reached US$ 2,085.0 million and for fiscal year 2019 were US$ 5,462.6 million, in line with the Company's stated 2019 guidance for revenues of US$ 5.3 - US$ 5.7 billion.
Embraer generated record free cash flow of US$ 739.4 million in 4Q19, finishing 2019 with adjusted free cash flow usage of US$ (181.8) million, within the guidance of US$ (300) million to US$ (100) million.
The Company finished 2019 with strong liquidity with a total cash position of US$ 2,779.9 million. Embraer's 4Q19 total debt of US$ 3,392.3 million had an average maturity of almost five years, yielding a net debt position of US$ 612.4 million vs. US$ 1,347.2 million of net debt in 3Q19.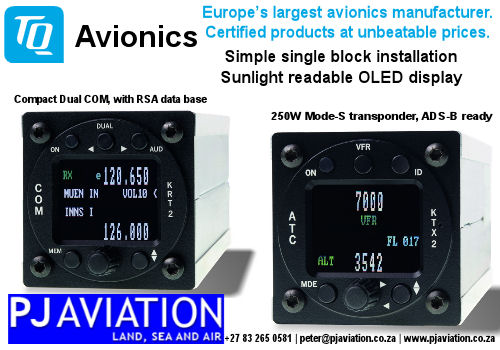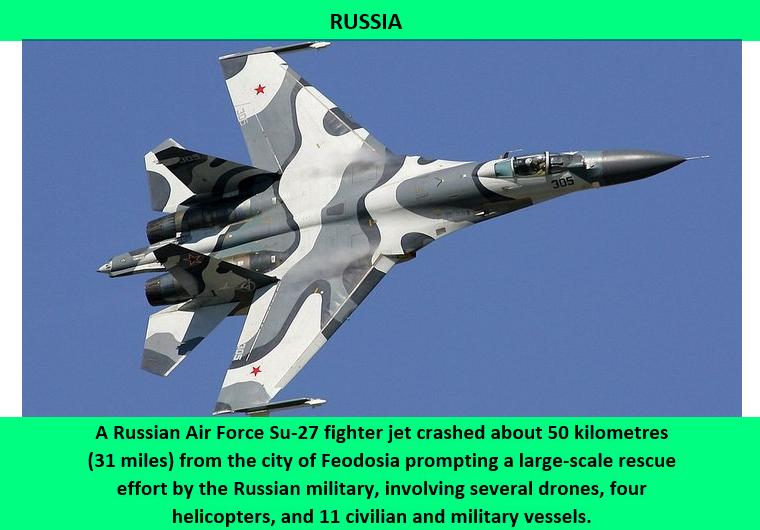 The Su-27 jet fell off the radar while flying a scheduled mission above the Black Sea on the previous evening. The plane's last location was recorded on the eastern coast of the Russian-controlled peninsula. The pilot's fate remains unclear. However, authorities reported receiving a signal from an emergency radio beacon in the area, which they hoped was coming from the pilot's emergency rescue boat.
Portugal, Faro: A TUI Airways Boeing 737-800 on a flight from Birmingham (UK) to AR Recife (Spain), was en route about 110nm west southwest of Faro when the crew needed to shut the right-hand engine (CFM-56) down due to its failure. The aircraft diverted to Faro for a safe landing about 40 minutes later.
USA: The National Transportation Safety Board (NTSB) has issued its investigative report into a 2018 Cessna 525 crash that killed 51-year-old Kent Carr, a long-time Staunton resident. Carr crashed into several trees and then a slope near the town of Crozet. The crash happened with rain and mist in the area and lightning detected to the northeast and south of the closest airport. A friend of Carr told the NTSB that he had had "a couple of drinks" with dinner that night and left her home around 7:30 p.m. The friend told investigators she thought he was going to a hotel for the night, since it was getting dark, but security video from the FCI airport showed that he arrived just after 8 p.m. and walked to the Cessna 525. Carr had not filed a flight plan when he took off from Richmond Executive - Chesterfield County Airport. The autopsy report indicated that he died of multiple blunt force trauma injuries. A toxicology test performed at the FAA's Forensic Sciences Laboratory identified ethanol at 0.080 gm/hg, which equates to 0.080 gm/dl and cetirizine in his muscle tissue.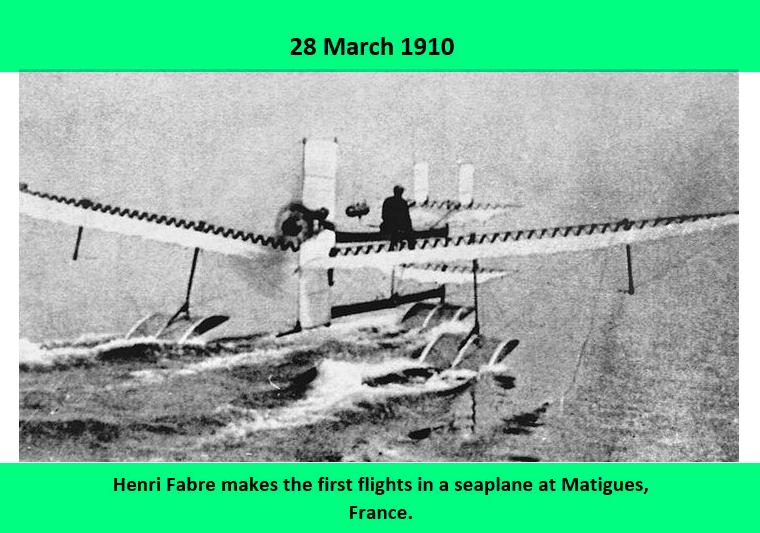 Henri Fabre born on 29 November 1882 was a French aviation pioneer and the inventor of the first successful seaplane, the Fabre Hydravion.
He was educated in the Jesuit College of Marseilles where he undertook advanced studies in sciences.
He intensively studied aeroplane and propeller designs. He patented a system of flotation devices which he used when he succeeded in taking off from the surface of the Etang de Berre on 28 March 1910. On that day, he completed four consecutive flights, the longest about 600 metres. The Hydravion has survived and is displayed in the Musée de l'Air in Paris. Henri Fabre was soon contacted by Glenn Curtiss and Gabriel Voisin who used his invention to develop their own seaplanes.
He passed away on 30 June 1984 at the age of 101 as one of the last living pioneers of human flight.