Compiled by Willie Bodenstein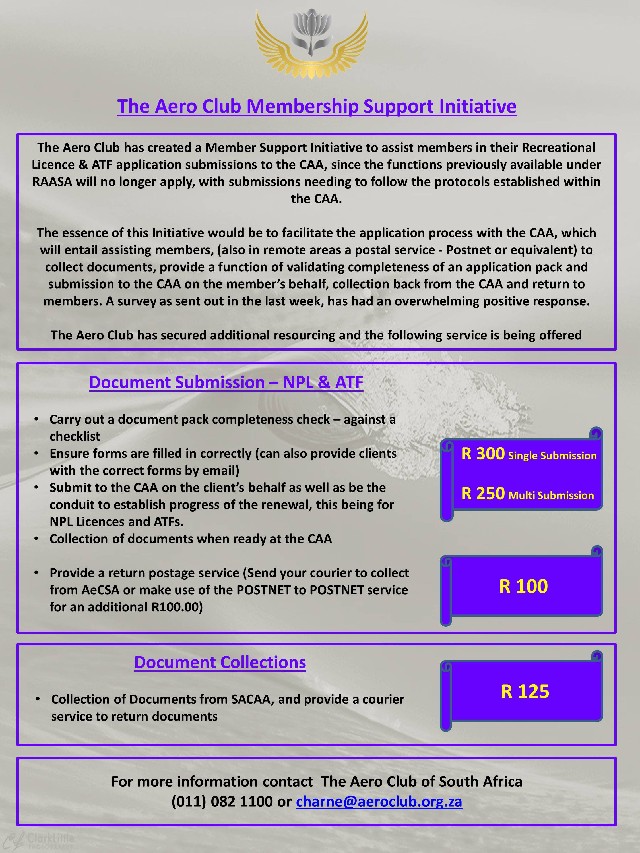 CORONA VIRUS AND AVIATION EVENTS

In line with advice from public health organisations and government legislation that prohibits all events with more than fifty people, aviation events advertised on Pilot's Post will most likely be cancelled or postponed. Those planning to attend or participate in any of these events are advised to contact the event organisers direct for confirmation.




25: Garden Route airshow at George Airport. Contact Brett Scheuble E-mail: info@gardenrouteairshow.co.za Cell: 084 418 3836
Postponed due to COVID 19. New date 26 September 2020.






1 to 3: Aero Club Air Week at Middelburg airfield. Contact Rob Jonkers E-mail: rob@aerosud.co.za Cell: 082 804 7032
Postponed due to the COVID 19 to a date to be advised.

1 to 3: EAA National Convention at Middelburg airfield. Contact Sean Cronin E-mail: sean@glutek.co.za Cell: 083 447 9895
Postponed due to the COVID 19 to a date to be advised.

1: SAPFA Middelburg Speed Rally Middelburg airfield. Contact Jonty Esser E-mail: jonty@promptroofing.co.za Cell: 082 855 9435
Postponed due to COVID 19. Rescheduled to 21 and 22 August.

2: SAAF Museum AFB Zwartkop Open and practice day

1 to 3: MISASA and SAGPA North meets South at Gariep Dam. Contact Donald Hicks Cell: 083 626 3180 E-mail: wendonair@gmail.com
Postponed due to COVID 19 new date to be confirmed.

5 to 10: Sun 'n Fun Aerospace Expo. Lakeland, Florida, USA. Website: www.flysnf.org
New date 5 to 10 May 2020.

6: EAA Chapter 322 Monthly Meeting. Dickie Fritz Moth Hall, Edenvale

8 to 10: 20th Battlefields fly-in to Dundee KZN
Contact Dave O'Halloran E-mail: gm@battlefieldslodge.co.za Cell: 079 496 5286

9: SAAF Museum Airshow at AFB Zwartkops. Contact Mark Kelbrick Cell 082 413 7577 E-mail: markkelbrick@yahoo.com
Postponed due to COVID 19 new date to be confirmed.

16: The Coves annual fly-in closed event by invitation only. Contact JP Fourie E-mail: jp.fourie@nac.co.za Cell: 083 625 4804
Provisionally cancelled due to COVID 19. A new date may be set.

12 to 15: NAMPO Harvest Day at NAMPO Part outside Bothaville. Contact Bennie Zaayman, Wim Venter: E-mail: Wim@grainsa.co.za Cell 082 414 8099
Due to the COVID 19 this event has been re-scheduled for 11 to 14 August 2020

23: EAA AGM at the EAA Auditorium Rand Airport. Contact Sean Cronin E-mail: sean@glutek.co.za Cell: 083 447 9895

23 to 24: SAC Eastern Cape Regionals Wings Park, East London. Contact Annie Boon E-mail: chunge@mweb.co.za

22 to 24: SAPFA President's Trophy Air Race at Ermelo airfield. Contact Rob Jonkers E-mail: chairman@sapfa.co.za Cell: 082 804 7032 Website: www.sapfa.co.za E-mail: Race@sapfa.org.za
Due to the COVID 19 this event has been cancelled but will be reviewed later in the year.

30: Botswana International Airshow at Matsieng Flying Club. Contact E-mail: hentie@dwddrilling.com Cell: +267 713 10935
Provisionally cancelled due to COVID 19. A new date may be set.

31: Fly-Mo fund raising breakfast fly-in at Springs airfield. Contact Fanie Bezuidenhout E-mail: ansan@tiscali.co.za Cell: 083 789 5507
Due to the COVID 19 this event has been cancelled






3: EAA Chapter 322 Monthly Meeting. Dickie Fritz Moth Hall, Edenvale

5 and 6: Newcastle Airshow. Contact Johan Pieters E-mail: Johan@champ.co.za Cell: 082 923 0078
Due to the COVID 19 this event has been re-scheduled to 3 and 4 October 2020.

3 to 7: Zim Navex Prince Charles Airport, Harare. Contact Marion Kalweit E-mail: zimairrally@gmail.com Tel +26 377 257 0009

6: SAAF Museum AFB Zwartkop Open and practice day

9 & 10: Aviation Mena 2020 Hilton Cairo Heliopolis, Cairo, Egypt. Contact Alison Weller E-mail: alison@accessgroup.aero Web: www.aviationmena.aero

13: Maputo Air Land and Sea Airshow. Contact Gavin Neil E-mail: airshow@acm.co.mz

13: SAPFA Silver Queen Air Rally AFB Zwartkop. Contact Rob Jonkers E-mail: rob@aerosud.co.za Cell: 082 804 7032

15 to 19: SAC National Championships New Tempe - Bloemfontein. Contact Annie Boon E-mail: chunge@mweb.co.za

20: SAC full day Airshow New Tempe - Bloemfontein. Contact Conrad Botha E-mail: rowco24cc@mailbox.co.za Cell: 082 465 4045






1: CAASA Symposium venue TBA. Sam Keddle E-mail: office@caasa.co.za Tel: 011 659 2345


2 to 4: AERO South Africa Wonderboom National Airport, Pretoria. Annelie Reynolds Tel +27 10 599 6150 Website: www.aerosouthafrica.com or Amanda Dube: E-mail: Amanda.Dube@za.messefrankfurt.com


10 - 11: EAA Taildraggers at Warmbaths airfield. Richard Nicholson E-mail: flybenchmark@gmail.com Cell: 082 490 6227


11- 12: Flying Legends United Kingdom. Website: www.flyinglegends.com . Due to the COVID 19 this event has been cancelled


17 - 18: SAPFA Speed Rally at Thabazimbi airfield. Jonty Esser E-mail: jonty@promptroofing.co.za Cell: 082 855 9435.
Due to the COVID 19 this event has been cancelled.


17 to 19: Royal International Air Tattoo United Kingdom. Website: www.airtattoo.com
Due to the COVID 19 this event has been cancelled.


20 to 24: Farnborough airshow United Kingdom five-day trade show - no public days
Website: www.farnboroughairshow.com
Due to the COVID 19 this event has been cancelled.


21: CAASA AGM at CAASA House Lanseria International Airport
Contact Sam Keddle E-mail: office@caasa.co.za Tel: 011 659 2345


20 to 26: EAA AirVenture Oshkosh, Wisconsin, USA. Camping on the airfield contact Neil Bowden E-mail: neil1@telkomsa.net
Hotels in Appleton contact Calvin Fabig E-mail: calvin@designer.co.za


23-25 Brits Rally Nationals 23 - 25 July 2020. Contact Frank Eckard E-mail: frank.eckard@mweb.co.za Cell: 083 269 1516








21-22: Bethlehem Speed Rally 21 - 22 August 2020 - replaces FAKR ANR. Contact Jonty Esser E-mail: jonty@promptroofing.co.za Cell: 082 855 9435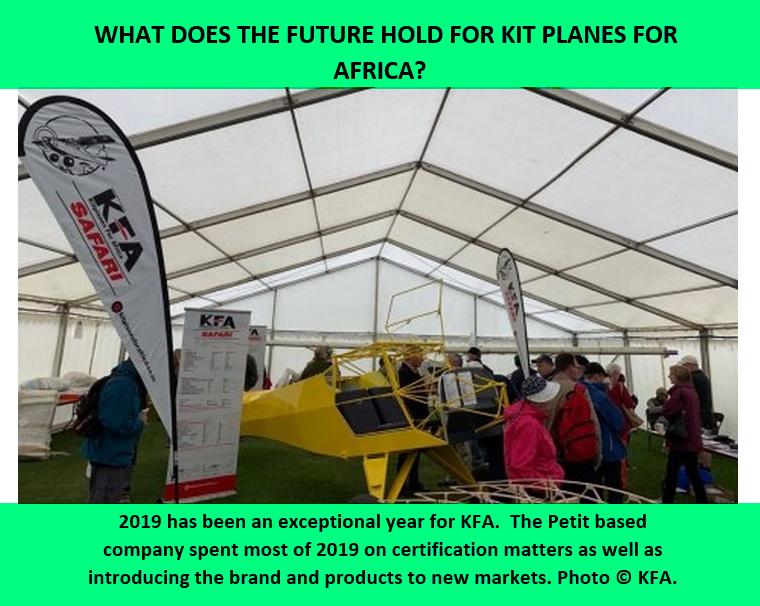 Certifying a new aircraft is not an easy process considering the bureaucratic hoops they had to jump through and on top of that, it definitely is not cheap either. But they persevered and have received their German type certificate for the KFA Explorer UL-600.
KFA are continuously upgrading and improving their current products and 2020 will see a facelift of the trusty old Bushbaby. They plan to penetrate the French and other Ultralight markets with this lighter and improved model. The current Safari and Explorer models will become available in a Carbon version. They expect to slash the empty weight on the Safari by approximately 25kg and the Explorer by 20kg. This should open up the German UL market for the basic Safari model as well.
Some will know that they have been fiddling with a four-seater bush plane for some time and 2020/2021 will be spent on designing and developing an affordable 4 seat STOL bush plane.
Branded Clothing From 2020 owners and enthusiasts will be able to purchase their branded KFA bush wear, classic golf shirts, T-shirts or caps.
KFA's highlights for 2019 were their participation at AERO Friedrichshafen where they revealed their new Explorer UL-600. They also co-exhibited with Winx who is the distributor for Aerovolga and who showcased their Borey Amphibian UL. The show was a huge success and also paved the way for other big things to follow.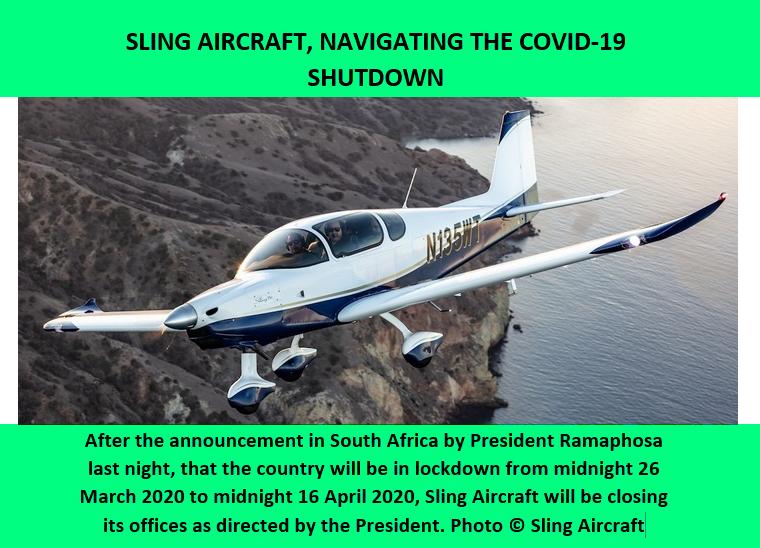 Although the lockdown is for 21 days, there are only 13 work days during this period and this will only affect production staff. Arrangements have been made for administrative, engineering, sales, marketing, IT and management to continue working as much as possible from home.
This will unfortunately cause some delays to expected delivery dates; however, we are minimising the delays by working additional overtime hours on return and all Saturdays will be considered as full days until we have managed to catch up the production lime lost.
Sling Aircraft is in the lucky position now to be able to continue to pay our staff through extended periods of shut down, as the business is doing well, is in a positive cash flow position and is making money.
Please rest assured that we will do everything in our power to catch up lost time as quickly as possible and that there is no risk financially to the business for the foreseeable future. Our attitude is that although this is a major knock to the entire world, we are excited and motivated to come back after the shutdown with energy and determination.
I would ask that each and every one of you abide by the lockdown instructions, issued by the Governments around the world. Stay safe and maintain personal hygiene at every opportunity you have. I wish you good health during these troubling times and look forward to being back in full force on the 17th of April.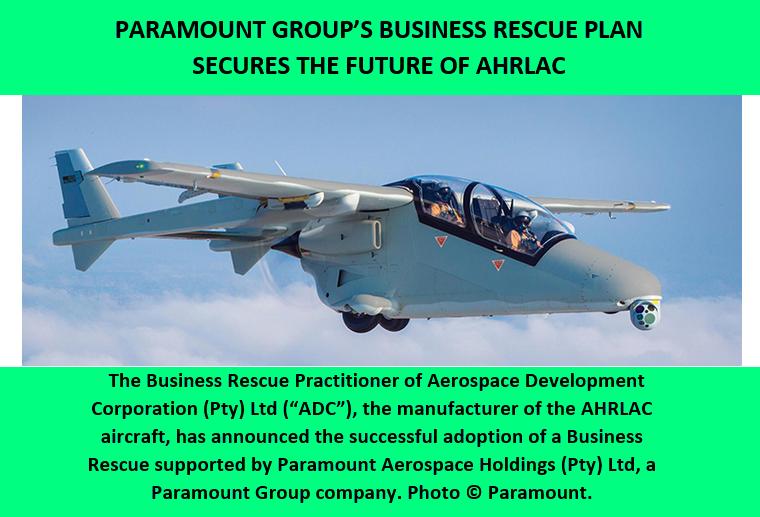 Paramount Group is a global aerospace and technology company, with multiple aerospace, defence and technology companies in its global portfolio.
The Business Rescue Plan will secure the future of the AHRLAC aircraft, its employees and will see the resumption of sales, marketing and manufacturing of the aircraft to customers around the world.
Paramount Group has already injected new capital in the form of post commencement funding and will inject significant further capital into the business over the coming months.
Paramount is committed to building a strong sustainable aircraft and aerospace systems capability in South Africa and this transaction supports this objective.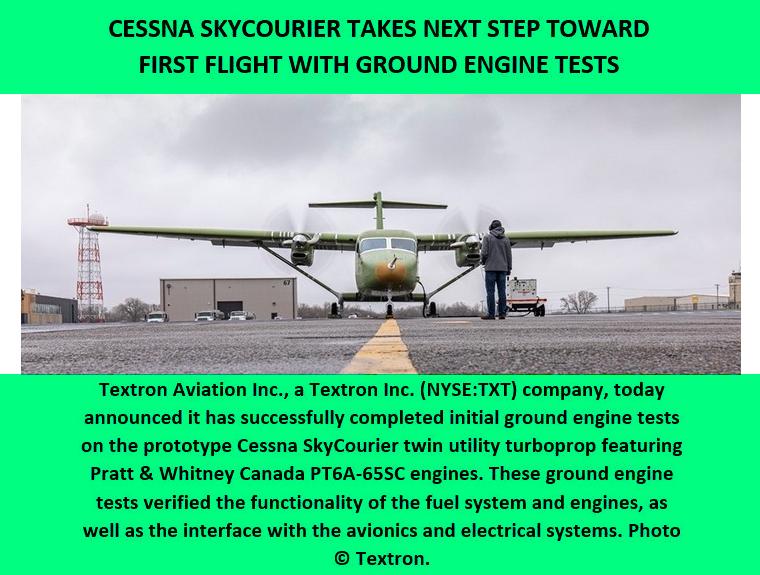 "The successful engine run tests are a pivotal step toward proving the maturity of the aircraft and its systems as we prepare for first flight," said Chris Hearne, senior vice president, Programs and Engineering. "We continue to meet each important milestone in our development schedule and we look forward to having an outstanding aircraft for our customers."
The Cessna SkyCourier program continues to advance with assembly of the prototype and additional five flight and ground test articles. The tail was installed to the fuselage in early February 2020. Power to the aircraft's electrical system was turned on in January and the wings were successfully mated to the fuselage in December 2019.
The Cessna SkyCourier will be offered in various configurations including a 6,000-pound payload capable freighter, a 19-seat passenger version or a mixed passenger/freight combination, all based on the common platform.
The Cessna SkyCourier is designed for high utilization and will deliver a combination of robust performance and lower operating costs. Cessna SkyCourier will feature the popular Garmin G1000 NXi avionics suite and offer highlights such as a maximum cruise speed of up to 200 ktas and a maximum range of 900 nm. Both freighter and passenger variants of the Cessna SkyCourier will offer single-point pressure refuelling to enable faster turnarounds.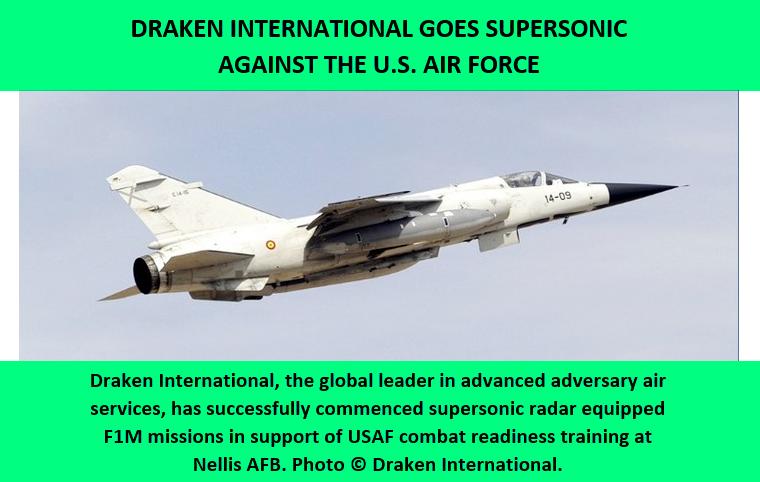 The fully modernized Mirage F1Ms, predominately flown by the Spanish Air Force in the past, now challenge US and coalition 4th & 5th Generation fighters over the skies of the Nevada Test and Training Range in the development of warfighter's tactics, techniques and procedures.
Draken remains the only commercial air service provider to have purchased, imported, certified and executed sustained flight operations with threat-representative fighter aircraft. These critical capabilities inherent to the Draken F1 fleet, are essential for supporting the Nellis ADAIR II contract, which provides adversary training for the prestigious USAF Weapons School, Red Flag exercises, operational test support, Formal Training Unit support and Combat Air Forces abroad.
Over the past two years, the collaborative efforts between Draken International and Paramount Aerospace Systems has resulted in the reassembly, restoration and certification of the fleet of Mirage F1s. This extensive project was accomplished at Draken's maintenance facility in Lakeland, FL.
Sean Gustafson, VP of Business Development at Draken stated, "Draken is fully committed to enhancing adversary support for the USAF. These fleets of supersonic assets highlight the dedication to fulfilling combat readiness training objectives at Nellis and Air Force bases across the U.S. Our ever-growing fleet of advanced fighters enrich our capabilities and challenge Airmen, Sailors and Marines alike."
Draken International is the world's largest operator of ex-military aircraft. The company is based out of Lakeland Linder Regional Airport in Lakeland, FL. The organization sets a new standard in airborne adversary support, flight training, threat simulation, electronic warfare support, aerial refueling, research, testing, as well as other missions uniquely suited to their fleet of aircraft. With over 100 tactical fighter aircraft incorporating modern 4th generation capabilities, the company is ideally positioned to answer the growing global demand for commercial air services. Draken employs world class, military training fighter pilots including USAF Weapons School Instructors, Fighter Weapons School Graduates, TOP GUN Instructors, Air Liaison Officers and FAC-A Instructors.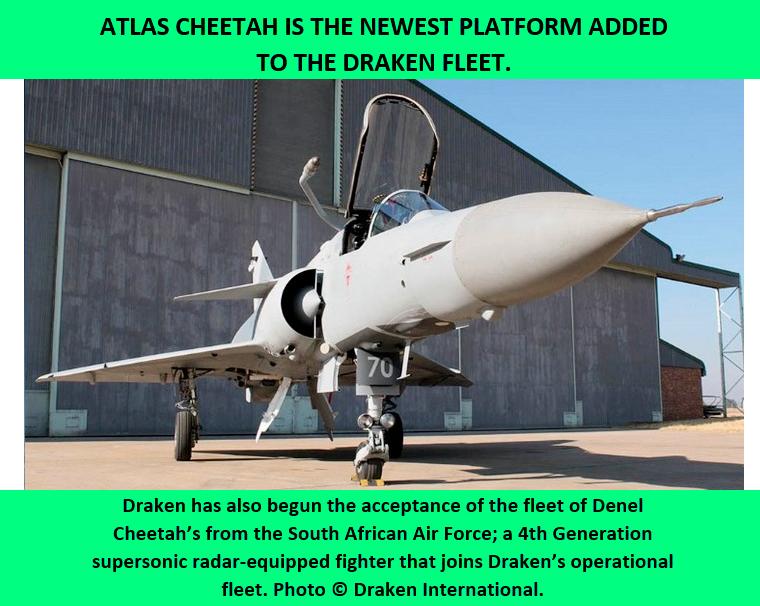 The 4th Generation, supersonic, radar equipped Atlas Cheetah is the newest platform added to the Draken fleet. The twelve Cheetas were purchased directly from the South African Air Force in 2017. This supersonic Mirage variant is currently equipped with a fire control radar and a radar warning receiver.
Viewed as a major achievement for the South African Défense Industry, Denel Aeronautics, the aircraft design authority is committed to the support of Draken's nine Cheetah C models (single-seat) and three D models (two-seaters).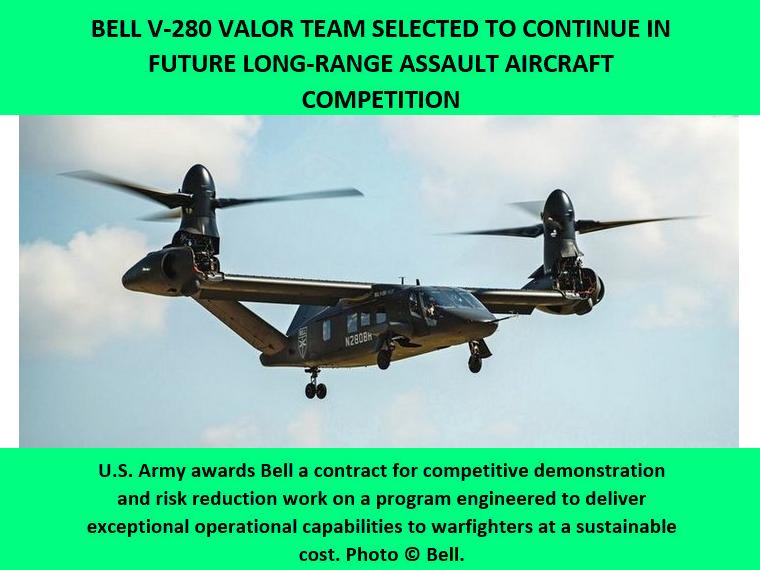 Bell Textron Inc., a Textron Inc. (NYSE: TXT) company, has been selected as a project agreement holder for the competitive demonstration and risk reduction (CD&RR) effort as part of the U.S. Army's Future Long Range Assault Aircraft (FLRAA) program. Under the agreement Bell will deliver a refined V-280 Valor design, with supporting technical documentation, that builds on the data captured during the more than two years and 170 hours of flight testing under the Joint Multi-Role Technology Demonstration (JMR TD) program to inform the FLRAA program of record.
This contract follows the successful U.S. Army led JMR TD program. As part of that program, Bell managed collaboration with the twelve leading companies that make up Team Valor to enable rapid production, systems integration and deliberate program schedule to validate the V-280's flight capabilities and operational relevance. The V-280 achieved all program goals, demonstrating its speed by flying above 300 knots and demonstrating low speed agility attitude quickness per ADS-33F-PRF. These characteristics are important to inform FLRAA program requirements to ensure the program will help warfighters meet the challenges of future multi-domain fights.
The V-280 Valor was developed in support of the government Future Vertical Lift (FVL) program, the Army's number three modernization priority area. The FLRAA program is meant to produce a medium-lift utility rotorcraft replacement with transformational speed, power and manoeuvrability, at a sustainable cost, to active duty and reserve aviation units.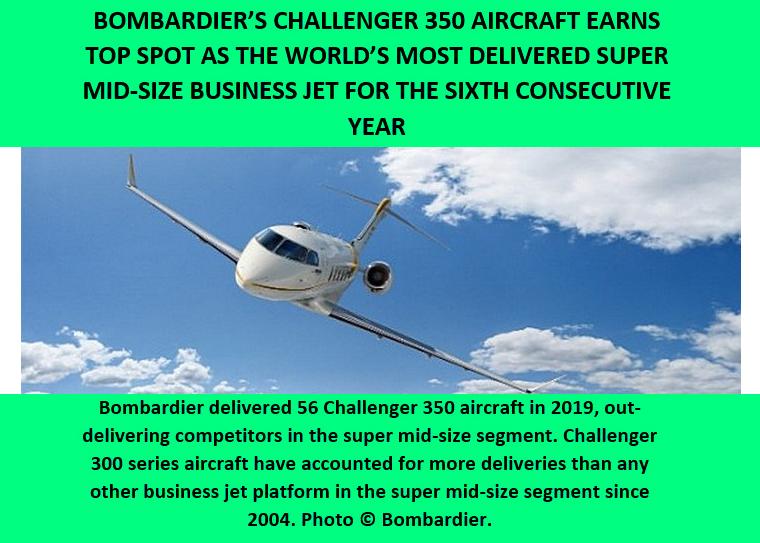 With an exceptional cabin, signature smooth ride and the lowest operating costs in its class, the aircraft's value proposition is unrivalled. New features of the aircraft include compact Head-up Display (HUD) and Enhanced Vision System (EVS); class-leading cabin sound-proofing technology; steep approach certification and performance improvement package.
Bombardier's leading Challenger 350 business jet has extended its impressive market performance as the world's most delivered business jet in the super mid-size segment for the last six years. The Challenger 350 aircraft outpaced its competition in 2019, with 56 deliveries and a 44-per-cent share of the super mid-size segment. The award-winning aircraft has consistently ranked as the top-selling aircraft in the super mid-size segment since it entered into service in 2014.

The Challenger 350 jet boasts class-defining performance, a true seats-full, tanks-full range capability and can connect New York City to London.* Several enhancements have made a great aircraft even greater, including an available compact Head-up Display (HUD) and Enhanced Vision System (EVS), class-leading cabin sound-proofing technology and refined cockpit aesthetics. A performance improvement package also allows the aircraft to fly up to 1,500 NM farther out of short runways, complementing its already impressive steep-approach capability.
This latest success builds upon a tradition of outstanding market leadership for the Challenger 300 aircraft family platform. For more than a decade, the Challenger 300 series aircraft have accounted for more deliveries than any other business jet platform in the super mid-size segment, with almost 800 unit deliveries worldwide since 2004.
In 2019, Robb Report Magazine recognized the Challenger 350 business jet as the Best-of-the-Best super mid-size aircraft for the second year in a row. As the only super mid-size aircraft that can fly full range at full fuel with full seat capacity, the Challenger 350 aircraft offers the luxury of having it all. With its signature smooth ride, exceptional cabin and the lowest operating costs in its class, the Challenger 350 business jet is in high demand. Its stylish and spacious cabin accommodates up to 10 passengers, features a fully-equipped galley, and unrestricted access to the baggage compartment in flight, while recently enhanced sound-proofing technology further establishes the cabin as the quietest in its class.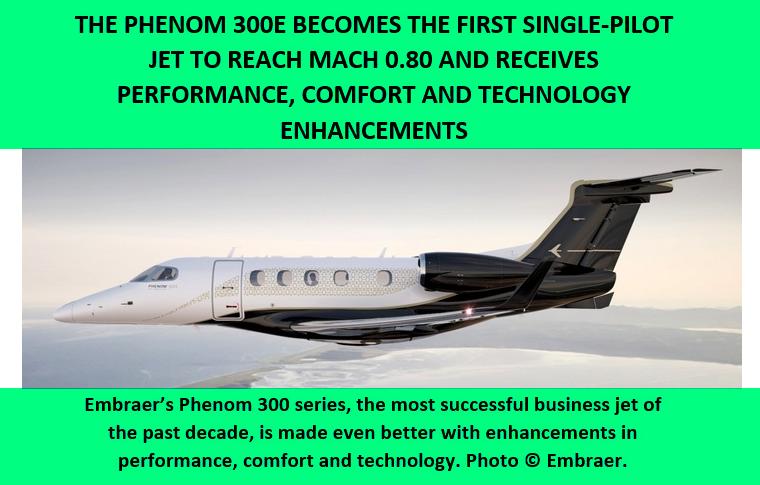 In the Embraer tradition of constantly striving to deliver even more value to customers, the Phenom 300E is now the first single-pilot jet to reach Mach 0.80, offering a quieter cabin and upgrades to its avionics that include predictive windshear and a runway overrun awareness and alerting system, Embraer exclusive intellectual property and the first technology of its kind to be developed and certified in business aviation.
To deliver the best performance in the category, the Phenom 300E now has more speed. The enhanced aircraft is the first single-pilot jet to reach Mach 0.80, making the fastest and longest-ranged single-pilot jet in business aviation even faster. With the new enhancements, the Phenom 300E now delivers a high-speed cruise of 464 knots and a five-occupant range of 2,010 nautical miles (3,724 km) with NBAA IFR reserves.
In terms of comfort, the Phenom 300E now enjoys an even quieter cabin, pilot and co-pilot seat tracking that's close to 40% more, thus providing more legroom in the cockpit and a brand-new premium interior option, known as Bossa Nova. The noise-reduction improvements lower overall in-flight cabin noise, high-frequency noise and significantly reduce noise during boarding.
To deliver unparalleled technology in the category, the Phenom 300E is receiving an avionics upgrade to include a runway overrun awareness and alerting system, predictive windshear, Emergency Descent Mode, PERF, TOLD, FAA Datacom and many others. The runway overrun awareness and alerting system acts as an additional pilot and warns if the aircraft's approach is too steep or too fast, increasing situational awareness. Embraer has patented this technology and is the first OEM in business aviation to develop and certify it. New predictive windshear warns pilots about windshear conditions in advance to help them prepare and manoeuvre the airplane in order to best minimize adverse conditions. Additionally, the Phenom 300E now comes with a 4G connection via Gogo AVANCE L5.

With these enhancements, the award-winning Bossa Nova Edition interior, originally introduced in 2018 with the debut of the Praetor 500 and Praetor 600, now becomes an available option for the Phenom 300E. The premium interior features carbon fibre materials, sophisticated stitching and piano-black colouring. Inspired by the famous sidewalks of Rio de Janeiro, the custom quilted design is complemented by the tuxedo stitching and colour accent details on the divan. Embraer's latest and most advanced interior, the Bossa Nova interior in the Praetor 600 won best design in the 2019 International Yacht & Aviation Awards in Venice (Interior Design/VIP Completion category).
Deliveries of the new Phenom 300E with these enhancements will begin in May of 2020; some features are optional.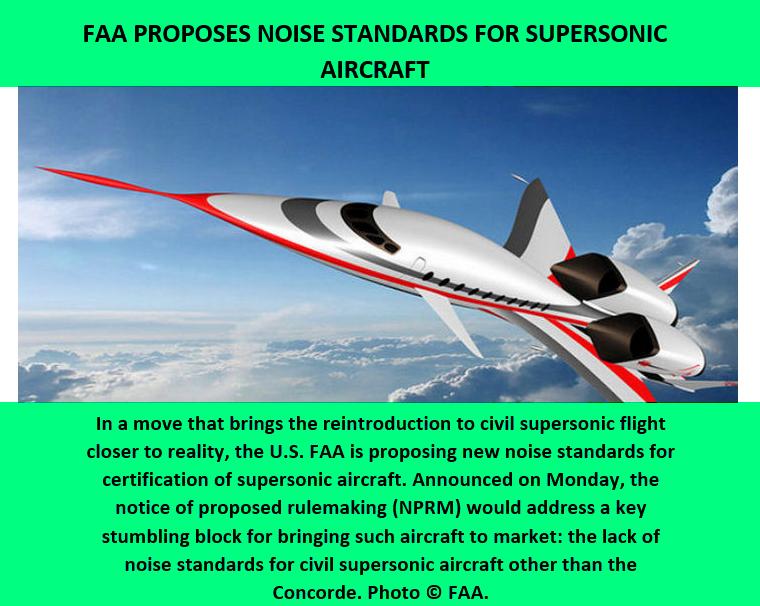 "There is renewed interest in the development of supersonic aircraft, and the proposed regulations would facilitate the continued development of airplanes by specifying the noise limits for the designs," the agency said in the NPRM, adding that manufacturers have been indicating a need for reasonable, achievable standards for more than a decade.
While not yet scheduled for publication in the Federal Register, the latest NPRM will be open for comment for 90 days from the date it is published. The proposal would establish subsonic landing and take-off cycle standards for supersonic airplanes with an mtow no greater than 150,000 pounds and a maximum operating cruise speed of Mach 1.8. This category of aircraft would constitute "Supersonic Level 1," accommodating most of the current development activity, the agency said.
According to the FAA, this proposal would provide a means to certify the aircraft for noise for subsonic operation domestically, but does not change the current ban on the creation of sonic booms over land.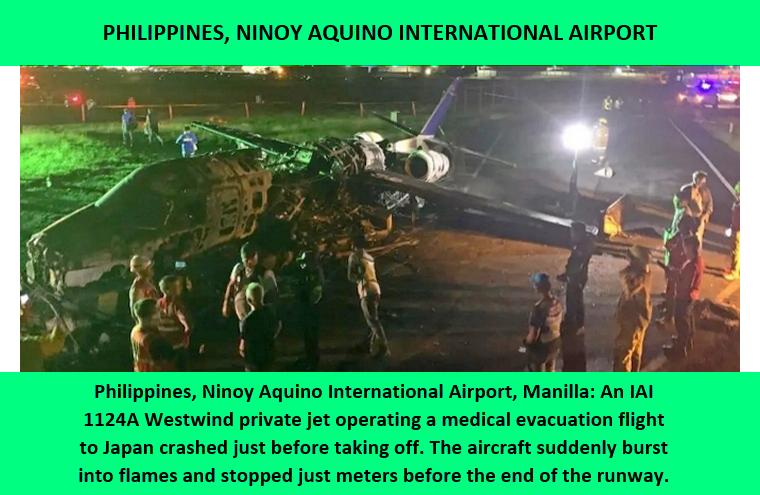 Seeing the incident, the Manila Control Tower immediately dispatched the MIAA Fire and Rescue team to the site and were able to put out the fire of the burning plane. However, all passengers and crew perished. The aircraft was carrying three flight crew, three medical personnel, and two patients, one of whom was American, the other Canadian. The aircraft carried out a medical evacuation flight to Tokyo, Japan.
Nepal, Nepalganj Airport: A Nepal Airlines Y-12E aircraft touched down short of the runway at Nepalganj Airport. It came to a stop in vegetation at the side of the runway. The flight had taken off from Kathmandu with medical supplies and a medical doctor on board. The four on board survived.
Netherlands, Amsterdam: A KLM Cityhopper Embraer ERJ-190 had just taken off from Amsterdam on a flight to Aberdeen, Scotland when the crew advised they needed to return to Amsterdam, as the first officer's communication was malfunctioning leaving them with only the pilot's radio. The crew requested to stay on the current frequency and returned the aircraft for a safe landing about 25 minutes after departure.
Indonesia, Pekanbaru: A Batik Air Airbus A320-200 on flight from Jakarta to Kuala Namu was about 30nm south of Pekanbaru (Indonesia) when white smoke appeared from the bottom of the right side of the pedestal accompanied by a burning smell. About 2 seconds later the smoke disappeared, but the smell however remained. The crew decided to divert to Pekanbaru for a safe landing. The aircraft remained on the ground in Pekanbaru for about 58 hours before returning to service. Indonesia's KNKT rated the occurrence a serious incident and opened an investigation.
Brazil, Recife: An Azul Linhas Aereas Airbus A320-200N with 79 passengers and 6 crew on board was on a flight from Sao Paulo was descending towards Recife when the crew received an aft cargo smoke indication and discharged the fire suppression system. The aircraft continued for a safe landing on Recife. Brazil's CENIPA reported the indication was determined to be false.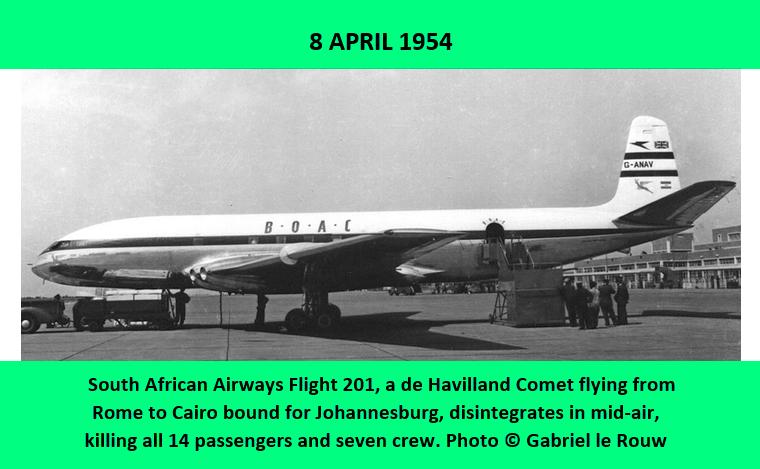 On 8 April 1954, Comet G-ALYY ("Yoke Yoke"), on charter to South African Airways, was on a leg from Rome to Cairo (of a longer route, SA Flight 201 from London to Johannesburg), when it crashed in the Mediterranean near Naples with the loss of all 21 passengers and crew on board.
The Comet fleet was immediately grounded once again and a large investigation board was formed under the direction of the Royal Aircraft Establishment (RAE).[98] Prime Minister Winston Churchill tasked the Royal Navy with helping to locate and retrieve the wreckage so that the cause of the accident could be determined.
The Comet's Certificate of Airworthiness was revoked, and Comet production was suspended at the Hatfield factory while the BOAC fleet was permanently grounded, cocooned and stored.
As in BOAC Flight 781, the cause was metal fatigue at stress risers at the corners of the square windows in the aluminium skin; subsequently, all pressurized aircraft windows are constructed with wide radius corners.