Compiled by Willie Bodenstein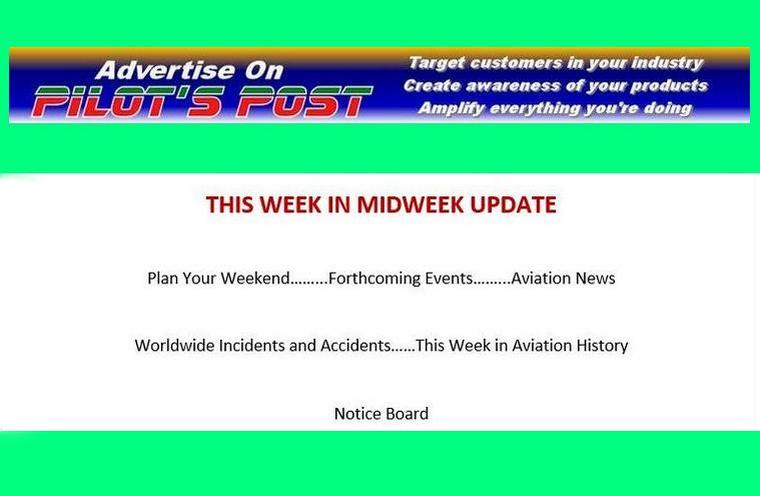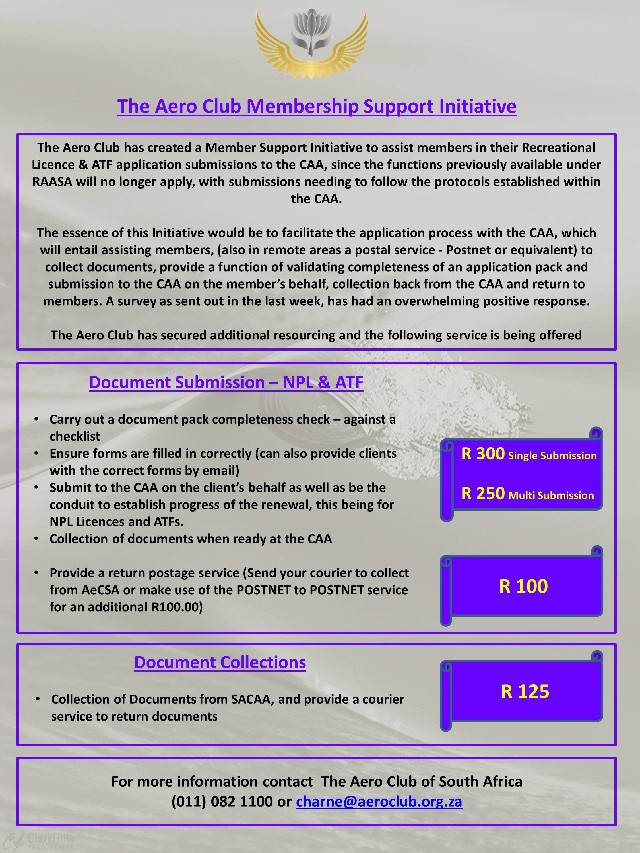 CORONA VIRUS AND AVIATION EVENTS

In line with advice from public health organisations and government legislation that prohibits all events with more than fifty people, aviation events advertised on Pilot's Post will most likely be cancelled or postponed. Those planning to attend or participate in any of these events are advised to contact the event organisers direct for confirmation.





25: Garden Route Airshow at George Airport. Contact Brett Scheuble E-mail: info@gardenrouteairshow.co.za Cell: 084 418 3836
Postponed due to COVID 19. New date 26 September 2020.






1 to 3: Aero Club Air Week at Middelburg airfield. Contact Rob Jonkers E-mail: rob@aerosud.co.za Cell: 082 804 7032
Postponed due to the COVID 19 to a date to be advised.

1 to 3: EAA National Convention at Middelburg airfield. Contact Sean Cronin E-mail: sean@glutek.co.za Cell: 083 447 9895
Postponed due to the COVID 19 to a date to be advised.

1: SAPFA Middelburg Speed Rally Middelburg airfield. Contact Jonty Esser E-mail: jonty@promptroofing.co.za Cell: 082 855 9435
Postponed due to COVID 19. Rescheduled to 21 and 22 August.

2: SAAF Museum AFB Zwartkop Open and practice day
Cancelled due to the lockdown

1 to 3: MISASA and SAGPA North meets South at Gariep Dam. Contact Donald Hicks Cell: 083 626 3180 E-mail: wendonair@gmail.com
Postponed due to COVID 19 new date to be confirmed.

5 to 10: Sun 'n Fun Aerospace Expo. Lakeland, Florida, USA. Website: www.flysnf.org
New date 5 to 10 May 2020.

6: EAA Chapter 322 Monthly Meeting. Dickie Fritz Moth Hall, Edenvale
Cancelled due to the lockdown

8 to 10: 20th Battlefields fly-in to Dundee KZN
Contact Dave O'Halloran E-mail: gm@battlefieldslodge.co.za Cell: 079 496 5286

9: SAAF Museum Airshow at AFB Zwartkop. Contact Mark Kelbrick Cell 082 413 7577 E-mail: markkelbrick@yahoo.com
Postponed due to COVID 19 new date to be confirmed.

16: The Coves annual fly-in closed event by invitation only. Contact JP Fourie E-mail: jp.fourie@nac.co.za Cell: 083 625 4804
Provisionally cancelled due to COVID 19. A new date may be set.

12 to 15: NAMPO Harvest Day at NAMPO Part outside Bothaville. Contact Bennie Zaayman, Wim Venter: E-mail: Wim@grainsa.co.za Cell 082 414 8099
Due to the COVID 19 this event has been re-scheduled for 11 to 14 August 2020

23: EAA AGM at the EAA Auditorium Rand Airport. Contact Sean Cronin E-mail: sean@glutek.co.za Cell: 083 447 9895

23 to 24: SAC Eastern Cape Regionals Wings Park, East London. Contact Annie Boon E-mail: chunge@mweb.co.za

22 to 24: SAPFA President's Trophy Air Race at Ermelo airfield. Contact Rob Jonkers E-mail: chairman@sapfa.co.za Cell: 082 804 7032 Website: www.sapfa.co.za E-mail: Race@sapfa.org.za
Due to the COVID 19 this event has been cancelled but will be reviewed later in the year.

30: Botswana International Airshow at Matsieng Flying Club. Contact E-mail: hentie@dwddrilling.com Cell: +267 713 10935
Provisionally cancelled due to COVID 19. A new date may be set.

31: Fly-Mo fund raising breakfast fly-in at Springs airfield. Contact Fanie Bezuidenhout E-mail: ansan@tiscali.co.za Cell: 083 789 5507
Due to COVID-19 this event has been postponed to a date later in the year.






3: EAA Chapter 322 Monthly Meeting. Dickie Fritz Moth Hall, Edenvale

5 and 6: Newcastle Airshow. Contact Johan Pieters E-mail: Johan@champ.co.za Cell: 082 923 0078
Due to the COVID 19 this event has been re-scheduled to 3 and 4 October 2020.

3 to 7: Zim Navex Prince Charles Airport, Harare. Contact Marion Kalweit E-mail: zimairrally@gmail.com Tel +26 377 257 0009

6: SAAF Museum AFB Zwartkop Open and practice day

9 & 10: Aviation Mena 2020 Hilton Cairo Heliopolis, Cairo, Egypt. Contact Alison Weller E-mail: alison@accessgroup.aero Web: www.aviationmena.aero

13: Maputo Air Land and Sea Airshow. Contact Gavin Neil E-mail:
airshow@acm.co.mz

13: SAPFA Silver Queen Air Rally AFB Zwartkop. Contact Rob Jonkers E-mail: rob@aerosud.co.za Cell: 082 804 7032

15 to 19: SAC National Championships New Tempe - Bloemfontein. Contact Annie Boon E-mail: chunge@mweb.co.za

20: SAC full day Airshow New Tempe - Bloemfontein. Contact Conrad Botha E-mail: rowco24cc@mailbox.co.za Cell: 082 465 4045






1: CAASA Symposium venue TBA. Sam Keddle E-mail: office@caasa.co.za Tel: 011 659 2345

2 to 4: AERO South Africa Wonderboom National Airport, Pretoria. Annelie Reynolds Tel +27 10 599 6150 Website: www.aerosouthafrica.com or Amanda Dube: E-mail: Amanda.Dube@za.messefrankfurt.com

10 - 11: EAA Taildraggers at Warmbaths airfield. Richard Nicholson E-mail: flybenchmark@gmail.com Cell: 082 490 6227

12 to 17: BAFSA South African Hot Air Balloon Championships.Bill Harrop's, Skeerpoort, North West Province. South Africa. Contact Richard Bovell e-mail: chairman@bafsa.co.za

11- 12: Flying Legends United Kingdom. Website: www.flyinglegends.com Due to the COVID 19 this event has been cancelled

17 - 18: SAPFA Speed Rally at Thabazimbi airfield. Jonty Esser E-mail: jonty@promptroofing.co.za Cell: 082 855 9435.
Due to the COVID 19 this event has been cancelled.

17 to 19: Royal International Air Tattoo United Kingdom. Website: www.airtattoo.com
Due to the COVID 19 this event has been cancelled.

20 to 24: Farnborough airshow United Kingdom five-day trade show - no public days
Website: www.farnboroughairshow.com
Due to the COVID 19 this event has been cancelled.

22 July to 1 August: SAC Advanced World Champs -
Malelane Airport, Malelane. Contact Annie Boon E-mail: chunge@mweb.co.za

21: CAASA AGM at CAASA House Lanseria International Airport
Contact Sam Keddle E-mail: office@caasa.co.za Tel: 011 659 2345

20 to 26: EAA AirVenture Oshkosh, Wisconsin, USA. Camping on the airfield contact Neil Bowden E-mail: neil1@telkomsa.net
Hotels in Appleton contact Calvin Fabig E-mail: calvin@designer.co.za

23-25 Brits Rally Nationals 23 - 25 July 2020. Contact Frank Eckard E-mail: frank.eckard@mweb.co.za Cell: 083 269 1516






8 to 10: SAPFA Rally Training Camp - Brits Aerodrome .Contact Mary de Klerk e-mail: maryd@expandingbranding.co.za cell: 084 880 9000

22: ASSA - Bethlehem Airshow.
Contact Stephan Fourie at fouriesj1491@gmail.com

21-22: Bethlehem Speed Rally 21 - 22 August 2020 - replaces FAKR ANR. Contact Jonty Esser E-mail: jonty@promptroofing.co.za Cell: 082 855 9435






6: Rand Airport Air Show

11 t0 13: SAPFA Secunda Speed Rally #6.
Secunda Airfield, Secunda, Contact Rob Jonkers e-mail: rob@aerosud.co.za cell: 082 804 7032

16 to 20 AAD - Waterkloof Air Force Base

24: Great Train Race and Fly-in. Heidelberg Airfield
Contact Van Zyl Schultz E-mail: vzs@mweb.co.za Cell: 082 5602275

3-4: SAC WC Regionals - Swellendam. Contact Annie Boon E-mail: chunge@mweb.co.za






3: SAPFA Witbank Fun Rally. Witbank Airport.
Contact Rob Jonkers 082 804 7032 rob@aerosud.co.za

24-25: SAC Judges Trophy - Tzaneen. Contact Annie Boon E-mail: chunge@mweb.co.za






8 to 14: Training week WFRC 2020, Stellenbosch.
Contact Mary de Klerk, Cell 0848809000, Email maryd@expandingbranding.co.za

16 to 21: World Rally Flying Championships 2020.
Stellenbosch. Contact Mary de Klerk, Cell 0848809000, Email maryd@expandingbranding.co.za

27- 28: SAPFA Springs Speed Rally. Springs Airfield.
Contact Jonty Esser e-mail: jonty@promptroofing.co.za cell: 082 855 9435






5: AeCSA Aero Club of SA Annual Awards. Rand Airport, Main Terminal Building, Rand Airport Rd, Germiston.
Contact Sandra Strydom, email: sandra@aeroclub.org.za Tel: 011 082 1100

5-6: SAC Ace of Base - Vereeniging. Baragwanath Airfield.
Contact Annie Boon E-mail: chunge@mweb.co.za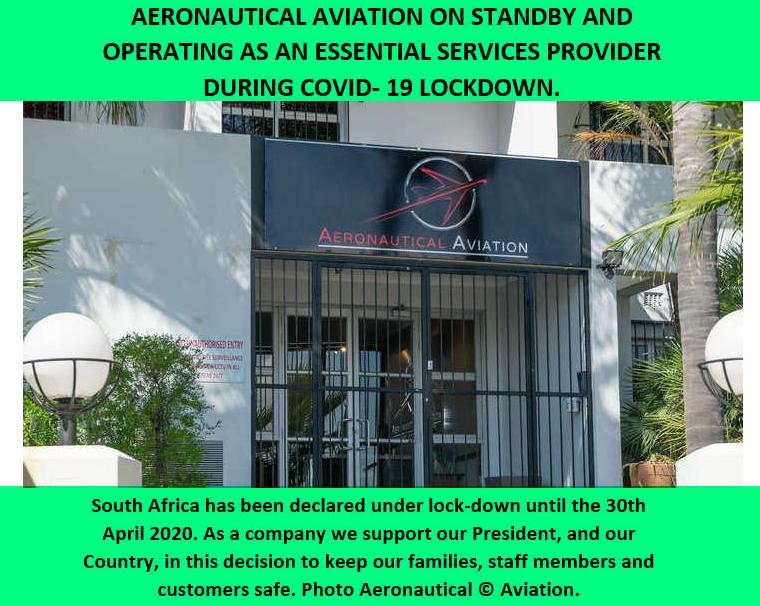 Aeronautical Aviation has taken the necessary action to comply with the mandates and requirements as set out by the South African Government regarding operations.
After careful analyses of these mandates and taking into account the services provided by Aeronautical Aviation to the aviation industry, Aeronautical Aviation has determined that it should continue to operate and provide the necessary products, services and support to the essential businesses currently operating in the aviation industry. These services are priority for Medical, Military, essential courier services as well as essential freight services.
We have undertaken to obtain the required CIPC approval certificate to comply with the essential service business operations. A copy of the certificate is available on request.
Aeronautical Aviation staff are on standby to assist all essential services during this time.
Please contact Clinton Carroll on 083 459 6279, or Claude Froomberg on 082 854 1931 for any assistance required.
Our admin, sales and management teams remain contactable for any of your requirements. Our online store will still be monitored and active but fulfilment will only be completed once the lockdown lifts. From our company and from our family to yours, Aeronautical Aviation would like to send our gratitude to our customers, staff and suppliers for their support during this time. Please Stay safe.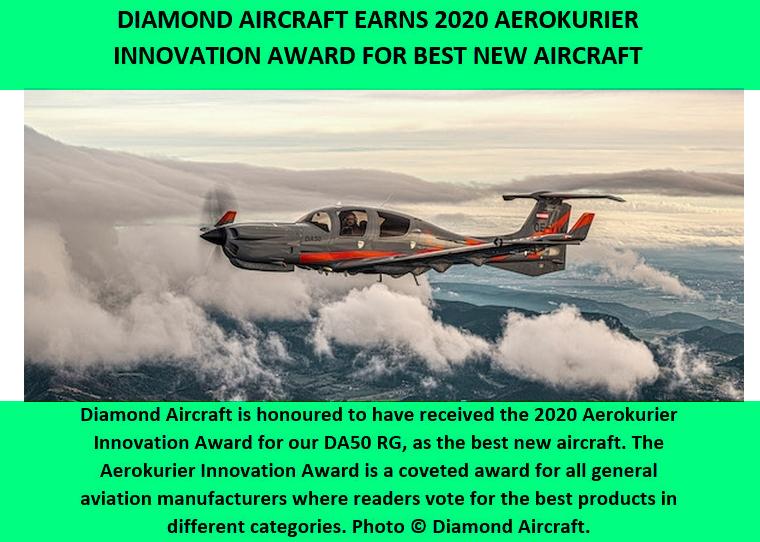 The DA50 RG featuring retractable gear and the 300 hp Continental CD-300 jet fuel engine was supposed to be unveiled at this year AERO Friedrichshafen that was cancelled due to the developments regarding the spread of coronavirus COVID-19.
As the coronavirus continues to pose challenges to the global aviation industry Diamond Aircraft decided to celebrate the launch of our newest product at a more suitable time. The wellbeing and safety of our customers, partners and employees remain our top priority and we are complying with the regulations issued by the Austrian Government, the European Parliament and the World Health Organization (WHO). Diamond Aircraft will publish further information on the DA50 RG as soon as possible.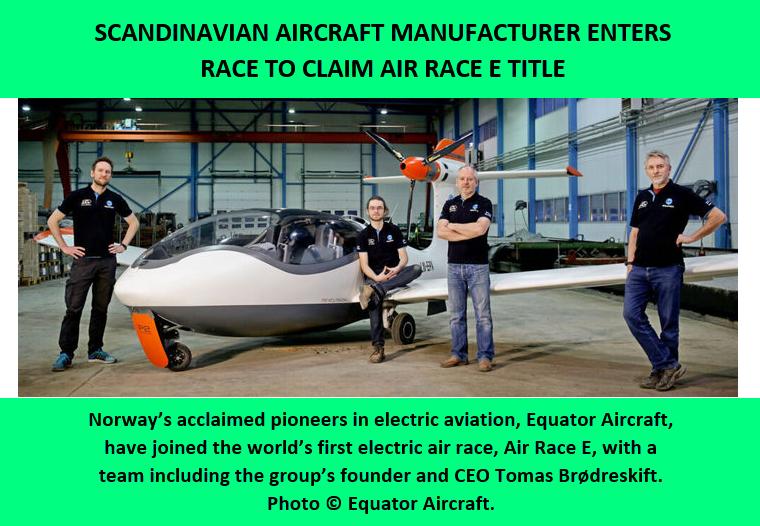 The group, best known for developing the world's first electric seaplane in 2018, is a founding partner of the all-Norwegian team established as a new company called Electric Aircraft Propulsion AS (EAP). The racing team is comprised of pilot Rein Inge Hoff, chief designer Brødreskift and team leader Øystein Solheim-Aune.
EAP enters Air Race E as the only Scandinavian team in what is now a field of 10 teams from around the globe preparing to compete in the inaugural race next year. The trio joins the contest with an impressive track record of developing innovative aircraft designs and carbon composite construction techniques, having already conducted the first sea trials of their electric sea plane just last year.
Jarlsberg Airport, 100km south-west of Oslo, will serve as the team's base where EAP plans to modify an existing Cassutt IIIM and retrofit it with a novel electric powertrain.
Air Race E will host its inaugural race next year as the first in a series of Formula One style international air races. Air Race E events will see eight planes fly simultaneously around a tight 5km circuit at just 10m above the ground and at speeds of up to 450kph - faster than any land-based motorsport.
The series is widely considered a test-bed to trial electric aircraft technology to accelerate the development of sustainable aviation. Skilled pilots, airplane builders and engineers from around the world are taking part, with the opportunity still open for those wishing to register their interest in competing.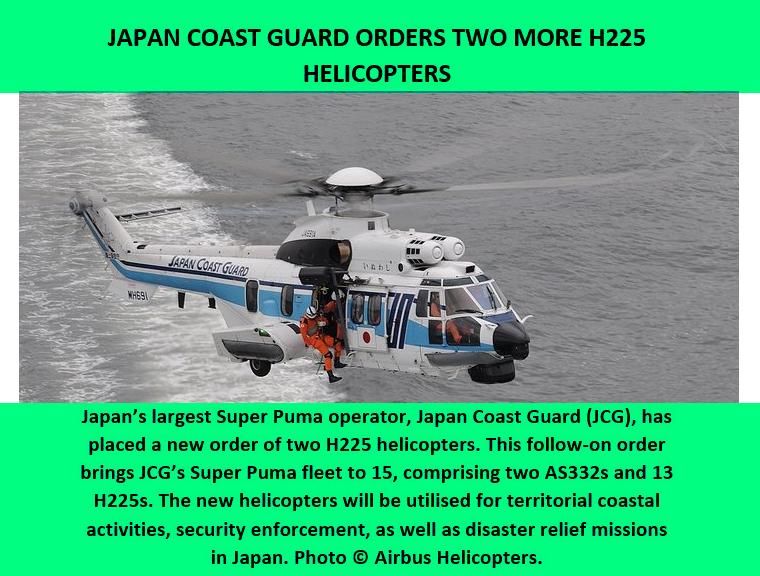 "We thank the Japan Coast Guard for its continued confidence in the H225," said Guillaume Leprince, Managing Director of Airbus Helicopters in Japan. "The H225 is well regarded as a reference in search-and-rescue operations and security enforcement and we are certainly happy to see these helicopters effectively deployed in Japan through the years. We have delivered three new H225 to JCG in the recent months, within schedule and are committed to fully supporting its existing fleet, as well as its upcoming deliveries, ensuring high availability for its operations."
The JCG's H225s are covered by Airbus' HCare Smart full-by-the-hour material support. This customised fleet availability programme allows JCG to focus on its flight operations whilst Airbus manages its assets.
The 11-ton-category, twin-engine H225 is the latest member of Airbus Helicopters' Super Puma family. Equipped with state-of-the-art electronic instruments and renowned autopilot precision, the all-weather capable H225 offers outstanding endurance and fast cruise speed and can be fitted with various equipment to suit any role.
In Japan alone, a total of 28 helicopters from the Super Puma family are currently flown by civil, parapublic operators, and Japan's Ministry of Defense for various search and rescue missions, offshore operations, VIP, fire-fighting, and passenger and goods transportation.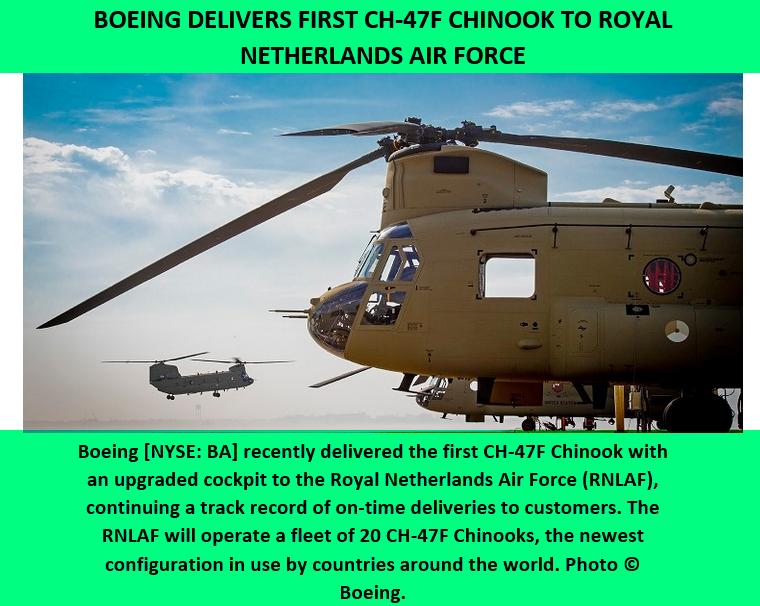 The 20 CH-47F Chinooks will be a fleet equipped with the same state-of-the-art technology as the U.S. Army, including digital automatic flight controls, a fully-integrated Common Avionics Architecture System (CAAS) glass cockpit, and advanced cargo handling capabilities. The common configuration leads to lower overall life cycle costs.
The RNLAF currently flies a mix of F-model Chinooks with the Advanced Cockpit Management System (ACMS) and CH-47D Chinooks.
Deliveries to the RNLAF are expected to continue into 2021. Chinooks are currently in service or under contract with 20 international defence forces, including the U.S. Army, U.S. Special Operations Forces and eight NATO member nations.
Boeing is the world's largest aerospace company and leading provider of commercial airplanes, defence, space and security systems, and global services. As a top U.S. exporter, the company supports commercial and government customers in more than 150 countries. Boeing employs more than 160,000 people worldwide and leverages the talents of a global supplier base. Building on a legacy of aerospace leadership, Boeing continues to lead in technology and innovation, deliver for its customers and invest in its people and future growth.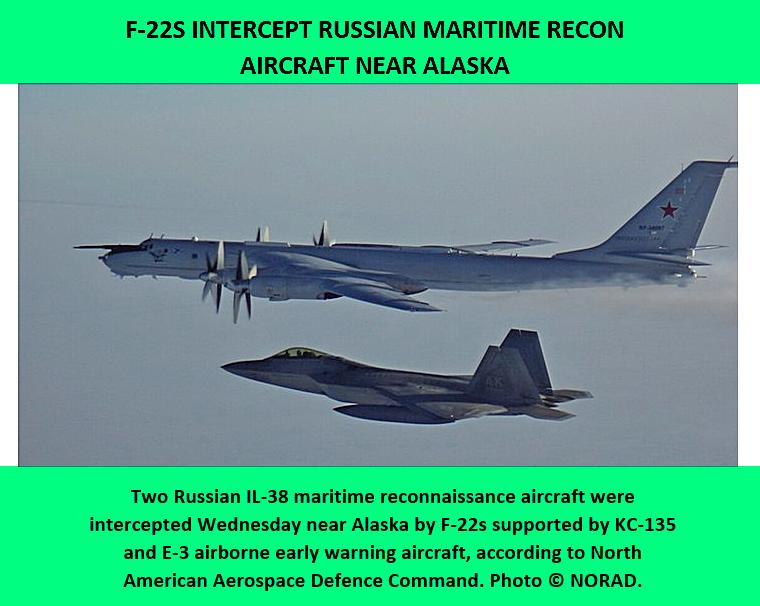 NORAD said the Russian aircraft entered the Alaskan Air Defence Identification Zone and were intercepted in the Bering Sea north of the Aleutian Islands. The Russian maritime aircraft never entered U.S. or Canadian airspace.
The Russian IL-38 maritime aircraft are also used to hunt submarines. There has been a string of Russian patrol aircraft intercepts near Alaska over the last month. In March, U.S. and Canadian jets intercepted Russian reconnaissance aircraft near Alaska spying on a U.S. submarine exercise known as ICEX.
ICEX is a three-week biennial exercise that allows the U.S. to assess the readiness of its submarines to operate in the Arctic.
"This is the second and third time this week that incursions into our air defence identification zones were met and escorted by NORAD fighters. We continue to see repeated Russian military aviation activity in the Arctic and we will defend the U.S. and Canada against these threats emanating from our northern approaches."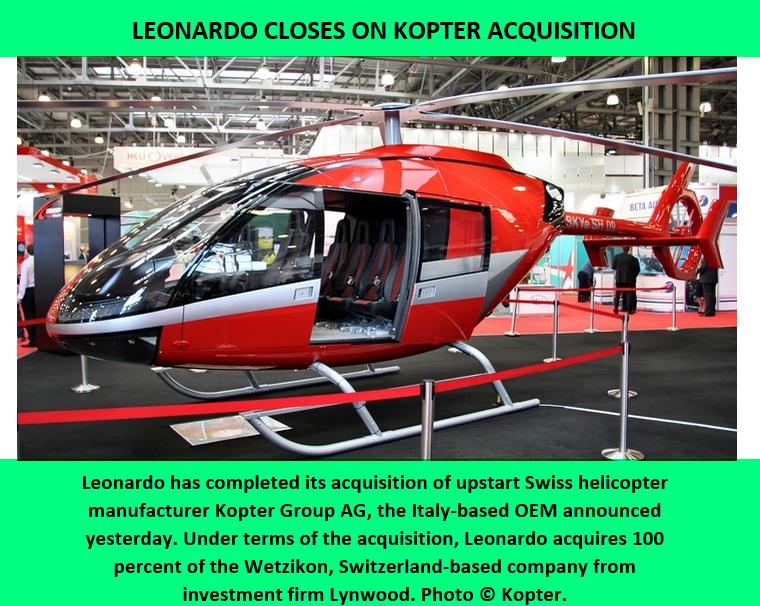 In return, Leonardo pays $185 million for Kopter, as well as bonuses to Lynwood if certain milestones are met over the life of Kopter's SH09 turbine single-engine program. Cyprus-based Lynwood, controlled by Russian oligarch Alexander Mamut, invested $270 million into Kopter Group in 2016.
The SH09 is Kopter's first and only offering, which is undergoing concurrent certification with the FAA and European Union Aviation Safety Agency. The $3.5 million SH09 features a digital avionics suite with the capability to integrate a four-axis autopilot and allow IFR operations approval. Power comes from a single 1,020-shp Honeywell HTS900. The helicopter will have a projected maximum cruise speed of 140 knots and a range of 430 nm.
"The acquisition of Kopter allows Leonardo to further strengthen its worldwide leadership and position in the rotorcraft sector, in line with the industrial plan's objectives for the reinforcement of the core businesses," Leonardo said in a short statement about the closing of the acquisition. The deal was first announced on January 28 during Heli-Expo 2020 in Anaheim, California.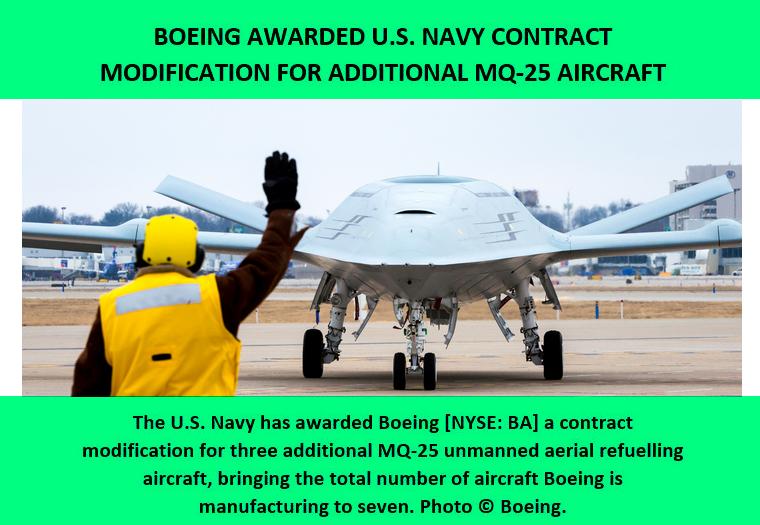 "We're honoured to have the Navy's confidence in our system design and performance that is evident from this additional order," said Dave Bujold, Boeing's MQ-25 program director. "This order establishes uninterrupted production of the first MQ-25 aircraft and lines up with the Navy's MQ-25 test and training plans for fleet introduction. The MQ-25 program is vital in ensuring the Navy can deliver a critical unmanned aerial refuelling capability to the carrier air wing."
This $84.7 million modification exercises options for three MQ-25 system demonstration test articles and was an option identified in the original $805 million contract for four aircraft awarded in August 2018.
Early flight testing of Boeing's MQ-25 test asset, T1, is contributing to program progress. The company recently concluded the first round of flight testing for T1, resulting in nearly 30 hours in the air at various speeds and altitudes. The aircraft is now undergoing a planned modification that includes installation of an aerial refuelling store (ARS) under the left wing. Flight testing with the ARS will resume later this year.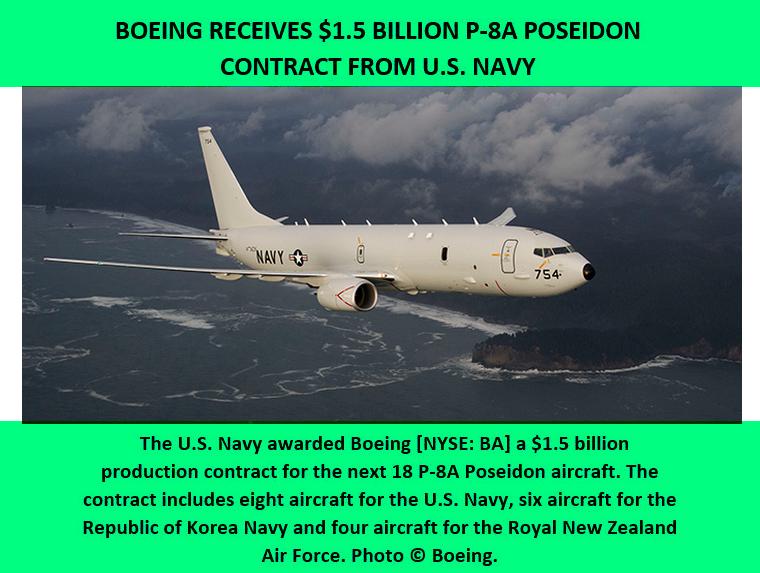 The Republic of Korea Navy and Royal New Zealand Air Force acquired the aircraft through the Foreign Military Sales process and will receive the same P-8A Poseidon variant designed and produced for the U.S. Navy. The Royal New Zealand Air Force is expected to begin receiving aircraft in 2022 and the Republic of Korea Navy is expected to begin receiving aircraft in 2023.
The P-8 is a proven long-range multi-mission maritime patrol aircraft capable of broad-area, maritime and littoral operations. A military derivative of the Boeing 737 Next-Generation airplane, the P-8 combines superior performance and reliability with an advanced mission system that ensures maximum interoperability in the battle space.
The P-8 is militarized with maritime weapons, a modern open mission system architecture and commercial-like support for affordability. The aircraft is modified to include a bomb bay and pylons for weapons. It has two weapons stations on each wing and can carry 129 sonobuoys. The aircraft is also fitted with an in-flight refuelling system.
With more than 254,000 flight hours to date, the P-8A Poseidon and P-8I variants patrol the globe performing anti-submarine and anti-surface warfare; intelligence, surveillance and reconnaissance; humanitarian; and search and rescue missions.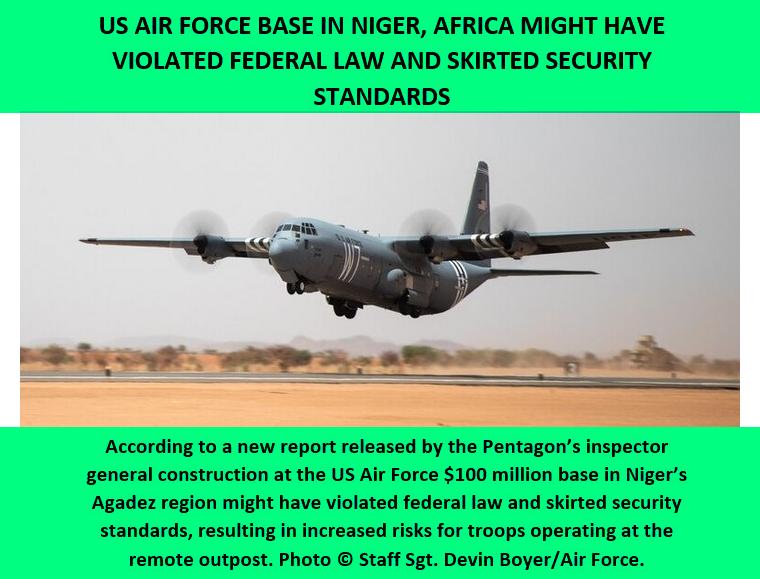 Completion of the base and airfield designed for use by C-17 cargo aircraft and armed drones was delayed by almost three years and plagued by mismanagement, according to the report. The air base was not designed in accordance with Défense Department safety and security requirements.
The report called for a review and potential investigation into why the Air Force might have violated a federal law by purchasing 12 guard towers costing roughly $3.7 million using procurement funds instead of military construction funds.
According to the report the Air Force also bypassed Congress when it split the construction requirement for intelligence, surveillance and reconnaissance operations into six operations and maintenance projects adding up to $5.4 million to the eventual cost. Air Force officials told the DoD IG this was done to meet an urgent timeline.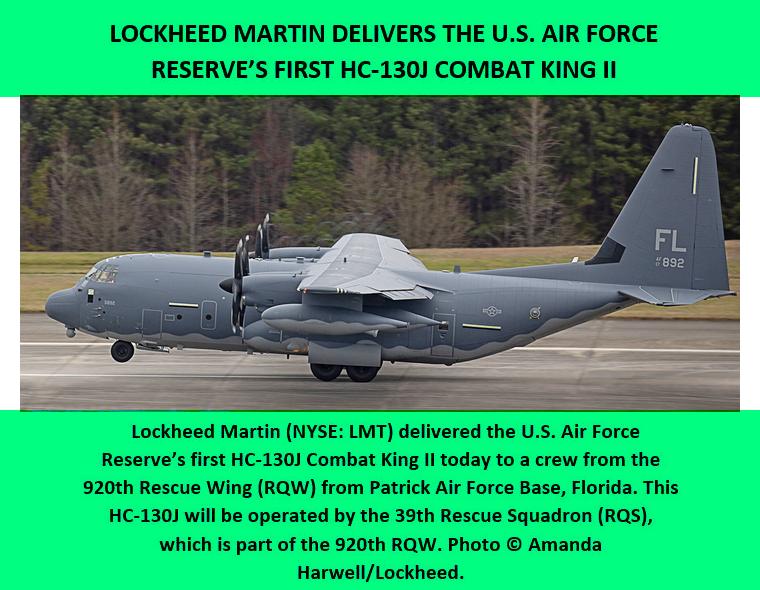 These Reservists are long-time operators of legacy HC-130 P/N Combat King combat search-and-rescue aircraft, flying and maintaining HC-130s since the 1960s - using HC-130s to save more than 3,000 lives. The HC-130J is the sole dedicated fixed-wing personnel recovery platform operated by the Air Force, Air Force Reserve and Air National Guard.
The 920th RQW and 39th RQS also have the distinction of being the Air Force Reserve's only HC-130J operators and will eventually have an HC-130J fleet to support mission requirements.
Often tasked for airdrop, airland, and helicopter air-to-air refuelling and forward-area ground refuelling missions, the HC-130's mission capabilities also include humanitarian aid operations, disaster response, security cooperation/aviation advisory, emergency aeromedical evacuation and non-combatant evacuation operations.
Compared to legacy platforms, the HC-130J Combat King II offers significant performance and capabilities advancements, to include fuel efficiencies, improvement in payload/range capabilities, an integrated defensive suite, automated maintenance fault reporting, high-altitude ramp and door hydraulics, and unmatched situational awareness with its digital avionics and dual Head Up Displays.
The HC-130J is one of nine production variants of the C-130J Super Hercules, the current production model of the legendary C-130 Hercules aircraft. With more than 450 aircraft delivered, the C-130J is the airlifter of choice for 20 nations. The global Super Hercules fleet has more than 2 million flight hours of experience supporting almost any mission requirement - any time, any place.
The U.S. government operates the largest C-130J Super Hercules fleet in the world. This delivery continues the U.S. government's transition to the C-130J as the common platform across Air Mobility Command, Air Force Special Operations Command, Air Combat Command, U.S. Coast Guard and U.S. Marine Corps. The Air National Guard and Air Force Reserve Command currently operate a mixed fleet of C-130J and older Hercules aircraft.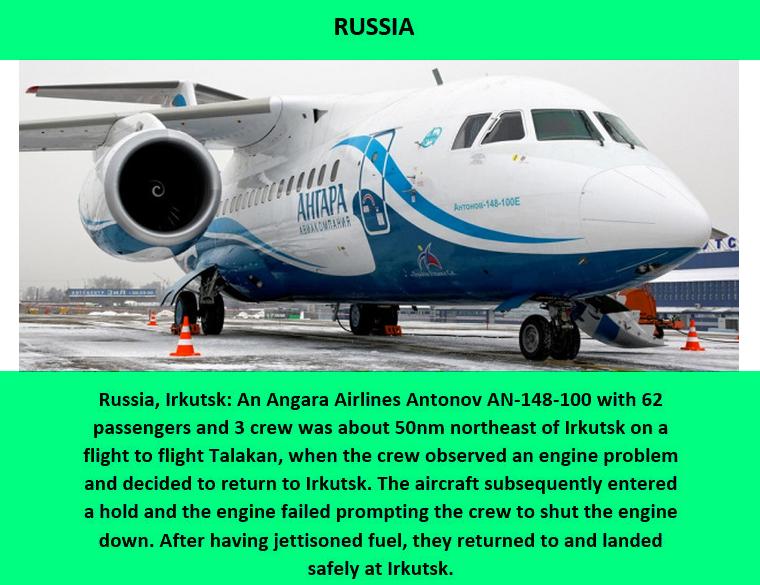 USA, Atlanta: A Southwest Airlines Boeing 737-700 from Atlanta to Cleveland, (USA), had been cleared to line up runway 26L and was waiting for departure clearance for its flight to Cleveland when crew of an Endeavor Canadair CRJ-900 taxiing for departure from runway 26L reported a 6 inches to one foot flame came out of the left hand engine when the Soutwest applied engine thrust to taxi onto the runway. The Southwest crew requested to return to the apron, shut the left engine down and vacated the runway.
Malaysia, Kuala Lumpur Airport: A Malaysia Airlines Boeing 737-800 suffered substantial damage at Kuala Lumpur Airport after being hit by a tow truck that became wedged below the fuselage. No injuries reported.
USA, Las Vegas: An American Airlines Boeing 757-200 with 50 passengers and 8 struck its tail onto the runway surface when landing from a flight from Miami. There was no injuries and the aircraft rolled out without further incident.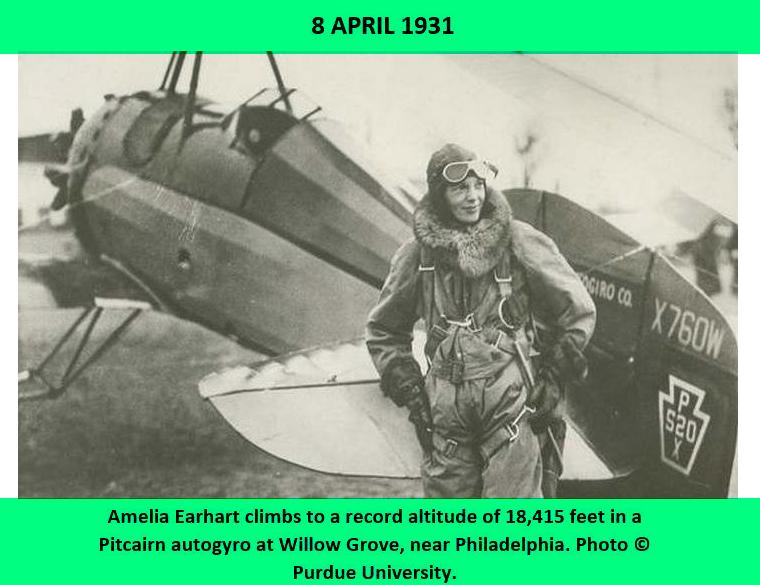 Most people know of Amelia Earhart and the records and other aviation accomplishments she made in airplanes. Few know off her records set flying gyroplanes. Amelia's gyroplane altitude record attempt was as daring and great a feat as anything else she had endeavoured to conquer.
A sealed barograph was carried aboard to record the altitude for an official record. Following the flight, the barograph was sent to the National Aeronautic Association headquarters in Washington, D.C., for certification.
The first woman as a passenger to cross the Atlantic, the first woman as a pilot to solo the Atlantic and the first pilot (woman or man) to fly the Pacific route from Hawaii to mainland United States, Earhart also set three Gyro world speed records in 1930 and a world distance record in 1932.