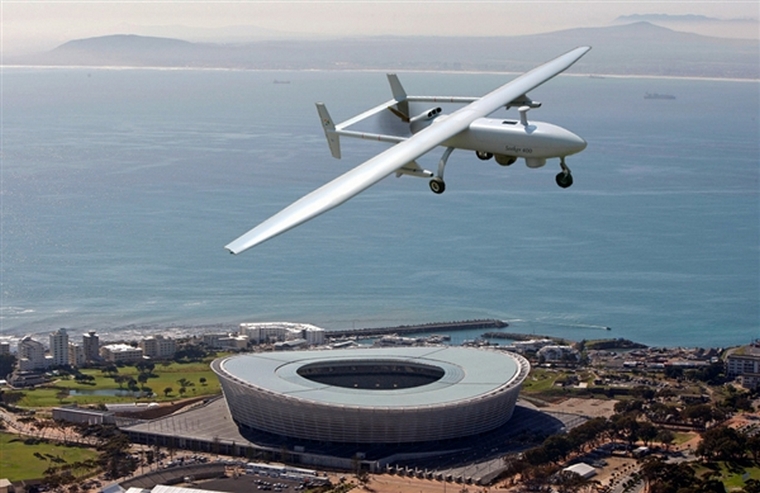 A Denel Dynamics Seeker flies over Cape Town Stadium Photo ©
Denel Dynamics

Developed in South Africa by Denel Dynamics (formerly Kentron) in the 1980s, the Seeker UAV (Unmanned Aerial Vehicle) entered service into the SAAF (South African Air Force) in 1986. The system was designed to perform tactical reconnaissance in real time and can conduct day and night surveillance in all threat environments.
Operated by 10 Squadron SAAF which was then based at Air Force Base Potchefstroom, the Seeker UAV first saw active service in 1987 during the border war in South West Africa and Angola. It was extensively used to conduct surveillance operations to gather intelligence on enemy locations, movements, their force strength and most importantly, intelligence on the location of static and mobile surface-to-air missile systems.
This information was of untold value to the SADF (South African Defence Force) to plan air strikes, interception routes as well as mission briefings so as to keep friendly aircraft out of harm's way.
Operating in a high threat environment, the forces spied on reacted by firing surface-to-air missiles (SAMs) in an attempt to down these small drones. During one reported occasion, about 17 SA-8 SAMs were fired at a single UAV, eventually downing it. Actions like this by enemy forces indirectly resulted in depleting the enemy's SAM supplies which led to less risky operations by other combat aircraft in the SAAF.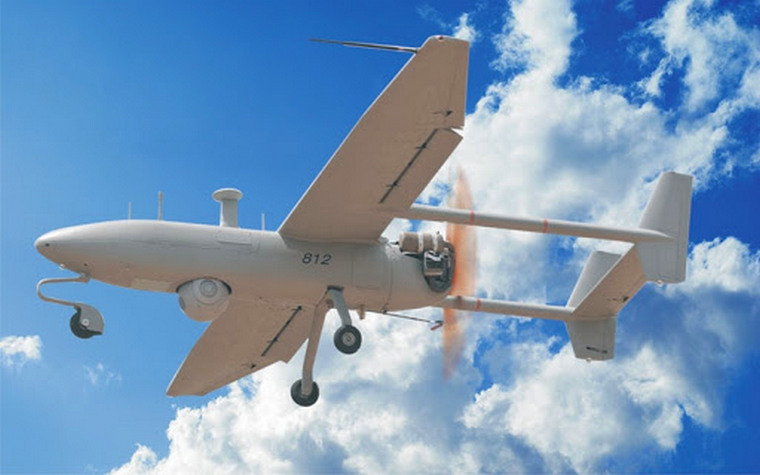 A Seeker 400

Seekers contributed hugely to the success of operations Modular, Hooper and Packer in Angola during 1987/1988. During the Battle of Cuito Cuanavale, the last battle of the South African Border War, UAV's were extensively used to provide reconnaissance and artillery weapons delivery guidance.
After the cessation of hostilities and on 31 March 1991, 10th Squadron was disbanded and the Seeker UAV was withdrawn from SAAF service. However, Kentron (renamed in 1991 to Denel Dynamics) took over the control of the system on behalf of the South African Defence Force and its successor the South African National Defence Force. Two models were utilized, the Seeker-P model that was used for training purposes and the Seeker-D, which was deployed operationally during internal security operations in South Africa and to monitor the country's first fully democratic elections in 1994.
Denel Dynamic Seekers also saw service with the South African Police Service (SAPS) as well as the Department of Environmental Affairs and Tourism (in particular the Marine and Coastal Management branch). Since December 2012, Denel Dynamics has a Seeker II UAV deployed against rhinoceros' poachers in Kruger National Park. The UAV operates at night-time with its thermal and other specialist equipment supplying real-time imagery to assist patrols on the ground.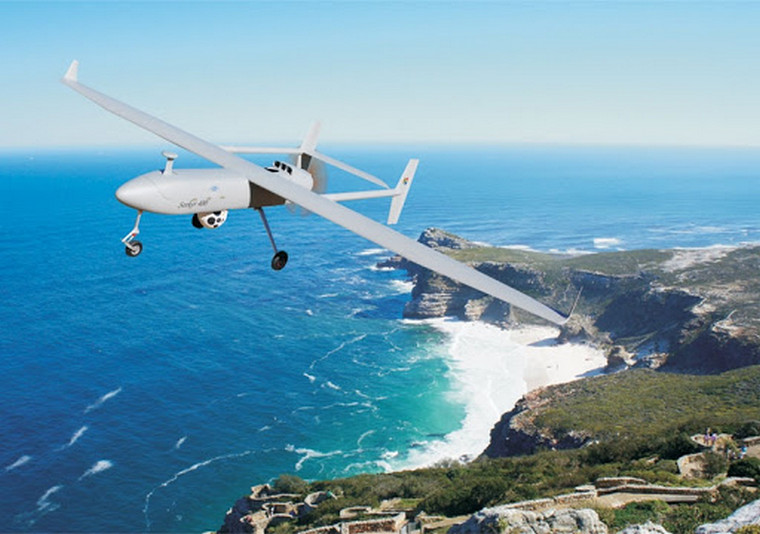 A Seeker 400 on a maritime patrol mission. Photo © Denel Dynamics

The newest Seeker variant, the Seeker 400, offers enhanced situational awareness capabilities and other improvements. It can provide real-time day and night reconnaissance; target location, surveillance and designation; artillery fire support; Electronic Intelligence (ELINT) and Electronic Support Measures (ESM) and conduct border and maritime patrol missions. It can also operate up to 16 hours with a maximum of 100 kg of multi-mission payloads. It also features dual uplinks and downlinks, brake-assisted ground operation, piloted and autonomous flight capability, VHF and UHF FM tactical radios and Mode S Transponder and VHF AM Air Traffic Control (ATC) radio for ATC interfacing.
During the 2010 African Aerospace and Defence Exhibition, the manufacturer unveiled a new light air to ground missile, the Denel Dynamics Impi that is being developed to arm the Seeker 400. The Impi includes a laser guided missile with a missile stand-off range of 10 km.
Besides South Africa, Seekers are also operated by the Algerian and United Arab Emirates Air Forces. In fact, Denel announced during the Unmanned Systems Exhibition (UMEX) in Abu Dhabi in February 2020 that the United Arab Emirates has ordered further Seeker unmanned aerial vehicles (UAVs) worth more than R100 million. Denel's contract with the UAE for the Seeker 400 covers six aircraft, two ground control stations, six electro-optic payloads, as well as the integration of sensors, such as synthetic aperture radar (SAR), satellite communication (SATCOM), and the integration of weapons.