MIDWEEK UPDATE 24 JUNE 2020

Compiled by Willie Bodenstein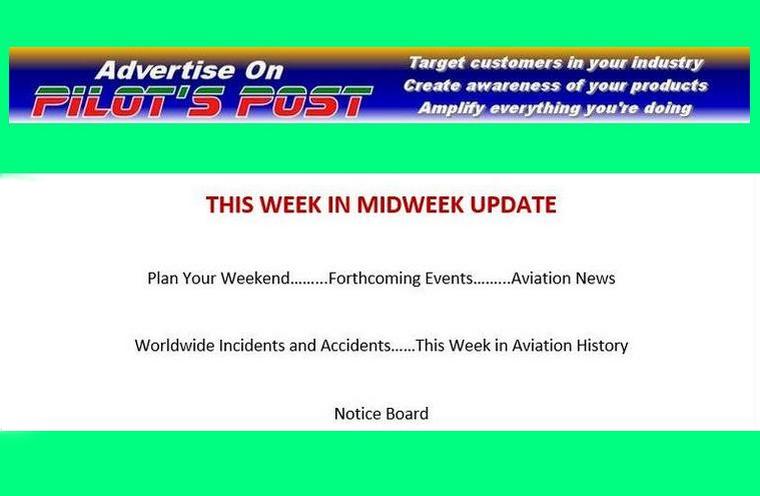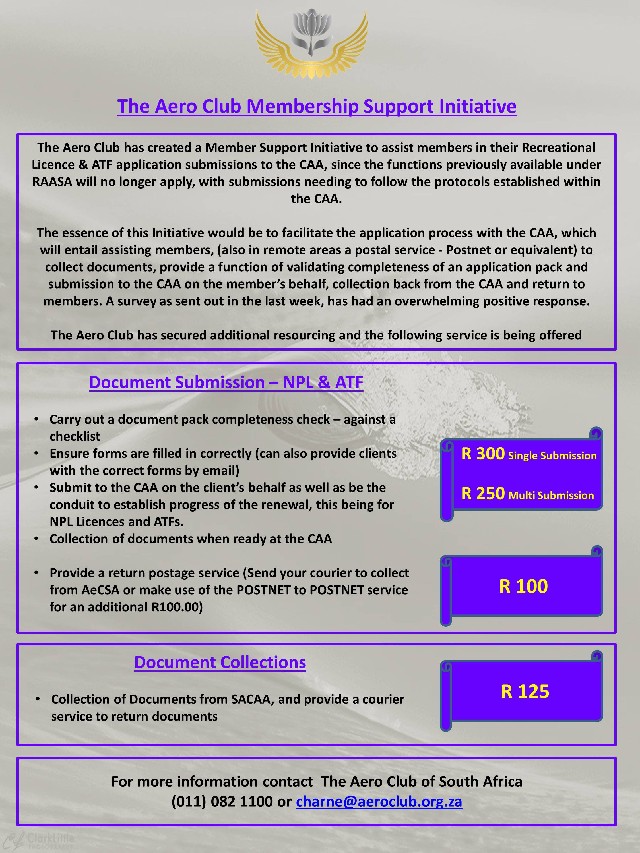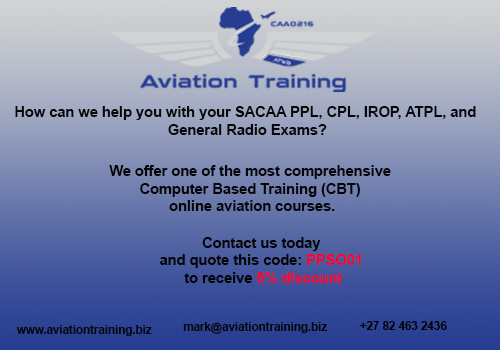 THEORETICAL KNOWLEDGE AT INTERVIEWS
BY ANTHONY FOXCROFT

CFI of Aviation Training, with 20 years' experience as an airline pilot and instructor


A few years ago, I attended an interview at an airline in the Middle East. I was successful and was offered a position. While I ultimately decided not to pursue it, the experience was interesting.
There were 15 candidates from all around the world hoping to be chosen, and for many of them, get their big break in the industry. With a career on the line everyone is spruced up and on their best behaviour. The very first round of the selection consisted of a 50-question multiple choice exam of questions drawn from the ATPL exams. An hour later I was the only candidate left and 14 others had been sent home.
That got me thinking about how that occurred, as most of them were a lot younger and had written their ATPL exams much more recently. Had they failed to prepare? I can't believe that a professional pilot with an interview at a major airline would just go there on a whim. They had all polished their shoes but had not "polished" their brains?
It is my belief that the culture, which I discovered is not unique to South Africa, of studying for exams by memorising a bank of questions and answers played a big role in this result. Our memories are fickle things and "knowledge" gained in this way is easily lost once you finish your exams and are no longer constantly reviewing the material.
If you study with the aim of developing a full working understanding of the material, you will retain the knowledge longer and be able to quickly refresh your knowledge on a topic. You will also be able to work out the answer to any question, not just the ones you've seen before in a database.
For your future success in this career, invest your time wisely and study for a lifetime rather than studying to pass.
Anthony Foxcroft is the CFI at Aviation Training.
Visit their website at www.aviationtraining.biz to find out more.





Century Avionics is excited to be open and serving our clients to our best ability as always.
Our main priority is to ensure the safety of our clients and employees but still offer the high work standards our clients come to expect.
We have implemented the necessary measurements to ensure our work environment is clean and safe for everyone.

We look forward seeing our customers again soon.

+27 11 701 3244 l salesadmin@centuryavionics.co.za l www.centuryavionics.co.za





COVID 19 REGULATIONS AND INITIATIVES AND AEROCLUB NEWS





AERO CLUB COMMUNIQUE JUNE 2020 # 3

Status on GA / RA flight operations in Level 3 - Update


With reference to the on-going attempts to get GA/RA airborne, we don't have much in the way of news at this point. Given that the President's speech earlier this week has further opened up many other sport sectors of the economy, we remain grounded for the most part except for specific defined operations and maintenance related flights (see Notam below).
The level 3 phase 2 industry proposal is still under consideration - where as indicated in the June #2 Communique, we have included further requests for allowing GA/RA to operate more freely given that there is very little burden on the system (our operations are mainly outside controlled airspace) and low risk (operations at smaller airfields). Similarly, this is the case with model flying, which is technically also a non-contact sport, but it falls within the ambit of Aviation, thus the DoT / CAA as providing primary oversight.
Our proficiency flight system has been ready to go live this past week, but we are still waiting for the release of this from the authorities and are in daily contact to get this going, knowing the urgency of getting us all airborne as we are all aware of our collective concern about flying proficiency and the safety aspects related to this. We hope to have news on this aspect soon, as all our disciplines are ready to run with it.
In the interim, we can continue to carry out our maintenance related flights as well as positioning for maintenance flights which are working well with the Flight Autho system available off the Aero Club and CAASA websites. For Continued Airworthiness flights, we are now into the 2nd, 28 day cycle, thus owners can re-apply for their 2nd flights.
Overall, we recognise the frustrations presently facing us. We are doing our collective level best between all parties to get us airborne and each allowance we get is a pathway to achieve a return back to normality.
A1773/20 NOTAMN Q) FAXX/QXXXX/IV/NBO/E/000/999/5152S01651E999 A) FAJA FACA FAJO B) 2006011402 C)
2006301800 EST E) COVID-19:
1)THE FLW GEN AVIATION FLT ARE PERMITTED INCL MAINT RELATED FLT AS PER APPLICABLE REGULATIONS:
A)AGRICULTURAL SPRAYING, SEEDING AND DUSTING.
B)CLOUD SPRAYING, SEEDING AND DUSTING.
C)CULLING.
D)CONST RELATING TO AVIATION.
E)AERIAL HARVESTING.
F)AERIAL PATROL, OBS AND SURVEY.
G)SEARCH AND RESCUE.
H)AERIAL RECORDING BY PHOTOGRAPHIC OR ELECTRONIC MEANS. O0900108 - 09JUN20 0600 ATNS 7/65
I)FIRE SPOTTING, CTL AND FIGHTING
J)SPRAYING, SEEDING OR DUSTING OTHER THAN FOR AGRICULTURAL PURPOSES AND CLOUDS. K)ESSENTIAL SER
FLT.
2)AVIATION TRG OPS PERMITTED AS PER PART 141 OPR SPECIFICATIONS.
A)NO FULL STOP LDG PERMITTED AT AD OTHER THAN INITIAL POINT OF DEP.
3)SKILLS TESTS ARE ALLOWED, PROVIDED THAT THE EXAMINER OR INSTRUCTOR IS AUTH BY THE SACAA TO
CONDUCT A FLT TEST DRG LOCKDOWN.
4)ALL ABOVE OPS TO SUBMIT COVID-19 PROC TO SACAA FOR APPROVAL PRIOR TO OPS.
A)COVID-19 SIGNED PROC CHECKLIST FOR AVIATION TRG ORGANISATION OPS TO BE SUBMITTED TO PERSONNEL
LICENCING EMAIL: PEL.TRAINING(AT)CAA .CO.ZA
B)COVID-19 SIGNED PROC CHECKLIST FOR GEN AVIATION OPS TO BE SUBMITTED TO LAUBSCHERP(AT)CAA.CO.ZA.
C)AERIAL WORK AOC OPS TO SUBMIT COVID-19 PROC TO SACAA FOR APPROVAL PRIOR TO OPS TO
THABEDEN(AT)CAA.CO.ZA.
5)ALL FLIGHTS LISTED ABV TO ENSURE A COPY OF THE NOTAM, ALONG WITH ASSOCIATED DOCUMENTATION TO BE
CARRIED ABOARD THE ACFT.
6)RECREATIONAL AVIATION OPS ARE PROHIBITED, EXC FOR MAINT RELATED FLT. PRIOR APRROVAL REQUIRED FM
SACAA.
7)PART 148 POST PRODUCTION TEST FLIGHTS PERMITTED





SAMAA SMC COMMUNIQUÉ JUNE 2020


Dear Members
The SMC had their first official meeting last night and felt that we needed to communicate with the members as soon as possible hence this communiqué, which will be the first in what we plan to be a regular distribution to the SAMAA membership.
During the President's speech last night, he announced the opening of "Non-contact sports such as golf, tennis, cricket and others" subject to "specific and stringent safety requirements" and that "Announcements will be made in due course to detail these measures and indicate the date from which these activities will be permitted". SAMAA are in now daily contact with the AeCSA regarding the matter to finalise the protocols and procedures required for the reopening of our clubs.
COVID-19 Lockdown and the grounding of model flying
SAMAA's applications for earlier opening (from level 2 to the current level 3) to the Aeroclub of South Africa (AeCSA) and the South African Civil Aviation Authority (SACAA) was submitted via the appropriate communication channels on the 1st of May 2020 and the progress of our application has since been followed up weekly. On 15 June 2020, correspondence was received from the AeCSA (in response to rumours posted by SAMAA members that RC flying is allowed) informing the SMC that modelling activities remain restricted and that our application requesting the relaxation of the restrictions is being addressed by the SACAA.
It is important to understand that the decision to ground model flying and close all clubs was NOT made by SAMAA or the AeCSA. This was a direct instruction from SACAA who class SAMAA's activities as recreation in nature along with activities such as Sky Diving, paragliding, etc which all fall under the auspices of the AeCSA. Other "terrestrial" sporting bodies such as tennis, rowing, etc, receive their directives from the Department of Art, Sports and Culture, however model Aviation falls under the auspices of the SACAA (via AeCSA) hence has a very different set of criteria and requirements with regards the lockdown than other professional and recreational sport and hobby activities.
An explanation of the Regulatory and communications structure as it pertains to Model Aviation in SA is included at the end of this communiqué for your perusal along with a list of communications that were sent out during the lockdown period should you have missed some of them.
We await our next feedback session from AeCSA and SACAA with regards to the opening of our airspace and clubs and will revert soonest. In the meantime, we urge all chairpersons to maintain the lockdown of clubs and to encourage members to remain calm and patient, which is in the best interest of us all.
As in the past all official communications from SAMAA and the SMC to the membership will continue to be circulated via email as well as the SAMAA Magazine and the SAMAA Website. We are pleased to announce that as from Monday the 22nd of June, the SAMAA offices will once again be manned on a full-time basis. However, due to COVID-19 restrictions, there may only be one person available on any given day, so please continue to be patient should things take a little longer than usual.
As some of you may know, your new SAMAA Management Committee was elected barely a week before the National COVID-19 lockdown was enforced and as such have faced some challenges finding their feet in their new roles on the committee but we are committed to returning our hobby and sport to normal.
We wish to thank the SAMAA membership for their patience and compliance with the limitations imposed on our beloved hobby during these trying times and want to once again assure you that we are doing everything in our power to get us all back in the air again.
Please be safe out there,
Kind regards.
D Potgieter
SAMAA Chairman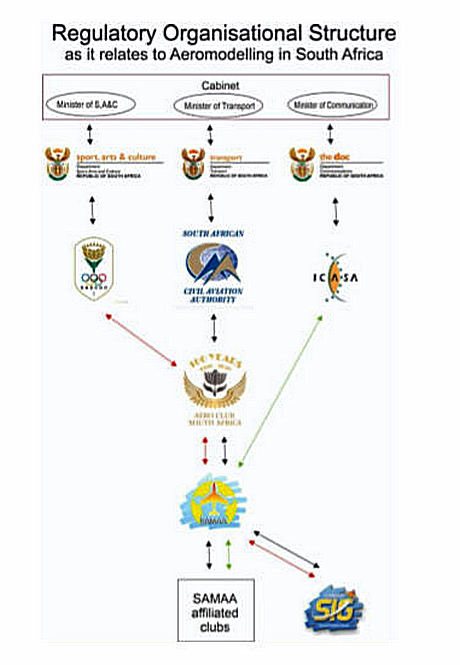 CORONA VIRUS AND AVIATION EVENTS

Due to Covid 19 and regulations regulating travelling as well as restrictions controlling the number of people congregating together, no aviation events will take place in the foreseeable future. Pilot's Post will advise our readers as soon as this changes.

1 July
EAA Chapter 322 monthly meeting due to Covid 19 will be a Zoom Meeting.
Contact Neil Bowden E-mail: neil1@telkomsa.net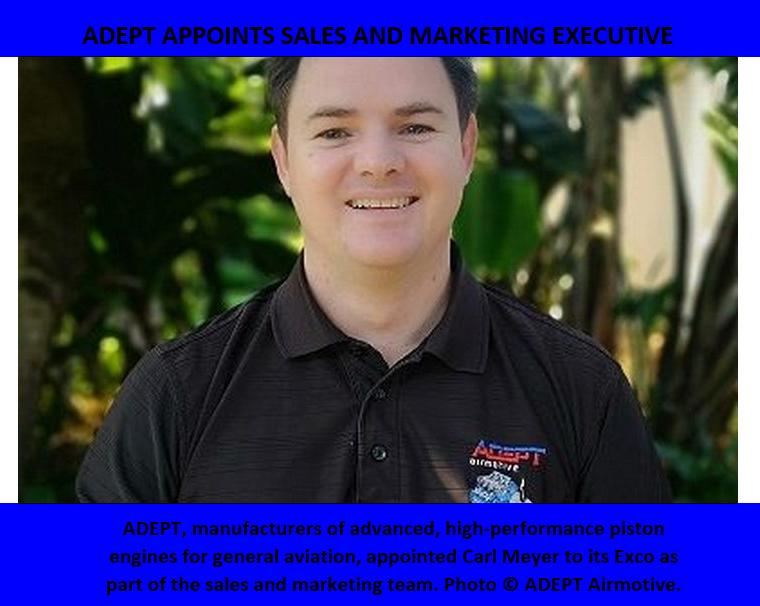 The company, which has built a robust, innovative engine that can run on alternative fuels, quietly, more efficient, with lower emissions and a lower carbon footprint to help plane owners comply with global environmental expectations and guidelines.
In light of the COVID-19 travel restrictions and the cancellation of Oshkosh 2020, the company has embarked on an innovative digital marketing campaign to reach the global market, including a focus on the USA where we are also planning some regional 'air-show' style launches later in the year.
Carl brings a wealth of experience, not only spearheading marketing activities at global aviation expos such as Oshkosh, but also an understanding of how to deploy digital tools to create dynamic marketing campaigns. In this way customers can become well exposed to the product under the current restrictions.
ADEPT CEO Themba September says: "Carl, a pilot himself, understands how to move beyond traditional marketing to bring to life the range of engines which were invented by company founder and engineer Richard Schulz. Richard has taken propulsion technology into the future, positioning ADEPT as future leaders in the global pressure to reduce CO2 emissions. Richards' design genius is synonymous with ground-breaking multi-fuel, environmentally responsible and sensitive, multi-application ICE GA propulsion."
Richard is currently engaged in discussions with NTC OEMs to increase manufacturing capability and develop and expand the range of engines and thus fulfilling the needs of a broader aviation market. This is after serious enquiries for expansion of the power band.
With increased interest from new applications like flying cars, the company is poised for success into the future.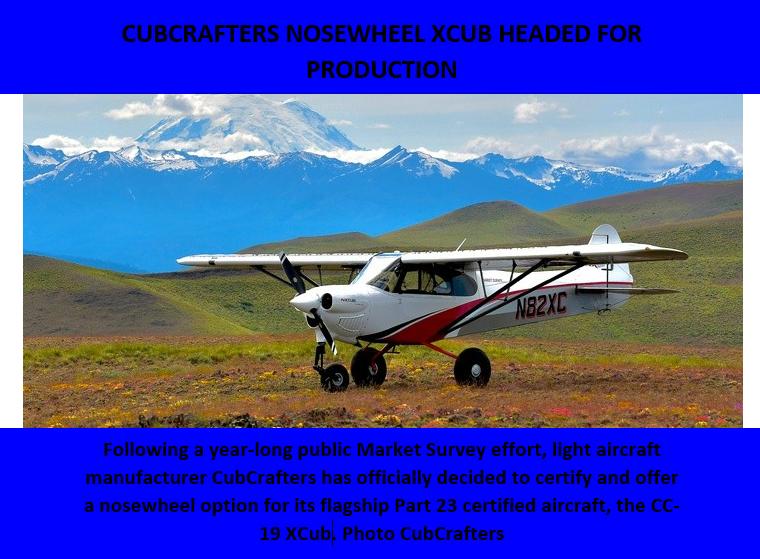 "Putting a nosewheel on a modern Cub type aircraft certainly surprised some people, but the overwhelming public response has been positive, especially among the more than 300 pilots that have had the opportunity to fly the airplane during the market survey phase," comments Brad Damm, CubCrafters VP of Sales & Marketing. "A nosewheel equipped XCub is a very easy airplane to fly that takes off shorter, lands shorter and cruises faster than the tailwheel version. Once a pilot is in the airplane and experiences it, the advantages are obvious."
"Engaging our customers in a market survey effort for this new nosewheel option has been hugely important," says Patrick Horgan, President of CubCrafters. "We went into this process not entirely sure if the market wanted to accept a nosewheel-type personal adventure Cub. There is no question now; we've had people wanting to place deposits for this aircraft from day one. Our customers have made it very clear that they want us to build this airplane."
"The added capabilities and value offered by the new nosewheel option are game-changing" continues Horgan. "The XCub is easily convertible between nosewheel and tailwheel, so you really get two airplanes in one. A fast, modern, easy-to-fly, tricycle gear aircraft and a traditional big-tire tailwheel Cub together. Both are very capable STOL aircraft designed for the back-country missions that CubCrafters' airplanes have always excelled at."
"This is something I've looked forward to for a long time," comments Jim Richmond, CubCrafters' Founder and CEO. "I've always believed that back-country flying should be open to more than just tailwheel rated pilots and it's exciting to see that vision now becoming a reality!"
The XCub program has achieved a number of significant milestones in its short history. After initial FAA certification in June of 2016, the XCub was the first United States General Aviation aircraft to achieve non-TSO'd avionics approval for the Garmin G3X system in 2017. In 2019, CubCrafters collaborated with Lycoming and Hartzell to offer the new lightweight CC393i fuel injected 215 horsepower engine and a new high-performance PathFinder 3-bladed composite propeller, for the XCub.
Badged as the "NX Cub" for aircraft leaving the factory in the nosewheel configuration, the new tricycle gear option is available now on experimental XCubs through the company's Builder Assist program. CubCrafters expects to achieve FAA Part 23 certification in early 2021.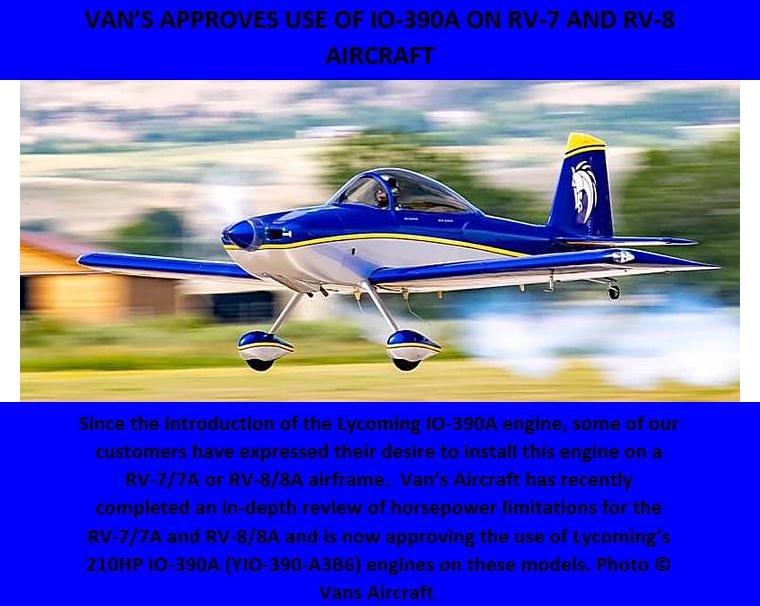 Keep the following in mind as you make your engine selection: With the 10 HP increase above the angle valve IO-360, there were concerns of the increased possibility of exceeding the VNE limitation of 200 KTAS. Our extensive experience with the IO-390A on the RV-14A has demonstrated the engine's true performance. The extra horsepower will result in a top speed increase. However, it will not be a significant enough change to raise a concern, providing the pilot continues to abide by the existing 168 KTS Vc (max-cruising) speed and 200 KIAS/KTAS VNE (never-exceed) speed limitations.
Technology Recommendations to Manage Risk
Should this higher-powered engine be installed, Van's Aircraft strongly recommends that the aircraft be equipped with or upgraded to an EFIS system with an audible voice warning of VNE. Overspeed events may occur in manoeuvring flight (such as aerobatics) when the pilot's attention is diverted away from the airspeed indicator. A voice annunciation, coupled with standard screen-displayed warnings, will help warn the pilot of impending danger. A screen message on its own and/or audible tone warning is not as effective. If your aircraft is equipped with an EFIS that does not have a voice warning for VNE, contact the manufacturer and request this feature to be added in the future. Note that most popular EFIS systems now allow VNE to be set up for KIAS and KTAS simultaneously, and for the RV-7/7A and RV-8/8A both values should be set to 200 KTS on systems with that capability.
Installation and Required Builder Changes/Modifications
Use of the IO-390A on a RV-7/7A or RV-8/8A will require modifications to the standard IO-360 angle-valve firewall-forward kit sold by Van's. The plans supplied with your aircraft or kit will not reflect these modifications. This will result in incompatibility with certain standard firewall forward kit items that will require builder resolution. For example, the IO-390A engine cools the pistons by spraying oil on the piston skirts. This results in significantly higher oil temperatures than one will see with an angle valve IO-360. A larger oil cooler such as the cooler used on the RV-14 will need to be installed to compensate. The standard oil cooler included in the angle valve IO-360 firewall forward kit can be removed from that kit by request. The larger cooler will need to be mounted to the firewall approximately as shown in the RV-14 plans. Consequently, the installation of other firewall-forward items such as solenoids, battery box and hose routings will need to be modified by the builder without specific plans or documentation covering the modifications. The opening in the rear baffle behind cylinder #4 that results from the deletion of the standard oil cooler will need to be blocked.
There are other modifications and alterations you should anticipate that will be required to the existing firewall-forward kits. Van's has not done a complete evaluation to compile a list of modifications, nor will we soon.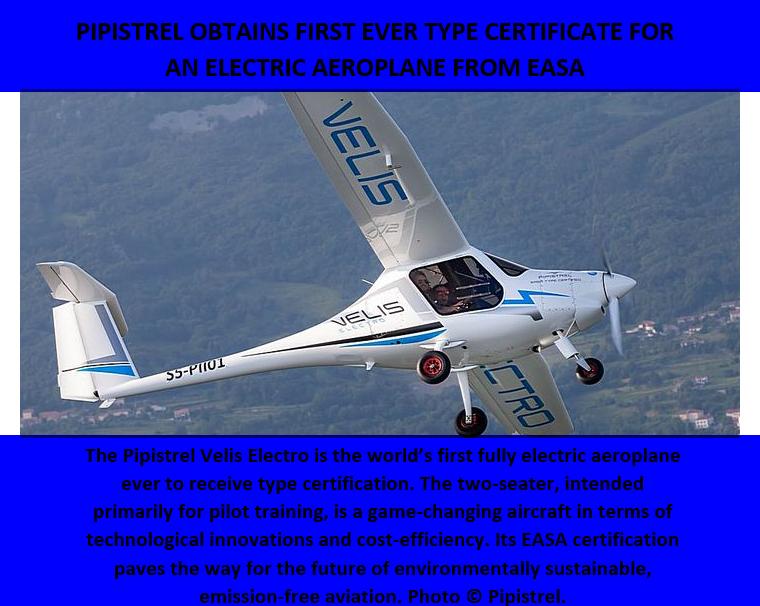 After years of intensive research and several successful award-winning electric aircraft models developed since 2007, Pipistrel has today achieved a breakthrough feat in aviation history, having type certified the battery powered Velis Electro. Working in tight collaboration with the European Union Aviation Safety Agency, whose engagement was essential in reaching this unprecedented milestone, Pipistrel demonstrated that its new Velis Electro achieves the highest levels of safety.
Conceived as a fundamental part of the 'Velis Training System', the Velis Electro was designed to be simple to operate and maintain, without compromising safety. Employing Pipistrel's type certified electric engine, the Velis Electro delivers power instantly and without hesitation - using a simplified user interface in a cockpit that maintains the same look-and-feel of its conventionally powered siblings. The reduced number of moving parts dramatically decreases maintenance costs and the risk of malfunctions is further minimized thanks to its built-in continuous health-monitoring system.

"The type certification of the Pipistrel Velis Electro is the first step towards the commercial use of electric aircraft, which is needed to make emission-free aviation feasible. It is considerably quieter than other aeroplanes and produces no combustion gases at all," said Mr Ivo Boscarol, founder and CEO of Pipistrel Aircraft. "It confirms and provides optimism, also to other electric aircraft designers, that the Type Certificate of electric engines and aeroplanes is possible. The engine, which Pipistrel type certified separately, is also available to other aircraft OEMs. For Pipistrel, this achievement injects additional motivation for the future eVTOL and multi-seat hydrogen-powered projects. Pipistrel is especially thankful to all our customers for their confidence in our products, which allows us to continue developing these innovative aircraft," he added.
"It should also be noted that this innovative product was, despite the many challenging aspects, certified in less than 3 years, showing the excellent work performed by Pipistrel and the EASA teams. Finally, it is worth mentioning that the certification team was composed of EASA staff, but included experts from the Swiss and French authorities, in order to prepare and facilitate the entry into service of the Velis Electro in these two countries."
Pipistrel will deliver the first 31 Velis Electro to customers in 7 different countries in 2020. Mr Marc B. Corpataux, the launch customer for the Velis Electro, commented: "AlpinAirPlanes GmbH is very proud to be given the great opportunity by Pipistrel to be part of this game-changing journey. With more than 400 flight hours and 25 pilots introduced to the predecessor Alpha Electro, we are convinced of the suitability of electric flight in the daily flight school environment. Initially, we will distribute 12 aircraft on 10 airfields over Switzerland. Each base will be equipped with 150 m2 of photovoltaic panels, producing electricity for 12,000 flight hours per year on the Velis Electro. We are happy to offer the most environmentally friendly training possible."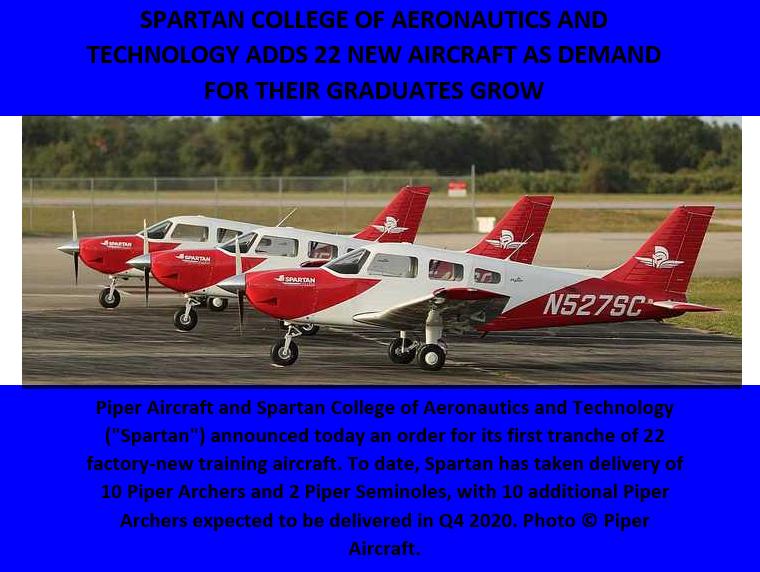 According to Beau Schrader, Spartan's Chief Pilot Officer, "Spartan's Flight location at Richard Lloyd Jones Airport in Tulsa, Oklahoma has been re-energized by the brand new, technologically advanced fleet of training aircraft." The new 180 HP, G1000 NXi equipped Piper Archers and Seminoles began delivery in late-2019, as Spartan continues its multi-year enhancement of its training fleet.
"Established in 1928, nationally accredited and FAA approved Spartan has been committed to training the world's aviators and is proud to have trained over 100,000 pilots and aircraft technicians. As we advance our legacy of providing advanced aviation training, we are pleased to expand our fleet with the addition of 22 new Piper training aircraft," said Spartan College of Aeronautics and Technology Chief Executive Officer Rob Polston. "As demand for civil aviation pilots grow, we continue to invest in new technology which enhances the educational experience of our students. Our team will use the new aircraft, in addition to our existing fleet, to train future professional pilots at our campus in Tulsa, Oklahoma, carrying on a proud tradition of training aspiring aviation professionals for more than 90 years. We are excited to have the opportunity to help support the growing aviation industry, which is facing a need for 804,000 new civil aviation pilots over the next 20 years, according to a 2019 Boeing Pilot & Technician Outlook."
"As Spartan College of Aeronautics and Technology continues to expand their aviation programs, Piper Aircraft is proud to provide new aircraft which enhance the training experience of their students. As a legacy pilot training provider, they continue to demonstrate their commitment to excellence and to their students by providing multiple aviation programs and opportunities for their students. We look forward to their continued success and to providing more Piper trainers in support of their commitment to aviation education," said Piper President and CEO Simon Caldecott.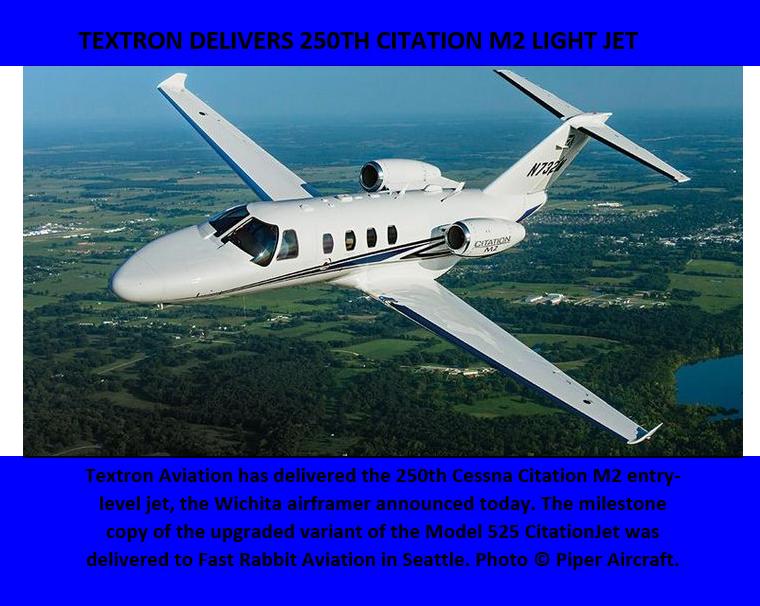 "The M2 is an ideal fit for operators in need of an agile aircraft with the power, range, and speed to complete their mission with efficiency and comfort," said Textron Aviation senior v-p of sales Rob Scholl. "Today, when reliability, flexibility and value are more vital than ever before, we're proud to reach this milestone and continue providing an aircraft that can support the operations of many dynamic organizations worldwide."
The single-pilot light twinjet was certified and first delivered in December 2013. Powered by two Williams FJ44 turbofans, the M2 seats seven passengers and has a range of 1,550 nm and a 404KTS cruise speed. Recent updates to the aircraft include Garmin G3000 avionics that Scholl said allow "a straightforward transition for piston and turboprop aircraft pilots." Fast Rabbit owners plan to use their new M2 for frequent trips along the U.S. West Coast and are considering a round-the-world flight.
Textron Aviation noted this latest delivery adds to its more than 5,000 light jet deliveries, which include the Citation CJ3+ and CJ4.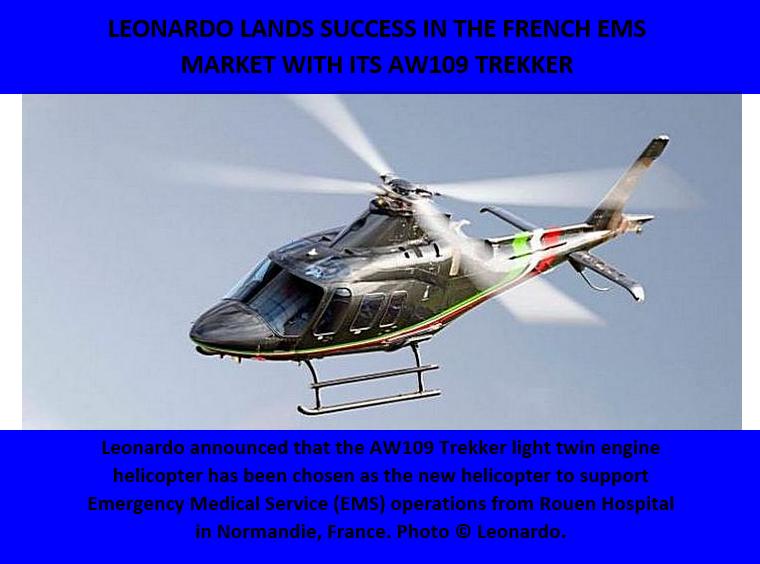 One aircraft, with a specially customised EMS interior, is expected be delivered by the end of 2020 from Leonardo's Vergiate final assembly line in Italy. The rotorcraft will be operated by S.A.F. Hélicoptères.
The AW109 Trekker of S.A.F. Hélicoptères outperformed competing offers with its excellent performance, advanced avionics, cabin space mission capabilities for EMS operations. Delivery is expected by year end to support operations from Rouen Hospital .
To date over 70 AW109 Trekkers have been sold to customers worldwide for a range of roles
The SAF Hélicoptères' AW109 Trekker-based offer was selected following a thorough and rigorous tender process outperforming competing types. The contract award marks the entrance of this Leonardo light twin helicopter model into the French civil helicopter market and follows the success of the AW109 Power and Grand for EMS tasks in the country. This achievement also expands the number of French commercial customers using Leonardo helicopters such as the AW109 series, AW169 and AW139 for a range of roles including EMS and VIP/corporate transport. The AW109 Trekker is the perfect fit to meet other EMS requirements in France in the future.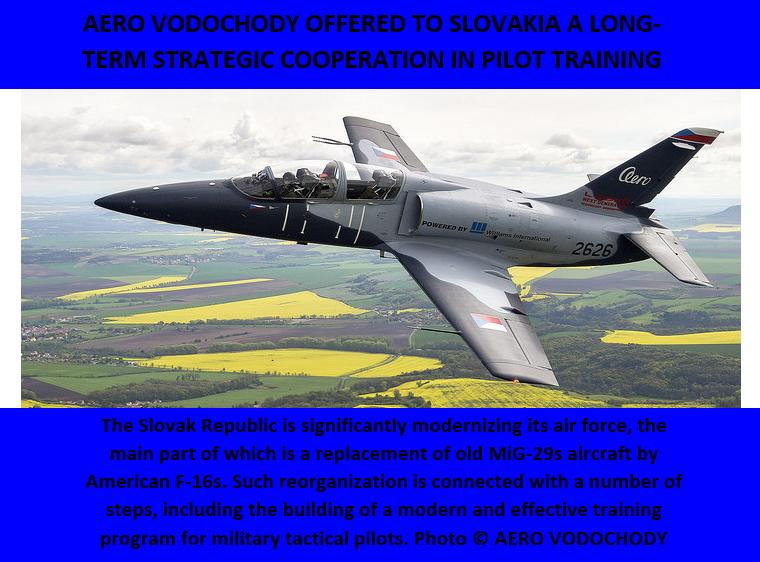 "Aero Vodochody, as a traditional partner of the Slovak Air Force, presented an offer for the supply of eight modern L-39NG training jet aircraft. The offer includes significant industrial cooperation with strong involvement of Slovak companies in the production of structural parts of the new aircraft, in further development of the L-39NG project, in logistic support and in building a ground training system," said Jakub Hoda, VP for Sales and Member of the Board of Directors of Aero Vodochody.
The key element of the long-term cooperation between the two countries and AERO Vodochody is the preparation of a training concept for the Air Force of the Slovak Armed Forces on the L-39NG platform including comprehensive ground training system. The Czech Republic is able to offer tactical simulation training on both L-39 and F-16 in its Tactical Simulation Centre in Pardubice, where pilots of the Czech Air Force and many other countries are trained.
The L-39NG aircraft is a modern and effective light jet capable to serve in a role of light attack and/or unified, comprehensive training system for modern air forces. The L-39NG is based on the aerodynamic concept of the current L-39 with optimized features to reduce resistance and increase efficiency and utilizes the latest technologies and equipment. Power is provided by the modern FJ44-4M engine supplied with the TAP Blue engine support service to ensure unprecedented airworthiness and predictable maintenance costs. The aircraft's avionics are prepared to train future pilots of 4th and 5th generation aircraft and can be tailored to the customer's requirements. The L-39NG is equipped with five hard-points for weapons. The aircraft also features a broad range of simulation technologies, including the integration into high-tech tactical simulation centres with the goal to increase training efficiency. Strategic partner of the L-39NG project is the Czech company OMNIPOL by having 50% of share and financial contribution in the project.

The certification covers the full range of capabilities, including single-pilot and instrument flight rules (IFR) and single engine operations (Cat.A/VTOL), along with night vision goggles capability.
The new version of Airbus' best-selling H145 light twin-engine helicopter was unveiled at Heli-Expo 2019 in Atlanta, GA, with launch customers announced for almost every market segment. Prior to the successful high-altitude test campaign in South America, where the aircraft set its skids down on the Aconcagua, the highest mountain in the Southern hemisphere, the new H145 performed several test campaigns including in Spain at medium altitudes and Finland for cold weather.
This latest upgrade of the H145 family adds a new, innovative five-bladed rotor to the multi-mission H145, increasing the useful load of the helicopter by 150 kg (330 lb). The simplicity of the new bearingless main rotor design will also ease maintenance operations, further improving the benchmark serviceability and reliability of the H145, while improving ride comfort for both passengers and crew. Certification by the Federal Aviation Administration will follow later this year. The certification for the military version of the five-bladed H145 will be granted in 2021.
Powered by two Safran Arriel 2E engines, the H145 is equipped with full authority digital engine control (FADEC) and the Helionix digital avionics suite. It includes a high performance 4-axis autopilot, increasing safety and reducing pilot workload. Its particularly low acoustic footprint makes the H145 the quietest helicopter in its class.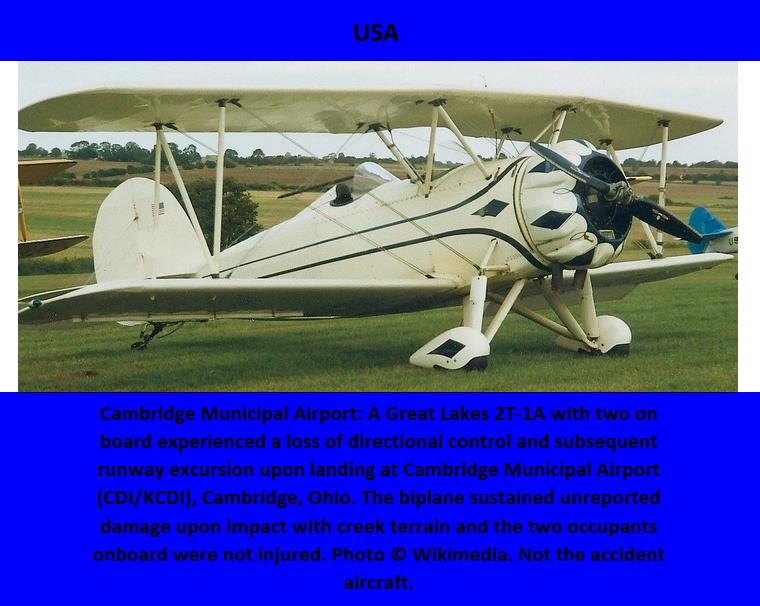 UK, North Sea: A Royal Air Force F-15C Eagle fighter jet that crashed into the sea east of the United Kingdom. The aircraft was on a routine training mission with one pilot on board. The pilot did not survive the accident.
Russia, Saint Petersburg-Pulkovo Airport: An Airbus A320neo operated by S7 Airlines was taxing to the holding point for take-off when, as it passed taxiway A4, its left-hand winglet struck the APU of a Ural Airways A320 that was standing on taxiway A4. The APU separated and fell to the ground. The winglet subsequently sliced into the right-hand elevator of the Ural aircraft. No injuries were reported.

Spain, Madrid: A British Airways Airbus A319-100 on a flight from London to Madrid had just rotated from take-off when a strong chemical odour developed in cockpit and cabin. The crew completed the initial climb, then ran the relevant checklist, the odour dissipated, cabin crew also confirmed the odour was dissipating, the whole event lasted for about 2 minutes, due to the short duration neither flight crew had donned their oxygen masks or cabin crew their protective equipment. As the odour had subsided, the crew decided to continue the flight. Enroute while nearing Spain both flight crew realized they felt dizzy, had difficulties in concentrating and were feeling increasingly tired and exhausted. Some cabin crew in the meantime inexplicably poured water onto the galley top instead of into the sink. The aircraft managed a safe landing on Madrid's runway 32L about 2 hours after departure.
USS Theodore Roosevelt, Philippine Sea, Pacific Ocean: A USN Boeing F/A-18F Super Hornet based on the USS Theodore Roosevelt with two on board crashed into the Philippine Sea on a routine training mission. Both pilots ejected safely and were recovered by a helicopter crew from Helicopter Sea Combat Squadron 8.
Guatemala, El Chico, Retalhuleu: A Gulfstream American G-1159A Gulfstream III jet was set afire after having landed near El Chico, Retalhuleu, Guatemala. The aircraft was likely used in illegal drug trafficking.
USA, Minden-Tahoe Airport, Nevada: A Aérospatiale SA 342J Gazelle with two on board impacted the terrain at Minden-Tahoe Airport (MEV/KMEV), Minden, Nevada. The helicopter was destroyed by impact and fire. The two occupants were able to walk away.

France, Courcelles-lès-Montbéliard, Doubs: A Reims (Cessna) F150M with two on board struck treetops during an emergency landing under unknown circumstances. Both occupants sustained minor injuries but were airlifted to hospital. The aircraft suffered substantial damage. The accident would be due to a possible lack of fuel.
USA, north of Goldsboro, Wayne County: A Robinson R66 Turbine operated by Kritter Cropdusting Inc with only the pilot on board clipped power lines and impacted cornfield terrain during an aerial application flight north of Goldsboro, Wayne County, North Carolina. The helicopter sustained substantial damage and the sole pilot onboard received fatal injuries.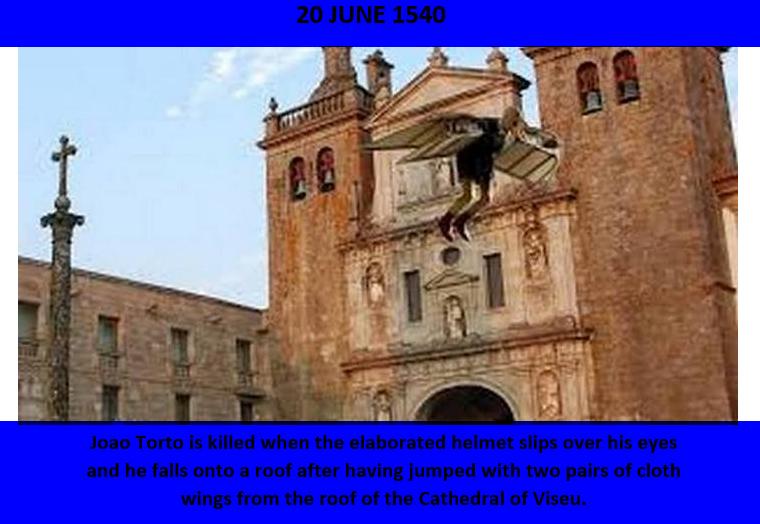 On 20 June 1540 Joao Torto, a Portuguese resident in Viseu Portugal, who had built two pairs of cloth-covered wings, an upper and lower, which are connected by iron hoops, climbed to the top of the Cathedral of Viseu where he had built, with the permission of the Church, a launching ramp.
The event took place at around five o'clock in the afternoon, in front of an expectant crowd. According to the reports of the time, he partly managed to fly, but crash landed on the roof of the Chapel of São Mateus which caused injuries that led to his death.
A street in the city of Viseu carries his name.