The BICh-7A tail-less sport/touring aircraft that started life as the BICh-7 was an enlarged version of Chyeranovskii BICh-3 powered by a 13.4 kW (118 hp) Blackburne Tomtit that flew successfully in 1926 in the USSR.
Flight testing of the BICh-7 with its tandem open cockpits, underslung elevons, centerline mono-wheel, wing-tip rudders with skids with no tail commenced in 1929. However, a halt was called on further testing since the very poor handling characteristics made it almost impossible to take-off.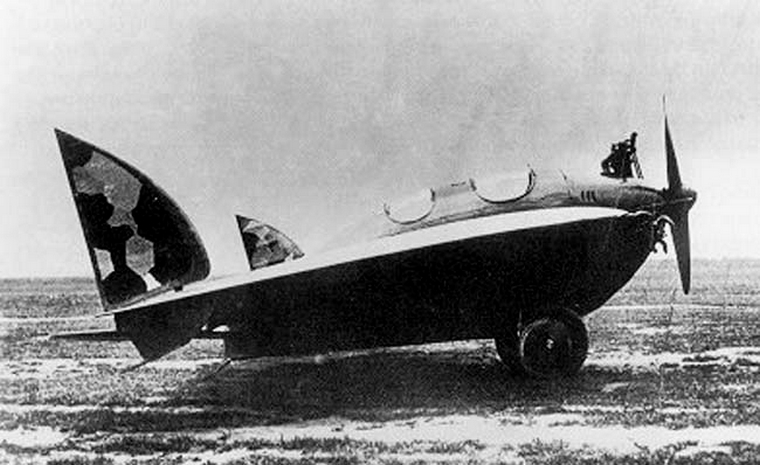 The BICh-7 was completely re-built as the BICh-7A. Modifications included enclosed tandem cockpits, a fin with rudder faired into the rear of the cockpit nacelle and a conventional style tail-skid undercarriage. Although handling was much improved when flight tests resumed, in 1932 there was still excessive speed loss when turning and engine vibration. The speed loss was attributed to interference between the large elevons and the rudder and was alleviated by adding breaker strips to the elevons and setting them at a lower incidence.
The BICh-7A never went into production.
General characteristics

Crew: 2
Length: 4.95 m (16 ft 3 in)
Wingspan: 12.5 m (41 ft in)
Wing area: 34.6 m2 (372 ft2)
Empty weight: 627 kg (1,382 lb)
Gross weight: 880 kg (1,940 lb)
Powerplant: 1 ◊ Bristol Lucifer 3-cyl. Radial engine, 74.6 kW (100 hp)
Performance

Maximum speed: 165 km/h (102.5 mph)
Range: 350 km (217 miles)
Data from Wikipedia.org and Bill Gunston's "The Osprey Encyclopaedia of Russian Aircraft 1875 - 1995". London, Osprey. 1995. ISBN 1-85532-405-9

PLEASE GO TO
www.youtube.com/channel/UCCuRVZAGodT6sztTeXBGeMw
and subscribe to our YouTube channel