Compiled by Willie Bodenstein




AIRLINK ADJUSTS JOHANNESBURG/CAPE TOWN AND JOHANNESBURG/PORT ELIZABETH FLIGHT TIMES TO ENHANCE CUSTOMER CONVENIENCE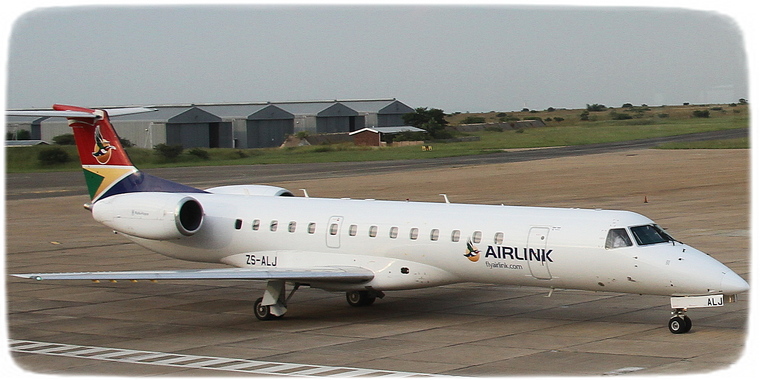 Airlink advises that from 27 July 2020, its early morning flights between Johannesburg and Cape Town as well as between Johannesburg and Port Elizabeth will be departing a little later to enhance customer convenience.
Following the re-introduction of the COVID related road travel curfews by Government between 21h00 and 04h00 with the additional requirement for passengers to arrive at the airport 2 hours prior to departure to complete travel documentation formalities, Airlink has received numerous requests from customers to adjust our departure times a little later. to reduce the associated inconvenience of an 03:00 am start to their travel days.
Accordingly, Airlink's flight from Johannesburg to Cape Town will depart at 07h10 arriving in Cape Town at 09h20. The flight from Cape Town will depart at 07h20 arriving in Johannesburg at 09h25 Mondays to Saturdays. On Saturdays, the flight will depart Johannesburg at 10h15 arriving in Cape Town at 12h35.
Airlink's flight from Johannesburg to Port Elizabeth will depart at 07h10 arriving in Port Elizabeth at 08h55 and depart from Port Elizabeth at 09h35 arriving in Johannesburg at 11h15 Mondays to Fridays.
With traffic congestion no longer a significant factor in the onward journey to appointments, Airlink believes that same day returning travellers will still be able to achieve a productive day of business while enjoying the benefits of a later start to their travel day.
Airlink apologizes in advance for any inconvenience or disruption which may be caused to customer itineraries due to the short lead time given in making these schedule changes, but are confident that the added convenience will be enjoyed by all our customers.
SAFAIR - AIRLINE OF CHOICE FOR 3 YEARS IN A ROW


Hooray, hooray, hooray! We've done it again. We're thrilled to share with you that for the third time in a row, we've been named Best Airline in Africa and the Indian Ocean in TripAdvisor's 2020 Travellers' Choice Awards.
The Travellers' Choice accolade is one of the most trusted stamps of approval in travel and is determined by individual traveller's reviews and experiences with us. So, thank you to everyone who took the time to rate and review us and for once again making us your airline of choice. We couldn't have done it without you!
Don't forget, we're back to flying to all main airport destinations in SA: Joburg, Cape Town, Durbs, Port Elizabeth, East London and George. So, if you need to fly for permitted reasons, we'd love to see you onboard.
RECOVERY DELAYED AS INTERNATIONAL TRAVEL REMAINS LOCKED DOWN



The International Air Transport Association (IATA) released an updated global passenger forecast showing that the recovery in traffic has been slower than had been expected. Global passenger traffic (revenue passenger kilometres or RPKs) will not return to pre-COVID-19 levels until 2024, a year later than previously projected.
The recovery in short haul travel is still expected to happen faster than for long haul travel. As a result, passenger numbers will recover faster than traffic measured in RPKs. Recovery to pre-COVID-19 levels, however, will also slide by a year from 2022 to 2023. For 2020, global passenger numbers (enplanements) are expected to decline by 55% compared to 2019, worsened from the April forecast of 46%.
June 2020 passenger traffic foreshadowed the slower-than-expected recovery. Traffic, measures in RPK, fell 86.5% compared to the year-ago period. That is only slightly improved from a 91.0% contraction in May. This was driven by rising demand in domestic markets, particularly China. The June load factor set an all-time low for the month at 57.6%.
The more pessimistic recovery outlook is based on a number of recent trends: Slow virus containment in the US and developing economies, reduced corporate travel and weak consumer confidence. Owing to these factors, IATA's revised baseline forecast is for global enplanements to fall 55% in 2020 compared to 2019 (the April forecast was for a 46% decline). Passenger numbers are expected to rise 62% in 2021 off the depressed 2020 base, but still will be down almost 30% compared to 2019. A full recovery to 2019 levels is not expected until 2023, one year later than previously forecast.
Meanwhile, since domestic markets are opening ahead of international markets, and because passengers appear to prefer short haul travel in the current environment, RPKs will recover more slowly, with passenger traffic expected to return to 2019 levels in 2024, one year later than previously forecast. Scientific advances in fighting COVID-19 including development of a successful vaccine, could allow a faster recovery. However, at present there appears to be more downside risk than upside to the baseline forecast.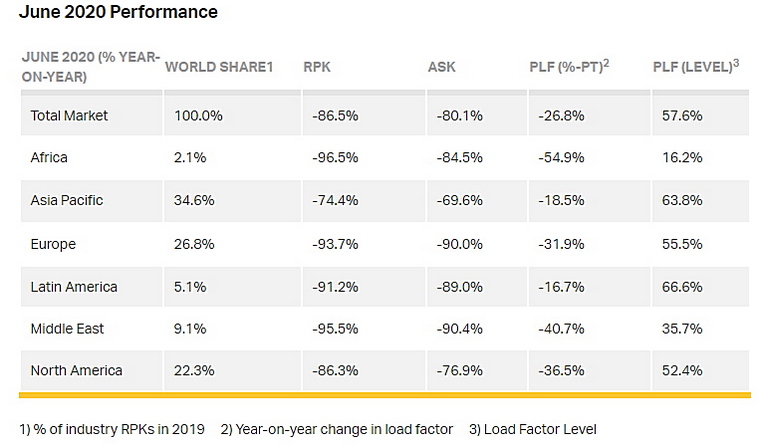 International Passenger Markets


June international traffic shrank by 96.8% compared to June 2019, only slightly improved over a 98.3% decline in May, year-over-year. Capacity fell 93.2% and load factor contracted 44.7 percentage points to 38.9%.
Asia-Pacific airlines' June traffic plummeted 97.1%, European carriers saw demand topple 96.7% in June, Middle Eastern airlines traffic collapsed 96.1% for June against June 2019, North American carriers had a 97.2% traffic decline in June, Latin American airlines suffered a 96.6% demand drop in June and African airlines' traffic sank 98.1% in June.
Domestic traffic demand fell 67.6% in June, improved from a 78.4% decline in May. Capacity fell 55.9% and load factor dropped 22.8 percentage points to 62.9%.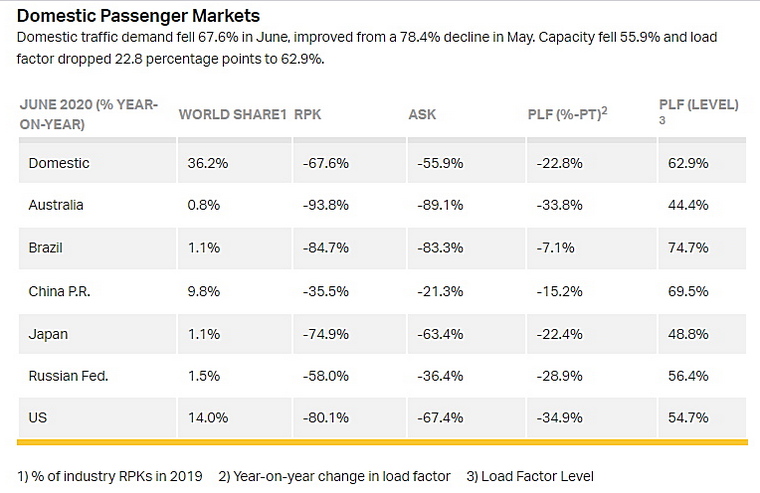 Domestic Passenger Markets


IATA urges governments to implement a layer of measures including the International Civil Aviation Organization's (ICAO's) global guidelines for restoring air connectivity contained in ICAO's Takeoff: Guidance for Air Travel through the COVID-19 Public Health Crisis. IATA also sees potential for accurate, fast, scalable and affordable testing measures and comprehensive contact tracing to play a role in managing the risk of virus spread while re-connecting economies and re-starting travel and tourism. "We need to learn to manage the risks of living with COVID-19 with targeted and predictable measures that will safely re-build traveller confidence and shattered economies," said de Juniac.
FRONTIER AIRLINES TAKES DELIVERY OF 100TH AIRCRAFT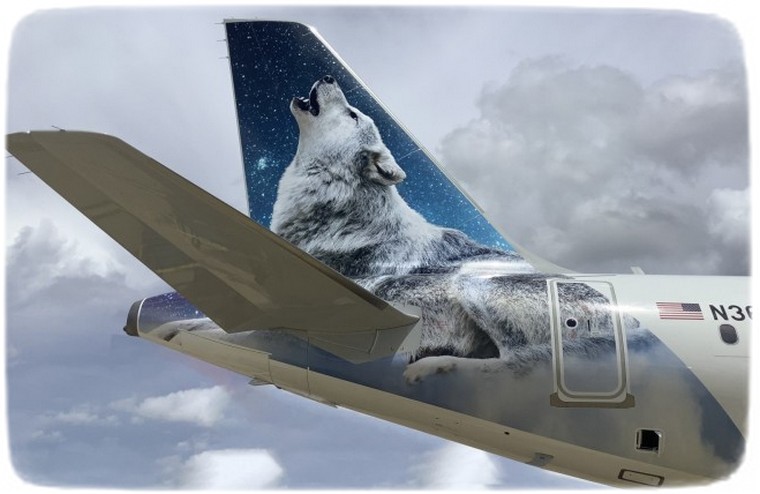 Low-fare carrier Frontier Airlines welcomes the 100th aircraft to its all-Airbus fleet, an A320neo assembled in Mobile, Alabama, featuring 'Chinook the Gray Wolf' on the tail with a distinctive starry night backdrop.
"Taking delivery of the 100th Airbus aircraft in our fleet marks a tremendous milestone for our company," said Barry Biffle, CEO of Frontier Airlines. "We have significantly expanded our fleet in recent years as Frontier has continued to grow both domestically and internationally." Biffle noted that Frontier operates the largest A320neo fleet in the U.S. and has been an industry leader in sustainability initiatives and carbon reduction.
The Airbus A320neo (new engine option) is the latest enhancement to the A320 family offering greater fuel efficiency and noise reduction, compared to previous models. Frontier currently has a total of 160 additional Airbus aircraft on order, scheduled for delivery between now and 2027.
The aircraft's namesake, 'Chinook the Gray Wolf,' was a female wolf-dog hybrid that was rescued in 1993 hours before she was to be put down because of the 'wolf-hybrid' label. The wolf's rescue became the impetus for the creation of the Colorado Wolf and Wildlife Center, located in Divide, Colorado. Chinook passed away in 2007, but her legacy continues to drive awareness and conservation efforts for the species.
Frontier Airlines is committed to "Low Fares Done Right." Headquartered in Denver, Colorado, the company operates 100 A320 family aircraft and has the largest A320neo fleet in the U.S., delivering the highest level of noise reduction and fuel-efficiency, compared to previous models. The use of these aircraft, Frontier's seating configuration, weight-saving tactics and baggage process have all contributed to the airline's average of 43 percent fuel savings compared to other U.S. airlines (fuel savings is based on Frontier Airlines' 2019 fuel consumption per seat-mile compared to the weighted average of major U.S. airlines), which makes Frontier the most fuel-efficient U.S. airlines. More information about Frontier's green commitments are available at FlyFrontier.com/Green.
With 160 new Airbus planes on order, Frontier will continue to grow to deliver on the mission of providing affordable travel across America.

BRITISH AIRWAYS STARTS NEW ROUTE TO MONTEGO BAY AND RETURNS TO ANTIGUA, BARBADOS, KINGSTON AND ST LUCIA



British Airways is to start a new route between Gatwick and Montego Bay in Jamaica from 13 October 2020.
Demonstrating its commitment to the Caribbean, the airline has also now resumed flying to Antigua (from August 1), Barbados (from July 18), Kingston (also Jamaica, from July 20) and St Lucia (from July 25), albeit with reduced frequencies.
Flights to Montego Bay, which will be operated by a three-cabin (World Traveller, World Traveller Plus and Club World) Boeing 777), will depart on Tuesdays and Saturdays and are now on sale on ba.com, with prices starting from as low as £427 return.
As a destination, Montego Bay is a tourist hotspot, famed for its beautiful beaches, water sports, resorts and nightlife.
"We know people are keen to travel and the sunshine and beaches across the Caribbean combined with great resorts and entertainment makes it a winning destination. And with flights to our new Montego Bay route starting from under £500 return, what's not to love?!"
Customers whose flights were affected over recent months and who claimed a voucher can use it towards the flights. Alternatively, Avios can also be used towards Reward flights, upgrades, hotels and car rental. When using Avios part payment, customers can pick from a range of savings by destination and cabin and they still collect Avios and Tier Points on their bookings. Customers should check ba.com for full details.
Colin Pegler, Chairman of the Caribbean Tourism Organisation Chapter UK & Europe, said: "The CTO Chapter UK & Europe is greatly encouraged by BA's return to the Caribbean. As one of the Caribbean's most crucial and longstanding flight partners we are delighted to see such endorsement from our national carrier. It is vital to the region, our tour operator, hotel and destination partners that the resumption of airlift is quick and comprehensive as we look forward to welcoming tourists once more."

LUFTHANSA EXPANDS TOURISTIC OFFER TO INCLUDE TWO ADDITIONAL SUNNY DESTINATIONS IN THE CANARY ISLANDS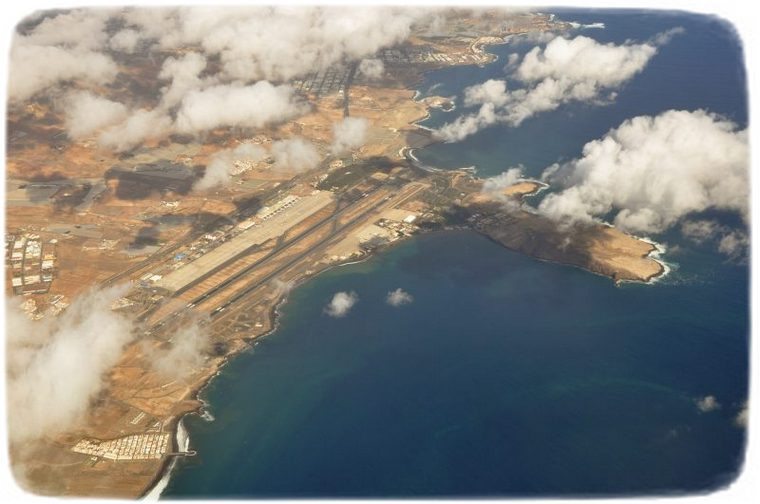 Just in time for the start of the autumn holidays in Germany, Lufthansa will be offering two new sunny destinations from Frankfurt: Gran Canaria and Tenerife. The Canary Islands are particularly popular holiday destinations during the autumn and winter holidays because of their ideal climatic conditions. With lots of sunshine, the temperatures are pleasantly warm throughout the winter.
Starting Saturday, 3 October 2020, Lufthansa will be operating to/from Tenerife with flight number LH1500/1501 and to/from Gran Canaria with flight number LH1502/1503. The flights to the Spanish Canary Islands will be operated on Saturdays and Sundays with an Airbus A320 family aircraft. Tickets are now available for booking with prices in Germany starting at 129 Euros for a round trip and 79 Euros for one-way.
Lufthansa continues to complement its attractive range of tourist destinations, which are to be gradually expanded. Aside from the existing expertise in the corporate sectors, the Lufthansa Group's goal is to increase the tourism footprint in the private travel segment in the long term and to actively shape the future of tourism.

EMIRATES COVERS COVID-19 EXPENSES OF CUSTOMERS DIAGNOSED DURING TRAVEL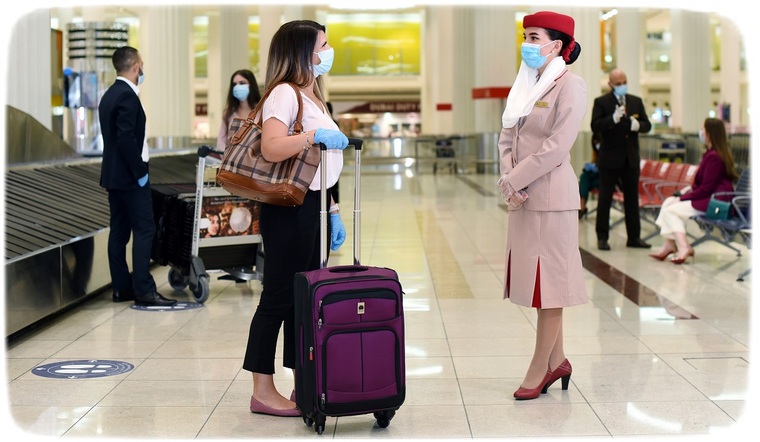 Emirates has announced that it will offer its passengers free cover for COVID-19 medical expenses and quarantine costs, should they be diagnosed with the virus during their travel.
The airline will cover medical expenses of up to 150,000 euros and quarantine costs of 100 euros per day for 14 days. This cover is offered by Emirates free of cost to its customers regardless of class of travel or destination.
The service is immediately effective for customers flying on Emirates until 31 October 2020 (first flight to be completed on or before 31 October 2020). It is valid for 31 days from the moment they fly the first sector of their journey. This means Emirates customers can continue to benefit from the added assurance of this cover, even if they travel onwards to another city after arriving at their Emirates destination.
"Emirates has worked hard to put in place measures at every step of the customer journey to mitigate risk of infection and we have also revamped our booking policies to offer flexibility. We are now taking it to the next level, by being the first in the industry to offer our customers free global cover for COVID-19 medical expenses and quarantine costs should they incur these costs during their travel," said Emirates Group Chairman and Chief Executive Ahmed bin Saeed Al Maktoum.
Customers do not need to register or fill in any forms before travel. Furthermore, they are not obligated to utilise this cover provided by Emirates. Any impacted customer who has been diagnosed with COVID-19 during their travel simply has to contact a dedicated hotline to avail of assistance and cover.

ETIHAD AND BOEING STRENGTHEN STRATEGIC PARTNERSHIP WITH MAINTENANCE SUPPORT FOR BOEING 787 FLEET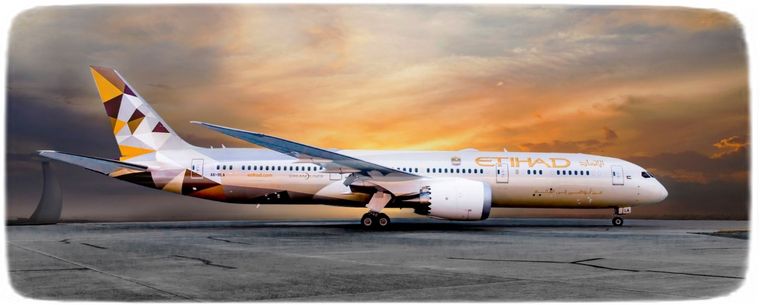 Etihad Airways, the national airline of the United Arab Emirates, has signed agreements with Boeing Global Services for the provision of maintenance support on its fleet of Boeing 787s.
These agreements are part of the strategic partnership between Etihad and Boeing signed in November 2019, in line with Etihad's ongoing commitment to achieve excellence in all aspects of operational reliability, maintenance and on-board experience.
Key to the agreements is a Component Services Program for more than 300 operational critical parts for Etihad's 787 fleet; a landing gear exchange programme including Aircraft on Ground (AOG) coverage; as well as high value airframe components and digital products to optimise Etihad's maintenance activities.
As the backbone of its fleet, Etihad's fleet of 787s provide guests with an unrivalled experience both in terms of operating reliability and on-board experience. Following Etihad's recognition as the most punctual airline in the Middle East in 2019 and one of the most reliable operators of the Boeing 787 fleet globally, today's announcement reinforces Etihad's commitment to ensuring the on-time performance and availability of its aircraft.
SINGAPORE AIRLINES RAISES ADDITIONAL S$750 MILLION FROM SECURED FINANCING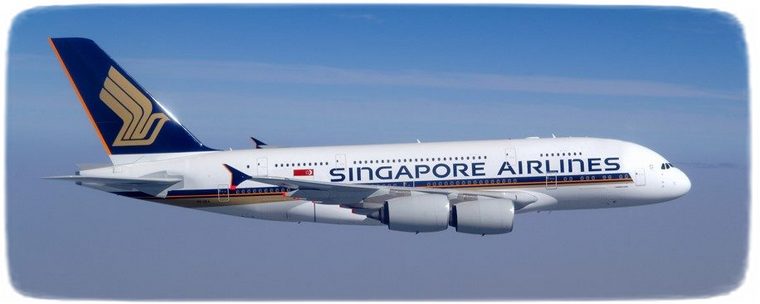 Singapore Airlines (SIA) announced today that the Company has successfully raised an additional S$750 million through long term loans secured on some of its Airbus A350-900 and Boeing 787-10 aircraft. With the completion of these transactions, SIA has now raised a total of S$1.65 billion from secured financing since the start of financial year 2020/2021.
The total liquidity raised during the same period now stands at approximately S$11 billion. This comprises S$8.8 billion from SIA's successful rights issue, S$1.65 billion from secured financing and more than S$500 million from new committed lines of credit and a short-term unsecured loan from financial institutions.
Separately, all existing committed lines of credit that were due to mature during the course of 2020 have been renewed until 2021 or later. Together with the new committed lines of credit, this ensures continued access to more than S$2.1 billion in committed liquidity.
For the period up to July 2021, the company also retains the option to raise up to S$6.2 billion in additional mandatory convertible bonds that would provide further liquidity if necessary. During this period of high uncertainty, SIA will continue to explore additional means to shore up liquidity as necessary.
CATHAY PACIFIC FULLY COMPLIES WITH CREW TESTING REQUIREMENTS AND SUPPORTS THE GOVERNMENT'S "FIGHT THE VIRUS" EFFORTS



Cathay Pacific strongly supports the "Together, We Fight the Virus" efforts of the Hong Kong SAR Government. The safety and wellbeing of our people and customers is of paramount importance.
In response to media enquiries, Chief Operations and Service Delivery Officer Greg Hughes said: "We are fully complying with the mandatory testing and other social distancing requirements of aircrew arriving in Hong Kong.
"Since April, more than 3,200 voluntary and mandatory tests have been taken by Cathay Pacific and Cathay Dragon pilots and cabin crew. None of these have come back positive and none of our operating crew have been confirmed to have contracted COVID-19. This demonstrates that our aircrew are extremely diligent when it comes to adhering to social distancing rules and protecting themselves. Throughout the COVID-19 period our crew have acted with the highest levels of safety, compliance and professionalism."
Cathay Pacific will continue to ensure non-Hong Kong-based crew remain in designated hotels only and practise social distancing measures during their stay in Hong Kong. The same applies to Hong Kong-based crew during their stay in foreign countries. All crew members will also follow all the requirements for medical surveillance: maintaining good personal hygiene, measuring their temperature regularly, watching for symptoms and wearing a mask when commuting for duty flights.
RYANAIR REPORTS Q1 LOSS OF €185M AS TRAFFIC FALLS BY 99%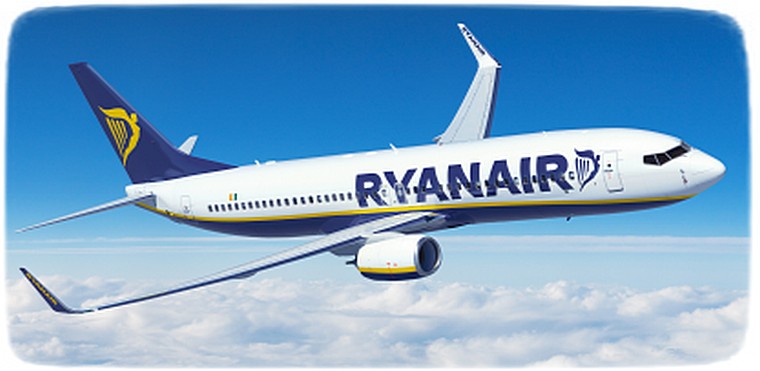 Ryanair Holdings plc reported a Q1 loss of €185m, compared to a PY Q1 net profit of €243m. Highlights of Q1 include; Over 99% of the fleet grounded from mid-March to end June and Q1 traffic fell from 42m to 0.5m.
The past quarter was the most challenging in Ryanair's 35-year history. Covid-19 grounded the group's fleet for almost 4 months (from mid-March to end June) as EU Governments imposed flight or travel bans and widespread population lockdowns. During this time, group airlines repatriated customers and operated rescue flights for different EU Governments, as well as flying a series of medical emergency/PPE flights across Europe.
Our aircraft and crews were kept current by operating skeleton schedules and currency flights which ensured that the group airlines were ready to efficiently resume flights when lockdown restrictions eased in most EU countries in late June/early July. On 1 July, the group resumed flights across the majority of our route network. We expect to operate approx. 40% of our normal July schedule, rising to c. 60% in Aug. and, hopefully, 70% in Sept.
At this time, the group expects FY21 traffic to fall by 60% (from 149m) to just 60m. The Covid-19 crisis has already seen the closure of various EU airlines including Flybe, Germanwings, Level and Sun Express. It has sparked a multi-billion flood of illegal State Aid from EU Governments to their flag carrier airlines including Alitalia, Air France/KLM, Lufthansa, SAS, TAP and others. This illegal State Aid will distort competition and allow unsustainable flag carriers to engage in below cost selling for many years to come. Many other airlines are cutting capacity, with the result that air travel in Europe is likely to be depressed for at least the next 2 or 3 years. This will create opportunities for Ryanair (Europe's lowest cost airline group) to grow its network and expand its fleet, to take advantage of lower airport and aircraft cost opportunities that will inevitably arise.
Ryanair's balance sheet is one of the strongest in the industry with over €3.9bn cash at 30 June. We own 333 unencumbered B737s (with a book value of approx. €7bn) and hold a BBB investment grade rating from both S&P and Fitch Ratings. Since mid-March, the group has moved quickly and smartly to preserve cash, cut costs, cancel share buybacks and defer all non-essential capex. This has protected the group's very strong liquidity position as it returns to flying in July. Over the winter, Ryanair will (as agreed last year) complete the sale of 7 of its oldest B737s and will continue to focus on cash preservation/generation and the repayment of maturing debt over the next 24 months.
FY21 will be a very challenging year for the Ryanair Group of airlines. It is impossible to predict how long the Covid-19 pandemic will persist and a 2nd wave of Covid-19 cases across Europe in late autumn (when the annual flu season commences) is our biggest fear right now.
Given the current uncertainty, Ryanair cannot provide any FY21 PAT guidance at this time. The group currently expects to carry approx. 60m passengers in FY21 and expects to record a smaller loss in Q2 (which reflects a gradual return to flying from 1 July) than in Q1. However, the Ryanair Group will emerge from the Covid-19 crisis with a much lower cost base, which will be essential to fund lower fares as the Group competes against unlawfully State aided flag carriers. Further updates will be provided at Ryanair's AGM in Sept.
PLEASE GO TO
www.youtube.com/channel/UCCuRVZAGodT6sztTeXBGeMw
and subscribe to our YouTube channel