Compiled by Willie Bodenstein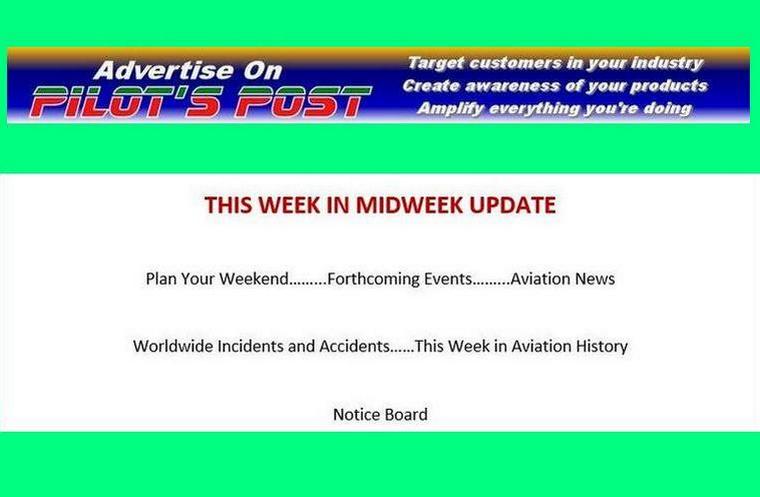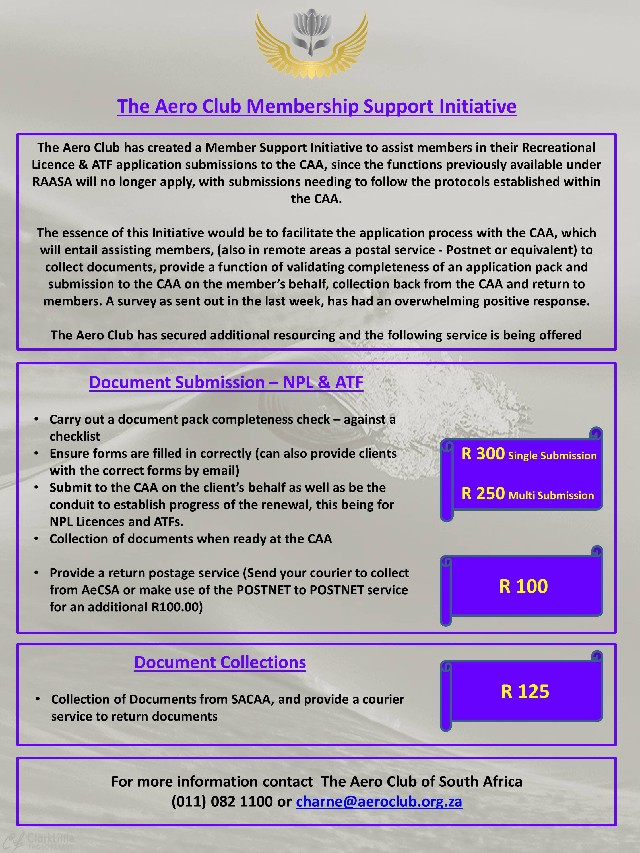 COVID 19 REGULATIONS, INITIATIVES AND AEROCLUB NEWS





AERO CLUB COMMUNIQUE AUG 2020 # 1

Status on GA / RA flight operations in Level 2


With the announcement over the weekend by the President that lockdown restrictions will be reduced to Level 2, the long-awaited anticipation of what that would mean for Aviation has now been decided on, and issued by way of a Notam (see link below) which became effective from midnight on the 17th Aug,
To be noted is under A2321/20 paragraph 1) with paragraph 5) qualifying the conditions under which flying is to operate. It essentially means that industry and individuals will need to self-regulate and comply with National Covid protocols. This then no longer requires permits to fly under the guidelines of proficiency or maintenance preservation / re-positioning.
We believe that the Aero Club and CAASA supported the industry well during the lockdown period in our quest to return to flight under agreed guidelines with good collaboration with the DoT and the CAA, which should bode well for future regulatory matters.
If you are not a member and wish to join the Aero Club and any of its Sections feel free to do so http://www.aeroclub.org.za/member-renewals-and-new-memberships/
A2456/20 NOTAMR A2321/20

Q)FAXX/QXXXX/IV/NBO/E/000/999/5152S01651E999
A)FAJA FACA FAJO B)2008171759 C)2008311800 EST
E)COVID-19:
1)GEN AND RECREATIONAL AVIATION FLT, INCLUDING HR BLDG AND MAINT RELATED FLT ARE PERMITTED.
2)AVIATION TRG OPS PERMITTED AS PER PART 141 OPR SPECIFICATIONS.
3)SKILLS TESTS, REVALIDATION CHECKS AND SIX MONTHLY PROFICIENCY CHECKS PERMITTED.
4)ALL OPS RELATED TO 2 AND 3 TO ENSURE THAT THEY HAVE A COVID PLAN IN PLACE.
A)COVID-19 SIGNED PROC CHECKLIST FOR AVIATION TRG ORGANISATION OPS TO BE SUBMITTED TO PERSONNEL LICENCING EMAIL: PEL.TRAINING(AT)CAA.CO.ZA B)ALL EXAMINERS AND INSTRUCTORS REQUIRED TO CONDUCT TEST OR CHECK INDEPENDENTLY OF AVIATION TRG ORGANISATION OR OPR, SHALL SUBMIT
COVID-19 SIGNED PROC CHECKLIST TO PEL.SKILLSTEST(AT)CAA.CO.ZA FOR ONCE OFF AUTH.
5)ALL FLT UNDER 1) TO COMPLY WITH NATIONAL LEGISLATION IN TERMS OF PERSONAL PROTECTIVE EQPT, ACFT DISINFECTION AND DEMONSTRATE COMPLIANCE.
6)FLT LISTED UNDER 2 AND 3 TO ENSURE A COPY OF THE COVID PROC IS CARRIED ONBOARD THE ACFT AND DEMONSTRATE COMPLIANCE.
7)ALL MAINT AND PRODUCTION TEST FLT INCLUDING PROVING AND EXPERIMENTAL ARE PERMITTED.
8)DOMESTIC FLT DRG CURFEW HR (2000-0200) ARE NOT PERMITTED UNLESS PRIOR WRITTEN APPROVAL HAS BEEN OBTAINED AND A COPY THEREOF IS CARRIED ONBOARD THE ACFT.
A)APPLICATIONS FOR GEN AND RECREATIONAL FLT DRG CURFEW HR TO BE SUBMITTED TO LAUBSCHERP(AT)CAA.CO.ZA.
B)APPLICATIONS FOR TRG, SKILLS, REVALIDATION AND PILOT PROFICIENCY CHECK FLT DRG CURFEW HR TO BE SUBMITTED TO PEL.TRAINING(AT)CAA.CO.ZA)



EAA OF SA CHAPTER 322 ZOOM MEETING


Dear Fellow EAAer's,
Thanks to everyone that joined us for our 322 gathering last week. For those that were unable to join us and would like to view the recording, this is available on our EAA of SA Youtube Channel or through this link:
https://youtu.be/WhUkpb9Y2LQ

A copy of the minutes is available HERE.
http://eaa.org.za/wp-content/uploads/2020/08/EAA-August-2020-Zoom-Meeting-Minutes.pdf

Even though we are trying to record these "events", we really do appreciate our members participating and, of course, this gives you the opportunity to experience this first-hand and not wait for the recording to be available.
Please don't forget to send in your contributions for our CONTACT! newsletter.
We look forward to "seeing you" at our next gathering on 2nd September 2020.
Neil Bowden
Chairman EAA Chapter 322
Johannesburg
South Africa
EAA # 565560
www.eaa.org.za
contact.eaasa@gmail.com

FORTHCOMIMG EVENTS

CORONA VIRUS AND AVIATION EVENTS

Due to Covid 19 and regulations regulating travelling as well as restrictions controlling the number of people congregating together, no aviation events open to the general public will take place in the foreseeable future. Pilot's Post will advise our readers as soon as this changes.

2 September
EAA Chapter 322 monthly Zoom meeting.
Contact Neil Bowden E-mail: neil1@telkomsa.net

PLEASE GO TO
www.youtube.com/channel/UCCuRVZAGodT6sztTeXBGeMw
and subscribe to our YouTube channel




VAN'S APPROVES USE OF IO-390 ENGINES ON RV-7 AND RV-8 AIRCRAFT





Since the introduction of the Lycoming IO-390A engine, some of our customers have expressed their desire to install this engine on a RV-7/7A or RV-8/8A airframe. Van's Aircraft has recently completed an in-depth review of horsepower limitations for the RV-7/7A and RV-8/8A and is now approving the use of Lycoming's 210HP IO-390A (YIO-390-A3B6) and IO-390-EXP119 engines on these models. Photo © Vans Aircraft.


Update regarding addition of the IO-390-EXP119 engine model: Beginning July 22, 2020 Van's has also approved and will sell the 215HP IO-390-EXP119 engine to customers for the RV-7 and RV-8. The "Technology Recommendations to Manage Risk," "Installation and Required Builder Changes/Modifications," "Support for this Configuration is Limited," and other caveats described below in the context of the 390A engine also apply to use of the IO-390-EXP119 engine.
Keep the following in mind as you make your engine selection: With the 10 HP increase above the angle valve IO-360, there were concerns of the increased possibility of exceeding the Vne limitation of 200 KTAS. Our extensive experience with the IO-390A on the RV-14A has demonstrated the engine's true performance. The extra horsepower will result in a top speed increase. However, it will not be a significant enough change to raise a concern, providing the pilot continues to abide by the existing 168 KTS Vc (max-cruising) speed and 200 KIAS/KTAS Vne (never-exceed) speed limitations.
Should this higher-powered engine be installed, Van's Aircraft strongly recommends that the aircraft be equipped with or upgraded to an EFIS system with an audible voice warning of Vne. Overspeed events may occur in manoeuvring flight (such as aerobatics) when the pilot's attention is turned away from the airspeed indicator. A voice annunciation, coupled with standard screen-displayed warnings, will help warn the pilot of impending danger. A screen message on its own and/or audible tone warning is not as effective. If your aircraft is equipped with an EFIS that does not have a voice warning for Vne, contact the manufacturer and request this feature to be added in the future. Note that most popular EFIS systems now allow Vne to be set up for KIAS and KTAS simultaneously and for the RV-7/7A and RV-8/8A, both values should be set to 200 KTS on systems with that capability.



ROBINSON DELIVERS R66 SERIAL NUMBER 1000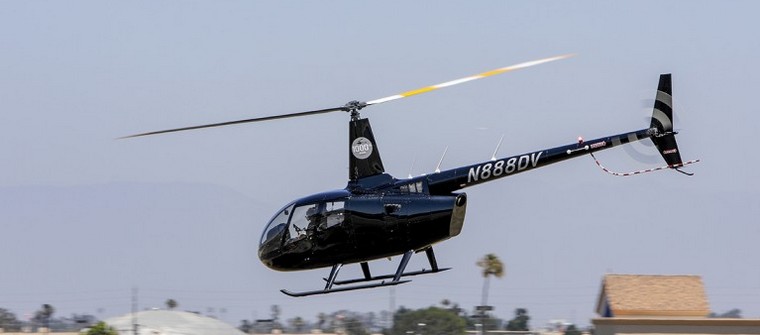 Robinson delivered R66 Turbine serial number 1000 to Robinson dealer Les Gillespie of Gardner Aviation (Peachtree City, GA). FAA-certified in October 2010, the first production R66 was delivered the following month. Since then, the R66 has proven itself on a daily basis. Photo © Robinson Helicopters.


Powered by the Rolls Royce RR300 turbine engine, the R66 recently surpassed 1.2 million flight hours without a single reported in-flight engine failure. This accomplishment demonstrates a level of reliability that exceeds EASA's stringent requirements for single-engine helicopters. The R66 has also risen to the challenges of flying to the North Pole and circumnavigating the globe multiple times.
"Delivering serial number 1000 demonstrates the R66 is the top performer and leader in its class," said Robinson president, Kurt Robinson.
Today's R66 is offered with many options including a cargo hook, lithium-ion battery, fuel flow system, auxiliary fuel tanks, impact resistance windshields, state-of-the-art touchscreen avionics and a SAS/autopilot. The aircraft is also available in police, news, and float configurations.
When asked about the R66, dealer Les Gillespie said, "Because the R66 can be configured to meet the needs of any pilot or helicopter flight department, it quickly became our number-one selling helicopter." The aircraft's new owner, Donovan Valentine of Monarch Helicopters (Nashville, Tennessee) previously owned an R44 and decided to upgrade to an R66 to better serve his tour company.



SPECIAL MISSIONS CESSNA GRAND CARAVAN EX FLEET IN AFRICA GROWS IN SUPPORT OF U.S. AFRICAN PARTNERSHIP FLIGHT INITIATIVE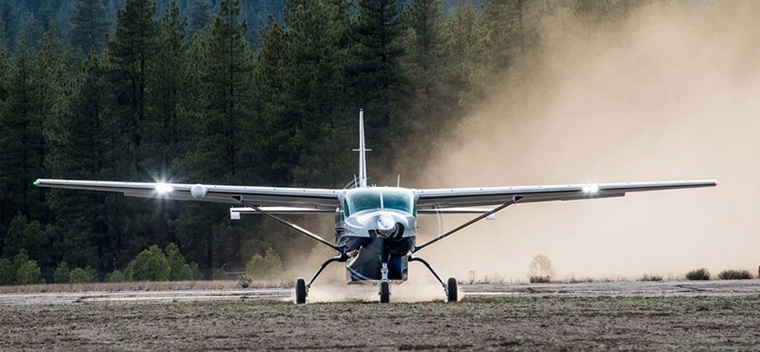 Textron Aviation today announced it was awarded a contract by ATI Engineering Services, LLC for two multi-mission Cessna Grand Caravan EX aircraft for the Rwanda Défense Force (RDF) in support of the African Partnership Flight initiative. Photo © Textron.

This will be the first fixed-wing aircraft to be put in service by the RDF. The aircraft, which are anticipated to enter service during the first half of 2021, will primarily be based in Kigali, Rwanda.
This African Partnership Flight initiative brings together a series of collaborative engagements between African nations to strengthen U.S. strategic partnerships with key countries in Africa, exchange ideas on aviation-related topics and enhance regional cooperation and interoperability.
"The Grand Caravan EX serves an enduring mission by providing transport, reconnaissance and medical evacuation operations throughout Africa," said Bob Gibbs, vice president, Special Mission Sales for Textron Aviation. "The aircraft is engineered for challenging missions, high payloads and short, rough runways while delivering single-engine economy and simplicity. It is a perfect match for this mission throughout the U.S. Africa Command (AFRICOM) area of responsibility."
ATI Engineering Services will modify and equip the RDF's Grand Caravan EX aircraft with secure HF (High Frequency) and UHF (Ultra High Frequency) radio systems, Night Vision Imaging System (NVIS) interior and exterior lighting and a reconfigurable multi-mission interior featuring two ambulatory medical stretcher kits, 11 passenger seats, eight collapsible utility seats and a removable rollerball cargo floor.
The U.S. Government has previously provided grant aid funding for 14 Grand Caravan EX aircraft procured through Foreign Military Sale cases throughout Africa, with Rwanda being the latest recipient. AFRICOM's intent is to field multiple iterations of this configuration throughout Africa and to streamline logistics support and enhance partner nation interoperability, both of which will reduce costs to the partner nation and to the U.S. Government.
AFRICOM's African partners already possess Grand Caravan EX aircraft include Cameroon, Chad, Niger, Mali, Mauritania, Kenya and Uganda. These countries are co-participants in United Nations (UN) peacekeeping operations, particularly in missions in the Central African Republic and South Sudan. Increasing commonality of equipment, such as the Grand Caravan EX, serves as a focal point to substantially increase interoperability in operations, maintenance, supply support and planning.



DOUBLE DELIVERY: JETFLY ACCEPTS 5TH PC-24 AND 1ST PC-12 NGX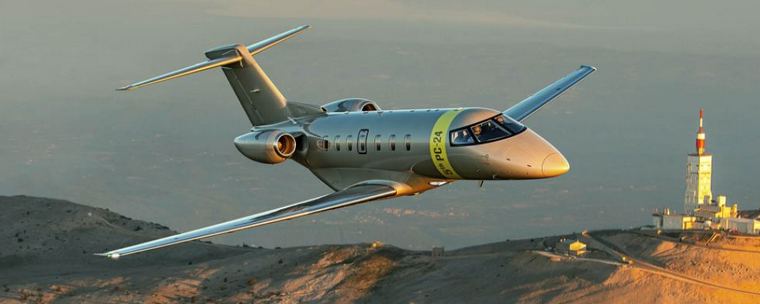 Jetfly Aviation has just taken delivery of not one, but two, new aircraft: a fifth PC-24 and an initial PC-12 NGX. These acquisitions further reinforce the partnership of many years between the Swiss aircraft manufacturer and Europe's largest fleet operator of Pilatus aircraft. Jetfly currently operates 47 Pilatus aircraft. Photo © Pilatus.

Jetfly Aviation opted for the Swiss-made Super Versatile Jet right from the earliest days of the PC-24 programme: the fractional ownership provider has thus far operated four PC-24s, with which it has flown over 2,400 hours. The next PC-24, with its unmistakable design by Philippe Starck, has just joined the Jetfly fleet.
A first PC-12 NGX, the latest version of the Pilatus bestseller, was also handed over to Jetfly on the same occasion. Maxime Bouchard, General Manager of Jetfly, commented: "When Pilatus presented the upgraded features of the next generation of PC-12s to us last year we were on board immediately. The new cabin with its larger windows and full authority digital engine control system - to name but a few improvements - have added significantly to a product that is already extremely popular!"

MOMENTUM BUILDS FOR CESSNA SKYCOURIER AS SECOND TEST ARTICLE TAKES FLIGHT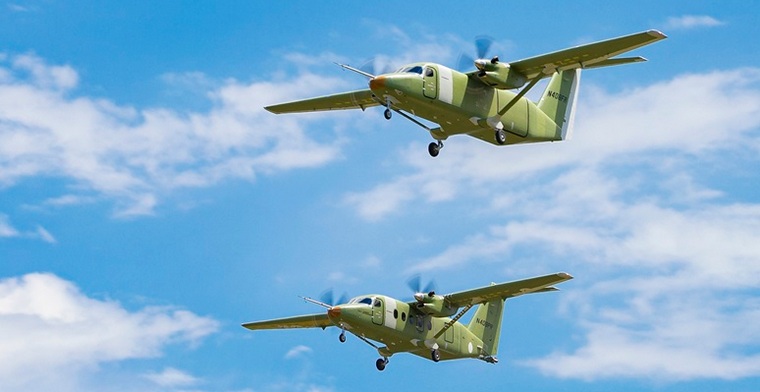 Textron Aviation today announced the successful flight of its second Cessna SkyCourier flight test article (P1). The milestone flight for the high-wing, large utility aircraft comes just two-and-a-half months after the prototype Cessna SkyCourier first took to the skies on May 17. The P1 aircraft is the first conforming production flight test aircraft and is the first airframe configured as a freighter. Photo © Textron.

The Cessna SkyCourier is designed and manufactured by Textron Aviation Inc., a Textron Inc. (NYSE:TXT) company.
The first flight of P1, piloted by Peter Gracey and Todd Dafforn, lasted one-hour and 35-minutes reaching a max altitude of 14,200 feet with a max speed of 210 Knots. The aircraft will be used for the flight test program, primarily for systems testing, including propulsion, environmental control and avionics.
"This flight is another important step for the Cessna SkyCourier program as it will be used primarily for testing aircraft systems like avionics, environmental control and anti-icing," said Chris Hearne, senior vice president, Engineering & Programs. "Since the debut flight for the prototype aircraft, the team has rapidly moved through testing and has accomplished its goals of initial envelope expansion and handling, including stalls. When you consider they have achieved all these milestones despite the many disruptions caused by a global pandemic, it's quite remarkable. The Cessna SkyCourier program is heading through the second half of 2020 with a great deal of momentum."
The aircraft joins the Cessna SkyCourier prototype in the flight test certification program, which will include three variations of flying aircraft. Since the Cessna SkyCourier prototype completed its first flight in May, the aircraft has successfully completed 38 flights and logged more than 76 flight hours. Through the flights, the team has been able to expand speed and centre-of-gravity envelopes, complete preliminary engine and propeller tests, as well as initial stability and manoeuvrability tests.

A UNIQUE MEDEVAC SOLUTION - PHENOM 300MED - FOR THE BEST-SELLING LIGHT JET IN THE MARKET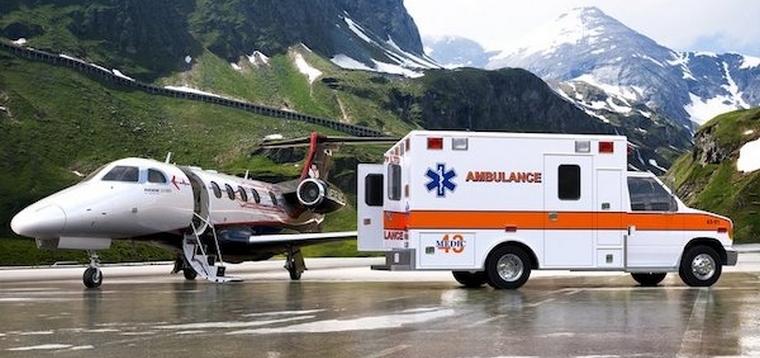 Embraer, through a partnership with umlaut and Aerolite is jointly developing and certifying a new supplemental type certificate (STC) utilizing Aerolite equipment for its popular Phenom 300. Photo © Embraer.

Designed as an ideal solution for both civil and government applications, the Medevac retrofit solution which will feature either one or two stretchers, as well as the ability to carry an incubator and additional medical equipment will be installed exclusively by Embraer's award-winning services & support organization, ensuring the highest quality, reliability and service experience, direct from the manufacturer.
The aircraft will also feature hospital-grade trim and finishing. As a purpose-built Medevac solution, created in collaboration with the leading companies in the industry, the Phenom 300MED is designed to be quickly and easily configured to meet the various needs of both healthcare providers and patients.
The Phenom 300MED benefits from the platform's heritage of best-in-class cabin pressurization, low operating costs, high mission flexibility, state-of-the-art avionics, plus its speed and range capabilities. With best-in-class cabin altitude of 6,600 feet, passengers and crew enjoy more oxygen in the cabin. This feature equates to a healthier flight experience, which is essential for medical staff and patient care.
The Phenom 300MED is further distinguished by the integration of Aerolite medical equipment. Aerolite is a leader in the design, engineering, production, and installation of Air Medical interiors. With over 500 Medevac interiors delivered, the company offers the ideal blend of equipment for the mission.

BEECHCRAFT KING AIR TURBOPROPS APPROVED FOR NEW IS&S THRUSTSENSE AUTOTHROTTLE UPGRADE


Textron Aviation today announces special type certification (STC) approval of Innovative Solutions & Support (IS&S) ThrustSense Autothrottle on the Beechcraft King Air 300 series equipped with Pro Line Fusion avionics and new production Beechcraft King Air 360 turboprops. This is in addition to the STC that was received in 2019 for Pro Line 21-equipped Beechcraft King Air 200 series. Photo © Textron.

Beechcraft, Cessna and Hawker customers receive factory-direct support by Textron Aviation, a Textron Inc. (NYSE: TXT) company, through a global network of service and part centres, mobile service units and 24/7 1CALL AOG support.
The autothrottle supports pilots in their critical mission of delivering people or goods safely by automatically managing engine power from the take-off roll through the climb, cruise, descent, go-around and landing phases of flight. This enhancement reduces pilot workload and supports them in their continuous vigilance to prevent over-speed or under-speed, over-temp and over-torque conditions.
"Thousands of pilots take to the skies daily for a wide range of missions in their Beechcraft King Air turboprops," said Brian Rohloff, senior vice president, Customer Support. "We're committed to supporting our customers and operators with the latest technology and avionics upgrade options that offer them maximum support and efficiency."
Control of the ThrustSense Autothrottle is housed in an easy-to-install flight instrument that provides standby functionality on a high-resolution display. This optimized retrofit design allows installation without any structural modifications to the existing throttle quadrant-enabling seamless implementation and intuitive pilot control.

GERMAN AIR FORCE EUROFIGHTERS CONNECT WITH REMOTE CARRIERS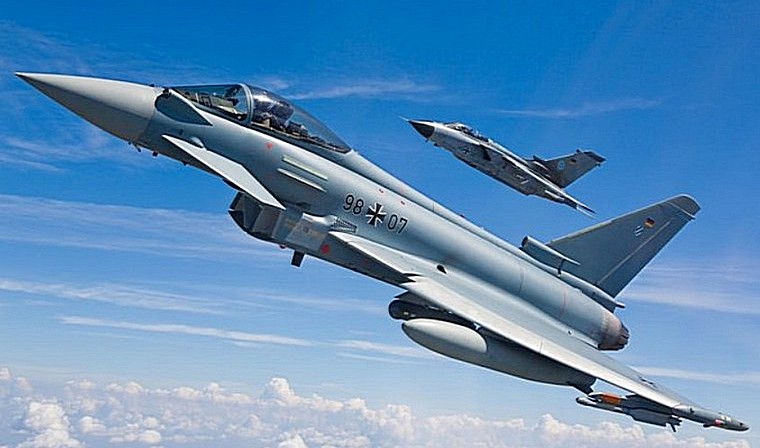 Interconnectivity between remote carriers and Eurofighter Typhoons has been successfully proven for the first time during a live exercise. The technology milestone was hit during the recent German Air Force Timber Express exercise over Northern Germany and the North Sea. It represents the first time the interconnectivity of the Airbus Defence and Space remote carrier technology in a multi-data link environment has been demonstrated with real fighter aircraft. Photo © Eurofighter.

The communications, which also included Tornado fighters and NATO cooperative ESM Operations, were established within the framework of existing IT security regulations and NATO classification levels.
During the exercise, the remote carriers, which currently use the Compact Airborne Networking Data Link (CANDL), were successfully connected to Link16, the operational tactical data link of the armed forces.

The remote carriers were not only visible to all tactical combat aircraft of the Air Force, but could also receive and execute orders without the need for technical modifications to the aircraft. This marks a first in Europe and is also a further milestone towards a future combat air system (FCAS).
A further step was the demonstration of interoperability with the NATO concept of Co-operative ESM Operations (CESMO). This is a reconnaissance network spanning several branches of the armed forces aimed at locating threat systems in the electromagnetic spectrum in real time.
Airbus has succeeded in integrating the remote carriers as full component in the CESMO reconnaissance network. The simulated reconnaissance results of the remote carriers were made immediately available to the CESMO Fusion Element during the exercise and merged in real time with other reconnaissance results such as those of a flying Tornado ECR.

INDIA DEPLOYS DOMESTICALLY-PRODUCED ARMED HELICOPTERS TO CONTESTED LADAKH ON CHINESE BORDER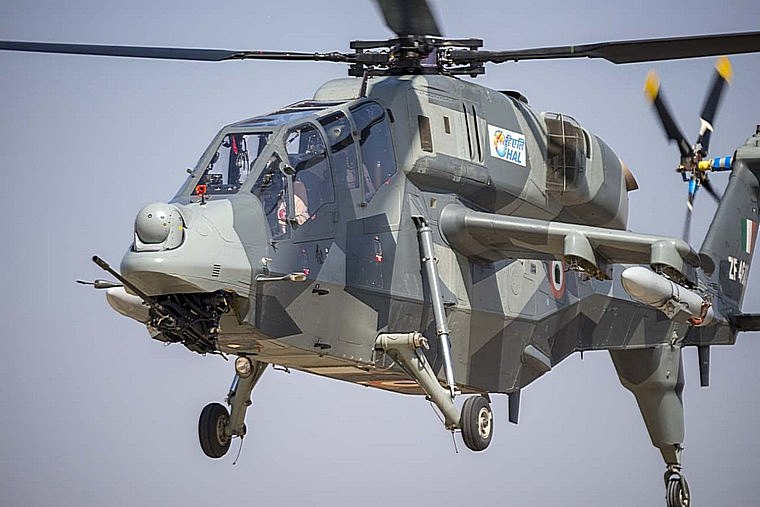 Boosting its air combat capability in the Ladakh region, the Indian Air Force (IAF) has deployed locally-developed armed helicopters carrying 70mm guns, unguided rockets, cluster bombs, and other weaponry. The 5.5-tonne class LCH is capable of carrying four French-made Mistral air-to-air missiles on each wing that can intercept a target at a range of up to 6.5 kilometres. Photo © HAL.

The twin-engine LCH is not only lighter than the American AH-64E Apache attack helicopter, but also comes at half the price, i.e. less than $35 million per unit.
The Indian Air Force has already deployed fighter jets, transport aircraft Chinook and Apache attack helicopters and thousands of troops to the Ladakh region to counter movement by the Chinese People's Liberation Army.



EMBRAER TO FOCUS MORE ON ITS LIGHT AND MIDSIZE BUSINESS JETS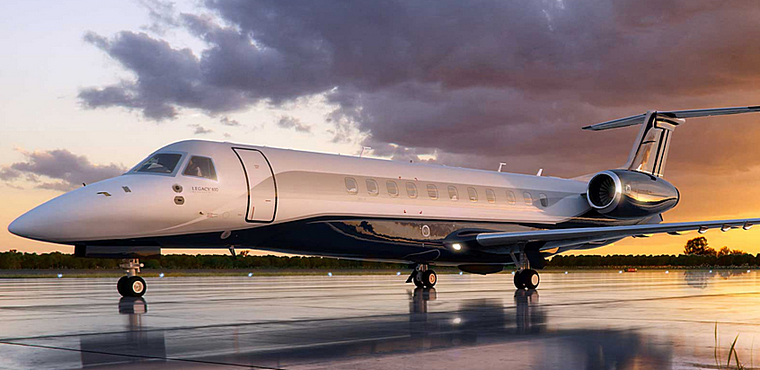 Embraer Executive Jets has consolidated its product line to focus on its Phenom light jet and Praetor midsize jet. Photo © Embraer.

A Embraer spokesman said; "As part of the renewed focus of Embraer Executive Jets to deliver the ultimate experience in business aviation with our industry-leading, clean-sheet Phenom 100 and 300 series and Praetor 500 and 600 jets, the prior derivatives Legacy 450, 500, and 650, as well as the Lineage 1000, are being phased out of our production plan.
"However, we will be able to continue to produce the Legacy 450 and the Legacy 500 for some key strategic customers," she said. "This does not change our ongoing commitment to our customers for services and support."
Embraer entered the business jet market in 2001 with the Legacy 600, a variant of its ERJ-135 regional jet. It followed that with the Lineage 1000 in 2006; Phenom 100 in 2008; Phenom 300 and upgraded Legacy 650 in 2009; Legacy 450 and 500 in 2016 and 2014, respectively; and the Legacy 450 and 500 derivatives Praetor 500 and 600 in 2019. Along the way, it enhanced the Phenoms as the 100EV and 300E models.
"The Legacy 650 and Lineage 1000 programs were instrumental in developing Embraer into the key player we are in business aviation today and showcase our engineering capabilities and aviation.

AIRBUS CORPORATE JETS WINS FIRST A321LR ORDER FOR TWO AIRCRAFT



Airbus Corporate Jets (ACJ) has won the first A321LR order for two aircraft from Lufthansa Technik, highlighting the market appeal and versatility of the A320neo Family. Photo © Airbus.

The aircraft will be multi-role capable and can be equipped for various types of missions, such as troop transport, different MedEvac role setups (medical evacuation) and will be operated by the German Air Force (Luftwaffe). Lufthansa Technik has now placed a total order of five Airbus aircraft on behalf of the German Government: three ACJ350-900s and two A321LRs.
The A321LRs will be able to fly up to 163 passengers, up to 6 intensive care patients and up to 12 medium care patients, depending on the installed configuration, with a maximum range of 4,200nm/7,800km or 9.5 flight hours.

The A321LR is a member of the A320neo Family with over 7,400 orders by more than 110 customers. It delivers 30 per cent fuel savings and nearly 50 per cent reduction in noise footprint compared to previous generation competitor aircraft. With a range of up to 4,000nm (7,400km), with 206 passengers, the A321LR is the unrivalled long-range route opener, featuring true transatlantic capability and premium wide-body comfort in a single-aisle aircraft cabin.
Featuring the most spacious cabins of any business jet, while being similar in size to competing large-cabin aircraft, the ACJ320neo Family also delivers similar operating costs. The ACJ320neo Family can do this because its lower maintenance and training overheads - part of its airliner heritage - deliver a similar total cost when combined with fuel and navigation and landing charges.
Combined with the inherent reliability that comes from aircraft designed to fly many times a day, the ACJ320neo Family is both dependable and available when customers need it.
Airbus corporate jets are part of the world's most modern aircraft family, which delivers, as standard, features which either cost more, or are unavailable, in competitors. These features include the protection and simplicity of fly-by-wire controls, the benefits of Category 3B autoland and time and cost-saving centralised maintenance on all systems.
Around 200 Airbus corporate jets are in service on every continent, including Antarctica, highlighting their versatility in challenging environments.



DRC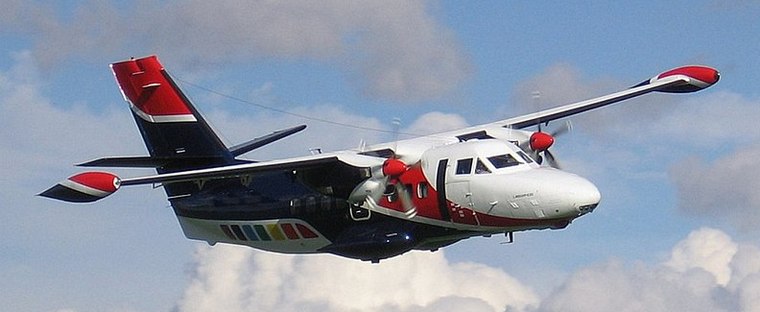 Democratic Republic of the Congo, near Bukavu-Kavumu Airport: A Let 410 operated by Agefreco Air crashed under unknown circumstances about seven minutes before the scheduled arrival time at Bukavu-Kavumu Airport, Democratic Republic of the Congo. The two crew members and two passengers died in the crash. Photo © Stradalova /commons.wikimedia.org (Not the accident aircraft.)

Venezuela, Santa Ana, Bartolomé de Las Casas, Zulia: A Beechcraft B200 King Air was destroyed by Venezuelan law enforcement officers that was detected on an illegal landing strip.
Thailand, Narathiwat Airport: A Fokker F-27 Friendship 200 Maritime Enforcer of the Royal Thai Navy, operated by 1 Wing, 102 Squadron, performed a nose gear-up landing at Narathiwat Airport, Thailand. No injuries reported and the aircraft received minor damage.
USA, Chandler Field Airport: Following a loss of engine power during a take-off attempt, the aircraft clipped a pole and impacted airport terrain at Chandler Field Airport (AXN/KAXN), Alexandria, Minnesota. The airplane was partially consumed by the post-impact fire and the two occupants onboard received minor injuries.

Switzerland, Zurich: A Swiss International Airlines Airbus A321-200 on a flight from Frankfurt/Main (Germany) was intercepting the ILS for Zurich's runway 28 when the crew declared Mayday reporting one of the pilots was incapacitated possibly due to food poisoning. The aircraft continued for a safe landing on runway 28, the aircraft taxied to the gate with emergency services in trail.
New Zealand, Otaki airfield: A Sonex aircraft Sonex, amateur built crashed under unknown circumstances. The pilot died in the crash.
Spain, near Lindoso: A Canadair CL-215-1A10 firefighting airplane operated by Babcock was destroyed when it impacted hilly terrain during a firefighting operation in the Parque Nacional da Peneda-Gerês area on the Portuguese/Spanish border. The accident occurred 1-2 km inside Spanish territory. The Portuguese pilot died in the crash. The Spanish co-pilot sustained serious injuries.

USA, Charlotte: An American Airlines Airbus A321-200 on a flight from Detroit to Charlotte landed uneventfully at Charlotte. However, a post flight inspection revealed however that one slat was missing from the aircraft.
USA, Phoenix Sky Harbour Airport: A woman who struck an American Airlines gate agent after she was denied boarding at Phoenix Sky Harbour International Airport on Wednesday for refusing to wear a mask was detained by law enforcement officers.
USA, near Grand Glaize Airport: A Cirrus SR22T G5 Turbo impacted wooded terrain shortly after take-off from Grand Glaize Airport (K15), Osage Beach, Camden County, Missouri. The airplane was consumed by the ensuing post-crash fire and the two people onboard were fatally injured.




13 AUGUST 1976




The Bell Model 222, the first twin-engined light commercial helicopter, developed in the United States, makes its first flight, powered by the 650 SHP Avco Lycoming LTS 101-650 C. Photo © Wikipedia.


A mock-up of the new helicopter was displayed in January 1974 at a helicopter convention. Following interest at the convention the company announced the new Bell 222.
The Bell 222 incorporated a number of advanced features including dual hydraulic and electrical systems, sponsons housing the retractable landing gear and the Noda Matic vibration reduction system developed for the Bell 214ST.
Manufacturing began in 1975. The Model 222 first flew on August 13, 1976. It received certification from the Federal Aviation Administration (FAA) on 16 August 1979 and was approved for visual flight rules (VFR) use on 20 December 1979. Helicopter deliveries began on 16 January 1980.
The 'chopper gained much fame in the TV series 'Airwolf' during the 80's.