The Horten H.VII flying wing fighter-trainer aircraft designed by the brothers Walter and Reimar Horten and manufactured by Peschke in Germany had its first flight in May 1944.
The H.VII design began as a test-bed for the Schmitt-Argus pulse-jet engine but this project was cancelled and the aircraft's role became that of a trainer. Walter Horten piloted its first flight and took part in many hours of a series of test flights, partly intended to quell concerns about the tailless aircraft's controllability in the case of an asymmetric power loss.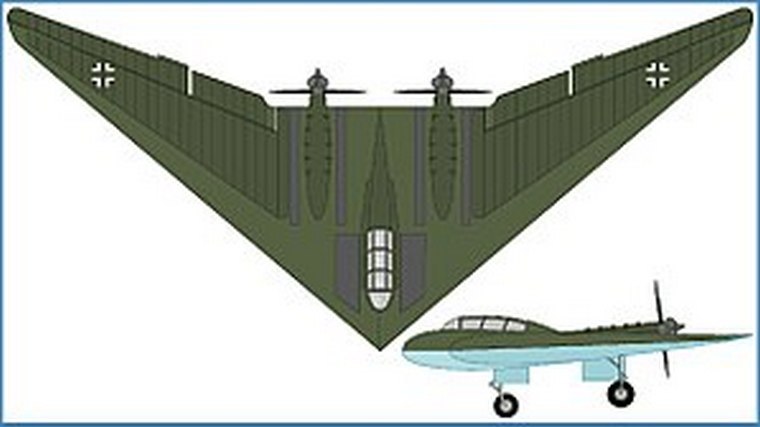 A number of prototypes were built and the H.VII V-3, nearing completion by the time that the allied advance reached the Peschke factory in Minden, would have been the first of twenty-production aircraft. Two H.VIIs were destroyed in the advance and one taken to the USSR.
General characteristics

Crew: 2
Wingspan: 16 m (52 ft 6 in) ; 40į leading edge sweep
Wing area: 44 m2 (470 sq ft)
Aspect ratio: 5.8
Empty weight: 1,550 kg (3,417 lb)
Gross weight: 2,000 kg (4,409 lb)
Powerplant: 2 ◊ Argus As 10C air-cooled, inverted V8 piston engines in angled pusher configuration, 176 kW (236 hp) each
Propellers: 2-bladed Argus, driven via long, cowled drive-shafts above the trailing edge of the inner wing.
Performance

Maximum speed: 350 km/h (220 mph, 190 kn)
Cruise speed: 300 km/h (190 mph, 160 kn)
Never exceed speed: 550 km/h (340 mph, 300 kn)
Service ceiling: 6,500 m (21,300 ft) [3]
Rate of climb: 7 m/s (1,400 ft/min) from sea level[3]
Wing loading: 45.5 kg/m2 (9.3 lb/sq ft)
Power/mass: 5.7 kg/kW (9.4 lb/hp)
Take-off: at 110 km/h (68 mph; 59 kn) after 250 m (820 ft) roll.[3]
PLEASE GO TO
www.youtube.com/channel/UCCuRVZAGodT6sztTeXBGeMw
and subscribe to our YouTube channel