I first saw the Pegasus at Petit Airfield years ago and initially thought that it was just some proud owner who had decided to name his pride and joy after the mythological pure white stallion with wings. However, there was something strange about her that I could not fathom.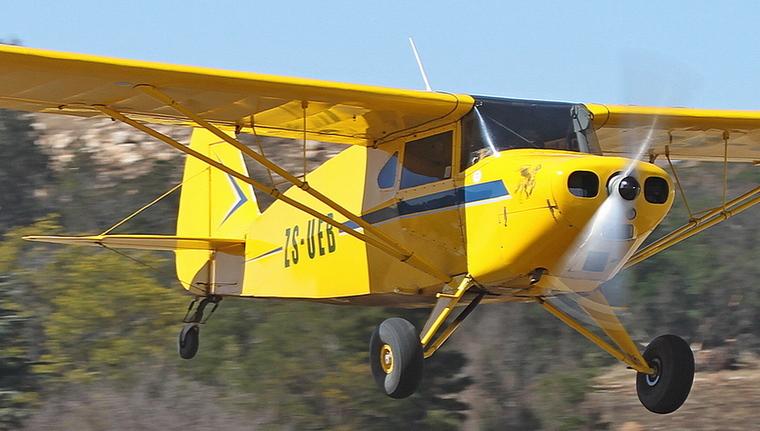 She eventually left Petit without me getting any the wiser until Francois Marias, a friend, phoned me one day and told me that he has bought a share in the Pegasus. "The", because there is only one and as it turned out, she has quite a history.
ZS-UEB originally started life as a ZS-CSD, a Piper Colt. The Colt is the aircraft that is credited with saving Piper. The company was in the doldrums and needed a seller to swell its rapidly emptying coffers. What it lacked was a two-place training aircraft that could be assembled quickly and cheaply to sell to the rapidly growing flight training market.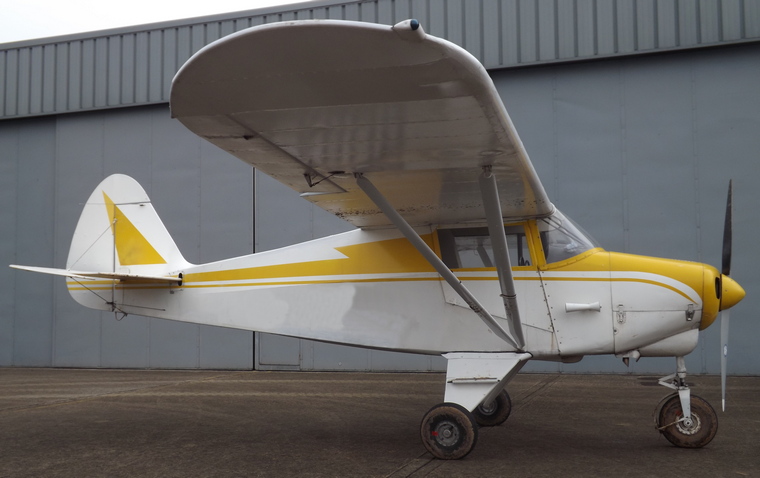 A Piper Colt

One afternoon during a company meeting it is said that Mr. Piper looked up from his state of rest and said, "We're going to make a two-place version of the Tri-Pacer. Tony (Thomas Piper), you have three weeks." That was the end of the discussion. This need created the Colt, a two-place flapless trainer variant of the four-place tricycle-gear PA-22 Tri-Pacer. In addition to deleting the Tri-Pacer's flaps, the Colt was produced without rear windows, the second wing tank and the rear door. Some modern touches, when it was introduced in 1960, were side-by-side instead of tandem seating and a yoke rather than a control stick
Though not as popular as its four-seat stablemate, the Colt nonetheless sold almost 2,000 units. It cost $4,995, just over half as much as the most recent PA-22 when it was launched.
I have not been able to establish when ZS-CSD, one of Piper's Colt whom Pegasus morphed from, found her way into SA. At some stage though she had found her way to Chapter 514 of the Experimental Aircraft Association of SA, where her owner one day wanted to fly but found that her battery was flat.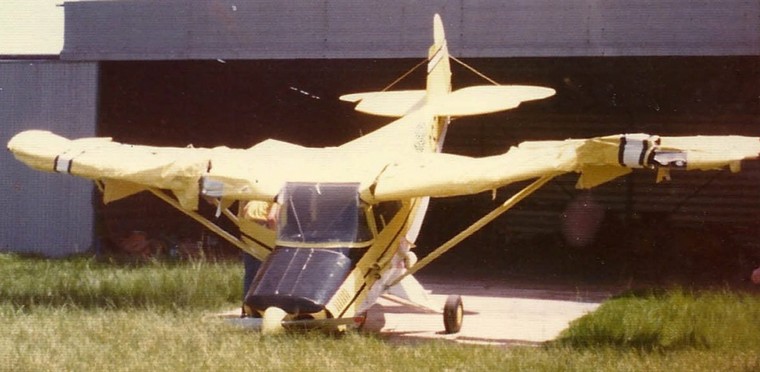 That in itself was no real problem and he decided to swing the prop omitting however, to chock her. Making matters worse was the fact that the throttle was open more than necessary and upon firing up, she got away, careered across the airfield and penetrated the wall of a hangar right between two Cessna 210s.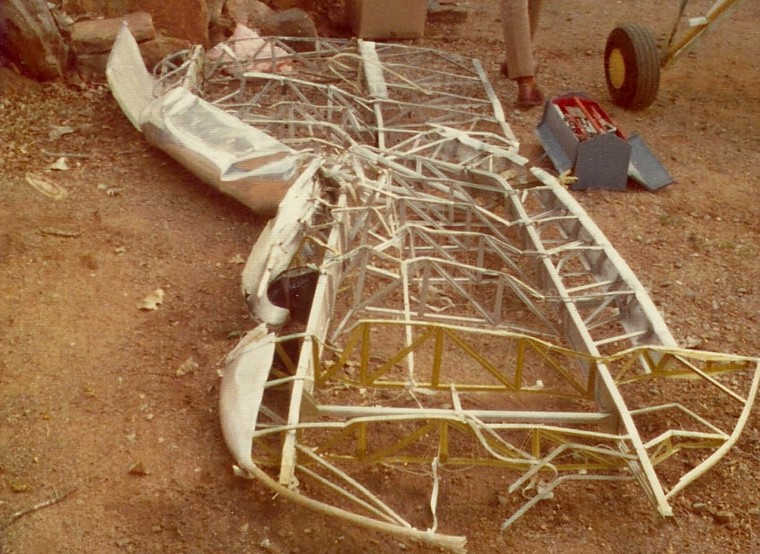 Both wings were completely wrecked, the prop damaged beyond repair while the nosewheel suffered some damage as well. The engine, strangely enough, suffered only minor damage - to the carbs.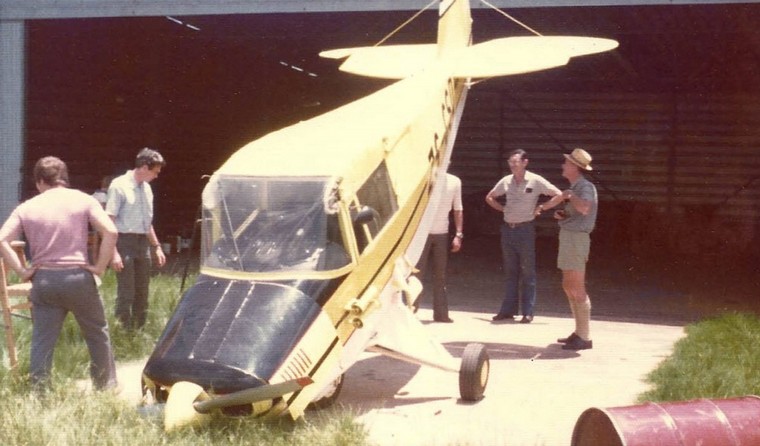 The club members looked her over and having a while ago decided to get a project going, made an offer of R1,000.00. The alternative was seeing her scrapped and in the spirit of the EAA, it was agreed that they were not in the aircraft scrapping business but in the business of salvaging aircraft. The Chapter also felt that investing in the project will provide many hours of pleasure to its members and would also provide the opportunity to members to gain valuable experience in aircraft construction and rebuilding.
Agreeing that the investment made good sense; the engine alone was worth an estimated some R600 and the avionics and other sundry items would add liberally to that. The finance was raised by an interest free loan from ten members who effectively became her owners. It was generally agreed among members that the aircraft would be sold once the project was completed. The final decision was to be agreed upon at a later stage.
The next question was whether to let the aircraft remain in the type certified category or to transfer it to the new non-type certified (experimental) category. This was solved when it was decided to transfer her to the NTC category and she was issued ZS-UEB, her new registration.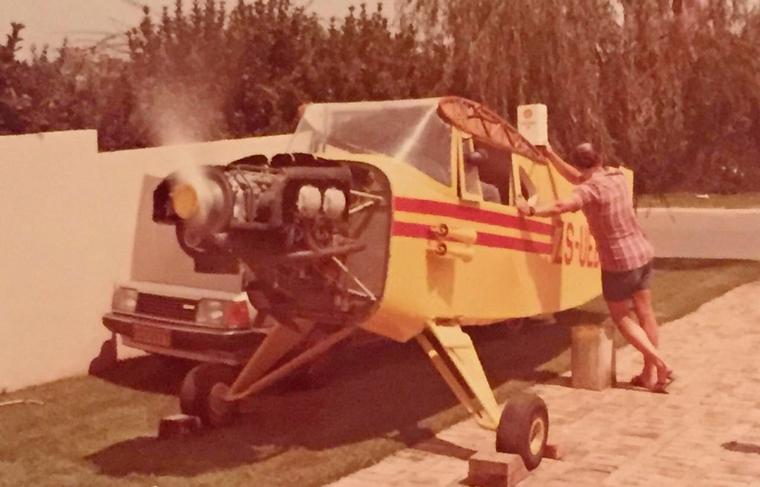 New wings with a longer span, a different aerofoil section and flaps were added. These were designed by Murray Cohoe an aeronautical engineer employed by the CSIR and a Chapter 514 and syndicate member. It was Murray that did the conversion from nosewheel to taildragger and who lengthened the fuselage. The main landing gear was turned around, the little steps that were there are now useful for fuelling and checking the fuel caps during the prefight.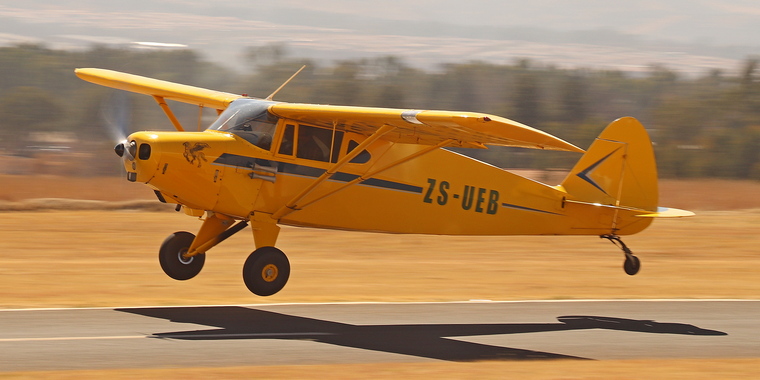 The rebuild was started in 1975 and eventually completed in 1991 when she was moved to Rod Meyer's hangar at Lanseria. The syndicate that had bought her consisted of ten members, although only a few actually flew. During this period, syndicate members were individually approached with an offer to purchase which some accepted. She was then flown to Stellenbosch by the 'new owner.' However, the offer never constituted a firm contract with the syndicate and the contract was not valid. Furthermore, no money had changed hands and some of the members took it upon themselves to 'clandestinely re-possess' the aircraft and she was flown back to Lanseria.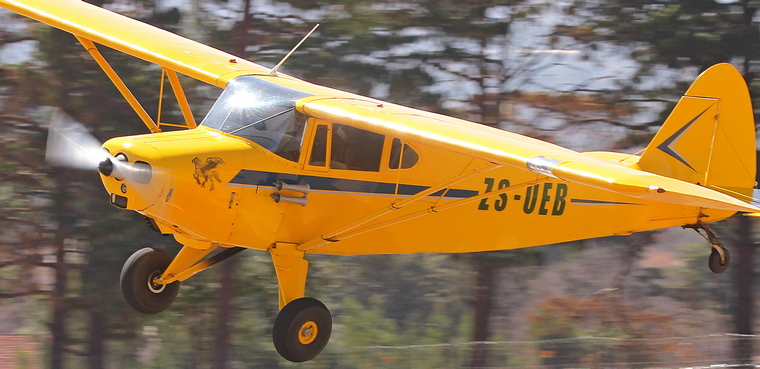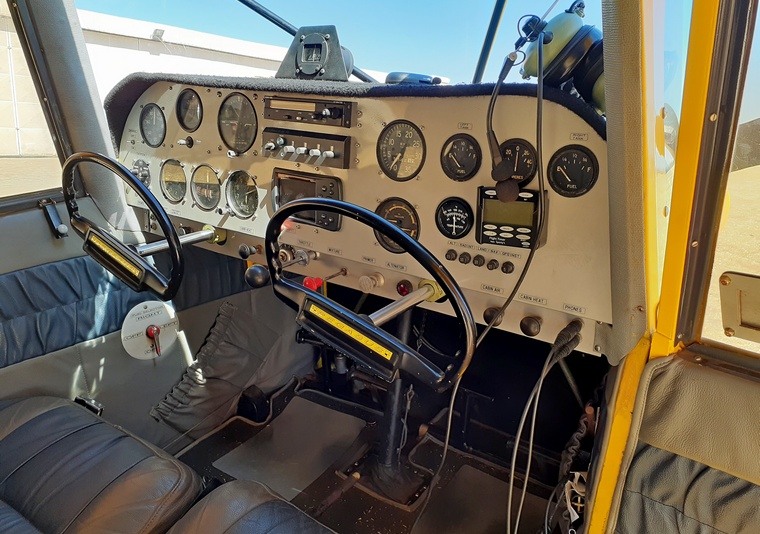 In either 2003 or 2004 five members left and their shares were taken over by Theo Arenbrecht, Trevor Warner, Mark Dethian, Simon Cowie and Doug Elliot-Wilson. In 1996 she was flown to Fly-In Estate on the East Rand where she was based for the next eight years before relocating to Petit Airfield in August 2004.
Whilst she was based at Petit, Trevor Warner acquired a share in her which he later sold to Andrew Evans.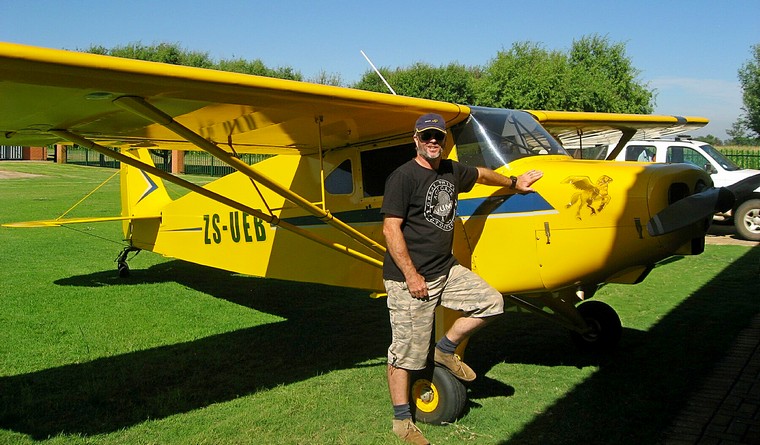 "After semi returning to a commuting life in Benoni and the closest airfield being Petit where I did some flying in the mid 90's, I desperately wanted to get back into GA, particularly by means of a taildragger. Sole ownership was not a reality and renting someone's Maule/Pacer would be impossible, not having any tailwheel time myself. I was steered towards the Pegasus Cohoe MK 1, X027 by long time stalwart and Petit local Ray Fowkes, also an AP and an avid builder extraordinaire that was involved in working on her."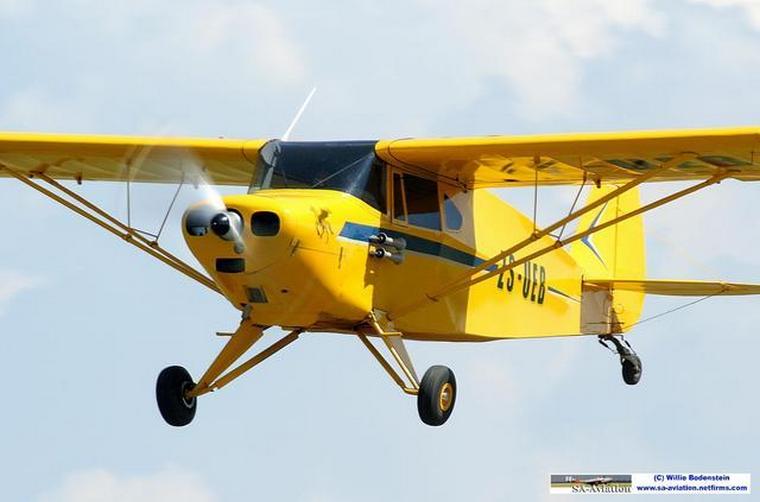 "Luckily for me, a one fifth share became available in 2009 at the cost of a new Hartzell propeller for Trevor Warner's RV7 which he was building. The share included the plane and hangar and was to become my best bang for buck in aviation as the monthly costs were absolutely minimum at around R500 per hour including the shell VPower 95 that we used. 4.7 hrs of dual instruction later and I was released on my first tailwheel plane that was followed by 150 of happy uneventful hours. Little "Peggy" flew straight as an arrow and trimmed out perfectly in all attitudes with a block speed of 95kts with no vices and an absolute gem to fly."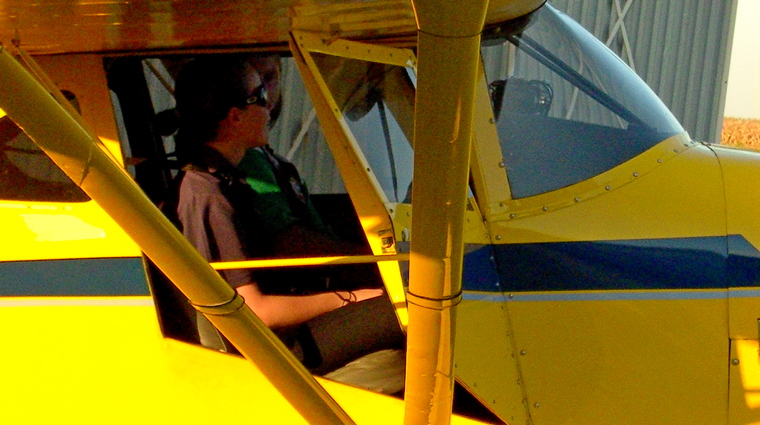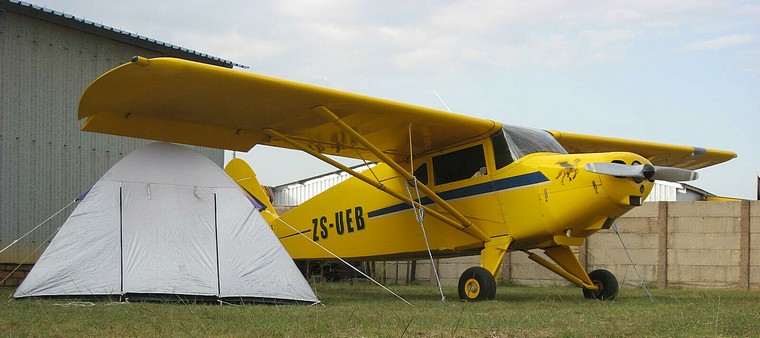 "Mostly it would be my wife or one of my daughters that would go flying with me and we did a number of flyaway air-shows and often camped over, even in Bethlehem where the overnight temps were around +1deg C."
"In 2013, four years and 150hrs later, I sold my much-loved share in Peggy for what I paid for her as I now owned an RV8 and a Pacer that Peggy had well prepared me for." Andrew fondly recalls."
In 2016 she was moved to Tedderfield where she currently resides. More of the original syndicate members sold their shares and she now belongs to Theo Arenbrecht, Ian Beaton, Tallies Taljaard, Francois Marais and Werner Schoeman, the members of a new syndicate.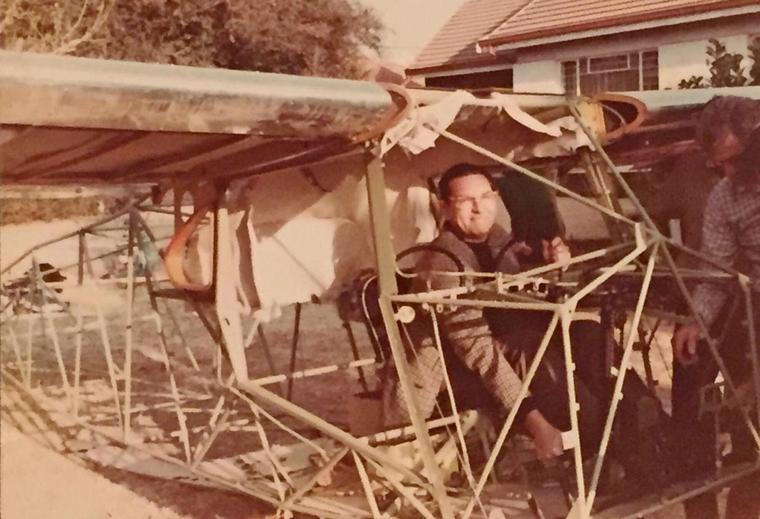 Theo is the only remaining original member, having joined the original syndicate in 1975 when Pegasus was just a bare metal frame standing in a garden in Northcliff, Johannesburg. His membership cost him R130.00. Apart from flips in her with other syndicate members when she was completed in 1994, it was to be ten years before he at last flew her himself.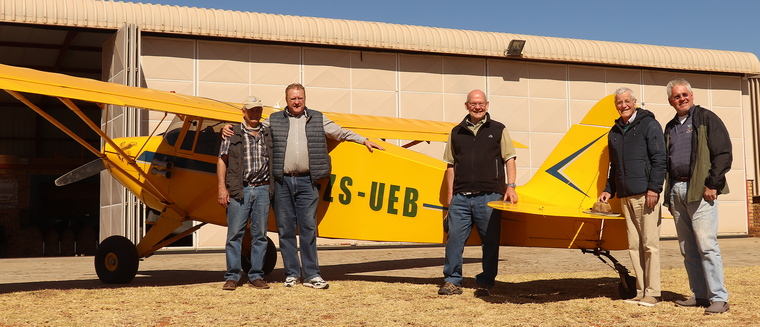 From left to right; Werner Schoeman, Francois Marais, Theo Arenbrecht, Jac van Niekerk and Dale de Klerk.

Some of the new syndicate members are currently busy with their tailwheel conversions under the watchful eye of Alpi Aviation's Dale de Klerk. Judging by the enthusiasm of the new syndicate members, Pegasus, who next year will celebrate her 30th birthday, is in good hands.

Although Chapter 514 does not exist anymore, the fact that Pegasus will for many more years grace our skies will forever be the legacy of the Chapter and its members who had the foresight, determination and love for aviation that saved her from the scrapyard and created something unique.
PLEASE GO TO
www.youtube.com/channel/UCCuRVZAGodT6sztTeXBGeMw
and subscribe to our YouTube channel