The concept of the V-173 or Flying Pancake was originally developed as a private venture in the 1930s, by Charles H. Zimmerman, a noted aeronautical engineer. Zimmerman, was approached by the US Navy (USN) that offered to fund further development as part of the USN's fighter aircraft program during World War II.
Both the V-173 and the XF5U into which it developed, featured an unorthodox "all-wing" design consisting of flat, somewhat disk-shaped bodies serving as the lifting surface. Two piston engines buried in the body drove contrarotating propellers located on the leading edge at the wingtips.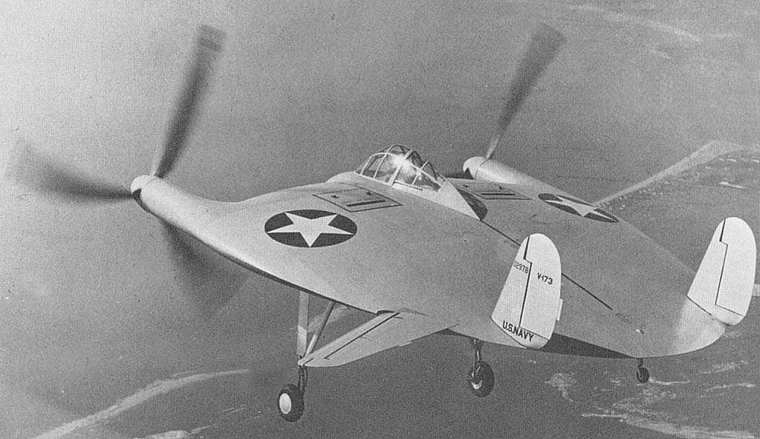 V-173 had her first flight on 23 November 1942, unacceptable amounts of vibration in ground testing delayed the aircraft's first test flight for months. Charles Lindbergh piloted the V-173 during this time and found it surprisingly easy to handle and exhibiting impressive low-speed capabilities.
Between 1942 and 1943, a total of 190 flights were flown. On 31 March 1947 V-173 made her last flight. Zimmerman's theory of a near-vertical takeoff- and landing-capable fighter had been proven. However, production orders were not forthcoming and the only prototype built is on display at the Frontiers of Flight Museum in Dallas, Texas.
Specifications (V-173)
General characteristics

Crew: One, pilot
Length: 26 ft 8 in (8.128 m)
Wingspan: 23 ft 4 in (7.1 m)
Height: 14 ft 9 in (4.51 m)
Wing area: 427 ft2 (44.2 m2)
Loaded weight: 2,258 lb (1,024 kg)
Powerplant: 2 ◊ Continental A-80 horizontally opposed, four-cylinder engines, 80 hp (60 kW each) each
Performance

Maximum speed: 138 mph (222 km/h)
Rate of climb: to 5,000 ft in 7 min (1,100 m in 5 min)
PLEASE GO TO
www.youtube.com/channel/UCCuRVZAGodT6sztTeXBGeMw
and subscribe to our YouTube channel