Compiled by Willie Bodenstein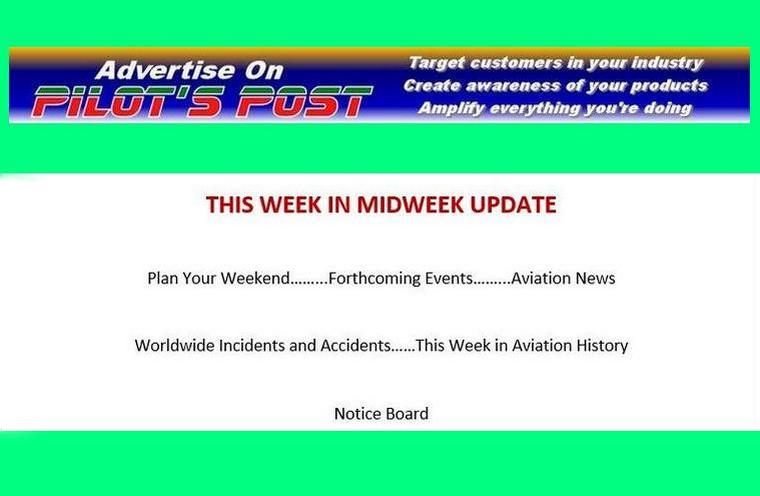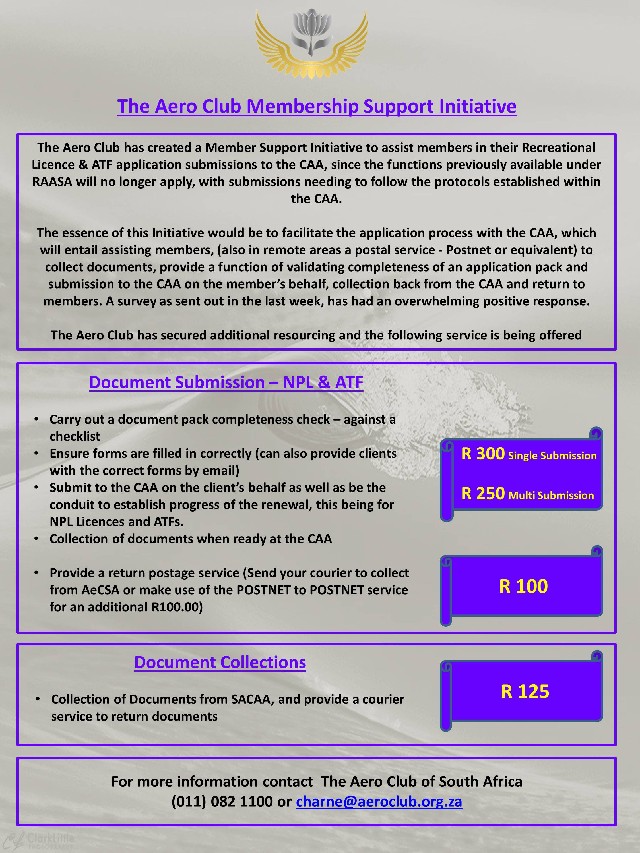 COVID 19 REGULATIONS, INITIATIVES AND AEROCLUB NEWS

AERO CLUB CENTENARY YEARBOOK PRE-ORDER FORM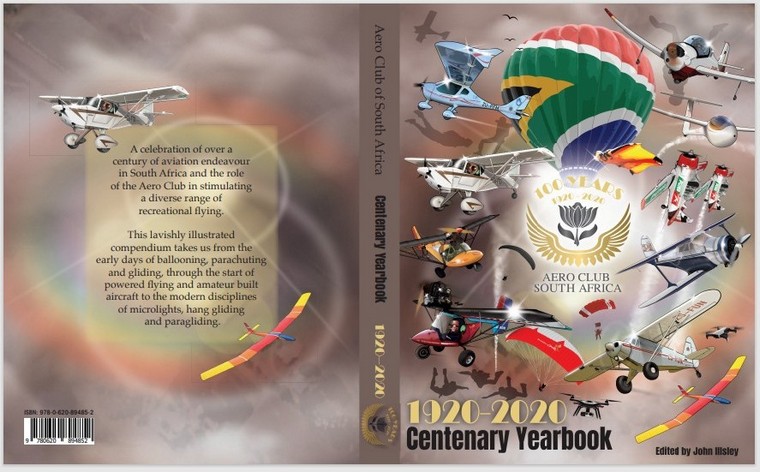 The Aero Club of SA is taking pre-orders for the Centenary Yearbook, to assess the demand for a print run. It will be in the form of a hard & soft cover version as well as a limited-edition leather-bound book on request. Details of the book are available on the Aero Club Website.

Indicative Pricing: - Hard Cover Book - R 400 - Soft Cover Book - R 300 - Leather Bound Book - Add +/- R 200 for Novalite & R 500 for Leather. Delivery Options are collect at the Rand Airport Aero Club office, or door to door courier service anywhere in SA. Courier costs will range between R 100 to R 130 per book dependent on location. Volume purchases are also available should this be required. Once you have registered for a pre-order, and our print run is complete, the Aero Club will send an invoice for payment, which once received will have the book dispatched.

To get your pre-order secured, please go to this link. Centenary Yearbook Order Form

https://docs.google.com/forms/d/e/1FAIpQLSfPs1vbZM4-Qcn5LZrK3dkWaoYj7PBtLXmaNM3TP9tUm4vsSA/viewform

If you are not a member and wish to join the Aero Club and any of its sections, feel free to do so http://www.aeroclub.org.za/member-renewals-and-new-memberships/






The following events will to take place under the rules controlling the number of people congregating together and are therefore not open to the general public.





26 SEPTEMBER
Groblersdal fly-in lots happening and allwelcome
Contact Frik Roux Cell: 083 229 7601 E-mail: frik@airlif.co.za

Pilots can fly in from 07h00 on the morning. All COVID-19 protocols currently lawful, will be applicable. We will have coffee ready, whilst food and drinks will also be available. We unfortunately do not have card facilities available for landing fees or food, so we will gladly take hard earned cash or transfers. We will also have between 2000L and 3000L Avgas available in case anyone needs to refuel to get home. The runway is 05 / 23 with a left-hand circuit on both runways asphalt and approximately 800m long. Our frequency is 122.4 and the airfield elevation is 3000 feet. Please make contact five miles out. We are also looking at a 'behind the scenes' judging of the cleanest plane, the plane that travelled the furthest to us and a lady's choice. The pilots of those planes may just walk away with a small token of our gratitude for attending.





30 SEPTEMBER, WEDNESDAY, 18H00
AERO South Africa is proud to be part of the second installment in the series of Safety First Aviator Webinars with the theme 'PROP CLEAR'

Theme: Safety First Aviator

The 2020/2021 theme of "Prop Clear", ensuring that engines are ready for take off, following the Covid-19 Lockdown. The underlying theme for the campaign is "Resilience", focused on how we will adapt to the change and the "new normal" to ensure flight safety in preventing accidents.

Join Cobus as he digs deeper into accident prevention through resilience, Santjie will discuss Search and Rescue tips for getting back safely in the air, and Lauren will assist in using the South African Weather Service website to ensure safe flying times." Cindy will share details on the topics covered in the MayDay SA "Caring During Covid" campaign and will inform aviators the process to follow in order to contact them for support.

Speakers:
• Cobus Toerien - ALPA SA
• Santjie White - SASAR
• Lauren Smith - SA Weather Services
• Cindy Bessel - MayDay SA
• Franz Smit - Pilot Insure (Moderator) •





7 OCTOBER
Dear Fellow EAAer's,

We look forward to "seeing you" at our next gathering on 7th October 2020.
Thanks to everyone that joined us for our 322 gathering last week. For those that were unable to join us and would like to view the recording, this is available on our EAA of SA Youtube Channel or through this link https://youtu.be/9LJMF_uWGRw

Please don't forget to send in your contributions for our CONTACT! newsletter.
Neil Bowden
Chairman EAA Chapter 322
Johannesburg
South Africa
EAA # 565560
www.eaa.org.za



29 SEPTEMBER TO 4 OCTOBER
SAC National Championships Tempe Airport, Bloemfontein
Contact Annie Boon E-mail: chunge@mweb.co.za




17 OCTOBER 2020
Sling Aircraft Breakfast Fly-In

Good day Slingers.

With Level 2's easing of lockdown restrictions, we are thrilled to announce the first Sling Aircraft breakfast fly-in of 2020 is finally upon us! Saturday, 17 October from 07h00 to 11h30, our breakfast fly-in will be held at our premises, Tedderfield Airpark, 23 Nettleton Road, Eikenhof (FATA).


At just R100 per person paid on arrival, bring your mask, bring your buddy, relish in a scrumptious breakfast, shop Sling branded merch from our Sling Store, enjoy a factory tour and possibly even a sneak peek at our all-new Sling High Wing! In addition, a spot landing competition will be held on arrival between 07h00 and 08h00. Tea and coffee will be served from 08h00 and breakfast will be served between 09h00 and 11h00.


Spots are of course are limited due to Covid-19 regulations so, if you would like to experience the Sling lifestyle for yourself, RSVP by Wednesday, 14 October in order to avoid disappointment. Fly, drive, walk or bike, you will not be disappointed.

See you there, Slingers!

THE INTINERARY IS AS FOLLOWS:
• 07h00 to 08h00 - Spot landing competition.
• 08h00 - Tea & Coffee is served.
• 09h00 - Breakfast is served.
• 09h30 - Factory tours will commence.
• 10h00 - Prize giving for the spot landing competition.

https://docs.google.com/forms/d/e/1FAIpQLSff8jv7G5S4LWTxO1ZZSguNTB4vL0gmrUbvHNSVSODE6-n-fg/viewform




24 AND 25 OCTOBER
SAC North West Regionals at Klerksdorp airfield
Contact Annie Boon E-mail: chunge@mweb.co.za



SAAF MUSEUM TO REOPEN 1 OCTOBER





As of Thursday 1 October, the SA Air Force (SAAF) Museum at AFB Swartkop will open its doors to the public after a six-month enforced closure thanks to government's national state of disaster. Photo © Willie Bodenstein.


The museum will be open from Monday to Thursday between 08h30 and 14h00. A strict no mask-no entry, hand sanitising and social distancing policy will be enforced. Until further notice entrance will be restricted to individuals. No organised group or school visits will be allowed.
If the "phased plan" is executed, 3 October should see vintage air force platforms including Alouette II and III, Puma, Bosbok, Kudu and Harvard aircraft take to the air.
General enquiries should be made to Major Ntshangase on 012 351 2289.



ELIXER, CERTIFIED IN RECORD TIME




On March 20, 2020 the Elixir in its 100hp VFR version received its type certificate in the queen of all categories: CS-23, under the most recent amendment (5), which reflects the highest level of safety possible today.

Although it is hard to rejoice when our entire planet is fighting an invisible enemy, we should look back to fully appreciate how far we have come since our first certification meeting with the team of European agency in charge of the certification (EASA) on 24 January 2017, only 3 years ago.
The Elixir, to our knowledge, is the only modern light aircraft in the world designed from a blank sheet of paper to have obtained its certification following the latest amendment of the most rigorous category: CS-23, and doing this with safety objectives regularly exceeding the certification objectives!
The Elixir is also the only aircraft on the market to bring together so many innovations, equipment and performance!
Work on the future Elixir Aircraft plant at La Rochelle airport began in December 2019. The delivery of these 2,300m˛ dedicated to the production and assembly of the Elixir was initially scheduled for the end of May 2020.
We are now entering a new phase of the adventure: production and delivery. For the past 10 days, we have been contacting our customers one by one in order to announce the news personally, before broadcasting it out to the public, as well as presenting the provisional flight program. Indeed, as soon as it is possible, each one of our future customers will be invited to spend a day at Elixir Aircraft.



GAMA PUBLISHES SECOND QUARTER 2020 AIRCRAFT SHIPMENTS AND BILLINGS REPORT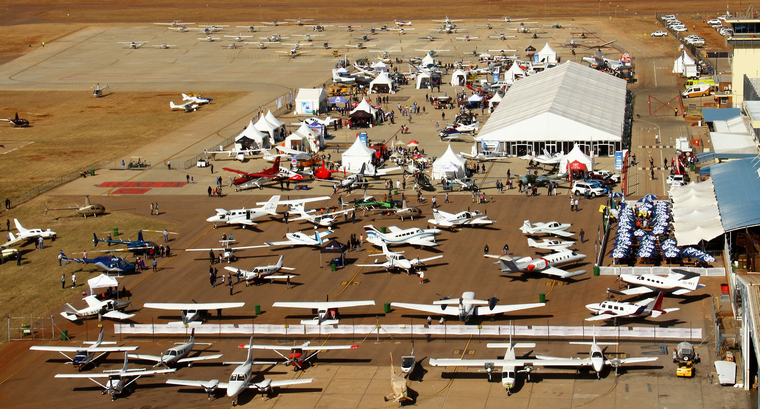 The General Aviation Manufacturers Association (GAMA) released its report of general aviation aircraft shipments and billings through the second quarter of 2020 (June 30). Piston, turboprop, business jet and helicopter deliveries declined across all segments during the first six months of 2020 as compared to the same period of 2019. Photo © Aero SA.


"It should come as no surprise to anyone that the COVID-19 pandemic severely impacted the general aviation industry and its global operations in the second quarter. During those months, while the global aerospace supply chain was significantly degraded and national, state and local pandemic restrictions changed routinely on both sides of the Atlantic, many companies supplemented their activities to support the health care response with the manufacture and distribution of personal protective equipment. With facilities conducting operations in a 'new normal' work environment, what has been very encouraging is that the supply chain has begun to stabilize and robust screening procedures and innovative work station COVID-19 mitigation protocols have resulted in very few virus transmission incidents," said GAMA President and CEO Pete Bunce. "While continued mandated and voluntary restrictions on international business travel are producing stiff headwinds, flight activity for business aviation has appeared to return to around 85 percent of pre-pandemic levels in U.S. domestic airspace, while piston, turboprop and rotorcraft flight activity has actually increased. Many travellers have also opted to explore the utility of general and business aviation for the first time, which we hope will translate into future customers for the incredible and versatile products and services our industry has to offer."
Aircraft shipments through the first six months of 2020, when compared to the same period in 2019, saw piston airplane deliveries decline 13.3%, with 497 units; turboprop airplane deliveries decline 34.2%, with 152 units; and business jet deliveries decline 26.7%, with 244 units. The value of airplane deliveries through the second quarter of 2020 was $7.9 billion, a decline of approximately 20.2%.
Turbine helicopter deliveries for the first six months of 2020, when compared to the same period in 2019, saw a decline of 37.1%, with 188 units; and piston helicopter deliveries saw a decline of 45.2%, with 63 units.
First Half Aircraft Shipments and Billings

Aircraft Type 2019 2020 Change
Piston Airplanes 573 497 -13.3%
Turboprops 231 152 -34.2%
Business Jets 333 244 -26.7%
Total Airplanes 1,137 893 -21.5%
Total Airplane Billing $9.9B $7.9B -20.2%
Piston Helicopters 115 63 -45.2%
Turbine Helicopters 299 188 -37.1%
Total Helicopters 414 251 -39.4%
Total Helicopter Billing $1.5B $0.97B -35.5%
GAMA's complete 2020 second quarter report can be found at gama.aero.



OTTO AVIATION UNVEILS SIX PASSENGER PUSHER-PROP BUSINESS AIRCRAFT



Otto Aviation this week unveiled the Celera 500L, a six-passenger pusher-prop business aircraft powered by a single 500-hp Red A03 diesel engine. To date, the company's full-scale prototype has completed 31 test flights. Otto said FAA certification is expected in 2023, with service entry to follow in 2025.


Otto Aviation is pleased to officially introduce the Celera 500L, the most fuel-efficient commercially viable passenger aircraft in the world. The full-scale prototype has completed 31 successful test flights that validate its operating performance goals. Otto Aviation currently holds seven patents, further contributing to the credibility and potential of the aircraft.
The aircraft has a maximum cruise speed of 450 miles per hour, a range of over 4,500 miles, a large stand-up cabin and an astounding fuel economy of only 18 to 25 miles per gallon. The dramatic reduction in fuel consumption makes the Celera 500L the most environmentally friendly airplane in its class and presents a major leap forward in the effort to develop a zero-emission air transportation system.
The Celera 500L utilizes extensive laminar flow over the fuselage, wings and tail surfaces to reduce drag and achieve superior aerodynamics, speed and fuel efficiency. The manufacturing detail delivers cruise efficiencies unmatched by conventional aircraft while offering a clean-sheet design that will completely alter the way people and parcels travel.
"Innovation at its core is solving a problem without conventional bias. Our goal was to create a private aircraft that would allow for direct flights between any city pair in the U.S. at speeds and cost comparable to commercial air travel," said William Otto Sr., Chairman and Chief Scientist of Otto Aviation. "In many cases, individuals and families will be able to charter the Celera 500L at prices comparable to commercial airfares, but with the added convenience of private aviation.

SH09 BACK HOME AFTER SUCCESSFULLY COMPLETING FLIGHT TESTING IN POZZALLO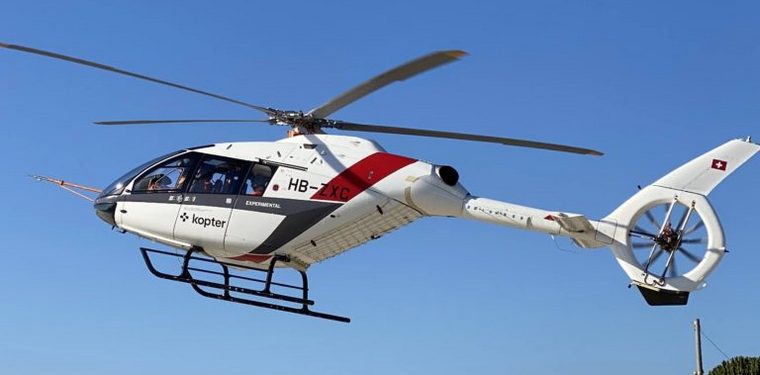 Since the resumption of the test flight activities in June in Pozzallo, Sicily, Kopter's third prototype (P3) has completed 40 flights, allowing testing of multiple aerodynamic modifications and configurations. The current configuration fitted on P3 has seen a significant improvement in smoothness and stability. Photo © Kopter

According to Kopter, this most recent block of flight tests has been the most productive in terms of the number of modifications assessed and the general improvements realized.
Recent upgrades include an engine cowling extension for improved aerodynamics, a variable asymmetric tail plane at the best available incidence, the removal of the end plates and a larger upper vertical fin improving stability.
"P3 returns to Mollis a very different aircraft. The changes that have been implemented this year have made a real improvement to the handling of the aircraft. Now we are able to further expand the envelope and start to realize the aircraft's true potential," said Richard Grant, Kopter chief test pilot.
This most recent block of flight tests has been the most productive in terms of the number of modifications assessed and the general improvements realized. Early analysis and observations confirm the validity of the new design concepts. This achievement is a result of the work of all teams involved, utilizing the analysis and feedback from all the previous flight test blocks of P3. The SH09 is closer to reaching the planned overall performance and capabilities as development moves ahead.
For the next chapter in the SH09 evolution, P3 is back to Kopter's facility in Mollis; the upcoming upgrades requires strong support from the engineering and operations teams.
On return to Mollis, the test priorities are to explore the capabilities of the new tail rotor and the recent aerodynamic modifications throughout the low speed envelope. The company will then proceed with the upgrade to Garmin avionics and then of the final main rotor head and flight controls.
Kopter said it be happy to share images of its P3 flying in its "home" environment as well as first results of this new flight test phase in the coming weeks.

MONTENEGRO AIR FORCE'S FIRST BELL 505



Bell Textron Inc., a Textron Inc. (NYSE: TXT) company, announced today that the Montenegro Air Force accepted its first Bell 505. The technical acceptance occurred in July at Bell Prague.

The delivery happened today in Montenegro and was accepted by Montenegro Air Force's Minister of Defence, Predrag Boškovic. The second aircraft is expected to be delivered January 2021.
These new aircraft will be used to train the Montenegrin military in the area. Bell provided training for three pilots with HeliDeal, a Certified Training Facility for 505 pilot training located in Southern France.
The Bell 505 continues to have major success within Europe and other parts of the world. The aircraft includes a high-tech flight deck and adaptable cabin design making it extremely cost-competitive and capable for any challenge. With the latest integrated Garmin avionics suite and FADEC-controlled engine, the aircraft provides increased situational awareness and safety, allowing pilots to focus on training and reducing pilot workload. Additionally, the high inertia rotor system enables students to gain confidence in learning auto rotations.
With a speed of 125 knots (232 km/h) and useful load of 1,500 pounds (680 kg), the Bell 505 is designed to be safe and easy to fly while providing significant value to the operator. The customer-driven design of the aircraft places safety, performance and affordability at the forefront, blending proven systems with advanced technology and a sleek, modern design.
The Bell 505s were manufactured by Bell Textron Canada at its facility in Mirabel, Quebec. The sale was facilitated by the Canadian Commercial Corporation (CCC) through a government-to-government contract. CCC supports the growth of international trade by helping Canadian exporters gain access to foreign government procurement opportunities, worldwide.

HTM-HELICOPTERS TO BECOME THE FIRST OPERATOR TO USE THE NEW H145 FOR OFFSHORE WIND OPERATIONS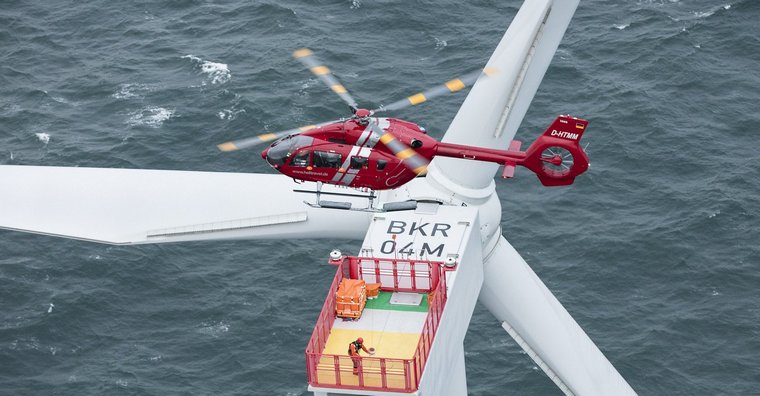 Airbus Helicopters and HTM-Helicopters have signed a contract for the purchase of two additional H145 helicopters. HTM will be the first operator to use the new five-bladed H145 in the Offshore Wind segment. Photo © HTM Helicopters

The delivery of the first helicopter, a four-bladed H145, is scheduled for the fourth quarter this year, while the second aircraft, a five-bladed H145 will be delivered mid next year. The four-bladed H145 will also later be upgraded with the new five-bladed rotor system by HTM's maintenance organization.
The two new aircraft will be operated from HTM's bases at Norden-Norddeich, Emden, Borkum and Helgoland. For their missions, which include passenger transport to and from wind farms and hoisting technicians to the wind-turbines, the two helicopters will be equipped with a powerful hoist, floatation equipment and a cargo hook.
Powered by two Safran Arriel 2E engines, the H145 is equipped with full authority digital engine control (FADEC) and the Helionix digital avionics suite. It includes a high performance 4-axis autopilot, increasing safety and reducing pilot workload. Its particularly low acoustic footprint makes the H145 the quietest helicopter in its class.
The new upgrade of the H145 boasts several new features that will allow customers to enhance their operations: The innovative five-blade bearingless rotor increases the useful load by 150 kg, further enhancing the mission capabilities of the aircraft. This new rotor also improves crew and passenger comfort. Other advantages include a smaller D-value, allowing the H145 to operate in more confined areas, simplified maintenance and an increased availability rate.
HTM Helicopters is one of the largest helicopter companies in Germany and employs around 150 people. Since April 2020, it has been fully owned by HERISTO Aktiengesellschaft. The core business of the HTM Group is the provisioning of helicopters for civil and military customers, offshore operations, emergency medical services, commercial air transport, flight training and aerial work which includes external load operations in mountainous terrain. The Intercopter GmbH is part of the HTM Group and a Part-145 approved maintenance organization.

BOEING AUSTRALIA 'FIRES UP' ENGINE ON FIRST LOYAL WINGMAN AIRCRAFT





Boeing Australia powered up the commercial turbofan engine on the first Loyal Wingman aircraft in September, as part of ground testing and preparations for first flight.

This milestone comes on the heels of Boeing completing the first unmanned Loyal Wingman aircraft for the Royal Australian Air Force earlier this year, a major step forward for the unmanned vehicle serving as the foundation for the global Boeing Airpower Teaming System, an artificial intelligence-powered teaming aircraft developed for the global defence market.
"This engine run gets us closer toward flying the first aircraft later this year and was successful thanks to the collaboration and dedication of our team," said Dr. Shane Arnott, program director of the Boeing Airpower Teaming System. "We've been able to select a very light, off-the-shelf jet engine for the unmanned system as a result of the advanced manufacturing technologies applied to the aircraft."

BE THE FIRST TO FLY WITH AN ELECTRIC AIR TAXI, VOLOCOPTER OFFERS RESERVATIONS FOR COMMERCIAL FLIGHTS



At Greentech Festival in Berlin today, Volocopter, the pioneer of Urban Air Mobility (UAM), announced that the world's first public sale for electrical air taxi flight reservations has started. Effective immediately, Volocopter fans world-wide can reserve their tickets online and be among the very first to take this new form of mobility. The VoloFirst costs €300 and can be reserved with a 10% deposit. There are only 1000 presale reservations available for a limited time.

The announcement follows Volocopter's successful demonstration flights in Stuttgart, at Helsinki's international airport and over Singapore's Marina Bay. "Based on our public test flights and regulatory achievement record, we have paved the way to make electric flight in cities common in just a few years. With the start of reservations, we now invite our supporters and innovators around the world to join us and be among the first to experience this new and exciting form of mobility," said Volocopter CEO Florian Reuter. The reservations for the first VoloCity flights are available world-wide on the Volocopter Reservation Platform.
"While the final certification for air taxis is still pending, we do have a detailed realistic timeline to launch commercial VoloCity flights in the next 2-3 years. Moreover, those who reserve now can receive the latest updates about our progress and the commercial launch plan," said Volocopter's Chief Commercial Officer Christian Bauer.
Volocopter first made aviation history in 2011 with its "Yoga-Ball" flight. Since then, Volocopter showed its technological leadership in several piloted and unpiloted flights across the world. It is the only eVTOL focused aerospace company to receive Design Organization Approval (DOA) from the European Aviation Safety Agency. Volocopter continues to work closely with cities and partners around the world to bring together all expertise necessary to make battery powered air taxis a reality: regulatory, cities, infrastructure developers, and flight traffic management providers amongst others.
For now, Volocopter is ready to gain market traction, offer the public their future services with a realistic timeline, and become the first electric air taxi company to acquire paying end-customers. A VoloCity model will be on display at the Greentech Festival, which is the platform for green innovators who contribute to quickly making technological, economic, and social change towards sustainability a reality.

BOEING, HONEYWELL AND ROLLS-ROYCE DEUTSCHLAND PARTNER TO SERVICE H-47 CHINOOK ENGINES



Boeing [NYSE: BA], Honeywell Aerospace and Rolls-Royce Deutschland Ltd. have reached an agreement to provide in-service support of the T-55 engine should the government of Germany select the H-47 Chinook for its Schwerer Transporthubschrauber (STH) heavy-lift helicopter requirement.

Since the forming of the Chinook Germany Industry Team in 2018, originally comprised of nine German companies, Boeing continues to build a strong industry team to provide the Luftwaffe with local long-term services support, maintenance and training of the Chinook over the next several decades. In addition, Boeing's industrial plan will foster German economic growth while creating highly skilled jobs in country.
Under the agreement, Honeywell will license Rolls-Royce Deutschland as its partner in Germany to perform depot-level maintenance of the Chinook T-55 engine operated by the Luftwaffe.
"Through an evolution of increasing engine power and performance growth derivatives, Honeywell's T-55 engine has supported the Chinook helicopter for nearly 60 years," said Oliver Stucky, vice president and general manager of Honeywell Aerospace Engineering. "During this time, Honeywell has produced more than 6,000 T-55 engines, which have logged about 12 million hours of operation. Our partnership with Boeing and Rolls-Royce Deutschland will provide the Luftwaffe with access to a world-class maintenance and repair and overhaul facility for the T-55 in Germany. The in-country location will also ensure fast and flexible reactions to cater to the demanding needs of the Luftwaffe."
The H-47 Chinook is the most advanced transport rotorcraft in the United States Army inventory. With a proven track record of performance and versatility unmatched by any other heavy-lift aircraft, the Chinook provides Germany with the most modern, affordable solution ready to operate today. As chosen by NATO nations Canada, Greece, Italy, Spain, Turkey, the Netherlands, the United Kingdom and the United States, the Chinook gives Germany interoperability that other helicopters cannot while meeting a wide range of mission needs.
Boeing has an established and growing presence in Germany. The company is a strong contributor to the German economy with more than 1,000 employees at 11 sites from Hamburg to Munich and sustains thousands of additional jobs through its supply chain and other activities. Boeing and its supply-chain partners spend almost $1.2 billion a year with its established network of suppliers located across Germany. Germany is a key market for Boeing to invest in research and technology partnerships. Boeing has established two research sites in Germany, the Research & Technology Office in Munich and the Digital Solutions & Analytics Lab in Frankfurt and invests in a growing portfolio of research and technology projects with German industry, universities and research organizations.
Boeing is the world's largest aerospace company and leading provider of commercial airplanes, defence, space and security systems and global services. As a top U.S. exporter, the company supports commercial and government customers in more than 150 countries. Boeing employs more than 160,000 people worldwide and leverages the talents of a global supplier base. Building on a legacy of aerospace leadership, Boeing continues to lead in technology and innovation, deliver for its customers and invest in its people and future growth.



WORLDWIDE INCIDENTS AND ACCIDENTS

USA




An American Airlines Airbus A320-200, registration N111US performing flight AA-2441 from Charlotte, NC to San Antonio, TX (USA) with 75 people on board, was on approach to San Antonio's runway 13R when the crew declared Mayday reporting the failure of the left hand engine (CFM56) and requested to make a left turn and was cleared to continue the left hand turn. The crew shut the engine down, flew a left-hand orbit and continued for a safe landing on runway 13R with emergency services on standby. The aircraft taxied to the apron with emergency services in trail. On Sep 14th 2020 the FAA reported the aircraft landed with a left engine fire. The occurrence aircraft is still on the ground in San Antonio about 37 hours after landing. Photo © Airbus.


Germany, Borkum Airfield: A Cessna T210N Turbo Centurion II with only the pilot on board crashed on the runway during a landing attempt at Borkum Airfield (BMK/EDWR) and was completely destroyed by fire. The pilot sustained serious burn injuries and was airlifted to hospital.
Pakistan, Pindigheb, Attock: Pakistan Air Force CAC/PAC JF-17 Thunderjet crashes during routine training flight. Pilot ejected safely.
Philippine, Barangay Upper Manggas, Lantawan: A Philippine Air Force 505th Search and Rescue Group Sikorsky AUH-76 (S-76) helicopter with four on board crashed in bad weather conditions. The occupants were fatally injured.
India, Delhi: An Indigo Airbus A321-200N on a flight from Chennai to Delhi landed on Delhi but suffered a hard landing in excess of +2.7G. The aircraft rolled out without further incident and taxied to the apron. The aircraft was unable to continue its schedule and did not fly for 40 days. The aircraft performed a short test flight on Sep 15th 2020. According to information received the main landing gear struts needed replacement.
Mexico, El Laurel, Topia: A Cessna U206F Stationair 6 II on a flight from Chihuahua impacted the terrain while on approach in Topia, Mexico. The airplane was destroyed and the two occupants were fatally injured.
Russia, Ochaginskoe, Magadan Oblast: A Dalnerechensk Avia Mil Mi-8T with three on board on a cargo flight rolled over on landing. The three crew were uninjured. As in all helicopter rollover accidents the aircraft suffered substantial damages.
USA, near Chicago Executive Airport: A Cessna 177RG Cardinal RG with only the pilot on board force landed to residential terrain in suburb of Palatine near Chicago Executive Airport (PWK/KPWK), Illinois. The aircraft sustained substantial damage. However, the sole pilot onboard was not injured.
USA, Montgomery County: A amateur build Zenith STOL CH750 with only the pilot on board following a loss of engine power force landed in a bean field in Montgomery County, Missouri. The airplane came to rest inverted, sustaining substantial damage. The sole pilot onboard was not injured.

THIS WEEK IN HISTORY

18 SEPTEMBER 1919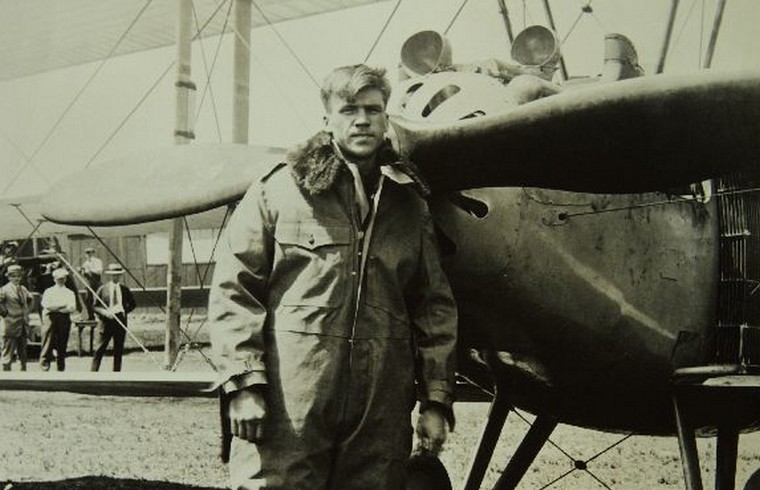 Roland Rohlfs, a Curtiss test pilot, was the first person to reach 34,610 feet (10,549 meters) in an open cockpit Curtiss 18 T triplane over Curtiss Field, Long Island. Oxygen was provided in a bottle connected to a tube that Rohlfs sucked on at altitude.


This record broke Rohlfs' previous FAI World Record for Altitude of 9,241 meters (30,318 feet) set at Garden City, New York, 30 July 1918.
Rohlfs took off at 12:06 p.m. and reached his peak altitude 1 hour, 15 minutes later. The air temperature was -43 °F. (-41.7 °C.). He touched down after 1 hour, 53 minutes.
PLEASE GO TO
WWW.YOUTUBE.COM/CHANNEL/UCCURVZAGODT6SZTTEXBGEMW
AND SUBSCRIBE TO OUR YOUTUBE CHANNEL