Jack Northrop became involved with all-wing aircraft designs in the late-1920s, with his first Flying Wing being built in the 1928-1930 time period. His N-1M, also known by the nickname "Jeep", was one of a progression of experimental aircraft that further developed Northrop's all-wing concept.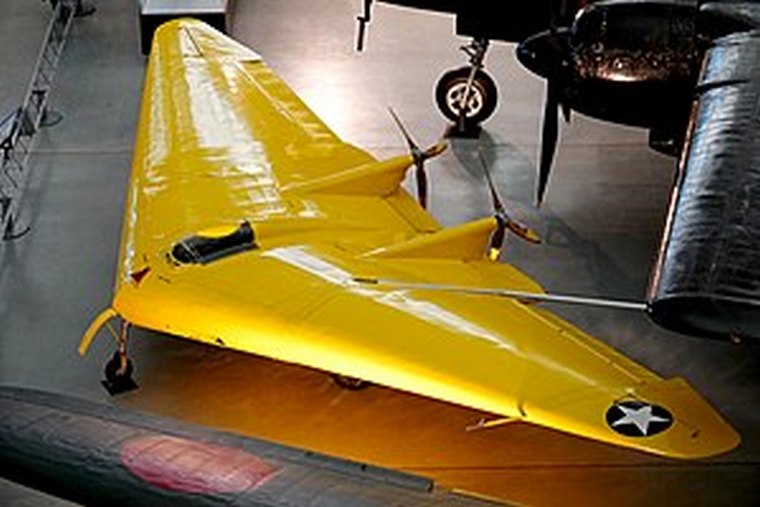 Built mostly of specially laminated layers of glued wood, the design of the N-1M allowed for easy configuration changes with the central blended fuselage, which was made of tubular steel. The aircraft first flew on 3 July 1941.
Early tests showed the N-1M to be satisfactory in stability and control, but overweight and underpowered. Control of the aircraft was achieved through the use of a system of elevons and wingtip rudders. The elevons served in tailless type aircraft both as elevators and ailerons, while split flaps on the downward angled wingtips took the place of a conventional rudder. They were later straightened after that angle proved unnecessary during flight testing.
The N-1M proved to be basically sound, paving the way for Northrop's later and much larger Northrop YB-35 and YB-49 aircraft.
The aircraft was donated to the United States Army Air Forces in 1945 and was placed in the storage collection of the National Air Museum the following year. It is now on public display at the National Air and Space Museum's Steven F. Udvar-Hazy Center.
Specifications (N-1M)
General characteristics
Crew: one
Length: 17 ft 11 in (5.46 m)
Wingspan: 38 ft 8 in (11.79 m)
Height: 4 ft 11 in (1.50 m)
Wing area: 350 sq ft (33 m2) (approx)
Gross weight: 3,900 lb (1,769 kg)
Powerplant: 2 ◊ Lycoming O-145 four-cylinder horizontally opposed air-cooled piston engines, 65 hp (48 kW) each (original engines)
Powerplant: 2 ◊ Franklin 6AC-264F2 six-cylinder air-cooled horizontally opposed piston engines, 117 hp (87 kW) each (after reengining) [6]
Performance
Maximum speed: 200 mph (320 km/h, 170 kts)
Range: 300 mi (480 km, 260 nmi)
Service ceiling: 4,000 ft (1,200 m)
PLEASE GO TO
www.youtube.com/channel/UCCuRVZAGodT6sztTeXBGeMw
and subscribe to our YouTube channel