Compiled by Willie Bodenstein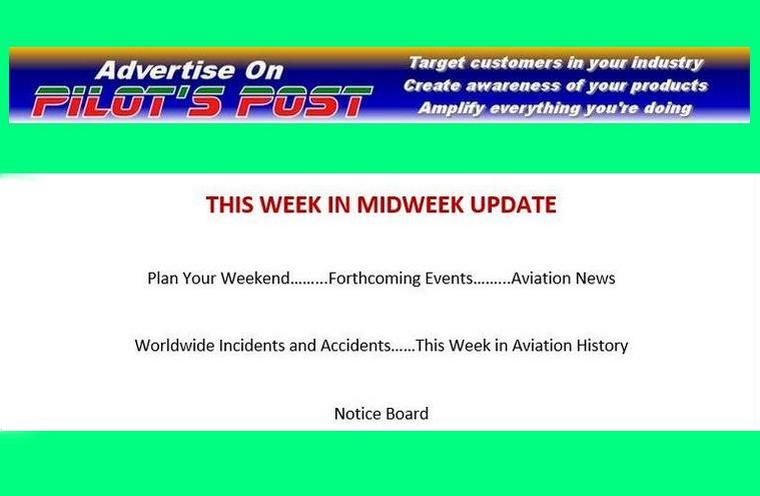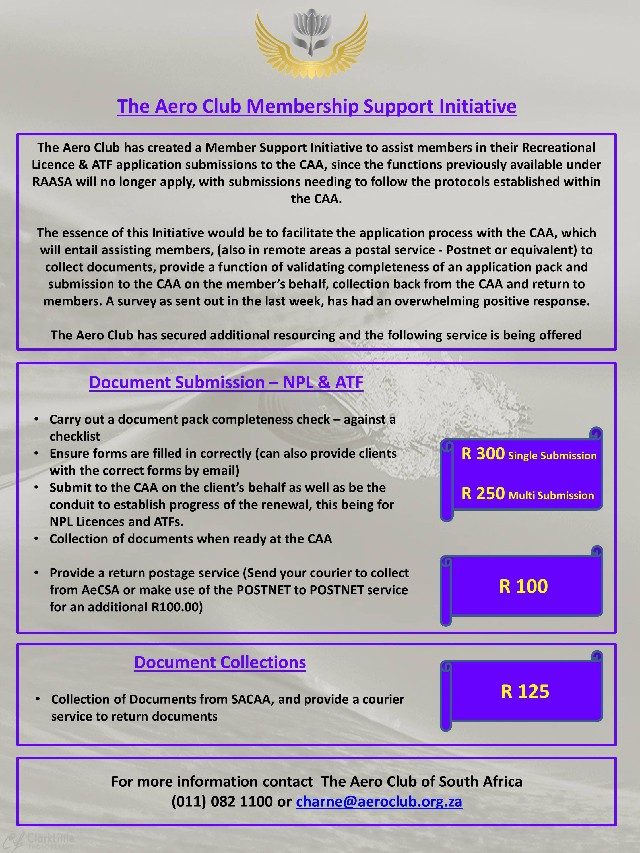 COVID 19 REGULATIONS, INITIATIVES AND AEROCLUB NEWS





AERO CLUB CENTENARY YEARBOOK PRE-ORDER FORM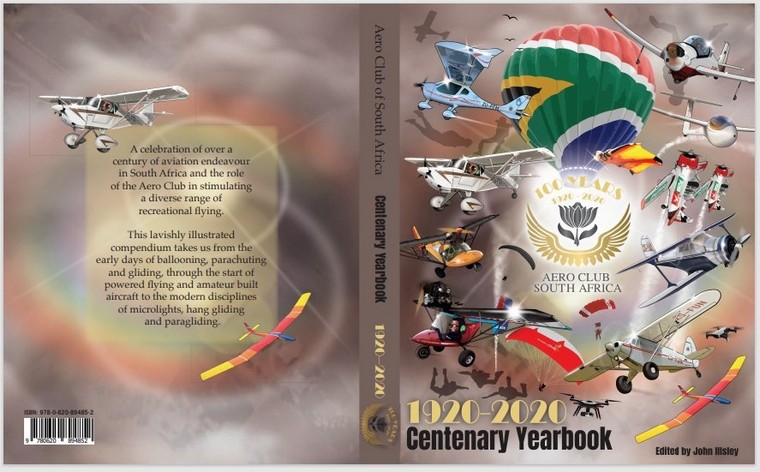 The Aero Club of SA is taking pre-orders for the Centenary Yearbook, to assess the demand for a print run. It will be in the form of a hard & soft cover version as well as a limited-edition leather-bound book on request. Details of the book are available on the Aero Club Website.

Indicative Pricing: - Hard Cover Book - R 400 - Soft Cover Book - R 300 - Leather Bound Book - Add +/- R 200 for Novalite & R 500 for Leather. Delivery Options are either collect at the Rand Airport Aero Club office, or door to door courier service anywhere in SA. Courier costs will range between R 100 to R 130 per book dependent on location. Volume purchases are also available should this be required. Once you have registered for a pre-order, and our print run is complete, the Aero Club will send an invoice for payment, which once received will have the book dispatched.

To get your pre-order secured, please go to this link. Centenary Yearbook Order Form

https://docs.google.com/forms/d/e/1FAIpQLSfPs1vbZM4-Qcn5LZrK3dkWaoYj7PBtLXmaNM3TP9tUm4vsSA/viewform

If you are not a member and wish to join the Aero Club and any of its sections, feel free to do so at www.aeroclub.org.za/member-renewals-and-new-memberships






The following events will take place under the rules controlling the number of people congregating together and are therefore not open to the general public.

17 OCTOBER 2020
Sling Aircraft Breakfast Fly-In

Good day Slingers.

With Level 2's easing of lockdown restrictions, we are thrilled to announce the first Sling Aircraft breakfast fly-in of 2020 is finally upon us! Saturday, 17 October from 07h00 to 11h30, our breakfast fly-in will be held at our premises, Tedderfield Airpark, 23 Nettleton Road, Eikenhof (FATA).

At just R100 per person paid on arrival, bring your mask, bring your buddy, relish in a scrumptious breakfast, shop Sling branded merch from our Sling Store, enjoy a factory tour and possibly even a sneak peek at our all-new Sling High Wing! In addition, a spot landing competition will be held on arrival between 07h00 and 08h00. Tea and coffee will be served from 08h00 and breakfast will be served between 09h00 and 11h00.

Spots are of course limited due to Covid-19 regulations so, if you would like to experience the Sling lifestyle for yourself, RSVP by Wednesday, 14 October in order to avoid disappointment. Fly, drive, walk or bike, you will not be disappointed.

See you there, Slingers!

THE INTINERARY IS AS FOLLOWS:
• 07h00 to 08h00 - Spot landing competition.
• 08h00 - Tea & Coffee is served.
• 09h00 - Breakfast is served.
• 09h30 - Factory tours will commence.
• 10h00 - Prize giving for the spot landing competition.

https://docs.google.com/forms/d/e/1FAIpQLSff8jv7G5S4LWTxO1ZZSguNTB4vL0gmrUbvHNSVSODE6-n-fg/viewform





24 OCTOBER
Silver Creek Gorge Fly-in Pancake Day
Runway 0826 Be aware of possible game on runway.

24 AND 25 OCTOBER
SAC North West Regionals at Klerksdorp airfield
Contact Annie Boon E-mail: chunge@mweb.co.za







31 OCTOBER
Spot Landing Training - Brakpan Airfield - FREE
Come Learn how to do Spot Landings - The South African Protea Team members will be your instructor and trainers.
Maurtiz Du Plessis - 3rd Place World Champion
Ron Strik - 1st World Champion
Hans Schwebel - RSA National Champion 2017
Jonty Esser - RSA National Champion 2018
Mary de Klerk
Frank Eckard
Thys van der Merwe
You will learn how to set up your aircraft to land in all configurations
We will be flying at Brakpan in groups of 4 (4 aircraft in the circuit at a time) doing each four landings.
If you need more information please call Jonty on 0828559435

31 OCTOBER
You are invited to attend the Krugersdorp Flying Club, Breakfast. Food stalls will be available for breakfast and coffee, Fibez. Live retro radio station will be broadcasting their morning show live from the Clubhouse.

6 NOVEMBER
The Children's Flight at Orient Airfield

7 NOVEMBER
Hellivate Helicopter Olympics at Krugersdorp


6 to 8 NOVEMBER
Pretoria Radio Flyers Jet Rally, EDF and Turbine Weekend. Breakfast and lunch stall and beer tent after 15h00. Camping and safe trailer storage. Contact Emil 082 96 22 33 4

7 NOVEMBER
SAPFA Spot Landing and SA Landing Championships - Brakpan Airfield
We will be flying at Brakpan in groups of 4 (4 aircraft in the circuit at a time) doing each four landing.
Your will be scored on 4 different landing Configurations
Landing 1 - Power On configuration of your choice
Landing 2 - Power On without flaps
Landing 3 - Glide Approach configuration of your choice (1000 foot abeam the Bingo Landing Line on downwind close power and glide in)
Landing 4 - Obstacle 2m high 100m from bingo line configuration of your choice (Sportsman Class will not be doing this one)
For more information please call Jonty on 0828559435

28 NOVEMBER
Springs - SAPFA Speed Rally Season 2
Race 4 Finale and Gala Evening. Come and join us in this Fast-Paced Exciting Aviation Speed and Navigation discipline.
All welcome if you think you and your navigator can fly come challenge yourself in this event.
IT's Great FUN and You and Your navigator will learn a lot about Yourselves and Your Airplane
For more information please call Jonty on 0828559435







SAMAD AEROSPACE UNVEILS LUXURY Q-STARLING PERSONAL AIR VEHICLE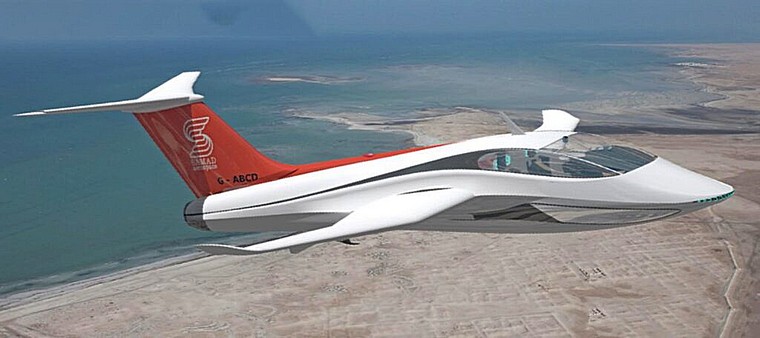 SAMAD aerospace, the British hybrid electric VTOL aviation company, is pleased to launch its concept for Q-Starling, a high-end Personal Air Vehicle (PAV). With an innovative modern design taking elements from both fast jets and VTOL aircraft, the Q-Starling represents a new pinnacle in future sustainable aircraft design. Image © SAMAD.

Combining the benefits of traditional flight with VTOL capabilities, the Q-Starling will seat two passengers and can be flown by pilots with an anticipated appropriate class rating.
Taking inspiration from classic aircraft such as the Victor, Hawk, Mustang and modern high-end sport cars, the Q-Starling interior also has an exclusive stylish design. The cockpit has been designed to the highest automotive standards of comfort and will include additional transparencies and synthetic vision to enhance situational awareness.
Representing a step forward in VTOL design, the Q-Starling will be a 'must have' for those who wish to have the latest and greatest in Personal Air Vehicles.
Q-Starling will be powered by a hybrid-electric turbo-generator which will provide power for a large diameter hover fan and a fly-by-wire controlled 'Reaction Control System' (RCS). The turbo-generator will then provide forward thrust once the aircraft has transitioned from vertical flight.
Controlled by a comprehensive electronic flight system, the Q-Starling will have numerous and extensive safety systems in-built to prevent the aircraft from departing the flight envelope. In keeping with other ultra-light aircraft, it will feature as a ballistic recovery system. The traditional rudder pedals have been absorbed into the flight system and present the pilot with a simplified side-stick control. The Q-Starling will maintain full authoritative control but having the benefit of a simplified control interface. The aircraft is expected to have a low entry barrier to private flight with an expected conversion requirement of around 10 hours for the average PPL.
All materials used in the aircraft are made of ultra-light carbon fibre giving a higher performance capability and enabling semi-aerobatic manoeuvres due to the increased strength of the composite material and design.

RV BITS - RV LIGHT MODULE - A WORLD FIRST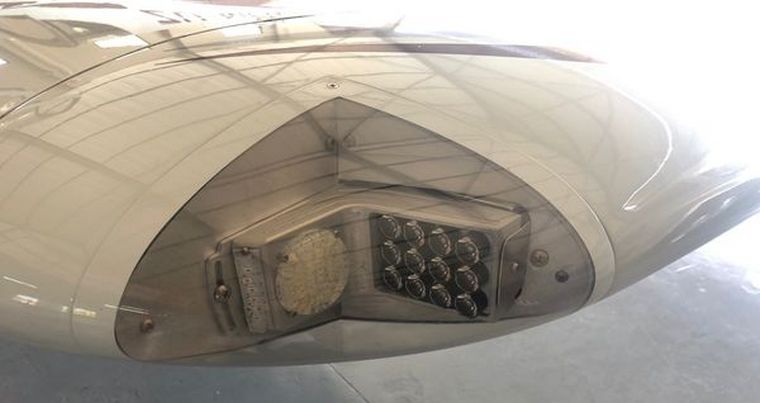 The above is a CAD render, another render of the two modules, installed left and installed right. We have done extensive testing and the first small production run is in process.

A world first, well I could not find any other products like this. Backtrack a bit. We here in SA went to Level 5 lock down late in March. I could not see myself doing nothing during that period and have decided to start with an idea that I have been rolling around for the last two years or so.
I can post the whole thought process and how it has evolved, but decided to just present you with the final product.
-: A modular design with a Nav Light, Strobe Light and Landing Light all in one.
-: A Modular design where the end user can swop out each light module as well as each power supply
-: Adjustable with one screw
-: Three canned power supplies in order to eliminate RF Noise
-: Easy installation or retrofit without even removing the wingtip
-: 400 Lumens Nav Light
-: 2750 Lumens Strobe Light
-: 1500 Lumens at 11 degrees Landing Light
-: 5A total consumption
For more information contact Jan at jan@rvbits.com


CURRENT MARKET CONDITIONS AND THE IMPACT OF COVID-19 ON THE INSURANCE INDUSTRY


The Covid-19 pandemic has brought on many questions and concerns within the aviation insurance industry. On the 7th October 2020 the DJA Aviation team hosted a webinar with the help of AERO South Africa, to look at the impact of this global pandemic on the general aviation industry and specifically aviation insurance.
The economic instability brought on by Covid has affected aviation, aircraft owners and operators in the sector, which caused a big drop-in activity not only in flying but also in purchases of insurance.
"The insurance market had been struggling prior to the pandemic. We are entering a third year of insurance adjusting and what is very clear is that the global aviation insurance market as a whole is facing unprecedented losses and an urgent requirement for insurers to balance their books in order to respond to claims has to be made, says Jackie Nieuwoudt, New Business Development at DJA Aviation.
If you missed the Right Approach to Aviation Insurance, you can still access it on the AERO South Africa Virtual Marketplace:
www.virtualaerosouthafrica.co.za

THE USAF AIR FORCE'S E-4B 'DOOMSDAY PLANE' REPLACEMENT PROGRAM POSTPONED.



The US Air Force has postponed its plans to replace the E-4B "Doomsday Plane." Nicknamed the "Doomsday plane" due to its ability to withstand a nuclear blast, the iconic blue and white E-4B serves two purposes: to provide a secure and survivable command centre in the event of a nuclear war and to transport defence secretaries around the world.Photo © USAF

The service originally intended to issue a request for proposals for the Survivable Airborne Operations Centre program in December, which would formally kick off a search for a replacement for the four aging E-4B Nightwatch airborne command posts currently based at Offutt Air Force Base, Nebreska.
The E-4B was derived from the Boeing 747-200 and introduced by the Air Force in 1974. But after almost 50 years in service, the aircraft is nearing the end of its service life and it getting more difficult for maintainers to keep up with the repairs necessary to keep the small fleet up and running - especially given the requirement that at least one plane be kept on alert status at all times.
Under the SAOC program, the Air Force had planned to buy new commercial-derivative planes, harden them enough to survive a nuclear blast and add modern communications and command and control systems.

VERTIS AVIATION CELEBRATES FIRST DECADE OF BUSINESS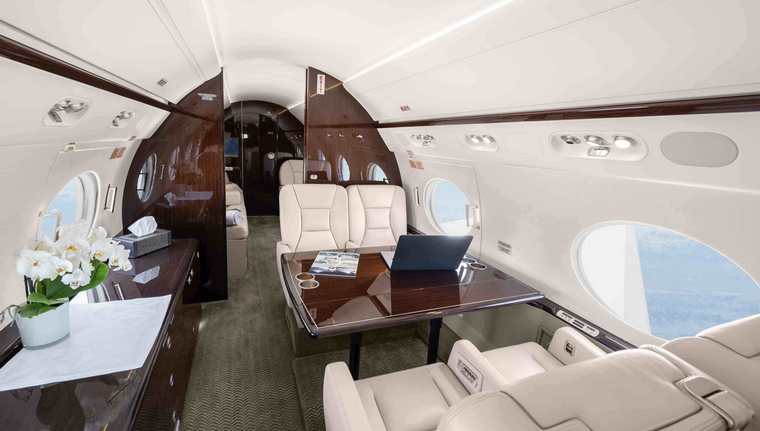 Vertis Aviation, the Switzerland-headquartered charter specialist, is today celebrating a decade of delivering charter services to an international set of customers. Vertis partners Jeffrey Emmenis and Julian Burrell are marking the occasion by pivoting the business towards its foundations of curating highly personalised charters of large-cabin, long-range jets and executive airliners for some of the world's most influential and affluent businesses, families and individuals. Photo © Vertis.


The decision of the Argus Certified Broker business to solidify its niche as Architects of Charter has been driven by the needs of its loyal clientele. "Before the global pandemic we had been analysing our client behaviour and recognised that we have a core set of customers that consistently request large-cabin, long-range aircraft and welcome our qualified advice and guidance when organising their often-complex journeys. During the summer season we welcomed a new set of customers equally excited to discover the tangible benefits of our service when compared with first class commercial travel," explains Vertis Chairman Julian Burrell. "Our customers value our safe, efficient, discrete service and our emphasis on treating them in a very personal way in an increasingly digitised world. This differentiates us from many other charter sales companies."
Vertis has built a reputation as a customer-centric boutique private jet consultancy which shines a spotlight on every detail ensuring customers enjoy seamless travel experiences. Its buying power, supplier support and an extensive, meaningful global network built over the last ten years underpins the strategy. Vertis is also adding a new set of features specifically designed for discerning Vertis customers, including augmentation of existing Vertis technology to enhance the overall customer experience in relation to flight management, invoicing and communication flow. In true Vertis style the occasion will be marked by personal outreach to customers, suppliers, and partners and will be celebrated with the launch of an exciting new programme of defining travel experiences in partnership with leading brands from around the globe.
The Vertis Charter Management Program (VCMP) is also expanding with the imminent addition of new aircraft in Africa and the USA. One of the original pillars of the Vertis business model the VCMP has proved highly successful in supporting owners and/or operators looking for outsourced professional charter sales management. The arrangement enables operators to maintain focus on the core competency of aircraft operations while generating revenue through the agreement with Vertis. Customers benefit from access to a wider range of aircraft available through the Vertis boutique charter service.
The Vertis team works from an international network of offices located in Zug, London, Beverly Hills, Dubai and Cape Town marketing a select portfolio of business aircraft including a Global 6000, Global 5000, Gulfstream G450, Challenger 604 and a Challenger 350.



MILESTONE BECOMES FIRST LEASING CUSTOMER FOR MULTI-MISSION H160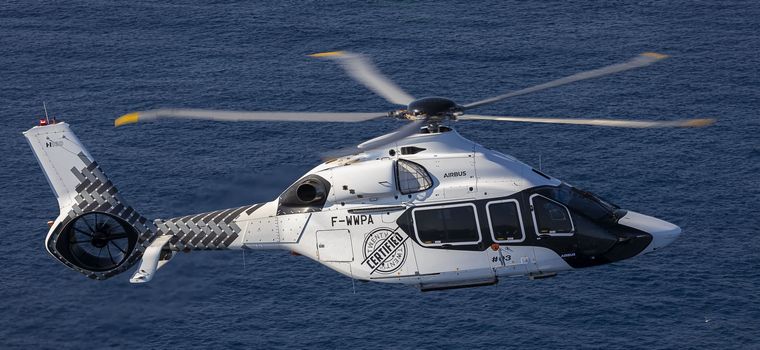 Milestone Aviation and Airbus Helicopters have agreed to include six H160s in Milestone's orderbook. The helicopters will be destined for a range of missions including offshore transportation and emergency medical services, the first of which is set to deliver in 2023. Photo Airbus/Eric-Raz.


"Today's announcement will see us enhance our orderbook to include the H160 which we believe will be an important player in the market in the years ahead. It is a versatile, multi-mission aircraft with the opportunity to be used in a number of scenarios, particularly serving EMS operations. It will be a valuable addition to our fleet and we're already in discussion with operators to place the aircraft into service as soon as they are available," said Pat Sheedy, CEO of Milestone.
"We are proud that a longstanding customer such as Milestone is renewing its trust once again in Airbus helicopters. I am convinced that the level of innovation that the H160 brings to the market, whether it is passenger comfort, advanced pilot assistance, or its completeness, thanks to its increased fuel efficiency and simplified maintenance eco-system, combined with its inherent flexibility will make it a valuable asset to their operations," said Bruno Even, Airbus Helicopters CEO.
With 68 patents, the H160 integrates Airbus Helicopters' latest technological innovations aimed at providing passengers with superior comfort thanks to the sound-reducing Blue Edge blades and superb external visibility for both passengers and pilots, not to mention the additional safety features provided by Helionix's accrued pilot assistance features. The aircraft's compact size will be an added advantage to landing on oil platforms as well as hospital heli-decks.

GULFSTREAM LAUNCHES FOURTH G700 TEST AIRCRAFT

GULFSTREAM

Gulfstream Aerospace Corp. today announced the fourth Gulfstream G700™ test aircraft has taken flight, further expanding the already advanced certification program for the industry's new flagship.

The fourth G700 took off today and flew for 1 hour and 56 minutes. It reached an altitude of 41,000 feet/12,497 meters and a speed of Mach 0.89. Its testing regimen will include avionics, the environmental control system, mechanical systems, electrical power and hydraulics.
"This is the fourth first flight we've accomplished within just eight months, and that is a truly impressive feat," said Mark Burns, president, Gulfstream. "I have said it before: what sets Gulfstream apart is that we ensure our aircraft are mature upon certification, so our customers know that what we deliver will be safe, reliable and exceed their expectations."
Together, the four flight-test aircraft have flown more than 600 hours since the program's first flight on Feb. 14. The G700 has also flown beyond its maximum certified operating speed and cruise altitude, reaching a speed of Mach 0.99 and an altitude of 54,000 ft/16,459 m.
Additional test aircraft are being prepared to join the test and certification program and will include fully outfitted production aircraft to test the interior elements, including the award-winning seat designs, all-new true circadian lighting system, an ultragalley and a grand suite.
The G700 is powered by Rolls-Royce Pearl 700 engines and can fly at its high-speed cruise of Mach 0.90 for 6,400 nautical miles/11,853 kilometres or at its long-range cruise of Mach 0.85 for 7,500 nm/13,890 km. The G700 also includes the Gulfstream Symmetry Flight Deck™ with the industry's only electronically linked active control sidesticks; the most extensive use of touch-screen technology in business aviation and Gulfstream's award-winning Predictive Landing Performance System.

VOLOCOPTER, THE PIONEER OF URBAN AIR MOBILITY, WILL BE THE FIRST INDUSTRIAL PLAYER TO TEST THEIR FULL-SCALE ELECTRICAL AIR TAXI, THE VOLOCITY, IN THE PARIS REGION.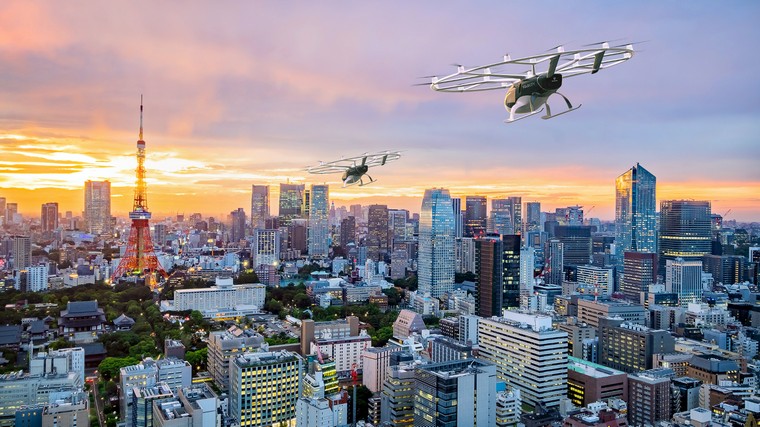 In the current context of environmental transition in air transport, economic recovery, and urban densification, Paris region, Groupe ADP and RATP Group aim to develop an urban air mobility industry branch, with a focus on the electric vertical take-off and landing (eVTOL). Photo © Volocopter.

The partners have therefore decided to bring together all the conditions to make the emergence of this new mode of transport possible to complement the existing modes, whether for the public or for goods. Furthermore, the prospect of the 2024 Olympic and Paralympic Games provides an exceptional opportunity to involve an entire industry and to make Paris Region a leader in the global market of Urban Air Mobility. Volocopter, the German electric air taxi company and pioneer of Urban Air Mobility, reinforces the project's feasibility by bringing its 9 years of aviation experience to the initiative.
"The structuring and development of an Air Mobility branch on the airfield of Pontoise - Cormeilles-en-Vexin is both consistent with the Recovery Plan initiated by Paris Region, and in line with the key takeaways of Paris Region recent COP 2020 conference. It also falls within the scope and priorities of the 2024 Olympic and Paralympic games. As a result, this event represents an invaluable opportunity to involve the entire aviation industry and demonstrate the unique qualities of Paris Region as an area of reference within the global Urban Air Mobility (UAM) market." for Valérie Pécresse, President of Paris Region.
Facing the challenges raised by this new form of mobility in terms of use, acceptability, regulations, technologies, and industrialization, the chosen approach is to offer a unique test area at the Pontoise airfield, profiting from a real and secure aeronautical environment in a suburban location, 35 km northwest of Paris. In the first half of 2021, necessary arrangements will be made, first on the airside, then on the boarding areas inside the buildings (suitable parking areas, electrical recharging systems, and ground markings). In cooperation with DGAC (Civil Aviation Authority), parking, take-off and landing operations, as well as operations around the vehicle, whether maintenance or electrical recharging, will be tested in a real aeronautical environment in June 2021.
Additionally, in order to construct an ecosystem of large groups, SMEs, start-ups, laboratories, and universities in the Paris Region over the long term, a worldwide call for expressions of interest has been launched with the support of the Choose Paris Region agency. Applications will be open on 1 October until 13 November 2020 on the website: www.reinventairmobility.com. The selected projects will be announced on 18 December 2020.

AIRBUS CORPORATE JETS WINS FIRST SIX ACJ TWOTWENTY ORDERS

AIRBUS ACJ



Airbus Corporate Jets has won its first orders for the ACJ TwoTwenty totalling six aircraft following its launch. While Comlux has revealed an order for two aircraft, four further jets were ordered by undisclosed customers. Entry into service of the first ACJ TwoTwenty by Comlux Aviation is targeted for early 2023.

The new ACJ TwoTwenty will feature a high-end VIP cabin interior, supported by a flexible cabin catalogue, from which Comlux has selected the business and guest lounge as well as a private entertainment space and a private suite, including a bathroom. The cabin, set to "Reimagine your place in the sky..." will be equipped with large full lie flat seats, a US-king size bed, a standing shower, a humidifying system for well-being on board and leading edge connectivity.
"We are proud to be the launch customer of the Airbus' newest family member, the ACJ TwoTwenty and the selected partner to outfit the cabin in our completion centre in Indianapolis. We have worked jointly with ACJ and shared our long experience in operating and completing all types of aircraft, to allow the new Bizjet to offer more comfort and the latest cabin innovations available in the industry, "said Richard Gaona, Executive Chairman & CEO Comlux. "Thanks to the unique combination of intercontinental range, comfort, extra space and second-to-none economics, we are convinced the aircraft will be a winner in the business aviation market."
"We are honoured to see our longstanding client Comlux becoming the launch customer of our new ACJ TwoTwenty as well as our cabin completion partner on the programme, "said Benoit Defforge, President ACJ. "Our new extra Large Bizjet will seamlessly complement Comlux's portfolio - and we are convinced the aircraft will become a flagship addition to their fleet."
Airbus supports more than 500 airline and corporate jet customers with one of the largest support networks in the world, including services tailored to business jet needs.
More than 200 Airbus corporate jets are in service on every continent, including Antarctica.

HONEYWELL, THE NEXT PHASE OF HELICOPTER COCKPITS.

HONEYWELL



At Honeywell, we know how important advanced and reliable technology is -especially when you're a pilot. Clear vision in the cockpit means less fatigue and increased safety, comfort and efficiency. That is why we have developed the AW139 Phase 8 upgrade for the Primus Epic 2.0 integrated avionics system. It delivers superior functionality, enhancing visual clarity and improving situational awareness. This allows for safer operations in marginal weather conditions in a wide variety of demanding operations, where the AW139 proves its industry leading capability every day.

The Phase 8 upgrade is based on a range of new and upgraded features. The new cockpit standard offers significant improvements including: Improved safety and passenger comfort with more stable approaches and smoother transitions - even at off airport landing areas. Industry leading navigation performance (.3 RNP operations). Search patterns tailored for helicopter cockpits, making it easier for pilots to safely coordinate search and rescue operations. Enhanced situational awareness in the cockpit. Workload reduction for pilots during high tempo operations. Improved manoeuvrability and better, more stable flight paths.
The phase 8 upgrade is an ideal configuration for your helicopter, no matter the mission. Talk to our team today to learn more about how to upgrade to 8.




TUNISIA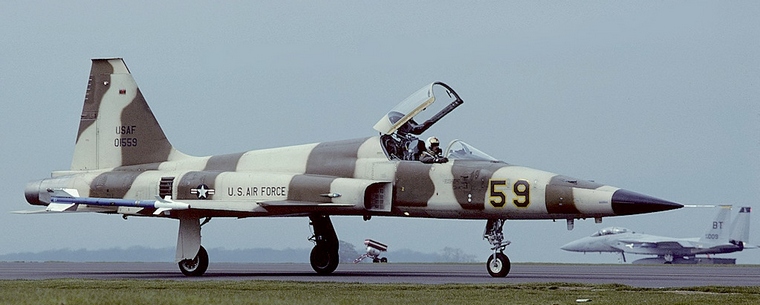 A Tunisian Air Force Northrop F-5E Tiger II fighter jet, belonging to 15 Sqn, crashed under unknown circumstances in the Remada, Tatooine region. The pilot died in the crash and the aircraft was destroyed. (Photo © Wikipedia. Not the accident aircraft)


South Sudan, Mundri Airstrip: A Cessna 208B Grand Caravan operated by Duk Air suffered an accident on take-off from Mundri Airstrip, South Sudan. The nose and right-hand main landing gear legs collapsed and the aircraft suffered extensive damage to both wing tips and propeller blades.
USA: A National Transportation Safety Board Report confirms that the blood-alcohol level of an Alaska airplane pilot involved in a fatal crash was 5 times over the legal limit. The final NTSB crash report said pilot Charles Weimer was flying under the influence when he failed to maintain a safe distance from Goat Mountain in August 2019. Weimer and three others died in the crash near Girdwood when the Piper PA-22-150 crashed into steep terrain on the mountain 15 minutes after take-off.
USA, Mesa, Arizona:
An argument over face masks turned physical on an Allegiant Airlines flight. A passenger on the flight was wearing a face shield and a flight attendant asked him to wear a face mask as well, KSL TV reported. Allegiant's policy is that face shields must be worn in addition to a face covering, not as an alternative. When the flight attendant and passenger were arguing about the policy, another passenger heckled the man, KSL reported. As the flight attendant was attempting to escort the passenger who refused to wear a face mask off the plane, a fight broke out with the heckling passenger. The fight was broken up after 30 seconds and the passenger who refused to wear a mask was escorted off the plane in Mesa, Ariz. The other passenger was allowed to stay for the flight.
Germany, Munich: A Star Air Freight Boeing 767-200 was descending towards Munich when the crew reported a wheel well fire indication. The aircraft continued for a safe landing on runway 08R, slowed and vacated the runway stopping on an adjacent taxiway for an inspection by emergency services. The aircraft subsequently taxied to the apron. The aircraft remained on the ground for almost 4 days.
Russia, Yakutsk Airport: A Sukhoi Superjet 100-95B operated by Yakutia Airlines with 92 on board suffered a collapse of the main landing gear in a landing accident at Yakutsk Airport, Russia. The aircraft failed to stop on the remaining runway and overran onto the area that was under reconstruction, stopping after 250 meters. This caused damage to the forward fuselage, separation of both main landing gear bogies and a fuel tank leak. There were no fatalities. The aircraft suffered substantial damage and will probably be written off.

France, Loches: A Robin DR.400/140 Major and an Alpi Pioneer 300 following a mid-air collision crashed near Loches, France. The Robin had departed Poitiers-Biard Airport while the Pioneer departed Chatellerault/Targe Airfield for an overflight of several castles in the Loire area. After the collision, the Pioneer crashed into a stone fence and burst into flames. The DR.400 impacted vegetation. All five occupants died in the accident.

USA, Island Lake, Fredenberg Township, MN: A Robinson R44 Raven II operated by Lake Superior Helicopters with only the pilot on board following a loss of engine power ditched to the waters of Island Lake Reservoir in St Louis County, Minnesota. The helicopter submerged, sustaining unknown damage and the sole pilot onboard was not injured.
USA, near Waterloo, Lauderdale County, AL: A Czech Aircraft Works SportCruiser with only the pilot on board impacted wooded terrain under unknown circumstances in Waterloo, Lauderdale County, Alabama. The airplane came to the rest inverted, sustaining substantial damage and the sole pilot onboard was fatally injured.




15 OCTOBER 1933

The Rolls-Royce Merlin engine is started for the first time. Photo © Wikipedia.




The Rolls-Royce Merlin is a British liquid-cooled V-12 piston aero engine of 27-litres (1,650 cu in) capacity. Rolls-Royce designed the engine and first ran it in 1933 as a private venture. Initially known as the PV-12, it was later called Merlin following the company convention of naming its piston aero engines after birds of prey.
After several modifications, the first production variants of the PV-12 were completed in 1936. The first operational aircraft to enter service using the Merlin were the Fairey Battle, Hawker Hurricane and Supermarine Spitfire.
The Merlin remains most closely associated with the Spitfire and Hurricane, although the majority of the production run was for the four-engined Avro Lancaster heavy bomber. A series of rapidly-applied developments, brought about by wartime needs, markedly improved the engine's performance and durability. Starting at 1,000 hp for the first production models, most late war versions produced just under 1,800 hp and the very latest version as used in the de Havilland Hornet over 2,000 hp.
One of the most successful aircraft engines of the World War II era, some 50 versions of the Merlin were built by Rolls-Royce in Derby, Crewe and Glasgow, as well as by Ford of Britain at their Trafford Park factory, near Manchester.

PLEASE GO TO
www.youtube.com/channel/UCCuRVZAGodT6sztTeXBGeMw
and subscribe to our YouTube channel