With the XB-35 program seriously behind schedule by 1944, and the end of piston-engined combat aircraft in sight, the production contract for this propeller-driven type was cancelled in May of that year. Nevertheless, the Flying Wing design was still sufficiently interesting to the Air Force for it to issue a contract that two completed XB35 airframes be fitted with jet propulsion and designated as YB-49s.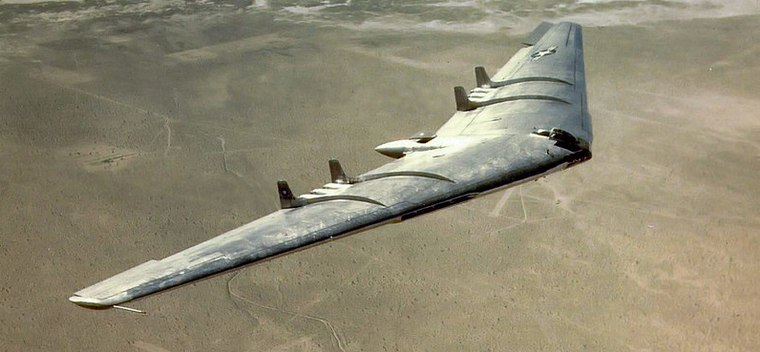 The first of these new YB-49 jet-powered aircraft flew on 22 October 1947 and immediately proved more promising than its piston engined counterpart. The YB-49 set an unofficial endurance record of staying continually above 40,000 ft (12,200 m) for 6.5 hours.

The YB-49 never entered production, being passed over in favor of the more conventional Convair B-36 piston-driven design. Design work performed in the development of the YB-35 and YB-49 nonetheless proved to be valuable to Northrop decades later. During flight tests in the 1940s, it was noticed that the aircraft had a small radar cross-section, due to its flying wing design. Decades later, this stealthy detail would prove crucial to the design of Northrop-Grumman's advanced, all-wing B-2 bomber B-2 stealth bomber, which entered service in the early 1990s.
General characteristics

Crew: 6
Length: 53 ft 1 in (16.18 m)
Wingspan: 172 ft 0 in (52.43 m)
Height: 15 ft 2 in (4.6 m)
Wing area: 4,000 ft2 (371.6 m2)
Airfoil: NACA 65-019 root, NACA 65-018 tip
Empty weight: 88,442 lb (40,116 kg)
Loaded weight: 133,569 lb (60,585 kg)
Max. takeoff weight: 193,938 lb (87,969 kg)
Aspect ratio: 7.2
Powerplant: 8 (6 J35-A-19 on the YRB-49A) ◊ Allison J35-A-15 turbojets, 4,000 (5,000 for J35-A-19) lbf (17 kN) each
Performance

Maximum speed: 493 mph (793 km/h)
Cruise speed: 365 mph (587 km/h)
Range: 9,978 mi (16,057 km) maximum
Combat radius: 1,615 mi (1,403 nmi, 2,599 km) with 10,000 lb bombload
Service ceiling: 45,700 ft (13,900 m)
Rate of climb: 3,785 ft/min (19.2 m/s)
Wing loading: 33 lb/ft2 (163 kg/m2)
Thrust/weight: 0.23
Armament

Guns: 4 ◊ .50 in (12.7 mm) machine guns (to be mounted in rotating "stinger" tail cone on all production aircraft)
Bombs: 16,000 lb (7,260 kg) of ordnance
PLEASE GO TO
www.youtube.com/channel/UCCuRVZAGodT6sztTeXBGeMw
and subscribe to our YouTube channel