The H145 is a true multi-role helicopter. In addition to tactical air transport of four fully equipped special-forces commandos, this light twin-engine helicopter can be deployed for fire support, armed reconnaissance, evacuation of wounded or for hostage rescue.
But attention is shifting to an ever-greater extent to its use as a flying command post. In close cooperation with industrial partners, Airbus Helicopters is working to further expand the command, control, communications, computer, collaboration and intelligence (C5I) capabilities of the H145M. Helicopters are able to manoeuvre in low-level airspace in a way that fixed-wing aircraft and UAVs simply can't - all the while collecting and collating data for distribution to ground-based units on the battlefield.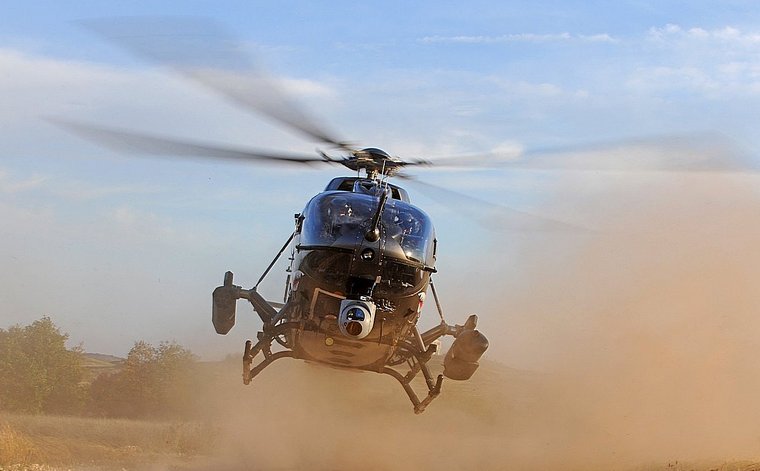 To exploit these capabilities to the fullest, Airbus Helicopters is working to equip the H145M with jam-resistant Link 16 Variable Message Format (VMF) technology and a Battle Management System (BMS) for enhanced networking. BMS integration has already been successfully demonstrated on numerous occasions. With this connection, the long range and high speed of helicopters compared to ground-based systems represents a particular challenge. A demonstration of digitally aided close air support (DACAS) and digitally aided MEDEVAC with VMF and Link 16 is in preparation.
The H145M's power, range, endurance and payload capability provide a variety of deployment possibilities, especially when operating in sand and dust as well as in in high-and-hot conditions at altitudes of 6,000 feet and temperatures of 95į F. It even can be deployed from an Airbus A400M military airlifter.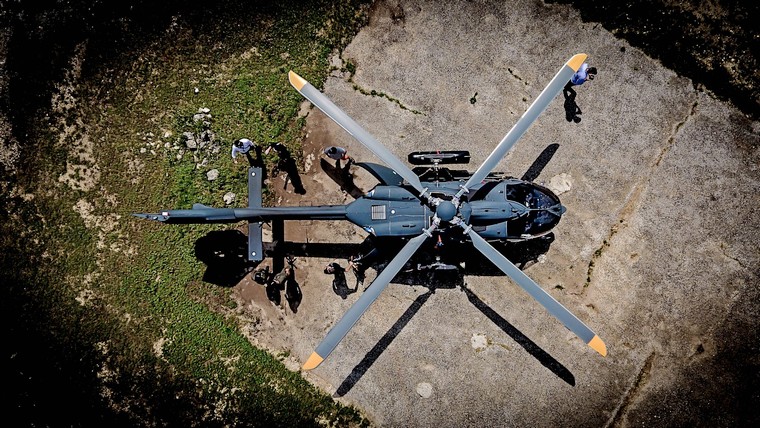 In 2018, Airbus Helicopters and Schiebel successfully demonstrated the integrated deployment of manned and unmanned aircraft (Manned-UnManned Teaming, MUM-T) using the H145 platform in conjunction with the Camcopter S-100 unmanned miniature rotorcraft, making them the first European companies to achieve LOI5, the highest interoperability level, for these technologies. The integrated deployment of manned and unmanned aircraft multiplies the capabilities of both systems. Smaller vertical take-off and landing UAVs can fly closer to obstacles such as trees and buildings than manned helicopters. Additionally, they can scout unknown terrain and provide the helicopter pilot with valuable information, making it possible to safely obtain a situational overview and bring the helicopter's superior performance effectively to bear.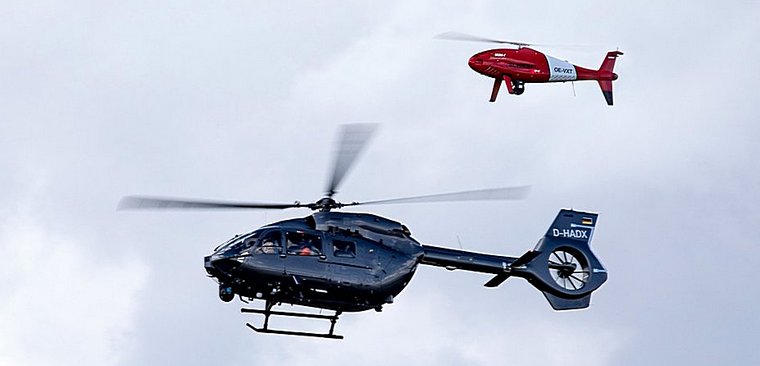 In collaboration with the Scotty Group, Airbus is working on solutions for a robust satellite-based data transmission system. Until now, satellite-based broadband data transmission has been difficult to realise for helicopters beyond line of sight because the rotation of the rotor interferes with the signal and the link. Implementation of BLOS SATCOM technology now makes it possible to transmit encrypted data, for instance videos in HD quality from a camera mounted on the helicopter or situation data updates, from the helicopter to virtually anywhere on earth in real time.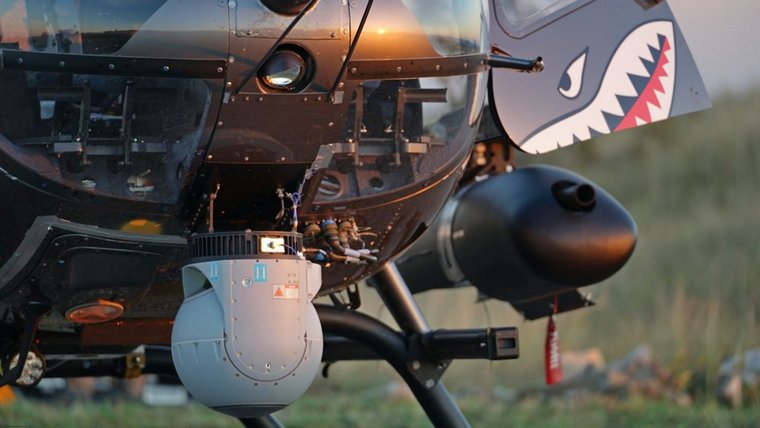 Airbus Helicopters has already certified multiple solutions for line of sight transmission of HD video on the H145/145M in cooperation with specialised product and service providers.
In 2017, the H145M successfully concluded flight testing in the form of firing campaigns in Hungary and Sweden with a complete HForce weapon system. HForce is a modular equipment and weapon concept that enables users to configure their helicopters to fulfil specific roles and requirements. It permits the use of a range of weapons, such as heavy machine guns, guided or unguided missiles, in conjunction with the helicopter's weapon control system and sensors. The HForce concept also emphasises connectivity to other aircraft, own troops and unmanned systems in order to better coordinate the effect of networked forces and weapons. HForce is a comprehensive, modular and flexible weapon management system that can be used on any military version of Airbus's civil helicopter range (H125M, H145M and H225M). It enables users to easily expand their helicopter fleets to include specialised variants of light attack helicopters.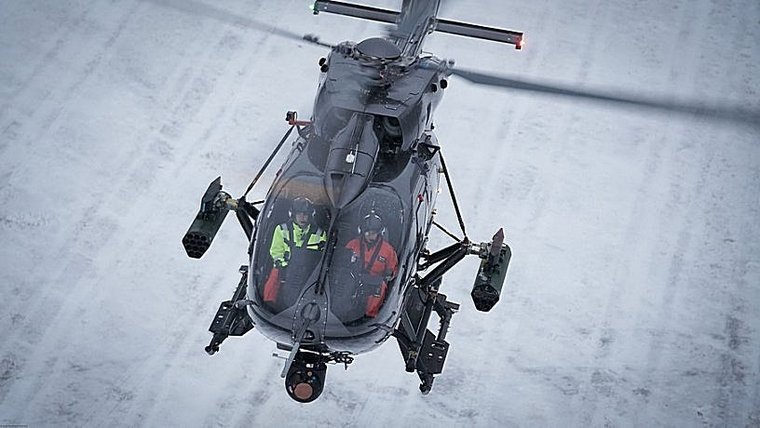 The H145 was developed for use during the day and at night as well as in extremely adverse conditions. Powered by two high-performance Turbomeca Arriel 2E turbines, it is equipped with full authority digital engine control (FADEC). In addition, the helicopter is equipped with the Helionix digital avionics suite, which, alongside innovative flight data management, includes a high-performance four-axis autopilot, which considerably reduces pilot workload during missions. Its particularly low acoustic footprint makes the H145 the quietest helicopter in its class.
PLEASE GO TO
www.youtube.com/channel/UCCuRVZAGodT6sztTeXBGeMw
and subscribe to our YouTube channel