Essentially a four-engine enlargement of the successful de Havilland Dragon, but of more streamlined appearance with tapered wings and extensive use of metal fairings around struts and undercarriage the DH 86A fuselage would not be out of place if fitted to a low wing twin today.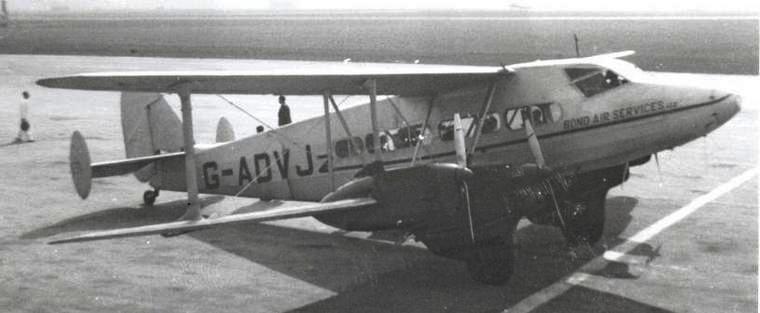 Designed for single pilot operation the prototype D.H.86 first flew on 14 January 1934 but concerns about anticipated pilot fatigue over long stretches the fuselage was promptly redesigned with a dual-pilot nose. The long range version carried 10 passengers whilst the short-range that was still flown by one pilot had seating for 12 passengers.
A single pilot version was the first DH 86 to enter service and for a time was the fastest British-built passenger aircraft operating anywhere in the world. Despite de Havilland's predictions to the contrary, the dual pilot type with its lengthened nose proved to be even faster.
Sixty-two were manufactured by the de Havilland Aircraft Company between 1934 and 1937. Unfortunately, a series of fatal crashes did spoil the 86's service record.
General Characteristics

Specifications:

Crew: Two (pilot and co-pilot)
Capacity: 10-12 passengers
Length: 46 ft 1 in (14.04 m)
Wingspan: 64 ft 6 in (19.66 m)
Height: 13 ft 0 in (3.96 m)
Wing area: 641 ft≤ (59.6 m≤)
Empty weight: 6,140 lb (2,791 kg)
Loaded weight: 10,250 lb (4,659 kg)
Powerplant: 4 ◊ de Havilland Gipsy Six I inline engine, 200 hp (149 kW) each
Performance:

Maximum speed: 166 mph (144 knots, 267 km/h)
Cruise speed: 142 mph (123 knots, 229 km/h)
Range: 760 mi (661 nmi, 1,223 km)
Service ceiling: 17,400 ft (5,300 m)
Rate of climb: 925 ft/min (4.7 m/s)
PLEASE GO TO
www.youtube.com/channel/UCCuRVZAGodT6sztTeXBGeMw
and subscribe to our YouTube channel