Designed by the legendary Sidney Camm, the Hawker Fury, of which 262 were built, had its first flight on 25 March 1931. Although still a biplane, its Rolls-Royce Kestrel IV liquid-cooled V12 engine, 640 hp (480 kW) was enclosed by a smooth, streamlined cowling.
A sleek, fast, agile aircraft and the first interceptor in RAF service capable of speed higher than 200 mph, it had highly sensitive controls which gave it superb aerobatic performance.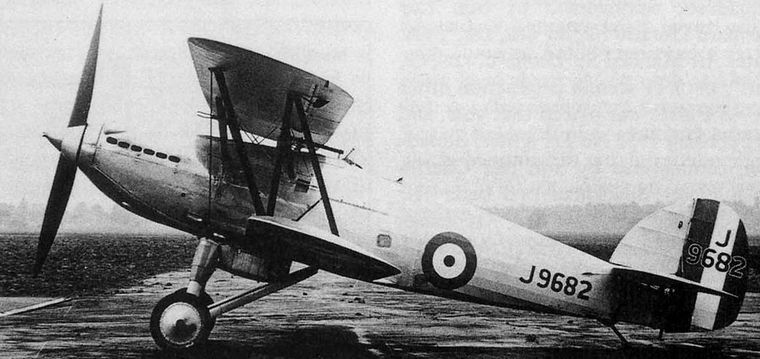 The Fury I entered squadron service with the RAF in May 1931, re-equipping No. 43 Squadron.
A total of 262 Furies were produced, of which 22 served in Persia, 3 in Portugal, at least 30 in South Africa, 3 in Spain, at least 30 in Yugoslavia and the remainder in the United Kingdom.
General characteristics

Crew: 1
Length: 26 ft 9 in (8.15 m)
Wingspan: 30 ft 0 in (9.14 m)
Height: 10 ft 2 in (3.10 m)
Wing area: 252 sq ft (23.4 m2)
Empty weight: 2,734 lb (1,240 kg)
Max take-off weight: 3,609 lb (1,637 kg)
Powerplant: 1 ◊ Rolls-Royce Kestrel IV liquid-cooled V12 engine, 640 hp (480 kW)
Performance

Maximum speed: 223 mph (359 km/h; 194 kts) at 16,500 ft (5,000 m)
Range: 270 mi (235 nmi; 435 km)
Service ceiling: 29,500 ft (9,000 m)
Time to altitude: 3 min 50 s to 10,000 ft (3,000 m)
Armament
Guns: 2 ◊ 0.303 in (7.7 mm) Vickers Mk IV machine guns with 600 rpg
PLEASE GO TO
www.youtube.com/channel/UCCuRVZAGodT6sztTeXBGeMw
and subscribe to our YouTube channel