Compiled by Willie Bodenstein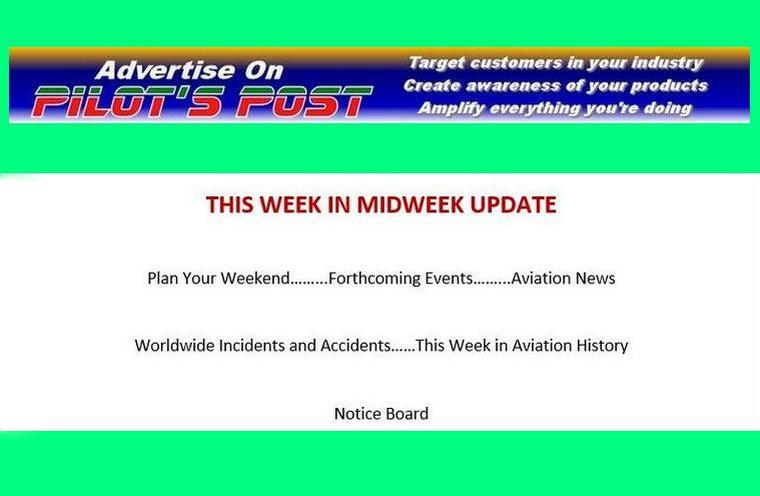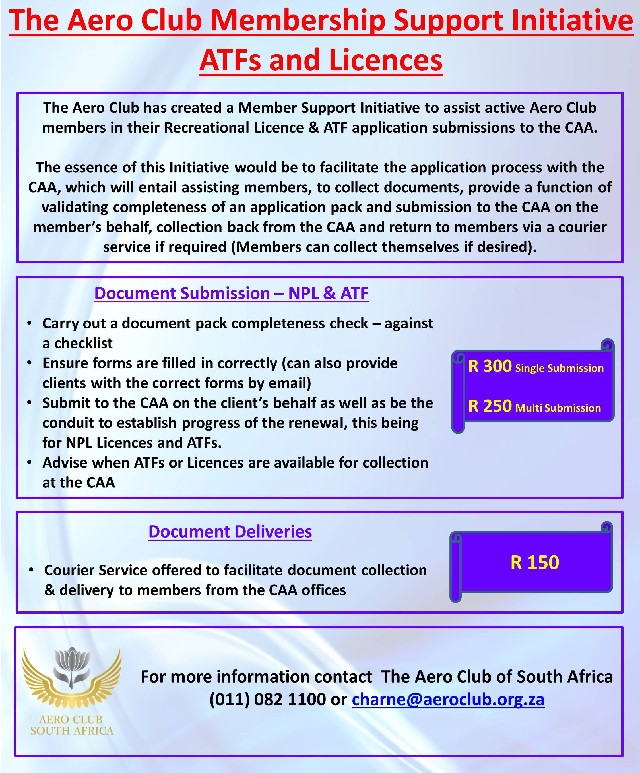 COVID 19 REGULATIONS, INITIATIVES AND AEROCLUB NEWS

AERO CLUB MEMBERSHIP RENEWAL TIME

Dear Aero Club Member,
It is the Aero Club and Members Association renewal time for the year 2021. Please note that we had a payment system glitch related to credit card payments that has been resolved as of 7 Dec 2020. Many thanks for your continued support for recreational aviation in South Africa. Although the current year was supposed to be a significant milestone for the Aero Club as our centenary year, we were not able to celebrate as planned. We were at least very active in securing our ability to fly during the lockdown period and made significant progress in engaging with the regulator. We will continue to build on this relationship to improve the overall service standards and work on regulatory improvements.
To renew your membership or join the Aero Club and its sections go to www.aeroclub.co.za where you can use the Aeropay System, or you can pay via EFT. See below your pro-forma invoice for your current Aero Club fee and other section fees. The Aero Club fee has seen a small nominal increase (from a previous reduction applied for 2020) and section fees have either remained the same or have also applied nominal increases. We continue to manage our budgeted finances to apply our resources to facilitate advocacy matters with the regulator with collaborative support from the sections. Please review and renew your membership as per the payment methods noted. If you have any difficulties, please contact the Aero Club office by email or phone as given below:- Sandra and Charne are ready to assist.
Tel : 011 082 1100
Fax : 086 635 3755
E-mail : office@aeroclub.org.za
www.aeroclub.co.za





THE PERFECT GIFT - THE AERO CLUB CENTENARY YEARBOOK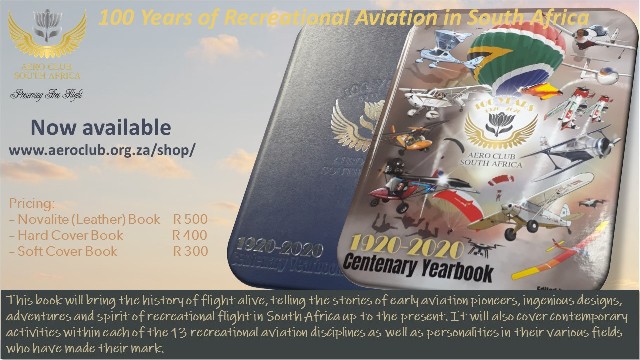 The books are now available and available in Novalite (Leather), Hard Cover & Soft Cover versions from the Aero Club Website Shop, or from the Aero Club office.

You may collect at the Rand Airport Aero Club office, or opt for door-to-door courier service anywhere in SA. Courier costs will range between R 100 to R 150 per book dependent on location. Volume purchases are also available should this be required.

Pricing:
- Novalite (Leather) Bound Book - R 500
- Hard Cover Book - R 400
- Soft Cover Book - R 300

www.aeroclub.org.za/shop





MORE PRIZES ADDED - THE CHOCK NORRIS AVIATION THEMED PHOTO CONTEST





Vote now for December week four finalists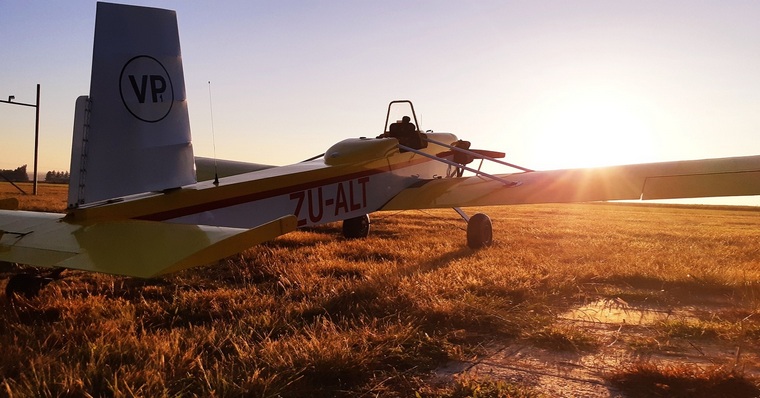 Vote for DecW4.1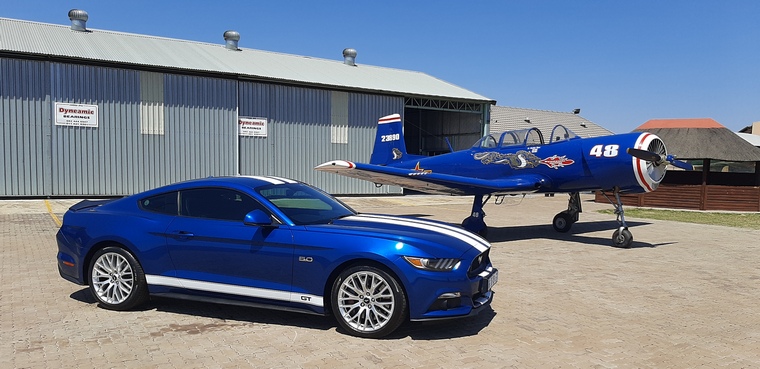 Vote for DecW4.2

How to Enter:
Entering your aviation related photo is easy and simple. All images must be emailed to pilotspost@gmail.com with the following detail included:
Your name,
Email address,
Telephone number,
Where the photo was taken,
Phone used,
A theme name of the photo (Optional).

Due to the large amount of entries we expect, Pilot's Post will not acknowledge your entry!!

Entry Rules:
1. When entering the competition and by sending your photo to Pilot's Post, you explicitly grant the publication of your submitted photograph at Pilot's Post team's discretion without any remuneration or obligation to you.
2. Submitted photos must be resized to be less than 1 megabyte in size. If full-size photographs are required, the Pilot's Post team will request them from you.
3. Only photos taken with cell phones will be accepted.
3. All submissions must have an aviation theme.
4. Photo submissions may be cropped and / or resized only. Any other form of photo alteration or manipulation is not allowed and will be disqualified.
5. You may submit up to three entries per week.

Judging:
1. The Pilot's Post team will select the 2 best photos submitted every week and add them into our "Midweek Update" published every Thursday morning, where our readers will then cast their votes by simply clicking the link below the photo of their choice.
2. At the end of each month, a complete article will be published on Pilot's Post to include the weekly photo submissions with the most reader votes. Our readers will then again have the opportunity to cast their votes by simply clicking the link below the photo of their choice. The photo with the highest number of votes will then be judged the Winner of the Month.
3. A prize of a set of Chock Norris personalised Aircraft Chocks with leather storage bag valued at R500
and
a voucher from the Pilot Shop valued at R200.00 will be awarded to each monthly winner
and
a soft cover copy of the Aero Club of South Africa's Centenary Yearbook valued at R300.00 sponsored by Chapter 322 of the EAA of SA

Eligibility:
The Pilot's Post "Chock Norris 2020" aviation related photo competition is only open to photographers resident in South Africa as our prizes are not transferable and can only be redeemed in South Africa.






EAA CHAPTER 322
With our MACH program (Member Awards for Chapter Help) your membership could win you a trip to Oshkosh!
Click on the link below today to renew or join!
ww.eaa.org.za/membership/membership-form
or for EAA membership information go to
www.eaa.org.za





FORTHCOMIMG EVENTS

The following events will to take place under the rules controlling the number of people congregating together and are therefore not open to the general public.
30 JANUARY 2021
SAPFA Rand Airport challenge
Contact Frank Eckard E-mail:
frank.eckard@mweb.co.za
Cell: 083 269 1516
30 JANUARY 2021
SAPFA AGM at Rand Airport after the rally
Contact Rob Jonkers E-mail:
rob@aerosud.co.za
cell: 082 804 7032
30 & 31 JANUARY 2021
Sport Aerobatic Club Gauteng Regionals Vereeniging Airfield
Contact Annie Boon E-mail:
chunge@mweb.co.za


PIPER CERTIFIES AND DELIVERS FIRST PILOT 100I TRAINER AIRCRAFT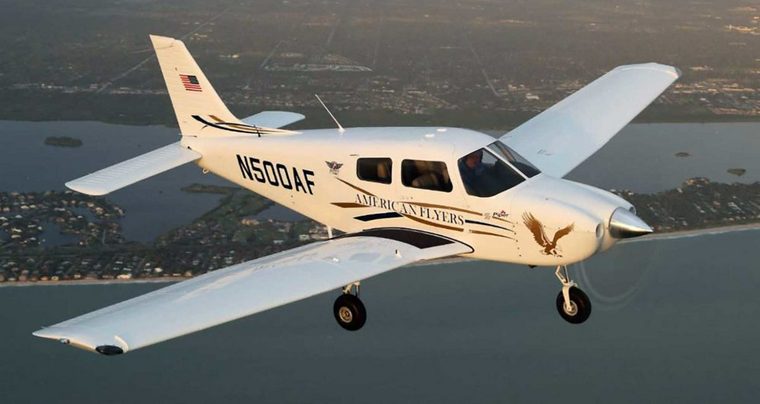 Piper Aircraft announced that it has received type certification from the Federal Aviation Administration (FAA) for the Pilot 100. The Pilot 100, which was announced during Sun-n-Fun in 2019, is the value priced addition to Piper's trainer-class line. Following certification, Piper began deliveries to its launch customer, American Flyers, who will be taking delivery of eight (8) Pilot 100i aircraft by the end of 2020

"We are excited to add the Pilot 100 series to our training product line at a price point that provides optimal economics for all operators", said Piper President and CEO, Simon Caldecott. "During these uncertain times, our team has continued to remain focused and has worked diligently to bring to market an aggressively priced, proven trainer that offers the advanced systems and performance that flight schools and airline programs of all sizes desire."
The new Piper Pilot 100 rounds off Piper's portfolio of training aircraft products. With five model series (Pilot 100i, Archer TX, Archer DX, Arrow, and Seminole) the company offers the widest range of training products of any aircraft manufacturer and meets all the individual needs of its training operators and customers. For 2021, flight schools now have an option for a factory new, robust trainer that is priced under $300,000 and is IFR equipped with digital autopilot.
"The Piper Pilot 100i is the perfect mix of simplicity and technology. The G3X avionics suite is the only glass platform that allows for toggling between round dial and tape displays in a touchscreen format. This outperformed the G1000 suite on so many levels and was the primary reason we selected the Pilot 100i," said American Flyers' National Chief Pilot, Steven Daun.



BOMBARDIER'S LEARJET 75 LIBERTY ENTERS SERVICE

Bombardier is delighted to announce that the newest addition to its diverse business jet portfolio, the Learjet 75 Liberty light jet, is now in service with the first delivery to long-time Learjet operator Alex Lyon & Son, an auctioneering firm that operates throughout the United States and beyond.
"The Learjet 75 Liberty is a value-added business tool for those seeking a safer and more efficient travel option," said Peter Likoray, Senior Vice President, Sales and Marketing, New Aircraft, Bombardier Business Aircraft. "This achievement would not have been possible without our highly skilled team members in Wichita, who are incredibly proud to be delivering the best Learjet yet."
Bombardier is announcing this entry-into-service as its first-ever virtual customer event unfolds. This week, Bombardier will guide customers through personalized visits of its business jets and showcase the innovative digital tools it has developed to help customers interact with the industry's leading aircraft portfolio.
The Learjet 75 Liberty's six-seat configuration features the segment's only Executive Suite, where passengers can stretch out thanks to the nearly three feet (89 centimeters) of legroom. This versatile light jet is also available in the popular eight-seat configuration. A standard pocket door behind the cockpit delivers a quiet flight, while Bombardier's signature smooth ride ensures the most productive and comfortable environment.
The speed, range and cabin experience of Learjet aircraft famously outshine those of other light jets; today, the Learjet 75 Liberty is within reach of more customers and operators than ever, thanks to an exceptional value proposition and operating costs that are similar to those of competitor aircraft that offer less. The Learjet 75 Liberty is an irresistible choice for those who want a better light jet or who are considering making the move to ownership.
"Over the past 20 years, Learjet aircraft and Bombardier's support teams have given me a 99.9% dispatch reliability rate. And thanks to the speed of a Learjet, a late departure doesn't prevent us from arriving on time, which has helped me run my business more efficiently," said Jack Lyon, President and CEO of Alex Lyon & Son. "We appreciate the speed, range and reliability of these aircraft and we're proud to become the owners of the first Learjet 75 Liberty."
Established in 1950, Alex Lyon & Son Sales Managers and Auctioneers Inc. is the largest privately held auction company and sales manager in the world. This family-owned operation is located in Bridgeport, NY and has offices and conducts business in the U.S., Canada, Mexico and South America.
The Learjet 75 Liberty has a range of 2,080 nautical miles, able to connect Las Vegas to New York, Seattle to Washington, D.C., and Mexico City to San Francisco, nonstop. The Learjet 75 Liberty aircraft adheres to more stringent safety standards than most light jets for added peace of mind.

BOEING MQ-25 FIRST FLIGHT WITH AERIAL REFUELING POD

Boeing's MQ-25 U.S. Navy unmanned aerial refueler flew for the first time with an aerial refuelling pod. This underwing pod contains the hose and basket that will refuel Navy fighter aircraft.
The Boeing MQ-25 Stingray is an aerial refuelling drone that resulted from the Carrier-Based Aerial-Refuelling System (CBARS) program, which grew out of the earlier Unmanned Carrier-Launched Airborne Surveillance and Strike (UCLASS) program. The MQ-25 first flew on 19 September 2019.

BELL'S V-280 BRINGS TWICE THE SPEED AND TWICE THE RANGE



Bell leads the way in supporting the U.S. Army and USSOCOM's Future Vertical Lift requirements and is focused on providing lethality, sustainability and reach.


The V-280 was officially unveiled at the 2013 Army Aviation Association of America's (AAAA) Annual Professional Forum and Exposition in Fort Worth, Texas. It made its first flight on 18 December 2017 in Amarillo, Texas.As part of the company's Future Vertical Lift initiative, the Bell 360 and Bell V-280 are leading the way in supporting the U.S. Army and USSOCOM's Future Vertical Lift requirements and is focused on providing lethality, sustainability and reach.



VOLOCOPTER ANNOUNCES FIRST TWO AIRCRAFT SALES TO ADAC LUFTRETTUNG



German air medical operator ADAC Luftrettung has reserved two of Volocopter's VoloCity aircraft to prepare for operational testing of multicopters in future medical response services.


Volocopter's first two aircraft reservations have been secured by German air medical operator ADAC Luftrettung. Frédéric Bruder, managing director of ADAC Luftrettung, and Florian Reuter, CEO of Volocopter, are pictured holding the signed reservation contracts.
This is the first order secured by Volocopter for its aircraft, a spokesperson confirmed to eVTOL.com, to be delivered after the aircraft achieves type certification from the European Union Aviation Safety Agency (EASA), which the company hopes will take place by 2023.
In October, ADAC Luftrettung released the results of an 18-month study with Volocopter and other partners that concluded multicopters had the potential to improve resource management and response times for emergency medical service providers. Across Germany, the average incident response time has deteriorated by almost 40 percent over the past 20 years, mainly due to resource constraints and lack of ground infrastructure in rural regions.
In the report, ADAC Luftrettung noted that to be ideal for its purposes, multicopters would have speeds of about 150 to 180 kilometers per hour (90 to 110 miles per hour) and a minimum range of about 150 km. VoloCity is expected to fly up to 100 km/hr (62 mph) with a range of 35 km (about 22 miles).
Despite the lower speed and range offered by the VoloCity - as one of the very first eVTOL aircraft expected to hit the market - the German non-profit air medical provider clearly believes Volocopter's product warrants further study. The two organizations will work together over the next two years to conduct flight testing in preparation for ADAC Luftrettung's operational tests once the VoloCity is type certified and its two copies are delivered.
"After the ground-breaking results of our feasibility study, we are expanding our technological lead with regards to integrating multicopters in rescue services," said Frédéric Bruder, managing director of ADAC Luftrettung. "Volocopter is the only eVTOL on the market that is advanced enough to reliably plan a test program for our purposes. We are excited to have secured our right to receive amongst the first VoloCity multicopters upon receival of type certificate."
Earlier this month, Volocopter committed to launching air taxi services in Singapore as an early launch market for urban air mobility, with plans to begin early tourism-focused applications by 2023 and build out a network of routes within and around the city-state by 2026.
Though real transportation services offer the largest market for eVTOLs, Volocopter's recent activity and initial sales to ADAC Luftrettung support the belief that early applications for these aircraft are likely to be found elsewhere. Price point aside, commuting services, whether on-demand or scheduled, require public acceptance, infrastructure access that follows from it, and reliability of service that are unlikely to be a reality for urban air mobility in the next few years.



EHANG RECEIVES APPROVAL FOR EVTOL FLIGHT TESTING IN AUSTRIA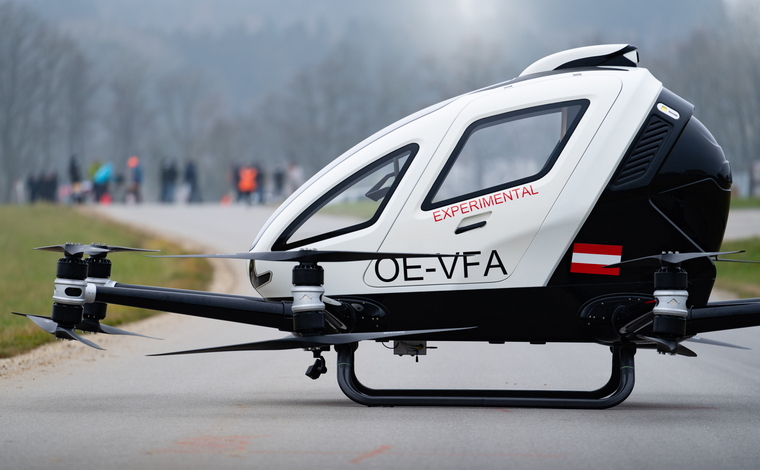 China-based EHang and its Austrian manufacturing partner FACC AG have announced the first flight of an EH216 "passenger-grade" eVTOL in Austria, and approval by the country's civil aviation authority to conduct ongoing trial flights of the autonomous aircraft.


According to EHang, the permit issued Dec. 9 is the first such approval the company has received within the European Union proper, although it received a similar authorization earlier this year in Norway.
Technical experts from EHang and FACC reportedly worked with Austria's regulators for several months to meet national and European requirements for the permit. As part of that process, they conducted a test flight last month at the FACC site in St. Martin im Innkreis using the EH216 registered OE-VFA.
Following a specific operational risk assessment procedure, the aircraft took off in open airspace, flew for several minutes using automatic flight programming and then safely landed. The flight was conducted under the supervision of regulators and the air navigation services provider Austro Control, EHang said.
"The successful test flight of our autonomous flying taxi in Austrian airspace is the starting signal for a comprehensive test program for EHang 216," stated Robert Machtlinger, CEO of FACC AG, in a press release translated by Google from the original German. "We are thus creating the basis for the approval of an innovative, highly flexible and sustainable traffic and transport solution for urban centres."
In August, EHang announced a partnership with the multi-utility provider Linz AG to implement a pilot urban air mobility (UAM) operation in Linz, Austria. The program will start with unmanned flights and a single route along the Danube river to demonstrate the feasibility of implementing UAM services with the two-passenger EH216.
The two-seat EH216 has a current range of approximately 40 km (25 miles), a maximum payload of 220 kg (485 lb.) and a cruising speed of 130 km/h (80 mph).



SPECIAL-MISSION GULFSTREAMS APPROVED FOR ITALY



The U.S. State Department issued approval on December 15 for the foreign military sale of two Gulfstream 550s to the Italian government. The aircraft will be outfitted for the Airborne Intelligence, Surveillance, Reconnaissance and Electronic Warfare (AISREW) role, with L3 Harris at Greenville, Texas, acting as prime contractor and system installer.


Valued at $500 million, the potential sale includes a suite of mission systems, including the Rio communications intelligence system and MX-20HD electro-optical turret from L3 Harris, AISREW electronic warfare suite and Leonardo Osprey 50 AESA radar. The aircraft will carry missile warning systems and ALE-47 countermeasures dispensers and have secure embedded GPS/inertial navigation systems and identification friend or foe (IFF). Communications includes the Multifunctional Information Distribution System-Joint Tactical Radio System (MIDS JTRS).
The aircraft are expected to resemble the Shavit ISR Gulfstreams operated by Israel. Australia has also ordered four of an L3 Harris-modified ISR version.
Italy's Aeronautica Militare Italiana (AMI, Italian air force) already has two special-mission Gulfstream 550s in service, having bought the conformal airborne early warning (CAEW) version. In October, Italy's annual defence budget mentioned the purchase of special-mission Gulfstreams, with €1.23 billion ($1.49bn) earmarked for the program. In early December the Italian defence ministry revealed plans to acquire up to eight Gulfstreams.



AIRBUS HELICOPTERS BOOSTS THE MISSION CAPABILITIES OF ITS H135 HELICOPTERS



The European Union Aviation Safety Agency (EASA) has certified a new Alternate Gross Weight (AGW) for the latest version of the H135 family of helicopters. The new AGW enables operators to benefit from an increased maximum take-off weight of up to 120 kg (265 lb) and useful load.

This increase can also be used to extend the range by up to 75 nm or the endurance by up to 40 minutes under standard conditions. The new AGW is available as an option and can be applied retroactively to all H135s equipped with Helionix.
Additionally, Airbus has recently certified a new single pilot IFR Helionix cockpit for its H135 helicopters. The modified cockpit enables customers to choose between removing the co-pilot side of the instrument panel to increase the field of view or to keep it in order to install specific STC equipment. The single pilot IFR cockpit of the H135 will further boost the capabilities of the H135 in several missions, including aerial work, utility and law enforcement.
To date, more than 1,400 helicopters of the H135 family have been delivered around the globe with more than 5.6 million flight hours. More than 300 customers in 60 countries use helicopters from the H135 family for a wide range of missions including Helicopter Emergency Medical Services (HEMS), law enforcement, private and business aviation, offshore wind and military training.





Guatemala, Parque Nacional Sierra de Lacandon: A crashed and abandoned British Aerospace BAe-125-700A used for illegally transporting drugs was found in Parque Nacional Sierra de Lacandon, Guatemala. Three injured occupants were found inside the airplane. One of them later died from the injuries sustained in the crash. The colour scheme of the crashed aircraft exactly matches that of N326TD, a BAe-127-700A. This aircraft was sold in December and flew from the U.S. to Mexico on 3 December. File photo. Not the accident aircraft.


Namibia, near Windhoek: A Namibian registered AutoGyro Calidus with two on board that had departed from Windhoek-Hosea Kutako International Airport on a flight to Heja Lodge crashed on a road near Windhoek, Namibia. The two occupants did not survive and the aircraft was damaged beyond repair.
USA, North of Rio Linda Airport Rio Linda, CA: A Powered Parachute with the pilot in a Santa Claus suit impacted and became suspended in powerlines north of Rio Linda Airport (L36), Rio Linda, California. The powered parachute sustained apparent minor damage and Santa Claus, the sole pilot onboard, was not injured and his delectable cargo apparently undamaged.
Mali, Bamako: A UTAir Antonov AN-74 operating for the United Nations, was climbing out of Bamako on a flight to Gao when the crew stopped the climb at about 4000 feet due to a cargo door open indication associated with cabin pressurization problems. The crew returned the aircraft to Bamako for a safe landing. A post flight inspection revealed a cargo net had entangled with the door locks.
USA, Morris Municipal Airport/Washburn Field Morris, IL: A Robinson R44 with only the pilot on board suffered a dynamic rollover while practicing touch-and-go landings in gusting wind conditions at Morris Municipal Airport/Washburn, Illinois. The helicopter sustained substantial damage and the injury status of the sole pilot onboard has not been reported.

Canada, Calgary: A Sunwest Aviation de Havilland Dash 8-200, with 18 occupants about 25nm eastsoutheast of Calgary was on a flight to Conklin when the crew decided to return to Calgary due to a hydraulic failure. The aircraft landed safely in Calgary more than 30 minutes after departure. The Canadian TSB reported a hydraulic line had ruptured, the engine driven hydraulic pump had operated for 15 minutes or more without hydraulic fluid. Both engine driven and power transfer unit hydraulic pumps were replaced.
Ireland, Dublin: A UPS United Parcel Service Boeing 767-300 freighter, was in the initial climb out of Dublin for a flight to Cologne (Germany) when the crew declared PAN PAN reporting a right-hand engine (CF6) failure and requested to join the downwind for a return. The aircraft stopped the climb at 3000 feet, the crew detailed they were climbing through 1300 feet when they heard a big bang and noticed vibrations from the right-hand engine and N1 issues with the right-hand engine, which was kept running however and landed safely back on runway 28L about 17 minutes after departure.
USA, near Fort Worth Spinks Airport Fort Worth, TX: A experimental built Sonex, impacted parking lot terrain while on approach to land at Fort Worth Spinks Airport Fort Worth, Texas. The tailwheel equipped airplane came to rest inverted, sustaining substantial damage and the sole pilot onboard received fatal injuries.
USA, Lake County Airport Leadville, CO: An Eclipse 500 operated by Musgrave Properties with only the pilot on board experienced a runway excursion upon landing at Lake County Airport (LXV/KLXV), Leadville, Colorado. The airplane sustained unreported damage and the sole pilot onboard was not injured during the incident.

USA, near Tampa International Airport, Tampa, FL: A Piper PA-28-140 Cherokee operated by LaGrand Aviation LLC with three occupants clipped powerlines and impacted the terrain following a declared loss of engine power while on approach to land at Tampa International Airport. The aircraft was partially consumed by the post impact fire and the three occupants onboard were seriously injured.
Canada, Calgary: An Air Canada Airbus A321-200, with 105 people on board, was descending towards Calgary when the aircraft encountered turbulence. All passengers were already secure; however, the flight attendants were still moving around the cabin, three flight attendants fell as result of the turbulence, received minor injuries and were able to return to their jump seats for the landing. The flight continued for a safe landing.
New Zeeland, Mahia Peninsula, Hawke's Bay, NI: A Robinson R44 clipped powerlines and impacted the terrain during an aerial application flight in Mahia Peninsula, Hawke's Bay, New Zealand. The helicopter sustained substantial damage and the sole pilot onboard received serious injuries.
USA, Jacksonville Executive Airport Jacksonville, FL: An Embraer EMB-500 Phenom 100 operated by Executive Aviation Investors Inc experienced a loss of directional control and subsequent runway excursion upon landing at Jacksonville Executive Airport at Craig (CRG/KCRG), Jacksonville, Florida. The airplane sustained unreported but apparent substantial damage subsequent to a collapsed right main landing gear. The two pilots onboard were not injured during the incident.
USA, Heber City Municipal Airport, UT: An experimentally amateur built SilverLight American Ranger AR-1 Gyro Copter with only the pilot on board, impacted airport terrain under unknown circumstances at Heber City Municipal Airport, Utah. The gyrocopter sustained substantial damage and the sole pilot onboard received fatal injuries.





25 DECEMBER 1934




Raymond Delmotte test pilot and an Ace French World War I fighter pilot, flew a C.460 Rafale single-engine monoplane over a 3-kilometer (1.864 miles) straight course at an average speed of 505.85 kilometers per hour (314.32 miles per hour), setting a new Fédération Aéronautique Internationale (FAI) world record speed for land planes.
The attempt consisted of four trial flights over a regulation three-kilometre straight course, the average time made during all of them being taken as the final result. Delmotte made a preliminary attempt in the morning, but, owing to a crosswind of 10 m.p.h. then prevailing, he was able to attain only 478 km./hr. as the average result. He then waited until the afternoon, when, the wind having fallen to about 2½ m.p.h., he took off again and accomplished an average speed of 505.84 km./hr., according to the official timers, who will submit this figure to the F.A.I. for homologation.
Delmotte won a prize of 300,000 francs, equivalent to $19,000 U.S. dollars.

PLEASE GO TO
www.youtube.com/channel/UCCuRVZAGodT6sztTeXBGeMw
and subscribe to our YouTube channel