The Hawker Hart was designed during the 1920s by Sydney Camm, Hawker's prolific and legendary designer. A sleek biplane with an aerodynamically pleasing fuselage which was constructed of steel-tube covered by aluminium panels and fabric, the Hart had its first flight in 1928 and entered service in 1930.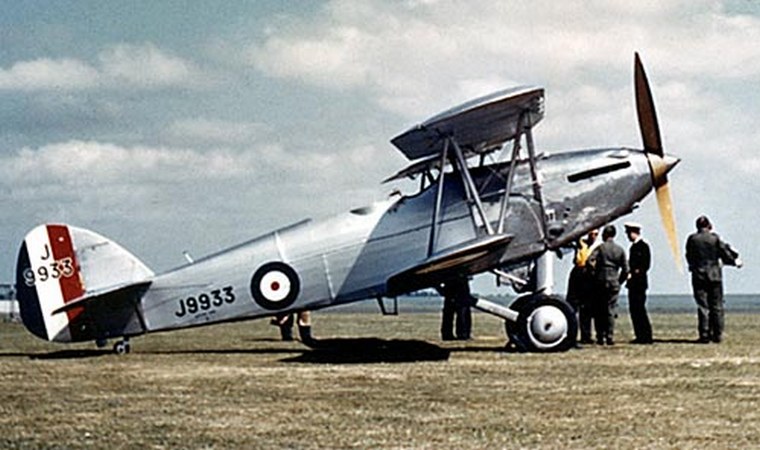 It doesn't need a lot of imagination to see the Hurricane lurking between the top and bottom biplane wings. Streamlined down to the wing struts and undercarriage legs, the Hart was a prominent British aircraft in the inter-war period.
The Hart saw service with the Royal Egyptian Air Force, Royal Indian Air Force, South African Air Force, Estonian Air Force, Southern Rhodesia, Sweden and the Kingdom of Yugoslavia. The Rhodesian Harts saw service on the Allied side during the opening moves of the East African theatre of World War II.
General characteristics:

Crew: 2
Length: 29 ft 4 in (8.94 m)
Wingspan: 37 ft 3 in (11.35 m)
Height: 10 ft 5 in (3.18 m)
Wing area: 349.5 sq ft (32.47 m2)
Airfoil: RAF 28
Empty weight: 2,530 lb (1,148 kg)
Max take-off weight: 4,596 lb (2,085 kg)
Fuel capacity: 83 imp gal (100 US gal; 380 L
Powerplant: 1 ◊ Rolls-Royce Kestrel IB water-cooled V12 engine, 525 hp (391 kW)
Performance:

Maximum speed: 185 mph (298 km/h; 161 kts) at 13,000 ft (4,000 m)
Stall speed: 45 mph (72 km/h; 39 kts)
Range: 430 mi (374 Nm; 692 km)
Service ceiling: 22,800 ft (6,900 m)
Time to altitude: 8 min 30 s to 10,000 ft (3,000 m)
Armament
Guns: 1 ◊ synchronised forward firing .303 in (7.7 mm) Vickers machine gun, 1 ◊ .303 in (7.7 mm) Lewis Gun on Scarff ring in rear cockpit.
Bombs: Up to 520 lb (240 kg) bombs under wings
PLEASE GO TO
www.youtube.com/channel/UCCuRVZAGodT6sztTeXBGeMw
and subscribe to our YouTube channel