The C-46 Commando evolved from the aerodynamically sleek Curtiss-Wright CW-20. The CW-20, a private venture by Curtiss, was originally designed in 1937 as a 36-passenger pressurised high-altitude airliner as competition for the four-engine Douglas DC-4 and Boeing Stratoliner.

During testing, General Henry H. "Hap" Arnold became interested in the potential of the airliner as a military cargo transport and on 13 September 1940, ordered 46 modified CW-20As as the C-46-CU Commando. Later production models designated C-46A had enlarged cargo doors, a strengthened load floor and a convertible cabin that speed up changes in carrying freight and troops.
The production model for the US Army Air Forces, designated C-46 and the US Navy, designated R5C, had its first flight on 26 March 1940 and was introduced into service in 1941. It was redesign to not only to conform to the duties of a military cargo or task-force aircraft, but to allow for easy large-scale production. Almost 3,200 Commandos were produced before the line was closed in 1945.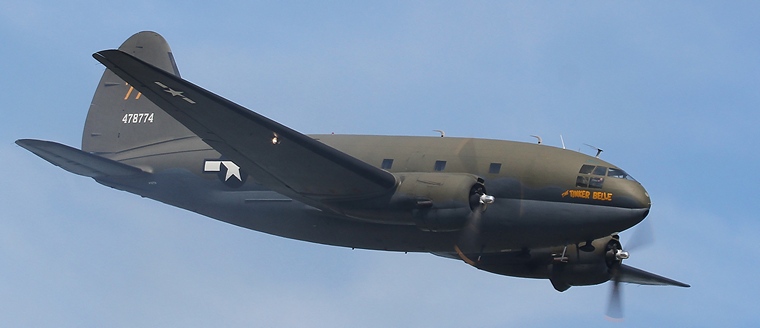 At the time of its production, the Commando was the second largest aircraft ever produced, beaten only by the huge Martin Mars PBM Amphibian. The main compartment of the Commando could accommodate, (in addition to general cargo), 40 fully equipped troops, up to 33 stretchers, five Wright R-3350 engines or their equivalent weight of other goods.
During WWII, the Commando served in a similar role as the Douglas C-47 Skytrain in the US Army Air Transport Command, Air Service Command, Troop Carrier Command, the US Naval Air Transport Command and Marine Corps.

In Europe, during WWII, the Douglas C-47 gained legendary status and was the most widely used military transport aircraft of the war. The Curtiss C-46 Commando, although not deployed in numbers, nevertheless played a significant role in wartime operations. However, because of extremely high losses during paratrooper drops (19 out of 72 C-46s were shot down during Operation Varsity) the US Army decided not to the use the Commando in all future airborne operations.
It was in the Pacific Theatre where the Commando, that had twice the cargo volume and three times the weight of the Skytrain, became the workhorse of the sky and where it gained its fame. It was the only aircraft on the inventory of the Allies that was able to handle the unpredictably violent weather while flying over the Himalaya Mountains, transporting desperately needed supplies to troops in China from bases in India. The powerful engines of the Commando enabled it to climb satisfactorily with heavy loads, staying aloft on one engine if not overloaded, which, unfortunately it often was. It could carry more cargo higher than other Allied twin-engine transport aircraft in the theatre.
However, the high mountain terrain was poorly equipped and frequently flooded airfields. A host of mechanical problems and maintenance nightmares due to a shortage of trained air and ground personnel proved to be a considerable challenge to the operations. Losses were extremely high. Between March 1943 and March 1945, thirty-one Commandos caught fire or exploded in mid-air, earning it the derogatory titles of the "Flying Coffin and the "Curtiss Calamity." Many more were lost, never to be found and the route, because of the strewn wreckage, eventually became known as Aluminium Alley.
When WWII ended, the Commandos career as a warbird briefly ended but the world was never really at peace and the C-46 soon found itself back in the military, albeit covertly. Israel, in 1948, during its war independence, covertly purchased twelve C-46's that were flown to Czechoslovakia in a circuitous route along South America and then across to Africa. In Czechoslovakia, dismantled S-199 fighters as well as other weapons and military supplies were loaded into the huge hold of the C-46's for clandestine delivery to Israel. At night, it would be loaded with bombs, which would be dumped from its cargo door onto targets in Faluja, Gaza and others.
Curtiss C-46 "China Doll" Photo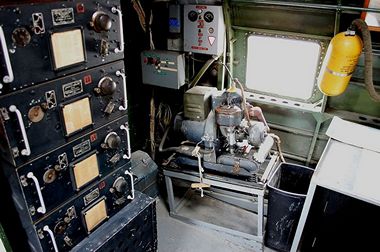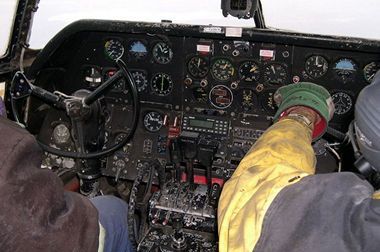 The office…………. APU and Radios.
Photos commons.wikimedia.org

Some C-46's continued to see service with the United Sates Air Force (USAF) serving both in Korea and Vietnam. Officially, the Commando was retired in 1968. However, a number found their way into the CIA where they played a supporting role in many clandestine operations during the late 1940s and early 1950s. A couple operated under the guise of Air America, flying cargoes of military equipment to French forces in French Indochina and on other clandestine missions in support of the USA's involvement in Vietnam.
In April 1975, the US started withdrawing from Vietnam and on 29 April, the last fixed wing aircraft to leave Saigon was a 52 seat Curtiss C-46 Commando. Crammed inside were 152 people. The Commando landed safely at Bangkok, Thailand.
Other Commandos did find a home in civilian airlines in the US. However, there was such a surplus of C-47/DC-3s that had an operating cost almost 50% lower than that of the C-46 that it was soon, with some exceptions, relegated to the cargo role. In South America, particularly in Brazil, Peru, Chile, Argentina and Bolivia, the C-46 became a common sight. Its good climb rate and high service ceiling was perfectly suited to the high mountains areas while its long range allowed it to overfly deep jungle terrain.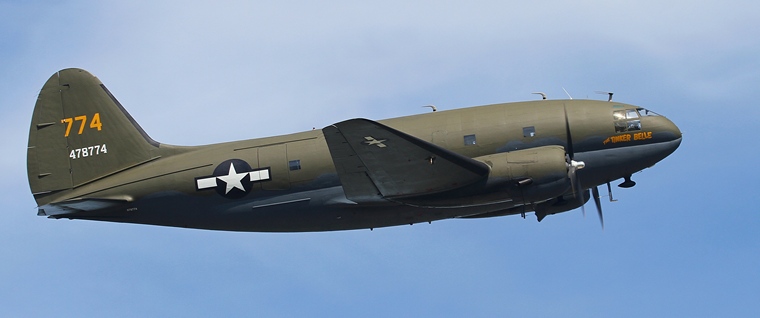 Closer to home, and as late as 1995. a non-governmental relief organisation, Relief Air Transport, flew three Canadian C-46s based in Kenya on behalf of Operation Lifeline. The C-46s transported humanitarian supplies to Goma, Zaire, Mogadishu and Somalia. One of the aircraft, GIXZ, was lost near Lokichoggio while the remaining two (GTXW & GIBX) eventually made their way back to Canada.
Featured at Oshkosh 2016 was Tinker Belle, who is one of approximately six airworthy examples in the USA, while one, China Doll is currently being restored to flying condition. One survives in Canada, although its Certificate of Registration has been cancelled. In South America, where the C-46 was once a common sight, there are according to reports three airworthy examples, as well as one that has been grounded.
The good news is that a large number of fuselages and spares are in storage in the USA and the future of this relic of the last Great War seems fairly secure.
PLEASE GO TO
www.youtube.com/channel/UCCuRVZAGodT6sztTeXBGeMw
and subscribe to our YouTube channel