Compiled by Willie Bodenstein



FLYING HIGH: CEMAIR FORGES AHEAD WITH EXPANSION PLANS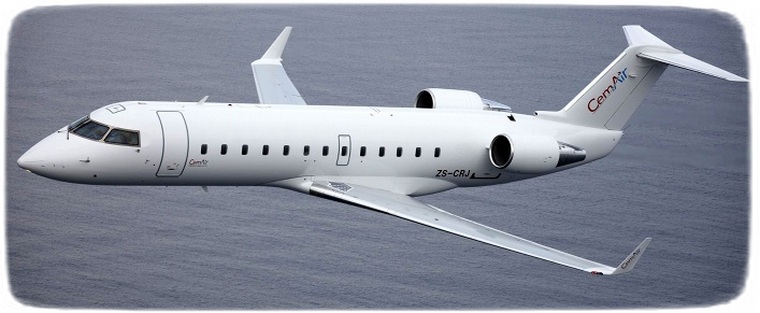 Cemair is going from strength to strength and has taken advantage of the altered aviation landscape in South Africa. Since it returned to the skies in June 2020, it has grown its domestic route network. It has also formed partnerships with several major international airlines flying to South Africa.
On 1 June, when airlines were permitted under the lockdown to begin operating limited domestic services again, Cemair was quick to get back into the air. The airline took advantage of the uncluttered aviation landscape while many of the country's other carriers remained grounded.
Cemair used to operate a limited domestic route network serving regional centres including Plettenberg Bay, Margate and George only. But it has now begun to operate scheduled fights on several of the country's major air routes as a result of "being in the right place at the right time".
The carrier began operating flights on routes it previously had not flown while there were few airlines operating. Cemair has now entrenched itself as a reliable scheduled carrier on several of South Africa's major routes. These include the country's two busiest routes - Johannesburg to Cape Town and Johannesburg to Durban.
Cemair also has permission to operate flights to countries outside of South Africa's borders. The airline aims to fly to Lagos (Nigeria), Luanda (Angola), Maputo (Mozambique) and Gaborone (Botswana) in the near future.
The airline has three additional Airbus A 319 aircraft which will be deployed on the new routes. Cemair hopes to start flights to these destinations outside South Africa's borders when the relevant governments end flight bans on South African carriers and reopen borders to South Africans.
ETHIOPIAN AIRLINES
Cemair signed an interline agreement with Africa's largest airline, Ethiopia Airlines, on 22 January. The agreement allows passengers from both airlines to enjoy seamless travel with a single ticket. It will also mean lower costs between destinations within both of the carriers' route networks.
"Ethiopian is a strong partner and, with the significant changes in the South African airline industry, we look forward to working closely with them as we expand our network both domestically and beyond," Cemair CEO Miles van der Molen said in a press release.
Rahel Asefa, vice president: marketing for Ethiopian Airlines Group, said: "In our continuous endeavour to expand our service beyond our extensive network in Africa, we are happy to partner and add Cemair to our list of partners in Africa."
Cemair also signed an interline agreement with award-winning Middle Eastern carrier Qatar Airways on 11 February. The agreement will enable convenient travel options for passengers from either airline to destinations across both carriers' route networks on a single ticket.
"We are proud of our association with Qatar Airways, one of the world's leading airlines," Van der Molen said.
Qatar Airways' Hendrik du Preez, said: "We are delighted to sign the interline agreement with Cemair, connecting our passengers to 16 additional domestic and four regional destinations from South Africa."
FLYSAFAIR GETS READY TO PACK ITS BAGS FOR MAURITIUS AS IT RECEIVES RIGHTS APPROVAL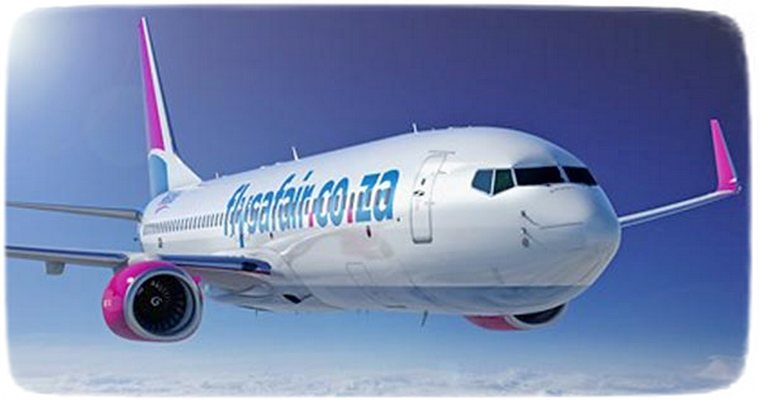 FlySafair's rights application to operate flights between South Africa and Mauritius has been approved. While a schedule is not currently available due to the island nation's travel ban to and from South Africa, the airline will introduce a twice-weekly service as soon as government regulations allow.
"This is an all-important milestone for the FlySafair team as we look to expand our operations," says Elmar Conradie, CEO of FlySafair. "We've had our sights set on offering services beyond South Africa for some time and hope this will be one of many announcements in the future."
South Africans have had a long-standing love affair with Mauritius as a travel destination. In 2018, 1.4 million tourists visited the island - exceeding its total population at the time - and South Africans made up 14.2% of these visitor numbers followed by Germany at 11.7%. On the flipside, there's been steady growth in Mauritians visiting South Africa between 2018 and 2019 with a notable 6.2% increase year-on-year.
"The events of the last year have definitely put a dampener on the travel and aviation industry locally and internationally. It's given us pause for thought and helped us to think more strategically about the future of the airline," says Kirby Gordon, CMO of FlySafair. "With some of the major local carriers still grounded, we're hoping to provide some much-needed capacity on the route between OR Tambo and Sir Seewoosagur Ramgoolam International Airport."
While this might be the low-cost carrier's first foray into international flight services, it's old hat for its parent company Safair. Over its long and illustrious 50-year history, Safair has operated a number of specialist aviation services including the transport of cargo across Africa and as far as Antarctica. Its commercial experience is not limited to FlySafair and spans some three decades with operating partnerships involving Kulula, AirNamibia, South African Airways and Ryanair.
"Safair has been able to build up a wealth of experience in the aviation industry and we're very fortunate to be able to tap into this as we embark on this exciting new chapter," says Conradie.
KULULA.COM BACK AT LANSERIA FROM 1 APRIL 2021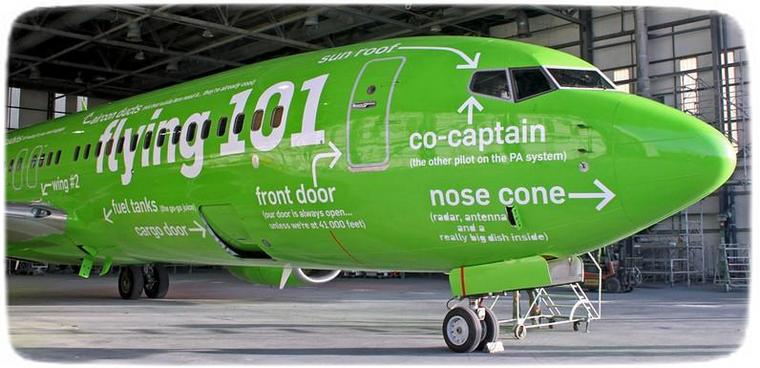 South Africa's low-cost airline kulula.com, today announced that it will restart its operations at Lanseria International Airport from 1 April 2021, servicing its Durban and Cape Town routes.
Similar to the re-introduction of its other routes, kulula.com will commence with a limited schedule, adding additional frequencies over the next couple of months. Customers are now able to book flights from Lanseria via various distribution channels at market-related fares.
Desmond O'Connor, Executive Head of Revenue Management at kulula.com says "We are upbeat and extremely excited about the reopening of our services back at Lanseria as part of our ramp-up strategy. At kulula.com, we aim to make travel as simple, easy, and convenient as possible and we look forward to welcoming back all our customers onboard our flights, especially those from the north-western parts of Johannesburg and Pretoria."
"With the reintroduction of flights between Lanseria, Durban and Cape Town and with faster check-in processes, as well as a shorter walk from the car park to the terminal, it's an obvious choice for visitors that frequently fly into Gauteng", concludes O'Connor.
BRITISH AIRWAYS (OPERATED BY COMAIR) REOPENS REGIONAL ROUTE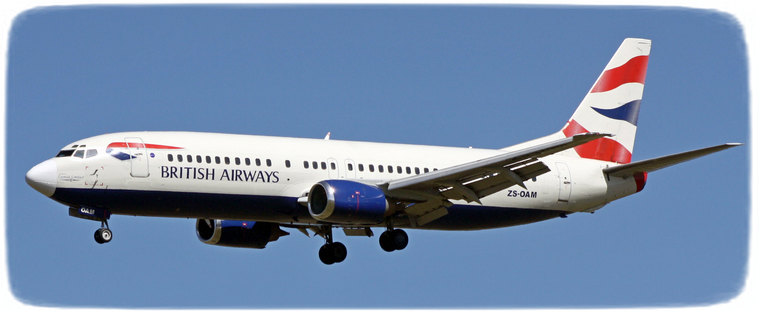 British Airways (operated by Comair), South Africa's leading premium full-service airline, has announced the reopening of bookings for daily regional flights between Johannesburg and Harare with one-way fares starting from R995, including taxes and surcharges.
Bookings for the regional route are open from today and will start operating on 28 March 2021.
Desmond O'Connor, Executive Head of Revenue Management at British Airways (operated by Comair) says: "We are delighted to reopen bookings for our services to Harare as part of the gradual ramp-up to our schedule. These flights will offer more choice for those customers who would like to fly to the regional destination from South Africa.
"We anticipate that the reopening of this route and others in future will be well-received by corporate and leisure travellers. We will soon reintroduce holiday packages through our tour operating divisions, which will mutually improve regional tourism between the SADC countries."
When travelling with British Airways (operated by Comair) regionally, customers have a choice of Club (Business Class) and Traveller (Economy Class). Both Traveller and Club offer passengers British Airways' full-service hospitality, which includes a selection of complimentary meals and beverages. Customers have a more spacious cabin and get to take two free 23kg bags onboard as baggage allowance. The Club offering includes added benefits, such as access to the SLOW lounge, priority boarding, pre-flight welcome drinks and additional legroom. All customers can join British Airways' frequent flyer programme, the Executive Club, to earn benefits and rewards.
IATA - FROM BAD TO WORSE: JANUARY PASSENGER DEMAND FALLS FURTHER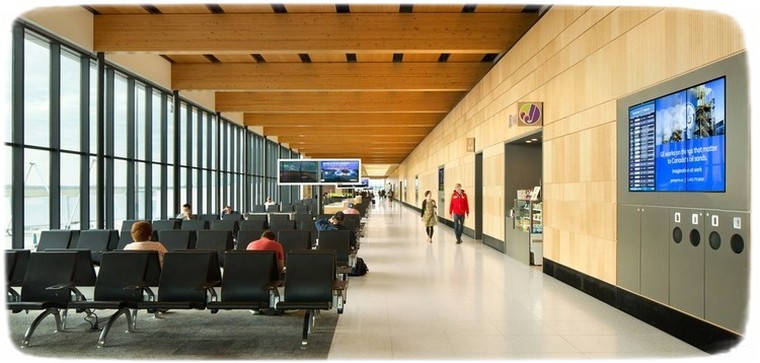 The International Air Transport Association (IATA) announced that passenger traffic fell in January 2021, both compared to pre-COVID levels (January 2019) and compared to the immediate month prior (December 2020).
Because comparisons between 2021 and 2020 monthly results are distorted by the extraordinary impact of COVID-19, unless otherwise noted all comparisons are to January 2019 which followed a normal demand pattern.
Total demand in January 2021 (measured in revenue passenger kilometres or RPKs) was down 72.0% compared to January 2019. That was worse than the 69.7% year-over-year decline recorded in December 2020.
Total domestic demand was down 47.4% versus pre-crisis (January 2019) levels. In December it was down 42.9% on the previous year. This weakening is largely driven by stricter domestic travel controls in China over the Lunar New Year holiday period.
International passenger demand in January was 85.6% below January 2019, a further drop compared to the 85.3% year-to-year decline recorded in December.
"2021 is starting off worse than 2020 ended and that is saying a lot. Even as vaccination programs gather pace, new COVID variants are leading governments to increase travel restrictions. The uncertainty around how long these restrictions will last also has an impact on future travel. Forward bookings in February this year for the Northern Hemisphere summer travel season were 78% below levels in February 2019," said Alexandre de Juniac, IATA's Director General and CEO.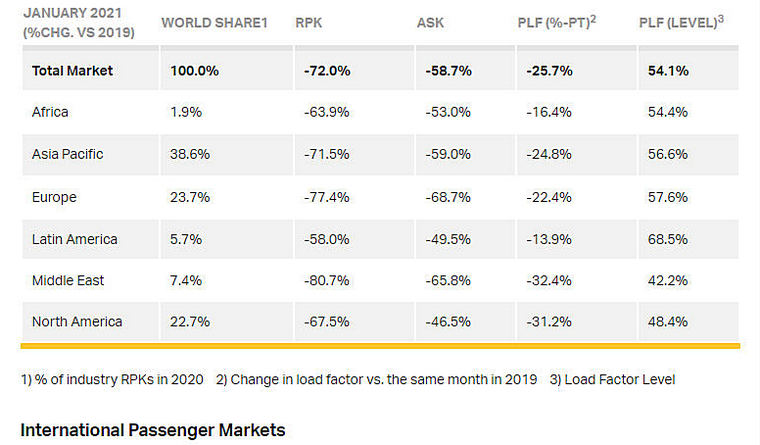 Asia-Pacific airlines' January traffic plummeted 94.6% compared to the 2019 period, virtually unchanged from the 94.4% decline registered for December 2020 compared to a year ago. The region continued to suffer from the steepest traffic declines for a seventh consecutive month. Capacity dropped 86.5% and load factor sank 49.4 percentage points to 32.6%, by far the lowest among regions.
European carriers had an 83.2% decline in traffic in January versus January 2019, worsened from an 82.6% decline in December compared to the same month in 2019. Capacity sank 73.6% and load factor fell by 29.2 percentage points to 51.4%.
Middle Eastern airlines saw demand plunge 82.3% in January compared to January 2019, which was broadly unchanged from an 82.6% demand drop in December versus a year ago. Capacity fell 67.6%, and load factor declined 33.9 percentage points to 40.8%.
North American carriers' January traffic fell 79.0% compared to the 2019 period, up slightly from a 79.5% decline in December year to year. Capacity sagged 60.5%, and load factor dropped 37.8 percentage points to 42.9%.
Latin American airlines experienced a 78.5% demand drop in January, compared to the same month in 2019, worsened from a 76.2% decline in December year-to-year. January capacity was 67.9% down compared to January 2019 and load factor dropped 27.2 percentage points to 55.3%, highest among the regions for a fourth consecutive month.
African airlines' traffic dropped 66.1% in January, which was a modest improvement compared to a 68.8% decline recorded in December versus a year ago. January capacity contracted 54.2% versus January 2019, and load factor fell 18.4 percentage points to 52.3%.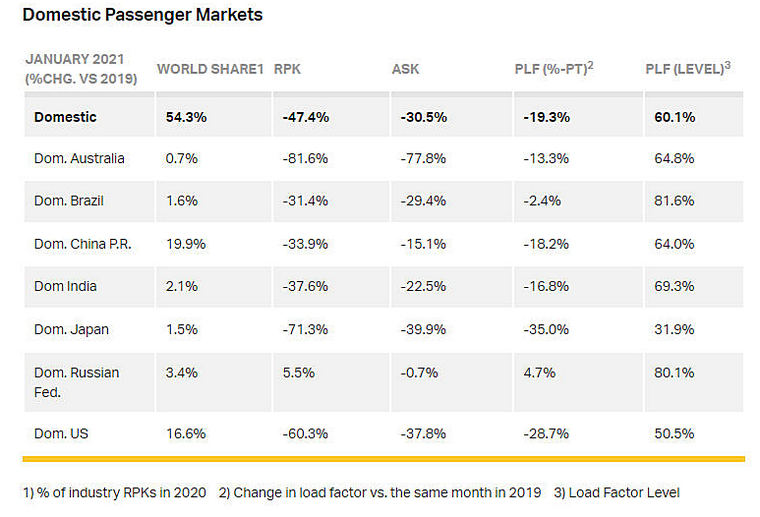 FIRST KLM CITYHOPPER EMBRAER 195-E2 TOUCHES DOWN AT SCHIPHOL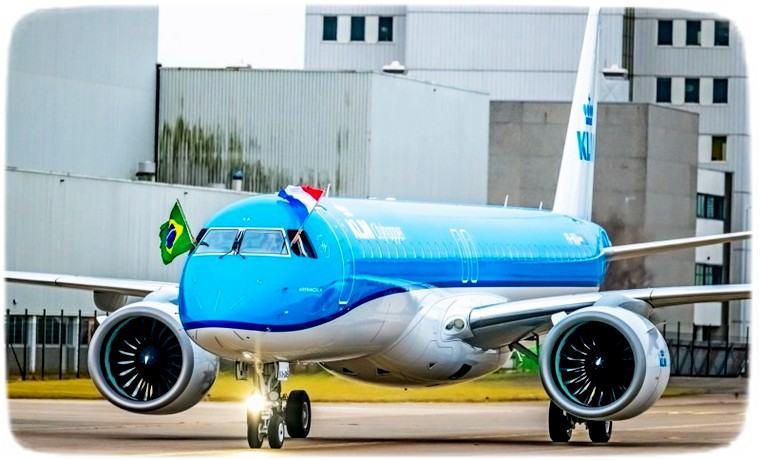 The first Embraer 195-E2 from Brazil has arrived at Amsterdam Airport Schiphol. The new aircraft type is both quieter and more economical than its predecessor, the Embraer 190. The 195-E2 uses 9% less fuel per flight and therefore emits 31% less CO2 per passenger in comparison with the E-190. This new type is also 63% quieter than the Embraer 190. Fleet renewal forms an important part of KLM's approach towards making its operations more sustainable. Seven new aircraft of this type will be joining the KLM Cityhopper fleet this year. KLM has ordered a total of 25.
The latest addition to the fleet will be taken into operation on 1 March for destinations within the European network. The aircraft can carry 132 passengers, making it the biggest in the KLM Cityhopper fleet, which now consists of 32 Embraer 190s and 17 Embraer 175s. In addition to remarkably little noise in the cabin, passengers get to enjoy the special mood lighting, ergonomically designed seats, extra legroom, USB connections and bigger baggage bins.
Warner Rootliep, Managing Director KLM Cityhopper: "Not only is the 195-E2 an economically attractive aircraft, it also fits perfectly within our Fly Responsibly sustainability approach. This will enable KLM to make its own operations and the sector as a whole more sustainable. Now, more than ever before, we're committed to reducing the impact we have on our surroundings and our ecological footprint. At present, fleet renewal makes the biggest contribution towards reducing CO2 emissions."
The new aircraft will be taken into operation on 1 March, operating its first flight to Warsaw. Before commencement of the summer schedule, KLM Cityhopper will take four new 195-E2s into operation.
"We're incredibly proud that with KLC, we've been able to make such a huge contribution towards developing KLM's European network in recent years. The more efficient, sustainable and comfortable 195-E2 serves to strengthen our competitive position," adds Warner.
As of today, KLM Cityhopper's fleet consists of 50 aircraft. This makes KLM's Embraer fleet the biggest in Europe. Another six aircraft will follow this year, with the remaining 18 being delivered in the years ahead. KLM also has an option on a further 10 195-E2s.

THAI SUBMITS REHABILITATION PLAN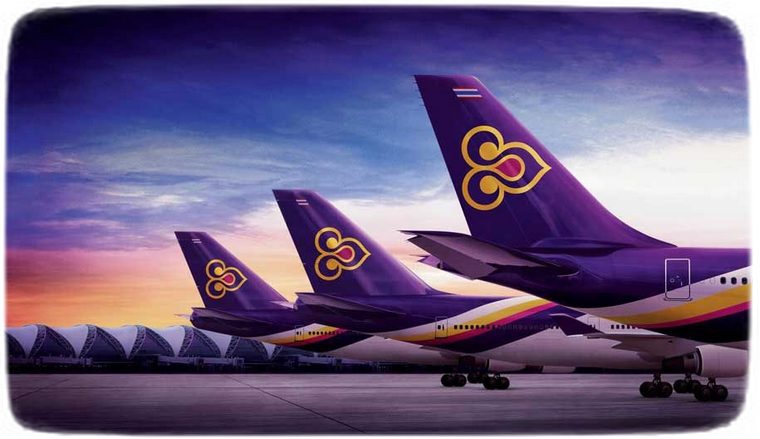 Mr. Chansin Treenuchagron, Acting President, Thai Airways International Public Company Limited (THAI), revealed that the rehabilitation plan has been summited to the Official Receiver in accordance to the Central Bankruptcy Court's order and Planner's appointment on 14 September 2020.
Since the outbreak of COVID-19 in 2020, THAI and many other airlines around the world have been making substantial losses, lacking liquidity as well as cashflow. Therefore, the submitted rehabilitation plan aims to fully restructure and to enable THAI to regain profitability. As the national flag carrier, THAI has played a critical role in the recovery of the Thai economy and the tourism industry. The company's own recovery will derive its strengths from its branding, customer loyalty, service-minded employees, competitive cost base, and Thailand's unique geographical advantage as the centre of the ASEAN region. In 2019, THAI contributed 1.2 trillion Baht to Thailand's economy in total and contributed up to 7.2% of national GDP or 4 billion US Dollars. Once the Court approves the rehabilitation plan and the COVID-19 situation is fully contained, THAI will be ready to operate under its new vision: A Private High-Quality Full-Service Carrier with a Strong Thai Brand, connecting Thailand to the World and consistently generating a sustainable profit margin, under the four following pillars:
1. Being the preferred carrier for travel to and from Thailand tailored to the ability to pay of our core customer segments. This will include redesigning our product to deliver a high-quality experience but at a lower cost than today, and unbundling the fares that we offer so that customers can access cheaper basic fares and add in ancillary purchases based on individual willingness to pay (e.g., seat selection, baggage)
2. Commercial excellence to optimize flight yields and non-flight revenue. This will include moving to a more focused network to ensure we only fly to destinations that are profitable, investing in digital to grow our online sales and boost our revenues through an improved sales experience for customers, rebuilding and retraining our commercial teams to adopt world class systems and ways of working
3. Cost competitiveness, outperforming our regional peers. This will include restructuring and right-sizing the organization; as a result, we expect our people costs to drop by ~50%, implementing lease and fleet changes, reducing end to end our third party costs through rebuilding our procurement team and actively renegotiating contracts, optimising of all of our business units including through operational excellence interventions
4. Market leading operating and safety performance, including extensive redesign of processes and operating systems.
These pillars will be underpinned by an extensive capability development across THAI, a concerted effort to change the culture and mindsets of the organization, adoption of new and modern processes, systems and ways of working, adoption of a new set of KPIs and incentives matched to the delivery of the restructuring plan, and a revised governance process based on world-class private sector practices to ensure full transparency, effective oversight and independence.
Since THAI's petition for rehabilitation was approved by the Central Bankruptcy Court, it has already successfully implemented measures to cut costs and to increase revenue. The measures include increasing flight and non-flight revenue and reducing the number of employees to approximately 14,000-15,000 and optimizing the pilot pool to be in parallel with new fleet and flight hour requirements. The employee reduction in 2020 was primarily facilitated through a voluntary Mutual Separation Program (MSP A) which reduced headcount from 29,000 to 21,000 employees. THAI estimates that an additional 6,000-7,000 employees will participate in the next rounds of the voluntary Mutual Separation Programs in 2021 (MSP B and C).
The Planner has come to a consensus to appoint Mr. Piyasvasti Amranand and Mr. Chakkrit Parapuntakul as plan administrators. Because THAI has already successfully implemented major cost-saving measures, the company is confident its rehabilitation plan will ensure that THAI will become a more efficient and effective airline, ultimately enabling the company to return to profitability.
CATHAY PACIFIC WELCOMES BUDGET SPEECH INITIATIVES TO SUPPORT AND STRENGTHEN HONG KONG'S TRAVEL AND AIR CARGO SECTORS



Cathay Pacific welcomes the initiatives recognising the importance of the aviation and tourism sectors in the city's recovery and long-term future, as outlined in the Budget Speech given by the Financial Secretary of the Hong Kong SAR Government, Paul Chan Mo-po.
Cathay Pacific Chief Executive Officer Augustus Tang said: "As the Financial Secretary stated, the COVID-19 epidemic has dealt a heavy blow to the local tourism industry. We are pleased the government will discuss and work out arrangements regarding the introduction of Air Travel Bubbles, which will pave the way for the resumption of international air travel.
"We are also encouraged by the additional support to further promote Hong Kong and attract visitors to the city upon the gradual resumption of cross-boundary travel.
"We also share the view that Hong Kong's air cargo sector plays a leading role in the world and welcome the government's continued focus on enhancing the city's intermodal transportation services to reinforce Hong Kong's position as the international air cargo hub of the Greater Bay Area (GBA).
"As the home carrier of Hong Kong, Cathay Pacific is committed to strengthening Hong Kong's position as a 'double gateway' connecting the world and the GBA."
WFS OPENS 250,000-TON NEW CARGO TERMINAL AT BRUSSELS AIRPORT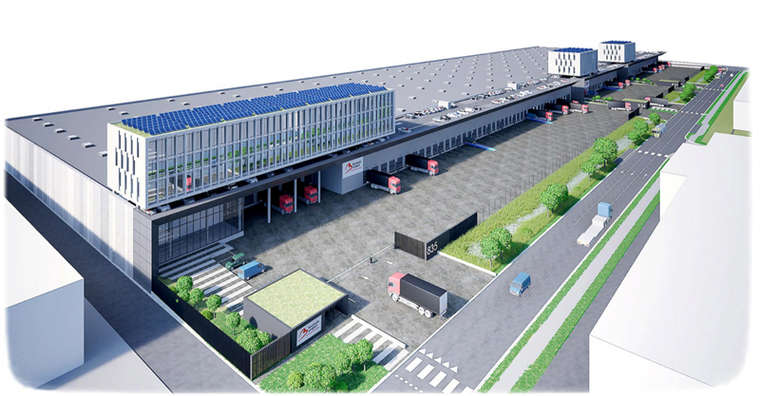 BRUSSELS: Worldwide Flight Services (WFS), the world's largest air cargo handler, has future-proofed its growing handling operation at Brussels Airport with the opening of a modern 250,000-tonne capacity cargo terminal, designed to optimize speed and deliver self-service and real-time information for airlines and freight forwarders.
The new 25,000 M˛ facility is in addition to WFS' 11,000 M˛warehouse and office operation at the airport which opened in the Brucargo West development zone in 2019.
Marc Claesen, Senior Vice President Commercial EMEAA at WFS, said the company's latest investment is inspired by Brussel Airport's commitment to air cargo growth.
"Brussels Airport and its cargo community are very progressive. WFS is taking the leading role in providing the market with a product and digital tools which meet the requirements of modern-day cargo handling, and which gives us the capacity to grow. We believe more airlines will choose to partner with us," he said.
WFS' clients in Brussels include Asiana Airlines, Cathay Pacific, Etihad Airways, IAG Group, and United Airlines. Last summer, WFS also signed a five-year contract to provide a total handling solution for Air France KLM Martinair Cargo at the airport covering cargo, mail and trucking as well as services to support special products. Most recently, WFS has also won another new handling contract with cargo carrier Demavia Airlines.
In support of Brussels Airport's reputation as the pharma centre of Europe for airfreight, the new cargo terminal incorporates a dedicated pharma zone, which will become both IATA CEIV Pharma and GDP certified in 2021.
It also combines a perishable handling facility and will house a new EU Border Inspection Post, and is fully equipped with state-of-the-art security access controls and cargo screening technologies in compliance with WFS' global commitment to deliver the highest standards of safety and security.
SWISS TO EXPAND SCHEDULES FROM MID-SUMMER ONWARDS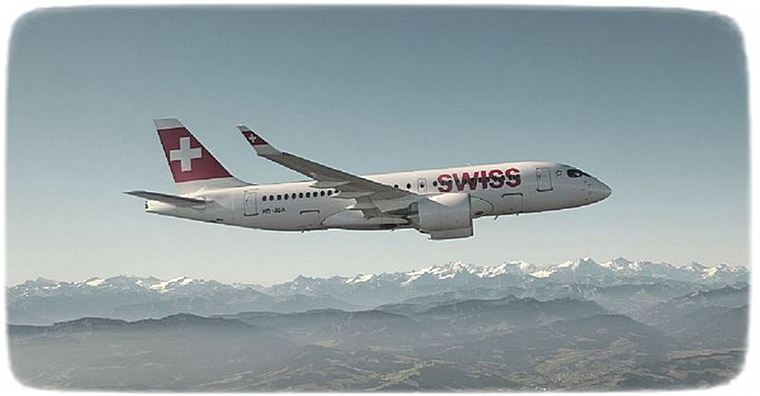 In view of the continuing travel restrictions, SWISS does not now expect to see any tangible resumption of air travel activity until mid-summer at the earliest. In the second quarter in particular, SWISS's schedules will be substantially less extensive than originally planned. The company expects to be able to return its operations to around 65% of their 2019 capacity in the course of the third-quarter period. A total of 85 destinations will be served from Zurich and 43 from Geneva in the 2021 SWISS summer schedules, with a strong focus on meeting the needs of travellers visiting friends and relatives and leisure travel customers. SWISS will also be introducing new services from Zurich to Tallinn (Estonia) and Billund (Denmark) and from Geneva to Santorini (Greece), Split (Croatia) and Funchal/Madeira (Portugal).
In the light of new virus mutations, lockdowns, border closures and tightened travel restrictions, the recovery of the air transport sector has been further delayed. As a result, SWISS's 2021 summer schedules will be considerably less extensive than had originally been planned, especially in the second-quarter period. "With the tighter travel restrictions in response to high infection rates, we have again had to tangibly reduce our service offer," says SWISS Chief Commercial Officer Tamur Goudarzi Pour. "We won't be substantially expanding it again until the summer travel season. But when we do so, we'll be putting a clear focus on leisure travellers and on customers visiting friends and relatives, as the business travel segment will take longer to return." SWISS plans to restore its capacities to around 65% of their 2019 levels in the course of the third-quarter period. The company will serve 85 destinations from Zurich and 43 from Geneva in its 2021 summer schedules.
SWISS will be offering two new European destinations from Zurich in its summer schedules. The Airline of Switzerland will operate two weekly services from 25 June onwards to Tallinn, Estonia's capital and business and cultural centre, which stands on the Baltic Sea. And from 2 July onwards SWISS will offer two weekly frequencies from Zurich to Billund in Denmark, which is best known as the home of Lego and its Legoland theme park.
In addition to the two new Zurich destinations, SWISS will restore services on various European and intercontinental routes on which they are currently suspended. On the long-haul front, service will resume on the Zurich-Miami (Florida) route from 28 March with up to five weekly frequencies. Up to seven weekly services will also be offered between Zurich and Boston on the US East Coast from 1 May onwards and up to five weekly services will be offered to Los Angeles on the US West Coast from 2 May onwards. SWISS further plans to operate up to four weekly flights to Egypt's capital Cairo from 1 July onwards.
On its Zurich short-haul network, SWISS will resume services to Niš in Southern Serbia and to Sarajevo, the capital of Bosnia and Herzegovina, which will each receive up to two flights a week from 1 April onwards. Travellers from Zurich will also enjoy non-stop service to London City again from 12 May, for which up to 12 weekly frequencies are currently planned. From 18 June, SWISS will be operating up to five flights a week to Bordeaux, in the heart of the winegrowing region of the same name.
SWISS will also be expanding its services from Zurich to particularly popular destinations in this year's summer schedules. Berlin will receive up to six daily flights, while Barcelona, Palma de Mallorca, Hamburg, Vienna, Copenhagen and Athens will each have up to three daily services. Naples will be served up to 11 times weekly and Thessaloniki will receive up to nine weekly flights.
As already communicated, SWISS will continue to maintain its present minimal flight programme in Geneva until the end of March and Geneva remains a key SWISS operating location. Three new points will be served from Geneva in the coming summer schedules. The popular Greek island resort of Santorini will receive two non-stop flights a week from 19 June. Two weekly services will also be provided to the Adriatic city of Split in Southern Croatia from 2 July. A weekly flight to Funchal on the Portuguese island of Madeira will be offered from 4 September.
The destinations receiving the most services from Geneva in the coming summer timetable period include London Heathrow, Athens, Porto and Lisbon. SWISS will also be the only airline operating a weekly non-stop flight between Geneva and Ponta Delgada on the Azores in the new summer schedules.
CARGOLUX JOINS UNICEF HUMANITARIAN AIRFREIGHT INITIATIVE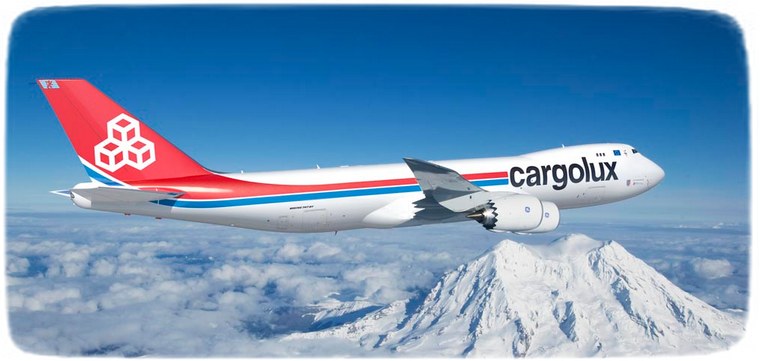 Cargolux is pleased to be part of UNICEF's Humanitarian Airfreight Initiative to transport essential medical and pharmaceutical supplies where they are most needed. The project aims to prioritize the delivery of vital healthcare products, including COVID-19 vaccines, to curb the global pandemic.
The company is committed to playing its part in providing solutions for swift and seamless medical and relief transports. As demonstrated at the height of the pandemic, Cargolux strived to keep the supply chain and essential supplies, moving. Taking part in such initiatives is part of the airline's philosophy, a position highlighted in these unprecedented times.
As Richard Forson, President & CEO, says: "Cargolux has extensive experience in the handling of healthcare and pharmaceutical goods as well as a strong commitment to supporting humanitarian causes. This initiative is fully aligned with the airline's values and it was therefore natural for us to take part in this project. We look forward to leveraging our expertise in the field to provide seamless and secure transport for these life-saving products."
Cargolux is a leading provider of transport solutions for medical shipments and applies some of the highest standards in this challenging industry. The airline has a dedicated transport solution for pharmaceutical and healthcare products (CV pharma) that was devised to ensure constant temperature levels throughout the handling process and to minimize any risk of alteration for these products. Always intent on going one step further, Cargolux was the first airline in the world to achieve GDP certification in 2014 and successfully renews its regular GDP audits. The airline's home base in Luxembourg is also GDP certified.
PLEASE GO TO
www.youtube.com/channel/UCCuRVZAGodT6sztTeXBGeMw
and subscribe to our YouTube channel