The Miles M.3 Falcon designed in 1934, structurally similar the earlier M.2F, was a clean fully faired single engine low-wing monoplane with trousered main undercarriage and fixed tail-wheel.
Structurally similar to the earlier Miles M.2F Hawk Major family the M.3 had side-by-side seating for two behind the pilot in a glazed cockpit. It was powered by a 130 hp (97 kW) de Havilland Gipsy Major piston engine. The prototype first flew at Woodley Aerodrome on 12 October 1934.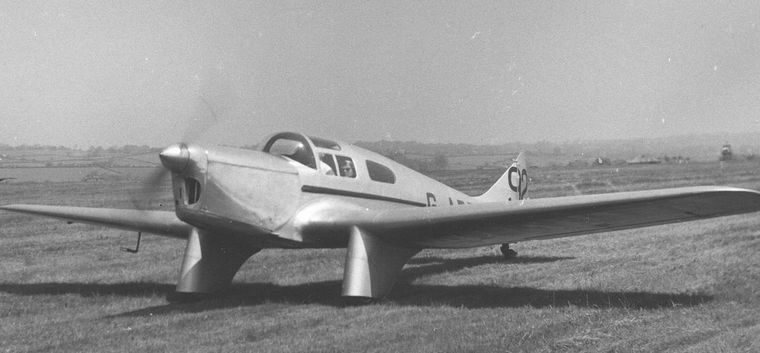 The prototype was fitted with extra fuel tanks and entered into the MacRobertson Race from England to Australia in October 1934. It took 27 days to reach Darwin, but returned in a record time of 7 days 19 hours 15 minutes, including one stage of 1,800 miles (2,900 km) non-stop from Jodhpur to Basra.
The M.3B was entered into the 1935 King's Cup Race, and piloted by Tommy Rose won with a speed of 176.28 mph (283.70 km/h). In 1936 Rose, with the same aircraft, reduced the U.K to Cape Town passage record to 3 days 17 hours and 38 minutes.
General characteristics

Capacity: Three
Length: 25 ft 0 in (7.62 m)
Wingspan: 35 ft 0 in (10.67 m)
Height: 6 ft 6 in (1.98 m)
Wing area: 174.3 ft2 (16.19 m2)
Empty weight: 1,300 lb (590 kg)
Gross weight: 2,200 lb (1000 kg)
Powerplant: 1 ◊ de Havilland Gipsy Major piston engine, 130 hp (97 kW)
Performance
Maximum speed: 145 mph (235 km/h)
Cruise speed: 125 mph (201 km/h)
Range: 615 miles (990 km)
Service ceiling: 15,000[citation needed] ft (4,572 m)
Rate of climb: 750 ft/min (3.81 m/s)
PLEASE GO TO
www.youtube.com/channel/UCCuRVZAGodT6sztTeXBGeMw
and subscribe to our YouTube channel