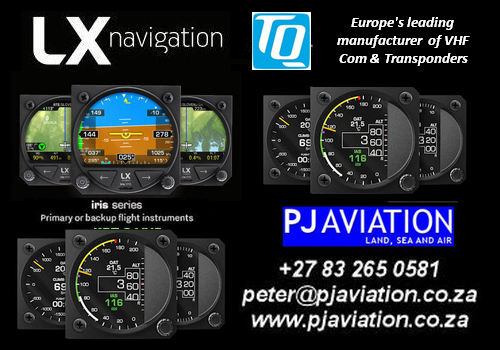 Convention in the average GA aircraft since Pipers and Cessna's began running off the assembly line, was to fit mechanical flight instruments and space and power hungry 160mm wide avionics stacks. Even the flight instruments were large 80mm units.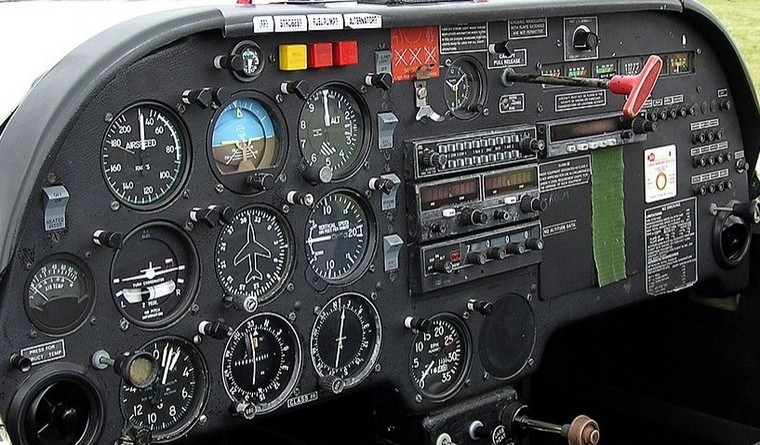 A typical old type panel

The space race - Avionics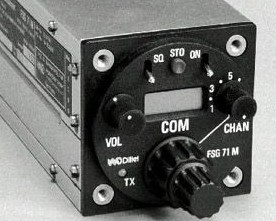 Dittel FSG71M
In Europe, Walter Dittel started producing space saving 57mm (2 ľ inch) transceivers over 40 years ago. Years later, now under the TQ-Avionics name, both a VHF-COM and Mode S transponder will fit side by side where once only a VHF-COM was fitted.
Being compact does not mean TQ's KRT2-S VHF-COM is short of features. Dual Watch emulates having two receivers at once, a wonderful feature in complex air spaces. And with a built-in voice activated intercom, and external audio input, does one really still need an audio panel?
Gearing up for the future, the KTX2-S Mode -S transponder is a Class 1 Level 2 device which with 250W output, meets ADS-B Out requirements, but with current consumption so low, gliders can fly with them all day. When ADS-B becomes a requirement here, just add the appropriate GPS receiver, which are becoming cheaper by the month.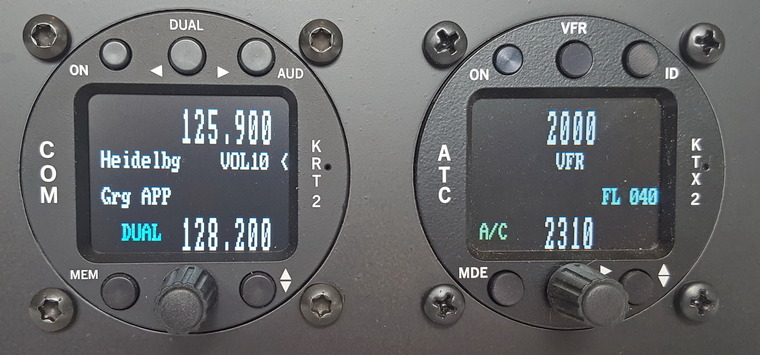 KRT2-S and KTX2-S together

Flight Instruments


Whilst avionic manufacture is now highly automated, mechanical instruments require specialist tradesmen to produce and maintain them. Mostly they are 80mm (3 inch) and with single functions, eg airspeed or altitude only. Smaller 57mm instruments were not common, and were often more expensive, especially altimeters. In general, mechanical flight instruments are becoming very expensive, but not more reliable or stable.
Now digital instruments are beginning to appear. Once such manufacturer is LxNavigation from Slovenia which has branched out from 40 decades of producing sophisticated sailplane flight computers to manufacture a range of EFIS and primary flight instruments in both 80 and 57mm sizes. Designated the iris range, they accommodate 12 and 24V aircraft, each instrument having its own integral 3hr back-up battery. Every model is available as Master or Slave device connected by a CAN bus, so that pilot and co-pilot have identical displays.
No longer do you have to compromise on say, an airspeed scale range, which is fairly close to your needs. With the iris ASI, you can specify exactly what the analogue and digital range should be, units, colour bands, speed markers, etc. This is all done by the local distributer or aircraft OEM using an Android wi-fi interface to the CAN bus, so there is no waiting for weeks for minor changes.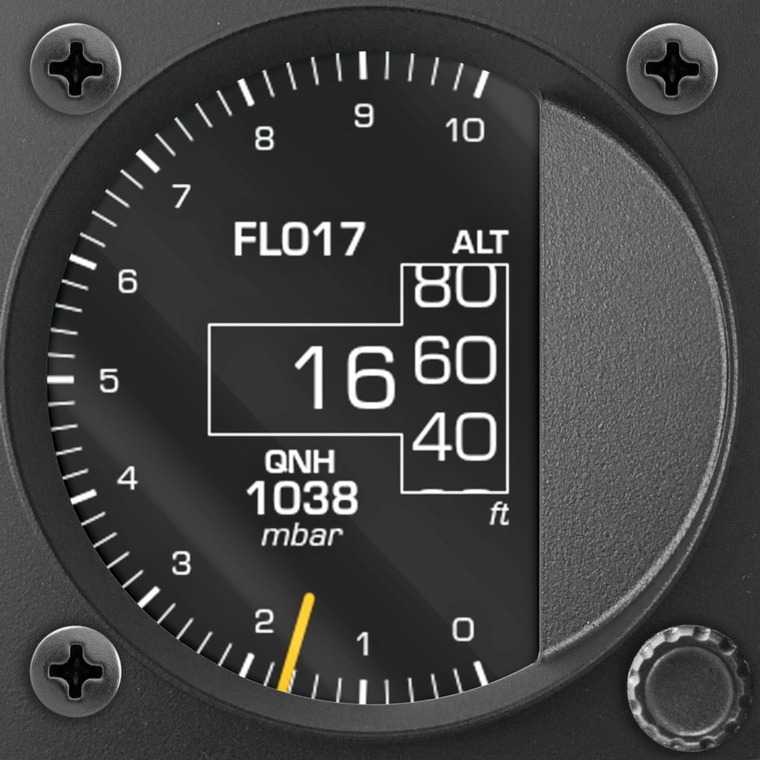 The Iris ALT

Where space is really at a premium, or you want an ultimate backup instrument with both airspeed and altitude, the iris All-In-One really provides a wealth of information. The standard model provides ASI, ALT and VSI, but the Pro version uses additionally GPS and OAT sensors to also provide ground speed, density altitude, etc. All this in one 57 or 80mm instrument and there are Master and Can Bus connected Slave versions.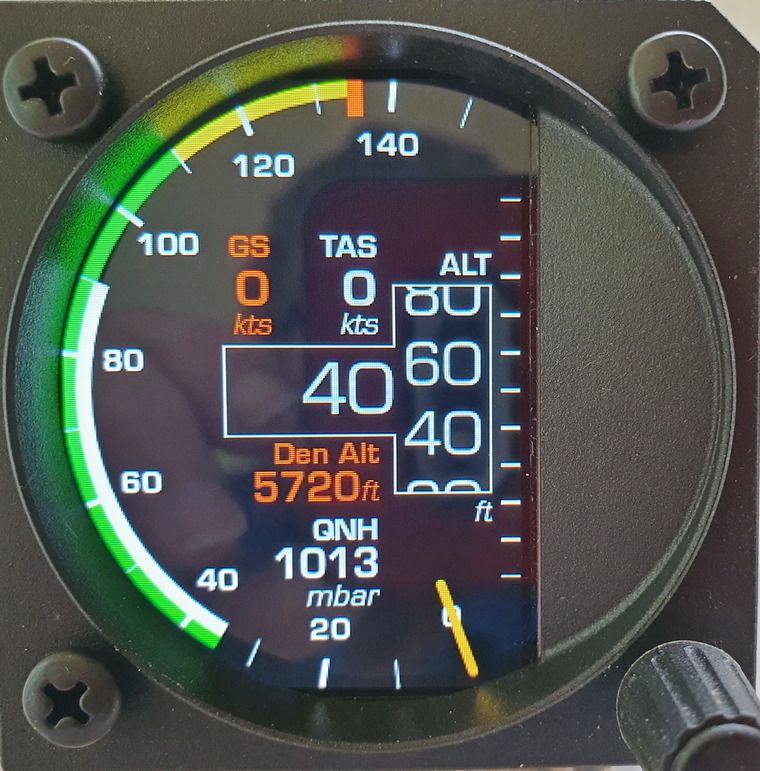 The iris ALL-in-ONE

EFIS

LxNavigation have decades of experience in sensors, so producing an AHRS in 57 or 80mm size with air speed and altimeter bands was easy. But they went one step further with the iris EFIS PRO with GPS and OAT and added airport navigation and airspace pages. Again, there is an integral backup battery and the setup is user programmable. The airport and airspace data are open source, ie free of charge. Both Master and Slave models are available, the AHRS functions being independent from each other.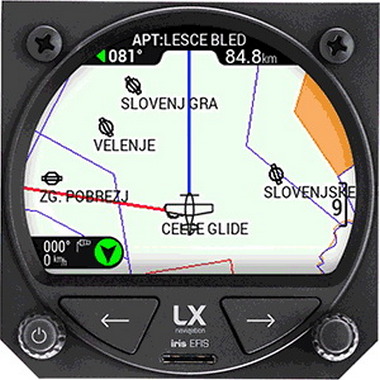 The iris EFIS with AHRS display and another of navigation display

EMS


Engine instruments often take up a lot of landscape on the panel. Traditionally, they have small moving coil readouts, which lack precision or are hard to read accurately, especially at an angled view while they don't alert the pilot if any parameter is out of normal range.
Kanardia, another Slovenian manufacturer, produces an 80mm EMS with remotely located programmable sensor collector which will clearly display just about all the engine data that you will need, all on one super bright colour display. Each parameter can have designated operating ranges and alarm points, changing colour in and out of range.
Once you have agreed on the display layout, the type of sensors can be chosen from a huge built-in library. So, a change in sensor type later on is no problem at all. There is also a fuel tank calibration procedure which includes non-linear tank shapes. The sensor connection box includes an integral MAP sensor.
For the Rotax Si engine series, there is a direct connection to the Rotax Bus, eliminating a lot of sensor duplication.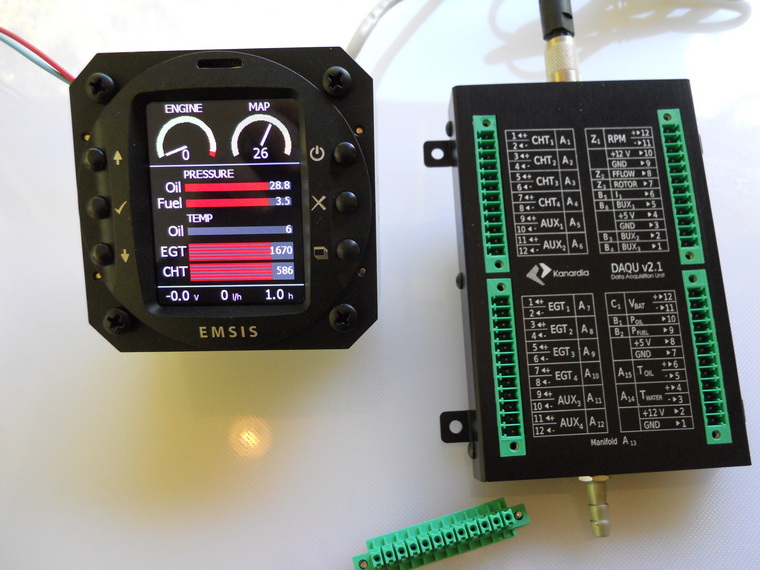 The EMS 80 and DAQU

So, what are the benefits from these space saving product developments?
∑ Top of the list is the fact that you can swap out old unreliable equipment for more modern solutions, without having to re-manufacture a whole new instrument panel.
∑ Since a panel change is not necessary, upgrading can be done slowly, one item at a time, as your budget allows.
∑ In the same panel space, you can obtain much more flight and engine information.
∑ You can update your avionics to be future compliant for the next few decades.
∑ Instrument reliability and accuracy increases probably by an order of magnitude. How often has your altimeter or transponder's altitude encoder not passed an annual check without needing at least an adjustment?
For more information visit
www.pjaviation.co.za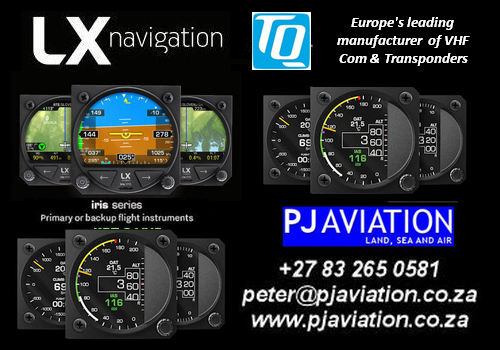 PLEASE GO TO
www.youtube.com/channel/UCCuRVZAGodT6sztTeXBGeMw
and subscribe to our YouTube channel