AIRLINK ADDS FLIGHTS TO MAPUTO AND LUBUMBASHI



Airlink, the privately-owned regional airline, will add flights to its Maputo, Mozambique and Lubumbashi, Democratic Republic of Congo, schedules from 1 April 2021 in response to rising demand for air travel between those cities and South Africa.
"Since launching services linking Johannesburg with Maputo and with Lubumbashi last October and November respectively, we have seen a steady increase in passenger traffic on those two routes. This reflects an uptick in trade and economic activity between South Africa, Mozambique and the D.R Congo. By increasing our schedule on these routes, we will cater to the increased demand while providing more choices to customers wanting to travel to destinations across South Africa and throughout Southern Africa," explained Airlink CEO and Managing Director, Rodger Foster.
The triple daily flights between Johannesburg and Maputo and daily flights between Johannesburg and Lubumbashi will give travellers the freedom to connect seamlessly with Airlink's flights linking Johannesburg with Cape Town, Durban and other important business and tourist destinations within South Africa and the Southern African Development Community (SADC) region.
During these stressful times, health and safety - yours and ours - remains our primary concern. Our aircraft are equipped with High Efficiency Particulate Air Filters (HEPA), which are effective at blocking 99.97% of particulates, including Coronavirus molecules. These HEPA filters continually sterilize the air in our cabins, which is renewed entirely every three minutes.
South Africa has introduced additional measures for international travellers arriving in the country. Click here? for information on these requirements. Please note that all arriving travellers are now required to provide a negative Polymerase Chain Reaction (PCR) COVID19 test certificate, issued by an accredited laboratory in line with World Health Organisation standards, no more than 72 hours before the date of travel. South African Authorities reserve the right to verify the authenticity of presented PCR test certificates.
For passengers flying from South Africa to Mozambique or to the D.R. Congo, there are some important steps and items you will need to follow before and as you proceed through any South African airport.
IATA RELEASES 2020 SAFETY REPORT, DETAILS AIRLINE SAFETY PERFORMANCE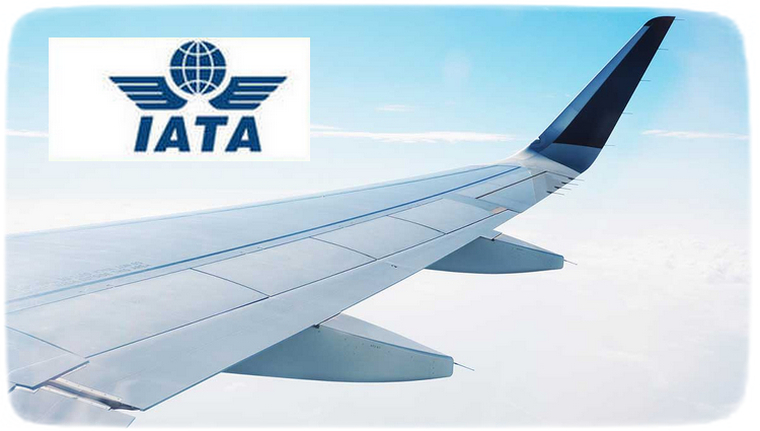 The International Air Transport Association (IATA) announced the publication of the 2020 Safety Report and released data for the 2020 safety performance of the commercial airline industry.
The total number of accidents decreased from 52 in 2019 to 38 in 2020.
The total number of fatal accidents decreased from 8 in 2019 to 5 in 2020.
The all accident rate was 1.71 accidents per million flights. This is higher than the 5-year (2016-2020) average rate which is 1.38 accidents per million flights.
IATA member airlines' accident rate was 0.83 per million flights, which was an improvement over the 5-year average rate of 0.96.
Total flight operations reduced by 53% to 22 million in 2020.
Fatality risk remained unchanged compared to the five-year average at 0.13.
With a fatality risk of 0.13 for air travel, on average, a person would have to travel by air every day for 461 years before experiencing an accident with at least one fatality. On average, a person would have to travel every day for 20,932 years to experience a 100% fatal accident.
"Flying is safe, although the industry did take a step back on performance in 2020. The severe reduction in flight numbers magnified the impact of each accident when we calculate rates. But numbers don't lie and we will not allow this to become a trend. We will have an even sharper focus on safety during this period of reduced operations and as flight schedules are rebuilt when the world reopens," said Alexandre de Juniac, IATA's Director General and CEO.
For the first time in more than 15 years, there were no Loss of Control Inflight (LOC-I) accidents, which have accounted for the largest share of fatalities since 2016. "The lack of any such events in 2020 was a positive development. Nevertheless, based on the initial reports from the investigation into the tragic loss of Sriwijaya Air SJ 182 early in 2021, we must continue to learn and improve," said de Juniac.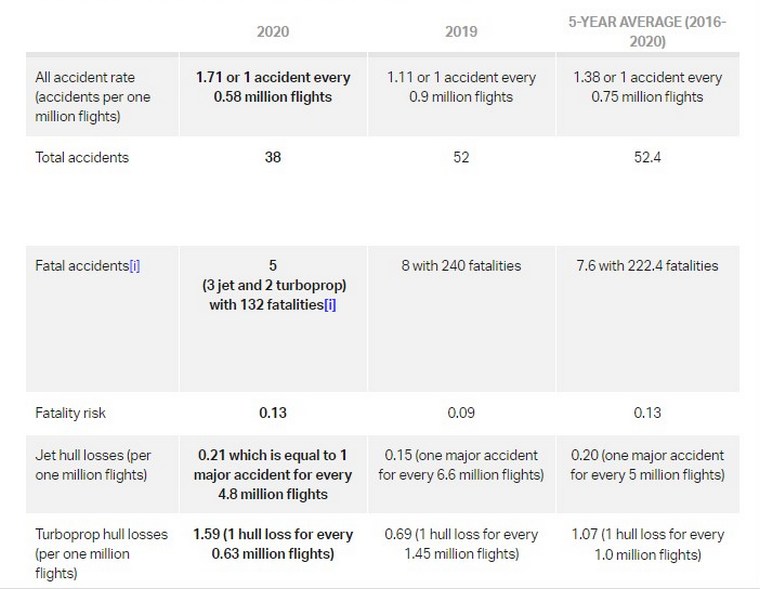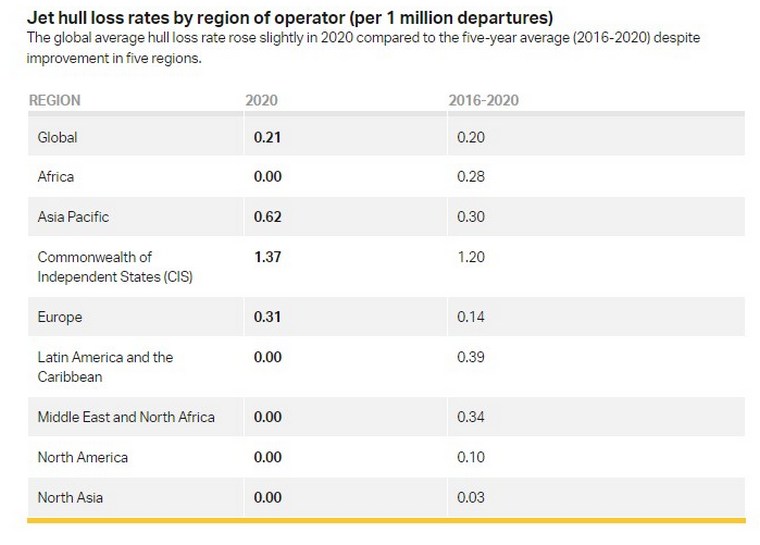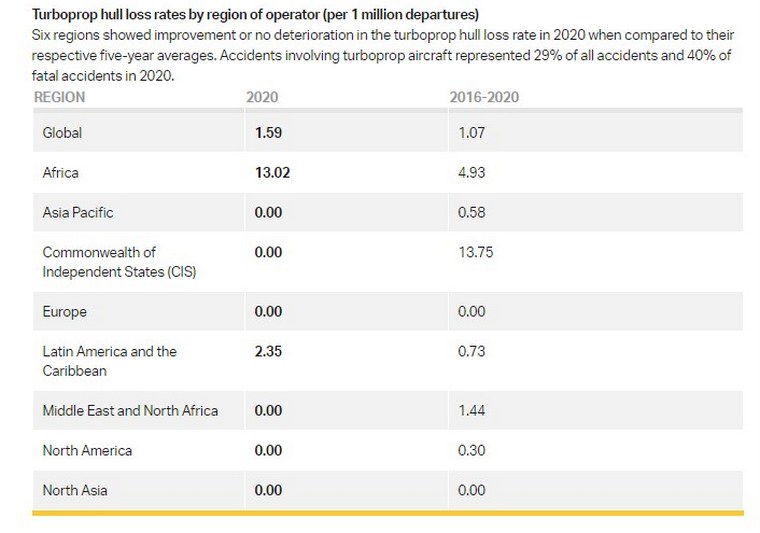 Safety in Africa
Airlines based in sub-Saharan Africa experienced six accidents last year, two of which were fatal, both involving turboprop aircraft. This is the same number of fatal accidents that occurred in 2019, nevertheless the fatality risk increased owing to the fact that there were fewer flights last year. There were no hull loss accidents involving jet aircraft in 2020.
The focus in Africa continues to be on accelerating the implementation of the International Civil Aviation Organization's (ICAO) safety-related standards and recommended practices (SARPS). At year-end 2020, some 28 African countries (61% of the total) had at least 60% SARPS implementation, unchanged from 2019. "While we recognize the extraordinary challenges in 2020 that touched on all aspects of aviation, we hope that we will see additional movement in this number as the pandemic recedes," said de Juniac
IATA also continues to work closely with all key stakeholders in the region. IATA and African Airlines Association (AFRAA) joined forces with the African Civil Aviation Commission (AFCAC) on a three-year safety project to provide technical support to the African air operators of states party to the Single Africa Air Transport Market (SAATM) to ensure they achieve and maintain global aviation safety standards.
Safety in CIS

Airlines based in the CIS region experienced no fatal accidents in 2020, which was a significant improvement compared to 2019. The jet hull loss rate for CIS airlines in 2020 improved compared to 2019 but declined compared to the five-year average 2016-2020 and was the highest among regions. CIS airlines experienced no turboprop hull loss accidents in 2020, a significant improvement over 2019 and the five-year average.
IATA Operational Safety Audit (IOSA)

The all accident rate for airlines on the IOSA registry was nearly three times better than that of non-IOSA airlines for 2020 (1.20 vs. 3.29). The 2016-2020 average of IOSA airlines versus non-IOSA airlines was more than twice as good (0.99 vs. 2.32). All IATA member airlines are required to maintain their IOSA registration. There are currently 438 airlines on the IOSA Registry of which 142 are non-IATA Members.
Fatality Risk

Fatality risk measures the exposure of a passenger or crew to a catastrophic accident with no survivors. The calculation of fatality risk does not take into account aircraft size or how many were onboard. What is measured is the percentage of fatalities among those onboard.
ETHIOPIAN COLLABORATES WITH IATA TO TRIAL TRAVEL PASS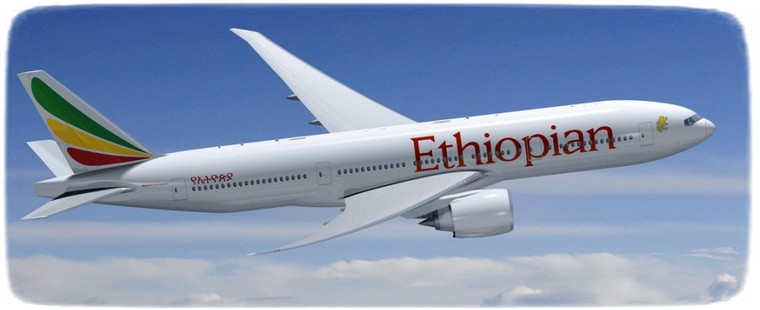 Ethiopian Airlines Africa's leading airline is to trial IATA Travel Pass, a digital travel mobile app to enhance efficiency in testing or vaccine verifications and restart travel.
As travel restarts, travellers need accurate COVID-19-related information like testing and vaccine requirements which vary among countries. The IATA Travel Pass initiative helps verify the authenticity of test information presented by travellers which is essential for ensuring the safety of passengers while complying with entry requirements of countries. In future it will also manage vaccine certificates for travel.
Ethiopian has gone digital in all of its operations to avoid physical contact and combat the spread of the pandemic and now we embark on this initiative which will allow our passengers to relish unparalleled flight experience.
Regarding the trial of the IATA travel pass, Mr. Tewolde GebreMariam, Group CEO of Ethiopian Airlines said "Digital technology is vital to solve many of the problems that arise from the pandemic. We are glad that we are offering new digital opportunities to our passengers so as to fully and safely restart air travel. Our customers will enjoy efficient, contactless and safer travel experience with their travel pass digital passport. As a safety first airline, we are going to be among the first to implement IATA's travel pass initiative to facilitate travel. The new initiative will increase travellers' confidence in travel, encourages governments to reopen their borders and expedite industry restart. "
The Travel Pass will help create a digital passport, receive test and vaccination certificates and verify that they are sufficient for their route as well as share testing or vaccination certificates with airlines and authorities to facilitate travel. The digital travel app will also avoid fraudulent documentation and make air travel more convenient.
ICAO JOINS UN CALL FOR PRIORITIZED VACCINATIONS FOR AIRCREW AND SEAFARERS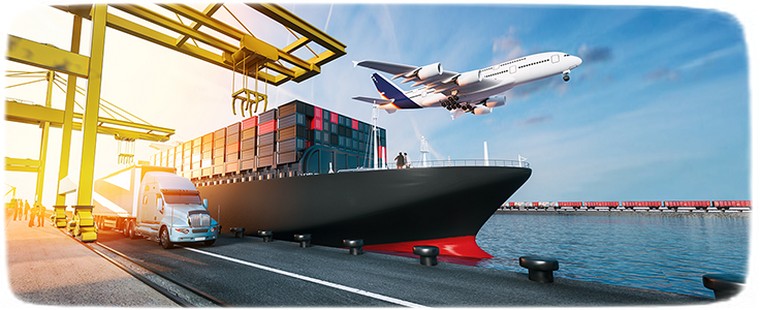 ICAO joined four other UN agencies today in calling on countries to prioritize COVID-19 vaccinations for aircrew and seafarers. In addition to ICAO Secretary General Dr. Fang Liu, the special Joint Statement was signed by the heads of the International Labour Organization (ILO), the International Maritime Organization (IMO), the International Organization for Migration (IOM), and the World Health Organization (WHO).
"The implementation of the current WHO recommendations is of primordial importance to the continued and optimal operation of the international civil aviation network, and therefore to the transport worldwide of essential shipments and workers," Dr. Liu declared.
The Joint Statement stresses the WHO's advice that at the present time countries should not introduce requirements of proof of vaccination for international travel as a condition of entry, given both the critical unknowns regarding the efficacy of vaccination in reducing transmission and the limited global availability of vaccine doses.
It also emphasizes that maritime and air transport are essential activities underpinning global trade and mobility, a key to a sustainable socio-economic recovery and notes the full joint support of the participating agencies for the timely development of an international harmonized framework for vaccination certificates to facilitate international travel for seafarers and aircrew.
"As the Joint Statement draws attention to, the application of stringent public health rules to these key workers, including quarantine, has resulted in hindered connectivity, operational complexity and significant costs," Dr. Liu noted.
"The statement also calls on governments to prioritize seafarers and aircrew in their national COVID-19 vaccination programmes, together with other essential workers, in accordance with the WHO SAGE Roadmap for prioritizing the use of COVID-19 vaccines."
The total number of pre-pandemic licensed aviation professionals, including pilots, air traffic controllers, and licensed maintenance technicians, was 887,000 according to ICAO statistics. Air transport carried about 5.7 billion passengers in 2019 and airfreight pre-pandemic represented 35% of the value of goods shipped in all modes combined.

SOUTHWEST AIRLINES ORDERS 100 BOEING 737 MAX JETS, PLUS 155 OPTIONS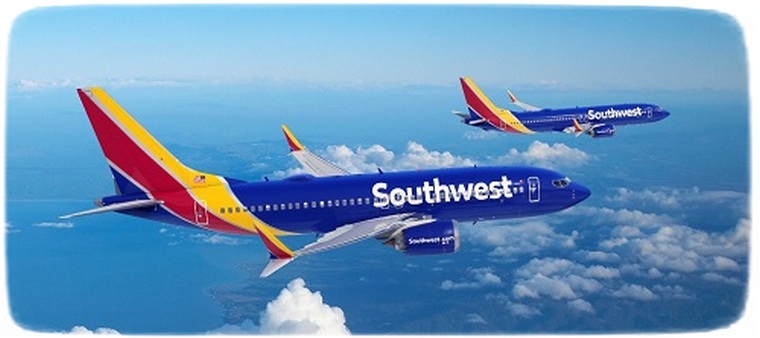 Boeing [NYSE:BA] and Southwest Airlines has announced that the carrier will continue to build its business around the 737 MAX family with a new order for 100 airplanes and 155 options across two models. The deal comes after a multi-year fleet evaluation by Southwest and means that Boeing and its suppliers could build more than 600 new 737 MAX jets for the airline through 2031.
Southwest had been exploring options to modernize the largest component of its fleet: the 737-700 that serves the airline's needs for a 140-150 seat airplane. With the new agreement, the airline reaffirmed the 737-7 as its preferred replacement and growth airplane. The jet will complement the 737-8, which serves Southwest's needs for a 175-seat model. Both 737 MAX family members will reduce fuel use and carbon emissions by at least 14% compared to the airplanes they replace, helping to improve operating costs and environmental performance. Southwest said the solution allows it to maintain the operational efficiencies of an all-Boeing 737 fleet to support its low-cost, point-to-point route network.
"Southwest Airlines has been operating the Boeing 737 series for nearly 50 years, and the aircraft has made significant contributions to our unparalleled success. Today's commitment to the 737 MAX solidifies our continued appreciation for the aircraft and confirms our plans to offer the Boeing 737 series of aircraft to our Employees and Customers for years to come," said Gary Kelly, Southwest's chairman and CEO. "We are proud to continue our tradition of being the world's largest operator of an all-Boeing fleet."
"In addition to supporting our efforts to operate sustainably and efficiently, the 737 MAX offers employees and customers travel comforts such as a quieter cabin, larger overhead bin spaces, seating with adjustable headrests, and more galley space for onboard service," said Mike Van de Ven, Southwest's chief operating officer.
The new purchase agreement takes Southwest's order book to 200 737-7s and 180 737-8s, more than 30 of which have already been delivered. Southwest will also have 270 options for either of the two models, taking the carrier's direct-buy commitment to more than 600 airplanes. The airline also plans additional 737 MAX jets through third-party lessors.
"Southwest Airlines has long been a leader and bellwether for the airline industry and this order is a big vote of confidence for commercial air travel. As vaccine distribution continues to pick-up, people are returning to the skies and fuelling hopes for a full recovery and renewed growth across our industry," said Stan Deal, president and CEO of Boeing Commercial Airplanes. "We are deeply honoured by Southwest's continuing trust in Boeing and the 737. Their fleet decision today brings more stability for our biggest commercial program and will ensure that our entire 737 family will be building new airplanes for Southwest for years to come."
As part of the agreement, Southwest will also expand its use of Boeing's digital solutions to support its 737 MAX fleet, including Airplane Health Management, Maintenance Performance Toolbox and digital navigation charting tools. Boeing will also provide system software upgrades and new wireless communications-enabling equipment to support Southwest's operations.
DELTA OFFERS MORE SERVICE TO ICELAND, FIRST EUROPE DESTINATION OPEN TO VACCINATED AMERICANS



Beginning in May, Delta customers seeking a global escape will once again enjoy a nonstop connection from three U.S. hubs to Iceland's stunning landscapes, world-renowned hot springs like the Blue Lagoon and the iconic capital city of Reykjavík.
Delta will launch new daily service from Boston Logan International Airport (BOS) to Keflavík International Airport (KEF) beginning May 20 - as well as resume daily service from John F. Kennedy International Airport (JFK) on May 1 and daily service from Minneapolis-Saint Paul International Airport (MSP) on May 27.
This latest milestone in the airline's growing network follows Iceland's recent exemption of fully vaccinated Americans from the ban on non-essential travel and other restrictions like testing and quarantine requirements - making it the first leisure destination in Europe easily accessible to U.S. travellers since the pandemic began.
"We know our customers are eager to safely get back out into the world, including exploring one of the globe's most beautiful outdoor destinations," said Joe Esposito, S.V.P. - Network Planning. "As confidence in travel rises, we hope more countries continue reopening to vaccinated travellers, which mean more opportunities to reconnect customers to the people and places that matter most."
Customers traveling to Iceland will be required to provide proof of full vaccination or recovery of COVID-19. Travelers returning to the U.S. will still require a negative COVID-19 test and can find a nearby location with Delta's dedicated testing resource for international travel.
CORSAIR TAKES DELIVERY OF ITS FIRST A330NEO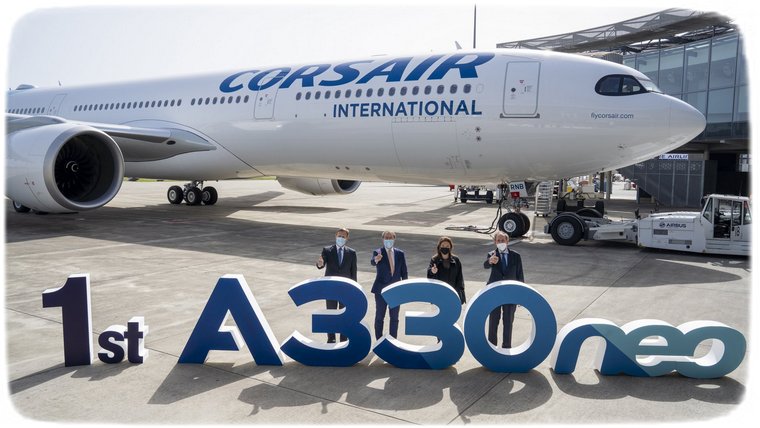 Corsair has taken delivery of its first A330-900, on lease from Avolon, to join the French airline's fleet. By selecting a total of five A330neos, Corsair is executing its strategy to become an all-A330 operator. Thanks to the A330neo's latest technologies, Corsair will benefit from cost-effective and eco-efficient solutions, while providing passengers with the best comfort standards in the quietest cabins in its class.
The aircraft features 352 seats in a three-class layout, providing all the comfort and amenities of Airbus' leading 'Airspace' cabin, including state-of-the-art passenger in-flight entertainment (IFE) and full WiFi connectivity throughout the cabin.
The A330neo is powered by Rolls-Royce's latest-generation Trent 7000 engines. The Corsair aircraft will also be the first A330neo to feature an increased maximum take-off weight of 251 tonnes. This capability will allow the airline to fly long-haul destinations up to 13,400 km (7,200nm) or benefit from ten tons more payload on board.
The A330neo is a new-generation aircraft and successor to the hugely popular A330ceo widebody family. As well as the new engine option, the aircraft benefits from a host of innovations, including aerodynamic improvements and new wings and winglets that together contribute to 25% fuel-burn and CO2 reductions.
Corsair, which already operates an Airbus fleet of five A330 Family aircraft, became a member of the Airbus Skywise 'Open Data Platform' in 2020, thus benefiting from several Skywise-based services, such as a real-time in-service fleet performance analysis capability (aircraft health monitoring), reliability analysis and predictive maintenance.
KOREAN AIR TO TRIAL IATA'S TRAVEL PASS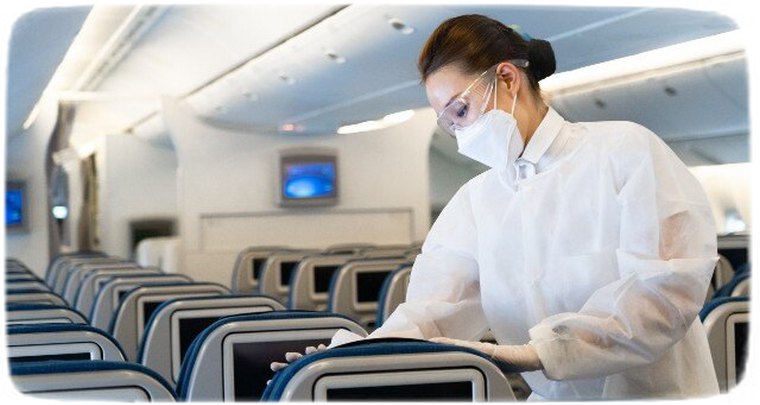 Korean Air customers will be among the first in the world to have access to an IATA app that provides a secure system to manage their COVID-19 testing or vaccination information digitally.
Korean Air will test the digital travel pass developed by the International Air Transport Association (IATA) to prepare the world for safe and convenient air travel in the post-COVID era. The trial is planned for the airline's Incheon-Los Angeles KE011 flight in May after an internal test in April.
The IATA Travel Pass can show a passenger's COVID-19 test results through a mobile phone application. The travel pass will be further developed to include proof of vaccination.
As COVID-19 vaccinations become widely available and travel demand recovers, COVID-19 vaccination and test results will be critical. However, it is difficult for governments to validate paper vaccination certifications or COVID-19 test results, and immigration procedures are expected to take longer. There is also the possibility of paper certificates being forged.
The IATA Travel Pass has been developed not only to solve such problems, but also to encourage safe travel between countries by standardizing health verification through a credible platform. IATA has been working closely with governments to gain their support for the travel pass initiative.
"We believe the digital travel pass will improve customer experience for passengers as they can share health information in a convenient and secure manner, and save processing time at the airports," said Korean Air's Chief Customer Service Officer, Seungbum Lee. "Korean Air will continue its efforts to provide a safe and seamless travel experience through initiatives such as the travel pass."
"Partnering with Korean Air to trial IATA Travel Pass is an important milestone towards giving governments the confidence to restart the industry. Jointly we will help demonstrate that aviation has developed a solution to ensure that passengers are meeting travel requirements," said Nick Careen, IATA's Senior Vice President, Airport, Passenger, Cargo and Security.
Korean Air plans to trial the IATA Travel Pass in May on the airline's Incheon-Los Angeles KE011 flight. As part of the goal to "Test & Fly," passengers can take a COVID-19 antigen test at the Incheon Airport's testing centre, and receive test results within an hour on the Travel Pass mobile app, which passengers need to install in advance.
Korean Air will cooperate with IATA to smoothly implement the IATA Travel Pass, while continuing to prevent the spread of COVID-19 through its safety and cleanliness program "CARE FIRST," which includes frequent and thorough disinfection of aircraft, fever checks and minimal contact between passengers and employees.
BOEING AND ALASKA AIRLINES FINALIZE ORDER FOR 737 MAX JETS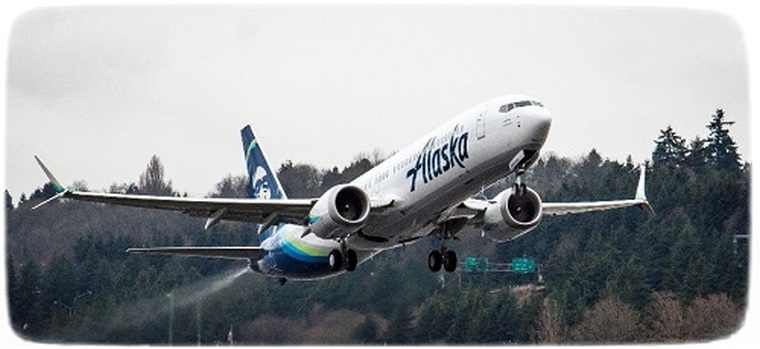 Boeing [NYSE: BA] and Alaska Airlines have announced that the companies have completed an agreement for 23 737-9 airplanes and 15 options. With this agreement, the carrier's 737 MAX order book, including options and lease commitments, stands at 120 airplanes.
This deal was first announced in December 2020 as a commitment and will be reflected on Boeing's Orders & Deliveries website.
Alaska Airlines received its first 737-9 in January and began revenue service on March 1. Its second 737-9 entered service on March 18, with two additional 737-9s scheduled to begin revenue service next week. The airline is embarking on a fleet modernization program to further improve the efficiency and sustainability of its operations. The 737-9 - equipped with new, more fuel-efficient engines and improved aerodynamics - will use 20% less fuel and reduce emissions by 20% per seat compared to airplanes it replaces.
RYANAIR LAUNCHES 26 NEW ROUTES & EXPANDS UK S21 SCHEDULE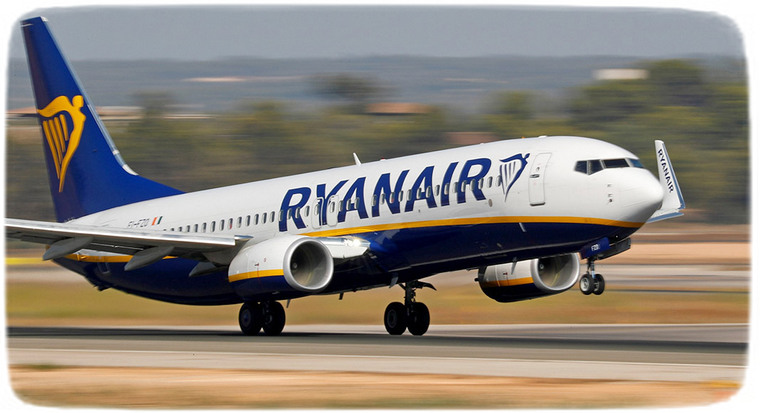 Ryanair, Europe's No.1 airline, recently launched its expanded UK Summer 2021 schedule, which includes over 2,300 weekly flights across 480 routes, including 26 new routes to popular holiday destinations in France, Greece, Italy, Portugal and Spain. The UK's roadmap for the re-opening of air travel, coupled with their highly successful vaccination programme, gives UK families confidence that Summer 2021 holiday travel will be possible.
Ryanair's UK Summer 21 schedule delivers:
480+ routes
26 new routes*
2,300+ flights per week
Flights to holiday hotspots such as Corfu, Santorini, Menorca, Ibiza, Faro and the Canary Islands
Summer breaks to Europe's top cities including Barcelona, Lisbon, Naples, Rome and Venice.
UK families can now book a Summer holiday as far out as Oct 2021, flying on the lowest fares to international destinations such as Bologna, Fuerteventura, Zakynthos and Valencia among many others. To celebrate, Ryanair has launched a seat sale with fares available from just Ł19.99 for travel until the end of October, but these sale prices must be booked by midnight Sunday, 28th March on the Ryanair.com website.
Ryanair's Group CEO, Michael O'Leary, said: "The UK Govt has implemented a very successful vaccine rollout programme and is on track for a re-opening of EU short-haul travel this summer. Ryanair is pleased to offer even more choice and lower fares to our UK customers and their families with over 2,300 weekly flights and 480 routes to choose from, including 26 exciting new holiday connections to Naples, Rhodes, Chania, Alicante and Mallorca among many others.
UK families can now book a well-earned summer holiday safe in the knowledge that if their plans change for any reason, they can move their travel dates up to two times with a zero-change fee up until the end of October 2021.
VIRGIN ATLANTIC UNVEIL THREE NEW WAYS TO FLY AS PART OF MULTIMILLION POUND INVESTMENT IN ECONOMY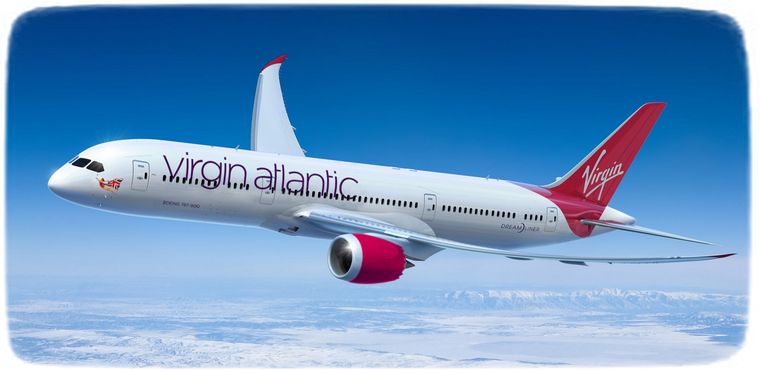 From Spring 2018, customers will be able to choose to fly 'Economy Delight, 'Economy Classic' or 'Economy Light'. Economy Delight will offer the UK's leading economy product - featuring a 34-inch legroom seat, free advanced seat assignment, and priority boarding/check in Part of a wider investment to deliver innovations on the ground and in the air Virgin Atlantic has today (7 March) announced the launch of three new ways to fly economy as part of a multi-million pound investment in the cabin for the 21st century traveller.
Recognising that one size doesn't fit all, from spring 2018 Virgin Atlantic will introduce 'Economy Delight, 'Economy Classic' and 'Economy Light' tickets. The three new ways to fly will allow customers to choose the product that suits their budget and travel style - but never compromise on inclusive food and drink, unrivalled service and inflight entertainment.
Economy Delight will offer the leading economy product of any UK airline - customers will enjoy a seat with 34-inch legroom, priority check in and boarding as well as advanced seat assignment. Economy Classic will now offer free seat assignment - providing extra reassurance for families and groups that they can sit together. The new Economy Light ticket will always offer Virgin Atlantic's lowest fare - making long haul travel affordable and accessible for millennials, and customers jetting off on city breaks.
Craig Kreeger, Chief Executive of Virgin Atlantic, said: "We're unveiling the biggest change to our Economy cabin in over a decade - launching three new ways to fly and a host of innovations on the ground and in the air as part of a wider Ł300 million investment in our customers. We know that one size doesn't fit all, and from spring our customers can afford to be choosy and still travel in the UK's leading economy cabin.
"We always want flying with Virgin Atlantic to be more special than other airlines, and we'll never compromise on excellent service, industry leading food and drink and cutting edge inflight entertainment - regardless of which Economy ticket our customers are travelling on, they'll be able to enjoy all this onboard."
Sir Richard Branson, founder of Virgin Atlantic, said: "When I started Virgin Atlantic, I wanted to challenge the status quo and make flying amazing - regardless of which cabin you're in - and that's still true today. We're unveiling a multimillion-pound investment to make Virgin Atlantic's Economy cabin the best of any UK airline and setting the bar for others to follow."
The three new ways to travel are part of a wider investment in Virgin Atlantic's Economy cabin - delivering innovations on the ground, and in the air:
Investing in additional Economy Delight seats: At a time when most airlines are packing seats onto planes, Virgin Atlantic is investing in extra leg room. The airline is retrofitting its fleet to provide up to 36 Economy Delight seats on every flight - offering customers an even comfier journey with spacious 34-inch legroom.
Serving up the best Economy meals in the sky: All customers travelling in Economy will continue to enjoy a three course meal plus complimentary drinks and snacks - with a focus on supporting independent suppliers such as UK based Fairfield Farm Crisps and the Grown Up Chocolate Company.
More personalised service at the airport: For the first time, Virgin Atlantic is introducing automated bag drop at London airports, freeing up employees to provide a more personalised service where customers need it most. Four kiosks will open at London Gatwick this summer, followed by a further 18 kiosks at London Heathrow from winter 2018.
Keeping our customers connected: Every single seat in Economy now offers a personal USB charging point and every route offers access to high speed Wi-Fi to help customers work and play on the go.
New aircraft: 12 new Airbus A350-1000 aircraft will join the fleet from spring 2019 - offering unrivalled levels of comfort and reliability for customers, and a brand new Economy cabin designed with Virgin Atlantic's customers in mind.
Virgin scent: Virgin Atlantic has partnered with leading British candle maker Rachel Vosper to create a new scent called "Air." Designed to evoke wellbeing and inspire future travel, it will be available across check in, the gate and upon boarding the aircraft.
Virgin Atlantic and Delta offer the leading transatlantic partnership, and the new Economy products will offer a seamless experience for customers travelling with the airlines. Economy Delight, Economy Classic and Economy Light will complement Delta's Comfort +, Main Cabin and Basic Economy products - always offering a three course meal, Wi-Fi, hundreds of hours of inflight entertainment and excellent service regardless of the ticket type.
PLEASE GO TO
www.youtube.com/channel/UCCuRVZAGodT6sztTeXBGeMw
and subscribe to our YouTube channel