Compiled by Willie Bodenstein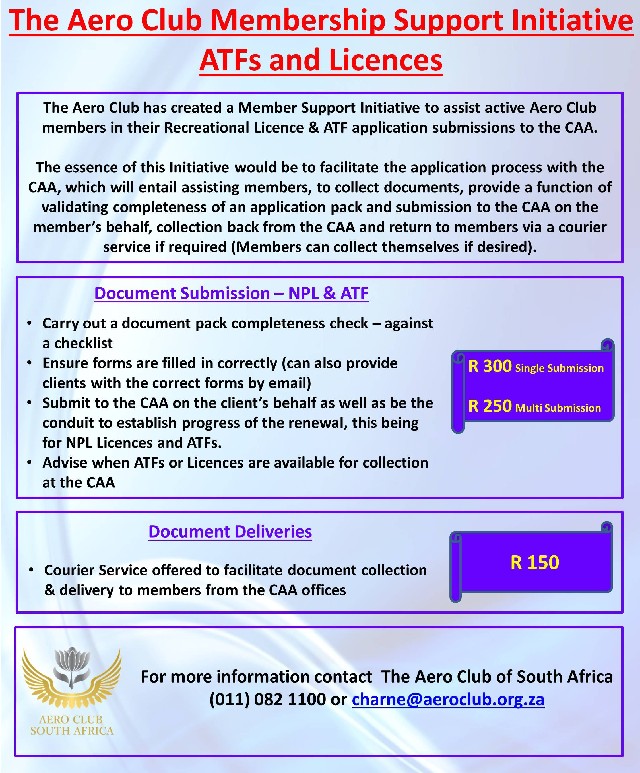 COVID 19 REGULATIONS, INITIATIVES AND AEROCLUB NEWS

AERO CLUB COMMUNIQUE APRIL 2021 #2 - AIRWEEK COUNTDOWN

We are in the final days before Airweek commences, herewith some relevant information - also available on the website here www.aeroclub.org.za/airweek

REGISTER
To enable us to plan catering arrangements we ask you to pre-register for the event.

WHATS NEW
Program for the Weekend
Fri 23rd April Arrivals, Evening Braai on the Airfield
Sat 24th April Arrivals and departures through the day
Free Flying activities throughout the day
- participation from all Aero Club Sections
SAC - Various Aerobatic displays - demonstrating classes
EAA Aircraft Judging Competition
3 Minute Circuit and Pre Flight Competition
Exhibitor Stalls,
EAA Convention workshops
RAA & T&D workshops
Hot Air Balloon Night Glow
Aircraft Displays (Flying Lions and Good Year Teams)
Awards Dinner, and Party with comedian Dix Vorster

Sun 25th April Aircraft arrivals and departures through the day
Free Flying activities throughout the day
- participation from all Aero Club Sections
Aircraft Displays (Flying Lions and Good Year Teams)
SAC - Various Aerobatic displays - demonstrating classes
Hot Air Balloon Night Glow

Mon 26th April Aircraft arrivals and departures through the day
Free Flying activities throughout the day
- participation from all Aero Club Sections
SAC - Various Aerobatic displays - demonstrating classes
Speed Rally Test Flights & Briefing

Tue 27th April Speed Rally Event Briefing 07h30
Speed Rally from 10 to 13h30
SAPFA prize Giving
Departures
Awards Dinner - Sat 24th April
Lamb on spit dinner will be available at R160 per head. Aero Club and Aircraft Judging awards plus live entertainment by Dix Vorster!

Volunteer Programme
Volunteer and take advantage of earning last-minute MACH points AND get a fabulous EAA Volunteer T-Shirt

AFIS & Arrivals
Tower Frequency 127.95. They will hand you over to Ground Frequency 120.90 at their discretion.
Marshals will be on hand to direct parking
(C1049/21 NOTAMN
Q)FAJA/QSFAH/IV/B/A/000/999/2541S02926E005
A)FAMB B)2104231000 C)2104261500
D)23 APR 1000-1500
24-26 APR 0500-1500
E)AFIS AVBL ON 127.95 MHZ DUE FLY-IN. REF AIRAC AIP SUP S006/21.)

Shuttle Service Transport
A shuttle transport service will be operating for those who are staying in town.

REMINDERS
Book Your Accommodation (as soon as possible to avoid disappointment)
• Book a ready pitched Tent "Move-in, Move-out". These tents are fitted out with stretchers, mattresses, and sleeping bags (bring your own pillow). Click here to reserve this easy option! Good ablution facilities are available on the airfield
• Bring your own tent / caravan. Limited power points are available on a "first-come first-served" basis for a list of establishments
• Stay in town. Click here for a list of establishments

If you are not a member and wish to join the Aero Club and any of its Sections feel free to do so member-renewals-and-new-memberships





AERO CLUB COMMUNIQUE - JHB SPECIAL RULES EAST - UPDATE

Further to the previous communique on this topic, the Johannesburg Special Rules East on Frequency 125.4 MHz still has severe interference from a source now identified as being a transmitter located on the Magalies range in the Hekpoort area. Although the source has been located, the actual transmission responsible for the interference has not been identified and is likely an unrelated frequency with a harmonic carrier wave that is the culprit. Between the CAA, ATNS and ICASA investigations continue to find the aberrant transmitter and operator.

In the interim the CAA have decided to publish a Notam to apply a temporary frequency which is 126.0 MHz for the Special Rules East area until further notice as per below. Although temporary, this message may not be available to all, neither the Notam, therefore maintain a constant lookout and those with transponders to keep them on 2000 with ALT selected which will be visible on TCAS fitted aircraft.

(C1228/21 NOTAMN
Q)FAJA/QCALT/IV/B/E/000/075/2913S02504E542
A)FAJA B)2104141419 C)2105141200 EST
E)JOHANNESBURG SPECIAL RULES AREA EAST FREQ 125.4 MHZ SUSPENDED DUE
TO RDO FREQ INTERFERENCE. TEMPO FREQ 126.00 MHZ ASSIGNED.)

If you are not a member and wish to join the Aero Club and any of its sections, feel free to do so member-renewals-and-new-memberships
www.aerocclub.org





OUR CENTENARY YEARBOOK IS NOW AVAILABLE TO PURCHASE FROM OUR NEW WEBSHOP
WWW.AEROCLUB.ORG.ZA/SHOP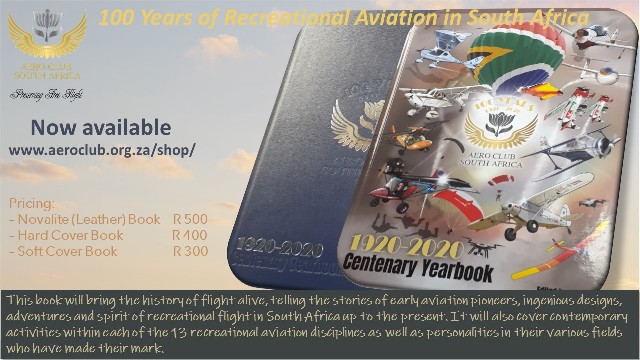 R1,000.00 WORTH OF PRIZES - THE CHOCK NORRIS AVIATION THEMED PHOTO CONTEST

The competition entries closed on 31 March 2021

Contestants, please note multiple votes from one device will only be counted once and may led to the entry being disqualified.

Vote now for April week 4 finalists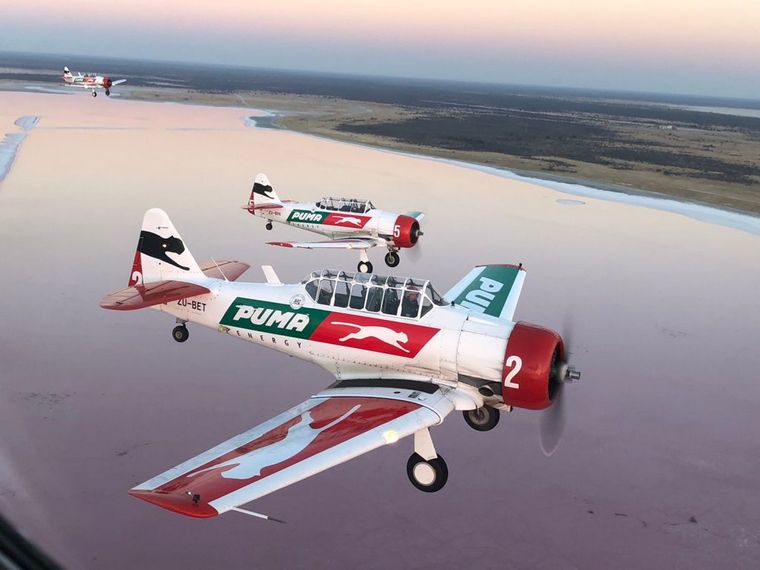 Vote for Apr4.1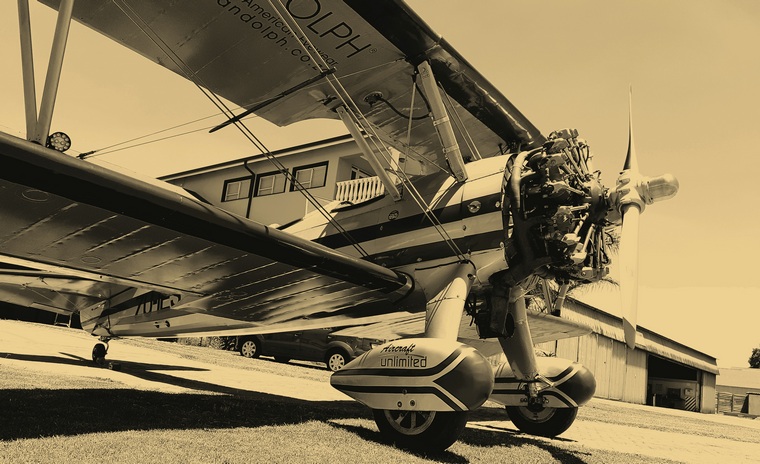 Vote for Apr4.2

Judging:
1. The Pilot's Post team will select the 2 best photos submitted every week and add them into our "Midweek Update" published every Thursday morning, where our readers will then cast their votes by simply clicking the link below the photo of their choice.
2. At the end of each month, a complete article will be published on Pilot's Post to include the weekly photo submissions with the most reader votes. Our readers will then again have the opportunity to cast their votes by simply clicking the link below the photo of their choice. The photo with the highest number of votes will then be judged the Winner of the Month.
3. A prize of a set of Chock Norris personalised Aircraft Chocks with leather storage bag valued at R500
and
a voucher from the Pilot Shop valued at R200.00 will be awarded to each monthly winner
and
a soft cover copy of the Aero Club of South Africa's Centenary Yearbook valued at R300.00 sponsored by Chapter 322 of the EAA of SA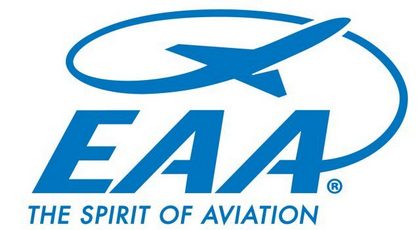 EAA CHAPTER 322
With our MACH program (Member Awards for Chapter Help), your membership could win you a trip to Oshkosh!
Click on the link below today to renew or join!
www.eaa.org.za/membership/membership-form
or for EAA membership information go to
www.eaa.org.za



FORTHCOMIMG EVENTS

The following events will to take place under the rules controlling the number of people congregating together and are therefore not open to the general public.

24 APRIL
EAA South Africa at Middelburg Airfield AGM:- details to be announced

23 & 27 APRIL
Aero Club Airweek at Middelburg Airfield. Contact Rob Jonkers E-mail: rob@aerosud.co.za Cell: 082 804 7032

27 APRIL
SAPFA Middelburg Speed Rally at Middelburg Airfield. Contact Jonty Esser E-mail: jonty@promptroofing.co.za Cell: 082 855 9435

30 APR TO 2 MAY 2021
North meets South @ Gariep 2021. Venue: Gariep Dam. Tommie Jordaan. WhatsApp : 0828023221 email : tommie.jordaan@icloud.com





1 MAY
Military and history festival. Voortrekker Monument, Pretoria. For more information bemarking@ vdm.org.za

1 MAY
Vredenburg RC Jet Day. Hobby Centre Airfield. RSVP before 28 April Michael 072 266 7199

5 MAY
EAA Chapter 322 monthly meeting virtual and in person at Dicky Fritz MOTH Hall, Edenvale. Contact Neil Bowden E-mail: neil1@telkomsa.net Cell: 084 674 5674

8 MAY
SAPFA Sheila Taylor Navigation Rally at Krugersdorp Airfield. Contact Frank Eckard E-mail: frank.eckard@mweb.co.za Cell: 083 269 1516

8 MAY
Battlefields Country Lodge and Sports Resort annual fly-in. Contact Dave O' Halloran E-mail: gm@battlefieldslodge.co.za Tel: 034 218 1614

8 MAY
Zandspruit Fly-In. Limited space. R150 per breakfast and refreshments. RSVP flyem4@flyem4.com. Deon 076 901 7606

8 & 9 MAY
Sport Aerobatics Club KZN Regionals Ladysmith Airfield. Contact Annie Boon E-mail: chunge@mweb.co.za

22 MAY
A gathering of Chipmunks at Springs Airfield. We invite all to join the celebration at Springs Airfield. The ERFC will be hosting their annual breakfast fly-in on the day too. Breakfast will be available for all who fly in.

20 TO 22 MAY
SAPFA President's Trophy Air Race at Ermelo Airfield. Website: www.sapfa.co.za E-mail: Race@sapfa.org.za Contact Rob Jonkers E-mail: chairman@sapfa.co.za Cell: 082 804 7032

29 MAY
SAA Museum Society Airline Collectables Fair - Rand Airport. Contact E-mail: info@saamuseum.co.za Cell: 076 879 5044

28 TO 30 MAY
RC Jets over Utopia. For more information contact Dave 082 455 1071 or Clint 082 894 2068

30 MAY
Fly-Mu breakfast fly-in and music festival at Springs airfield. Contact Fanie E-mail: ansan@tiscali.co.za Cell: 083 789 5507





BY THE SEAT OF MY PANTS: MEMOIR OF A PILOT
by Captain Chris John Rosslee

By the Seat of My Pants: Memoir of a Pilot by Captain Chris John Rosslee is a deeply personal memoir tracking one man's passion for flying. From the age of five, when he watches a primitive plane flying overhead, Chris Rosslee is determined to fly. His life unfolds against the historical backdrop of South Africa at the beginning of the 20th century. The memoir begins with Chris' tough childhood years in South Africa.


A dyslexic boy, with a bad stutter, from a poor South African family, becomes a skillful and courageous pilot. With little money or formal education, to become a pilot is a dauntingly remote ambition. Chris's chance comes with the advent of WW2. This memoir tells the story of his hair-raising adventures as a SAAF Allied bomber pilot in East Africa: the primitive conditions, unreliable planes, inadequate maps and lack of aeronautic aids.
Many of his compatriots die or are captured. His luck and skill sustain him. He flies low over herds of wild animals; survives three forced-landings and longs for his beloved wife, Buddy. Personal stories about the Allied fight against Italy in East Africa during WW2 are rare. This memoir contributes to filling that gap.
After the war, the memoir turns to his gripping experiences as a senior pilot for SAA. Chris is one of the few South African pilots chosen to train on and pilot the initial Comet, doomed to disintegrate in mid-air. He flies the first plane with passengers into Heathrow Airport, which leads, 50 years later at a commemoration of the opening, to a meeting with Queen Elizabeth.
Much later, in 1960, as a commercial pilot, he is forced to belly-land a Boeing 707 in Nairobi with a defective undercarriage, minimum fuel, lousy weather and relying on primitive instrumentation. Not one of his passengers suffers injury and the plane sustains minimal damage.
By the Seat of my Pants: Memoir of a Pilot tells the story of this humble man: his intrepid daring and often humorous complexity.
Chris flew 27 different types of aircraft over his flying career. Anyone interested in flying, historical aviation, WW2 or South Africa in the early 20th century would find this memoir fascinating.
The paperback is available from Gail Rosslee at info@chrisrosslee.com It is also available on Amazon:




FAA CERTIFIED PIPER 100I ON DISPLAY FOR THE FIRST TIME AT SUN-N-FUN


Piper Aircraft announced that for the first time, a FAA certified Pilot 100i will be on display at Sun-n-Fun. The Pilot 100i received type certification from the Federal Aviation Administration (FAA) in December 2020. The Pilot 100i, which was originally announced during Sun-n-Fun in 2019, is the value priced addition to Piper's trainer-class line. Following certification, Piper began deliveries to its launch customer, American Flyers, who took delivery of eight (8) Pilot 100i aircraft at the end of 2020.


"Adding the Pilot 100i to our training product line at a price point that provides optimal economics has opened the door for new aircraft purchases for many flight schools," said Piper Vice President of Sales, Marketing and Customer Support, Ron Gunnarson. "We are experiencing robust demand with 2021 production currently sold out. We continue to conduct a U.S. demo tour of the Pilot 100i selling backlog into 2022."
The new Piper Pilot 100i rounds off Piper's portfolio of training aircraft products. With five model series (Pilot 100i, Archer TX, Archer DX, Arrow and Seminole) the company offers the widest range of training aircraft of any aircraft manufacturer and meets all the individual needs of its training operators and customers. For 2021, flight schools now have an option for a factory new, robust trainer that is priced under $300,000 and is IFR equipped with digital autopilot.
The Piper Pilot 100i provides flight schools with professional training aircraft that offers a superior value proposition, which translates into reduced operating costs that can result in lower priced initial training courses. Standard instrumentation includes the Garmin G3X system, which offers all the advantages of a glass cockpit without the costs. The Pilot 100i is powered by the 180hp Lycoming IO-360-B4A which offers 128 kts / 237 km/h max cruise speed and 522 nm range with 45-minute reserve. Designed around direct input from flight instructors and students, the Pilot 100i's interior is simple, yet functional and was specifically crafted to withstand the rigors of flight training.

NEW ZEALAND STOL WINNER TRIFECTA FOR BEARHAWK



For the third year in a row, Bearhawk pilot Jonathan Battson wins the annual Healthy Bastards Bush Pilot Champs STOL (Short Take Off and Landing) competition. The event is held in Blenheim, New Zealand, home to the Omaka Aviation Heritage Center-a "living" museum commemorating the two World Wars.


The main objective in the STOL component of the competition is to get airborne in the shortest distance and then touch down safely bringing the aircraft to a stop also in the shortest distance. Battson took top spot in the Heavy Touring Category (>2,550 lb) in his Bearhawk 4-Place aircraft. As has become customary for Battson in the Bearhawk, his winning score was by a wide margin. Battson completed the trifecta of wins in 2019, 2020 and 2021.
Whether flying for sport and recreation, to make the best use of one's time, or out of basic necessity, there is no equal to the Bearhawk. A triphibious Bearhawk with its array of landing options, carrying capacity and superior strength is prepared, all around, to ensure each challenge is met with reliability and strength. The combination of wheel, ski and float options on the Bearhawk, along with three successive competition victories, exemplify trifectas of achievement-that involving three successful outcomes.
Bearhawk aircraft are available in kit or plan form. Models range from 2-, 4- and 6-Place configurations. All Bearhawk aircraft excel at accessing remote airstrips and are renowned for their rugged construction and carrying capacity. Avipro / Bearhawk Aircraft manufactures high quality Quick Build kits for the Bearhawk 4-Place Model B, Bearhawk Patrol, Bearhawk Companion, and Bearhawk LSA, and Bearhawk Model 5.

AIRBUS SIGNS MAJOR INTEGRATED SUPPORT CONTRACT WITH EGYPT FOR C295



The Egyptian Air Force, the largest C295 fleet operator worldwide, has recently signed a five-year services contract with Airbus for the performance-based support of its fleet, composed of a total of 24 aircraft.

The Egyptian Air Force joins now the community of C295 operators that benefit from the provision of integrated and performance-based services which ensure that all elements of support are in place where and when required, in order to optimize fleet availability and mission readiness.
The contract includes the provision of material services, on-site technical support as well as on-wing maintenance.
Since the delivery of the first aircraft in 2011, Airbus has been providing support through a wide service portfolio with the highest quality standards including both technical and personnel resources. In signing this contract, Egypt goes further by reaffirming and extending their trust in Airbus by implementing the first integrated support contract.
Stephan Miegel, Head of Military Aircraft Services at Airbus Defence and Space, said: "This agreement is a significant step forward in the integrated service support that we offer our customers in the region. Our goal and commitment to our customers is to maximize their fleet availability, ensure their mission readiness, all while saving maintenance costs."

FRANCE ORDERS H225MS AND VSR700 PROTOTYPE IN SUPPORT OF HELICOPTER INDUSTRY

The French Minister of Armed Forces, Florence Parly, has announced that the Armament General Directorate (DGA) has signed an order to purchase eight additional H225Ms and a second VSR700 prototype. The H225Ms will be operated by the French Air and Space Force.

The VSR700 is an unmanned aerial system being developed for the French Navy in partnership with Naval Group. This order is part of a Stimulus plan to support the national aeronautical industry announced by the French government in 2020. For Airbus Helicopters, the plan also includes an order for two H145s for the Sécurité Civile and 10 H160s for the French Gendarmerie Nationale.
"We are very thankful to the French government for their support of the aeronautical industry through the Stimulus plan. This is a win-win situation as the aircraft fulfil a real operational need for the French armed forces and this order allows Airbus Helicopters to secure jobs and key skills in the medium term," said Bruno Even, Airbus Helicopters CEO. "The French armed forces are facing increasing and varied challenges and I am confident that the H225M, thanks to its excellent range and multirole capacity, will be an efficient and reliable asset that will enhance their operations at home and abroad. The VSR700 is also a crucial programme. It will provide the French Navy with a highly capable autonomous platform and it will pave the way for future unmanned systems within the Airbus Helicopters portfolio."
Like the rest of the aeronautical industry, the helicopter industry has been impacted by the Covid-19 pandemic. 2020 saw the worldwide market decrease by 50%. The support of the French government will help secure 960 jobs during the next three years for Airbus Helicopters and its suppliers.
These contracts will benefit the French helicopter industry as a whole, including other key French aerospace providers such as Safran Helicopters Engines with the H225M's Makila 2A engines, Safran Power Units with the Saphir 20 auxiliary power unit, Safran Electronic Defence with the electro-optical system Euroflir 410M NG and the Sigma inertial navigation system, and Thales with the VUHF radio TRA6034 and IFF transponder TSC4000. But with more than 300 French Tier 1 suppliers involved in the H225M's supply chain, the contract will also benefit a variety of small and medium enterprises. The VSR700 is based on the Cabri G2 light helicopter built by local SME Hélicoptères Guimbal.
First deliveries of the H225Ms are planned to start in 2024 and will fulfil the Air and Space Force's operational needs and the long-awaited replacement of the Puma fleet.
Thanks to a modular and versatile configuration allowing the integration of diverse equipment, the aircraft will be dedicated to a wide range of military missions including combat/search and rescue, medical evacuation, support to the population in times of crisis and tactical training. While based in the Air and Space Force's Cazaux base in Southwest France, the helicopters will be deployed across the country and will also support the French armed forces' operations overseas.
With more than 104 helicopters in service and more than 143,000 flight hours accumulated to date, the H225M is a recognized combat-proven, versatile and reliable workhorse for military missions worldwide. Among the essential operational advantages offered by the 11-tonne helicopter is the in-flight refuelling capacity, already tested by the French and Brazilian air forces.
Designed to operate alongside other shipborne naval assets, the VSR700 unmanned aerial system (UAS) is being developed within the frame of the SDAM (Système de drone aérien de la Marine) programme for the French Navy. The VSR700, derived from Hélicoptères Guimbal's Cabri G2, is an unmanned aerial system in the 500-1000 kg maximum take-off weight range. It offers the best balance of payload capability, endurance and operational cost. It is capable of carrying multiple full-size naval sensors for extended periods and can operate from existing ships, alongside a helicopter, with a low logistical footprint.
The first prototype of the VSR700 performed its maiden flight in 2020 and has recently begun expanding its flight envelope.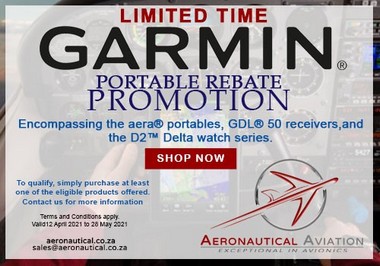 BETA TECHNOLOGIES ANNOUNCES DEAL WITH UPS FOR UP TO 150 EVTOL AIRCRAFT

UPS and its UPS Flight Forward subsidiary will purchase up to 150 eVTOL aircraft from Vermont-based Beta Technologies, the companies announced this week. UPS will use Beta's eVTOL aircraft to transport parcels in small and mid-size markets.

UPS plans to use the piloted eVTOL aircraft transport time-sensitive deliveries that would otherwise fly on small conventional airplanes. Rather than relying on airports, the fully electric aircraft will take off and land on-property at UPS facilities, creating a "micro air feeder network without the noise or operating emissions of traditional aircraft," according to Beta founder and CEO Kyle Clark.
The aircraft will have a range of 250 miles (around 400 kilometres), a cruising speed of up to 170 mph (270 km/h), and a cargo capacity of 1,400 pounds (635 kilograms). UPS expects its new fleet to benefit healthcare providers, small and medium-sized businesses and other companies in smaller communities, with the aircraft flying either one long route or a series of short routes on a single charge to meet customers' needs.
"These new aircraft will create operational efficiencies in our business, open possibilities for new services and serve as a foundation for future solutions to reduce the emissions profile of our air and ground operation," UPS chief information and engineering officer Juan Perez stated in a press release.
UPS expects to take delivery of its first 10 aircraft from Beta starting in 2024, with an option to purchase as many as 150. UPS will also be using Beta's proprietary modular charging stations, which will rapidly recharge the aircraft in less than an hour, leveraging used aircraft batteries that are no longer optimal for flight. UPS also expects to use the charging stations for its growing fleet of electric ground vehicles.
The contract with UPS represents a third major win for Beta as it pushes into the cargo and cargo-adjacent markets. The eVTOL developer's launch customer is United Therapeutics, which plans to use its aircraft to carry human organs for transplant. Beta also has significant contracts with the U.S. Air Force through the latter's Agility Prime program, which could lead to use of its aircraft for military logistics applications.
Beta has been steadily advancing flight testing of its full-scale Alia-250 prototype, a lift-plus-cruise design that uses four lifting propellers for vertical take-offs and landings and a rear-mounted pusher propeller for cruise. For its initial phase of testing, the aircraft has been flying in airplane mode with its lifting propellers removed, including during its first interstate flight on March 17 between its testing ground in Plattsburgh, New York and Beta headquarters in Burlington, Vermont.
The aircraft has attained altitudes up to 8,000 feet and a personal best in range that has not been disclosed, although publicly available flight tracking data indicates it has flown an actual distance of more than 100 miles (160 km) in a single flight. Hover testing will come next as the company works toward completing full transitions from vertical to forward flight and back.
Although Beta's eVTOL design has an onboard pilot to facilitate near-term certification, the company expects its aircraft to someday fly autonomously as technologies and regulations are established. UPS Flight Forward in 2019 became the first drone operator to achieve part 135 standard air carrier certification from the U.S. Federal Aviation Administration (FAA) and is operating daily revenue-generating flights with drones.
According to UPS, the FAA certification enables UPS Flight Forward to fly payloads of up to 7,500 lb. (3,400 kg) either with an operator or autonomously.

H125 PERFORMANCE INCREASE CERTIFIED BY EASA

Airbus Helicopters has received EASA certification for the power upgrade of its single-engine H125 helicopter. Announced at Heli-Expo last year, this major evolution increases the aircraft's power by up to 10% by making full use of the available power of the existing Safran Helicopter Engines' Arriel 2D.

While the maximum take-off weight of the aircraft remains unchanged, its external and internal load lifting capabilities are increased for a large part of the flight domain (by up to +140 kg), while the hover ceiling OGE at maximum take-off weight is increased by more than 1,500 ft (up to 12,600 ft).
"It is our ambition to continuously improve our products and bring further competitive advantages to our customers", said Axel Aloccio, Head of Light Helicopters Programme. "The extra power offered by this major upgrade represents a 10% to 20% payload increase for a typical aerial work mission versus the aircraft's current lifting capabilities and confirms the superiority of the H125 in terms of payload and value for money".
This extra power will be included as a standard feature, at no additional cost, on all new-built H125s delivered from September 2021 onwards. A retrofit solution consisting of a VEMD software upgrade, available from Thales via an in-shop retrofit or standard exchange, will also be available for all H125s already in service within the EASA region by the end of April 2021. Additional international certifications are expected to be obtained in the coming months.
With more than 4,000 helicopters in service with about 1,500 global customers and 28.5 million accumulated flight hours, the H125 continues to lead the single engine helicopter market in all mission segments thanks to its high performance and multi-mission capacity. In the last 10 years 1,420 H125s have been delivered, resulting in a 52% market share.

PILATUS PC-24: THE FASTEST CONNECTION TO VENICE

A premiere for Venice-Lido: for the first time, a business jet lands on the grass runway of the airport closest to the world-famous Italian city of Venice. The flight aboard a PC-24 provides the fastest connection ever to Venice and many other cities.

The Venice-Lido city airport is located about three kilometres east of the city centre on the Lido di Venezia. The PC-24 landed safely on the grass runway 05/23 of just under 1000 metres. The city centre is just a few minutes from the airport. The PC-24 is the only business jet in the world to be able to fly into such airfields. The combination of high cruising speed and ability to use short strips - and even unpaved runways - delivers a whole new level of mobility and time savings.
The PC-24's outstanding performance on short and unpaved runways opens up an incredible spectrum of flexibility and new possibilities. It means the PC-24 gives you access to almost twice as many airfields worldwide compared to other business jets currently on the market. With the PC-24, which can operate in and out of small airfields, you can fly closer to your final destination, thereby avoiding the usual formalities at large airports and reducing transfers on the ground to an absolute minimum, saving valuable time.

AMAZILIA AEROSPACE AND PIPISTREL TO DEVELOP HEAVY CARGO HYBRID VTOL DRONE FOR SF EXPRESS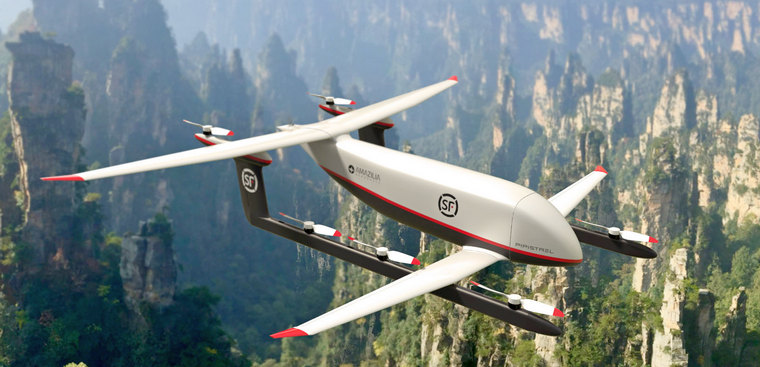 SF Express, China's leading integrated logistics provider, intends to expand its delivery network fleet through the deployment of large cargo unmanned aerial vehicles (UAVs) with vertical take-off and landing (VTOL) capability.

Together with its Munich based subsidiary, Amazilia Aerospace, SF Express has partnered with Pipistrel, a Slovenian aerospace company, to accelerate the development of commercial large scale UAV operation. Amazilia Aerospace will deliver an advanced digital flight control and vehicle management system for an innovative VTOL cargo drone designed and manufactured by Pipistrel.
SF Express pursues a VTOL aircraft capable of service in the environment of remote and isolated areas. The aircraft will be able to lift more than 300 kg of cargo in a 2.3m³ volume space over a range of 500km with cruising altitudes up to 6000m and VTOL capability up to 2500m above sea level. Pipistrel specifically designed the aircraft to meet these demanding conditions. The aircraft will be equipped with 8 vertical-lift packages each consisting of a Pipistrel E-811 EASA Type certified powered rotor with highly efficient and redundant battery packs that assure safe operation even if 2 rotors are inoperative. The aircraft design and component production of the prototype will be carried out in Pipistrel facilities.
Pipistrel Founder and CEO Ivo Boscarol points out "To be chosen by one of the largest logistics companies globally to design and produce a tailor-made line of vehicles for aerial cargo transportation is a solid recognition of Pipistrel's capability built up on more than a decade of achievements in electric flight. We look forward to becoming even more involved in strategic business solutions on a global scale, where our vehicles will change how aerial logistics work and have further significant impacts to sustainability and quality of life."
The brains flying this innovative design is the Amazilia Aerospace Automatic Flight Control System and Vehicle Management System (AFCS/VMS). This versatile system includes both the avionic hardware and the software capable of automating the entire cargo mission. It can be integrated into both VTOL and conventional aircraft configurations and has been designed specifically to meet the requirements for large scale logistical operations by logistics companies such as SF Express.
Amazilia Aerospace builds on years of research at the Technical University of Munich (TUM) reinforced with aerospace industry experience. The team will develop and deliver an ACFS/VMS which is compliant to aerospace industry standards. This system is not only compatible with the economics of unmanned aerial cargo transport but also scalable and versatile, which integrates well with a variety of aircraft types and sizes.
The aircraft prototype is scheduled to undergo flight testing with the Amazilia Aerospace system in Europe, followed by operational validation in China starting in 2022. By 2023, SF Express intends to deploy the HVTOL cargo drone fleet in their domestic and non-domestic business operations.
"Our efforts to achieve 36-hour countrywide delivery throughout China face significant challenges, such as natural barriers, underdeveloped logistics infrastructure and more, especially in rural China. SF Express intends to adopt cargo VTOL drones to solve this bottleneck due to their flexibility and high speed, which is on par with helicopters, and has low costs which are competitive with truck delivery. The high-altitude capability allows us to extend our civil air cargo service coverage to even difficult to reach mountainous areas. We believe VTOL drones will become a major vehicle in China, and SF Express alone will need more than 1000 in the next 10 years. " says LI Dongqi, SF EXPRESS VP & SF UAS Chairman.

CESSNA CITATION CJ3 SERIES CEMENTS BEST-SELLING LIGHT JET LEGACY WITH 600TH DELIVERY

Textron Aviation recently marked the delivery of the 600th aircraft from the Cessna Citation CJ3 family, the industry's best-selling light jet series. The milestone Cessna Citation CJ3+ was delivered to an unnamed customer in North America.

The Cessna Citation CJ3+ is designed and manufactured by Textron Aviation Inc., a Textron Inc. (NYSE:TXT) company. The CJ3+ remains a strong performer due to its versatility as COVID-19 limitations have prompted customers to look for alternatives to commercial travel.
Lannie O'Bannion, senior vice president, Global Sales and Flight Operations. "Since joining the Citation family, the Citation CJ3 series has proven to be an incredible performer for customers around the world with the connectivity, price, range and efficient operation that puts it at the top of its category," said Lannie O'Bannion, senior vice president, Global Sales and Flight Operations. "The CJ3+ remains a strong performer due to its versatility as COVID-19 limitations have prompted customers to look for alternatives to commercial travel."
This aircraft features a fresh air system to keep cabin air clean, bringing fresh air from outside into the aircraft through the engines. The engines compress and heat the air eliminating pathogens and germs. The air is then cooled and enters the cabin as cold or warm air, depending on passenger preference.
The Citation CJ3+ boasts the latest technology in the cabin and cockpit providing both unrivalled comfort and productivity for passengers, and intuitive, efficient operation for either single-pilot operation - perfect for owner-operators - or traditional two-pilot operations.

"MODULAR AIRPLANE" CONCEPT, AN EMBRAER COLLABORATION, RECEIVES INTERNATIONAL DESIGN AWARD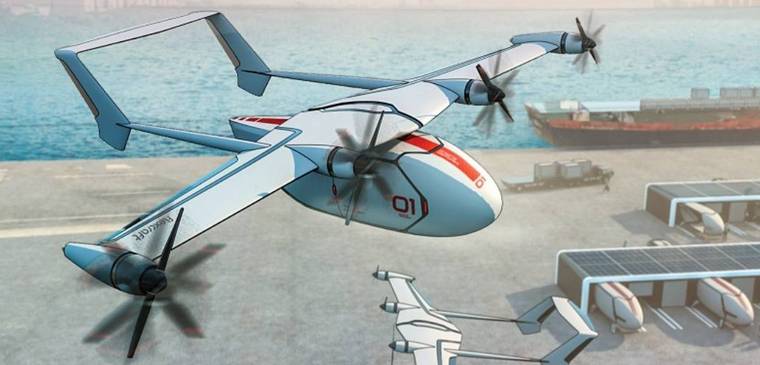 The FLEXCRAFT, a modular and remotely piloted aircraft concept, which allows quick reconfiguration of the cabin for multiple missions, won the International Design Awards (IDA) in the Transport Design category.

With the ability to land and take off on short lanes and use alternative energy sources, the concept seeks to foster ideas for transforming the future of air mobility, combining the human, technological, social and economic perspectives in a sustainable manner. IDA highlighted the passenger experience through the flexibility of fuselage design and new technologies.
Among the possibilities studied for usage are the transportation of passengers and cargo, support for civil protection activities, surveillance, aeromedical evacuation and agriculture, among others.
The futuristic project was the result of a Portuguese consortium led by Sociedade de Engenharia e Transformação, SA (SET.SA) that brought together Embraer Portugal, Instituto Superior Técnico (IST), Almadesign, Instituto de Ciência e Inovação em Engenharia Mecânica e Engenharia Industrial (INEGI), plus the support from Embraer SA (Brazil). The initiative was funded by the Portugal 2020 program, under the Operational Program Competitiveness and Internationalization through the European Regional Development Fund.
"This award is a recognition of Embraer and all partners efforts, innovation and scientific research for this conceptual project, which points out opportunities and paths for the transformation of future air mobility," said Maurílio Albanese Novaes Júnior, Head of Research & Technology Development at Embraer. "We are also grateful for the initiative of the Government of Portugal, which, under the Incentive System for Research and Technological Development (SI I&DT) of the Portugal 2020 Program, promotes scientific research and trusts Embraer as a catalyst for the local chain and the development of the Portuguese aeronautics industry."
The scientific research aimed to raise the critical technologies of this concept in an integrated way, such as configuration, flexibility solutions and production and material processes.
Through the FLEXCRAFT project, it was possible to evaluate the development of new production processes, eco-efficient technologies, and the integration of new materials, among other research fronts.

AIRBUS A400M CONDUCTS MAJOR HELICOPTER REFUELLING CERTIFICATION CAMPAIGN

The Airbus A400M new generation airlifter has successfully conducted a major helicopter air-to-air refuelling certification campaign, completing the majority of its development and certification objectives. Airbus Defence and Space aims to achieve full helicopter air-to-air refuelling certification later this year with the conclusion of all mandatory night operation trials.

The flight tests, performed in coordination with the French Armament General Directorate (DGA), involved operations with two French Air Force H225M helicopters.
The campaign took place in day and night conditions over the west coast of France at between 1,000 ft and 10,000 ft and flight speeds as low as 105 knots. During those flights, a total of 81 wet contacts and transfers of 6.5 tonnes of fuel were achieved, which included simultaneous refuelling of two helicopters for the first time. The tests confirmed the positive results of the dry and wet contact operations conducted in 2019 and 2020.
Helicopter air-to-air refuelling is a unique military capability and key for Special Forces operations, involving aircraft with different flight profiles and sharing a very limited common flight envelope, requiring close formation flying patterns at low altitudes and night time conditions.
With this capability the A400M becomes one of the few tanker aircraft in the world capable of such operations. The multi-purpose H225M is one of the few helicopters in the world capable of in-flight refuelling, extending the standard 700 NM range by up to 10 hours flight time.
The A400M is certified as standard to be quickly configured as a tanker. Carrying up to 50.8 tonnes of fuel in its wings and centre wing box, without compromising any cargo hold area, two additional cargo hold tanks can also be installed, providing an additional 5.7 tonnes of fuel each. The separate cargo-hold tanks allows for the use of different types of fuel, enabling the A400M to cater for the needs of different types of receiver aircraft.
As a tanker, the A400M has already demonstrated its ability to refuel fighter receivers such as Eurofighter, Rafale, Tornado or F/A-18 at their preferred speeds and altitudes and is also able to refuel other large aircraft such as another A400M for buddy refuelling, C295 or C-130.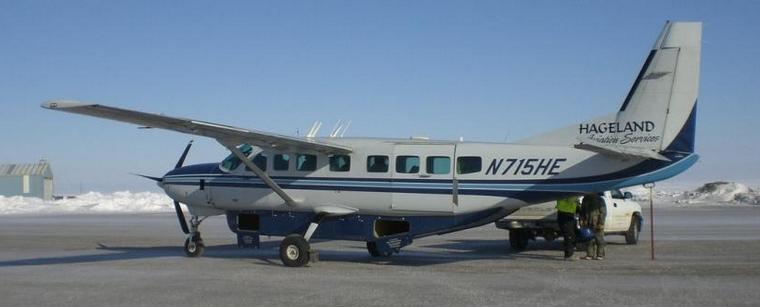 On 2 October 2016, a turbine-powered Cessna 208B Grand Caravan operated by Hageland Aviation Services, Inc collided with steep, mountainous terrain about 10 nautical miles northwest of Togiak Airport, Togiak, Alaska. The two commercial pilots and the passenger were killed and the airplane was destroyed.
The National Transportation Safety Board determined that the probable cause of this accident was the flight crew's decision to continue the visual flight rules flight into deteriorating visibility and their failure to perform an immediate escape manoeuvre after entry into instrument meteorological conditions, which resulted in controlled flight into terrain (CFIT).
Contributing to the accident were: (1) Hageland's allowance of routine use of the terrain inhibit switch for inhibiting the terrain awareness and warning system alerts and inadequate guidance for uninhibiting the alerts, which reduced the margin of safety, particularly in deteriorating visibility;
(2) Hageland's inadequate crew resource management (CRM) training;
(3) the Federal Aviation Administration's failure to ensure that Hageland's approved CRM training contained all the required elements of Title 14 Code of Federal Regulations 135.330; and
(4) Hageland's CFIT-avoidance ground training, which was not tailored to the company's operations and did not address current CFIT-avoidance technologies.



Australia, Tallagandra Lane, Sutton, NSW: An Oberon Aviation Services Pty Ltd Cessna R172K Hawk XP II with two occupants on an aerial powerline's inspection flight entered a spin and impacted a paddock on the Tallagandra Lane under unknown circumstances in Sutton, New South Wales, Australia. The airplane was destroyed and the two people onboard were fatally injured.
France, Cabannes, Bouches-du-Rhône: An Airbus Flight Academy Europe Cirrus SR22 with three on board on a training flight following a loss of engine power after take-off from Avignon Provence Airport impacted wooded terrain subsequent to the CAPS deployment (CAPS pull #122) in Cabannes, Bouches-du-Rhône, France. The airplane was destroyed but the three people onboard were not injured.
USA, Yuma Marine Corps Air Station/Yuma International Airport: Hawker Hunter Mk 58 operated by Opf Airborne Tactical Advantage Company (ATAC) with the pilot on board experienced a runway excursion upon landing at Yuma Marine Corps Air Station/Yuma International Airport (NYL/KNYL), Yuma, Arizona. The airplane sustained unreported damage and the sole pilot onboard was not injured during the incident.
Argentina, near Cañuelas Airfield, BA: A18 Cañuelas Tecnam P2002 Sierra with two crew impacted open field terrain during a training flight near the Cañuelas Airfield, Buenos Aires, Argentina. The aircraft was destroyed and the two people onboard, an instructor and a trainee, were fatally injured.

Brazil, Paraná river, Presidente Epitácio: An Aeroclube Regional de Maringá Aero Boero AB-115 with two crew on a training flight made an emergency landing in the water of the Paraná river under unknown circumstances. Both occupants were rescued and were taken to a hospital. The aircraft was retrieved from the river.
USA, Lakeland, FL: A Cessna 182Q Skylane II operated by FIPA Inc with two occupants force landed on the grass shoulder of the Polk Parkway near Exit 4 in Lakeland, Florida. The airplane was not damaged and the two people onboard were not injured.
USA, near North Vernon Airport, IN: An Echelon Right LLC Cessna A185F Skywagon with only the pilot on board following a loss of engine power force landed to golf course terrain shortly after take-off from North Vernon Airport (OVO/KOVO), Jennings County, Indiana. The aircraft sustained unspecified damage and the sole pilot onboard was not injured.
Kazakhstan, Balkhash Airport, Karaganda region: A Kazakhstan Air Force Sukhoi Su-30SM with two crew crashed on approach to Balkhash Airport. Both pilots ejected safely. The aircraft was damaged beyond repair.
Peru Miaria, Megantoni District: A Peruvian military helicopter Mil Mi-171Sh-P with twelve occupants engaged in an anti-drug reconnaissance mission crashed into the water of Río Urubamba near Miaria, Megantoni District, Peru. Five crew members died in the crash and five were rescued. A sixth body was retrieved from the wreckage and one is still missing.

USA, Cocoa Beach, FL: Valiant Air Command Inc Grumman TBM-3E Avenger partaking in the Cocoa Beach air show with the pilot on board made a soft landing with folded undercarriage into the water close to Cocoa Beach, Florida, during the Cocoa Beach Air Show, after engine problems. The pilot escaped unhurt and the aircraft sustained probably substantial water damage.
Mexico, Toluca-Licenciado Adolfo López Mateos International Airport: A Gates Learjet 25B with nine occupants sustained substantial damage following a belly landing at Toluca-Licenciado Adolfo López Mateos International Airport (TLC/MMTO), Mexico. The two pilots and seven passengers were not injured.
France, near Saint-Pathus, Seine-et-Marne: An Aeroclub Paris Robin DR.400/140B Dauphin 4 with four on board impacted open field terrain under unknown circumstances near Saint-Pathus, Seine-et-Marne. The airplane was destroyed and the four people onboard were fatally injured.


17 APRIL 1949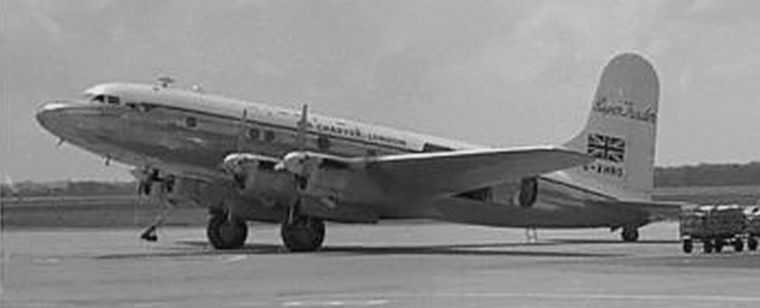 Avro Tudor Mark IVB 'Star Ariel' passenger aircraft (British piston-engined airliner based on the four-engine Lincoln bomber) owned and operated by British South American Airways (BSAA) disappeared without trace over the Atlantic Ocean while on a flight between Bermuda and Kingston, Jamaica, part of the Bermuda Triangle legend.


The Star Ariel was one of three enlarged and improved versions of the Avro Tudor, designated Mark IVs. On 17 January 1949, the Star Ariel was awaiting flight instructions at Kindley Field, Bermuda, with no passengers. BSAA Tudor G-AHNK Star Lion meanwhile suffered an engine failure on approach to Bermuda, landing without incident. Star Ariel was promptly pressed into service to take G-AHNK's passengers on to their destination of Kingston, Jamaica.
She took off at 08:41 with seven crew and 13 passengers. Weather conditions were excellent, and her pilot, Captain John Clutha McPhee (formerly RNZAF), decided on a high-altitude flight to take advantage of it. She never arrived at her destination.
The search for her began with another Tudor IV, the Star Panther. She had earlier landed at Nassau, and now refuelled, and took off at 15:25 to fly out to Star Ariel's route, bisect it and follow it back to Bermuda. Another aircraft took off from Bermuda, flew 500 mi (800 km), then did a 10 mi (16 km) lattice search all the way back. A US Navy task force headed by the battleship USS Missouri and including the aircraft carriers USS Kearsarge and USS Leyte assisted in the search, which expanded to dozens of ships and several planes over the next few days. No sign of her or her wreckage was ever found.
As a result of the loss, BSAA withdrew all five of its remaining Tudor IVs from service until each had been examined. The company faced problems in maintaining its services, since it was difficult to find aircraft of sufficient range and considered chartering Avro Lancastrians.



PLEASE GO TO
www.youtube.com/channel/UCCuRVZAGodT6sztTeXBGeMw
and subscribe to our YouTube channel