25.04.2021



The General Aircraft Monospar was formed to pursue new techniques in the designing of cantilever wings, based on the work of Swiss engineer Helmuth J. Stiege. The principle behind this Stiege's design was that the wing needed only one spar with torsion loads resisted by an efficient system of strong compression struts with triangulated bracing in the form of thin wires. The design was revolutionary and very light for its strength.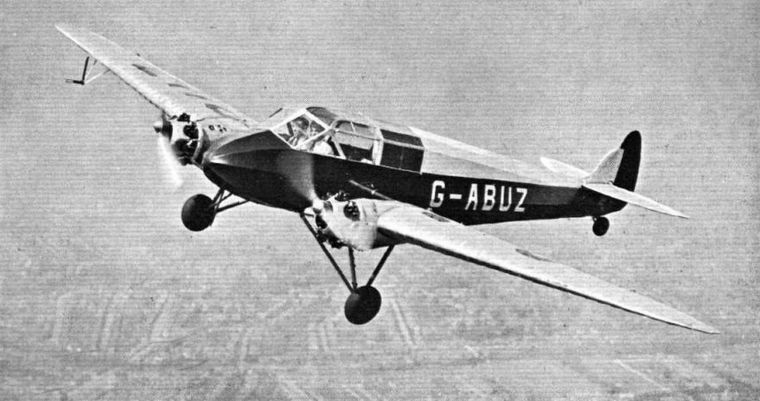 The first production design was the acronymically sleek and clean Monospar ST-4, a twin-engine low-wing monoplane with a fixed tailwheel landing gear. Powered by two Pobjoy R radial engines, the first aircraft first flew in May 1932 and was followed by five production aircraft.

The Monospar ST-6, a slightly wider version, was only the second British aircraft to fly with retractable landing gear. The Monospar ST-10, externally the same but powered by two Pobjoy Niagara engines, boasted an improved fuel system and aerodynamic refinements, won the 1934 King's Cup Air Race with an average speed of 134.16 mph.
General characteristics

Capacity: four
Length: 26 ft 4 in (8.03 m)
Wingspan: 40 ft 2 in (12.24 m)
Height: 7 ft 10 in (2.30 m)
Wing area: 217 ft2 (20.16 m2)
Empty weight: 1,840 lb (835 kg)
Gross weight: 2,875 lb (1,304 kg)
Powerplant: 2 ◊ de Havilland Gipsy Major 4-cylinder inverted inline piston engine, 130 hp (97 kW) each
Performance

Maximum speed: 158 mph (254 km/h)
Range: 410 miles (660 km)
Service ceiling: 21,000 ft (6,400 m)
PLEASE GO TO
www.youtube.com/channel/UCCuRVZAGodT6sztTeXBGeMw
and subscribe to our YouTube channel