22.04.2021



On 15 August 1959, a strange beast took to the skies over Russia in the form of the Ka-22 and which was designed by Vladimir Barshevsky (NATO reporting name Hoop). Despite its weird looks, it broke several world records including rotorcraft top speed and payload capacity, none of which have since been broken.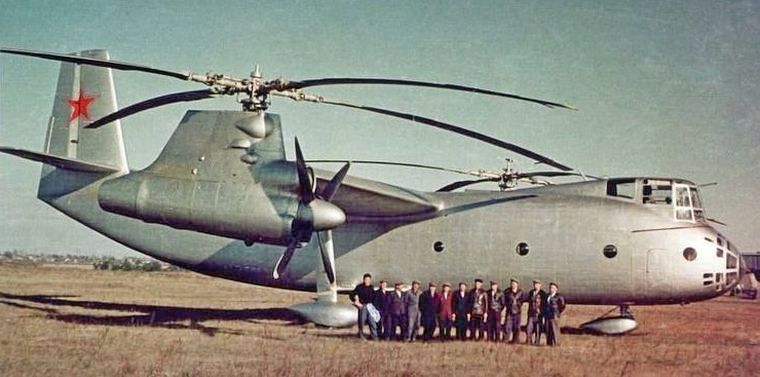 On 7 October 1961, with spats over the wheels and a fairing behind the cockpit, a class speed record was set at 356.3 km/h. The spats and fairing were then removed and on 24 November 1961 a payload of 16,485 kg was lifted to 2,557 m.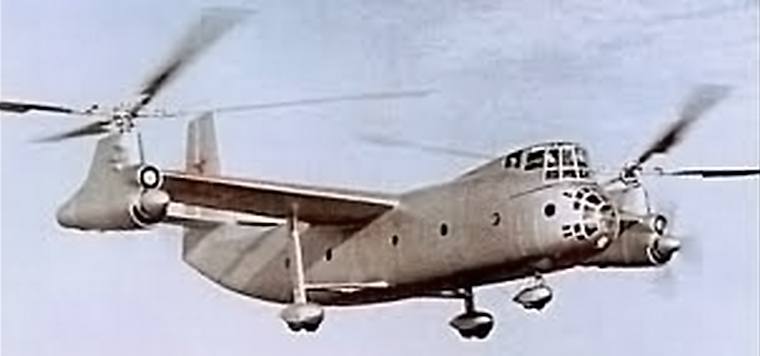 The Ka-22, in essence a fixed-wing aircraft with rotors fitted above the wing tips with drive to both a four-bladed tractor propeller and a four-bladed main rotor, carried a large payload, having a hold comparable in size to the Antonov An-12. Eight world records for altitude and speed were set by the Ka-22 in its class, none of which have since been broken.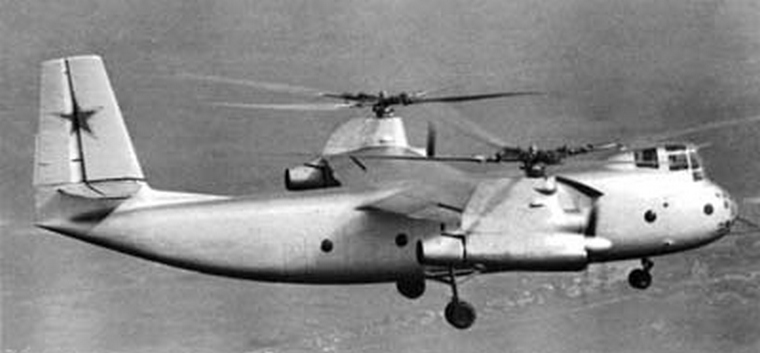 The Ka-22 was a huge machine. Its capacious fuselage contained a three-seat cockpit above the glazed nose as well as a main cargo area large enough to contain 80 seats or 16.5 tonnes of cargo. The entire nose could swing open to starboard for the loading of bulky items. In helicopter mode, the propeller drive was disconnected and the flaps were lowered to 90 degrees. In fixed-wing mode, the lifting rotors were free to windmill and the aircraft was controlled by the ailerons and tail surfaces.
However, it was too a complex a machine and after a number of the prototypes crashed, further development was abandoned.
Specifications (Ka-22)
General characteristics

Capacity: 100 passengers
Length: 27 m (88 ft 7 in)
Wingspan: 22.5 m (73 ft 10 in) fixed wing
Wing area: 105 m2 (1,130 sq ft)
Empty weight: 28,200 kg (62,170 lb)
Gross weight: 35,500 kg (78,264 lb) VTO
Max take-off weight: 42,500 kg (93,696 lb) STO
Powerplant: 2 ◊ Soloviev D-25VK turboshaft engines, 4,045 kW (5,424 hp) each
Main rotor diameter: 2◊ 20 m (65 ft 7 in)
Main rotor area: 795.2 m2 (8,559 sq ft) total
Propellers: 4-bladed Variable-pitch propellers
Performance

Maximum speed: 375 km/h (233 mph, 202 kts)
Range: 450 km (280 mi, 240 nmi)
Service ceiling: 5,500 m (18,000 ft)
PLEASE GO TO
www.youtube.com/channel/UCCuRVZAGodT6sztTeXBGeMw
and subscribe to our YouTube channel