Compiled by Willie Bodenstein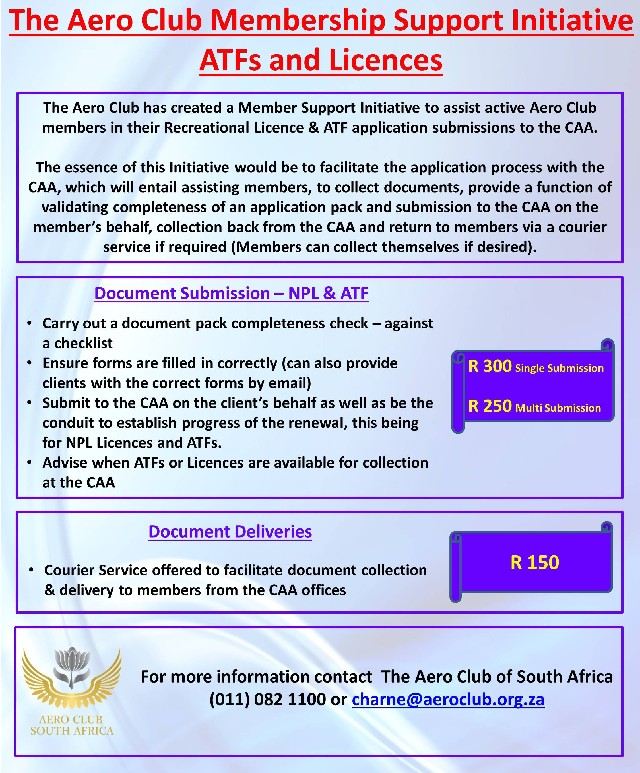 COVID 19 REGULATIONS, INITIATIVES AND AEROCLUB NEWS

OUR CENTENARY YEARBOOK IS NOW AVAILABLE TO PURCHASE FROM OUR NEW WEBSHOP

WWW.AEROCLUB.ORG.ZA/SHOP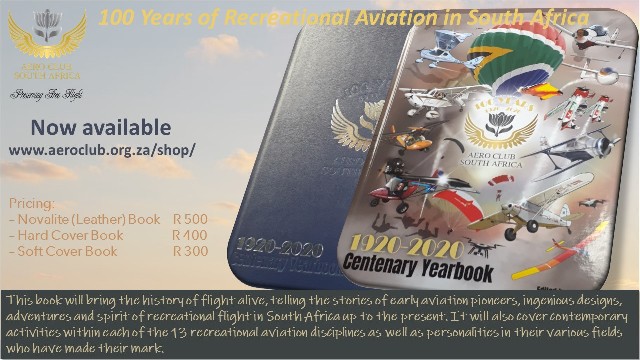 The following events will to take place under the rules controlling the number of people congregating together and are therefore not open to the general public.

5 MAY
EAA Chapter 322 monthly meeting virtual and in person at Dicky Fritz MOTH Hall, Edenvale. Contact Neil Bowden E-mail: neil1@telkomsa.net Cell: 084 674 5674

8 MAY
SAPFA Sheila Taylor Navigation Rally at Krugersdorp Airfield. Contact Frank Eckard E-mail: frank.eckard@mweb.co.za Cell: 083 269 1516

8 MAY
Battlefields Country Lodge and Sports Resort annual Fly-In. Contact Dave O' Halloran E-mail: gm@battlefieldslodge.co.za Tel: 034 218 1614

8 MAY
Zandspruit Fly-In. Limited space. R150 per breakfast and refreshments will be on sale. RSVP flyem4@flyem4.com. Deon 076 901 7606

8 & 9 MAY
Sport Aerobatics Club KZN Regionals Ladysmith Airfield. Contact Annie Boon E-mail: chunge@mweb.co.za

22 MAY
A gathering of Chipmunks at Springs Airfield. We invite all to join the celebration at Springs Airfield. The ERFC will be hosting their annual Breakfast Fly-In on the day too. Breakfast will be available for all who fly in.

20 TO 22 MAY
SAPFA President's Trophy Air Race at Ermelo Airfield. Website: www.sapfa.co.za E-mail: Race@sapfa.org.za Contact Rob Jonkers E-mail: chairman@sapfa.co.za Cell: 082 804 7032

29 MAY
SAA Museum Society Airline Collectables Fair - Rand Airport. Contact E-mail: info@saamuseum.co.za Cell: 076 879 5044

28 TO 30 MAY
RC Jets over Utopia. For more information contact Dave 082 455 1071 or Clint 082 894 2068

30 MAY
Fly-Mu breakfast Fly-In and music festival at Springs airfield. Contact Fanie E-mail: ansan@tiscali.co.za Cell: 083 789 5507





2 JUNE
EAA Chapter 322 monthly meeting virtual and at Dicky Fritz MOTH hall. Contact Neil Bowden E-mail: neil1@telkomsa.net Cell: 084 674 5674

5 JUNE
Newcastle airshow at Newcastle airfield. Contact Johan Pieters E-mail: Johan@champ.co.za Cell: 082 923 0078

5 JUNE
Kroon Airfield Fly-Inn. Contact Marius 083 419 6613 or Kevin 061 008 9561. Food and refreshments will be available as well as a farmers' market, flips and more.

12 JUNE
SAPFA Silver Queen Rally at AFB Zwartkops. Contact Rob Jonkers E-mail: rob@aerosud.co.za Cell: 082 804 7032

16 JUNE
RV Fly-In day at Kitty Hawk airfield. Contact Frank van Heerden E-mail: frankvh@mweb.co.za

19 JUNE
Sling breakfast Fly-in at Tedderfield Airpark. Website: www.slingaircraft.com Contact Shanelle McKechnie Tel: +27 (0) 11 948 9898 Cell: +27 (0) 66 224 2128

28 JUNE
Sport Aerobatics Club National Aerobatics Championships Tempe Airfield Contact Annie Boon E-mail: chunge@mweb.co.za






PIPER AIRCRAFT CERTIFIES 1,000 SEMINOLE (PA-44)



Piper Aircraft has announced the recent certification the 1,000th Seminole (PA-44-181). The milestone aircraft is currently on display at the annual Sun-n-Fun Aerospace Expo and will join Piper's demo fleet.


The PA-44, named the Piper Seminole, was first granted FAA type approval on March 10, 1978 with the first delivery taking place in July 1978. Today the Piper Seminole is known around the world as the leading twin-engine trainer and features fuel injected engines and advanced Garmin G1000 NXi avionics.
"The Seminole provides the ideal student learning environment, reliability and ultimate flight school profitability. Crossing the 1,000th aircraft threshold is a testament to the aircraft's robust design and popularity in meeting the best flight school's demands of low life cycle costs and high dispatch rates. The Seminole is part of Piper's complete line up of training products, which offers a wide range of capabilities, allowing flight schools to find the perfect fit for their training business needs, said Ron Gunnarson, Vice President of Sales, Marketing and Customer Support.



DELIVERIES FOR BEECHCRAFT KING AIR 360 AND 260 AIRCRAFT TO COMMENCE IN BRAZIL WITH RECENT ANAC CERTIFICATION



Textron Aviation has achieved certification from the National Civil Aviation Authority of Brazil (ANAC) for its newest twin-turboprop aircraft models, the Beechcraft King Air 360/360ER and King Air 260, clearing the way for deliveries to begin in country this quarter.

The Beechcraft King Air 360/360ER and King Air 260 are designed and manufactured by Textron Aviation Inc., a Textron Inc. (NYSE:TXT) company.
"The Beechcraft King Air´s operational versatility is its key selling point in Brazil and around the globe," said Marcelo Moreira, vice president of Sales, Latin America. "The King Air is a high-performance turboprop that can operate in almost any environment, from large metropolitan airports to short unprepared strips, which is why the aircraft is so popular in this region of the world."
With nearly 500 King Air turboprops operating throughout the country, Brazil has the second-largest active fleet of King Airs outside of the United States. The aircraft is a popular choice by owners in large metropolitan areas to connect them with remote farms or factories in the interior of the country, as well as reaching vacation getaways or international locations.
"The Beechcraft reputation for quality and robustness, along with the combination of efficiency and advanced technology in the cockpit and cabin, ensure the latest King Air models meet nearly all of the needs of an owner with one aircraft," Moreira added.
The King Air 360/360ER and 260 models represent the next generation of the legendary King Air turboprop family, building on its reputation of versatility and reliability. The aircraft offer the latest technological advancements in the cockpit along with providing additional comfort to the passenger experience.


KENYA COMMISSIONS C-145 SKYTRUCKS
Written by Guy Martin defenceWeb







The Kenya Air Force (KAF) has commissioned its recently acquired C-145 Skytruck transport aircraft into service, which will ultimately help replace the accident-prone Y-12 fleet. Three surplus aircraft were received from the United States.


The Kenyan Ministry of Defence said the event on 20 April was presided over by the Commander Kenya Air Force (KAF) Major General Francis Ogolla at Moi Air Base (MAB).
Speaking during the reception ceremony, Ogolla expressed gratitude to the US government for the acquisition that will go a long way in enhancing the mission readiness of the Kenya Air Force.
"It is a great day today as we introduce the C-145 Skytruck aircraft. This aircraft will not be in the service for display but to enhance the capability of our air support to our sister services," said Ogolla.
The US Defence Air Attaché to Kenya Major Matthew Yan while making his remarks thanked the Kenyan Government for the mutual cooperation and assured of continued support from the US Government.
In August 2016 the United States allocated three surplus C-145As to Kenya, after it had requested six under the Excess Defence Articles (EDA) programme. They are worth $9 million (versus the $30 million spent on their acquisition). The EDA database lists three aircraft delivered to Kenya. The United States also approved the transfer of two C-145As to Costa Rica, two C-145As to Estonia and two to Nepal.
A C-145 was spotted in early February over Kenya and comes after C-145A 08-0310 (construction number AJE003-10) was seen at Moncton, New Brunswick (Canada), on 24 January apparently on its way to Kenya. Scramble magazine reported the aircraft had arrived in Belgium on 27 January and departed for Croatia on the 28th.
From September 2019, Kenya Air Force pilots and loadmasters underwent training on the C-145 at Hulburt Field, Florida. They were trained by airmen from the US Air Force's 818th Mobility Support Advisory Squadron and 492d Special Operations Wing.
In Kenyan service, the C-145s will replace Y-12 aircraft, the Kenyan Ministry of Defence said. Kenya acquired 12 Y-12s, but several have been lost in fatal crashes.
The C-145 is the US Air Force designation for the PZL Mielec M28 - USAF Special Operations Command (AFSOC) acquired 18 C-145A Skytruck/Combat Coyotes, which entered service from 2009, being acquired through Sierra Nevada Corporation, which prepares the aircraft for their specific roles prior to delivery. The Skytrucks are flown in locations across the globe performing infiltration, exfiltration, resupply and other missions as well as foreign air force training.
In July 2015 AFSOC announced it was retiring two thirds of its C-145A fleet, with 11 aircraft subsequently being disposed of.
The M28 is built in several guises, including for passenger, VIP, cargo, paratroop, medical, SAR, and maritime patrol missions. The M28 has good short take-off and landing performance and can land on unprepared airstrips less than 345 metres long thanks to its high lift wing, thrust reversing propellers and low pressure tyres. It is powered by two 1 100 hp Pratt &Whitney Canada PT6-65B turboprops which are protected by inlet particle separators. The 7 500 kg M28 can carry 2 300 kg over 450 km. It can cruise at speeds of up to 356 km/h.
www.defenceweb.co.za

PIPER M600/SLS HALO SYSTEM WITH GARMIN AUTOLAND ACHIEVES EASA CERTIFICATION

Piper Aircraft, Inc. has announced that it has been awarded approval from the European Aviation Safety Agency (EASA) for its M600/SLS HALO safety system with Garmin Autoland.

"The European certification is a key milestone for the M600/SLS aircraft, which has garnered substantial interest with the Garmin Autoland system. Additionally, the aircraft features competitive range, payload and safety features along with outstanding acquisition and operating economics", said Ron Gunnarson, Vice President of Sales, Marketing and Customer Support. "Our customers are looking for the kind of unique value proposition only available in the M600/SLS as well as the peace mind that comes with HALO and the Garmin Autoland system."
As the global pandemic begins to subside, Piper Aircraft will launch a robust European M600/SLS demo tour, visiting all Piper dealer partners as well as key markets later this summer. To date, the M600 SLS has flown more than 100 autoland demos. These demonstrations played a key role in delivering 67 autoland-equipped aircraft in the U.S. market already. The first M600 SLS with HALO Safety System and Garmin Autoland will be officially delivered under European registry in late Q2 of this year.
About the Piper M600/SLS
The Piper M600/SLS with HALO Safety System is the first general aviation aircraft certified with Garmin Autoland. The revolutionary system supports digital technology that safely lands the aircraft at the nearest suitable airport in the event that the pilot is incapacitated. Additionally, the Garmin G3000 avionics suite includes Auto-throttle, Autoland, Emergency Descent Mode, Electronic Stability and Protection, Surface Watch, Safe Taxi, and Flight Stream 510 all of which are designed to enhance safe operation of the aircraft. Beyond the flight deck, the 6-seat M600/SLS is powered by a Pratt & Whitney PT6A-42A 600shp engine. The aircraft has a maximum cruise speed of 274 kts/507 km/h, a max range of 1,658 nm / 2,748 km, and a standard useful load of 2,400 lbs. / 1,089 kg.

LEONARDO WELCOMES KOPTER'S SH09 INTO ITS HELICOPTER PORTFOLIO AS THE AW09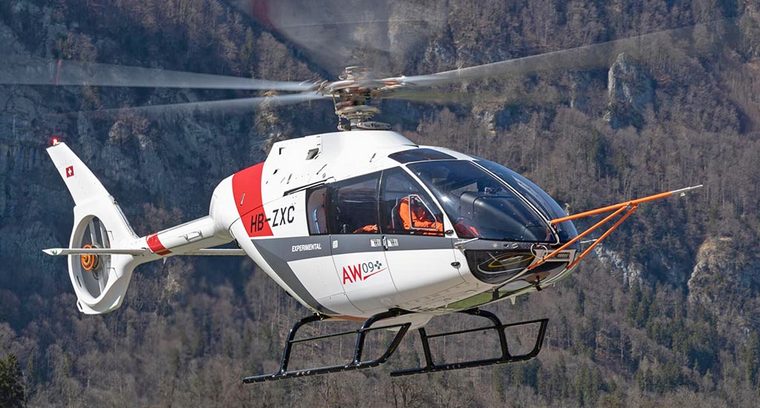 One year after completing the acquisition of the Swiss Company Kopter Group AG (Kopter), Leonardo welcomes the SH09 single-engine helicopter as a full member of its product range by rebranding it as the AW09.

This step synergizes the two identities of Leonardo and Kopter. The AW09 perfectly complements the existing product range of Leonardo, allowing the Company to increase its share in the strategic single-engine market, which is one of the largest and most dynamic segments worldwide. Furthermore, the AW09, brings next generation performance, demonstrates Leonardo's innovation leadership within industry as the helicopter features the latest safety standards and most advanced technologies and this will pave the path for further advancements in vertical flight.
Gian Piero Cutillo, Leonardo Helicopters MD, said: "The product with the people and their skills were all important reasons for the acquisition of Kopter. As we make the Kopter team part of our family through the ongoing integration, we now have the latest addition to our product range fully identified with Leonardo, while preserving its invaluable distinguished features. With the AW09, we're more than ever fully committed to pursuing a revolution in the single-engine market and setting an all-new standard."
The AW09 will continue to be developed by Kopter in Switzerland. The programme progresses further with the contribution of joint Leonardo-Kopter teams. The third prototype (P3) has now logged in excess of 40 flight hours in Switzerland since mid-January in its new configuration. This includes enhancements in the main rotor head, gearbox, an extended rotor mast and a new design of the flight controls, combined with the modern Garmin G3000H cockpit. All of this brings even better flight characteristics, performance and ease of maintenance. The AW09 next prototype, PS4, is expected to fly this year, followed by the PS5.
Kopter is set to become a Centre of Competence for new light helicopters and an incubator of new technologies for vertical flight. As such, it will contribute to the development of new hybrid and electrical propulsion systems and will play an important role in the framework of Leonardo's Be Tomorrow 2030 strategic plan, which aims to be in the leading position on the civil rotorcraft market and modern air mobility. The single-engine, turbine-powered AW09 offers increased modularity, modern electronic systems, high digitalization and the largest cabin and cargo hold in its category. Outstanding characteristics - including fast cruise speeds and excellent hot-and-high capabilities - are combined with a low noise signature resulting from the newly-developed dynamic assembly and shrouded tail-rotor.

ROBINSON DELIVERS 13,000TH HELICOPTER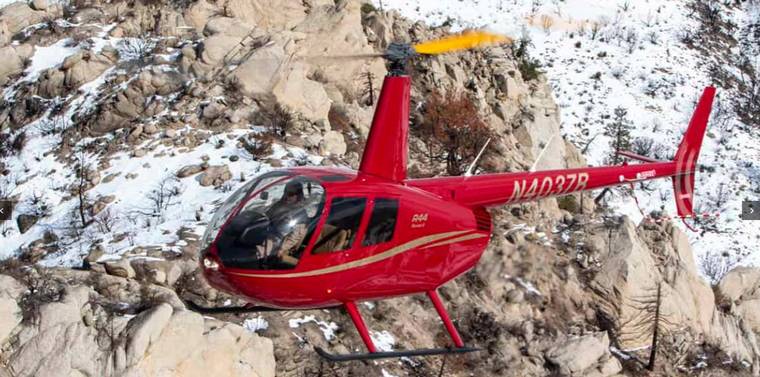 On April 23, 2021 Robinson Helicopter delivered it's 13,000 helicopter, R44 S/N 14438 to longtime Robinson dealer SKY Helicopters of Dallas, Texas.

S/N 14438 shows off a brand-new paint scheme and is equipped with the latest in R44 options; a Lithium-ion battery, heated seats and a 4K cockpit video camera. The aircraft also includes a well configured glass panel featuring Garmin's 700L TXi, GTN 650Xi navigator and a Genesys HeliSAS Autopilot.
SKY president Ken Pyatt wanted a new generation R44 to round-out the company's fleet. "We purchased this R44 for our Part 135 air taxi and tour operations," said Pyatt, "because we needed a safe and reliable helicopter than can fly all day, every day." A dealer since 1996, this latest acquisition puts SKY's Robinson fleet at 27.
Robinson Helicopter Company has a come a long way since 1979 when its first 2-place R22 was delivered. Fast forward 42 years, today's Robinsons are offered in a multitude of sizes and configurations. Whether it is an R22, R44 or R66, Robinson helicopters continue to set the standard for reliability and remain the most cost-effective helicopter on the market.
Founded in 1973, Robinson Helicopter Company is the world's leading manufacturer of civil helicopters.
THE TIGER COMBAT HELICOPTER: THREE DECADES OF FLIGHT, AND MANY MORE TO COME

As the Tiger celebrates the 30th anniversary of its first flight, it's time to look at how far the programme has come since 27 April 1991. Resulting from the successful cooperation between France and Germany, with Australia and Spain joining the programme in 2001 and 2003 respectively, the aircraft has proven its value as a powerful and survivable combat helicopter. Building on years of experience in theatres of operations, the new Tiger MkIII modernisation will continue this legacy - ensuring its fitness in next-generation battlefields.

The Tiger's 1991 maiden flight was greeted by collective cheers from the binational team of technicians and engineers who worked together in defining the aircraft's capabilities. This 30-year anniversary serves as a reminder that hard work is key to making any programme thrive, as the French, German, Spanish and Australian teams have succeeded in giving the Tiger a wide range of capabilities and features that laid the groundwork for innovations incorporated today - and for the future.

GARMIN ANNOUNCES GWX 8000 STORMOPTIX WEATHER RADAR WITH AUTOMATED WEATHER THREAT ANALYSIS TECHNOLOGY



Garmin® International, Inc., a unit of Garmin Ltd. (NASDAQ: GRMN), today announced the GWX™ 8000 StormOptix weather radar that delivers an extensive weather threat analysis and depiction to the cockpit.

The system reduces pilot workload by providing an automated clear representation of weather by using an enhanced colour palette now offering 16 colours, 3D volumetric scanning, hail and lightning prediction, advanced ground clutter suppression, and optional predictive wind shear detection. The GWX 8000 StormOptix weather radar provides pilots with a complete picture of weather while eliminating the requirement to manually adjust the radar, resulting in easier weather interpretation and a more simplified operation.
The development process for the GWX 8000 StormOptix weather radar involved complex research and flight test programs, including five years of development to optimize StormOptix™ autoscan technology and enable simplified operation. Garmin thoroughly flight tested the technology in the most challenging operational conditions including strati-form rain, mild rain, severe thunderstorms, hail, lightning, windshear conditions and more to verify performance. Further, Garmin tested the technology in environments conducive to producing ground clutter in order to verify the GWX 8000 StormOptix weather radar can consistently eliminate nonweather returns, ultimately offering pilots a cleaner, clear image that allows them to focus on navigating challenging weather conditions. The tireless effort of developing and rigorously testing the GWX 8000 StormOptix results in a solution that brings an easy to use weather radar solution to a broader array of aircraft, from turbine-powered Part 25 platforms to high-performance Part 23 aircraft.
The GWX 8000 StormOptix weather radar features an advanced automation technology which allows the pilot to more easily manage the weather radar while in-flight. StormOptix merges 3D volumetric scanning with advanced ground clutter suppression and automatically adjusts the tilt of the weather radar to simplify operation and create the most representative depiction of flight hazards near or along the flight path of the aircraft.
A high-definition colour palette provides greater colour contouring to help pilots more easily interpret the severity of an individual storm cell or multiple storm cells in an area, without requiring the pilot to adjust the radar gain. This enhanced colour palette incorporates 16 colours, four times more than typically found in other weather radars on the market to provide a clearer picture for operation around significant weather, ultimately enhancing safety by simplifying the interpretation of information.

BYE AEROSPACE UNVEILS 8-SEAT ALL-ELECTRIC EFLYER 800

Bye Aerospace has announced an eight-seat all-electric twin turbo-prop class airplane, the eFlyer 800™, in response to growing demands for regional all-electric airplanes with significantly reduced operating costs, plus increased capacity and utility.

Performance estimates for the eFlyer 800 include up to 320 knot cruise speed, 35,000 feet ceiling and 500 nm range with 45-minute IFR reserves at a normal cruise speed of 280 knots. Safety features include two wing-mounted electric motors, each with dual redundant motor windings, quad-redundant battery packs and a full airplane parachute. Additional potential features include emergency auto-landing system, intelligent algorithm ensuring envelope protection, terrain avoidance and routing for emergency auto-land, and also an option for supplemental power solar cells and in-wheel electric taxi. The airplane's 8-seat configuration consists of up to seven passengers and one or two pilots. The eFlyer 800 will have only one-fifth the operating costs of traditional twin turboprops and is geared for the air-taxi, air-cargo, regional and charter aircraft markets.
"The eFlyer 800 is the first all-electric propulsion technology airplane that achieves twin-turboprop performance and safety with no CO2 and extremely low operating costs," said George E. Bye, Bye Aerospace CEO. "This type of remarkable economy and performance is made possible by the electric propulsion system and advanced battery cell technology that results in significantly higher energy densities."
Bye Aerospace and Safran are currently assessing the most efficient electric powertrain for the eFlyer 800 (dual ENGINeUS™ electric motors and GENeUSGRID™ electric distribution and network protection system). "Safran product lines with the ENGINeUS™ motors, rated from 50kW to 500kW/1MW and GENeUSGRID™ systems, perfectly fit with the Bye Aerospace portfolio of e-aircraft," said Hervé Blanc, Executive Vice President and General Manager Power with Safran Electrical & Power. "Building upon our successful cooperation on eFlyer2 and eFlyer4, we are very proud to bring our best expertise to support Bye Aerospace in the design of the new eFlyer 800."
Bye said eFlyer 800 customer deposit agreements are complete and several are being developed with U.S. and European air-taxi, air-cargo and air charter services. "Details about those agreements will be announced soon, and as they are finalized," he said.
Bye Aerospace is in the process of obtaining FAA Part-23 certification for the eFlyer 2 for the professional flight training mission and the four-seat eFlyer 4 for air taxi, cargo and advanced training uses. All the company's current and future families of aircraft feature engineering, research and electric aircraft solutions designed to specifically address compelling market needs. Benefits include five-fold lower operating costs, no CO2 emissions and decreased noise. Bye Aerospace estimates the eFlyer will eventually eliminate the release of millions of metric tons of CO2 each year as its deliveries begin and the general aviation fleet is replaced.

MUNICH AIRPORT AND NUREMBERG AIRPORT TO BECOME HUBS FOR LILIUM OPERATIONS

Lilium, positioned to be the global leader in regional electric air mobility, with the development of its electric vertical take-off and landing jet, has agreed that Munich Airport and Nuremberg Airport will become hubs for a proposed regional air mobility network in Bavaria. This news follows on Lilium's planned hubs in North Rhine-Westphalia and Florida, with the first passenger flights projected to take place from 2024 onwards.

Based on agreements in principle with the landing site operators, Lilium has undertaken extensive preparatory work, covering site search, structural implementation and airspace integration, use cases and routes. This partnership will offer all-electric connections, with each of which can transport six passengers between different locations across Southern Germany.
"I am very pleased with our successful partnership with the two airports. Of course, we are doing everything we can to bring our all-electric and ultra-quiet airline service to our home base of Bavaria, as well as to link Munich and Nuremberg even more closely with neighbouring cities and regions," explains Daniel Wiegand, CEO of Lilium. "We also want to offer a service for everyone in the Southern German region, with attractive prices and great time savings for all travellers. Munich and Nuremberg airports are key mobility hubs that we will connect with large and small cities throughout the region over time."
"eVTOL aircraft are a fascinating and promising addition to the mobility of the future and thus are triggering completely new planning and solution possibilities. We therefore support efforts to add this particularly environmentally responsible dimension to air mobility. With the Air Mobility Initiative Bavaria as part of the High-Tech Agenda Plus, we are making 100 million euros available in the coming years for research and development for new forms of urban air mobility," explained Bavarian State Minister Florian Herrmann. "The Bavarian state government sees great potential for quiet, emission-free and fast mobility in optimized networking of individual transport systems."
Munich and Nuremberg airports also welcome Lilium's commitment: "Improving the connectivity of Munich Airport will be one of our most important future goals, once the repercussions of the pandemic have been overcome. We look forward to welcoming more efficient links between the airport and regional and long-distance rail services. Here, the planned Bavarian Lilium network offers interesting prospects, because small electric aircraft can contribute to better connectivity in the area as a supplement to feeder traffic," emphasizes Jost Lammers, CEO of Franz-Josef-Strauss Airport Munich.
Michael Hupe, Managing Director of Albrecht Dürer Airport Nuremberg, on the project: "The people and companies of the Nuremberg Metropolitan Region demand mobility. As a transportation hub and northern Bavaria's gateway to the world, we have established many opportunities for people to travel here. It is important to promote and establish new forms of sustainable mobility at our location. Since several transport corridors meet in Nuremberg, many ground-based transport systems are heavily congested. This gives the location enormous potential for such an innovative product."
In March, Lilium announced its first serial aircraft, the 7-Seater Lilium Jet, with a maximum range of 250+ km and a cruise speed of 280 km/h, with zero operating emissions. It has been in development since 2019 and received its CRI-A01 certification basis from EASA last year. The first aircraft is expected to come off the production line next year. With a capacity for six passengers and a pilot, it is projected to provide industry leading capacity for both passengers and cargo.




USA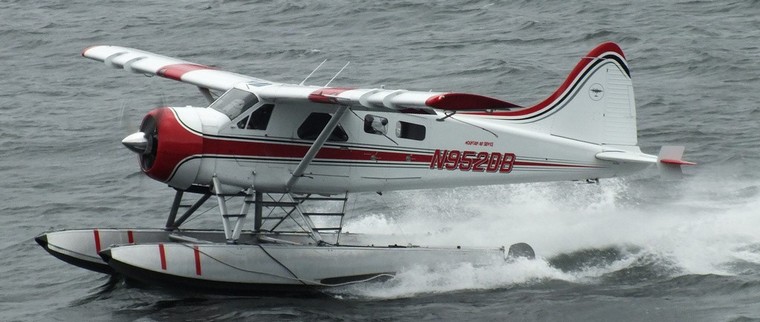 A mid-air collision of two air tour airplanes was caused by "the inherent limitations of the see-and-avoid concept" along with the absence of alerts from both airplanes' traffic display systems, the NTSB concluded.

The two airplanes, a float-equipped DHC-2 Beaver operated by Mountain Air Service and a float-equipped DHC-3 Otter operated by Taquan Air, collided at an altitude of 3,350 feet about eight miles northeast of Ketchikan, Alaska, May 13, 2019. The DHC-2 pilot and four passengers died; the DHC-3 pilot suffered minor injuries, nine passengers were seriously injured and one passenger died.

Investigators determined that the pilot of the DHC-2 would not have had the opportunity to see and avoid the DHC-3 because his view was obscured by the cockpit structure, right wing and a passenger in the co-pilot's seat. The lack of apparent motion of the DHC-2 when viewed from the DHC-3 and the obscuration of the DHC-2 by the window post for 11 seconds before the collision, made it difficult for the DHC-3 pilot to see the DHC-2 airplane.



South Africa, Umgeni River, Durban: A Starlite Aviation Group Robinson R22 Beta II with two crew crashed allegedly after a bird strike in the Umgeni River, Durban. Both occupants died in the crash.
South Africa, Cape Province: A Gyrocopter with two on board crashed in the Cape Province. The passenger did not survive. The pilot has been hospitalised with serious burns.
Brazil, Carlos Drummond de Andrade Airport: A Learjet 35A operated by Electric Power Construção on a test and training flight, suffered a runway excursion after landing on runway 13 at Belo Horizonte/Pampulha Airport, Brazil. The crew was performing a touch-and-go when the aircraft touched down with the undercarriage retracted. The aircraft went through the perimeter fence and broke into two. One pilot died; two other occupants were injured.
USA, near Monroe, Union County, NC: A Kritter Cropdusting Inc. Robinson R44 Raven I with the pilot on board during a crop-dusting operation clipped powerlines and impacted farm field terrain during an aerial application flight south of Wingate in Union County, North Carolina. The helicopter sustained substantial damage and the sole pilot onboard was fatally injured.

USA, Green Castle Airport Oxford, IA: A Cessna T210M Turbo Centurion impacted farm field terrain shortly after take-off from Green Castle Airport (IA24), Oxford, Iowa. The airplane was destroyed by the ensuing post-crash fire and the sole pilot onboard was fatally injured.
USA, Hutchinson Regional, KS: A Beechcraft 23 Musketeer with three occupants following a loss of engine power shortly after take-off crash landed to terrain during the attempted return to the point of departure at Hutchinson Regional Airport (HUT/KHUT), Hutchinson, Kansas. The airplane sustained unreported damage and the three occupants onboard received minor injuries.
Guatemala, Tiquisate, Escuintla, Suchitepéquez: A Helicópteros Fumigadores y Corporaciones SA Bell 206B-3 JetRanger III with five occupants was destroyed when it impacted a farm field in Tiquisate, Suchitepéquez, Guatemala. Four out of the five people onboard were fatally injured.

UK, near Cranfield Airport (EGTC), Bedfordshire: A ZeroAvia Ltd hydrogen fuel cell powered Piper PA-46-350P Malibu Mirage with two on board force landed near Cranfield Airport (EGTC), Bedfordshire, UK. The airplane sustained substantial damage. The crew were uninjured. The left wing separated from the fuselage during the landing.
USA, Lake Mendocino, Mendocino County, CA: An amateur built Rans S-12XL Airaile sustained unreported damage upon impact with the shallow waters of Lake Mendocino north of Ukiah, California, after the engine lost power about 10 minutes after taking off from Ukiah Municipal Airport. The sole pilot onboard the airplane received minor injuries.
USA, near Spencer's Airpark, Middleburg, FL: A Beechcraft C23 Sundowner with three occupants was destroyed when it impacted heavily wooded terrain shortly after take-off from Spencer's Airpark, Middleburg, Florida. There were no survivors.
UK, Limington, near Yeovilton, Somerset: A Hawker Sea Fury T Mk 20 operated by Navy Wings with two crew was destroyed during a forced landing following a loss of engine power. Following a loss of oil pressure, the pilot attempted to turn back to the airport. After the engine suddenly stopped in final approach to runway 01, a forced landing was attempted. The aircraft came down in a field, about 1 km from the threshold of runway 01. The engine separate from the fuselage and both wings broke off as the aircraft rolled inverted. Both occupants suffered minor injuries.
Japan, Mt. Hanao, Yamaguchi prefecture: Two Mitsubishi F-2A of the Japanese Air Self-Défense Force contacted each other in mid-air. The aircraft was on a flight for taking photographs of a formation for an aviation magazine. A civil photographer from an aviation magazine was onboard one of the F-2Bs. Both F-2s took off from Tsuiki when the vertical fin of the F-2B contacted with the F-2A's lower nose while on the way in formation to a training area. The F-2B lost a light and an electric discharge cable, while the F-2A had a trace of contact at the lower nose. Both aircraft returned to Tsuiki safely.


1 MAY 1947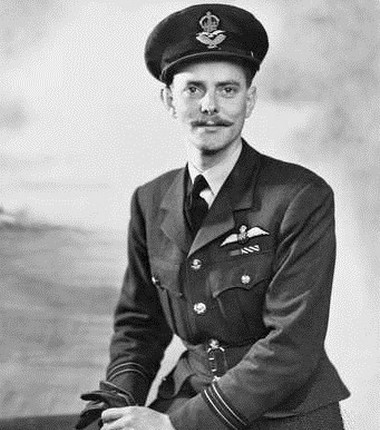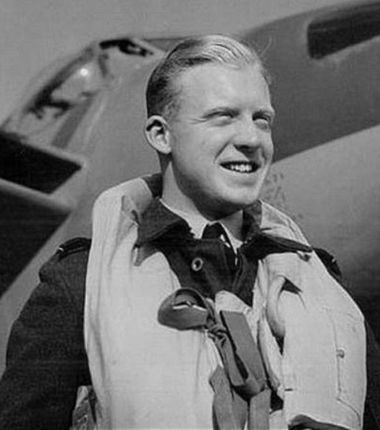 Harold Brownlow Morgan "Micky" Martin and Edward Barnes Sismore land their De Havilland Mosquito, setting a new London-Cape Town speed record, covering a distance of 6,717 miles in 21 hours 31 min at an average speed of 279mph.


Air Marshal Sir Harold Brownlow Morgan "Micky" Martin, KCB, DSO & Bar, DFC was an Australian bomber pilot and senior commander in the Royal Air Force (RAF). Air Commodore Edward Barnes Sismore DSO, DFC & Two Bars, AFC, AE was a British air navigator and fighter pilot during the Second World War.
Martin commenced his operational career with No. 455 Squadron RAAF in October 1941, flying the Handley Page Hampden. In February 1942, he captained the first all-Australian crewed bombing sortie against Germany. Martin soon acquired a reputation for low-level flying in order to avoid anti-aircraft fire and fighters.
Sismore trained as a U/T Observer, joining No. 110 Squadron as a navigator when they were operating the Bristol Blenheim and mainly involved in anti-shipping strikes.
Martin and Sismore broke the speed record for flying from London to Cape Town, completing the 6,717-mile journey in a time of 21 hours, 31 minutes in a Mosquito.

PLEASE GO TO
www.youtube.com/channel/UCCuRVZAGodT6sztTeXBGeMw
and subscribe to our YouTube channel