16.05.2021



Formation flying, an art practised by birds for millennia, in aviation is defined as the disciplined flight of two or more aircraft under the command of a flight leader.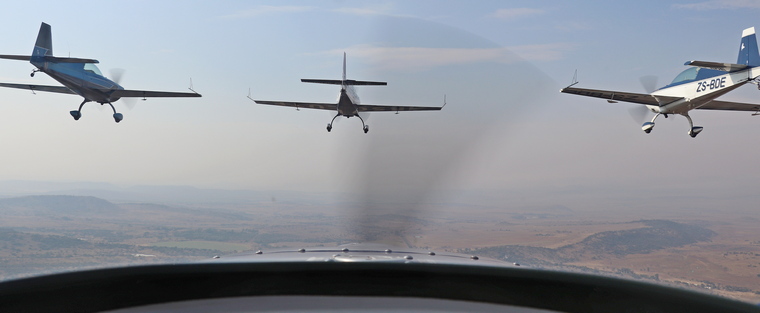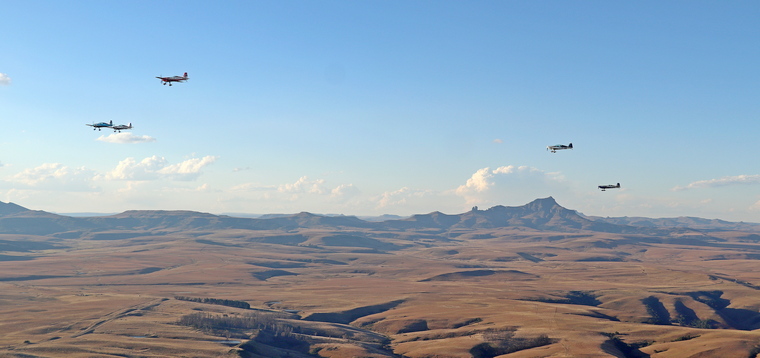 Formation flight in aviation originated in World War I when fighter aircraft were assigned to escort reconnaissance aircraft. It was found that pairs of aircraft were more combat effective than single aircraft and therefore, military aircraft would always fly in formations of at least two. By World War II, pilots had discovered other strategic advantages to formation flight such as enhanced stability and optimal visibility.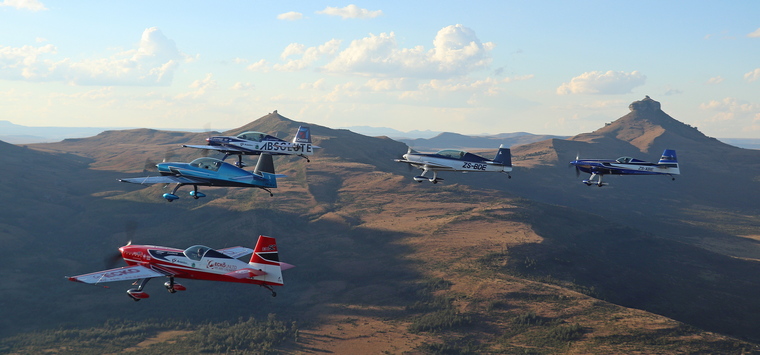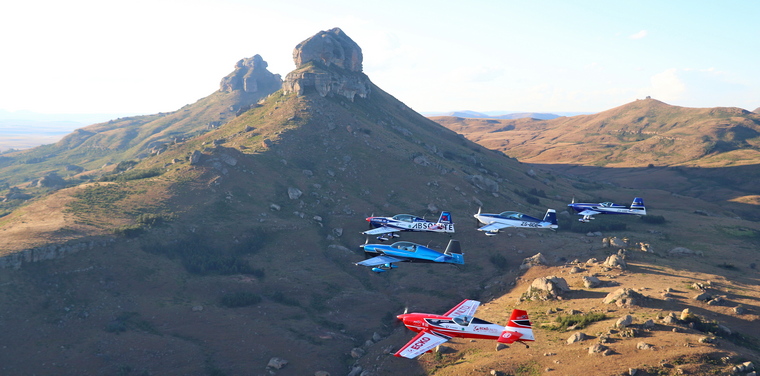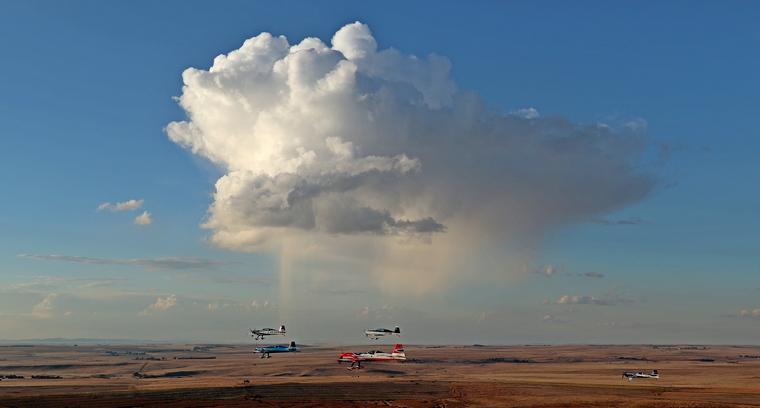 One pilot is designated as the lead and the others are called wingmen. In larger formation groups, pilots are organized into groups of three or four airplanes called elements, with one lead pilot for each element. In the USA, under FAA rules, it is a requirement that the pilots involved must discuss a plan before they climb into their cockpits, a process called a briefing, where aspects of the flight, such as the mission, area, weather, altitude, manoeuvres and more, should be discussed. In fact, no formation flight, even if it consists of only two aircraft, should be contemplated before a briefing was held.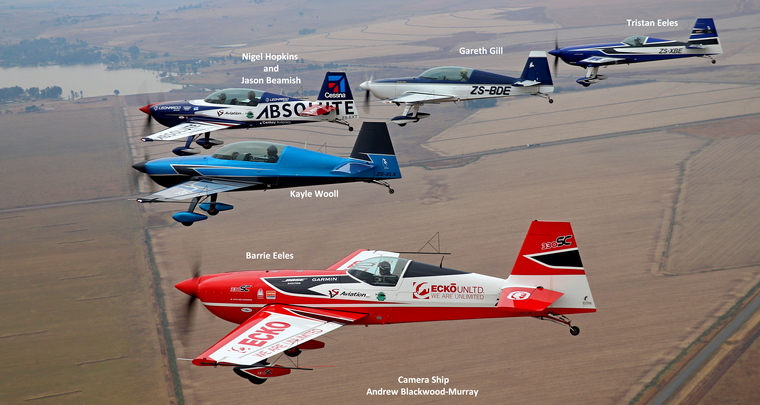 The pilots that were part of the formation.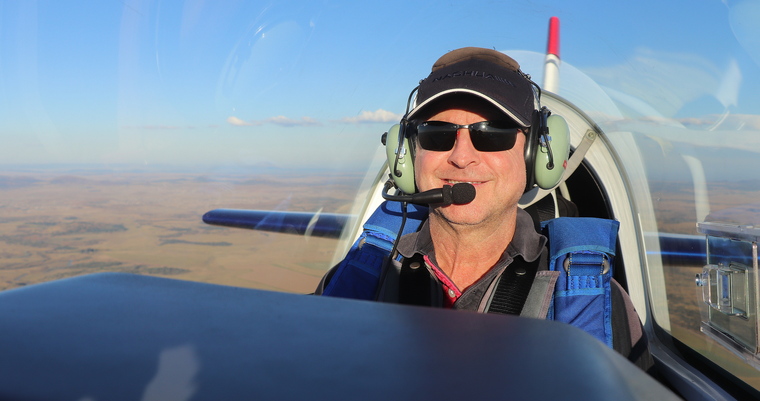 Andrew Blackwood-Murray, the camera ship pilot for the flight.

A thorough briefing was held the day before any of Walter Extra's finest aerobatic aircraft took to the sky for our six-ship formation flight to Ladysmith for the annual SAC Regional Aerobatics Competition.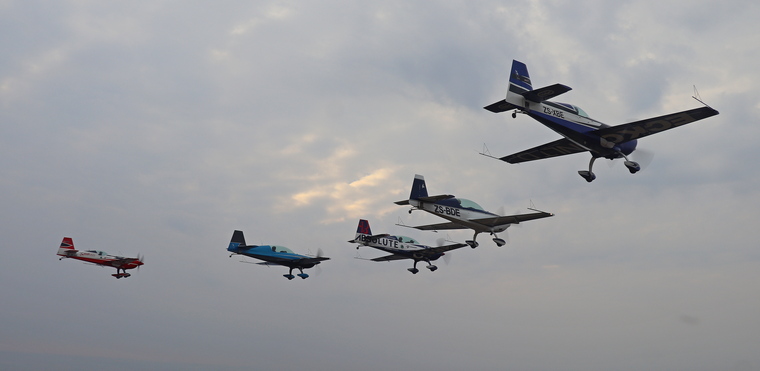 Five of Walter Extra's finest on the way to Ladysmith.

The Extra Aircraft company was established in 1980 as Extra Flugzeugbau in Germany by Walter Extra, an aerobatic pilot, to design and develop his own aerobatic aircraft. The company is located at Dinslaken airfield in Hünxe, North Rhine-Westphalia, Germany. Besides the six in formation there are an estimated 16 Extras registered in South Africa.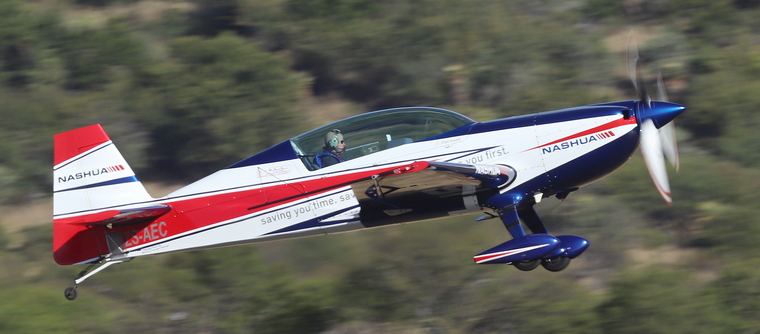 Andrew Blackwood Murray and I departed from Rand and overhead Vereeniging were joined by the rest of the formation. Andrew, who started flying when he was 19 is a Senior Check Captain at SAA on Boeing 737 Freighters and has accumulated 16,000 hours flying, is also rated on 30 aircraft. Before joining SAA, he spent 2 years at SA Airlink operating the Jetstream. Prior to that he was in the SAAF for 8 years flying Harvards, Bosbok, Cessna Caravan and Impala Mk1 & 2. He also flies Harvards with the Flying Lions and the Harvard Club of SA.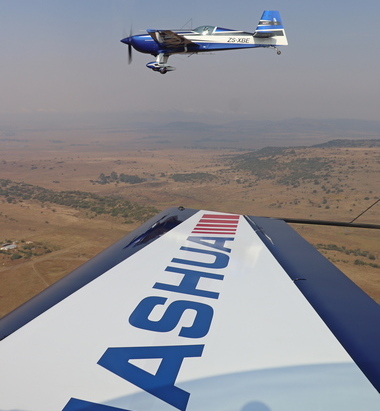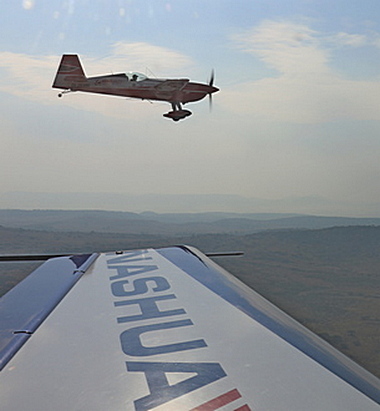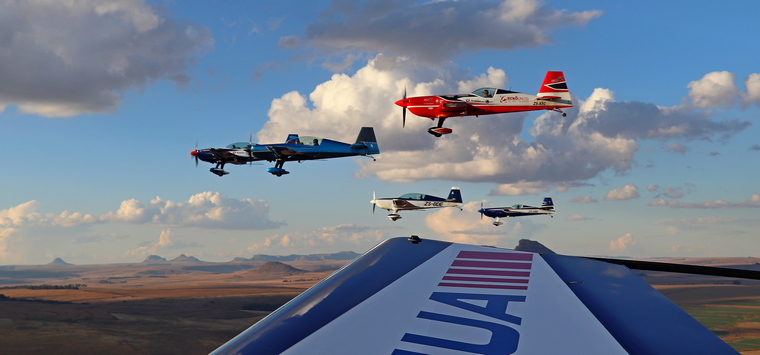 Some of the aircraft and the formation from the cockpit of ZS-AEC.


Andrew owns ZS-AEC, an Extra 300 LP which is sponsored by NASHUA and in which he displays at airshows and competes in the Advanced Aerobatic Category. This aircraft (serial Nr 1209) is 16 years old and Andrew is the 4th owner, having acquired ZS-AEC in November 2016 from Thunder City. It is powered by a six-cylinder Textron-Lycoming AEIO 540 300HP engine while the composite propeller is a three blade MT constant speed type. The roll rate of the 300LP is 400 degrees per second. The Extra, a 300LP, is based at Rand Airport and is the only LP in the country.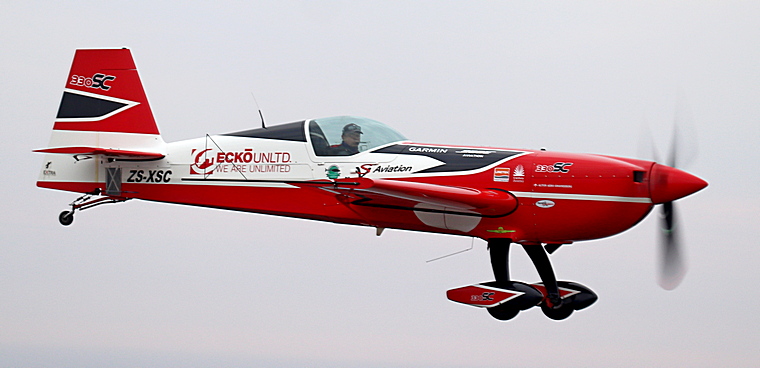 Barry in the 330SC jointly owned by him and Nigel Hopkins.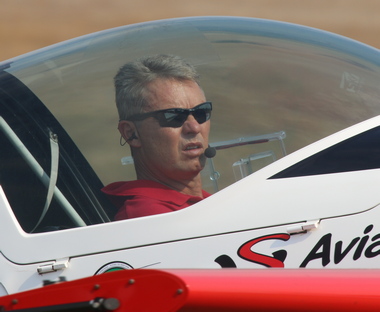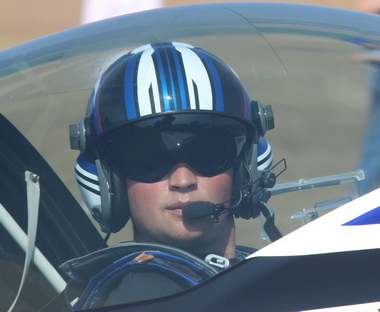 Joining us from Vereeniging were father and son Barrie and Tristan Eeles. Barrie, a successful businessman originally worked for Atlas Aircraft as an AME & Flight Test Observer during the building of the very 1st Rooivalk and was subsequently involved in the flight testing of the Rooivalk and various other military aircraft.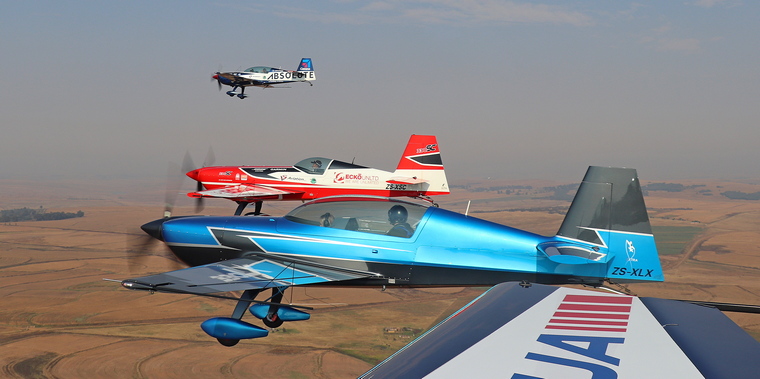 Gareth, Barrie and Jason on the wing of the camera ship.

Barrie started flying at age 17, 1st went solo at 11hrs and achieved his PPL in 1986. He started Flying Aerobatics in April 2005 and was Sportsman National Champion in 2007, Advanced National Champion in 2012 and represented SA at World Advanced Aerobatic Championships 2010, 2012 and 2014. He also competed at World Unlimited Aerobatic Champs (WAC) in 2017 and currently competes in the Unlimited Class in his Extra 330SC.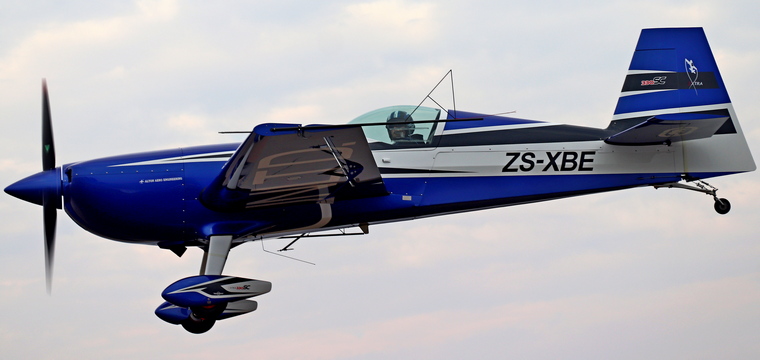 Tristan Eeles has been around aircraft and the aviation community with his dad, Barrie for as long as he can remember. He had the stick in his hand before he could see over the dash. Whenever there was an opportunity, he was in the passenger seat, going to aerobatic contests and air shows. He got his PPL in 2018 and started his aerobatic career in a Super Decathlon, where he learnt some real stick and rudder as well as energy management. In 2019, he converted onto the Extra 200, which he flew for about 2 years before moving over to the Ecko Unltd sponsored Extra 330SC.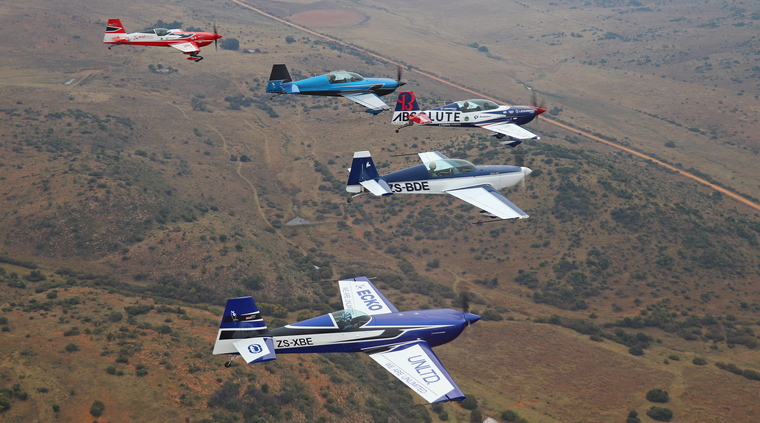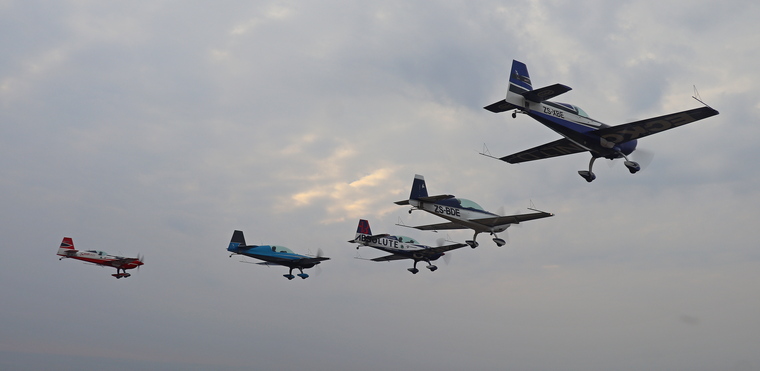 A Vic formation.

Tristan currently has 180 hours, of which 100 involve aerobatic flying. Only 22 years old, Tristan has built up an impressive list of achievements in aerobatic competitions. In 2020, he won Ace of Base Champion and was crowned National Champion in the Sportsman Class. In the same year he was the winner of the North West Regionals again in the Sportsman Class. This year, and now competing in the Intermediate Class, he was placed first in both the Gauteng and KZN Regional Championships.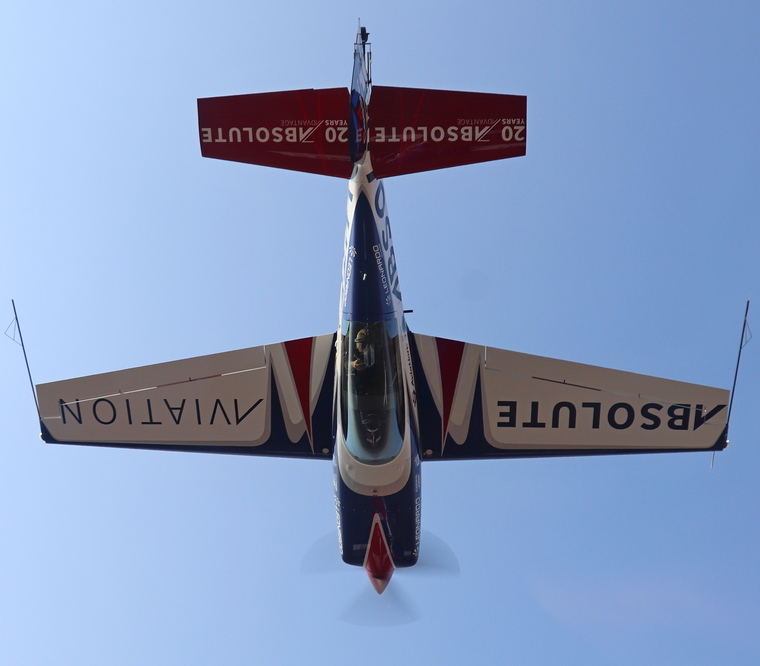 Nigel and Jason going inverted overhead the camera ship.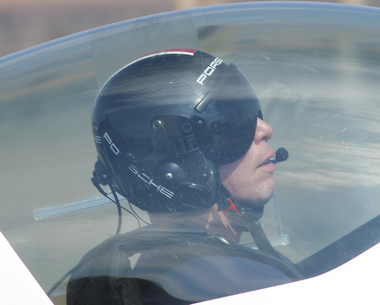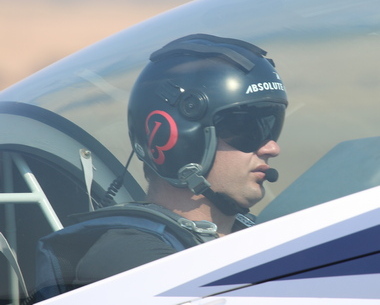 Joining us from the Coves Estate were Nigel Hopkins and Jason Beamish, who flew the Absolute Aviation sponsored Extra 330LX. Nigel, previously a training captain for South African Airways, is a 7-time SA Rally Flying Champion, a 5-time SA Precision Flying Champion, the SA Aerobatic Champion for 2 consecutive years. Nigel started flying at 18 and currently has more than 19,000 hours and is rated on 125 aircraft.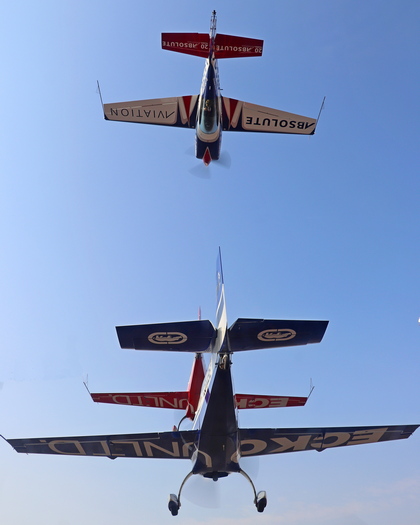 In 1995 Nigel took a basic aerobatic course with Scully Levin. That was the start of his aerobatic and display flying career. Since then, he has flown for the L29 Sasol Tigers, Goodyear Pitts Specials, Northwest Extra 300 Team, Team Xtreme, Raptors RV Aerobatic Team and SAA Harvard aerobatic teams.
Nigel owns a share in an Extra 330SC and has a passion for aerobatics which he believes is the purest and the freest form of powered flight.
Jason Beamish, an aircraft engineer with 4,200 total hours and rated on 100 aircraft, has been involved in flying most of his life. He grew up at the Toy Store (hangar at Rand airport), had his first flying lesson at the age of 9 in the family Piper J3 Cub and went solo on his 17th Birthday. Jason worked with Pilatus PC12 Centre Southern Africa for 7 years. He then joined Absolute Aviation Group (South African Beechcraft and Cessna agents) as an Aircraft Maintenance Engineer in 2015.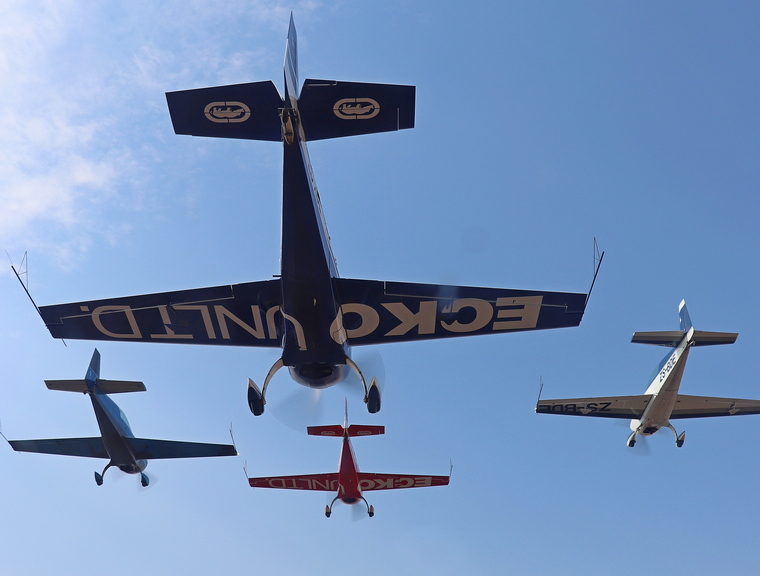 The two Ecko Unltd Extras 330s with Kayle on the left and Gareth on the right taken from Andrew's 300LP.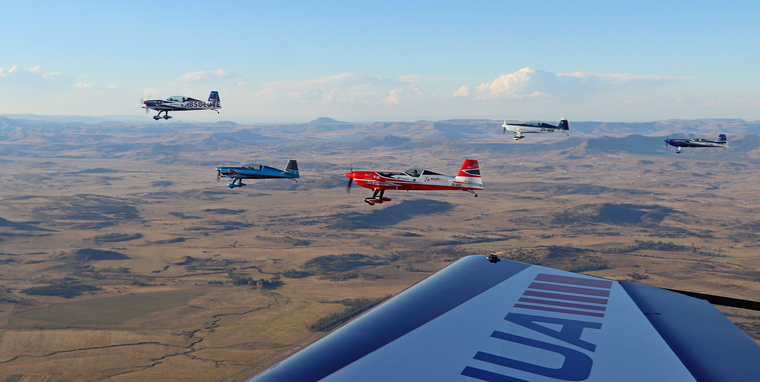 Relaxing in a loose formation, taking in the beauty of our stunning country.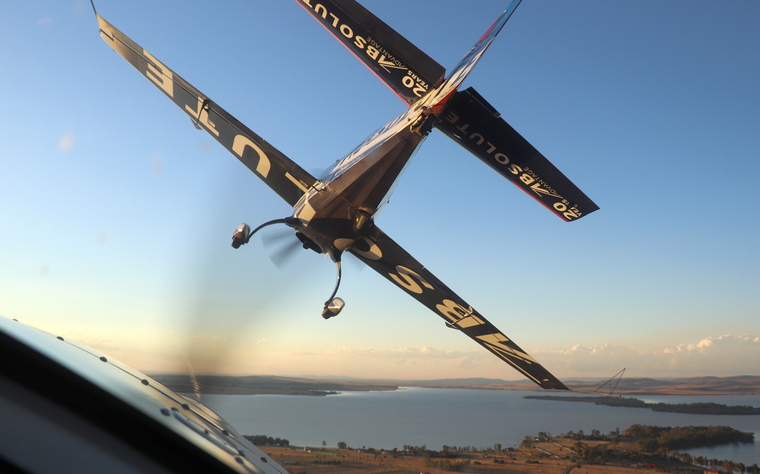 Over the Vaal dam.

Jason started competition aerobatics in 2007 in the Extra 300 and then progressed to air shows in 2009 on DH Chipmunks, Extra 300's and Yak 52's. More recently he is seen flying the South African air show circuit with T28's, RV's, Extra 300's, DH Chipmunks, AN2, Pitts Specials, a Boeing Stearman and a few more types on occasion. Jason is another youngster with an extremely impressive aviation CV. He has flown in international aerobatic formation displays on his father Larry's wing in Dubai in a three-ship display with Zoltan Veres of Hungary, flew a three-ship plus two-ship formation display with the Jet Man Team (Yves Rossy and Vincent Raffet) at the 2015 World Air Games in Dubai and has flown in international air shows in China with Team Xtreme since 2014.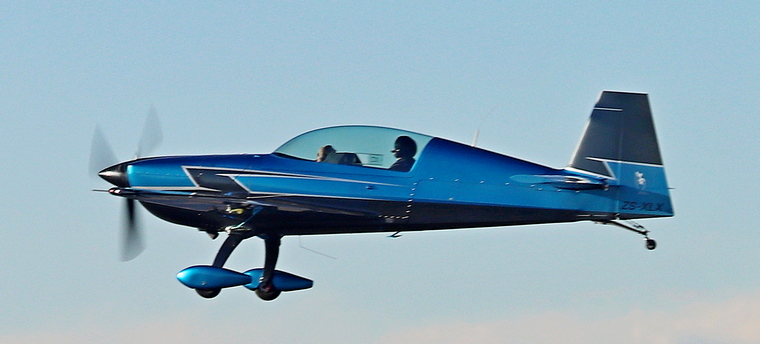 Kayle Wooll, a Senior First Officer for Cathay Pacific Airways with 5,000 hours on Airbus 350 and 330, is another of the crop of young aerobatics competitors that are set to carry the flag high for SA in future international events. Rated on the Extra 300/330, Sbach XA41/XA42, an assortment of Cessnas, Pipers and various models in the Van RV range as well as the Beechcraft B1900, he is also rated on Boeing 737-800, Boeing 737-NG, Boeing 747-400, Boeing 747-8, Airbus A330, Airbus A350. Kayle is a SA Intermediate Aerobatics Champion and now competes in the Advanced Class.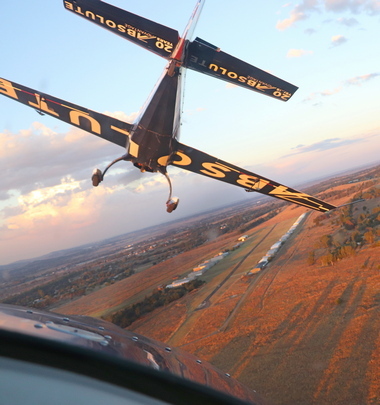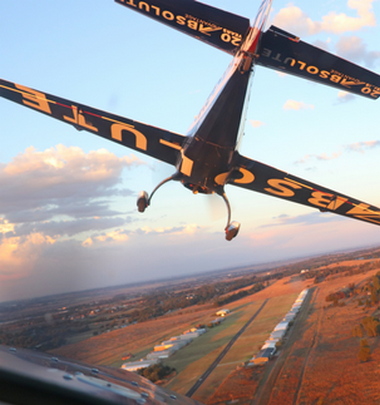 Breaking formation over Tedderfield.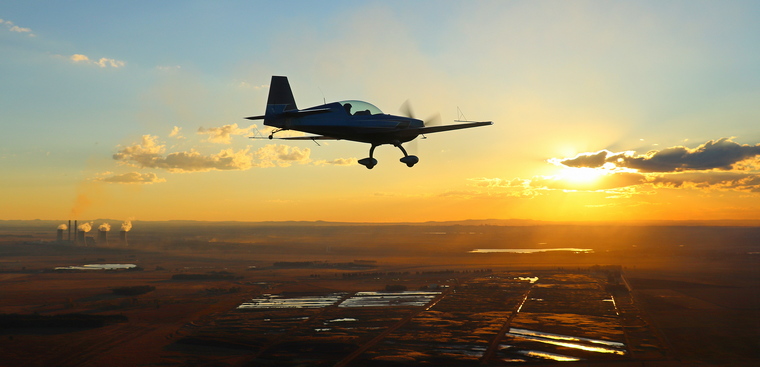 The sun setting over a perfect day.


Kayle's dream is to one day in not to distant future fly in a World Championship Air Race. He is looking forward to a successful 2022 season and will definitely be taking part in the next Advanced World Aerobatics Championships.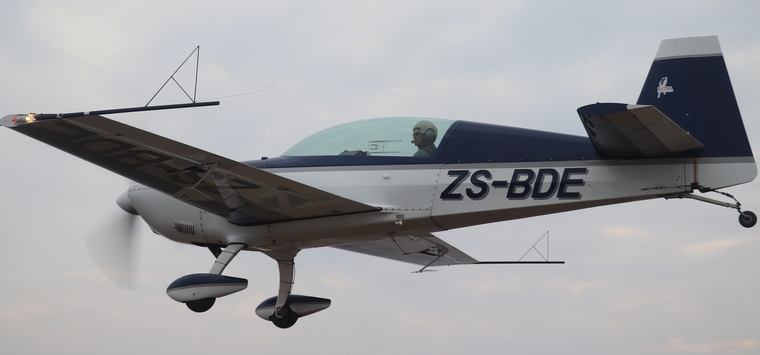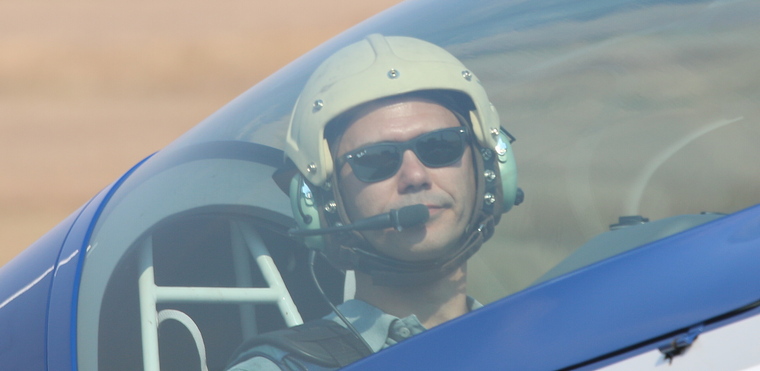 Gareth Gill, who joined us in the Extra 300L in which he had a share, has been flying for the last twenty years and has accumulated just short of 9,000 hours. He currently flies a Challenger 350 for a private owner and loves the fact that his career allows him to travel worldwide. Other corporate aircraft he is rated on include the Challenger 300/350, Learjet 45, Citation, Hawker, KingAir 200 and 90 and Pilatus PC12.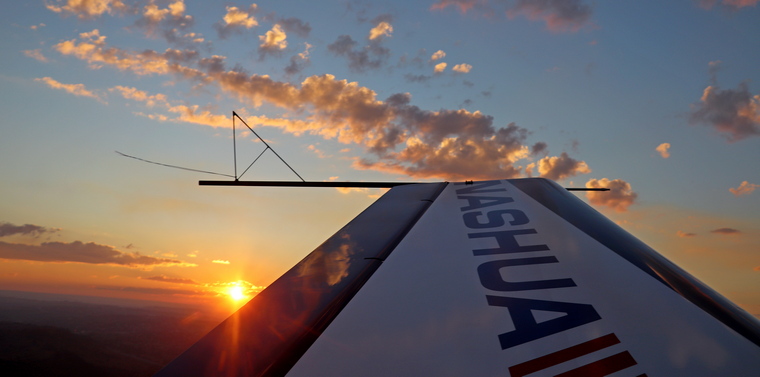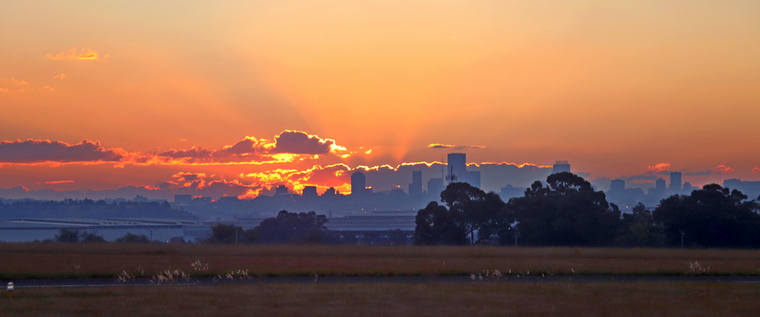 Home at Rand just as the sun set over a JHB skyline.

Ladysmith was to be his first foray into competitive aerobatics and he ended up finishing first in the Sportsman Class. A member of the Goodyear Eagles Pitts Special aerobatic team, Gareth is rated on the Pitts Special S2B, Yak52, Yak55, Extra 300, S Bach and all in the RV range. Besides the 300L, he owns a Piper Pacer and is also rated on the Tiger Moth, Chipmunk, J3 Cub, Piper Pacer, Cessna 140, Antonov 2 and C170.
There are not a lot of things in life that is more rewarding than sharing the sky, flying in formation to and from one's destination. Thank you to Andrew for the ride and the opportunity and also thanks to all the others that made it possible.
PLEASE GO TO
www.youtube.com/channel/UCCuRVZAGodT6sztTeXBGeMw
and subscribe to our YouTube channel