30.05.2021



Now that winter is rapidly approaching it reminds me of the times when, on a cold winter's morning, I would have to go out in the fire truck (either the old Mazda or the VW Double Cab Kombi) and do a runway inspection.
This was done every morning come rain or shine to ensure that there were no obstructions on the runway or taxiway, be they bits of wood, stones or roadkill. I carried a shovel in the vehicle for the roadkill - I refused to pick it up by hand. There were lots of rabbits in the area and they would, quite often, get hit at night on the runway. They seemed to like sitting on the warm tar in the cold of the winter. They could be a nuisance, but I don't remember any serious damages to aircraft though, just a bit of a bloody mess.
There was an occasion when a local resident, who lived on the east side of the airfield, climbed the fence and placed bricks on the runway exactly opposite the tower. He'd been complaining about the noise of aircraft operating at night. I spotted these as soon as I arrived and took photos as well as removing them to clear the runway. Thank goodness nobody hit any of them. This "gentleman" was charged with placing people's lives in danger and trespassing. He didn't get a jail term but did get a very heavy fine and a suspended sentence.
On the airfield there was a school (Aeronav) that operated out of a prefab building near the swimming pool. This school was for the folks doing their Comm and Instructor's ratings. I never attended this school but only heard good things about the level of teaching that went on there. This school eventually moved to Lanseria where it continues to operate to this day.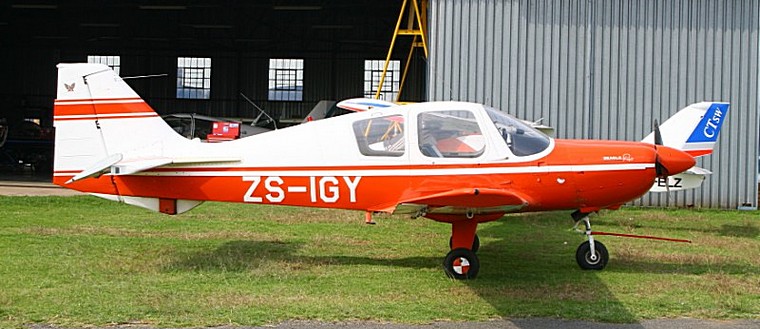 Last month there was an error in one of the photos placed. I was talking about the Beagle Pup ZS-IGY and by accident the photo placed showed the Fuji ZS-IGZ. My apologies. Here's the right one.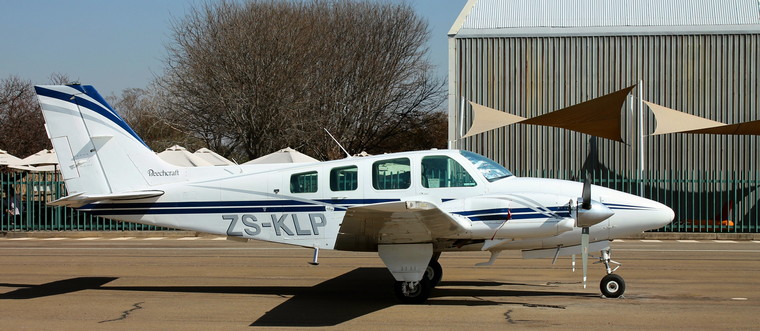 One of the friendliest people on the airfield was Manny Wides. He owned this beautiful Baron 58 and was one of those people that would take anybody for a ride if they asked. He was also a member of 105 Commando Sqn and quite often operated for them.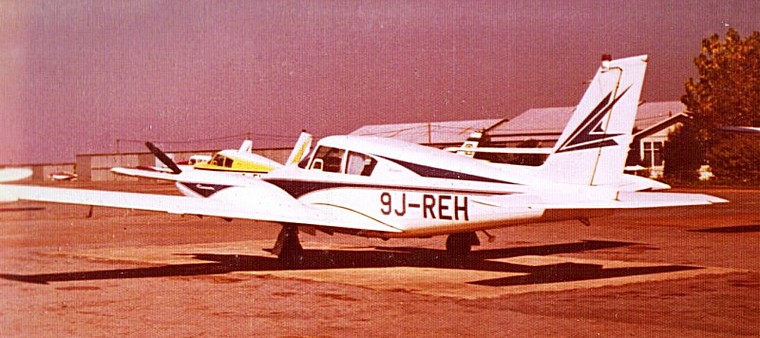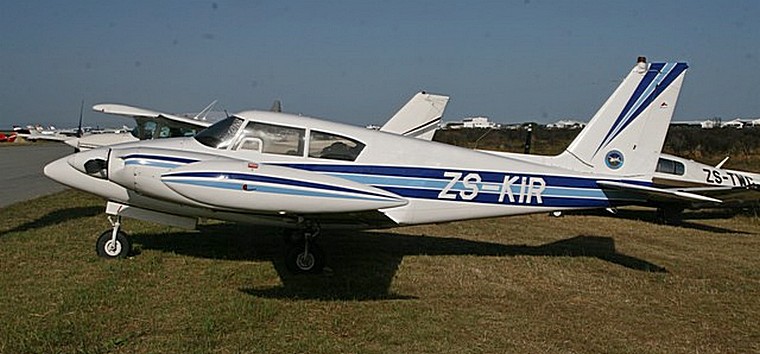 As I said earlier, we didn't get many foreign registered aircraft visiting us so I was rather surprised when I got to work one morning and found this Twi Comanche standing on the apron, having obviously arrived during the night. The pilot arrived later in the day and explained that he'd cleared customs at Messina and was routing for Rand airport when he remembered that Rand closed at 8pm every night so he had to divert to GC. This aircraft later became ZS-KIR after having lived in Botswana for a number of years. She's still around and is being rebuilt at Rand after an accident.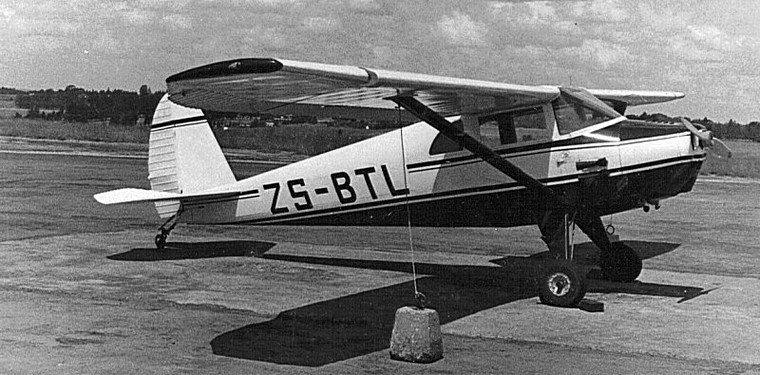 This little Luscombe used to belong to a gentleman called Phil Hershalman and he was very proud of it. He battled with the aircraft initially, having flown only tricycle undercarriage Cherokees before but, with patient instruction from Brian Stableford, he got it right - after that there was no stopping him. He flew at least once a day. He had a stunning daughter Erica who eventually married racing driver Dave Charlton, much to the disappointment of many of the single lads on the airfield.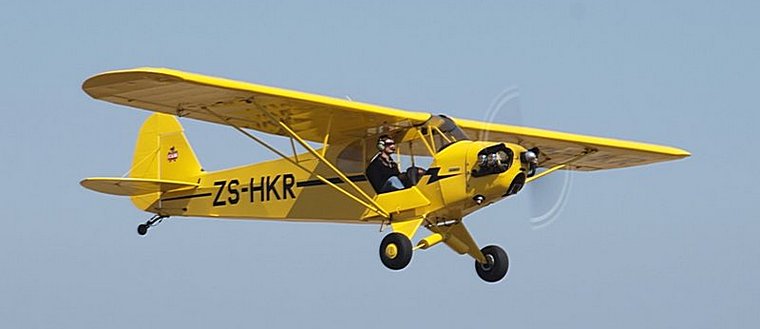 Charles Bucklow was the owner of this little gem and he looked after her very well. He was a fanatic when it came to keeping this aircraft clean and would polish her every weekend after he'd been flying. There was never an oil mark of exhaust mark on the bottom of this one - that would have been sacrilege. The only problem he had was the radio. The Cub didn't have a generator or starter so didn't have a battery - it didn't need one, so Charlie made a bracket inside the cockpit where he could put a battery powered handheld radio. Unfortunately, the battery didn't last very long and he regularly returned from the GF area as a non-radio aircraft.
This wasn't a problem, as we had a number of the older private aircraft that had wonky radios and I was certainly used to this. There were times when a pilot wanted to fly his aircraft and the radio wasn't working. As long as they visited me in the tower before flying and advised me of where they were going and for how long, I let them fly - there was no sense in being nasty and stopping them because that would only have created animosity and that I didn't want. On returning to the field, they were supposed to follow the normal non-radio joining procedures of flying overhead the airfield at 2000ft to check the runway in use and the wind then descend on the dead side and join downwind for which ever runway was in use. This also gave me the chance to see them overhead and then I could warn the other traffic. On the odd occasion someone would bomb directly into the circuit. This wasn't tolerated by me and the pilot would be reprimanded by me in person, even if it meant going to his hangar and leaving the tower unmanned for a few minutes. Generally speaking, they never did it again.
One thing that was certain to happen in the summer was electricity failures when there were thunderstorms about. This was an Escom problem and the whole of Halfway House suffered. Almost every time there was a thunderstorm, the electricity would go off. This didn't affect the radio in the tower as it had a battery backup - which I'd insisted on when I first joined the company and the anemometer had its own internal generator so we were never out of action, but the runway lights didn't function as there was no power back up for them. The scariest part of any thunderstorm was the way the tower building shook in the wind. It felt like it was going to take off at any time.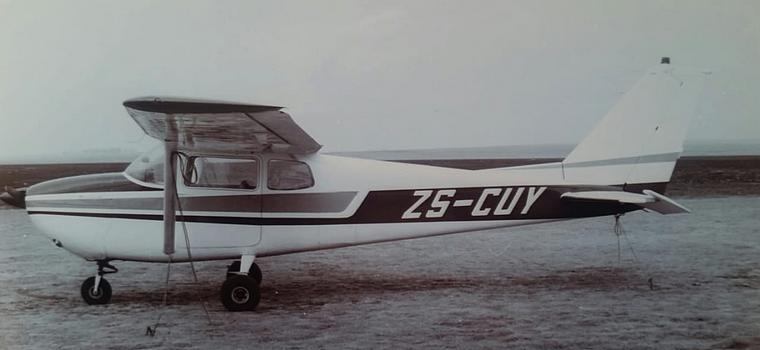 One of the club members, Len Bester, bought this oldish Cessna 172 from a very reputable company. The log books showed that she had a recent major overhaul, and by all accounts, was a good aircraft. Len flew her quite regularly on the weekends and enjoyed her. One Saturday, when I was off duty, Len and I decided to fly to Rustenburg to watch the Transvaal Aerobatic Competition. We took off with no problems and were cruising at 7000ft near Hartebeespoort dam when all hell broke loose up front. Len immediately turned towards what was then a very new airport - Lanseria and we struggled to get in there. The engine would only run reasonably at about 1200 RPM and this wasn't enough to keep us in the air for very long. We made it into Lanseria after declaring an emergency and stopped in front of one of the hangars - I think it may have been Comair and an engineer had a cursory glance at the engine but couldn't see anything externally wrong. We left the aircraft there and phoned Placo Grand Central to arrange for someone to come and fetch us. The CFI, Freddie Smith, arrived in a Cherokee 235 ZS-FEI and flew us home. On the Monday morning, Roy Mills, our local aircraft engineer, went over to Lanseria to see to the aircraft and fly it home - he was rated. He came back with the engine in the back of his bakkie and refused to touch it until a DCA inspector had seen it. The problem was determined to be valve failure on one of the cylinders. It was also determined that the engine had never been overhauled, just cleaned up. There were big court cases regarding this matter, but I don't know what the outcome was. Len sold the aircraft shortly after it had been given a proper overhaul and then stopped flying.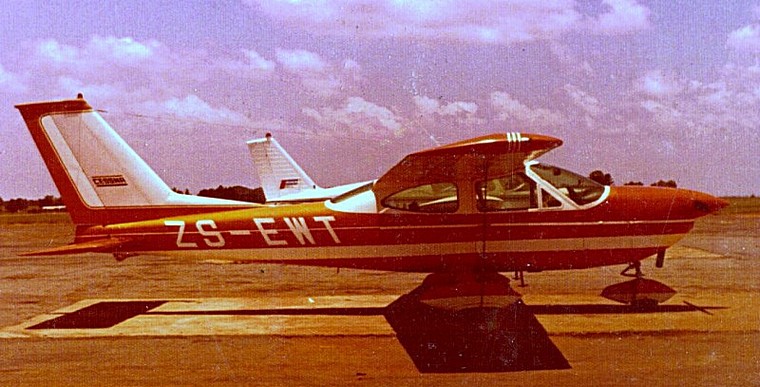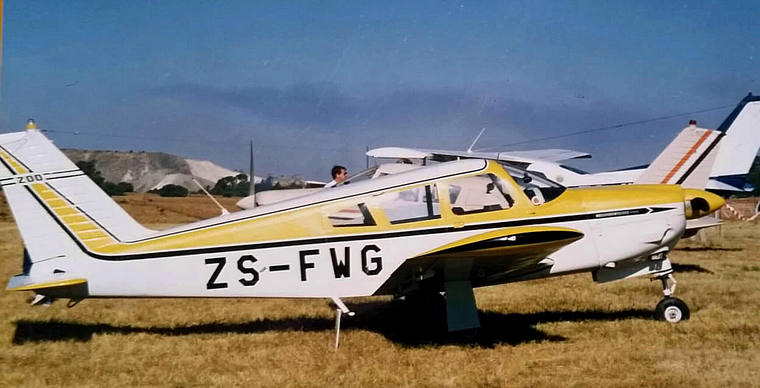 There were two motor car dealers, Itz Arenstein (Arenstein Chev in Wynberg) and Ben Willense (an Alfa dealer in Sandton). These two guys owned a Cessna 177A ZS-EWT and really enjoyed flying her. I flew with Ben often on my weekends off and we even went to the Swazi Airshow at Matsapa in her. Karel Zaayman went along as well. We flew from GC to Rand for customs and then on to Matsapa. On this trip, we picked up a massive tailwind and arrived over Matsapa at about 8000ft AMSL having miscalculated our position and ground speed horribly. This comes of following the ADF blindly (hee hee). Matsapa is 2073ft AMSL so we had to lose about 5000ft before we could join the circuit. The ATC instructed us to descend to the east of the field, but failed to tell us that the large white building about 10 miles from the field was the King's palace and was prohibited airspace. We descended over this building as it made a nice landmark only to be fined R300.00 when we landed. No matter how much we tried to explain that we didn't know about this prohibition, it wasn't marked on our map, or the fact that the ATC hadn't warned us. We were told this was local knowledge and we should have known and arguing would only make matters worse.
Ben and I really enjoyed this C177 although I must admit that because she was a 150hp version (C177A) she was a bit breathless at the reef altitudes. Itz didn't really fly her much as far as I can remember. They traded her in on a Cherokee Arrow 200 ZS-FWG and they both enjoyed the extra power that she offered them.
ZS-EWT was sold to a gentleman in Durban and was written off there on 1 March 1978.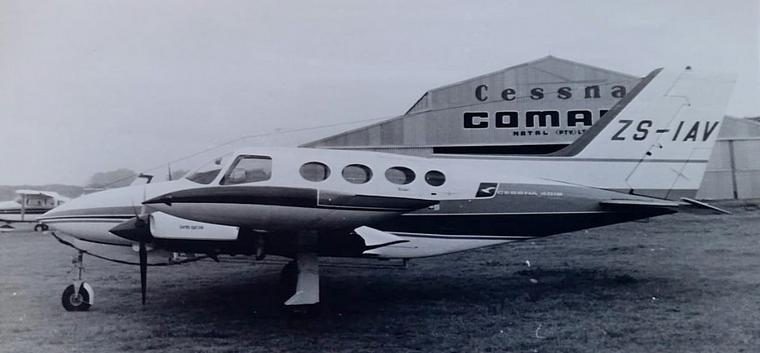 In a previous article I mentioned the Cessna 401 that belonged to Dr Freddie Herbst and that I didn't have a photo of the aircraft. Thanks to Alan Taylor at the SAAF museum, I now have one from the Dave Becker collection. This was a lovely C401 and Freddie (who was a gynaecologist) used her regularly to fly to the various remote clinics where he provided his services. He also flew, as far as I know, for 105 Commando Sqn. He delivered my youngest daughter Dusty, who was born in 1983.
I've still got a lot to tell you all so see you next month.
PLEASE GO TO
www.youtube.com/channel/UCCuRVZAGodT6sztTeXBGeMw
and subscribe to our YouTube channel