Compiled by Willie Bodenstein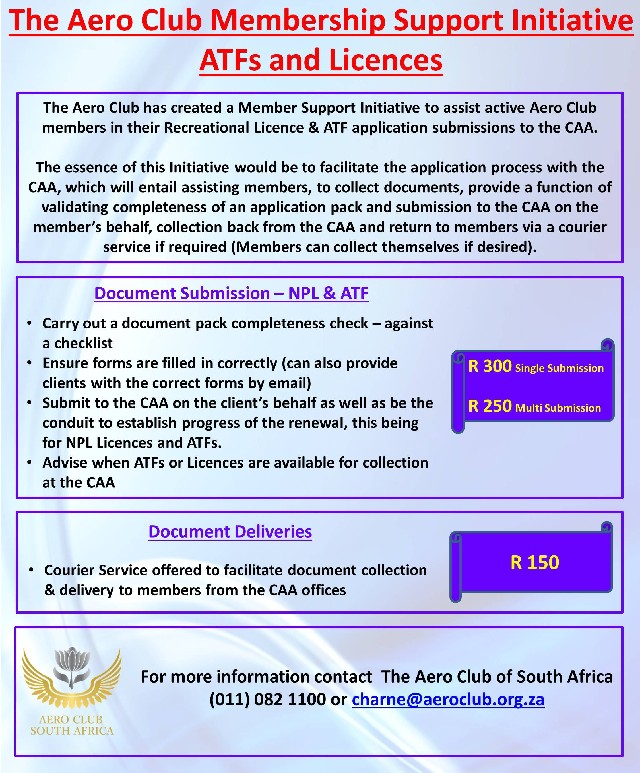 COVID 19 REGULATIONS, INITIATIVES AND AEROCLUB NEWS

OUR CENTENARY YEARBOOK IS NOW AVAILABLE TO PURCHASE FROM OUR NEW WEBSHOP

WWW.AEROCLUB.ORG.ZA/SHOP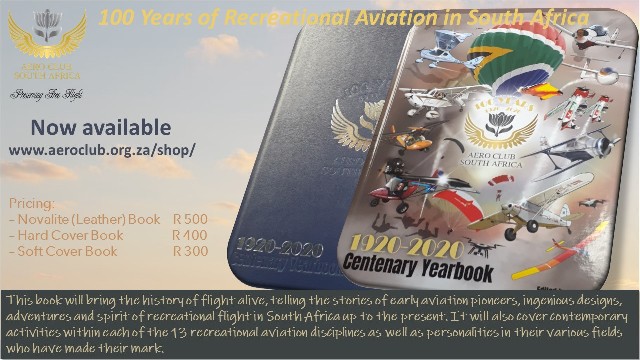 The following events will to take place under the rules controlling the number of people congregating together and are therefore not open to the general public.

12 JUNE
POSTSPONED
SAPFA Silver Queen Rally at AFB Zwartkops. Contact Rob Jonkers E-mail: rob@aerosud.co.za Cell: 082 804 7032

12 JUNE
Chapter 322 & International Young Eagles Day Panorama Airfield. Volunteers needed to help fly potential Young Eagles. Contact neil1@telkomsa.net or Geoff Sprenger 079 three nine six 5304

16 to 20 JUNE
Please be advised that the 41st South African Hot Air Balloon Championships will be held at Bill Harrop's Balloon field from 16 - 20 June 2021. For more information go to www.hotairballoons2021.co.za or contact Hanke Fourie Cell: 082 553 0210

16 JUNE
THE RV DAY AT KITTY HAWK SCHEDULED FOR 16 JUNE HAS BEEN CANCELLED!
We have rescheduled to 11 September 2021! This decision was driven by the Covid risk and in consultation with the sponsors and particpants! Kindly communicate with your constituents! Many thanks, KH Trustees. RV Fly-In day at Kitty Hawk airfield. Free cap and breakfast to visiting pilots. Contact Frank van Heerden E-mail: frankvh@mweb.co.za

26 JUNE
Brakpan Breakfast Fly-Inn. Breakfast and lunch available. Contact Susan 082 257 3739

30 JUNE - 3 JULY
Sport Aerobatics Club National Aerobatics Championships Phalaborwa Airfield. Contact Annie Boon E-mail: chunge@mweb.co.za or Natalie Stark natalie@stark.co.za

3 JULY
Lydenburg annual Fly-In Festival at Lydenburg airfield. Contact Coenraad De Beer Cell: 076 466 9999

7 JULY
EAA Chapter 322 monthly meeting virtual and at Dickie Fritz MOTH Hall. Contact Neil Bowden Email: neil1@telkomsa.net Cell: 084 674 5674

9 - 11 JULY
EAA Taildraggers at Warmbaths airfield. Contact Richard Nicholson Email: flybenchmark@gmail.com Cell: 082 490 6227

15 - 23 JULY
Sports Aerobatics Club Advanced World Aerobatics Czech Republic. Contact Annie Boon E-mail: chunge@mweb.co.za







4 AUGUST
EAA Chapter 322 monthly meeting virtual and at Dickie Fritz MOTH Hall. Contact Neil Bowden Email: neil1@telkomsa.net Cell: 084 674 5674

7 - 8 AUGUST
Sports Aerobatics Club Western Cape Regionals and training camp Venue TBA. Contact Annie Boon E-mail: chunge@mweb.co.za

28 AUGUST
SAPFA Secunda Speed Rally at Secunda Airfield. Contact Jonty Esser E-mail: jonty@promptroofing.co.za Cell: 082 855 9435







FIRST NIGERIAN SUPER TUCANOS TO ARRIVE IN JULY
Written by Guy Martin



The first six A-29 Super Tucano aircraft for the Nigerian Air Force (NAF) will be delivered in July this year and the remaining six on order will arrive before the end of October.


This emerged during a Nigerian oversight visit to the United States. The National Assembly (NASS) Joint Committee on Defence and Air Force, led by Senator Michael Nnachi, arrived in the United States on 27 May to assess the status and progress of work on the NAF's Super Tucano aircraft.
While briefing the NASS team, Colonel Authur Ford of the United States Air Force Fighters and Advance Aircraft Directorate stated that 10 out of the 12 aircraft were ready for delivery while two were undergoing modification and integration to NAF specific operational configuration. He went on to state that six of the aircraft are scheduled to arrive in Nigeria in July 2021 while the remaining six will be delivered before the end of October 2021. The NASS team was assured that the aircraft, expected to play critical roles in the fight against insurgency and criminality, would be delivered as planned.

Nnachi commended Embraer for the quality of work on the NAF's Super Tucanos but, according to a Nigerian Air Force statement, he queried the long duration of time from the date of full payment to expected date of delivery, which he estimated to be between 3 to 4 years. In response, Ford informed the team that the long duration was due to the challenges of configuring the aircraft to meet NAF specifications.
The first Nigerian Super Tucano flew in April 2020 and by the end of 2020, six Super Tucanos were being used for conversion training of NAF pilots at Moody Air Force Base in Georgia, who were there along with 26 engineers, technicians and logisticians. Another set of 35 personnel were also scheduled to join them early this year. In addition, a team from the USA is currently in Kainji overseeing the construction of critical infrastructure provided in the contract ahead of the delivery of the aircraft.
The roughly 40-year old runway at Kainji used by the 407 Air Combat Training Group (ACTG) has been earmarked for resurfacing - Nigeria's Super Tucanos will be based at Kainji Air Base in the west of the country, with upgrade and renovation work scheduled to be carried out at the base ahead of delivery - work started in August 2020 and includes a new airfield hot cargo pad, perimeter and security fencing, munitions assembly and storage, small arms storage, a flight annex wing building for simulator training, airfield lighting, and various airfield apron, parking, hangar, and entry control point improvements.

C-130J SUPER HERCULES TRANSPORTS FOR THE ALGERIAN AIR FORCE
Written by defenceWeb

Mena Defense in March this year reported that Algeria would soon receive its first C-130Js, which will be delivered by the end of the year. Avions Legendaires stated that the first has been assembled and will be delivered mid-year. It is wearing Algerian civil registration ahead of delivery, while Algerian pilots and mechanics are in the United States for training on the aircraft.

According to Scramble magazine, Algeria's first C-130J wears registration 7T-WJA and was seen at Greenville/Donaldson Airport in South Carolina on 23 May.
The Algerian Air Force already operates C-130H and C-130H-30 Hercules transports, which are in service with the 2čme Escadre de Transport Tactique et Logistique at Boufarik air base. Eight C-130H and six C-130H-30 transports are believed to be operational.
Lockheed Martin referred queries to the Algerian Ministry of Defence regarding its current or future airlift fleet.
Scramble added that the Algerian Air Force will apparently be acquiring four Ilyushin Il-76MD-90A transports but few details are known. The Algerian Air Force already flies three Il-76MD and Il-76TD aircraft.

www.defenceweb.co.za

THE EUROSTAR SLW600 RECEIVES TYPE APPROVAL FOR MTOW 600KG UNDER THE NEW LTF-UL 2019 GERMAN REGULATION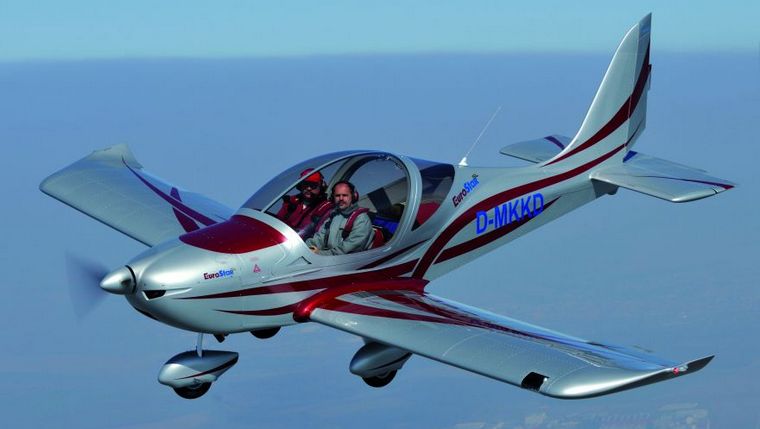 The Evektor EUROSTAR SLW600 aircraft has received type certification from the German Deutscher Aero-Club under the new LTF-UL 2019 German regulation for UL aircraft with an increased take-off weight of 600 kg.

While maintaining the low empty weight, the increase in take-off weight allows the EUROSTAR SLW600 to provide one of the highest useful loads among modern ultralight aircraft on the market.
The high useful load, comfortable cabin equipped with modern glass cockpit avionics Garmin G3X / Dynon SkyView / Flymap, including autopilot, a range of 1300 km and reliability tested through intensive operation at flight schools have undoubtedly made the EUROSTAR SLW600 a popular choice for both private pilots and training UL pilots at flight training organizations.



SIKORSKY'S RAIDER FLIGHT ROUTINES HIGHLIGHTED BOTH LOW-LEVEL HELICOPTER MANEUVERABILITY AND THE HIGH-SPEED CAPABILITY



Sikorsky's Christiaan Corry and Bill Fell recently piloted the S-97 RAIDER flight routines that highlighted both low-level helicopter manoeuvrability and the high-speed capability that only Sikorsky's X2 Technology family of helicopters offers. Corry previously flew with the first Army experimental test pilot in S-97 RAIDER, with additional events to come.


Low, fast, crisp and tight. Army Aviators got a first-hand look at the S-97 RAIDER® during two exclusive flight demonstrations at Redstone Arsenal. The capabilities on display offered a glimpse at RAIDER X, Sikorsky's bid for the Future Attack Reconnaissance Aircraft (FARA) program, part of the U.S. Army's Future Vertical Lift (FVL) effort to revolutionize its aircraft fleet.
"Flying RAIDER continues to amaze me," said Corry, a former U.S. Marine with more than 4,500 flight hours in 25 types of aircraft including the CH-53E, CH-53K and others. "The combination of the coaxial rotors and the propulsor are really the enablers for this transformational technology. As we demonstrated today, in low-speed flight we are as capable as a conventional helicopter, but when we engage the prop, we are able to operate in a whole new way - it's much more like flying an airplane."

"RAIDER is a tremendous risk reduction vehicle for RAIDER X and DEFIANT X and enables us to make data-driven design decisions for both aircraft," said Fell, a retired Master Army Aviator and former Army experimental test pilot. "Every time we fly, we are learning something that goes right into RAIDER X and DEFIANT X."
The S-97 RAIDER, solely funded by Sikorsky, a Lockheed Martin company, is the only representative FARA aircraft flying today and provides risk reduction for Sikorsky's FARA concept, RAIDER X®, a fast, agile, survivable compound coaxial helicopter that will allow future aviators to address evolving peer and near-peer threats in the most difficult environments.
Sikorsky has been flying and testing X2 Technology for more than a decade, accumulating nearly 500 hours on its X2 Technology test beds and aircraft including the X2 Technology Demonstrator, RAIDER and DEFIANT.

BELL H-1 MILITARY AIRCRAFT SURPASS 400,000 FLIGHT HOURS

The H-1 mixed fleet of AH-1Z Viper and UH-1Y Venom attack and utility helicopters have accumulated more than 400,000 joint-flight hours. Designed by Bell Textron Inc., a Textron Inc. (NYSE: TXT) company, as the dedicated military helicopters for the United States Marine Corps (USMC), the Viper and Venom have been deployed around the world across a full spectrum of military operations since 2010.

"Reaching the 400,000-hour milestone represents the collective efforts of the men and women dedicated to upholding the H-1's legacy of success," said Mike Deslatte, Bell H-1 vice president and program director. "The AH-1Z and UH-1Y program exemplifies the vital cooperation between industry and program to ensure we maintain an overwhelming competitive edge against future enemies."
The USMC program of record is for 349 H-1 aircraft split between the AH-1Z Viper and UH-1Y Venom, with production continuing through 2022 for the USMC and then beyond that for foreign military partners. The aircraft are expected to be in service for the USMC through the 2040's while Bell supports operations with continuous upgrades to maintain reliability, survivability and lethality on an evolving battlefield.

The aircraft modernization program includes modifications like Link-16 integration as part of a defined road map of planned improvements designed to ensure the H-1 platform maintains its technological edge and combat capability throughout its service life.
"Reaching this milestone is a culmination of thousands of hours of work by pilots, maintainers, engineers, test teams, and industry partners. It is a true team effort," said Col Vasilios Pappas, program manager PMA-276. "The H-1s have defended war fighters for six decades, and with the integration of new capabilities, H-1s will continue to support war fighters for decades to come."
The AH-1Z Viper's dedicated attack ability combines dedicated weapons against ground, maritime, or aviation targets with great standoff range. The UH-1Y Venom's design as a versatile utility platform can perform any function on the battlefield from resupply, troop inserts, close air support and many others. Together, the H-1 aircraft share a unique differentiator in military aviation. The platforms possess 85% commonality of major systems and parts, enabling the USMC to quickly share critical components and reduce the logistical footprint and training required to operate the aircraft in austere environments.
The Viper and Venom are designed for sea and land-based operations and marinized from manufacture. The benefits of the marinized environmentally hardened design for the H-1 extend to protection from the elements, enabling reliability and availability across diverse environments, including desert, maritime, snow and tropical conditions.

EVE ANNOUNCES HALO AS LAUNCH PARTNER IN THE URBAN AIR MOBILITY MARKET WITH AN ORDER FOR 200 EVTOL AIRCRAFT



Eve Urban Air Mobility Solutions, Inc. (Eve) and Halo have announced a partnership focused on developing Urban Air Mobility (UAM) products and services in the United States and the United Kingdom. This partnership includes an order for 200 of Eve's electric vertical take-off and landing (eVTOL) aircraft. Deliveries are expected to start in 2026. This order represents one of the largest in the UAM industry and secures Halo as the launch partner for Eve in both the U.S. and the U.K. markets.

Under the terms of this agreement, Halo, a leading premium helicopter travel provider in the U.S. and U.K. and the first global vertical lift provider, will work with Eve to develop a new eVTOL operation in both countries. Eve is an independent company formed by Embraer S.A. to accelerate the UAM ecosystem around the world.
"We believe Eve has designed an aircraft that is well-prepared for not only initial certification but also has a proven track record of production," said Kenneth C. Ricci, Principal of Directional Aviation, investment fund of which Halo is part of. "The outstanding lineage of aircraft design, certification and production that Embraer brings to this aircraft positions Eve with significant advantages in the competitive landscape. Our background as operators has taught us that product support is absolutely vital to the overall success of new programs. The relationship between Embraer and Eve will create one of the most successful global product support infrastructures in the industry. Finally, the work that Eve and Embraer have completed around their traffic management system is just one more example of how uniquely positioned Eve is to help us deliver on our vision."
"This partnership is an important step for Eve to assume its position as a global leader in the UAM industry. We are ready to build the future of mobility with our partners in an extremely collaborative way. Halo is aligned with our mission to create comprehensive Urban Air Mobility solutions and this order marks an important milestone for Eve in key markets. We are confident that this mutually beneficial relationship will have a positive impact for many future users and enable both companies to grow their businesses exponentially," said Andre Stein, President & CEO of Eve Urban Air Mobility.

This collaboration, the first international eVTOL operator partnership of its kind, will benefit from the work that Eve has already invested in the U.K. market as the leader of a consortium that is solving the regulatory and operational issues to bring eVTOL operations to London. In collaboration with the UK Civil Aviation Authority´s "innovation sandbox" program, Eve and Halo's partnership will be one of the first operators to build upon this exciting work and continue to develop London as a viable and attractive market for UAM operations.
Beyond the initial order and collaboration to develop a new eVTOL operation, Eve and Halo will also partner on the continued development of Eve's Urban Air Traffic Management system as well as the fleet operations and services product offerings that Eve offers as an ecosystem integrator for UAM operations. The strength of Halo's international operations, together with Eve's UAM portfolio, will be an important demonstration of how such partnerships can increase accessibility and affordability as these two companies work to safely scale UAM operations around the world.
Benefitting from a start-up mindset and backed by Embraer's more than 50-year history of aircraft manufacturing and certification expertise, Eve unveils a unique value proposition by positioning itself as an ecosystem partner by offering a suite of products and services. Eve's human-centered, eVTOL design represents a simple and intuitive design that continues to reach development milestones, including the first flight of the engineering simulator in July 2020 and proof of concept in October 2020. In addition to the aircraft program, Eve is harnessing the expertise of both Embraer and Atech, a subsidiary of the Embraer Group, in providing globally recognized air traffic management software to create the solutions that will help safely scale the UAM industry going forward.

BOMBARDIER SPECIALIZED AIRCRAFT CONFIRMS DEAL WITH U.S. AIR FORCE FOR UP TO SIX MORE GLOBAL AIRCRAFT IN SPECIAL MISSION CONFIGURATION

Bombardier is pleased to confirm an agreement between its Learjet Inc. subsidiary and the U.S. Air Force in support of the Battlefield Airborne Communications Node (BACN) program. The Indefinite Delivery Indefinite Quantity (IDIQ) contract provides the USAF with flexible ordering and includes an immediate firm order for one Global 6000 aircraft, with as many as five additional Global 6000 aircraft. The contract, which includes engineering and modification work, represents a potential total value of close to $465 million U.S.

Bombardier has already delivered four Global aircraft to the U.S. Air Force since 2007 for the BACN program, an airborne relay that extends communication ranges, bridges between radio frequencies and "translates" among incompatible communications systems. BACN aircraft are known in the U.S. Air Force as the E-11A.
Bombardier teams in the U.S., who continue to provide in-service support and upgrades to the current BACN fleet, are poised to begin work on the next BACN aircraft in the coming days. Engineers and technicians at Bombardier Specialized Aircraft's Centre of Excellence in Wichita, Kansas, will modify the Global platform to support the communications equipment required for the mission, while teams in Tucson will provide the aircraft's interior and eventually perform the exterior painting work.
Proud to be a major employer in the U.S. aviation sector, Bombardier works with local colleges and technical schools to help inspire and train the next generation of aerospace professionals.
Bombardier Global aircraft, renowned in the business aviation industry for range, spaciousness and a smooth ride, are a proven, go-to platform for special government missions thanks to their speed, payload capacity, built-in power redundancy, reliability and endurance.
Bombardier Specialized Aircraft designs, develops and delivers a range of capabilities to operators around the world for a wide variety of missions including surveillance and reconnaissance, medical evacuations and VIP transport. Solutions range from turnkey packages comprising the complete design, building, testing and certification activity, through to specialist engineering support and technical oversight of customer-specific projects.

GOODYEAR BLIMP RETURNS FOR APPEARANCE AT EAA AIRVENTURE OSHKOSH 2021



The Goodyear Tire & Rubber Company's newest airship, Wingfoot Three, will continue a long tradition of Oshkosh Goodyear appearances with a visit to EAA AirVenture Oshkosh 2021, scheduled for July 26-August 1 at Wittman Regional Airport in Oshkosh.

Goodyear's Wingfoot Three is scheduled to arrive in Oshkosh on Monday, July 26, and will be on display and be flying at various times during the event until Saturday, July 31. At EAA AirVenture Oshkosh 2021, Wingfoot Three pilots will also participate at a variety of events, as AirVenture is one of the few air shows on the Goodyear Blimp schedule this year.
"Through the years, there's a special excitement when attendees arrive at EAA AirVenture Oshkosh and one of the first sights they see is the iconic Goodyear Blimp parked on the grounds or in the air overhead," said Rick Larsen, EAA's vice president of communities and member programs, who coordinates AirVenture features and attractions. "Goodyear has been an important AirVenture exhibitor for many years and it's always a great to see that Oshkosh has made the 'Blimp-Worthy' list of America's major events."
Wingfoot Three is the newest addition to the Goodyear Blimp fleet, as it was first flown in June 2018. It marked the completion of the full fleet to the New Technology (NT) platform. The blimp was manufactured by Germany's ZLT Zeppelin Luftschifftechnik and assembled by a team of Zeppelin and Goodyear engineers. It represented the first major structural change of a Goodyear Blimp in nearly 70 years.
The Wingfoot Three appearance continues a 50-year tradition of Goodyear airship appearances at EAA's fly-in convention. The first Goodyear Blimp appearance at the EAA fly-in was in 1971, when the airship America came to Oshkosh. Several generations of Goodyear Blimps have flown to and over EAA fly-ins since then.

GARMIN AUTOLAND WINS PRESTIGIOUS ROBERT J. COLLIER TROPHY

Garmin® International, Inc., a unit of Garmin Ltd. (NASDAQ: GRMN), today announced that Garmin Autoland has been awarded the 2020 Robert J. Collier Trophy for the world's first certified autonomous system designed to activate during an emergency to safely fly and land an aircraft without human intervention.

The Collier Trophy has been the benchmark of aerospace achievement for over a century and is awarded annually by the National Aeronautic Association (NAA) to recognize "the greatest achievement in aeronautics or astronautics in America, with respect to improving performance, efficiency, safety in air or space vehicles, the value of which has been thoroughly demonstrated by actual use during the preceding year." The seven nominees for 2020 included the Bell V-280 Valor, SpaceX Falcon 9 & Dragon 2, among others.
"The Garmin Autoland system marks a significant improvement in civil aviation," affirmed NAA Chairman Jim Albaugh. "Its ability to take over an airplane with a disabled pilot and land it safely will save many lives in the future. It's a remarkable technical achievement and clearly merits the Collier Trophy."
"Autoland began as a simple exploration to develop automation technology for general aviation aircraft," said Cliff Pemble, Garmin president and CEO. "This exploration resulted in the first automated system that can safely fly and land an aircraft in an emergency without human intervention. It is a tremendous honour for Autoland to be recognized as one of the greatest achievements in aviation history. We owe this accomplishment to the many Garmin associates who dedicated themselves to creating this game-changing aviation safety technology."
Part of the Garmin Autonomí™ family of autonomous safety-enhancing technologies, Autoland is the world's first certified system of its kind. In the event of an emergency, such as pilot incapacitation, a passenger can activate Autoland with a simple press of a dedicated button, should the pilot no longer be able to perform their duties as pilot in command. Autoland can also activate automatically if the system detects no pilot interaction. Once activated, the system immediately calculates a flight path to the most suitable airport and runway, while avoiding terrain and adverse weather, initiates a stabilized approach and automatically lands the aircraft.
In 2020, three aircraft received Type Certification with Garmin Autoland. Piper Aircraft received the first FAA Type Certification of Garmin Autoland on the M600 SLS in May 2020. In July 2020 DAHER completed the first European Union Aviation Safety Agency (EASA) certification and the second FAA certification of Autoland on the TBM 940. Cirrus Aircraft's Vision Jet, the 2017 Collier Trophy winner, was the first jet aircraft certified with Autoland in August 2020.
Garmin is committed to continued innovation in the industry and a mission to create new and exciting possibilities for air travel in the future, expanding on the history of other Robert J. Collier Trophy winners. Past recipients of the Collier Trophy include Orville Wright, Neil Armstrong and the Apollo 11 team, Cirrus Aircraft for the whole airframe parachute system (CAPS) on the Vision Jet, Lockheed's Skunk Works and the F-117A, the Boeing 747, the NASA Mars Science Laboratory Curiosity Project Team, Cessna Aircraft Company and the Citation X Design Team and many more historical achievements that progressed aviation for future generations.

PILATUS CONGRATULATES THE ROYAL AUSTRALIAN AIR FORCE ON ITS 100TH ANNIVERSARY



The Royal Australian Air Force (RAAF) marked recently 100 years since its foundation. In those one hundred years, the RAAF has grown from humble beginnings into a highly capable, world-class Air Force, supporting operations and personnel at home and around the globe. Pilatus is proud to be part of this long history.

Still to be formed, Pilatus was not part of the inauguration back in 1921. But for nearly forty of the past one hundred years, Pilatus has been a partner, helping to train aircrew for a variety of aircraft types and operational roles. Following the success of the PC-6 operated by the Australian Army, Pilatus delivered the first PC-9 trainer to the RAAF in 1987. Pilatus aircraft have been the RAAF's turboprop trainer of choice ever since.
It is testament to an enduring relationship that, in 2012, when replacing the PC-9, the RAAF chose Pilatus once again. In 2019, after over thirty years of service, the PC-9 was withdrawn and replaced by a brand-new and highly innovative training system based on the PC-21.
Pilatus provides a turnkey training solution that will, in this era of joint operations, allow the Commonwealth of Australia to train aircrew from all services for the foreseeable future. The PC-21 training system, along with new state-of-the-art training facilities, allows the RAAF to develop young men and women not only for existing aircraft types, but also for the next generation of aircraft such as the F-35 and beyond. As the new platform of the world-renowned Roulettes aerobatic team, the PC-21 also plays a wider role in promoting Australian aviation and the armed services.




USA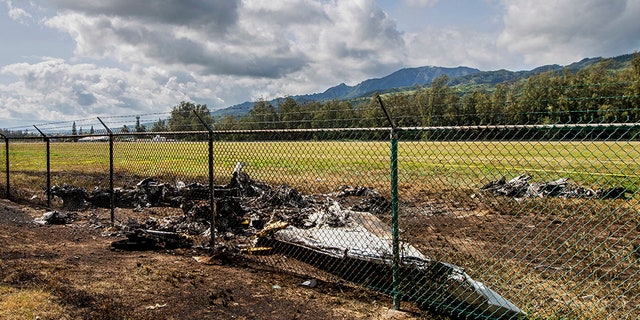 On 21 June 2019 a Beech King Air 65-A90 airplane impacted terrain after take-off from Dillingham Airfield (HDH), Mokuleia, Hawaii.1 The pilot and 10 passengers were fatally injured and the airplane was destroyed. The aircraft was owned and operated by Oahu Parachute Centre under the provisions of Title 14 Code of Federal Regulations (CFR) Part 91 as a local parachute jump (skydiving) flight. Visual meteorological conditions prevailed at the time of the accident.
OPC had scheduled five parachute jump flights on the day of the accident and referred to the third through fifth flights of the day as "sunset" flights because they occurred during the late afternoon and early evening. The accident occurred during the fourth flight.
The accident pilot was the pilot-in-command (PIC) for each of the OPC flights that departed on the day of the accident. The pilot and 8 of the 10 passengers initially boarded the airplane. These eight passengers
comprised three OPC tandem parachute instructors, three passenger parachutists and two OPC parachutists performing camera operator functions.
The pilot began to taxi the airplane from OPC's location on the airport. According to a witness (an OPC tandem instructor who was not aboard the accident flight), the two other passengers, solo parachutists who had been on the previous skydiving flight and were late additions to the accident flight, "ran out to the airplane and were loaded up at the last minute."
The pilot taxied the airplane to runway 8 about 182. According to multiple witnesses, after the airplane lifted off, it banked to the left, rolled inverted and descended to the ground. One witness stated that, before impact, the airplane appeared to be intact and that there were no unusual noises or smoke coming from the airplane.
A security camera video showed that the airplane was inverted in a 45° nose-down attitude at the time of impact. The airplane impacted a grass and dirt area about 630 ft northeast of the departure end of the runway and a post-crash fire ensued.
The National Transportation Safety Board determined that the probable cause of this accident was the pilot's aggressive take-off manoeuvre, which resulted in an accelerated stall and subsequent loss of control at an altitude that was too low for recovery. Contributing to the accident were (1) the operation of the airplane near its aft centre of gravity limit and the pilot's lack of training and experience with the handling qualities of the airplane in this flight regime; (2) the failure of Oahu Parachute Centre and its contract mechanic to maintain the airplane in an airworthy condition and to detect and repair the airplane's twisted left wing, which reduced the airplane's stall margin; and (3) the Federal Aviation Administration's (FAA) insufficient regulatory framework for overseeing parachute jump operations. Contributing to the pilot's training deficiencies was the FAA's lack of awareness that the pilot's flight instructor was providing substandard training.



USA, near Smyrna Airport, TN: A JL&GL Productions LP Cessna 501 Citation I/SP with seven on board crashed into Percy Priest Lake, shortly after take-off from Smyrna Airport, Tennessee. The aircraft had taken off from runway 32 and commenced a climbing right-hand turn. After reaching 2900 feet the aircraft descended to about 1800 feet before climbing again to 3000 feet. The aircraft then began a rapid descent and impacted the water of Percy Priest Lake. There were no survivors.
USA, NE of Darlington, Montgomery County, IN: A Lift Academy Diamond DA40 NG with two occupants crashed in a field NE of Darlington, Montgomery County, Indiana. ADS-B data indicated level flight at 3,850' MSL [about 3,000' above ground level]. The penultimate data point indicated a groundspeed of 63 knots, with a calculated descent angle of 24 degrees. 3 seconds later, the final data point indicated 38 knots groundspeed and a calculated descent angle of 50 degrees. Both occupants perished in the crash.

Germany, Friedersdorf Airfield (EDCF), Heidesee: A Luftsportclub Interflug PZL-Bielsko SZD-50-3 Puchacz with two onboard crashed upon take-off under unknown circumstances at Friedersdorf airfield, Heidesee. The instructor and trainee pilot were seriously injured and airlifted to hospital.
Kyrgyzstan, Nookat district, Osh region: An Air Defence Forces of Kyrgyzstan's Armed Forces Mil Mi-8MT with 15 occupants crashed in the Alay district under unknown circumstances. Fourteen occupants were injured, one seriously. The helicopter was destroyed by fire.

USA, NW of Propwash Airport, Justin, TX: A Piper PA-28-140 Cherokee with two on board impact with trees and terrain during the landing attempt at Propwash Airport (16X), Justin, Texas. The two occupants onboard the airplane received unspecified injuries and the aircraft was destroyed.
USA, West Portsmouth, Scioto County, OH: An experimental amateur built RV-9A sustained substantial damage subsequent to a noseover during an apparent forced landing to open field terrain near West Portsmouth, Scioto County, Ohio. One occupant received minor injuries and one of the two occupants onboard the airplane was not injured.
Iran, Wehdati AFB, Dezful: The two pilots of an Islamic Republic of Iran Air Force (IRIAF) Northrop F-5F Tiger II were killed after both ejection seats activated during pre-flight preparations.




13 JUNE 1912

Captain Albert Berry made the first parachute jump from an airplane.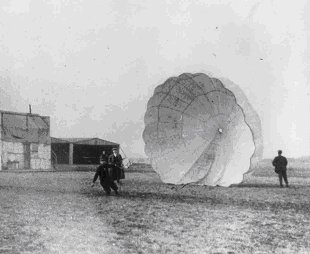 Captain Albert Berry is one of two people credited as the first person to make a successful parachute jump from a powered airplane. The other contender is Grant Morton, who is reported to have jumped from a Wright Model B flying over Venice Beach, California sometime late in 1911. Morton's pilot was Phil Parmalee.
On 1 March 1912, Berry jumped from a Benoist pusher biplane from 1,500 feet (457 m) and landed successfully at Jefferson Barracks, Missouri. The pilot was Tony Jannus. The 36 foot (11 m) diameter parachute was contained in a metal canister attached to the underside of the plane - when Berry dropped from the plane his weight pulled the parachute from the canister. Rather than being attached to the parachute by a harness Berry was seated on a trapeze bar. According to Berry he dropped 400 feet (122 m) before the parachute opened.

PLEASE GO TO .
www.youtube.com/channel/UCCuRVZAGodT6sztTeXBGeMw
and subscribe to our YouTube channel