Compiled by Willie Bodenstein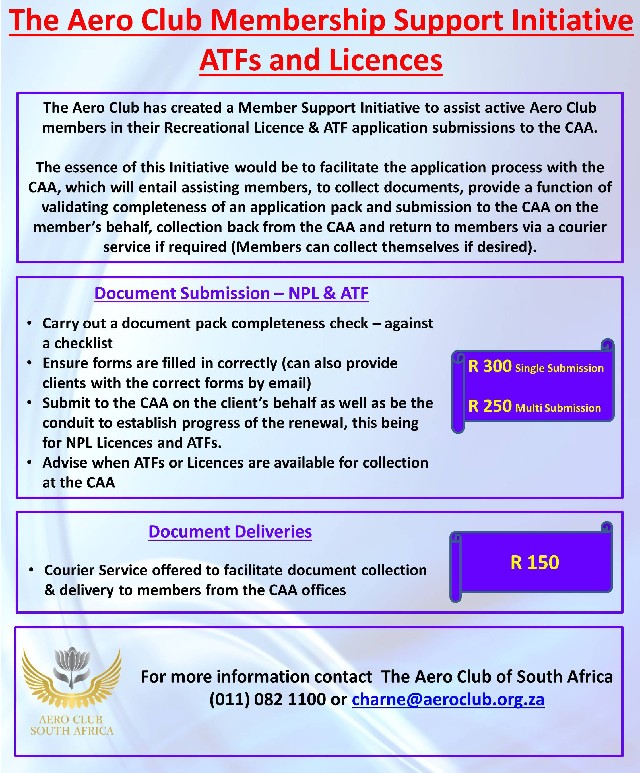 COVID 19 REGULATIONS, INITIATIVES AND AEROCLUB NEWS

OUR CENTENARY YEARBOOK IS NOW AVAILABLE TO PURCHASE FROM OUR NEW WEBSHOP
WWW.AEROCLUB.ORG.ZA/SHOP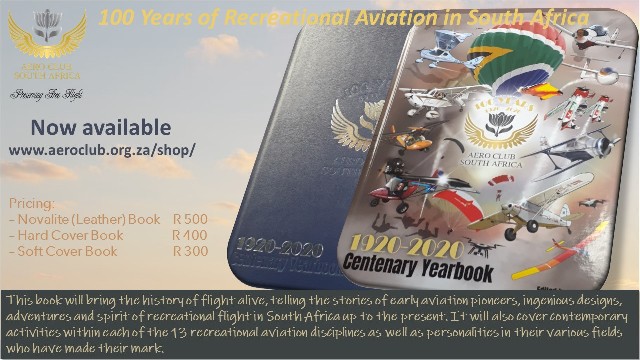 The following events will take place under the rules controlling the number of people congregating together and are therefore not open to the general public.

26 JUNE
Brakpan Breakfast Fly-Inn. Breakfast and lunch available. Contact Susan 082 257 3739

30 JUNE - 3 JULY
Postponed to 18-21 August
Sport Aerobatics Club National Aerobatics Championships Phalaborwa Airfield. Contact Annie Boon E-mail: chunge@mweb.co.za

3 JULY
Lydenburg annual Fly-in Festival at Lydenburg airfield. Contact Coenraad De Beer Cell: 076 466 9999

7 JULY
EAA Chapter 322 virtual monthly meeting and at Dickie Fritz. Contact Neil Bowden Email: neil1@telkomsa.net Cell: 084 674 5674

9 - 11 JULY
Postponed until 8 to 10 October 2021
EAA Taildraggers at Warmbaths airfield. Contact Richard Nicholson Email: flybenchmark@gmail.com Cell: 082 490 6227

15 - 23 JULY
Cancelled for 2021
Sports Aerobatics Club Advanced World Aerobatics Czech Republic. Contact Annie Boon E-mail: chunge@mweb.co.za





4 AUGUST
EAA Chapter 322 virtual monthly meeting and at Dickie Fritz. Contact Neil Bowden Email: neil1@telkomsa.net Cell: 084 674 5674
7 - 8 AUGUST
Sports Aerobatics Club Western Cape Regionals and training camp Venue TBA. Contact Annie Boon E-mail: chunge@mweb.co.za

18-21 AUGUST
Sport Aerobatics Club National Aerobatics Championships Phalaborwa Airfield. Contact Annie Boon E-mail: chunge@mweb.co.za

28 AUGUST
SAPFA Secunda Speed Rally at Secunda Airfield. Contact Jonty Esser E-mail: jonty@promptroofing.co.za Cell: 082 855 9435






VAN'S AIRCRAFT ANNOUNCES MANAGEMENT CHANGES



Van's Aircraft has announced changes to its management and organizational structure designed to enable the company and its employees to advance and meet opportunities created by significant growth in customer demand.

Over the past 24 months, orders for Van's RV aircraft kits have increased nearly 250% as new builders take advantage of the latest technology and designs. To fulfil this substantial, ongoing growth in orders - while simultaneously designing the next model RV aircraft - company leadership determined it was the right time to adjust the focus and priorities of the management team.
Rian Johnson has assumed the role of President and Chief Technology Officer. Rian has worked at Van's Aircraft for more than 20 years, most recently in his previous role of Vice President and Chief Engineer. He will lead the company as a whole from the engineering and design perspective that has made Van's a successful company for nearly 50 years.
Greg Hughes has assumed the role of Vice President and Chief Operations Officer. He maintains responsibility for marketing and community relations while his role expands to a broader operational focus. Greg joined Van's Aircraft in 2018.
Mitch Lock has shifted from his prior role as president of the company to the newly-created role of Chief Financial Officer, bringing greater focus to the critical work of managing the company's financial operations and investments into the future.
"We've always been an innovative company that's been led from a solid, technical foundation and we will continue that culture into our future," said Van's Aircraft President and CTO Rian Johnson. "The singular purpose that has made Van's Aircraft the defacto industry leader for nearly 50 years - designing great aircraft that people love to build and fly - remains our primary purpose and we will continue to bring new technology and capabilities to our designs and customers."
Van's Aircraft's recent growth has, of course, come at a particularly challenging time. "It's a bit cliché to say, but also quite accurate," said Van's Aircraft Vice President and COO Greg Hughes. "The past 18 months have been a wild ride for everyone, including Van's Aircraft. We've managed through natural disasters and supply chain challenges, plus expanded our manufacturing capacity and added significant new technology, all while building our team and growing rapidly as a company. We continue to be completely committed to our incredible customers and employees, with the sole purpose of delivering the best product possible. Nothing makes us happier than seeing each and every person who builds one of our aircraft kits with that famous RV Grin on their face."


LEIDOS, PARAMOUNT USA AND VERTEX AEROSPACE ENTER FINAL PHASE OF SOCOM'S ARMED OVERWATCH COMPETITION
Written by defenceWeb


Leidos has announced that its team, which includes Paramount USA, has been selected to enter the final phase of the US Special Operations Command's (US SOCOM's) Armed Overwatch aircraft flight demonstration programme, which could see around 75 aircraft acquired.

Leidos, Paramount USA (a subsidiary of Paramount Group), and Vertex were among five teams awarded a total of $19.3 million for prototype demonstrations and will advance the Bronco II aircraft to the Phase III Operational Prototype Demonstration later this month. The Bronco II is the US variant of the AHRLAC/Mwari that is being manufactured at Paramount's Wonderboom factory.
The other teams are Textron Aviation Defence with its AT-6E Wolverine, L3 with its AT-802U Sky Warden, MAG Aerospace with its MC-208 Guardian and Sierra Nevada Corporation with its M28/C-145 Wily Coyote.
SOCOM on 14 May announced the contract awards for demonstrations, which will be carried out at Eglin Air Force Base in Florida between 14 June and 23 July. Special Operations Command revealed its Armed Overwatch programme in February 2020. SOCOM previously evaluated the OV-10G+ Bronco in a field test in Iraq in 2015 as it pursues a light attack capability. The command is looking to budget $101 million for the first new light attack aircraft with another ten per year for the next seven years.
"We believe that Bronco II is the definitive next generation aircraft, which has been designed to be future-proofed against evolving operational requirements in the asymmetrical battlespace specifically inhabited by SOCOM," said Ivor Ichikowitz, Chairman Paramount Group. "Through our partnerships with Leidos, we are looking forward to building upon our 27-year legacy of designing and producing rugged technologically advanced systems. Our team has designed and developed an America centric platform for the world market and we are looking forward to bringing Bronco II back to America."
Leidos, Paramount Group USA and Vertex Aerospace in May 2020 announced they had teamed up to pursue the Armed Overwatch contract with the Bronco II intelligence, surveillance and reconnaissance (ISR) and light attack aircraft. Leidos is the prime contractor and Paramount and Vertex are primary teammates. The Bronco II would be manufactured in Crestview, Florida and designed to meet the specific needs of US Special Operations Command.
The AHRLAC/Mwari is currently being manufactured for several international customers at Paramount's Wonderboom factory. The Mwari is the militarised version of the AHRLAC (Advanced High-performance Reconnaissance Light Aircraft) and is designed to incorporate advanced intelligence, surveillance and reconnaissance (ISR) capabilities, close air support (CAS) and weapons systems and have operating costs of less than $1 000 an hour, making it cheaper than helicopters and most other fixed wing competitors. Weapons options include guided munitions, guided rockets, air-to-ground missiles and a cannon pod.
www.defenceweb.co.za

ROTAX 915IS AGAIN AWARDED BEST POWERTRAIN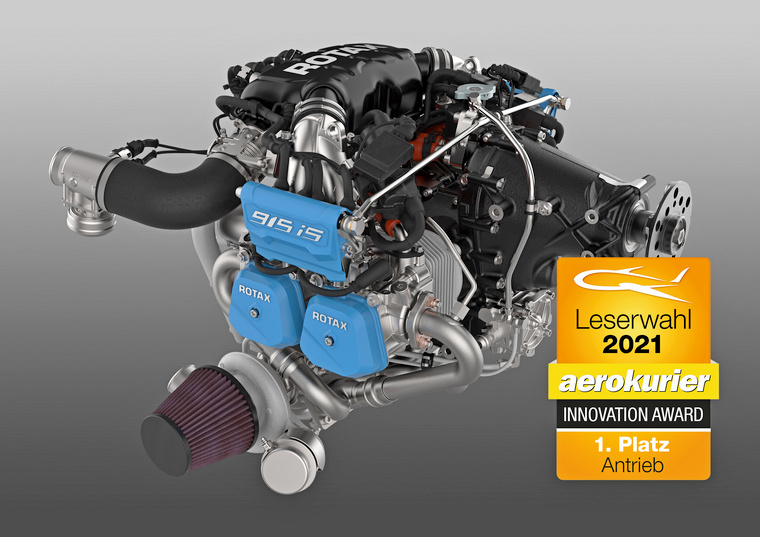 BRP-Rotax is very proud to announce that the Rotax 915 iS aircraft engine was awarded best powertrain by the readers of "Aerokurier", the German based aviation magazine.

"We are honoured that our Rotax 915 iS aircraft engine again received the award as the best powertrain concept in the light sport aviation industry. To be elected by the readers of the magazine proves that we have developed truly the best engine for this market in terms of performance, reliability and ease-of-use", said Peter Oelsinger, General Manager BRP-Rotax / Member of the Management Board, Vice President Sales, Marketing RPS-Business & Communications. "Many thanks to the readers for their votes and commitment to our aircraft engines."
With more than 190 000 engines sold and a global operating 4-stroke-fleet of more than 50 000 engines, Rotax aircraft engines lead the light sport and ultralight aircraft market. Rotax offers a worldwide network consisting of 16 authorized distributors and more than 220 points of sales and service supporting 270 OEMs with more than 400 Rotax powered models and customers worldwide. Rotax aircraft engines are supplied to more than 80% of all aircraft manufacturer in its segment.
BRP-Rotax GmbH & Co KG, a subsidiary of BRP Inc., located in Gunskirchen, Austria is a leader in the development and production of innovative 4- and 2-stroke high performance Rotax engines for BRP products such as Ski-Doo and Lynx snowmobiles, Sea-Doo watercraft, Can-Am all-terrain, side-by-side vehicles and Can-Am Spyder and Ryker line-up as well for motorcycles, karts, ultra-light and light aircraft. In the last 50 years, the company has developed more than 350 engine models for recreational vehicles and produced over 9 million engines.

HILL HELICOPTERS-WE'VE JUST MET SOME MAJOR MILESTONES



The word is out about the uniquely thrilling flying experience promised by the totally original HX50 helicopter and now that Hill is getting closer to its goal of flying three prototypes by next year and orders have surpassed 200 units

From the ground up, the HX50 has been conceived as a genuinely best of breed personal helicopter, crafted upon field-proven engineering, state-of-the-art manufacturing and iconic British design.
Development of the HX50 is right on schedule and has met all major milestones. This has led us to the point where we will be able to launch three prototypes for testing in 2022. This will be followed by the first deliveries in 2023, as originally planned.
Introducing a first of its kind platform, every minute detail has been elaborately crafted to deliver a helicopter specifically focused on the needs of private owners. The HX50 will be able to effortlessly carry five passengers and luggage, with a level of comfort, luxury and refinement never before seen in a light aircraft.
More than 200 units of the HX50 have already been pre-sold, surpassing our target and setting us up to meet the demand that is building as news of this revolutionary aircraft spreads.
ELECTRA UNVEILS FIRST PRODUCT CONFIGURATION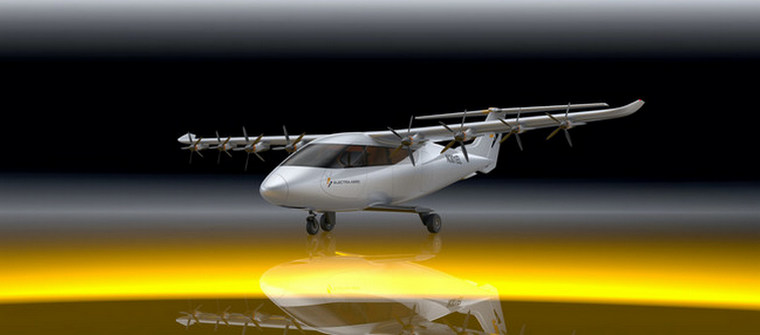 Electra.aero this week unveiled its first commercial product to serve regional air mobility markets. The aircraft is designed to carry up to seven passengers and a pilot as far as 500 miles while operating out of areas shorter than a soccer field, including rooftops and parking lots. Electra's "blown lift" technology - where the electric motor-driven propellers blow air over the entire span of the wing and its flaps - allows safe, energy-efficient take off and landings at speeds below 30 mph while cruising at high-speeds of 200 mph.

Electra's hybrid-electric super-short take-off and landing aircraft shown here has a wingspan of 48 feet and carries up to seven passengers plus a pilot. The aircraft has 8 electric propellers driven by a hybrid-electric powerplant. This allows the plane to operate out of soccer fields and other constrained spaces like rooftops and parking lots while flying at ranges up to 500 miles. The aircraft is planned to enter commercial service by 2027.
The single-pilot aircraft has eight electric motors powered by a combination of batteries and a small, quiet turbogenerator which means Electra's aircraft does not need to rely on special charging infrastructure - the batteries are recharged mid-air. Using much less power to lift off than vertical take-off and landing alternatives, Electra's aircraft provides more room for passengers and cargo, resulting in superior operating economics while also minimizing energy consumption.
Electra, founded in 2020, is devoted to sustainable regional air mobility through the development of hybrid-electric aircraft. The company is currently building technology demonstrator aircraft that will validate all relevant product technologies. Electra's commercial aircraft product is planned to be certified in 2026 under Part 23 of the Federal Aviation Regulations.

AIRFLOW AND RAVN ALASKA MAKE DEAL FOR 50 ESTOL AIRCRAFT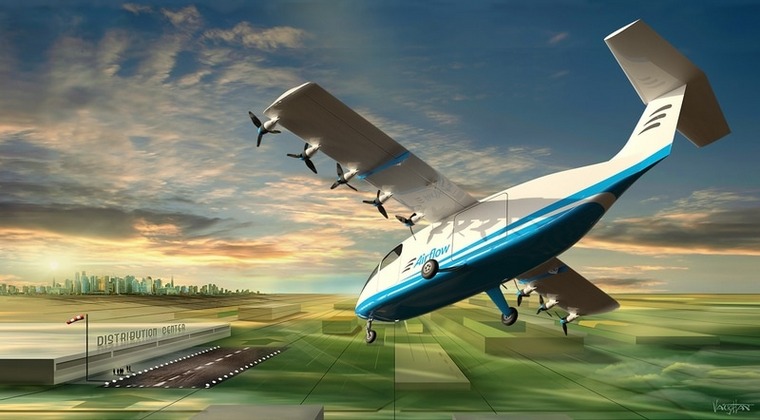 Airflow has signed a letter of intent with Ravn Alaska to supply 50 airplanes. This agreement brings Airflow's total order book to over $200 million for its aircraft that enables operators to expand where they can fly, improve their operating economics and reduce emissions on a near-term timeline with entry into service planned for 2025.

"From logistics carriers to passenger airlines we hear loud and clear that demand is on the rise. At Airflow, we're partnering with companies that seek to add new aircraft with new capabilities to their fleets that are flexible, cost-effective, and carbon-neutral," said Marc Ausman, CEO and co-founder, Airflow. "The Airflow team has designed, built and flown new aircraft on rapid timescales together before. Now we're applying those learnings to an aircraft that will improve operating economics for airlines and contribute positively to reducing aviation's carbon impact."
Airflow's hybrid-electric aircraft are reportedly able to enter into service with no new infrastructure requirements and limited certification hurdles compared to other electric aviation market entrants.
"As a regional operator, we are committed to serving the many large and small communities of Alaska. That means we are constantly seeking out new ways to deliver the best value and experience for Alaskans," said Rob McKinney, CEO, Ravn Alaska. "With Airflow, we benefit from the new capabilities the aircraft offers that open up new and different destinations, the constantly improving efficiencies of electrification and alignment between our fleet and the rising demands of our customers to travel with the smallest carbon footprint possible."
Defence Secretary Inducts HAL Manufactured ALH Mk-III Helicopters into Indian Coast Guard.

INDIAN DEFENCE SECRETARY INDUCTS HAL MANUFACTURED ALH MK-III HELICOPTERS INTO COAST GUARD

In a major boost to the ALH Mk-III indigenous Coast Guard programme, three Advanced Light Helicopter (ALHs) manufactured by HAL were inducted into the stables of Indian Coast Guard by Dr Ajay Kumar, Defence Secretary. These helicopters which are part of ALH Mk III programme will be positioned in Bhubaneswar, Porbandar, Chennai and Kochi and will be part of different Coast Guard Aviation Squadrons.

A virtual program was held simultaneously at the Indian Coast Guard (ICG) Headquarters in Delhi and at Helicopter MRO Division of HAL in Bengaluru. The Director General, Indian Coast Guard, Mr K Natarajan, PTM, TM and Mr R Madhavan, CMD, HAL, were present on the occasion.
Speaking on the occasion Dr Ajay Kumar said "The state-of-the-art Helicopters with advanced sensors will enable ICG to take up challenging tasks. This is for the first time Performance Based Logistics is being introduced in Indian Aviation sector which is a modern management practice and will increase operational and maintenance efficiency. The sophisticated helicopters being handed over will be a game changer for the operational capability of ICG in the times to come".
Shri K Natarajan said ICG has been a torch bearer in promoting and inducting indigenous products since formative years of the service. Induction of ALH MK III is a testimony to the ICG's commitment towards "Atma Nirbhar Bharat". HAL has been the most trusted partner in the growth of ICG aviation fleet delivering multi role and highly capable platforms. The induction of ALH MKIII in challenging times bears a testament to the resilience of HAL and ICG. These helicopters will usher a paradigm shift in the capability in ship borne operations and enhance coastal surveillance. Indian Coast Guard is also the first service to have Performance Based Logistics management system introduced in aviation to ensure Helicopter Availability at four bases, he added.
Speaking on the occasion, Mr R Madhavan said with this contract, HAL is embarking on a new journey of Performance Based Logistics (PBL). The PBL will assure desired levels of availability of ALH MKIII fleet of ICG for six and half years, a unique feature of this contract and a first of its kind in HAL.
These helicopters are equipped with state-of-the-art equipment like Surveillance Radar, Electro Optic Pod, Medical Intensive Care Unit, High Intensity Search Light, SAR Homer, Loud Hailer, Machine Gun and can perform other key roles. Helicopter MRO Division is the nodal agency for execution of PBL contract along with Engine Division and other Sister Divisions of HAL.

ARCHER UNVEILS EVTOL AIRCRAFT



California-based Archer, a company designing and developing electric vertical take-off and landing aircraft (eVTOL), debuted its Maker aircraft both live in Los Angeles and streamed to a global audience on the evening of June 10. The intimate, COVID-safe in-person event was held at the Hawthorne Hangar Operations and utilized industry leading XR technology to take audiences on a virtual ride on Maker.

In order to create a unique and completely immersive experience, Archer utilized movie production technology to bring its aircraft to life, an eVTOL industry first. The company built a 2,400 sq ft XR volume space that simulated a commercial flight and demonstrated how Archer will shape the next era of travel by transforming how people approach everyday life, work and adventure. By creating a mass shared simulation using the film industry's most cutting-edge technology, attendees were able to virtually ride Archer's aircraft, experiencing the next transportation revolution.
"Archer has a big, bold company vision and our approach to this milestone moment had to match that," said Louise Bristow, who leads Marketing and Communications for Archer and assembled the creative team. "We wanted to deliver an experience that went beyond the conventions of normal product launches and to bring together a unique group of partners to create something truly immersive for our audience."
"Maker's unveil has been years in the making and marks a pivotal juncture for the eVTOL industry and future of transportation," said Brett Adcock, co-founder and co-CEO of Archer. "Every day at Archer, we're working to build the future and we have never felt closer than we did introducing the world to Maker.
Adam Goldstein, co-founder and co-CEO of Archer added "We're excited to continue reaching new milestones and introducing our largest cities to the next generation of safe, sustainable travel."
Archer's new Chief Creative Officer Kenny Taht, was at the helm of the event's creative direction, drawing on over three decades of experiential design and television production to bring Maker to life. "True innovation requires inspiration, which is why the team at Archer put great emphasis on creating a ground-breaking, highly engaging moment for Maker's unveil," said Kenny Taht. "In order to progress UAM, continuous education is needed and, with this experience, we've helped introduce travellers to this new reality."
Maker's unveil is the latest example of Archer's continued momentum, setting the stage for the next phase of engineering and flight testing. With backing from the United Airlines commercial order and the recently announced merger with Atlas Crest Investment Corporation (NYSE: ACIC), the company is valued at $3.8 billion, Archer is in an excellent financial position to continue on its accelerated timeline toward commercial launch in 2024.



SAF ORDERS THREE H145S FOR EMS MISSIONS IN FRANCE



SAF Group will be operating three more five-bladed H145s for emergency medical services (EMS) in France. These three aircraft will be based in Grenoble, Valence, and Montpellier. They will complement the three H145s already ordered by SAF in 2018 and 2020, the first of which was delivered recently and will be deployed for EMS missions in Belgium.

SAF CEO Tristan Serretta says: "Introducing six new H145s in France and Belgium in just twelve months is in line with our strategy to increase the capacity of the growing number of EMS services that place their trust in us. This increase of our positioning is made possible by the level of performance and the versatility of this successful helicopter. SAF is determined to help demonstrate, together with the heads of emergency services, that having the right performance and at the right cost is key to saving lives".
Airbus Helicopters CEO, Bruno Even declared: "We are delighted that SAF has once again renewed its trust in Airbus Helicopters. This new contract highlights the lasting partnership between our two companies that has spanned more than two decades. The H145 is an ideal platform for EMS with the largest cabin in its class and unbeatable payload and is capable of undertaking the most demanding missions. We are happy that the five bladed H145 is gaining momentum in France and playing a key role in the modernization of the EMS fleet in the country."
SAF is a key actor of EMS in France and Europe. This French company already operates 55 Airbus helicopters. SAF's fleet includes a Super Puma, H135s and H125s. The H145 will bring increased capabilities for the EMS missions.
The new version of Airbus' best-selling H145 light twin-engine helicopter was unveiled at Heli-Expo 2019 in Atlanta in March. This latest upgrade adds a new, innovative five-bladed rotor to the multi-mission H145, increasing the useful load of the helicopter by 150 kg. The simplicity of the new bearingless main rotor design will also ease maintenance operations, further improving the benchmark serviceability and reliability of the H145, while improving ride comfort for both passengers and crew. The helicopter's high-mounted tail boom and wide opening clam-shell doors facilitate access to the H145's spacious cabin.
Today, Airbus has more than 1,470 H145 Family helicopters in service around the world, logging a total of more than six million flight hours. For EMS alone, there are more than 470 helicopters of the H145 family conducting air rescue missions worldwide.

BOMBARDIER DELIVERS FIRST GLOBAL 7500 AIRCRAFT IN INDONESIA



Bombardier is pleased to announce the arrival of the first Global 7500 business jet in Indonesia. This award-winning aircraft was recently delivered to an undisclosed customer based in Jakarta.

With a worldwide fleet numbering more than 50 aircraft, the Global 7500 business jet continues to exceed expectations and reinforce its position as the industry flagship. This unparalleled aircraft is also growing its presence in the Asia-Pacific region, with Global 7500 business jets now based in multiple countries including Japan, Australia, Taiwan and Malaysia.
Bombardier's entire portfolio is generating strong interest in the Asia-Pacific region, where a new generation of business jet users is emerging in the wake of the pandemic. With its refreshed Global family of large-cabin business jets and its best-selling Challenger platform, Bombardier is well-positioned to meet this growing demand.
"Global aircraft are designed to deliver the ultimate in luxury, performance and smooth ride over long-distance flights, making them ideally suited to customers in the Asia-Pacific region who are looking to connect far-flung city pairs," said Nilesh Pattanayak, Regional Vice President, Sales, Asia Pacific, Bombardier. "The ultra-long-range Global 7500 aircraft opens up a world of possibilities for convenient and productive travel."
The Global 7500 aircraft, with a maximum range of 7,700 nautical miles, can take passengers non-stop from Jakarta to Seattle, Singapore to San Francisco, Tokyo to New York and Melbourne to Los Angeles. Passengers can enjoy such long-distance flights in absolute comfort thanks to this aircraft's four spacious living areas and patented Nuage seating collection. Exclusive innovations such as the Soleil lighting system, designed to combat jet lag and the Smooth Flex Wing, delivering the smoothest ride, allow passengers to arrive refreshed and rejuvenated.
As more passengers look to business travel for convenience and peace of mind, the Bombardier Global 5500 and Global 6500 aircraft are also ideal for the Asia-Pacific market, featuring class-leading range, cabin size and the smoothest ride. With a 5,900 nautical-mile range, the Global 5500 aircraft can whisk passengers non-stop from Perth to Dubai, while the Global 6500 aircraft, featuring a 6,600 nautical-mile range, can connect Singapore to Rome nonstop.
All Bombardier Global aircraft are equipped with Pur Air, a sophisticated air purification and circulation system with an advanced and scientifically proven HEPA filter, capturing up to 99.99% of allergens, bacteria and viruses.
Bombardier is significantly expanding its customer service footprint in the Asia-Pacific region with the creation of a state-of-the-art customer service centre at Essendon Fields Airport in Melbourne, Australia. The facility is targeted to be operational in 2022. Meanwhile, the ambitious expansion of Bombardier's Singapore Service Centre is ongoing. This site at the Seletar Aerospace Park will quadruple the operation's footprint, making it the largest OEM-owned business aviation maintenance facility in the region.




AUSTRALIA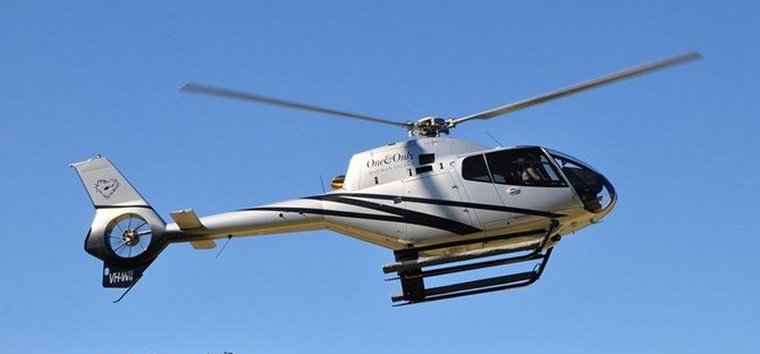 The ATSB's systemic investigation into an accident involving a Eurocopter (Airbus Helicopters) EC120B helicopter which collided with the water found that the pilot experienced a significant loss of directional (yaw) control during a go-around. The EC120B, registered VH-WII and operated by Whitsunday Air Services, had departed Hamilton Island Airport, Queensland on 21 March 2018 on a charter flight to a pontoon at Hardy Reef, on the Great Barrier Reef, with a pilot and four passengers onboard.
The pilot and two of the three rear-seat passengers evacuated from the helicopter with minor injuries. Although the impact forces were survivable, the other two passengers (seated in the front left and middle rear seats) were unconscious following the impact and did not survive the accident. The helicopter later sank and was unable to be recovered.
While on a slow approach-to allow several birds to disperse-the pilot yawed the helicopter to the left with the intent to land on one of two positions on the pontoon. This subjected the helicopter to about a 20-knot crosswind from the right. When approximately 7 feet above the pontoon, the pilot noticed a message illuminate on the helicopter's vehicle engine multifunction display (VEMD) and elected to conduct a go-around.
In the two weeks prior to the accident, the pilot (with a total of about 1,300 flying hours) had obtained a new type rating to fly the EC120B. While accumulating 11 hours experience in command on the EC120B, the pilot had also flown about 16 hours in another and technically different helicopter type (a Bell 206L3).
The ATSB found that the safety margin associated with landing on the pontoon at Hardy Reef was reduced due to a combination of factors, each of which individually was within relevant requirements or limits. These factors included the helicopter being close to the maximum all-up weight; the helicopter's engine power output being close to the lowest allowable limit; the need to use high power to make a slow approach in order to disperse birds from the pontoon and the routine approach and landing position on the pontoon requiring the pilot to yaw left into a right crosswind (in a helicopter with a clockwise-rotating main rotor system).
The investigation also identified that the passengers were not provided with sufficient instructions on how to operate the emergency exits. The passenger seated next to the rear left sliding door was unable to locate the exit operating handle during the emergency and as a result, the evacuation of passengers was delayed until another passenger was able to open the exit. The nature of the door handle's design was such that its purpose was not readily apparent and the placard providing instructions for opening the sliding door did not specify all the actions required to successfully open the door.
During the go-around and when about 30-40 feet above the water, the helicopter suddenly and rapidly yawed to the left. After unsuccessful control inputs to recover from the rapid left yaw and with limited time, the pilot was unable to conduct a controlled ditching and the helicopter collided with water. The helicopter's emergency pop-out floats were not deployed and the helicopter almost immediately rolled inverted and rapidly filled with water.



South Africa, Virginia Airport, Durban, KZN: A Piper PA-46-350P Malibu Mirage suffered a nose landing gear collapse after overrunning the runway after an aborted take-off. There were no injuries.
Czech Republic, near Jickovice: A North American T-28B Trojan operated by the Flying Bulls Salzburg with two on board crashed when returning from an airshow in Leszno, Poland when it crashed in a field near Jickovice, Czech Republic. One of those on board did not survive. The aircraft was damaged beyond repair.
USA, near Likely, Modoc County, CA: A kit built SkyStar Kitfox Series 6 with two on board failed to gain enough altitude during an attempted take-off from a ranch runway near Likely, Modoc County, California. One of the two occupants onboard was fatally injured in the subsequent crash.
Canada, near Grand Forks Airport, BC: A Rans S-6ES Coyote II following a loss of engine power force landed to an orchard shortly after take-off from near Grand Forks Airport (ZGF/CZGF), Grand Forks, British Columbia. The airplane sustained substantial damage and the sole pilot onboard received minor injuries.

France, near Thoiry, Massif des Bauges, Savoie: A Flight Design CTLS with two occupants was damaged beyond repair when it crashed under unknown circumstances near Thoiry, Massif des Bauges, Savoie. There was a post impact fire. Both occupants died in the crash.
USA, Conway Municipal Airport, AR: A Lamay-O Inc Opf Sparrow Flying Club Cirrus SR20 GTS with one on board suffered substantial damage when it crashed shortly after take-off from Conway Municipal Airport, Arkansas. The pilot was taken to a local hospital for treatment but succumbed to his injuries.

Canada, Dutton, ON: A kit build Rutan Long-EZ with one on board impacted an under-construction residential house in Dutton, Ontario. The aircraft sustained substantial damage and the sole pilot onboard was seriously injured.
USA, Industry Air Park, Baltimore, OH: An Aeronca 11AC Chief with two occupants sustained unreported but apparent substantial damage subsequent to impact with a storage building structure during a landing at Industry Air Park Baltimore, Ohio. The two occupants onboard received unspecified injuries.

USA, south of Denver-Centennial Airport, CO: The pilot of a kit built Lancair Evolution who was on board with his wife and their dog was on approach to Denver-Centennial Airport when he reported problems with the autopilot. The ATC tower observed the plane doing a 360 and clipped power lines before impacting terrain and busting into flames. There were no survivors.
USA, Gila Bend Municipal Airport, Maricopa County, AZ: A kit-built Quickie Q2 Tri-Q with two occupants impacted the terrain shortly after take-off from Gila Bend Municipal Airport, Maricopa County, Arizona. The aircraft was destroyed by the ensuing post-crash fire and one of the two occupants onboard was fatally injured. The second occupant onboard was seriously injured.




27 JUNE 1923

Capt L H Smith and Lt J P Richter made the first in-flight aerial refuelling by the United States Army Air Service de Havilland DH-4 B over Rockwell Field, San Diego. They also set a distance record of 3,293 miles covered in the flight.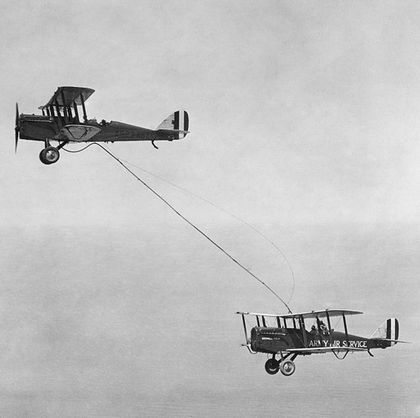 Aerial refuelling, is the process of transferring aviation fuel from one aircraft (the tanker) to another (the receiver) during flight. The two main refuelling systems are probe-and-drogue, which is simpler to adapt to existing aircraft and the flying boom, which offers faster fuel transfer, but requires a dedicated boom operator station.
Some of the earliest experiments in aerial refuelling took place in the 1920s when two slow-flying aircraft flew in formation, with a hose run down from a hand-held fuel tank on one aircraft and placed into the usual fuel filler of the other. The first mid-air refuelling, based on the development of Alexander P. de Seversky, between two planes occurred on 27 June 27 between two Airco DH-4B biplanes of the United States Army Air Service.
An endurance record was set by three DH-4Bs (a receiver and two tankers) on 27 t0 28 August 1923, in which the receiver airplane remained aloft for more than 37 hours using nine mid-air refuelling to transfer 687 US gallons (2,600 L) of aviation gasoline and 38 US gallons (140 L) of engine oil.
The same crews demonstrated the utility of the technique on 25 October 1923, when a DH-4 flew from Sumas, Washington, on the Canada-United States border, to Tijuana, Mexico, landing in San Diego, using mid-air refuelling at Eugene, Oregon and Sacramento, California.

PLEASE GO TO .
www.youtube.com/channel/UCCuRVZAGodT6sztTeXBGeMw
and subscribe to our YouTube channel