Compiled by Willie Bodenstein





WINGS AND WISHES SOARS WITH FLYSAFAIR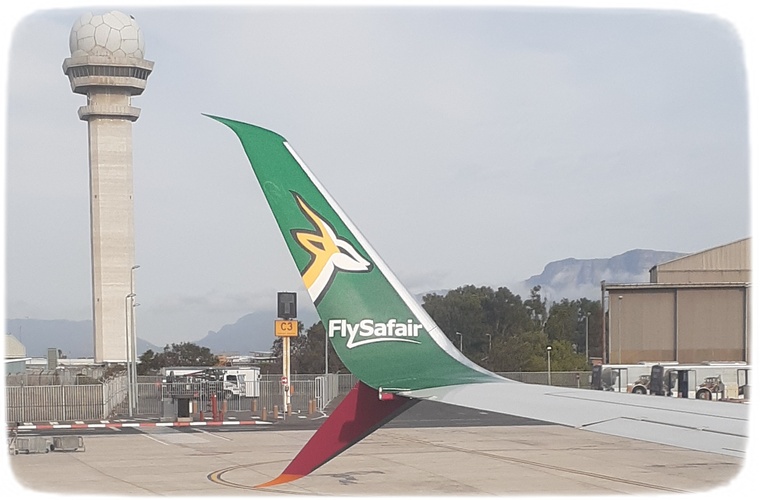 The last year and a bit have been challenging for many, however, despite all that South Africans have endured, there are pockets of hope and recovery. As the world paused, many businesses, individuals and communities were left in unfathomable predicaments. The impact of the lockdown was undoubtedly felt throughout FlySafair's operations, but the airline was reminded of how this global crisis affected others like local NGO Wings and Wishes in life-threatening ways.
With provincial borders closed and flights grounded, countless families were still reliant on Wings and Wishes to ferry their chronically and critically ill children to specialist appointments around the country. Despite the hurdles the pandemic put in its way, the NGO funded over a thousand trips in 2020.
"The tenacious determination that the Wings and Wishes team has for everything they do is one of the reasons we wanted to partner with them," says Kirby Gordon, CMO at FlySafair. "As an operator in the travel sector that is taking longer to bounce back, we see a lot of our same fighting spirit in the NGO and we wanted to be a part of that."
Wings and Wishes' primary mandate is to fund and arrange the transport of children in need of specialist healthcare. To further support these efforts, FlySafair has pledged to cover the costs of 320 one-way flights over the next 10 months.
"At Wings and Wishes we are all about building relationships. Our work is based on the partnerships that we have with medical staff at the various hospitals throughout South Africa, the service providers like FlySafair who get us there, and the families that make it all worth it," says Inge Human, Manager at Wings and Wishes.
Human went on to say that the NGO facilitates the travel of three children and accompanying adults a day on average. To make the journey seem less daunting, Wings and Wishes gives young passengers a care pack of goodies such as toiletries, pyjamas, essentials and activities for their hospital stay.
The commitment Wings and Wishes makes to families spans years with continued support for travel costs until the age of 18. Many of the children registered with the NGO are repeat patients who are in need of ongoing care to overcome their condition.
"The last year has given us a moment to pause and reflect on what we can do to make a meaningful difference at a time when it's needed most," says Gordon. "Wings and Wishes is an incredibly unique NGO filling a very urgent and pressing need that we are so suited to help with."
"We are very excited about our relationship with FlySafair. Their assistance will ensure that many children get the lifesaving treatment they need," says Human. "By sponsoring flights throughout South Africa, the airline is giving wings to children who wish to get better and lead a healthy, normal life."
About Wings and Wishes:
At Wings and Wishes, we are dedicated to transporting critically and chronically ill children to receive the lifesaving specialist medical care that they require. Our objective is to provide transport for children, who are deemed financially less fortunate, to receive life-saving and/or specialised medical treatment which they require - anywhere in Africa.
In addition, we provide compassionate and professional assistance to these children and their families, ensuring they have immediate access to the essential medical services which they need, and which are not available to them at a local level.

BRITISH AIRWAYS TO BE FLYING THE BRITISH & IRISH LIONS AND SPRINGBOKS DURING THE UPCOMING TOUR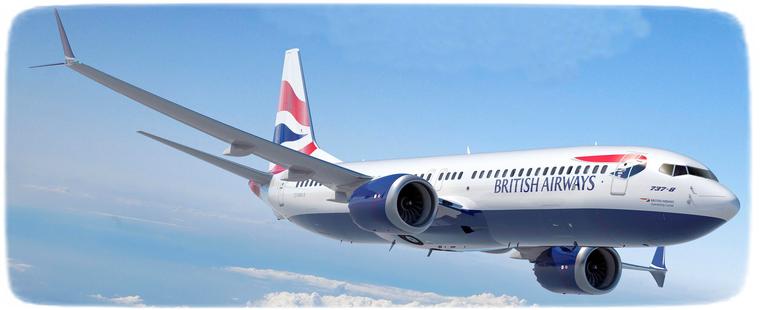 British Airways has announced that it will fly the 37-man British & Irish Lions squad to South Africa on June 27 for the eagerly awaited Lions Tour. The team will be heading directly to Johannesburg on a charter flight from Edinburgh, following The Vodafone Lions 1888 Cup clash against Japan at BT Murrayfield Stadium.
The Lions' arrival in Johannesburg sees the best players from England, Ireland, Scotland and Wales embarking on an eight-game Tour of South Africa, including three Tests against current World Champions, the Springboks. Both The British & Irish Lions and Springboks will be carried across the country to matches by British Airways' franchise partner, Comair.
Glenn Orsmond, Comair CEO, said: "We look forward to welcoming the British & Irish Lions and Springboks on board our British Airways (operated by Comair) flights for the upcoming tour. The British & Irish Lions tours are unique in bringing together rugby fans from around the globe to witness the age-old rivalry between two of the greatest teams in world rugby, the Springboks against the British and Irish Lions. We are excited and honoured to be part of this great event."
British Airways is also reinforcing its commitment to sport as the airline is currently the Principal Partner to Twickenham Stadium, Official Airline Partner to England Rugby and has been the Official Airline Partner to Team GB and Paralympics GB since 2008.
The British & Irish Lions have toured South Africa on 13 previous occasions, with the first Tour taking place in 1891. In that time, the Lions have won four Test series, lost eight with one drawn. Their overall record against the Springboks is played 46, won 17, lost 23 and drawn six.
ETHIOPIAN STARTS OPERATING FLIGHTS WITH FULLY VACCINATED CREW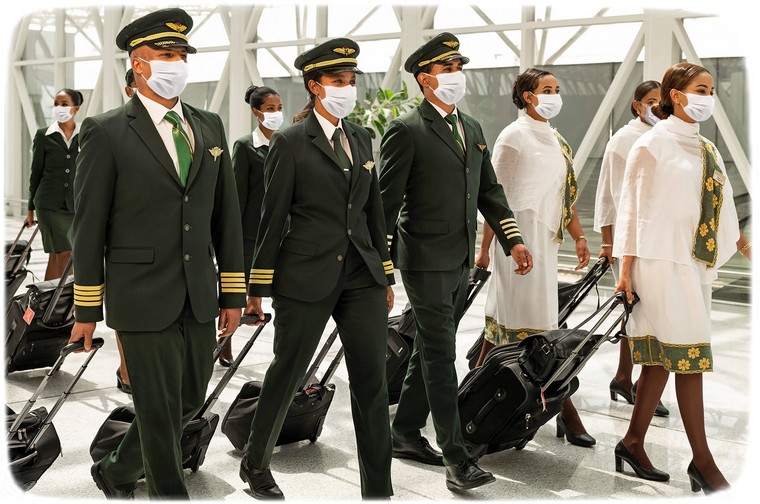 Ethiopian Airlines Group, Africa's largest carrier, has started operating flights with fully vaccinated crew against COVID-19 to keep travellers safe in light of the pandemic.
Ethiopian Airlines Group CEO Mr. Tewolde GebreMariam said "We are pleased to operate flights with fully vaccinated crew - a significant step in protecting our employees' and customers' health safety. We are encouraged by the increasing number of passengers travelling for business, VFR and tourism supported by the confidence of vaccination across the world. We have been squarely focused on working very hard to ensure the safety of our staff and passengers since the pandemic broke out and this is another testament to our continued commitment. We have bought and imported more than 37,000 vaccine shots for our employees and stakeholders."
Ethiopian has been rigorously implementing COVID-19 precautionary measures including the launch of its own testing and isolation centre and digitization of its operation among others. It has been at the forefront in the fight against the pandemic carrying essential medical supplies and vaccines across the globe as well as repatriating stranded people back to their home.
DELTA RESTORES SERVICE TO ALL PRE-COVID AFRICA MARKETS WITH JOHANNESBURG RETURN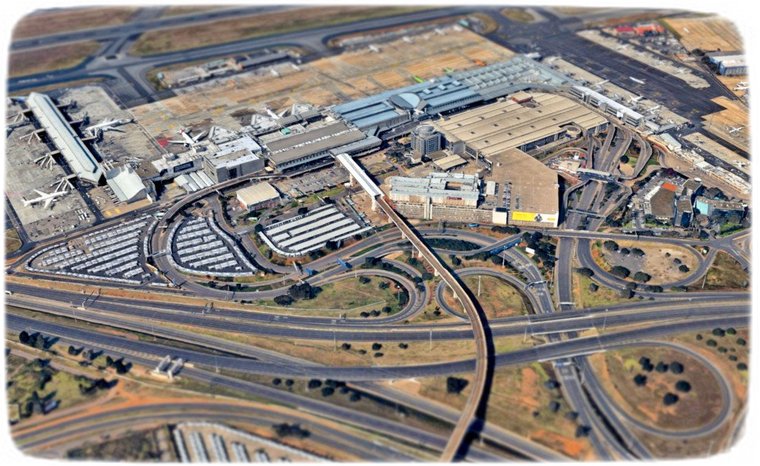 Delta will make its return to South Africa with nonstop service between Atlanta and Johannesburg beginning Aug. 1, more than a year after pausing flights due to COVID-19. The return of the airline's longest nonstop flight marks the milestone of Delta restoring service to all its pre-COVID markets in Africa, which include Accra, Ghana; Dakar, Senegal and Lagos, Nigeria.
"Delta has proudly served South Africa for more than 15 years and we're thrilled to return to a market so highly sought after by tourists," said Joe Esposito, S.V.P. - Network Planning. "Two-thirds of Americans report making summer travel plans and with demand growing rapidly alongside U.S. vaccination rates, we're bringing back more flights and destinations to deliver on their anticipation to get back out in the world and reclaim the joy of travel."
Whether customers are looking to explore historical sites, travel along the country's stunning coastline or go on safari, Delta's local interline partners also provide convenient connections to Cape Town. Delta's flights to Johannesburg are operated in partnership with Air France, KLM and Virgin Atlantic. Customers can also reach South Africa via Delta's European hubs in Paris and Amsterdam.
INTRODUCING THE AIRBUS A350-900
Johannesburg flights will operate using the Airbus A350-900, marking the debut of one of Delta's newest aircraft in its fleet between the U.S. and South Africa. The aircraft features the award-winning Delta One Suites and Delta Premium Select cabins, large seat-back entertainment screens and high-capacity overhead bins, among other enhancements.
Customers flying to South Africa will also enjoy a breadth of new onboard content this summer, including 21 new feature films like the critically-acclaimed "Nomadland," "Judas and the Black Messiah" and "The Father."
For meal service, Delta offers uniquely crafted menu items that reflect regional flavours. All customers will receive a choice of entrée alongside an appetizer and dessert in addition to a full bar selection or soft drink. Customers seated in the main cabin can enjoy dishes like beef stew with jollof rice, fried plantains and sautéed spinach, or Malay chicken curry with coconut rice and ginger-infused French green beans. Those traveling in Delta One can pre-order their meal choice on flights between the U.S. and South Africa and can look forward to favourites such as Peri Peri chicken or grilled prawns with jasmine rice.
CONNECTIONS ACROSS AFRICA
Delta is currently operating nearly 20 weekly flights to its African markets, including daily service between Atlanta and Lagos as well as between New York-JFK and Accra and five-times-a-week service between JFK and Dakar. On July 8, Delta will resume four-times-weekly service to Lagos from JFK as well.
With Delta's partners operating across the continent, customers can make one-stop connections to 42 additional markets in 32 countries.
Customers are encouraged to review entry requirements for their destination, including whether a vaccination certificate or negative COVID-19 test is required. Find details on the Delta Discover Map on delta.com or check the official government website of the destination country.
AIR CANADA INAUGURATES NEW SERVICE FROM MONTREAL TO CAIRO, EGYPT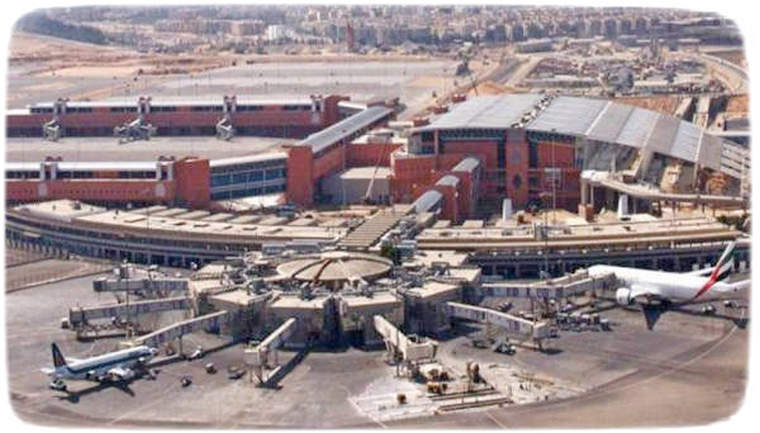 Air Canada operated today its first non-stop service between Montreal and Cairo, serving the large Egyptian community established in Montreal and throughout North America and providing an additional gateway to Africa.
"Air Canada is pleased to offer its first scheduled flights to Egypt. We are strategically rebuilding our international network by adding new routes that support leisure and visiting friends and family travel. With few non-stop options to Egypt from North America, we see opportunities to launch new non-stop flights to Cairo from Montreal where there is an established Egyptian community. We have also built convenient connections to and from our Cairo flights from across Canada and the US at our Montreal hub. This new route shows our commitment to rebuild our international network and our Montreal hub, which have been dramatically affected by the COVID-19 pandemic," said Mark Galardo, Senior Vice President, Network Planning and Revenue Management.
Air Canada is offering three flights per week on a 255-seat Boeing 787-8 Dreamliner featuring a choice of three cabins of service: Air Canada Signature Class, Premium Economy and Economy class.
Customers can also collect and redeem Aeroplan miles through Canada's leading loyalty program when travelling with Air Canada and eligible customers have access to priority check-in, Maple Leaf Lounges, priority boarding and other benefits, where available. Our Maple Leaf Lounge located at the domestic gates in Montreal-Trudeau reopened on June 23, providing access to eligible customers on domestic and international flights.
Flights are timed to optimize connectivity across Air Canada's network and an expanded codeshare cooperation with Star Alliance partner Egyptair will also allow Air Canada customers to conveniently connect to several points in Egypt (Aswan, Hurghada, Luxor and Sharm El Sheikh), Bahrain and Jordan (Amman).
Air Canada's new refund policy allows you to book with confidence, offering customers options of refunds, an Air Canada Travel Voucher or equivalent value in Aeroplan Points with a 65% bonus should the airline cancel or reschedule a flight by more than three hours, is applicable to all tickets purchased.

BOEING COMPLETES SUCCESSFUL 737-10 FIRST FLIGHT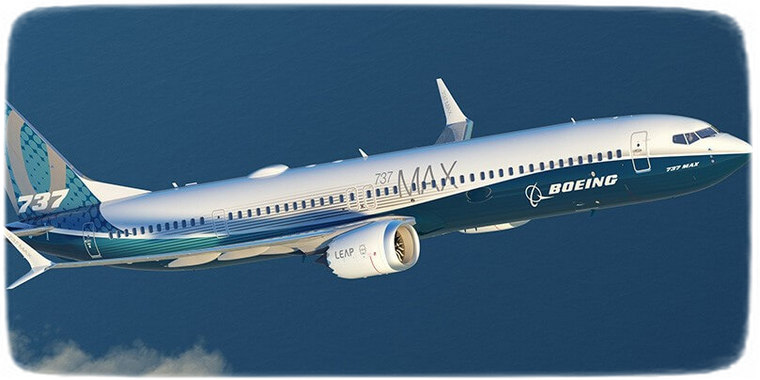 Boeing's [NYSE: BA] 737-10, the largest airplane in the 737 MAX family, has completed its successful first flight. The airplane took off from Renton Field in Renton, Washington, at 10:07 a.m. and landed at 12:38 p.m. at Boeing Field in Seattle.
"The airplane performed beautifully," said 737 Chief Pilot Capt. Jennifer Henderson. "The profile we flew allowed us to test the airplane's systems, flight controls and handling qualities, all of which checked out exactly as we expected."
The flight was the start of a comprehensive test program for the 737-10. Boeing will work closely with regulators to certify the airplane prior to its scheduled entry into service in 2023.
"The 737-10 is an important part of our customers' fleet plans, giving them more capacity, greater fuel efficiency and the best per-seat economics of any single-aisle airplane," said Stan Deal, president and CEO of Boeing Commercial Airplanes. "Our team is committed to delivering an airplane with the highest quality and reliability."
The 737-10 can carry up to 230 passengers. It also incorporates environmental improvements, cutting carbon emissions by 14 percent and reducing noise by 50 percent compared to today's Next-Generation 737s.
EMIRATES BOOSTS OPERATIONS IN JORDAN AND INTRODUCES SECOND DAILY A380 SERVICE TO AMMAN DURING JULY AND AUGUST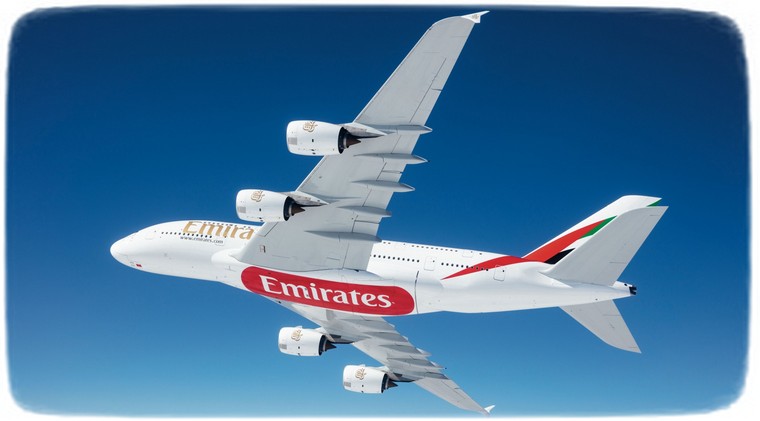 Emirates will be ramping up operations to Jordan during the summer with the introduction of double daily A380 services during the months of July and August. The airline will operate a second daily A380 service to Amman, from 15-20 July 2021 ahead of the Eid Al Adha period. Emirates will also operate double daily A380 services from 10-31 August. The move to boost capacity by introducing a second A380 service between Dubai and Amman during these periods was driven by high forecasted passenger demand. The double daily A380 services to Amman also demonstrate the airline's commitment to adapting its operations to better serve customers.
Emirates will also increase flights between Dubai and Amman from 12 to 14 weekly, from 1 July.
Mohammad Lootah, Emirates' Area Manager for Jordan said: "The introduction of a second A380 service to Amman during the Eid Al Adha period and in August means more of our customers will have the opportunity to experience our industry-leading products onboard which will also enhance choice and travel preferences as they plan their journeys to and from Dubai and beyond to popular destinations for Jordanian travellers. Jordan is an important destination for Emirates and we will continue to look at ways to grow our operations in the market to serve our customers better."
From 15-20 July 2021, and from 10-31 August 2021, Emirates flights EK 905 and 906 will be operated with an Airbus A380 in a three-class configuration, featuring 14 luxurious First-Class suites, 76 lie flat Business Class seats and 420 generously pitched Economy Class seats. Passengers in all classes will enjoy over 4,500 channels of films, TV shows, music and games, with an impressive selection of Arabic content, through ice, Emirates' award-winning inflight entertainment system. What's more, First and Business Class passengers can enjoy the Emirates Onboard Lounge, where they can safely network and enjoy the signature Emirates experience.
Since it safely resumed tourism activity in July 2020, Dubai remains one of the world's most popular holiday destinations. The city is open for international business and leisure visitors. From sun-soaked beaches and heritage activities to world class hospitality and leisure facilities, Dubai offers a variety of world-class experiences. It was one of the world's first cities to obtain Safe Travels stamp from the World Travel and Tourism Council (WTTC) - which endorses Dubai's comprehensive and effective measures to ensure guest health and safety.
Emirates remains focused on taking various steps to ease travel and has been a leader in introducing initiatives in cooperation with health authorities and organisations to protect the health of customers and to ensure their safety. Emirates introduced measures on the ground throughout all touchpoints and onboard to provide its passengers with the highest safety and hygiene standards at every step of the journey. The airline has also recently introduced contactless technology to ease the customer journey through Dubai airport.
CATHAY PACIFIC RELEASES TRAFFIC FIGURES FOR MAY 2021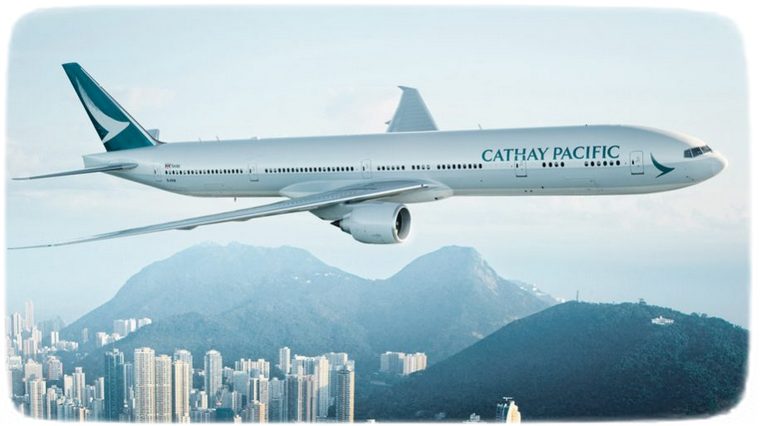 Cathay Pacific has released its traffic figures for May 2021 that continued to reflect the airline's substantial capacity reductions in response to significantly reduced demand as well as travel restrictions and quarantine requirements in place in Hong Kong and other markets amid the ongoing global COVID-19 pandemic.
Cathay Pacific carried a total of 24,006 passengers last month, an increase of 30% compared to May 2020, but a 99.2% decrease compared to the pre-pandemic level in May 2019. The month's revenue passenger kilometres (RPKs) rose 24.5% year-on-year, but were down 98.9% versus May 2019. Passenger load factor decreased by 2.9 percentage points to 26.7%, while capacity, measured in available seat kilometres (ASKs), increased by 38%, but remained 96.5% down on May 2019 levels. In the first five months of 2021, the number of passengers carried dropped by 97.3% against an 88.6% decrease in capacity and a 97% decrease in RPKs, as compared to the same period for 2020.
The airline carried 92,394 tonnes of cargo and mail last month, a decrease of 6.4% compared to May 2020. The month's revenue freight tonne kilometres (RFTKs) fell 16.9% year-on-year. The cargo and mail load factor increased by 7.5 percentage points to 81%, while capacity, measured in available freight tonne kilometres (AFTKs), was down by 24.5%. In the first five months of 2021, the tonnage fell by 23.2% against a 37.3% drop in capacity and a 25.5% decrease in RFTKs, as compared to the same period for 2020.
Cathay Pacific Group Chief Customer and Commercial Officer Ronald Lam said: "We have begun cautiously adding more flights and destinations to our schedule. There was a small 6.6% month-on-month increase in passenger capacity in May with the resumption of services to Fuzhou, Hangzhou and Dubai. Nevertheless, we still operated only 3.5% of the capacity that we operated prior to the pandemic in May 2019. Average daily passenger numbers remained low at 774, while load factor, despite reaching its highest point since June 2020, was still only 26.7%.
"We saw increasing demand for our UK services throughout the month. On 8 May, we operated our first scheduled flight from London since December last year. Meanwhile, our flights to London saw improved demand mostly driven by sales from Hong Kong and the Chinese mainland. Our US routes also benefitted from our customers from these markets, in particular our New York route, which recorded better-than-average load factors.
"Unfortunately, demand was weaker in our other markets. The ban on flights from the Philippines to Hong Kong was extended as new COVID-19 cases emerged in Taiwan, impacting demand.
AIR FRANCE TODAY WELCOMES ITS 10TH AIRBUS A350 OUT OF THE 38 ORDERED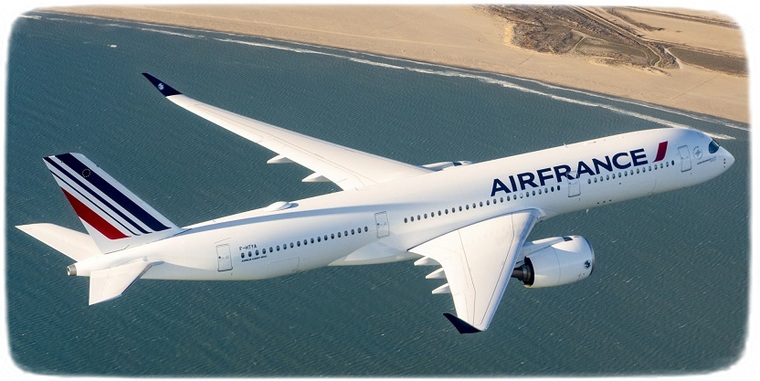 The Airbus A350 is the new jewel in Air France's long-haul fleet. With CO2 emissions reduced by 25% compared to previous-generation aircraft, it is a powerful way of reducing the airline's environmental footprint
Air France recently took delivery of its 10th Airbus A350-900. The aircraft, registration F-HTYK, rolled off the Airbus assembly line in Toulouse and took off for Paris-Charles de Gaulle, where it will operate on the airline's long-haul routes.
The front of the fuselage bears the name 'Aubusson', named after the town in the Creuse region of France, whose tapestries are famous throughout the world. Since 2019 and the delivery of the first Airbus A350, Air France has resumed the legendary tradition of naming its aircraft after French cities. Aubusson is the 46th city to be honoured in this way.
In a few days' time, 'Aubusson' will be joined at Paris-Charles de Gaulle by 'Cannes', Air France's 11th Airbus A350. With the Airbus A350-900, Air France is accelerating the change towards more sustainable air transport, in line with its HORIZON 2030 commitments.
The latest-generation A350 consumes 25% less fuel than previous-generation aircraft (i.e. 2.5 litres per passenger per 100 kilometres) thanks in particular to the use of 67% lighter materials: 53% composites and 14% titanium. Its noise footprint is also reduced by 40%.
Between now and 2025, Air France will take delivery of 38 Airbus A350s to modernize its long-haul fleet.
The renewal of the short and medium-haul fleet will begin in September, with the delivery of the first of the 60 Airbus A220s ordered by Air France.
The Air France Airbus A350 has 324 seats, with 34 in the Business cabin, 24 in the Premium Economy cabin and 266 in the Economy cabin.
QATAR AIRWAYS' U.S. NETWORK EXPANDS TO OVER 100 WEEKLY FLIGHTS WITH FOUR DESTINATIONS OFFERING DOUBLE DAILY SERVICES


Qatar Airways continues to strengthen its position as the leading international airline connecting the United States with Africa, Asia and the Middle East. The national carrier of the State of Qatar is proud to announce that it will expand its U.S. services to more than 100 weekly flights across its 12 gateways. These increased services are in addition to the carrier also expanding flights to several of its key global leisure destinations including Cape Town, Maldives, Phuket, Seychelles and Zanzibar, providing more flexible summer holiday travel options via the Best Airport in the Middle East, Hamad International Airport. Four U.S. gateways - Chicago, Los Angeles, New York and Washington D.C. - will offer double daily flights, Dallas-Fort Worth increases to 12 flights per week with Boston, Miami, Philadelphia, San Francisco and Seattle all growing to a daily service.
Qatar Airways Group Chief Executive, His Excellency Mr. Akbar Al Baker, said: "We are proud to be the leading international airline providing safe and reliable connectivity to and from the United States via the only 5-Star COVID-19 Safety Rated Airport in the Middle East, Hamad International Airport. Qatar Airways has remained committed to the United States throughout the pandemic, adding two new destinations with San Francisco and Seattle, while increasing flights across our 12 gateways to optimise connections with our growing network of over 140 destinations.
"We have also strengthened our strategic partnerships with Alaska Airlines, American Airlines and JetBlue enabling us to connect to more cities and airports in the United States than any other airline, providing U.S. travellers the most convenient way to travel internationally this summer. As we continue to lead the recovery of international travel, we will remain focused on providing seamless, safe and reliable connectivity to our millions of passengers and providing an unparalleled travel experience every time they choose to fly with Qatar Airways."
As travellers return to the skies with Qatar Airways, they can take comfort knowing that they are travelling with the only airline in the world that has, together with its state-of-the-art global hub Hamad International Airport, achieved four 5-Star Skytrax ratings - including the prestigious 5-Star Airline Rating, 5-Star Airport Rating, 5-Star COVID-19 Airline Safety Rating and 5-Star COVID-19 Airport Safety Rating. These achievements highlight Qatar Airways' commitment to providing our passengers with an industry-leading experience at every point of their journey, including the highest possible level of health and safety standards that safeguard the wellbeing of our passengers both on the ground and in the air.

PLEASE GO TO
www.youtube.com/channel/UCCuRVZAGodT6sztTeXBGeMw
and subscribe to our YouTube channel