04.07.2021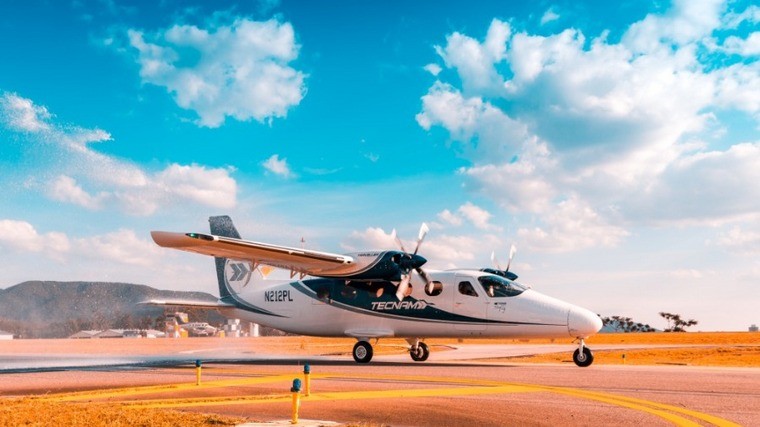 This May, three pilots flew from Ft. Lauderdale, FL, to Buenos Aires, Argentina, to introduce the first Tecnam P2012 Traveller to the Argentinian market.
Three pilots, five days, 5,000 miles. Here is the diary of their journey. Hop onboard!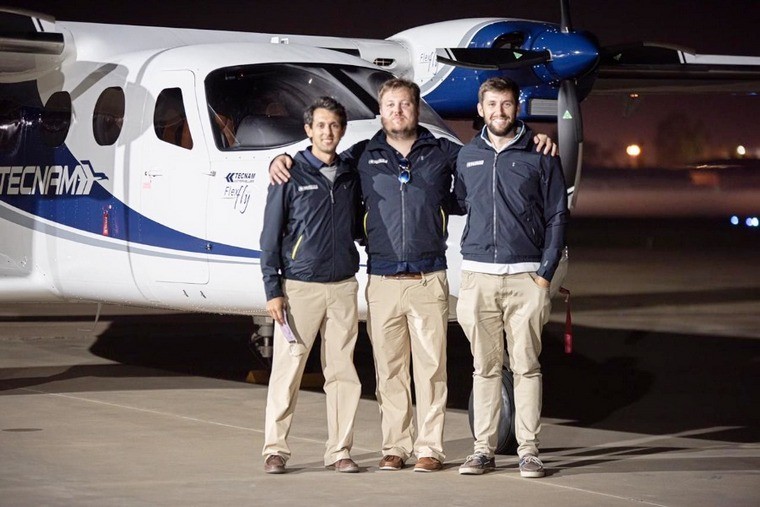 Let us introduce you to your pilots: Matias Longhi, Stefano Iannone, Maximiliano Ruiz (left to right).

Our pilots have known each other and collaborated for years.
Maximiliano owns a Tecnam, the P92 to be exact and has a lot of ferry experience.
Matias used to work for the Argentinian Air Force. Today, he is a renowned pilot and instructor, as well as a Tecnam connoisseur.
So, on this journey, we are in safe and friendly hands.
Meet your aircraft: The P2012 Traveller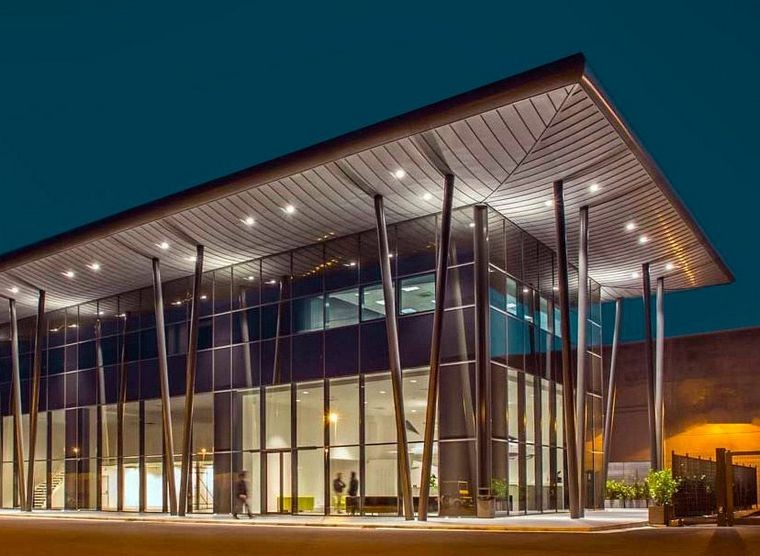 To prepare for this trans-American journey, our pilots gathered in Capua, Italy - Tecnam's headquarters (HQ).

Tecnam's Chief Sales Officer Walter Da Costa gave them a tour of the facilities, introducing them to the engineers and test pilots.
Shortly after, the orientation began. Our pilots received a formal introduction to the P2012 Traveller.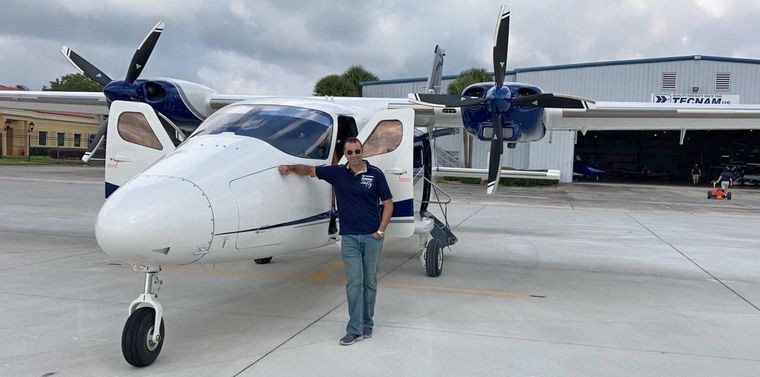 Welcome to the P2012 Traveller - twin engine, 11-seater.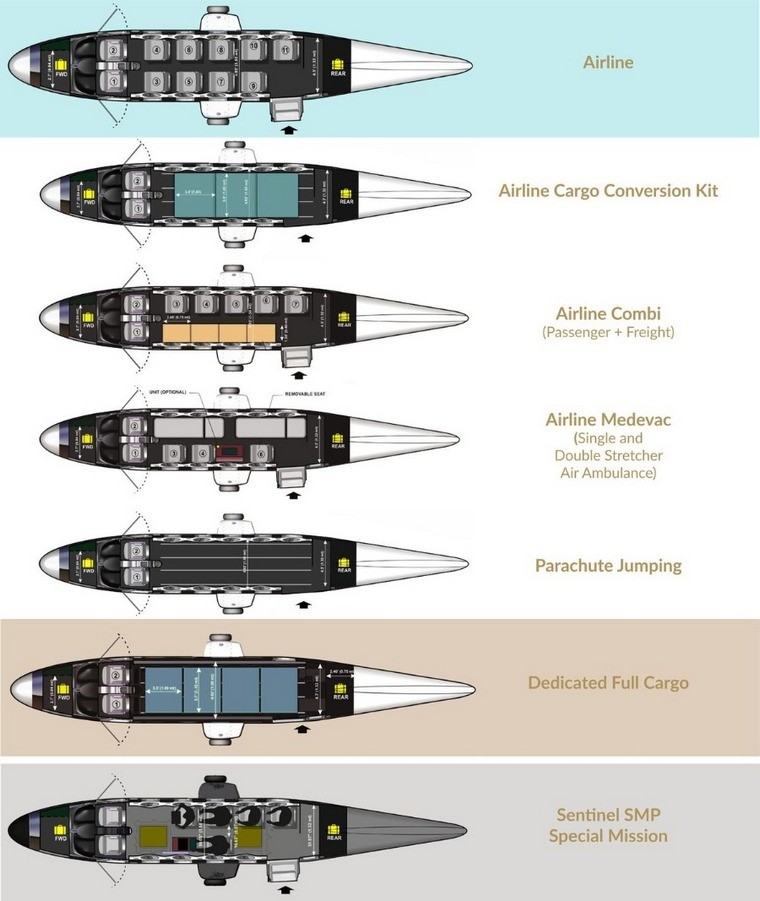 P2012 Traveller Configuration Chart.


P2012 Traveller is perhaps best known for its versatility. The model has five configurations and can easily transform from airline to cargo, air ambulance, parachute jumping and other purposes, making it popular among private and corporate owners alike.
These configurations take minutes to apply - a feature that will come in handy on our trans-American journey. But, more on that later.
Twin powered by Lycoming piston engines and with all-weather certification, this aircraft was designed to transport passengers and cargo with maximum efficiency and safety.
750 horsepower, 359 km/h maximum cruise, 1,760 km maximum range; let's put P2012 Traveller to the test.
Day 1: The sun is kind as we take off for the Bahamas & the Dominican Republic. Across the pond, in sunny Florida, our journey officially begins.
Having met with Tecnam's Managing Director Giovanni Pascale Langer, the crew gathers, ready for an adventure.
The P2012 Traveller Journey across South America begins in Ft Lauderdale, USA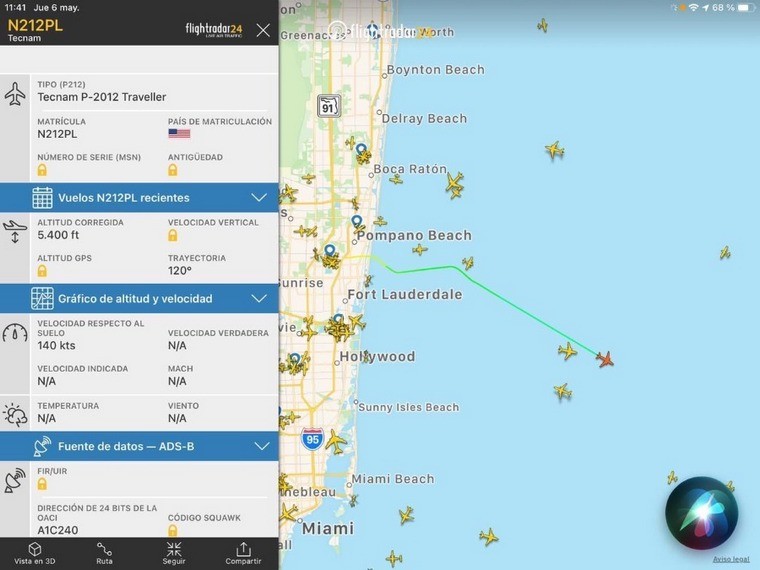 Our first day has us visit the Bahamas and the Dominican Republic, so much to look forward to!

With an ocean of tropical bliss ahead us, we decide to savour every moment. And it's easy to do so. The weather conditions are ideal from the get-go. The runway is open and inviting. We slide across the smooth concrete and glide up into the air effortlessly.
Leaving Florida, we are left in awe. As the engine purrs and the city glistens below us, we all realize the enormity of the adventure ahead of us. 5,000 miles. It finally starts to sink in.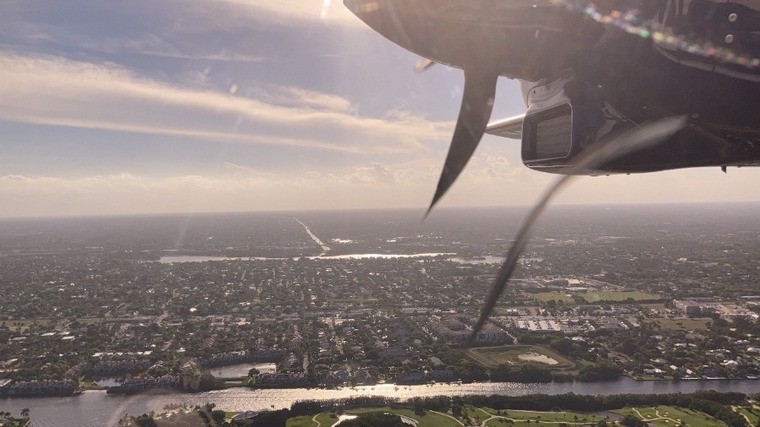 The view of Florida coast from P2012 Traveller aircraft.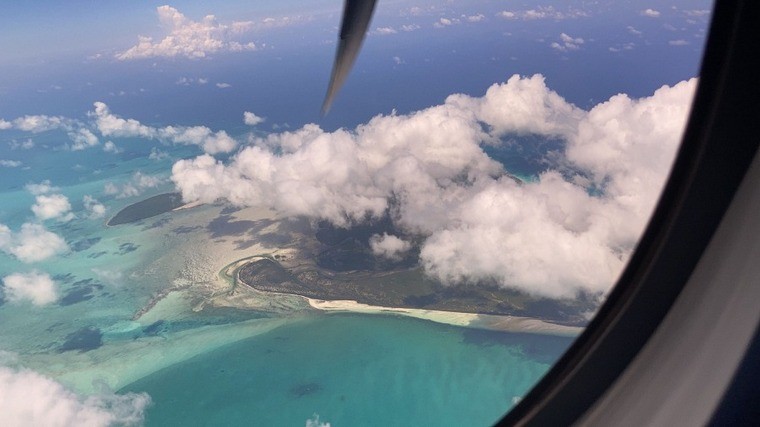 Before long, we are flying over the Bahamas' turquoise waters and scattered islands.

After a brief stop in Providenciales, Turks and Caicos, we head to Santo Domingo, Dominican Republic. This is our last destination today.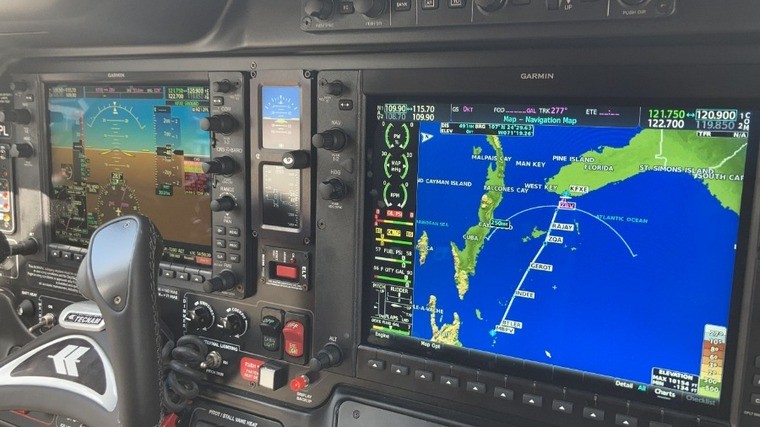 P2012 airplane dashboard showing the course through the Turks and Caikos.

We arrive in the late afternoon at El Higuero International Airport.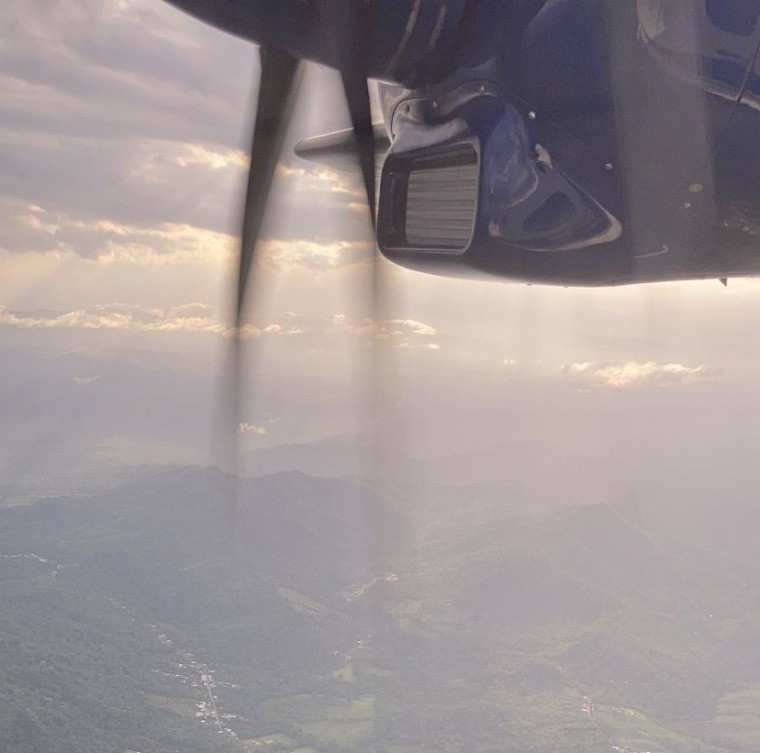 Flying over Turks and Caicos.

Day 2: Buckle Your Seatbelts! We glide through IFR conditions on our way to Guyana. Today, our goal is to reach Georgetown, Guyana, via the British Virgin Islands and Grenada.
We fuel up at the Maurice Bishop International Airport in Grenada.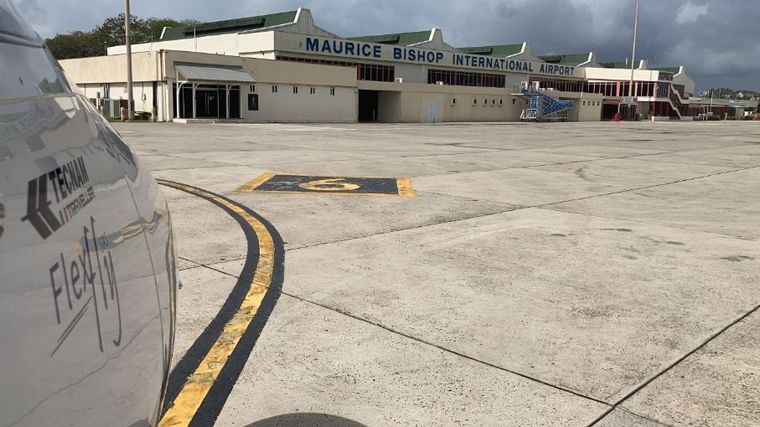 Maurice Bishop International Airport in Grenada.

As we ascend from Grenada, our luck with the weather takes a turn. The clouds thicken. Our visibility diminishes by the second. The storm is brewing.

The P2012's weather radar.

Monitoring the weather radar and relying on our steady Garmin GFC 700 autopilot, we are able to avoid the rain patches and emerge from the cloud cluster into the clear before any real trouble hits.
It takes a team effort, but we fly through the IFR conditions smoothly.
Our Garmin G1000Nxi flight deck, along with the RNAV procedure, guides safely to Guyana.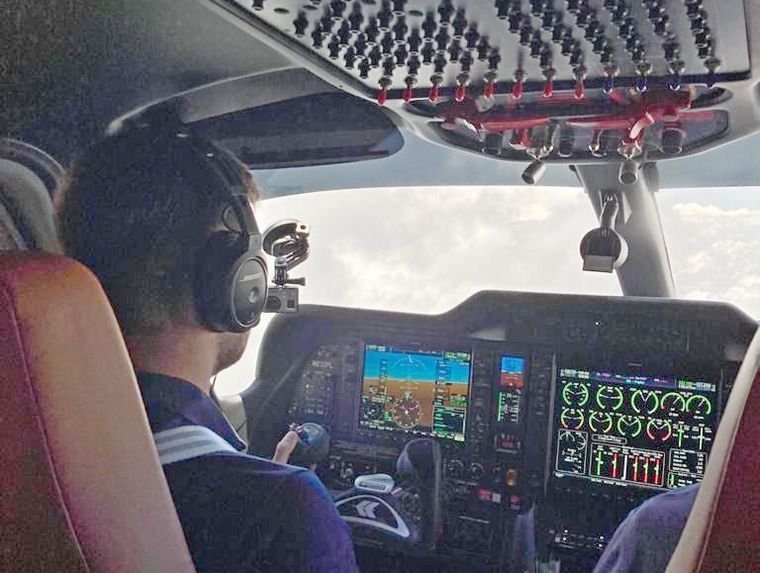 Our Tecnam P2012 pilot flying through IFR weather conditions.

As we emerge from the cluster of heavy clouds lined with that jarring white light, the sun starts to set and colours appeared and burst into the calm blues, purples and soft yellows.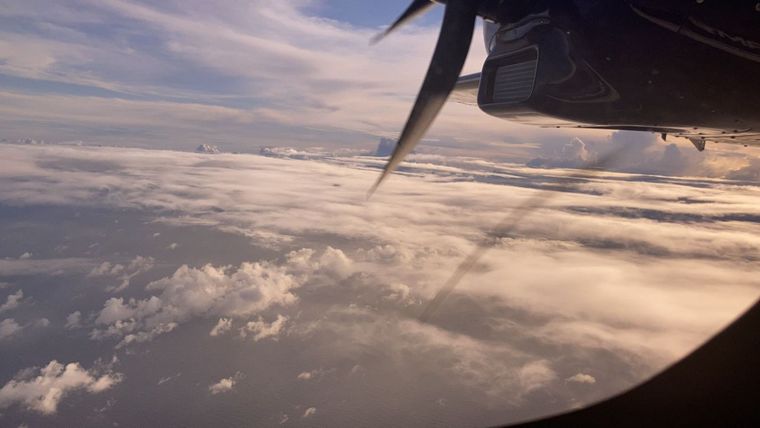 The sunset view from the p2012 traveller.

Every mile is a new experience. From the rush of pulling through a potential storm to the serenity of the sunset above the clouds, we often find ourselves in complete silence, eyes peeled to the windows.
The engine buzz is all the music we need.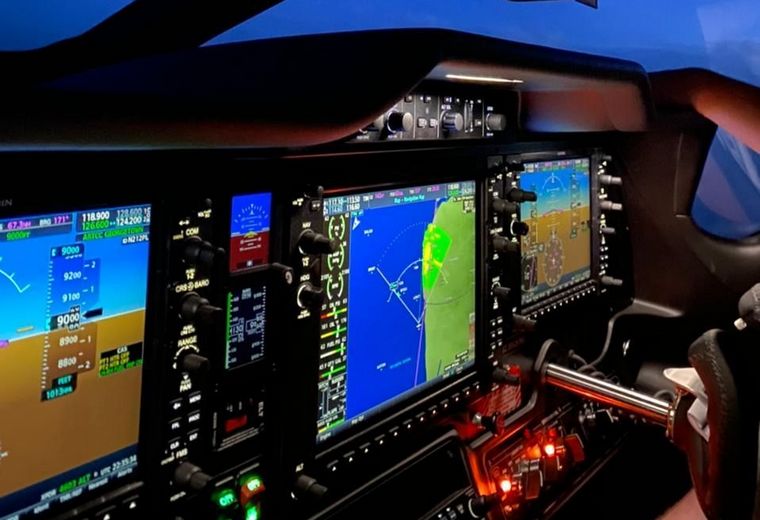 A night flight. Georgetown lights up below us.

We land our P2012 into the Eugene F. Correia International Airport.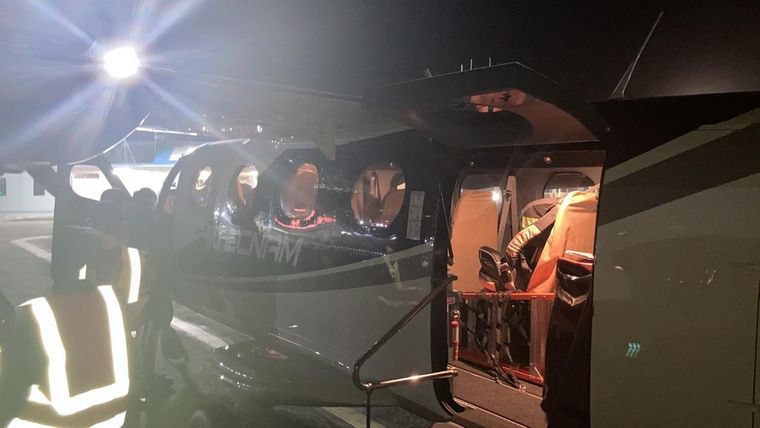 Night landing into Eugene F. Correia International Airport.

Day 3: We are stranded in the middle of the Amazon! The P2012 Traveller converts into a sleeper. Today, our goal is to reach São Paulo, Brazil, by 12pm. It is a 2,200-mile journey so we need an early start: 4am, to be precise.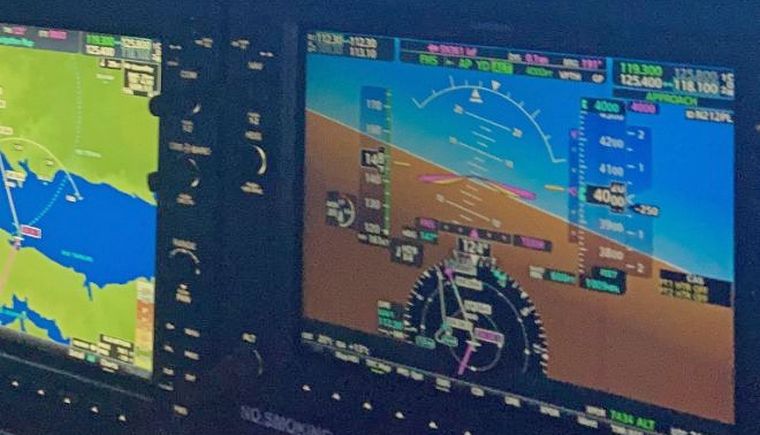 Our 4am airplane from Eugene F. Correia International Airport.

As arduous as you may find waking up before dawn, it pays off pretty quickly. Nothing beats flying through the calm of the early morning.
We enjoy clear skies for a short stretch before our dashboard signals more rain clouds on our way to the first stop-over in Boa Vista.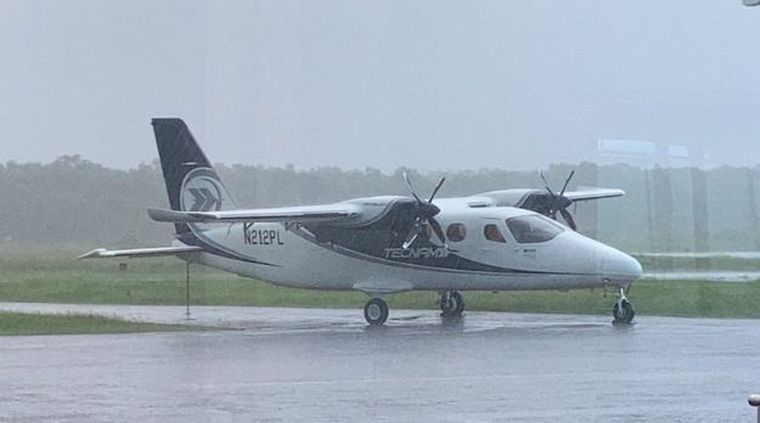 Our P2012 parked at Boa Vista airport.

We arrive in Boa Vista at 9am. It is raining heavily at this point so our plan is to fuel up quickly and press on, but bureaucracy will not be rushed today.
Instead of waiting in the hallways for our papers to clear, we decide to make the most of our stopover. For us, this is lunch with the view of the Brazilian Air Force Embraer Super Tucano.
By 3pm, we are finally ready for take-off.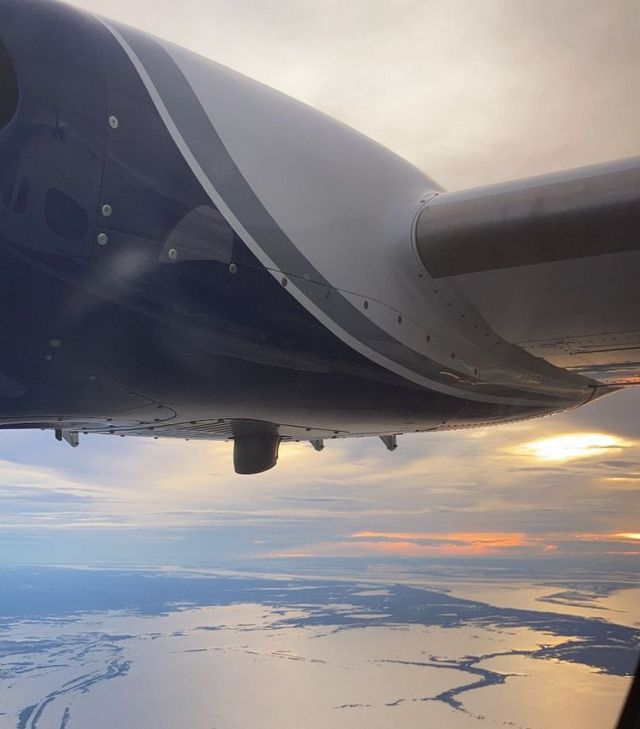 Flying over the amazon.

Hours behind schedule, we make our way to Itaituba.
As the sun starts to meet the horizon, we are informed that Itaituba is not available for night operations. In other words: we cannot land there. And it's nearly nightfall. So we decide to fly to the nearby Santarem.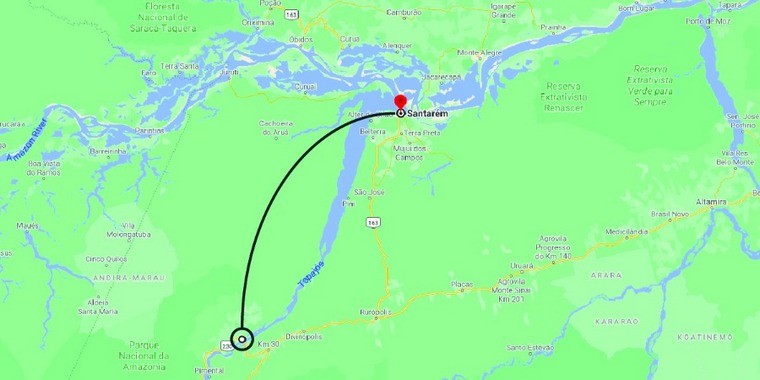 Itaituba to Santarem map.

We reach Santarem at 7:30pm, after nightfall.
The moment you realize that you are stranded in the middle of the Amazon with no place to "park" or sleep, definitely not fun. This is our second hurdle today and we are tired.
As we turn to the back of our aircraft, we remember how easy it is to unhook and move the seats. The Traveller was made for this! We can clear the space in minutes, pull out our sleeping bags and turn this night from a nuisance into a story for the grandkids.
It is decided: we are sleeping in the aircraft tonight.
The more sensible among us stay within our spacious P2012 sleeper, while the daredevil's station themselves outside the aircraft unfazed by the bugs, bats and other creepy crawlies.
Day 4: We greet the sunrise as we land in Redenção, Brazi. The alarm clock goes off before 2:30am. We need an early start to reach Redenção on time.
Without a paved runway, we taxi over the bumpy soil. We only need a little over 500m, that is 1800ft, of a clear pathway for take-off run.
Groggy, we fly a few hours in the dead of night. The shapes below us slowly emerge as colours turn from black to blue. Then, the first light of day parts the sky with a thin line. Soon we are immersed in gold and orange hues.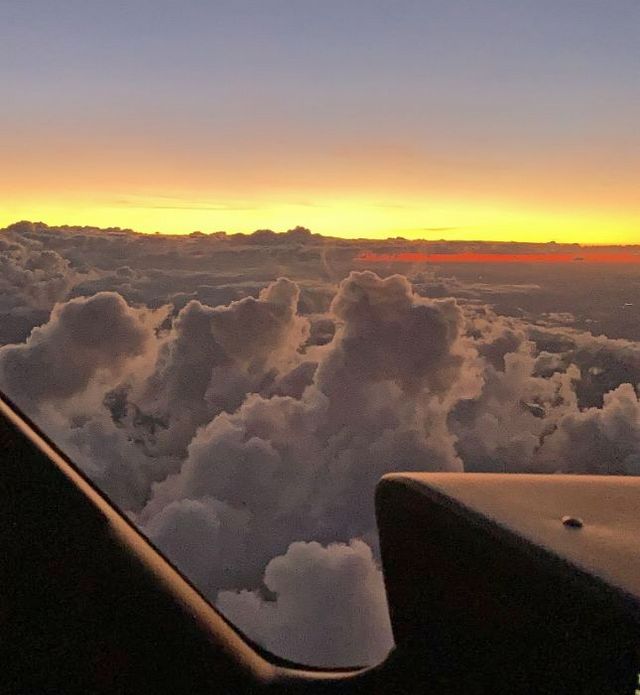 Flying during sunrise over the amazon.

It is 06:30am and we have arrived at our destination. After a quick refuelling stop, we continue to Anápolis in the State of Goiás, a small city near the Brazilian capital Brasilia.
This is another short stopover before we get to our last destination for the day: Bravo Aviation in São Paulo.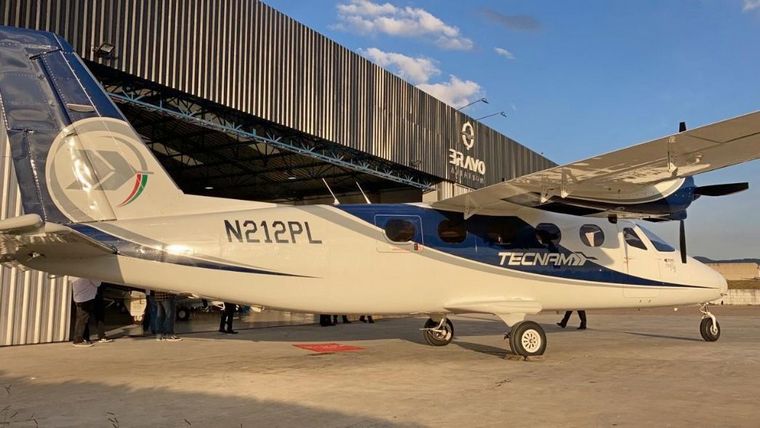 The P2012 parked at Bravo Aviation Sao Paolo Brazil.

We reach Bravo Aviation's HQ at 3pm and are greeted by the classic Water Arch - a ceremonial airplane shower, so to speak.
We are here to present P2012 to the Brazilian market. Our event attracts journalists, photographers and special guests.
From a night in the jungle to this suit-and-tie event, it feels like this aircraft has contained more events in four days than most of us have experienced in four months.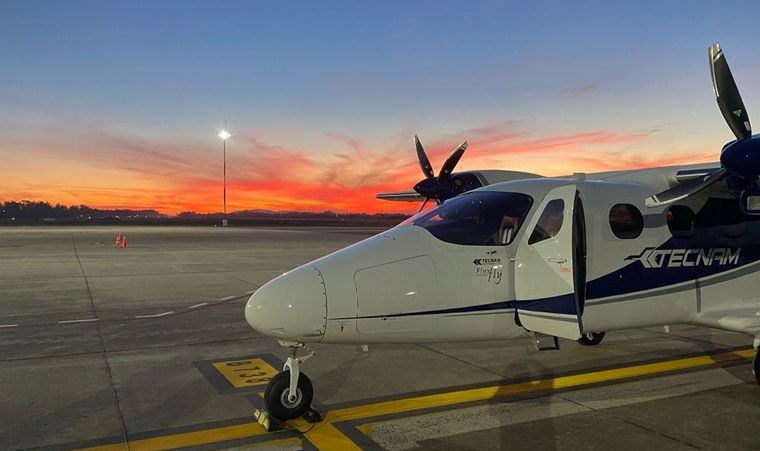 Our P2012 Traveller parked against dawn.

Time to say "adeus" to Brazil and head over to Uruguay. The fifth day begins with another hint of the IFR conditions ahead of us. And sure enough, after three hours of steady rain, we reach Florianopolis, our last stop in Brazil.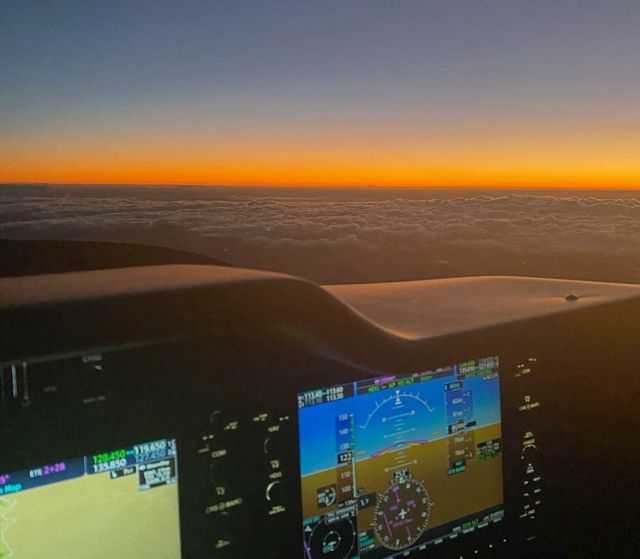 Flying during dawn, sunrise and airplane dashboards.

The next stretch is the longest of this journey. We fly five hours to Punta del Este, Uruguay.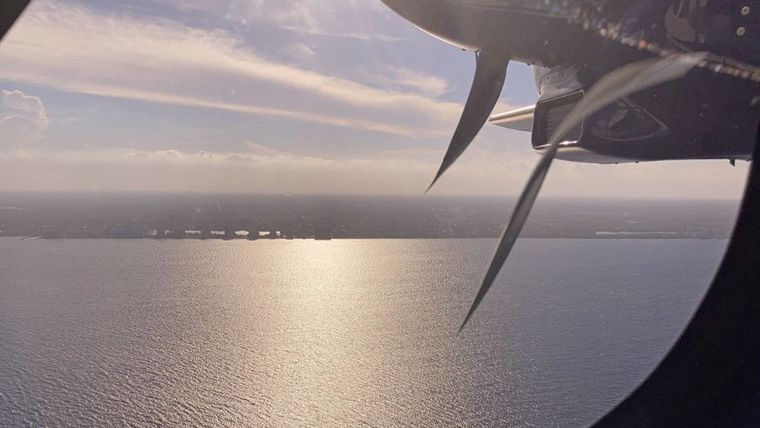 View from the airplane, purple sunset over the ocean.

Some context: The P2012 Traveller was built for shorter routes, coast-to-island for instance, so we weren't sure how comfortable a five-hour trip would be. Suffice to say, it was a breeze! Between the ideal weather conditions, comfortable seats and large windows perfectly angled to each of our stations, we are reminded of the impeccable quality of this aircraft.
Every inch was carefully thought through.
As they say, Tecnam aircraft is, after all, the epitome of the Italian style.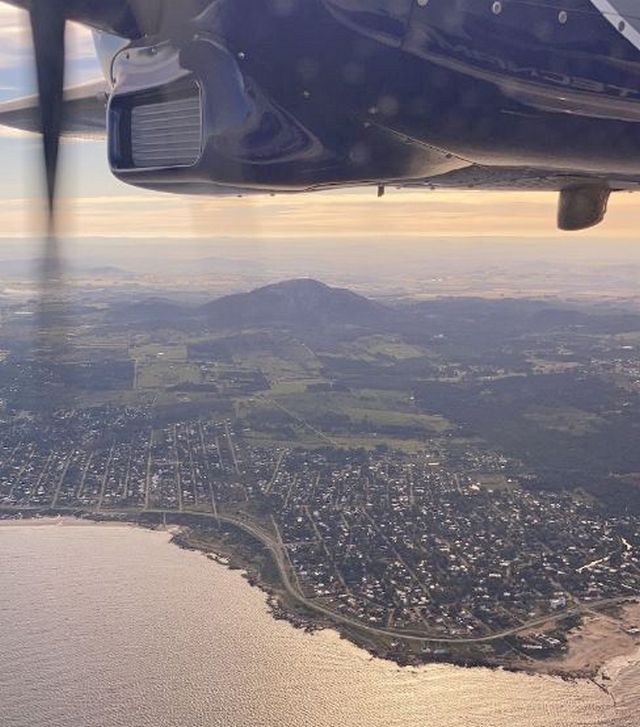 Our view of Uruguay coast line.

In Uruguay, we land at our dealers' HQ, Infinitum Aviation. They host another round of presentations for the much-anticipated P2012 Traveller which even attracts the presence of the Italian Ambassador to Uruguay Giovanni Battista Iannuzzi.
Sig. Iannuzzi, a pilot himself, decides to test our aircraft and takes us for a sky tour of the shoreline.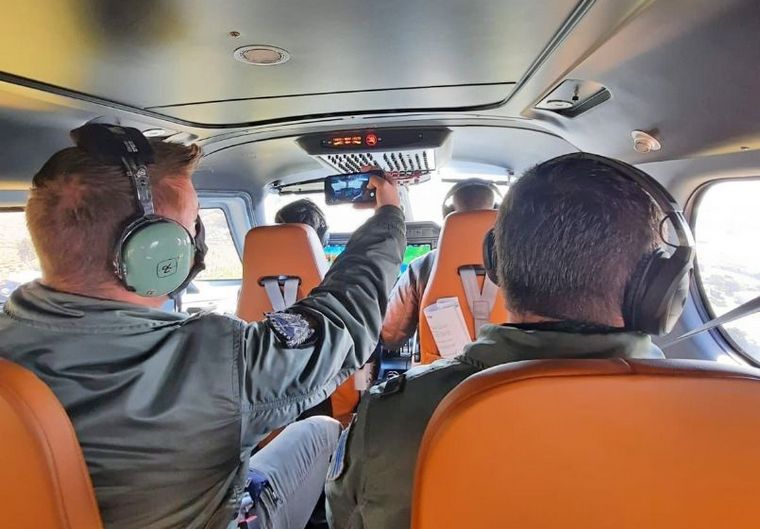 Inside view of the P2012 traveller.

We hear tales of the German sunken ship Admiral Graf Spee, but the waters are too cloudy today to be able to spot it. Still, our spirits are up as our guests delight in this aircraft and we with Uruguay's landscape.
Five days and 5,000 miles later, we bring the P2012 Traveller to its new home: San Fernando in the province of Buenos Aires.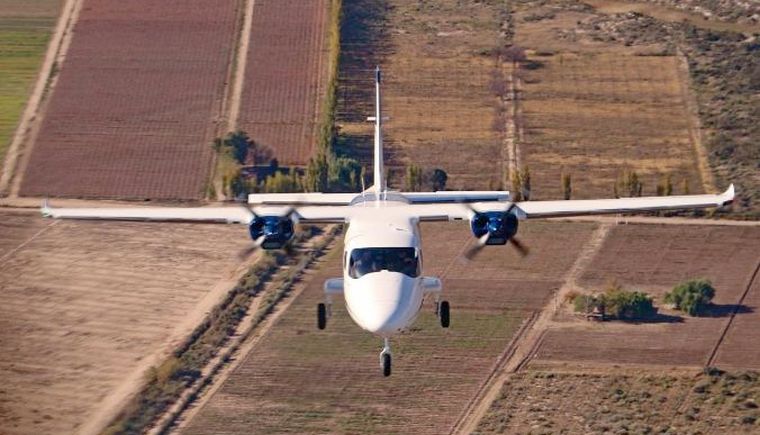 Touchdown: Buenos Aires Welcomes Its First P2012 Traveller.

Our friends and family gather at Aerotec, Tecnam's authorized dealer in Argentina, to welcome us.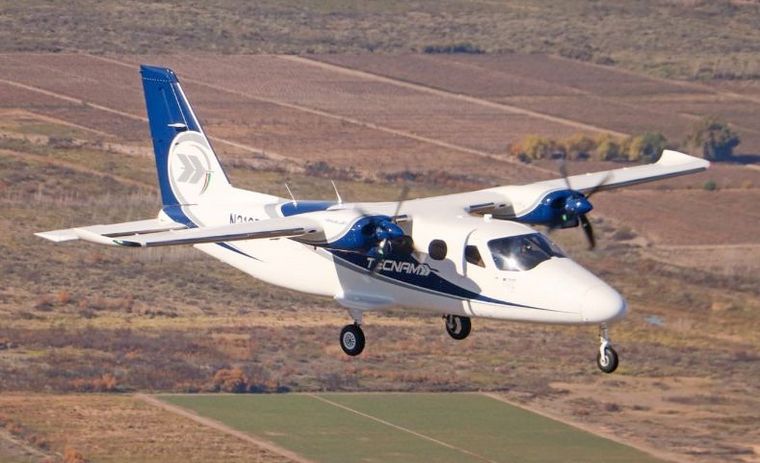 Our Tecnam P2012 traveller flying over Argentinian fields.

Florida to Argentina, airports to rainforest, and through sunshine and storms, this airplane has shown its power and its comfort.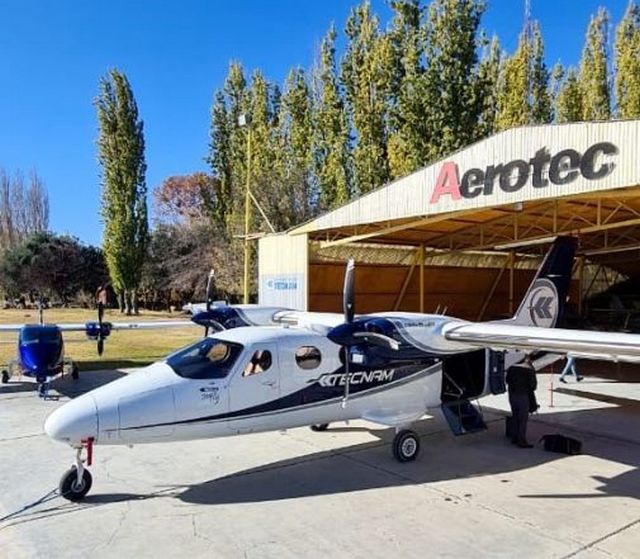 The P2012 Traveller parked at Aerotec S.A. Argentina.

Featured in Aerotec S.A.'s showroom, the P2012 Traveller is now available to the Argentinian market.
PLEASE GO TO
www.youtube.com/channel/UCCuRVZAGodT6sztTeXBGeMw
and subscribe to our YouTube channel