Compiled by Willie Bodenstein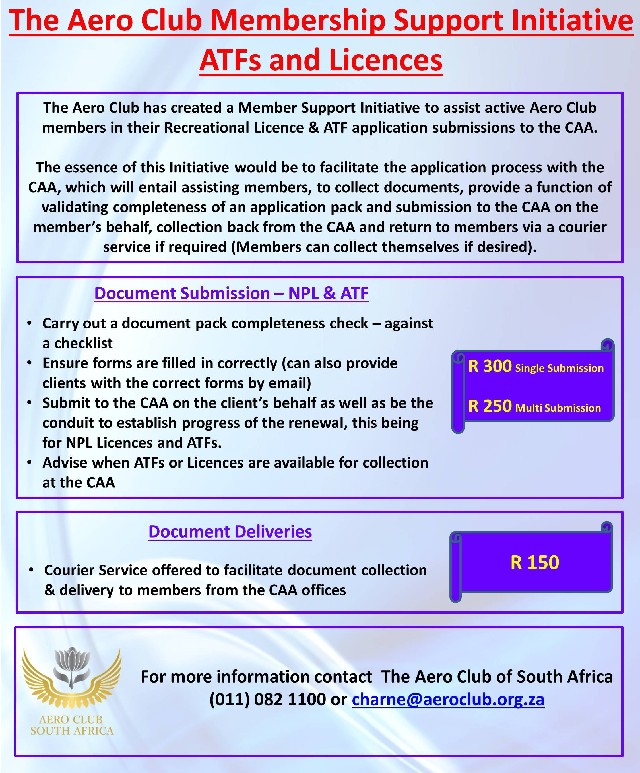 COVID 19 REGULATIONS, INITIATIVES AND AEROCLUB NEWS

OUR CENTENARY YEARBOOK IS NOW AVAILABLE TO PURCHASE FROM OUR NEW WEBSHOP
WWW.AEROCLUB.ORG.ZA/SHOP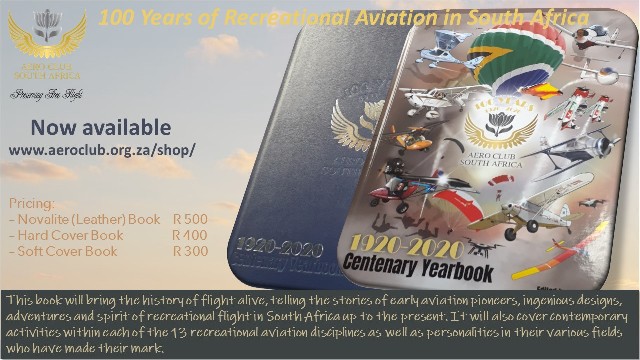 The following events will take place under the rules controlling the number of people congregating together and are therefore not open to the general public.

15 - 23 JULY
Cancelled for 2021
Sports Aerobatics Club Advanced World Aerobatics Czech Republic. Contact Annie Boon E-mail: chunge@mweb.co.za

4 AUGUST
EAA Chapter 322 virtual monthly meeting and at Dickie Fritz. Contact Neil Bowden Email: neil1@telkomsa.net Cell: 084 674 5674

7 - 8 AUGUST
Sports Aerobatics Club Western Cape Regionals and training camp Venue TBA. Contact Annie Boon E-mail: chunge@mweb.co.za


18-21 AUGUST
Sport Aerobatics Club National Aerobatics Championships Phalaborwa Airfield. Contact Annie Boon E-mail: chunge@mweb.co.za or Natalie Stark natalie@stark.co.za

28 AUGUST
SAPFA Secunda Speed Rally at Secunda Airfield. Contact Jonty Esser E-mail: jonty@promptroofing.co.za Cell: 082 855 9435







1 SEPTEMBER
EAA Chapter 322 monthly meeting virtual via Zoom Contact Neil Bowden E-mail: neil1@telkomsa.net Cell: 084 674 5674

11 SEPTEMBER
RV Day Fly-In to Kitty Hawk. For more information contact Dawie Pretorius Cell: 082 804 6979

17 AND 18 SEPTEMBER
EAA Silver Creek Fly-In and movie evening. Camping on the airfield. Contact Jeremy Woods Cell: 082 883 0436 or Neil Bowden Cell: 084 674 5674

24 SEPTEMBER
Heritage Day. Great Train Race, vintage cars and aircraft at Heidelberg airfield. Contact Van Zyl Schultz Cell: 082 560 2275 or E-mail: vzs@mweb.co.za







SLING HIGH WING FLIGHT TO OSHKOSH POSTPONED TO 2022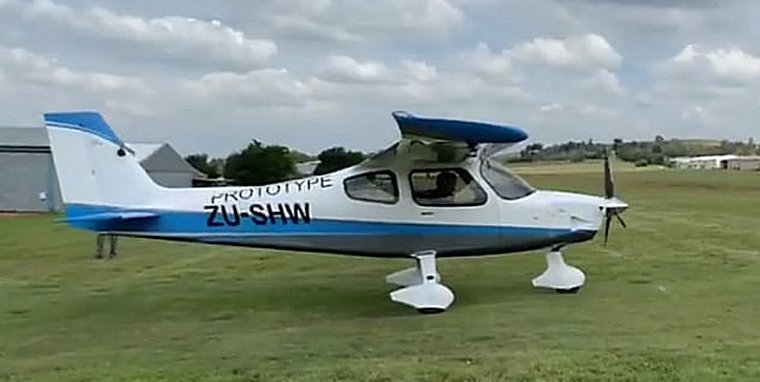 "Greetings all. I am afraid I must be the purveyor of some sad news. The demands of COVID and in particular of travelling out of South Africa, have made our trip to Oshkosh impractical. Therefore, last week we took the difficult decision to delay our trip to Oshkosh in the Sling High Wing until 2022.

Both Matt and I are devastated, since we have been looking forward to this for months (years, because we planned to do it last year). The aeroplane is ready, the stickers are on, the NavData is downloaded and we have a bunch of the required permissions. Nevertheless, navigating our way through the Caribbean has just became impossible. Our plan was to fly to Barbados, which we have done before and which is closest to Cape Verde. But while open to others, Barbados is now closed to South Africans, at least until the expiry of 14 days. We then looked at Guadeloupe, St Vincent and the Grenadines, Martinique, St Martin, Dominica, Grenada, St Lucia and Montserrat, but each has a reason why it is just difficult or impossible. (Usually, a technicality at number 15 or so on the list - something like, 'You must have been fully vaccinated, which requires both injections and a period of two weeks thereafter', or similar).
I must admit that, despite help from various sources, I became somewhat demoralised reading one set of requirements after another and discovering a problem each time. It may be that if we take our courage in our hands and just 'go', we can quarantine in some of the countries we travel through and finally get to our destination regardless (the USA is very much open, subject only to the 14 days delay out of red-list countries). But on the flip side of the coin, just about all countries, save those almost 100% dependent upon South African tourism, really do not much seem to want us there. So, while it would be wonderful to break free of the constraints here in SA and fly across the world, perhaps it is not an entirely appropriate thing to do while we are right in the centre of the maelstrom and the rest of the globe seeks to protect itself. Both the high wing and the tail dragger are flying beautifully and I am pleased to report that, even without a trip to Oshkosh, we have taken (small) deposits for 48 aircraft already. We look forward instead to the challenge of getting into efficient, world class production as soon as we are able."
James Pitman
TQ-AVIONICS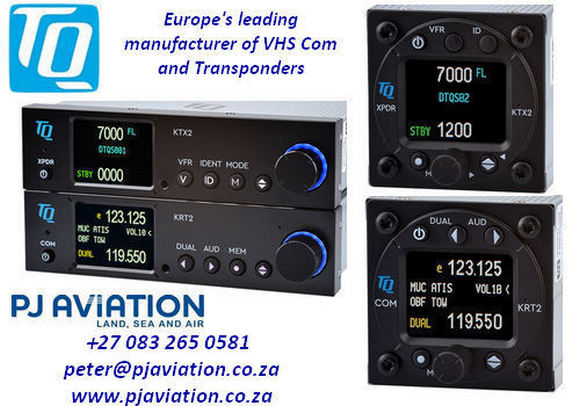 TQ-Systems GmbH was founded in Germany in 1994. Today it has 1700 staff in 14 locations around the world, with a turnover exceeding Euro290m. The TQ group is involved in aerospace and general aviation, manufacturing for and supplying to large commercial aircraft and general aviation. TQ-AVIONICS has design, development and production approvals.

In 2016, TQ took over the complete avionics line of Dittel Avionik compact single block VHF COM and Mode-S transponders. Since then, the KRT2 and KTX2 range has taken over a major part of the European market. Being within such a large organization with diverse interests, TQ-Avionics has been able to operate relatively unaffected through the current pandemic and supplies have been relatively uninterrupted.
TQ extended the Dittel range from compact 57mm mounting, to 160mm flat stack models, for simple replacement of American legacy products. The philosophy has always been to make the installation as simple and easy as possible, using lightweight panel mounting, without remote mounted modules and associated extra wiring. Their large multi-line displays are super bright and in colour, but without heavy power consumption, from supplies between 10 to 32VDC. The KRT2 VHF COM is feature full, with excellent Dual Watch operation, together with an excellent voice activated intercom. The KTX2 Mode-S transponder is ADS-B Out ready with various levels of GPS receivers available.
Dittel has always been associated with low current consumption and the TQ range extends this philosophy. The KTX2 Mode-S transponder has long been the most energy efficient transponder on the market and was an instant favourite in the European glider market. Likewise, the KRT2 VHF COM lent itself to portable applications and in South Africa, PJ Aviation developed an enhanced replacement for the well-known yellow coloured "Dittel", exporting them to 10 countries.
For more information on TQ-AVIONICS products, visit www.pjaviation.co.za





THE MILITARY UNIVERSITY OF TECHNOLOGY IN WARSAW RECEIVED A NEW PIPISTREL VIRUS SW, WHICH WILL BE USED FOR UNIVERSITY RESEARCH

The handover of the aircraft to the Military University of Technology took place on June 18, 2021 at the airport in Milewo. It was attended, among others, by dean of the Faculty of Civil Engineering and Geodesy of the MUT, Col. prof. dr. hab. Eng. Michal Kedzierski and the official Pipistrel aircraft distributor in Poland, Mr Krzysztof Bedkowski of Skydream Sp. z.o.o.

The aircraft Pipistrel Virus SW has been specially modified for the purpose of joint scientific research by the Faculty of Civil Engineering and Geodesy, the Faculty of Mechatronics, Armaments and Aviation as well as the Institute of Optoelectronics. It will be used for various research, among others in the field of remote sensing, aerial photography and photogrammetry. It will use various types of cameras and lidars, developed by the Institute of Optoelectronics and built into a specially prepared container at the bottom of aircraft fuselage.
This is another Virus SW in Poland with a modification that allows the installation of a special-equipment container under the plane. It can be loaded with a load of up to 40 kg.
It can be equipped with laser scanners, hyperspectral and thermal imaging cameras as well as cameras for taking aerial photos.
The maximum take-off weight of the aircraft (MTOW) is 600 kg and thanks to almost 200-liter fuel tanks, the aircraft can perform missions lasting up to twelve hours.
A radio station, a Mode-S transponder with ADS-B Out, a glass-cockpit Dynon SkyView, an additional alternator, an autopilot system, an anti-collision device and a parachute rescue system were installed on board the aircraft. Thanks to such equipment, the performance of missions will be safe and convenient, stated the university.
"Thanks to this equipment of the aircraft, we will be able to conduct research at the Military University of Technology, focusing on supporting crisis management by collecting, processing and analysing up-to-date geodata and products developed on their basis," emphasized the dean of the Faculty of Civil Engineering and Geodesy, Col. Prof. dr hab. Eng. Michal Kedzierski.
Together with the aircraft, the Pipistrel distributor team in Poland will offer pilot familiarization to the pilots of the Military University of Technology while the mechanics will receive training in the field of maintenance.



AIRCRAFT RIDES AVAILABLE DURING AIRVENTURE



EAA AirVenture Oshkosh wouldn't be The World's Greatest Aviation Celebration without the opportunity to enjoy flights in rare and historic aircraft during the week.


The newest addition is the B-17 Yankee Lady from the Yankee Air Museum in Michigan. With EAA's Aluminium Overcast down for maintenance, we're extremely pleased that AirVenture attendees will still have the opportunity to experience a ride in the mighty Flying Fortress. Those flights will take place on July 26-August 1 and will be based at Appleton International Airport (ATW). A shuttle will operate from the AirVenture grounds to Appleton for passengers.
More information on booking B-17 flights is available at the Yankee Air Museum B-17 website. In addition, EAA's B-25 Berlin Express and Bell 47 helicopters, plus the Liberty Aviation Museum's Ford Tri-Motor, are available for flights throughout the week. Visit our "Aircraft Rides at AirVenture" webpage for all the details, including flight times and prices.

UPS BRINGING 747-8 TO OSHKOSH

UPS is bringing one of its "Queens of the Skies" to EAA AirVenture Oshkosh this month when its new Boeing 747-8F arrives at Wittman Regional Airport on July 27.

The 747-8F will touch down in Oshkosh mid-morning on Tuesday, July 27 and be open for viewing that afternoon, as well as all day on Wednesday, July 28 and Thursday morning, July 29. The aircraft will depart Oshkosh prior to the July 29 afternoon air show and the arrival of the U.S. Air Force Special Operations Command aircraft.
The UPS 747-8F also fits well with the Salute to Humanitarian Aviation that is part of this year's fly-in. UPS has delivered more than 400 million COVID-19 vaccines and 30 million tons of personal protective equipment used by health care workers during the pandemic.
The 747-8F has a hinged nose section that flips up to allow extra large or extra long shipments to be loaded and unloaded. This feature will allow for acceptance and transport of large cargo and freight shipments.

GERMANY SIGNS ON FOR FIVE BOEING P-8A POSEIDON AIRCRAFT

The German Ministry of Defence has signed a letter of offer and acceptance for five Boeing (NYSE:BA) P-8A Poseidon aircraft under the U.S. government's Foreign Military Sales (FMS) process. With this order, Germany becomes the eighth customer of the multimission maritime surveillance aircraft, joining the United States, Australia, India, the United Kingdom, Norway, Korea and New Zealand.

"Boeing is honoured to provide Germany with the world's most capable maritime surveillance aircraft," said Michael Hostetter, Boeing Defence, Space & Security vice president in Germany. "We will continue to work with the U.S. government, the German government and industry to establish a robust sustainment package that will ensure the German Navy's P-8A fleet is mission ready."
The P-8A Poseidon offers unique multimission capability and is the only aircraft in service and in production that meets the full range of maritime challenges faced by European nations. Deployed around the world with more than 130 aircraft in service, and over 300,000 collective flight hours, the P-8A is vital for global anti-submarine warfare, intelligence, surveillance, reconnaissance and search-and-rescue operations.
"Bringing this capability to Germany is not possible without the contributions of German industry," said Dr. Michael Haidinger, president of Boeing Germany, Central & Eastern Europe, Benelux and the Nordics. "With the P-8A, we will expand our collaboration with German companies, create new jobs and contribute to long-term local economic growth."
German companies that already supply parts for the P-8A include Aljo Aluminum-Bau Jonischeit GmbH and Nord-Micro GmbH. Recently, Boeing signed agreements with ESG Elektroniksystem-und Logistik-GmbH and Lufthansa Technik to collaborate in systems integration, training, support and sustainment work. By working with local suppliers, Boeing will provide support, training and maintenance solutions that will bring the highest operational availability to fulfil the German Navy's missions.
As a leading global aerospace company, Boeing develops, manufactures and services commercial airplanes, defence products and space systems for customers in more than 150 countries. As a top U.S. exporter, the company leverages the talents of a global supplier base to advance economic opportunity, sustainability and community impact. Boeing's diverse team is committed to innovating for the future and living the company's core values of safety, quality and integrity.

EMBRAER DELIVERS FIRST PHENOM 300E AS PART OF DUET COLLABORATION WITH PORSCHE

Embraer delivered the first limited-edition Phenom 300E aircraft-part of the Duet collaboration with Porsche-to an undisclosed customer in Fort Lauderdale, Florida. The aircraft was delivered at Embraer's state-of-the-art Global Customer Centre in Melbourne, Florida.

Duet marks the first-ever true collaboration between leading aviation and automotive manufacturers, pairing the fastest and longest-ranged single-pilot certified jet with the gold standard in production sports cars, the Porsche 911 Turbo S. Embraer and Porsche, both known for world-class engineering, performance and design, worked in tandem to create a seamless experience from ground to air using matching design elements that are only available in this pairing. Only ten of this limited-edition pairing will ever be produced.
"We designed Duet in collaboration with Porsche to introduce a seamless travel experience for those wanting to arrive in something totally original, while holding true to our vision of delivering the ultimate experience in business aviation," said Michael Amalfitano, President & CEO, Embraer Executive Jets. "The Phenom 300E is already the best-selling light jet in the world and we continue to push the boundaries to provide even more value and bring new experiences to our customers."
As the world's fastest and longest-ranged single-pilot business jet, the Phenom 300 series transformed the light jet category. With its unparalleled technology, comfort and performance, the Phenom 300E sets the highest standard of excellence through best-in-class cabin altitude, high mission flexibility, low operating costs and the best residual value in the industry. The 911 is the heart of the Porsche product portfolio and has one of the longest and most celebrated traditions in the automotive industry. The 911 Turbo S represents the pinnacle of the 911 models and delivers exceptional performance combined with a high degree of everyday usability.
Duet brings the Phenom 300E and the 911 Turbo S into perfect harmony as design inspiration for the aircraft mirrors that of the car, and vice versa. Starting with seats, the sew style on the Phenom 300E seats were patterned after that of the 911 Turbo S. Both vehicles' seats also feature red pull straps, a Speed Blue accent stitch and carbon fibre shrouds. The flight deck seats were also redesigned to match the seats of the car. On the exterior, both aircraft and car share a matching paint pallet and scheme, complete with a custom two-tone paint finish and hand-painted pinstripes in Brilliant Chrome and Speed Blue, creating a fluid aesthetic throughout both performance machines.
The exclusive collaboration logo, which depicts the aerodynamic requirements of both aircraft and car, is embossed on the seat headrests of the aircraft (representing lift) and debossed on the car's headrests (representing downforce), as well as featured on the aircraft side ledge, speaker grills and mounted near the main door. Each pairing also features a special badge, representing one of only ten delivered. The customer has the option to select the location of a blue chip, reflective of their position among the ten units. To further highlight the exclusivity of this pairing, the aircraft registration number is painted on the lower part of the rear wing of the car to demonstrate that specific car belongs to a unique aircraft.
To mark this first-ever collaboration, Duet customers that accept delivery of both the aircraft and vehicle will receive unique and exclusive accessories. Accessories include a Duet customized luggage set with a pilot's bag and weekenders available with the 911 Turbo S, as well as a Porsche Design 1919 Globe timer UTC titanium-case watch inspired by the aircraft's flight deck available with the jet.

RUSSIAN AMPHIBIOUS AIRCRAFT BE-200ES SENT TO FIGHT WILDFIRES IN GREECE



The agreement was prepared with the support of the representative office of Rostec State Corporation in Greece, initiated with negotiations between the Russian delegation, headed by the First Deputy Director General of Rostec Vladimir Artyakov and the Greek Deputy Minister of Citizens Protection, Mr. Nikos Hardalias, in March this year.

"Wildfires pose a serious threat to people, especially when these natural disasters occur in remote areas. Aviation has repeatedly demonstrated speed and effectiveness in eliminating the consequences of forest fires. In the course of the flights, we are planning to work out new methods of water intake and discharge to fire sites under extreme hydrometeorological conditions. Our Greek partners share our confidence in the capabilities of the Russian aircraft and count on our effective support in aerial firefighting", commented the First Deputy Director General of Rostec Vladimir Artyakov.
Foreign countries regularly seek Russia's help in eliminating wildfires. In 2020, a first contract for fire extinguishing services with a foreign customer was implemented and Russian Be-200ES amphibious aircraft were received positively. This contributed to its promotion to foreign markets, both for providing services and for direct deliveries.
Unique Be-200ES amphibious aircraft are manufactured by the Beriev Aircraft Company (part of PJSC UAC of Rostec State Corporation). The aircraft have proven their effectiveness in fighting fires in Russia.
Be-200ES is the world's only amphibious jet aircraft, which provides undeniable advantages in speed when extinguishing fires. Be-200ES can take on board up to 12 tons of water. The aircraft has a good performance in terms of the number of water discharges per hour. For one refuelling, the aircraft is capable of dropping up to 270 tons of water.

FIRST H145 FULL FLIGHT SIMULATOR IN NORTH AMERICA INAUGURATED IN TEXAS



The Helisim Simulation Centre, located inside the Airbus Helicopters Inc. facility in Grand Prairie, Texas, has inaugurated a new Thales Reality H full-motion flight simulator, the first of its kind in the region. Helisim LLC, a subsidiary of Helisim SAS, has already invested $22 million for the new simulation centre. The H145 simulator will offer the possibility for pilots to perform their initial and recurrent H145 training in the Americas, with customers already booked to begin training later this month.

"The H145 is already recognized as the most versatile light twin helicopter around the world, used in market segments such as emergency medical services, law enforcement, military, oil & gas and private aviation," said Romain Trapp, president of Airbus Helicopters, Inc. and head of the North America region. "With this brand-new state of the art H145 Level-D full flight simulator, our North American customers can experience the highest levels of H145 training in their own backyard."
The 18,500 square-foot Helisim Simulation Centre was designed to house two simulator bays, with the possibility to expand to hold three simulators in the future as needed. The training centre also operates an H125/AS350 full flight simulator and an EC135/EC145 flight training device.
This represents a major international expansion of France-based Helisim, a joint venture of Airbus Helicopters, Thales and DCI, which brings 20 years of experience in simulation training with Airbus helicopters.
"With this new training centre, Helisim is able to offer the best simulator-based training to H145 operators," said Jean-Charles de Troy, managing director of Helisim LLC. "With outstanding equipment and software implemented, including an OEM simulator data package as well as with integrating Airbus helicopter flight instructors, our goal is to offer a reliable and true-to-mission training experience to H145 pilots."
Developed by Thales, the Level D H145 full flight simulator is one of the most advanced simulators on the market, thanks to the integration of Airbus Helicopters avionics and software suite, a larger field of view, 4K projection technology, the unique Thales full electric Hexaline motion and a new intuitive touch screen instructor station.
"The Thales Reality H simulator is deployed all over the world for civil and military use and Thales is proud to have the first Reality H in the United States at Helisim in co-development with Airbus," said Alan Pellegrini, CEO of Thales in North America.
Equipped with Airbus Helicopters avionics and software suite, this simulator will provide the most true to life experience, while allowing the safety of simulation training for a variety of real world situations. The simulator becomes Airbus Helicopters' second H145 full flight simulator, the first being located in Germany.
The North America training centre is one of 18 training and simulation centres run by Airbus Helicopters worldwide and trains upwards of 1,500 pilots and maintenance personnel every year in Grand Prairie, which, as part of the Dallas-Fort Worth metroplex and which has seen significant growth and local investments in recent years.

BOSTON MEDFLIGHT SURPASSES 85,000 PATIENT TRANSPORT MILESTONE



Boston MedFlight, the 501(c)(3) non-profit organization that provides critical care transport by air and ground, has announced that it recently surpassed the 85,000 patient transport mark since its founding in 1985. Boston MedFlight's headquarters is located at Hanscom Field in Bedford, Massachusetts.

Boston MedFlight cares for more than 4,600 patients annually, including the most critically ill and injured infants, children and adults. This past year, Boston MedFlight teams have been on the front lines of caring for the sickest and most vulnerable Covid-19 patients, having transported as many as 12-15 patients a day during the peak of the pandemic from community hospitals to larger tertiary care facilities.
"We are so proud of our teams who have selflessly and courageously served those in need for the past 36 years," said Maura Hughes, CEO of Boston MedFlight. "Boston MedFlight has developed into the largest critical care transport organization in our region and a nationally recognized leader with a reputation for clinical excellence and the highest standards of safety and training. We are honoured and humbled to have reached this milestone and to have had such a positive impact on the lives of our patients and their families."
During the organization's history as a non-profit organization, Boston MedFlight has become an integral part of New England's healthcare delivery system and a community resource for training of local healthcare professionals and first responders. As a non-profit, Boston MedFlight provides over $5 million in free and unreimbursed care annually to patients in need with little or no medical insurance.

VOLTAERO SELECTS ROCHEFORT CHARENTE-MARITIME AIRPORT AS THE FINAL ASSEMBLY LINE LOCATION FOR ITS CASSIO HYBRID-ELECTRIC AIRCRAFT

VoltAero's family of Cassio hybrid-electric aircraft will be produced at a new purpose-built final assembly line at Rochefort Charente-Maritime Airport in France's Nouvelle-Aquitaine region.

Announced at the conclusion of the company's week-long French tour with its Cassio 1 hybrid-electric demonstrator aircraft, this marks another important milestone in the development plan for VoltAero's 4-10-seat product line of Cassio airplanes.
The final assembly line will be situated on a 6,770-square-meter site that incorporates the assembly line, logistics areas and offices. Construction of the facility is to begin in late 2021. At full rate, VoltAero anticipates producing approximately 150 aircraft per year for the Cassio aircraft family.

NORWAY'S FIRST P-8A POSEIDON ROLLS OUT OF THE PAINT SHOP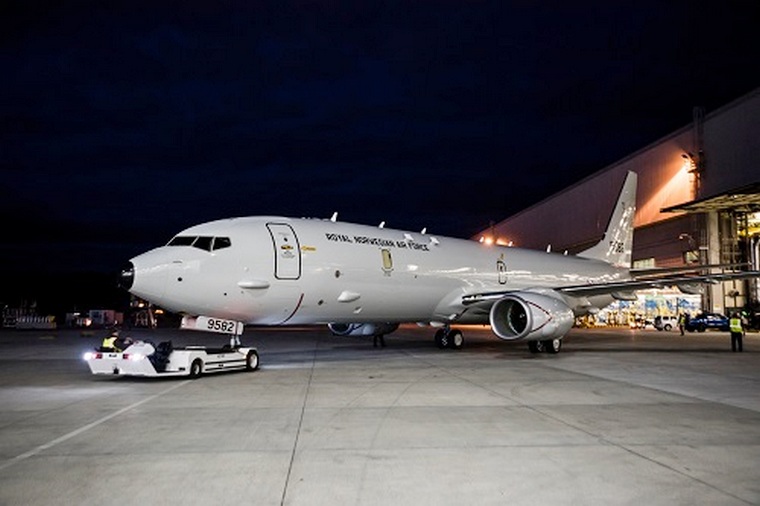 The first P-8A Poseidon aircraft for Norway recently rolled out of the paint shop in Renton, in Royal Norwegian Air Force livery. Norway is one of eight nations to have acquired the P-8A as their new multimission maritime patrol aircraft.

Recently, the air force revealed the names of its five P-8A Poseidon aircraft: Vingtor, Viking, Ulabrand, Hugin and Munin. The names are inspired by Norse mythology and continue a tradition of almost 80 years that started when the names Vingtor, Viking and Ulabrand were used on Norway's PBY-5 Catalina maritime patrol aircraft in 1942. Since then, other maritime patrol aircraft operated by the Royal Norwegian Air Force have carried those names, including its current P-3 fleet, which will be replaced by the P-8.
Norway's first P-8A aircraft - Vingtor - will now return to the factory floor to be prepared for flight testing. First flight is scheduled for later this month, and mission systems will be installed on the aircraft after that.




CANADA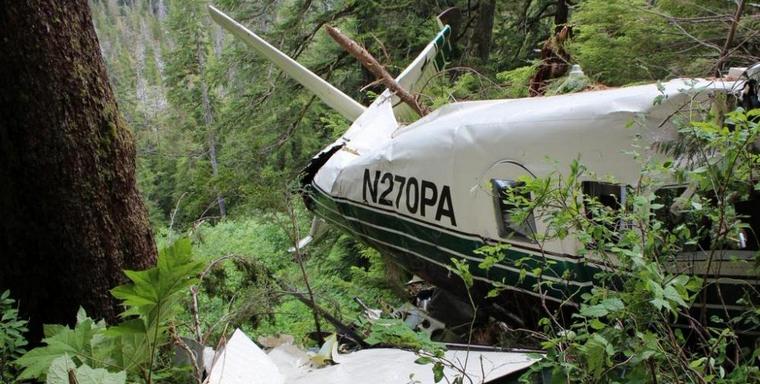 On 25 June 2015, about 1215 Alaska daylight time, a single-engine, turbine-powered, float-equipped de Havilland DHC-3 (Otter) airplane, N270PA, collided with mountainous, tree-covered terrain about 24 miles east-northeast of Ketchikan, Alaska. The commercial pilot and eight passengers sustained fatal injuries and the airplane was destroyed. The airplane was owned by Pantechnicon Aviation, of Minden, Nevada and operated by Promech Air, Inc., of Ketchikan. The flight was conducted under the provisions of 14 Code of Federal Regulations (CFR) Part 135 as an on-demand sightseeing flight; a company visual flight rules flight plan (by which the company performed its own flight-following) was in effect. Marginal visual flight rules conditions were reported in the area at the time of the accident. The flight departed about 1207 from Rudyerd Bay about 44 miles east-northeast of Ketchikan and was en route to the operator's base at the Ketchikan Harbor Seaplane Base, Ketchikan.

Probable Cause
?The National Transportation Safety Board determines that the probable cause of this accident was (1) the pilot's decision to continue visual flight into an area of instrument meteorological conditions, which resulted in his geographic disorientation and controlled flight into terrain; and (2) Promech's company culture, which tacitly endorsed flying in hazardous weather and failed to manage the risks associated with the competitive pressures affecting Ketchikan-area air tour operators; its lack of a formal safety program and its inadequate operational control of flight releases.



South Africa, Panorama Airfield, near Alberton, Gauteng: An Airplane Factory Sling 2 with only the pilot on board crashed under unknown circumstances at Panorama Airfield near Alberton, Gauteng. The aircraft was damaged beyond repair and the pilot did not survive the accident.
Zimbabwe, Chitungwiza: A Zimbabwe Air Force Mil Mi-35 with seven on board suffered substantial damage when it made an emergency landing in Chitungwiza after a technical malfunction of the helicopter. The crew (2 pilots) and five technicians were not injured.
UK, Nags Head Pub, Sutton-in-Ashfield, Nottinghamshire: Nottingham and Derby Hot Air Balloon Club Ultramagic M-105 hot air balloon with four occupants balloon crash-landed next to the Nags Head pub in Sutton-in-Ashfield, Nottinghamshire. The group took off from Bramcote Park and planned to fly for an hour and land in the open countryside. Instead, the aircraft was forced into a surprise landing right next to the Nags Head pub due to a lack of fuel. None of the occupants were injured. (Convenient place to land? Editor)

Colombia, Guatiquia: An Aliansa Colombia Douglas DC-3C with three crew crashed in a mountainous area after take-off from Villavicencio-La Vanguardia Airport, Colombia. The aircraft was performing a training flight. All three occupants suffered fatal injuries.
South Korea, Pocheon Air Base: A Republic of Korea Air Force KAI KUH-1M Surion military ambulance helicopter with five on board made an emergency landing at Pocheon Air Base. The helicopter came to rest on its side and the tail of the helicopter was partly destroyed. The five occupants were injured, two seriously.
USA, Geneseo Airport, Geneseo, NY: A Canadian Harvard Aircraft Association North American NA-81 Harvard II with only the pilot on board sustained minor damage during a runway excursion at Geneseo Airport (D52), Geneseo, New York. The sole pilot onboard the tailwheel equipped airplane was not injured during the incident.

Austria, Lofer, Pinzgau: The pilot of a Schleicher Ka 6CR Rhönsegler sailplane lost control of the glider and crashed due to turbulence. The aircraft was completely destroyed and the pilot was seriously injured.
USA, Morningside Flight Park, Charlestown, NH: A Bailey Dragonfly with two on board sustained substantial damage subsequent to an impact with open field terrain at Morningside Flight Park, Charlestown, New Hampshire. One of the two occupants onboard was fatally injured while the second occupant onboard was seriously injured.
USA, Linn County near Millersburg, OR: A North Wing Mustang weigh-shift-control trike with two on board sustained substantial damage upon impact to open field terrain in an apparent near vertical descent in northwest Millersburg, Oregon. The two occupants onboard the Trike received fatal injuries.
Germany, Nordholz-Spieka Airfield: An Aquila A210 light sport aircraft with two occupants crashed during take-off at Nordholz-Spieka Airfield in a maize field. Both occupants died in the crash and the airplane was completely destroyed by fire.

Canada, Saint-Esprit Airfield, QC: A CJ6 Entertainment Inc Nanchang CJ-6A with only the pilot on board struck a lawnmower on landing at Saint-Esprit Airfield (CES2), Quebec, Canada. The driver of the lawnmower suffered fatal injuries. The airplane suffered severe damage to the leading edge of the right-hand wing.
USA, Heritage Field, Limerick Township, PA: the pilot of a kit build Van's RV-7A experienced a loss of directional control on take-off, went off runway and caught fire at Heritage Field in Limerick Township, Pennsylvania. The sole pilot onboard sustained minor injuries.




9 JULY 1910

Walter Brookins attains an altitude of 6,175 feet in a Wright biplane, becoming the first to fly a mile high and wins a prize of $5,000 for his feat.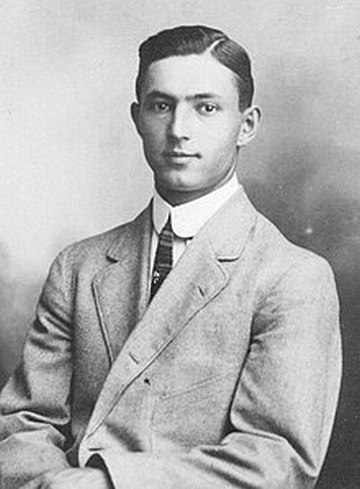 Brookins was born in July 1889 in Dayton, Ohio, USA. His first solo flight was after just two and a half hours of demonstration. He became the Wrights' first instructor for the Wright Exhibition Team.
On 9 July 1910 at Atlantic City in New Jersey, he flew to an altitude of 1,882 m (6,175 ft) in his Wright biplane, becoming the first person to fly at an altitude of one mile. He pioneered corkscrews and other stunt flying.
On 29 September 1910, Brookins piloted the first flight from Chicago, IL, to Springfield, IL. For this flight he was awarded $10,000.
On December 20, 1910, Brookins performed his "spiral dip" at Dominguez Field, Los Angeles. He climbed to 500 feet powered by the Wright four-cylinder engine, then spiralled down whirling in a circle about 10 feet in diameter. He did three variations of the feat.
He died in 1953 in Los Angeles and his ashes were buried at the Valhalla Memorial Park Cemetery in North Hollywood, California.

PLEASE GO TO
www.youtube.com/channel/UCCuRVZAGodT6sztTeXBGeMw
and subscribe to our YouTube channel