Compiled by Willie Bodenstein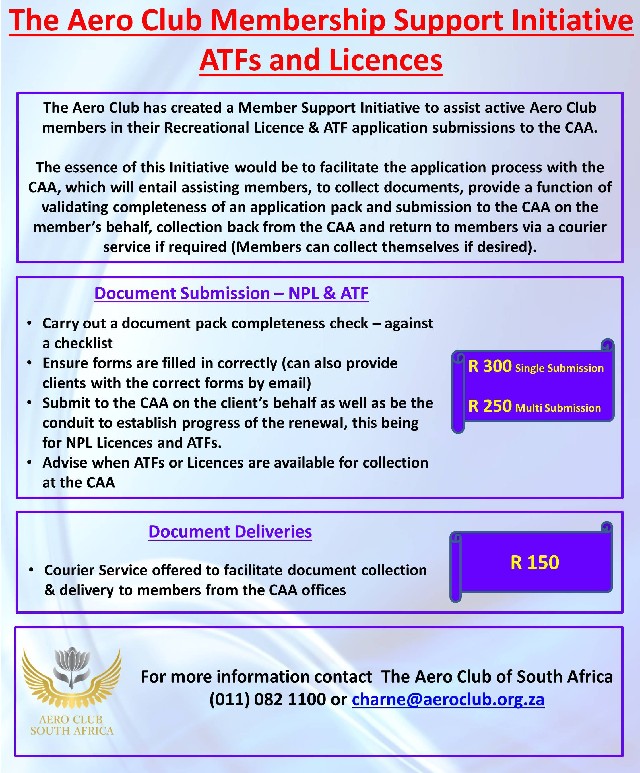 COVID 19 REGULATIONS, INITIATIVES AND AEROCLUB NEWS

AERO CLUB COMMUNIQUE JULY 2021 #1

KZN Relief Flights: CAASA together with the industry are coordinating relief flights in support and assisting KZN in this time of need. If you have air assets, and / or are able to support such flights, this would be highly appreciated. These flights would support flying in food & essentials, medical supplies, security equipment. A KZN relief fund has also been established in support of assisting those affected by the fallout of the riots.

For General Enquiries or to Provide Any Assistance, contact Sam Keddle 063 717 3460/Sam@caasa.co.za For more detailed information go to www.caasa.co.za/kzn-air-fund

C-19 Status. Since our last communique, we had entered Lockdown Level 4 until 11 July 2021, which has since been extended to the 25th July 2021. Essentially the same protocols continue as before.

ICASA - It has become apparent that renewing or change of ownership of radio licences as a service has again regressed to a point where no responses to queries are attended to and our attempts to engage have been unsuccessful. Thus, best is to continue to make your payments and utilise the payment receipt as proof.

Part 66, Subpart 4 - Approved Persons Certificate. The rework of this regulation has commenced and we will keep members posted on progress. The Aero Club website is also being overhauled as far as Approved Persons is concerned and will shortly contain relevant information on the process of how to become an AP as well as application forms and study material. We will also be starting an AP contact list - which will be POPI act compliant with the necessary consents.

POPI Act. The POPI act came into full effect on 1 July. In compliance, we hereby afford you the opportunity to unsubscribe from our mailchimp mailing list. If you would like to opt out, you can click the unsubscribe link below. If you are happy to be kept on the mailing list, no action is required.

If you are not a member and wish to join the Aero Club and any of its sections feel free to do so www.aeroclub.org.za







OUR CENTENARY YEARBOOK IS NOW AVAILABLE TO PURCHASE FROM OUR NEW WEBSHOP
WWW.AEROCLUB.ORG.ZA/SHOP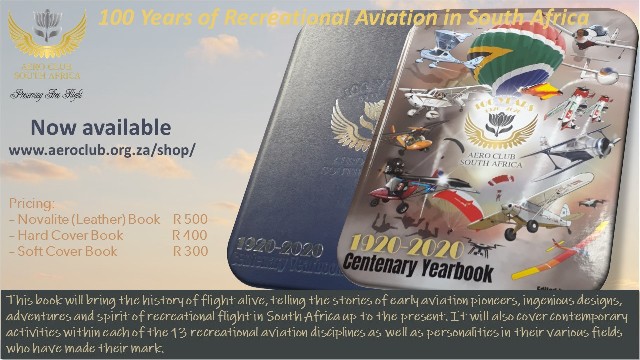 The following events will take place under the rules controlling the number of people congregating together and are therefore not open to the general public.

4 AUGUST
EAA Chapter 322 virtual monthly meeting and at Dickie Fritz. Contact Neil Bowden Email: neil1@telkomsa.net Cell: 084 674 5674

7 & 8 AUGUST
Sports Aerobatics Club Western Cape Regionals and training camp Venue TBA. Contact Annie Boon E-mail: chunge@mweb.co.za

18-21 AUGUST
Sport Aerobatics Club National Aerobatics Championships Phalaborwa Airfield. Contact Annie Boon E-mail: chunge@mweb.co.za or Natalie Stark natalie@stark.co.za

27 - 29 AUGUST
SAMJA Top Gun RC Jet Championships. For more information contact Dean Grobbelaar at dean@aerialconcepts.co.za

28 AUGUST
SAPFA Secunda Speed Rally at Secunda Airfield. Contact Jonty Esser E-mail: jonty@promptroofing.co.za Cell: 082 855 9435





1 SEPTEMBER
EAA Chapter 322 virtual monthly meeting via Zoom Contact Neil Bowden E-mail: neil1@telkomsa.net Cell: 084 674 5674

11 SEPTEMBER
RV Day Fly-In to Kitty Hawk. For more information Contact Dawie Pretorius Cell: 082 804 6979

17 & 18 SEPTEMBER
EAA Silver Creek Fly-In and movie evening. Camping on the airfield. Contact Jeremy Woods Cell: 082 883 0436 OR Neil Bowden Cell: 084 674 5674

24 SEPTEMBER
Heritage Day. Great Train Race, vintage cars and aircraft at Heidelberg airfield. Contact Van Zyl Schultz Cell: 082 560 2275 or E-mail: vzs@mweb.co.za





SAAF 15 SQUADRON AIDS IN SEA RESCUE
Written by defenceWeb


An Oryx from the South African Air Force's (SAAF's) 15 Squadron was called out to the New Constant, an oil tanker 50 nautical miles off the coast of Durban on Sunday to evacuate an ill crew member.

On the morning of 11 July, two National Sea Rescue Institute (NSRI) Durban rescue swimmers, two Netcare 911 rescue paramedics and SAAF flight crew departed Durban Air Force Base aboard the Oryx to rendezvous with the oil tanker to evacuate a 27-year-old Filipino crewman suffering a medical complaint.
The crews had been placed on alert by the MRCC (Maritime Rescue Coordination Centre) on Saturday after a WC Government Health EMS duty doctor evaluated the patient's condition in communications with the ship's medical crew and it was deemed necessary for the patient to be evacuated to hospital as soon as possible, the NSRI said.
On arrival at the ship, in calm sea conditions, an NSRI rescue swimmer and the two Netcare 911 rescue paramedics were hoisted onto the helicopter deck.
The patient, in a stable condition, was secured into a vacuum mattress and specialised stretcher and hoisted into the helicopter with one of the rescue paramedics. The NSRI rescue swimmer and the remaining rescue paramedic were hoisted into the helicopter.
The patient, in the care of the Netcare 911 rescue paramedics, was airlifted directly to a Durban hospital landing zone and then transported to a Durban hospital by Netcare 911 ambulance where he is receiving emergency medical care in hospital and he is expected to make a full recovery.
The SA Air Force Board commended Air Force Base Durban, especially the involved aircrew from 15 Squadron, that responded to the rescue call.
www.defenceweb.co.za

BELL DELIVERS FIRST BELL 505 TO ETHIOPIA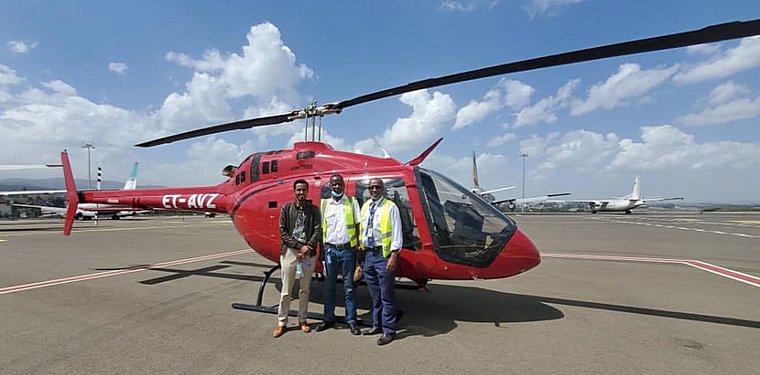 Bell Textron Inc., a Textron Inc. (NYSE: TXT) company, has announced the delivery of a Bell 505 helicopter to W.A. Oil Factory and Distribution PLC in Addis Ababa, Ethiopia, its first corporate customer in the country. With this latest acquisition, there are almost 30 Bell 505s in operation across six countries in Africa and the Middle East.

"The Bell 505 is an exceptional aircraft for corporate transportation, exceeding customers' expectations with a large, customizable cabin and fully integrated high-tech features," said Lynette Loosen, regional sales manager, Africa and the Middle East, Bell.
W.A. Oil Factory and Distribution PLC was established in 2016 by CEO Worku Aytenew. The company's portfolio of businesses includes mining, real estate and transportation, as well as the W.A. Oil Factory project. This oilseed crushing and crude oil refining factory, located at Debremarkos in Amhara Regional State, East Gojjam Zone, imports and distributes ETB 5 billion (USD 200 million) worth of palm oil.
"We are proud to accept the delivery of the first Bell 505 in Ethiopia," said Aytenew. "Given the rugged terrain and limited road infrastructure in parts of the country, the Bell 505 will save us hours and sometimes days of travel time."
The Bell 505 was delivered to Addis Ababa's Bole International Airport, which has an elevation of 7,625 feet above MSL. "We've been operating the aircraft at 8,100 feet with no problem at all," said Capt. Gilbert Gitonga, pilot, W.A. Oil. "The 505 has plenty of power and is operating extremely well."
The aircraft was delivered to one of Bell's independent representatives for Africa, Africair's Bell Customer Service Facility (CSF) in Nairobi, Kenya, where it was re-assembled and hangered until its ferry flight to Addis Ababa.
"With this latest delivery, the Bell fleet in Africa continues to grow, building on its reputation for safety, reliability and cost-effectiveness," said Jim Evans, CEO, Africair. "In particular, over recent years, the Bell 505 has grown in popularity, with operators on the continent appreciating the flexibility and versatility of this light helicopter. We are looking forward to building this new relationship with W.A. Oil."
With a speed of 125 knots (232 kilometers per hour) and a useful load of 1,500 pounds (680 kilograms), the Bell 505 is designed to be safe and easy to fly while providing unmatched value to the operator.

GARMIN RECEIVES ADDITIONAL GFC 500 AUTOPILOT CERTIFICATIONS



Garmin® International Inc., a unit of Garmin Ltd., has announced it has received Federal Aviation Administration (FAA) Supplemental Type Certification (STC) for the GFC™ 500 Autopilot in additional aircraft to include the Beech H/J/K/M 35 Bonanza, Cessna 210 D/E/F and T210F and pre-1965 Mooney M20 C/D/E aircraft.


The GFC 500 Autopilot is intended for light piston aircraft while delivering superior in-flight characteristics, self-monitoring capabilities and minimal maintenance needs when compared to older generation autopilot systems.
The GFC 500 autopilot uniquely integrates with the GI 275 or G5 electronic flight instruments; a combination of either a standby GI 275 or G5 electronic flight instrument interfaced to a G500 TXi™ flight display; or a G3X Touch™ flight display to provide pilots with an economical and modern autopilot solution. The autopilot mode controller contains large dedicated keys and knobs, a control wheel that allows for easy adjustment to aircraft pitch, airspeed and vertical speed and a Level Mode (LVL) that returns the aircraft to straight-and-level flight with the push of a dedicated button.
The full-featured GFC 500 autopilot provides a long list of existing general aviation aircraft with a simple, lightweight, cost-effective autopilot upgrade path. Incorporating solid state attitude with robust self-monitoring capabilities, the GFC 500 provides superior autopilot performance, greater reliability and tremendous safety tools that are similar to those featured on the popular GFC 700 autopilot. In addition to traditional autopilot capabilities, such as altitude hold, vertical speed and heading modes, the GFC 500 also includes altitude preselect, VNAV1, a dedicated LVL button, underspeed and overspeed protection and more. Pilots can also select, couple and fly various instrument approaches, including GPS, ILS, VOR, LOC and back course approaches when paired with a compatible Garmin GPS navigator.
As a standard feature of the GFC 500, pilots receive Garmin Electronic Stability and Protection (ESP), which works to assist the pilot in maintaining the aircraft in a stable flight condition. ESP functions independently of the autopilot and works in the background while the pilot is hand-flying the aircraft to help avoid inadvertent flight attitudes or bank angles by nudging the pilot to return the aircraft back to a safe flight attitude.
Garmin continues to add additional aircraft models to the growing STC list for the GFC 500 autopilots. To view the most up-to-date aircraft STC list, to view certifications that are expected to being in the next 12-months, or to express interest in a specific aircraft make/model, visit: www.garmin.com/GFC500.

SWITZERLAND SELECTS F-35 LIGHTNING II FOR FUTURE AIR DEFENCE REQUIREMENTS



The Swiss Federal Council announced Lockheed Martin's F-35 Lightning II is the aircraft selected from its New Fighter Aircraft competition. Switzerland will become the 15th nation to join the F-35 program of record, joining several European nations.

"We are honoured to be selected by Switzerland and look forward to partnering with the Swiss government, public, air force and industry to deliver and sustain the F-35 aircraft," said Bridget Lauderdale, Lockheed Martin's vice president and general manager of the F-35 Program. "With the selection, Switzerland will become the 15th nation to join the F-35 program of record, joining several European nations in further strengthening global airpower and security."
The Swiss Air Force will receive F-35A aircraft, a sustainment solution tailored to Swiss autonomy requirements and a comprehensive training program.
The F-35 selection will deliver economic and technical advantages to the nation for decades to come. Swiss industry will have the opportunity to participate in research and development, production and sustainment opportunities that will extend their capabilities into the future. As a new participant in the F-35 program, Switzerland will benefit from Lockheed Martin's dedication to autonomy and sovereignty in integrating indigenous solutions.
To date, the F-35 operates from 21 bases worldwide, with nine nations operating F-35s on their home soil. There are more than 655 F-35s in service today, with more than 1,380 pilots and 10,670 maintainers trained on the aircraft.

MD HELICOPTERS SECURES $43.9 MILLION IN ARMY CONTRACTS



MD Helicopters, Inc. (MDHI) announces two independent contract awards worth $43.9 million from Army Contracting Command-Redstone supporting the Afghan Air Force's MD 530F Cayuse Warrior light attack helicopters.

The first contract, a six-month extension worth $14.5 million, continues MDHI's longstanding efforts to provide program management, contractor logistics support (CLS) services, material and remote operations to support the Afghan fleet. Work will take place in Mesa, Arizona; Kabul, Afghanistan and Al-Ain, United Arab Emirates. The contract was awarded on May 28, 2021.
The second contract, worth $29.4 million, modifies MDHI's original maintenance capabilities support contract. Under this six-month contract, MD Helicopters will provide continued maintenance, repairs, updates and overhauls of the Afghan Air Force's MD 530F Cayuse Warrior helicopters in Mesa, Kabul, and Al-Ain. The contract was awarded on June 10, 2021.
"While U.S. forces begin the drawdown process in Afghanistan, these contracts allow us to help Afghanistan's Air Force maintain stability on their own through the continued support of their aircraft," says Nick Nenadovic, Vice President, Aftermarket and Customer Support. "This further highlights the value our government and the Afghan Air Force put on the MD 530F. It is with tremendous pride we can continue providing the highest level of support for both our government and allies."
The enhanced MD 530F Cayuse Warrior is a light armed attack helicopter respected for its power, safety, speed, agility and unparalleled confined area capabilities. The aircraft supports a wide range of training and operational missions, providing safe, efficient multi-mission support with an increased performance profile.

GULFSTREAM MAKES FINAL G550 COMMERCIAL DELIVERY

Gulfstream Aerospace Corp. has announced that it has delivered the final commercial Gulfstream G550™ to an international customer, further increasing the worldwide fleet of more than 600 G550s already in service. The delivery took place June 30.

"For nearly two decades, the G550 has been exceeding customer expectations," said Mark Burns, president, Gulfstream. "The G550 set a new standard for performance and reliability and continues to outperform and impress with its wide-ranging capabilities. Given our vast G550 fleet in service, we look forward to continuing to support all G550 customers around the world with Gulfstream Customer Support's extensive network."
The award-winning G550 entered service in 2003 as the launch platform for the Gulfstream PlaneView™ flight deck. It was also certified with Enhanced Vision System - now known as Enhanced Flight Vision System (EFVS) - as a standard feature, leading the way for subsequent aircraft to incorporate the pilot safety tool in their array of offerings.
The G550 can fly 6,750 nautical miles/12,501 kilometres at Mach 0.80, putting the aircraft at the top of its class while earning more than 55 speed records.

THIRD DASSAULT FALCON 6X JOINS TEST PROGRAM



A third Falcon 6X recently took flight and joined Dassault Aviation's flight test campaign, moving the new long-range extra widebody twin a step closer to anticipated certification in 2022.

Falcon 6X s/n 003 is fitted with a full interior and will be used for cabin design validation. The aircraft completed a two-hour maiden flight from Dassault's Bordeaux-Mérignac final assembly plant to its Istres flight test facility on June 24, climbing to Flight Level 400 and accelerating to a cruise speed of Mach 0.85. The first 6X flew on March 10 and the second on April 30.
Aircraft no. 3 is outfitted with the Falcon 6X's award winning interior, including in-flight entertainment and communications systems. In addition to testing this equipment, the aircraft will be used to evaluate environmental features and temperature control and validate cabin acoustics systems, which alongside those on the ultra long-range Falcon 8X trijet, are expected to be the industry reference.
A fourth aircraft will also be equipped with a full cabin interior, currently being installed in Mérignac. It will conduct a two-month global endurance flight campaign intended to ensure that all 6X systems are fully mature upon entry into service.
Production of additional units is in full swing, with aircraft no. 10 scheduled to be on the final assembly line by beginning of July.
The Falcon 6X has received several prestigious design awards, including the Red Dot prize for premium cabin design. The aircraft was recognized this month as the "Best of the Best" in aviation by the Robb Report luxury-lifestyle magazine, which noted: "Dassault's newest aircraft pairs size with technology to create an award-worthy new class of business jet."

EXTENSIVE LIST OF NEW FEATURES FOR THE PILATUS PC-24 SUPER VERSATILE JET



Based on customer feedback from over 50,000 hours of fleet operations, Pilatus has incorporated numerous new features into Super Versatile Jets which come off the production line from this year onward. As it is Pilatus 'core philosophy to continuously improve and provide support over the life of the aircraft, many of these new features can be retrofitted in earlier serial number PC-24s.

Starting with the passenger experience, the cabin features new executive seats which provide more comfort, more intuitive controls and lighter weight. They fully recline to a flat position. The seats are attached to the cabin's flat floor with quick -release mechanisms to facilitate rapid seating configuration changes on the ground. In lieu of the standard forward left-hand coat closet, operators may now choose to install a galley with options for a microwave oven, a coffee or espresso maker, a generous work surface, dedicated ice storage and capacity for standard catering units.
For PC-24 flight crews, Pilatus and Honeywell have continued to develop and refine the Advanced Cockpit Environment (ACE). A touch-screen avionics controller replaces the multi-function controller as standard equipment. The touch-screen controller was first introduced in the PC-12 NGX and has proven to be very well liked for entering and editing flight plan data, changing radio frequencies as well as controlling the weather radar. It features a slip-resistant design around the bezel for stability and input precision in turbulence.
The PC-24's flight control system now incorporates Tactile Feedback in both roll and pitch to prevent unintended unusual attitudes. If the aircraft rolls through 51 degrees bank angle, roll limit protection will engage to bring the aircraft back to 31 degrees bank angle. If the PC-24 is predicted to exceed the Vmo/Mmo limits, the pitch servo will engage until the aircraft exits the potential overspeed condition. Tactile Feedback protection is provided even with the autopilot turned off and can be manually overridden by the pilot with a quick-disconnect button.
The standard auto-throttle system also includes a new Automatic Speed Protection function. This function provides both under and over -speed protection by automatically engaging the auto-thottle to adjust power so that the aircraft always remains inside the entire speed envelope for all flight phases. Working in conjunction with the auto - throttle, the Williams FJ44-4A engine FADEC software has also been fine-tuned to reduce power oscillations in cruise and descent.
A new automatic yaw trim function further reduces flight crew workload during departure and climb phases. This auto-pilot mode is automatically activated when the yaw damper is engaged and will attempt to hold the aircraft to zero sideslip. If one engine is inoperative or a large thrust asymmetry exists, the automatic yaw trim will attempt to maintain approximately ½ trapezoid indicated sideslip.
The Advanced Cockpit Environment also features the Pilot -Defined Visual Approach function. This approach mode allows the pilot in command to easily set up an autopilot and auto-throttle coupled visual approach to any runway and precisely track a left-hand, right-hand, or straight-in pattern down to the runway threshold. This is a very useful feature for operations into smaller, remote airports which the PC-24 is designed to use. It increases safety at uncontrolled fields by allowing the pilot to keep attention focused outside the aircraft looking for other traffic.
Among the new avionics features offered on the PC-24 are Honywell's SmartRunway and SmartLanding advisory functions which enhance safety and reduce pilot workload with audible callouts for On Runway, Approach Runway, Runway End, Excessive Approach Angle and Taxiway and Landing Advisories. Also available are VHF Datalink with AFIS, ACARS Graphical Weather, basic and advanced satellite graphical weather (S-XM), FMS Take-off and Landing Data (TOLD), Controller to Pilot Data Link Communications (CPDLC) over the FANS 1/A+ network, KMA-29A Bluetooth 3D audio panel with record and playback functions, the Honeywell RDR-7000 solid state weather radar with predictive hail and lightning functions and more.
In addition, Pilatus recently certified and began offering the True Blue Power lithium ion batteries, which provide an 84 lb (38 kg) reduction in empty weight and reduce total life-cycle cost compared to the standard dual Ni -Cad batteries.


SAFRAN ARRANO 1A OBTAINS FAA CERTIFICATION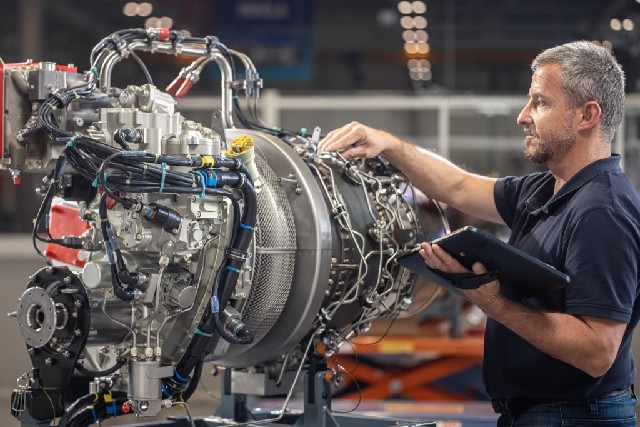 Safran Helicopter Engines has received Federal Aviation Administration (FAA) type certification for its Arrano 1A engine, installed in the Airbus H160 helicopter. Arrano is a new-generation turboshaft in the 1,100 to 1,300 shp power range. It integrates the best in aero-engine technologies and offers a 15 % reduction in fuel consumption over other in-service helicopter engines. Arrano received EASA (European Aviation Safety Agency) type certification in June 2019.

The Arrano 1A engine integrates the best in aero-engine technologies and offers a 15 % reduction in fuel consumption over other in-service helicopter engines.
Arrano Program Director Cyrille Ressejac-Duparc said, "Arrano is now certified in both Europe and United States and is more than ever ready for Airbus H160 entry-into-service. This engine lies at the vanguard of Safran Helicopter Engines' new range. As well as the H160's imminent arrival in service, Safran Helicopter Engines is strongly committed to supporting Airbus and French Armed Forces in developing the "Guépard" military variant".
Arrano innovative design features a new-generation digital control system that offers greater in-flight responsiveness, enhancing both safety and pilot handling. It combines a highly efficient two-stage centrifugal compressor, with new-design variable inlet guide vanes (IGV). Through improving the engine's thermal efficiency, these components contribute to reducing fuel consumption by 15% over other in-service engines. The gyratory combustion chamber features fuel injectors made using additive manufacturing (3D-printing) techniques. These enhance engine start performance in all weather and altitudes and contribute to reducing emissions. In common with all Safran engines, the Arrano is certified to operate on up to 50 percent sustainable aviation fuel, including biofuel.
The Arrano has been designed with simple maintenance in mind and a full access to Safran Helicopter Engines digital services. Servicing time is lower than that of previous generation engines.

JETPACK AVIATION COMPLETES INITIAL SPEEDER VTOL TRIALS, PROVES CAPABILITY AND BEGINS ACCEPTING PRE-ORDERS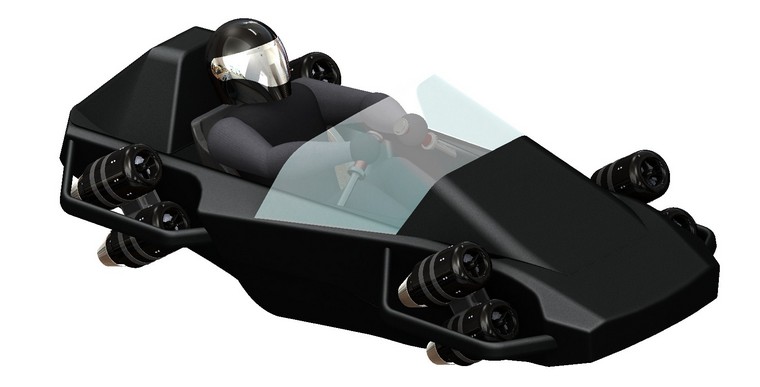 California-based JetPack Aviation has announced that it has completed flight testing with the first prototype - P1 - of its Speeder jet powered, VTOL mobility platform. Trials concluded successfully in May. Flight testing began in December 2020, with two-axis tethers securing the platform, progressing through a single-axis tether and culminating in the aircraft flying with just a safety tether connection. The program achieved a series of test points aimed at proving the engine gimbal and articulated exhaust nozzle systems, as well as the flight controller.

The engine gimbal and articulated exhaust nozzle systems, combined with the mechanical elements of the Speeder control system, operate in conjunction with the flight controller, comprising a computer and flight sensors, to enable the aircraft's unique manoeuvrability. Within the confines of the 80ft (24m) tether system, P1 demonstrated the Speeder's ability to take-off, climb, hover, yaw and perform slow transitions into forward flight.
With its unique combination of heavy payload, speed, VTOL operation, simplicity and optionally crewed flight, the Speeder offers unprecedented special mission capability, with longer term application to the urban air mobility market. Demand is expected to be high, and JetPack Aviation has already begun readying letters of intent for customers and taking pre-orders for the aircraft.
Build work on P1.5, the next prototype, which will ultimately fly off-tether, has already begun. Flight testing is expected to begin later in summer 2021, gathering data that will inform the design and build of P2, for which flight testing is anticipated from Q1/2 2022. P1.5 employs a smaller airframe compared to P1, as JetPack Aviation moves the product closer to production configuration. Like P1, it will use four engines, although the production model will employ eight, at least for crewed operations; P1.5 will also feature carbon fibre body panels. Trials will validate increasingly rapid transitions as well as faster forward, rearward and lateral flight.
The P2 prototype Speeder will have a fully formed body, small, field-removable wings and forward canards. The aircraft is sufficiently compact to be transported in a car or motorcycle trailer and immediately ready to fly, with no charging or other requirements. It is expected to demonstrate high-speed forward flight with control and lift effected by aerodynamic surfaces as required, building on the aircraft's proven capability to fly safely on engine thrust vectoring.
The Speeder burns regular Jet A-1, kerosene or diesel, but in a recent cooperative supply agreement with Prometheus Fuels Inc., JetPack Aviation has committed to using 100% zero net carbon fuel in all its future operations.




USA, ALASKA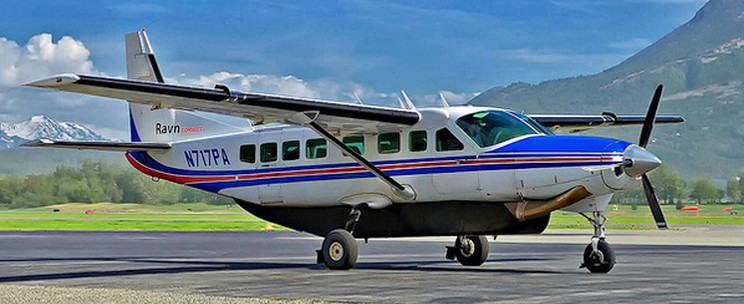 On 2 October 2016, about 1157 Alaska daylight time, a Ravn Connect flight 3153, a turbine-powered Cessna 208B Grand Caravan airplane collided with steep, mountainous terrain about 10 nautical miles northwest of Togiak Airport (PATG), Togiak, Alaska. The two commercial pilots and the passenger were killed and the airplane was destroyed. The scheduled commuter flight was operated under visual flight rules (VFR) by Hageland Aviation Services, Inc., Anchorage, Alaska, under the provisions of Title 14 Code of Federal Regulations (CFR) Part 135. The National Transportation Safety Board's (NTSB) investigation determined that instrument meteorological conditions (IMC) were likely in the vicinity of the accident site at the time of the accident. The flight departed Quinhagak Airport, Quinhagak, Alaska, at 1133 and was en-route to PATG.

Probable Cause
The National Transportation Safety Board determined that the probable cause of this accident was the flight crew's decision to continue the visual flight rules flight into deteriorating visibility and their failure to perform an immediate escape manoeuvre after entry into instrument meteorological conditions, which resulted in controlled flight into terrain (CFIT). Contributing to the accident were (1) Hageland's allowance of routine use of the terrain inhibit switch for inhibiting the terrain awareness and warning system alerts and inadequate guidance for uninhibiting the alerts, which reduced the margin of safety, particularly in deteriorating visibility; (2) Hageland's inadequate crew resource management (CRM) training; (3) the Federal Aviation Administration's failure to ensure that Hageland's approved CRM training contained all the required elements of Title 14 Code of Federal Regulations 135.330; and (4) Hageland's CFIT-avoidance ground training, which was not tailored to the company's operations and did not address current CFIT-avoidance technologies.



Nigeria, Zamfara State: A Nigerian Air Force Dassault/Dornier Alpha Jet A crashed in Zamfara State after being hit by heavy rebel fire. The pilot ejected safely.
Romania, Bucharest: A formation of some Romanian Air Force helicopters and three US Army Black Hawk helicopters were involved in a training flight above Bucharest, Romania when one of the Black Hawks started a rapid descent after passing the monument on Aviatorilor Avenue. After that, the helicopter touched two street light poles (at least one being knocked down) and landed in Charles de Gaulle Place. The cause of the forced landing is unknown.

Lithuania, near Merkine: Two Schempp-Hirth Discus 2A Sailplane each with the only a pilot on board, both competing European Youth Gliding Championship, were involved in a mid-air collision. One bailed out while one managed to land.
Sweden, near Västra Vedåkra: A Saab 91B Safir with three occupants force landed on a road near Västra Vedåkra, about 7km south of Hörby, following a loss of engine power. The three people onboard received minor injuries.

USA, about 2km S of Blossom, Lamar County, TX: A kit build Zenith CH 750 Cruzer with two on board crashed moments after take-off from a private airstrip, about 2km south of Blossom, Lamar County, Texas. Both occupants were injured and taken to hospital.
Ukriane, near Zayve village, Nova odesa district: A Meridian-Avia-Agro Mil Mi-2 with two on board during private agricultural work flight was en-route from Nova when the helicopter crashed near Zayve village, Nova Odesa district, Mykolaiv region. The helicopter was damaged beyond repair and the two onboard suffered fatal injuries.

Germany, Renneritz Airfield: A Segelflugverein Wolfen e.V. PZL-104 Wilga 35A with four occupants crashed immediately after take-off at Renneritz Airfield (EDOX). The aircraft was destroyed by a post impact fire. Three occupants died and one was seriously injured. The injured later died in hospital from the injuries sustained in the crash.
Germany, near Oerlingshausen Airfield: A Schempp-Hirth Discus B Sailplane with only the pilot on board performed an emergency landing in a field near Oerlinghausen Airfield (EDLO). The glider sustained minor damage and the was not injured.

Germany, Oehna, Niedergörsdorf: A JMB Aircraft VL-3 Evolution with two occupants crashed into a forest in Oehna, Niedergörsdorf. Both occupants sustained minor injuries after the parachute of the ultralight was activated.
USA, near Angwin Airport-Parrett Field, Angwin, CA: A Beechcraft V35B Bonanza with three occupants was destroyed subsequent to an impact with trees and terrain during a missed approach near Angwin Airport-Parrett Field (2O3), Angwin, California. There was a post impact fire and no survivors.
USA, Hogue Mountain south of Boundary Peak, Mono County, CA: United States Navy (USN) Sikorsky MH-60 Knighthawk with four on board sustained unreported damage subsequent to the high-altitude impact with mountainous terrain near Hogue Mountain south of Boundary Peak in Mono County, California. The four crew onboard were not injured.




12 JULY 1849

Balloons (Montgolfières) are used for bombardment for the first time, with Austrians bombing Venice.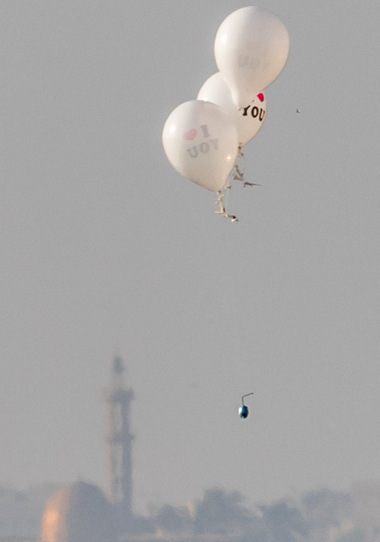 Helium balloons bearing flammable materials launched from Bureij in the Gaza Strip. Photo By MinoZig / commons.wikimedia.org
The first aggressive use of balloons in warfare took place in 1849. Austrian imperial forces besieging Venice attempted to float some 200 paper hot air balloons, each carrying a 24-to-30-pound (11 to 14 kg) bomb that was to be dropped from the balloon with a time fuse over the besieged city. At least one bomb fell in the city; however, due to the wind changing after launch, most of the balloons missed their target and some drifted back over Austrian lines and the launching ship Vulcano.
During World War II, the British Operation Outward launched some 99,142 balloons at Germany, 53,543 of which were carrying incendiaries. In 1944-1945, during World War II, Japan launched some 9,300 Fu-Go balloon bombs at North America. The 10-meter (33 ft) diameter balloons were inflated with hydrogen and typically carried one 15 kilograms (33 lb) bomb, or one 12 kilograms (26 lb) bomb along with four 5 kilograms (11 lb) bombs.
Since the beginning of the 2018 Gaza border protests, Palestinians have been launching incendiary kites at Israel as a form of Agro-terrorism. The prevailing wind blowing in from the Mediterranean Sea, propels the balloons inland from Gaza into Israel. According to a report in Ynet, as of 10 July 2018, incendiary kites and balloons started 678 fires in Israel, burning 910 hectares (2,260 acres) of woodland, 610 hectares (1,500 acres) of agricultural crops, as well as open fields.

PLEASE GO TO
www.youtube.com/channel/UCCuRVZAGodT6sztTeXBGeMw
and subscribe to our YouTube channel