01.08.2021



Facebook is quite a useful tool every now and then and I was surprised last Friday when a "Memory" popped up on my timeline reminding me that I started writing these articles one year ago - boy how time flies.
On 16 June 1976, I was on the early shift in the tower and for once the visibility was excellent towards the southwest. I hadn't switched the FM radio on so had no idea what was going on in that part of the world. I could see lots of columns of black smoke rising and wondered what was going on - the Soweto Riots had started. I got a call from Swartkops tower to say that helicopters would be passing to the west of us but would be on operational frequencies so wouldn't contact me and that if all my traffic could keep a good lookout and avoid flying over the Soweto area. Later that afternoon I went on a flight to the old Baragwanath and we sneaked round Soweto (didn't go overhead) - the scenes were something I never wish to see again.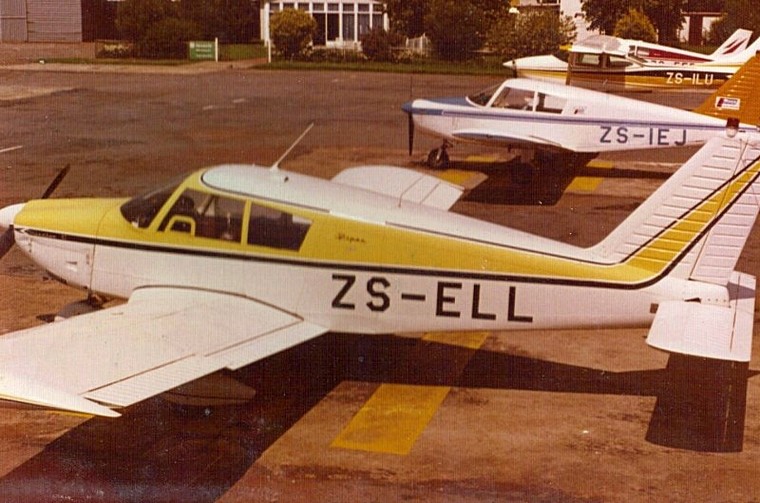 I know I've mentioned this little Cherokee before, but it was one of my favourite Cherokee 180s. This is the one that I flew the most and I remember one particular flight to the GF Area when it was quite turbulent. I had my four-year-old nephew Mark Flee in the aircraft with me and had strapped him in myself so that he would be secure in the seat behind me. As I said, it was rather turbulent and all of a sudden, I heard this little voice in my ear saying, "Uncle Ray, tell the bumps to stop it" He'd somehow managed to get out of his seat belt without undoing it. Thank goodness Peter Marais (an instructor) was with me and he was able to secure Mark again.
I remember one day sitting watching ZS-ELL at the holding point and they were taking rather a long time to do run-up checks etc. This didn't worry me as this was an instructional flight. ZS-ELL was an early Cherokee with the manual flaps with the lever between the front seats and without toe brakes (the brakes were a lever under the panel). Peter Marais, who was the instructor on board, told me afterwards that this was actually an introductory flight. He'd set the flaps to the first notch for take-off and every time he set the lever the student would release it - he told Peter he was taking the handbrake off. This student went on to get his license but always flew the 180 as he was concerned about the lack of power on the Cherokee 140.
Another time that I flew ELL was with Lillith Billngs and we were practicing short landings. On the 1st one, I leant forward to take hold of the brake lever and pushed the stick forward by accident. The nosewheel came down with an almighty crunch and we had to stop the lesson because we both thought we may have damaged nose oleo. Thank goodness we hadn't.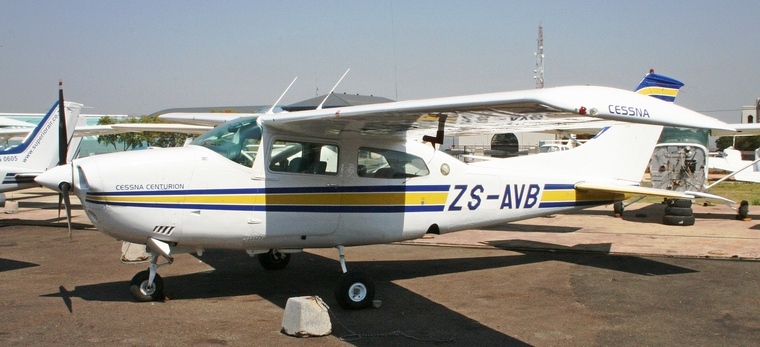 This aircraft was a regular visitor from Rand. She belonged to AVBOB, the funeral company and was used to repatriate the remains of people. She had a strengthened floor in the back with tiedown points to secure the coffin. The colour scheme on the aircraft hasn't changed much over the years. Whenever they landed at Grand Central, they would ask to park on the south side of the Rennies workshop hangar as this was away from the public eye so that they could load or off load a coffin in private. On occasion the family of the deceased would be there to greet the coffin and they had to be accompanied across the apron to where the aircraft was parked. The person who accompanied them was usually Jo-Anne Burger or later Jeanette Rennie. This wasn't a job that either of them fancied doing and I take my hat off to them.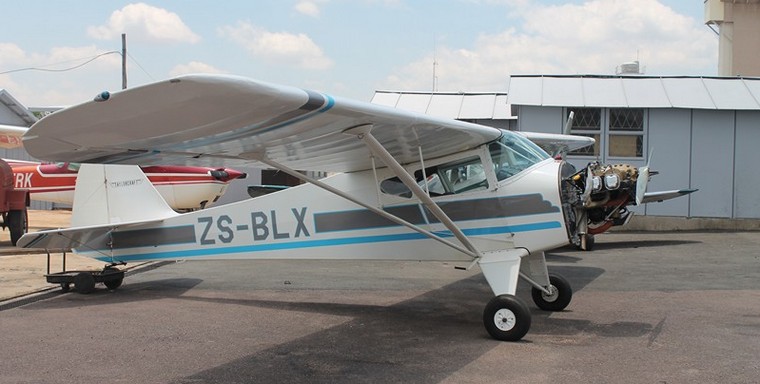 This beautiful little Taylorcraft lived with us at GC for a short while. Her owner had bought her to build up his hours to qualify for his Comm license. I really cannot remember his name as he was one of those folks who kept very much to himself. As soon as he had the required hours, he sold the aircraft and I didn't see it again.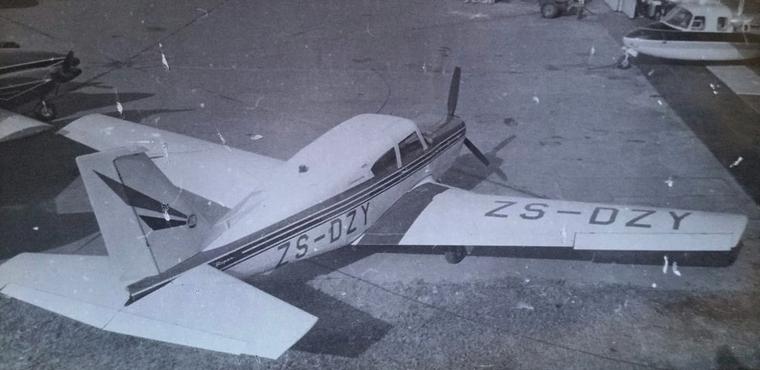 I mentioned, a couple of articles ago, that Dave Charlton owned Piper Comanche ZS-DZZ. I was wrong. He owned ZS-DZY. My apologies.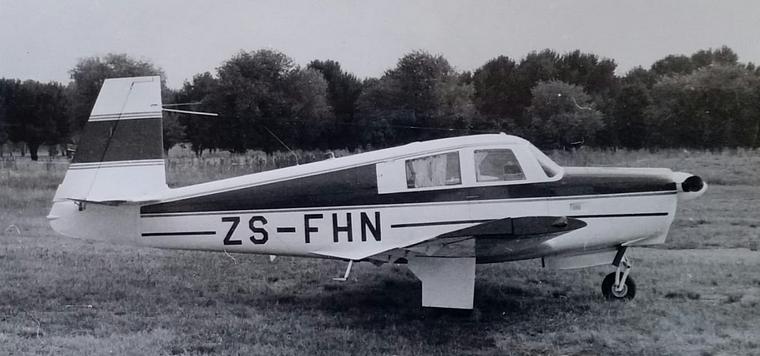 In last month's article, I mentioned the Grand Central Flying Club committee and one of the members of that committee was Richard Huggett. He owned this beautiful Mooney 20C. She was white with an Avocado Green trim. He kept her absolutely immaculate. Richard owned a company called Riggers SkyJacks who specialised in repairing and cleaning hi-rise building windows.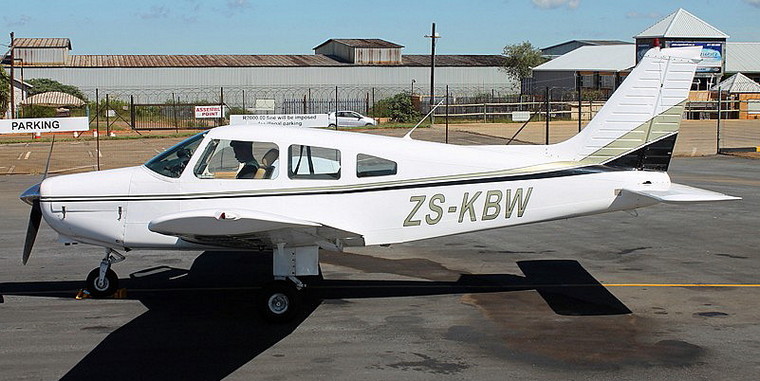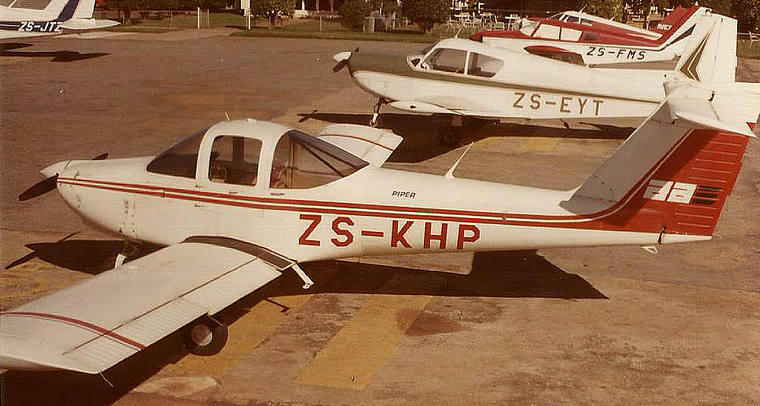 These four aircraft were part of the Placo Grand Central fleet. KBW was a Cherokee 180 and KHP & KHW were two of the three Tomahawks they had - the other one was ZS-KFU and PGC was their flagship Cherokee 140.
These aircraft, among all the other Cherokees that they had, were the backbone of the movements at Grand Central. This flying school was very busy. Managed by Peter Bull with Chief Flying Instructor Freddie Smith and all the instructors and office staff, this school ran like clockwork. If there was a problem student, Freddie would fly with him/her and make an assessment and either recommend that they change instructors (usually this worked) or in conjunction with Peter Bull, ask the student to stop flying. Peter Bull insisted that any student wanting to learn to fly had to pass their flying medical before starting to learn - he'd seen quite a few students get to 1st solo stage and then fail their medical for some reason and therefore they'd wasted all their money. He wasn't popular with the high-ups at Placo for this, but he persisted. He was a really strict man but a decent person to work with.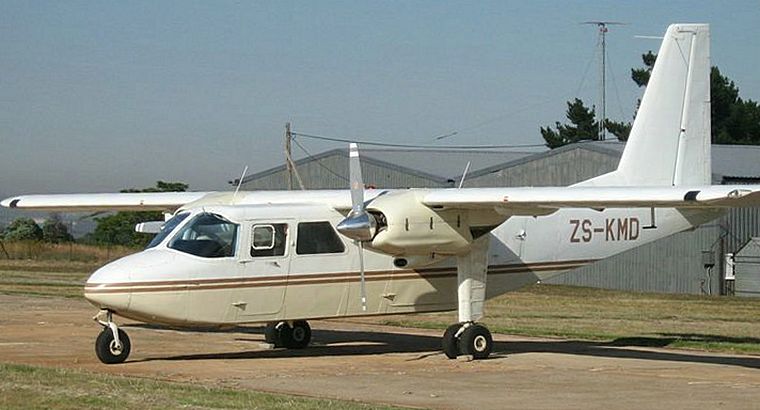 ,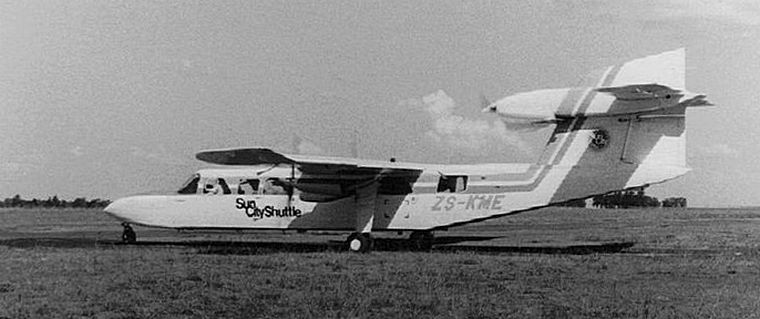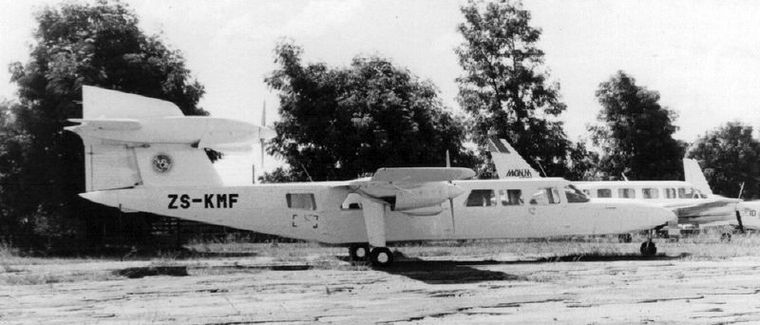 In 1978 Magnum Airlines opened up their scheduled flights to Sun City using the BN Islander ZS-KMD and two BN Trilanders ZS-KME & ZS-KMF.
They took over the building that had previously been used by 42Sqn SAAF as their terminal and office buildings. This scheduled service was operated every day with, if I remember correctly, six flights per day. How Magnum ever got the license to operate out of GC I will never know as the airfield did not conform to the standards required for a scheduled flight operation. Not only did we not have a decent firefighting facility on the airfield, but the tower wasn't manned after hours either and they had flights that came in and out during that time. Thank goodness there was never an incident. The service operated for a time but wasn't a financial success and the aircraft were sold on. The only set too that I had with them was that they demanded preferential treatment in the circuit as they were a scheduled flight and trainers must not get in their way - sorry but nowhere in aviation law does it say that scheduled flights have preference. It took a couple of heated arguments to get this point across, but we, as the airport operators, won in the end and all ran smoothly after that.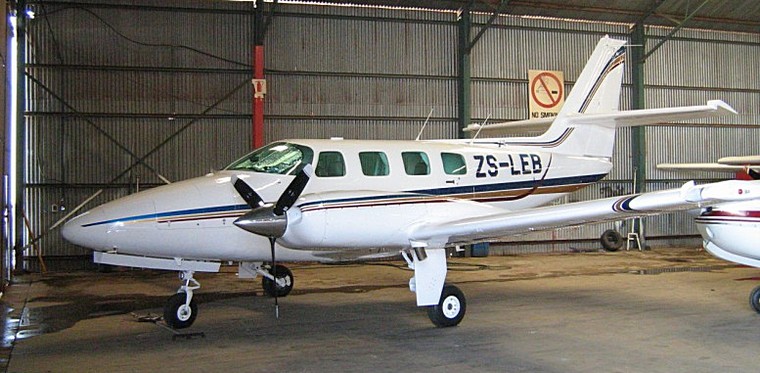 One of the really great characters on the airfield was Les Lebanon Snr. He owned a company called Cedar Radex Paints, based in Wynberg. He used to fly Placo's aircraft until, in April 1982, he bought a Cessna T303 Crusader. He struggled initially with handling the twin but once he mastered it, there was no stopping him - he flew all over the country. I never did get to fly with him unfortunately. He was upset that he couldn't get the registration ZS-LES for this aircraft as that belonged to a Beech Bonanza A36.
When I first met him, he seemed to have an excellent head of hair but this illusion only lasted till the time he walked behind an aircraft that was taxying out and his wig flew off - he never lived that one down.
Les owned a beautiful Mercedes Benz 230SL which he allowed me to drive once - what a car.
He decided one day that the tower building needed a coat of paint (which it did) and he made an arrangement with management to do this provided he could put two signs up saying, "Paint supplied by Cedar Radex". This was approved and the tower looked all nice and smart again. I unfortunately don't have a photo of the tower in her new clothes,
In later years, Les passed away and his son Les Jnr took over the aircraft and flew it for quite some years.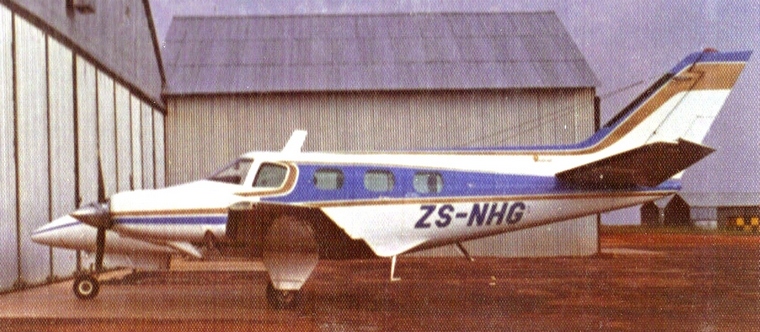 One of my all time favourite twins is the Beech Be60?? Duke and we had this one based at Grand Central with us - she lived in the Rennies hangar and was maintained by Buck Rogers and crew. She belonged to a gentleman Norman H Gilfillan (hence the registration) and was flown by Robin Gratz. She was immaculately maintained and was one of those aircraft where no expense was spared, I flew in her quite often with Robin and I must say I was impressed.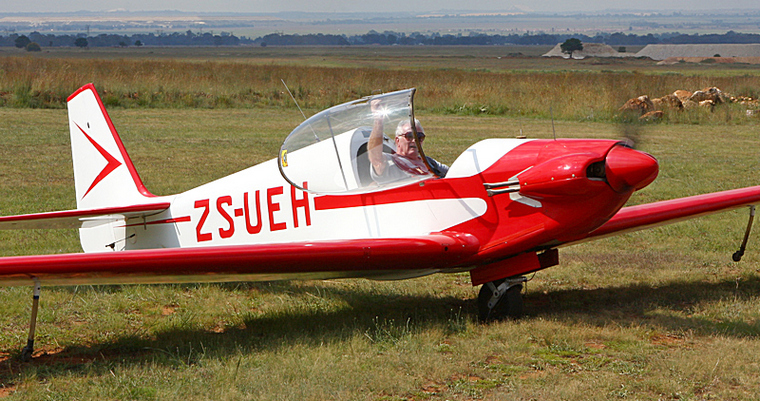 Peter Goldin was a member of the flying club and he owned this very pretty little Fournier RF4D. He flew mostly on weekends and was a very disciplined pilot. A pleasure to work with at all times.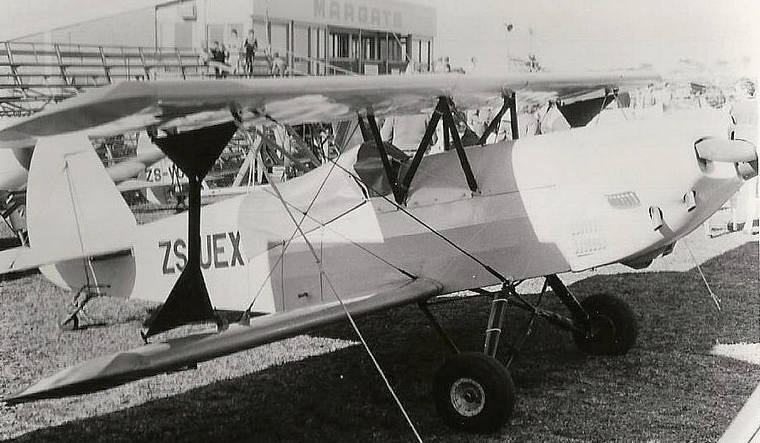 This was an EAA Bi-Plane and was owned by Barry Walker. It initially had an 85hp Continental in it but Barry was convinced that he could fit an Alfa Romeo Boxer motor into her. This was a flat four that produced about 125hp and would have made a big difference. Unfortunately, this engine was water cooled and Barry couldn't figure out how to configure the radiator and associated cooling pipes so the project was abandoned, He sold her on and I believe she now lives in Namibia as V5-UEX.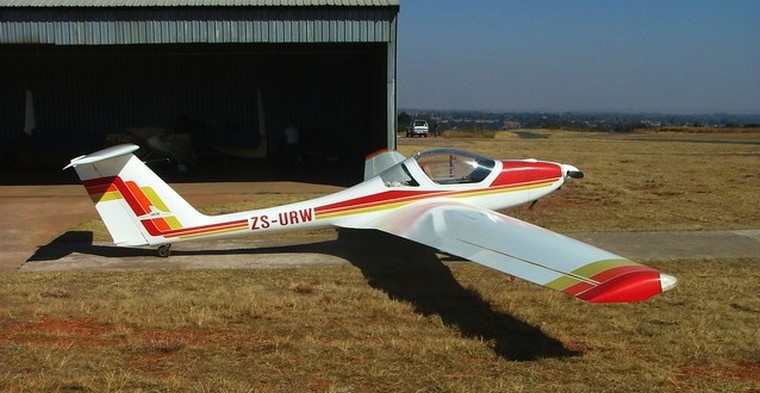 This Grob 109 was one of the first to arrive in South Africa and belonged to Dave Lister, a member of EAA 322. I went to Margate with Dave in this aircraft and we used very little fuel. Most of the trip was done by gliding, specially over the Drakensberg and was quite exciting.
This is the end of the sermon for this month - keep flying folks and stay away from this dreaded Corona Covid-19 virus.
PLEASE GO TO
www.youtube.com/channel/UCCuRVZAGodT6sztTeXBGeMw
and subscribe to our YouTube channel