Compiled by Willie Bodenstein





AIRLINK TO RE-START DIRECT JOHANNESBURG - NAMPULA FLIGHTS SUPPORTING TRADE AND TOURISM BETWEEN SOUTH AFRICA AND MOZAMBIQUE and RESUME JOHANNESBURG-GEORGE FLIGHTS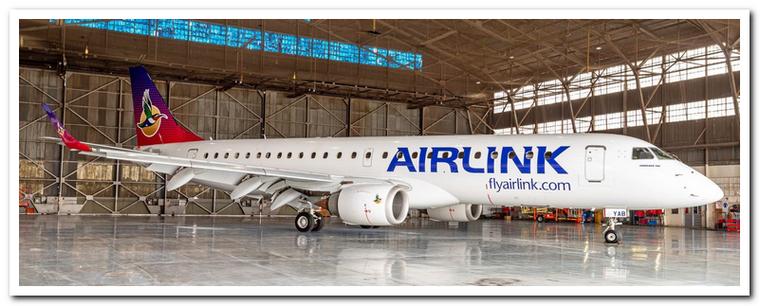 Airlink, the Southern African regional airline, will resume direct flights between Johannesburg and Nampula from 16 September 2021, reviving business and tourism travel as well as vital air cargo transport between Mozambique's northern capital and South Africa's main commercial hub.

Bookings have reopened for Airlink's twice-weekly service on the route, which was suspended in March last year, since which time it has only been possible to reach the city from South Africa via Maputo or Nairobi.
"Given Nampula's strategic importance as northern Mozambique's key commercial centre for mining, agriculture and tourism, Airlink is proud and excited to have the opportunity to support and serve businesses in this region. By providing the crucial air connectivity, we are able to play our part in promoting the development of critically important commercial, trade and economic ties between South Africa and Mozambique," said Airlink CEO and Managing Director, Rodger Foster.
Nampula is Mozambique's third largest city and the capital of the province with the same name. It is situated 194 kilometres west and inland from the port towns of Nacala and Mozambique. It boasts a number of hotels and luxury lodges in the region including the new Banyan Tree Ilha Caldeira 5-star boutique and luxury beach villas on the private island, Ilha Caldeira, just off the coast and accessible by helicopter and light aircraft. The resort is scheduled to open in July 2022.
Airlink's Johannesburg-Nampula service will be operated by modern Embraer Regional Jet aircraft and will provide travellers with seamless connectivity with Airlink flights across its comprehensive network of destinations within South Africa and throughout Southern Africa.
Airlink's great value for money Economy Class fares include a 20kg free economy class checked in luggage allowance plus a 15kg sporting equipment allowance. Onboard, customers are treated to a complimentary light meal, refreshments, generous leg room and a choice of aisle or window seat (Airlink's fleet of modern jet aircraft do not have any middle seats).
Airlink will resume air services between Johannesburg and George from 11 August.
The morning flights, which are open for sale, will operate on Monday, Wednesday, Thursday and Friday and will run this month and seasonally during December and January.
"The suspension of services on the route by two other local airlines, provides an opportunity for Airlink to offer customers travelling between Gauteng and the Garden Route, our convenient, reliable and premium service," said Airlink CEO and Managing Director, Rodger Foster.
The flights are also ideally-timed for customers travelling onward to Airlink's other business and leisure destinations in South Africa and throughout Southern Africa such as Cape Town, Windhoek, Walvis Bay, Victoria Falls, Harare, the Okavango Delta among many others.

ZAMBIA AIRWAYS TO LAUNCH ON SEPTEMBER 30TH 2021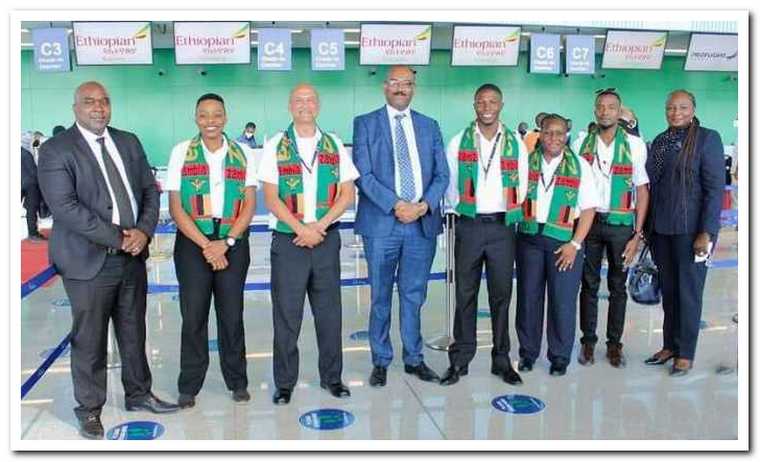 Zambia Airways has announced 30th September 2021 as the date for operationalization of the national airline. The airline with 2 Bombardier Q400's and 1 Boeing 737-800, all three aircraft on wet-lease from Ethiopian Airlines, will commence operations with domestic routes to Livingstone, Ndola and Solwezi, with regional routes to Johannesburg and Harare.


In August 2018, the Industrial Development Corporation Limited (IDC) and Ethiopian Airlines Group entered into a joint venture establishing Zambia Airways limited to operate as a national airline in Zambia and in the joint venture, IDC owns 55% while Ethiopian Airlines has 45% of the shareholding.
"Zambia Airways will take advantage of the new state of the art airport infrastructure at the new Simon Mwansa Kapwepwe International Airport in Ndola and Terminal 2, at Kenneth Kaunda International Airport to establish its base in Lusaka and contribute positively to the growth of civil aviation and tourism in Zambia." Zambia Airways Board Chairman Mr Bonaventure Mutale said.
So far, Zambia Airways has trained 25 Zambian cabin crew at the Ethiopian Aviation Academy and has recruited five Zambian flying pilots, who will be leaving for Ethiopia to receive additional training.
GREEN AFRICA AIRWAYS (NIGERIA) AIMS TO COMMENCE SERVICES ON 12 AUGUST 2021, HAVING FINALLY SECURED ITS AOC.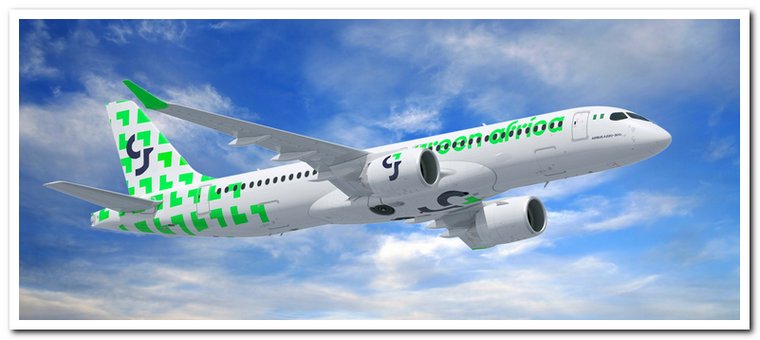 Green Africa Airways, Nigeria's Lagos-based airline, has signed a Memorandum of Understanding (MoU) for 50 A220-300 aircraft, one of the major orders to be placed globally for the A220 programme and the largest ever from the African continent.

Babawande Afolabi, Founder & CEO of Green Africa Airways said, "Together with Airbus, we are incredibly proud to announce the largest order ever for the A220 from the African continent. The Green Africa story is a story of entrepreneurial boldness, strategic foresight and an unwavering commitment to using the power of air travel to create a better future".
Airbus Chief Commercial Officer, Christian Scherer, speaking from the Singapore Airshow, added, "We are excited about the Green Africa project, its legitimate ambition and its professionalism, evidenced by their most discerning choice for their operating assets. The unique characteristics of the A220 will allow the airline to unlock destinations and route pairs that previously would have been considered non-viable. We look forward to our partnership with Green Africa and to accompany their development with the most efficient aircraft in its class".
Green Africa Airways (Nigeria) aimed to commence services on 12 August 2021, having finally secured its AOC.
The A220 is the only aircraft purpose-built for the 100-150 seat market; it delivers unbeatable fuel efficiency and widebody passenger comfort in a single-aisle aircraft. The A220 brings together state-of-the-art aerodynamics, advanced materials and Pratt & Whitney's latest-generation PW1500G geared turbofan engines to offer at least 20 percent lower fuel burn per seat compared to previous generation aircraft, along with significantly lower emissions and a reduced noise footprint. The A220 offers the performance of larger single-aisle aircraft. At the end of January 2020, the A220 had accumulated 658 orders.
SKYWEST AIRLINES ORDERS 16 NEW E175 AIRCRAFT FOR OPERATION WITH DELTA AIR LINES




S"o Josť dos Campos, Brazil, August 9, 2021 - Embraer has agreed the sale of 16 new E175 jets to SkyWest, Inc. (NASDAQ: SKYW) for operation in the Delta Air Lines (NYSE: DAL) network, adding to the 71 E175 jets SkyWest already operates for Delta. The E175 aircraft will fly exclusively with Delta under a Capacity Purchase Agreement (CPA). The value of the contract, which will be included in Embraer's third quarter backlog, is USD 798.4 million, based on list price.

The 76-seat aircraft will be delivered in Delta's livery and will have a three-class configuration. Deliveries start in mid-2022.
President and CEO of SkyWest, Chip Childs, said, "SkyWest operates more E175s than any other carrier in the world. With these aircraft, we will have nearly 240 E175s operating with airlines in North America. This month we are proud to reach two million flight hours in the E175. Our customers love the E175 and we have great confidence in and appreciate our partnership with Embraer."
Mark Neely, VP Sales and Marketing, The Americas, Embraer Commercial Aviation, said, "Our superb partnership with SkyWest continues with this new provision for Delta. The E175 is the backbone of the North American regional market and as the industry begins to emerge from the pandemic, we are seeing growing long-term demand for rightsized aircraft to deliver profitable domestic connectivity. The E175 has been a lifeline for carriers as they are perfectly suited to rebuild routes, add frequencies and add incremental capacity to meet rebounding domestic demand."
DELTA RECONNECTS CUSTOMERS ACROSS THE POND AS U.K. REOPENS TO VACCINATED TRAVELERS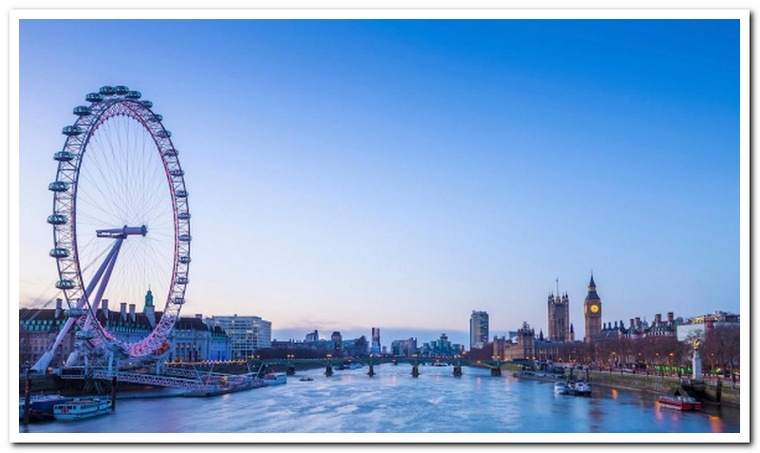 Delta is ramping up service across the pond to nearly 30 weekly flights this fall, as the global gateway between the United States and United Kingdom reopened to fully vaccinated U.S. residents without quarantine Aug. 2.

Customers can choose nonstop service to London Heathrow (LHR) via four U.S. hubs as Delta restarts three-times-weekly service from Seattle (SEA) Oct. 7 and four-times-weekly service from Detroit (DTW) Oct. 11. Additionally, New York-JFK flights will double to twice a day beginning Oct. 6. Customers can also continue flying daily from Atlanta (ATL).
With Delta's joint venture partner Virgin Atlantic, customers can also seamlessly connect to LHR with over 30 flights from Boston (BOS), Los Angeles (LAX) and Miami (MIA), as well as ATL and JFK. Today, the airlines offer a combined 43 weekly flights, operated in conjunction with KLM and Air France.
"This long-awaited reopening marks a major milestone since the borders closed to most travellers, more than a year ago," said Joe Esposito, S.V.P. - Network Planning. "We're excited to help customers reclaim their joy of travel, always keeping their health and safety our top priority amid the dynamic environment of global travel."
The U.S.-U.K. corridor is critical to international travel and commerce with 22 million people and 900,000 tons of cargo flown between the two countries in 2019.
To travel to London, customers will need to:
Provide both proof of vaccination and a negative test (PCR, LAMP or antigen) taken within three days of departure.
Take a PCR test on or before two days after arrival.
To re-enter the U.S., customers must provide proof of a negative test within three days of departure.
DELTA FLYREADY TAKES THE GUESSWORK OUT OF TESTING - WITH VACCINATION VERIFICATION COMING SOON
Delta's new digital health credential Delta FlyReadySM will help customers traveling between the U.S. and the U.K. more easily manage testing requirements and verifies results prior to arrival at the airport - saving customers valuable time and lowering the risk of denied boarding. Vaccination credentials will be integrated later this summer. Over time, the solution will limit the amount of paperwork involved in verifying a customer's Delta FlyReady status.
AEROFLOT LAUNCHES SALES OF TICKETS TO COLOMBO (SRI LANKA)




Aeroflot has opened sales of tickets for direct flights on the Moscow - Colombo route. Flights will operate from 2 September twice weekly. Flights will be operated on comfortable widebody Airbus A330-300 aircraft equipped with multimedia in-flight entertainment system.

Colombo is a major city and the de facto capital of Sri Lanka. Popular resorts located in close proximity to the city attract tourists. Colombo has a good infrastructure and many unique sights as the city's development was shaped by various cultures that dominated here throughout successive epochs. All Sri Lankan national parks are now open after a prolonged shutdown.
Russian citizens can enter the territory of Sri Lanka, having previously issued an electronic visa. Travel will require a negative test for COVID-19 in English, taken no earlier than 72 hours before departure. A repeated test must be passed upon arrival at the destination airport.
Up-to-date information on entry visa rules and restrictions for passengers of international flights can be found on Aeroflot's website.
LATAM AIRLINES GROUP MODERNIZES ITS FLEET AFTER AGREEMENT TO PURCHASE A320NEO FAMILY AIRCRAFT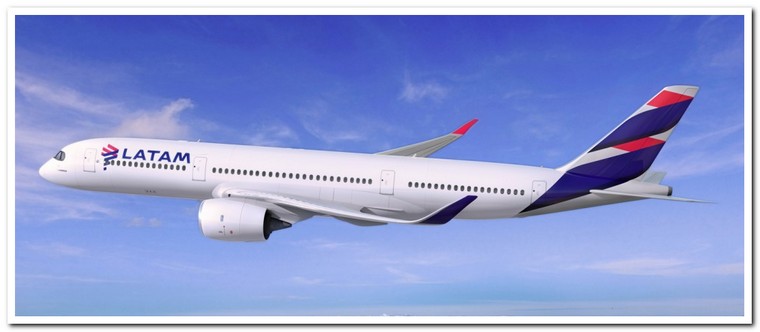 The acquisition of 28 aircraft, in addition to the 42 previously agreed upon with Airbus, reaffirms the LATAM Airlines Group's fleet as the largest in Latin America. Similarly, the group consolidates the longest range of destinations in and from Latin America and the Caribbean, hand in hand with the connectivity agreements with Delta, currently under review by the regulatory authorities.

This acquisition reinforces the sustainable growth plan, with a modern fleet leading the charge to care for the environment.
LATAM Airlines Group presented for approval before the Court in the United States an agreement with Airbus for the purchase of 28 new aircrafts, in addition to the 42 narrow body aircrafts already agreed upon, as part of the modernization and efficiency of its fleet for the coming years. This order, which totals 70 aircraft, maintains the LATAM Airlines Group's fleet as the largest in Latin America, with greater range and capacity. The integration of aircraft of the A320neo family implies more efficient engines, aerodynamic improvements and the latest technologies that provide 20% more efficiency in fuel consumption, therefore, lower CO2 emissions, together with a 50% reduction in nitrogen oxide emissions and 50% of the acoustic footprint.
With the signing of this agreement, the group aims to strengthen its operations in all its subsidiaries at the regional level with a modern fleet and maximum efficiency in environmental matters, one of the pillars of its sustainability strategy. In turn, it seeks to consolidate the longest range of destinations in and from Latin America and the Caribbean, hand in hand with the connectivity agreements with Delta, currently under review by various regulatory authorities in the countries where the group operates.
"The purchase of these highly efficient aircraft is a sign of the commitment we have made with the transformation towards a carbon neutral LATAM in 2050. At the same time, these 70 aircraft reinforce the connectivity scale of the region. We will continue working responsibly to exit Chapter 11 with a fleet that accompanies the group's new challenges," said Roberto Alvo, CEO of LATAM Airlines Group.
President of Airbus for Latin America and the Caribbean Arturo Barreira added: "The decision of LATAM Airlines Group to continue incorporating A320neo aircraft, demonstrates its great commitment to sustainability. The A320neo has the latest generation engines, sharklets and an innovative cabin, serving as the most comfortable, fuel-efficient and environmentally friendly single-aisle aircraft in the world."
SINGAPORE AIRLINES AND SCOOT AWARDED SKYTRAX 5-STAR HEALTH AND SAFETY RATING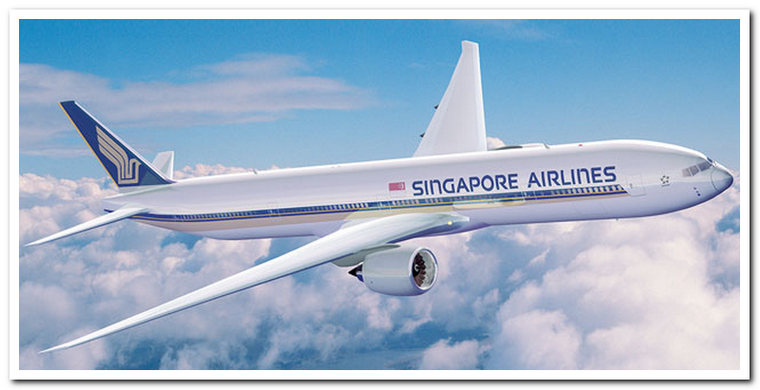 Singapore Airlines (SIA) and Scoot, the two passenger airlines within the SIA Group, have been awarded the highest 5-Star rating in the Skytrax Covid-19 Airline Safety Audit. This follows a comprehensive assessment of their health and safety measures for customers and staff across the entire travel journey. Scoot is also the first low-cost carrier in the world to get this 5-Star rating from Skytrax.

Skytrax evaluated over 190 safety and hygiene protocols at SIA and Scoot during the audit. This included cleanliness at the airport and on board flights, social distancing measures, usage of face masks and sanitisers and other hygiene improvement systems. These were then certified based on a professional and scientific investigation of the airlines' standards.
The Skytrax 5-Star Covid-19 Safety Ratings are the latest recognition of the SIA Group's industry-leading response to the Covid-19 pandemic. SIA and Scoot have implemented wide-ranging measures to enhance customer and staff health and safety and ensure the highest level of care, across the end-to-end journey. They have also introduced innovative digital solutions to enhance the travel experience, mitigate risks of Covid-19 transmission and reduce friction for customers.
Mr Lee Lik Hsin, Executive Vice President Commercial, Singapore Airlines, said: "Since the onset of the pandemic, we have reviewed and reinforced health and safety measures in more than 100 touchpoints along the travel journey. This will be an ongoing process, as our priority is to do everything possible to keep our customers and staff safe at all times.
"The 5-Star rating from Skytrax is a welcome recognition of our unwavering commitment to this goal. SIA has long been recognised for our industry-leading products and award-winning customer service. Today, world-class health and safety standards are also an integral part of our brand promise as we gradually rebuild our network and welcome customers back on board our flights."
EMIRATES' PRE-ORDER DUTY-FREE SERVICE OFF TO A FLYING START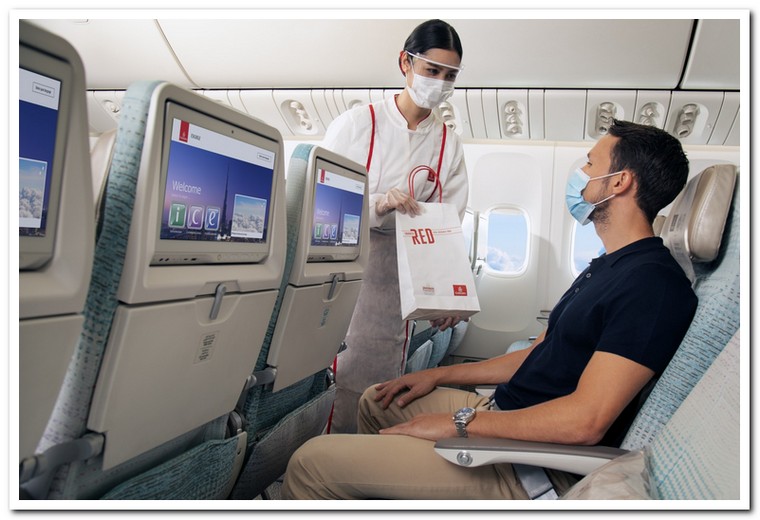 Emirates customers have been snapping up exclusive duty-free retail products from the airline's EmiratesRED duty free catalogue, but instead of doing this during their flight, they are now opting to pre-order and purchase these items before they fly.

Customers then relax and enjoy Emirates' inflight service and extensive range of entertainment content on ice, while their friendly Emirates crew deliver their pre-ordered duty-free items directly to their seat.
Since the soft launch of its pre-order service on www.emiratesred.com in July, Emirates has seen a healthy response from customers across all routes, with exclusive items such as luxury fragrances Creed Aventus and Boadicea The Victorious and ever popular items such as fine watches and the latest tech, being snapped up. New luxury products are being added regularly and all orders will be delivered in exclusive packaging, perfect for gifting.
Emirates customers can pre-order their duty-free items from 21 days up to 40 hours before flight departure. The service is currently available to customers in all classes, on all Emirates flights departing from Dubai. Emirates will progressively offer this pre-order service on flights inbound to its Dubai hub.
As a part of Emirates' ongoing strategy to enable innovative, digital solutions at all steps of the journey, customers can now place orders and pay online from the convenience of their personal device. This enables customers to secure products that may otherwise not be available in sufficient quantities on board due to high demand and also delight their loved ones with the ultimate surprise gift on board. For August, there are nearly 20 luxury products on EmiratesRED that are pre-order exclusives and not available onboard.
By dynamically managing its onboard inventory through pre-order, Emirates is able to reduce fuel burn and its carbon footprint by reducing weight on each flight. Increasing flexibility and reacting dynamically to changing operational requirements and customer preferences is vital during this time. Since relaunching EmiratesRED inflight retail on board in September 2020, Emirates has seen key inflight retail performance indicators surpass pre-pandemic levels including revenue per customer.
In the coming months, the airline will expand its pre-order product range to become the primary platform for adding travel add-ons to any Emirates flight, with even more exclusive products including special tickets to some of Dubai's main attractions, bespoke items created for Emirates and limited-edition items sourced from some of the world's leading brands and vineyards.
The technology platform powering the EmiratesRED pre-order service was developed by Bonflite, an innovative company which has emerged from Intelak, one of the UAE's most established incubator programmes for travel and aviation start-ups. Committed to supporting the UAE's vibrant start-up and entrepreneurial scene, the Emirates Group has been an innovation partner of Intelak since the programme's inception.
ETIHAD CARGO'S TONNAGE UP 20% ON PRE-COVID VOLUMES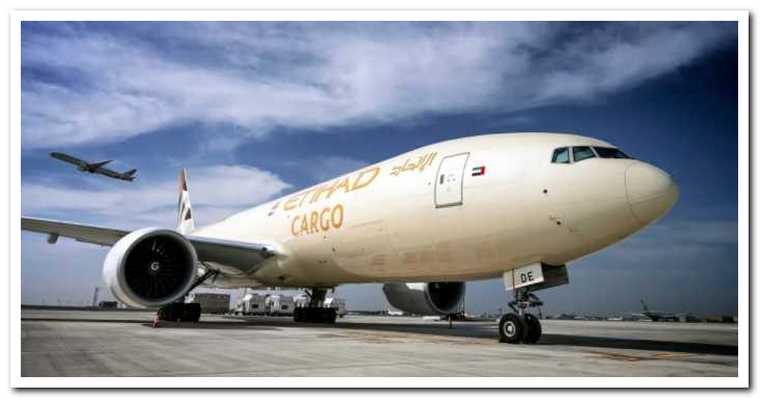 Etihad Cargo, the cargo and logistics arm of Abu Dhabi's Etihad Aviation Group, has reclaimed 90 percent of its pre-COVID destinations and recorded a 20% increase in tonnage compared to the same period in 2019.

The award-winning UAE carrier, which is looking to facilitate a global trade recovery and restore distribution confidence in international markets, currently services 72 network destinations across the Middle East, Asia, Europe, Africa and the Americas. Its active fleet of 65 aircraft operate 430 weekly rotations, in addition to charter flights which service demand across non-network destinations.
"Etihad Cargo has maintained network operations throughout the pandemic and provided appropriate capacity to cater for demand on key routes, which has resulted in a significant increase in tonnage being carried across the global network," explained Martin Drew, Senior Vice President Sales & Cargo, Etihad Aviation Group. "The commitment to expanding operations and provision of additional support to customers where there have been capacity shortages has seen Etihad Cargo carrying more on fewer routes than pre-pandemic. During the coming months, capacity growth is expected to continue, supported by the reintroduction of Etihad Airways passenger flights."
In the past month, Etihad Airways introduced flights to Malaga, Mykonos, Santorini, Phuket and Vienna, providing additional belly-hold capacity between Europe and Asia.
Charter operations and a cabin loading initiative - which saw the carrier modify five of its Boeing 777 aircraft by removing seats to provide additional capacity on key routes such as Dhaka and Ho Chi Minh City - have enabled the Abu Dhabi-based carrier to service increased Asian demand.
"Record loads have recently been achieved on a number of Asian flights, including more than 58,000 kg from Dhaka and 52,000 kg from Ho Chi Minh," added Drew. "These loads, with increased capacity enabled by cabin loading, were bound for Middle Eastern and European destinations via Etihad Cargo's Abu Dhabi hub - a clear demonstration of the carrier's determination to continue facilitating a global trade recovery."
Year-to-date, Etihad Cargo has operated over 200 charter flights to 30 destinations not serviced through its network, 20 percent of which were on behalf of the UAE Government. Since January 2021, Etihad Cargo has operated charter services to countries including Bosnia and Herzegovina, Comoros, Equatorial Guinea, Democratic Republic of Congo, Mozambique, Senegal and several others across Asia, Africa, Europe and the Americas.

PLEASE GO TO
www.youtube.com/channel/UCCuRVZAGodT6sztTeXBGeMw
and subscribe to our YouTube channel