Compiled by Willie Bodenstein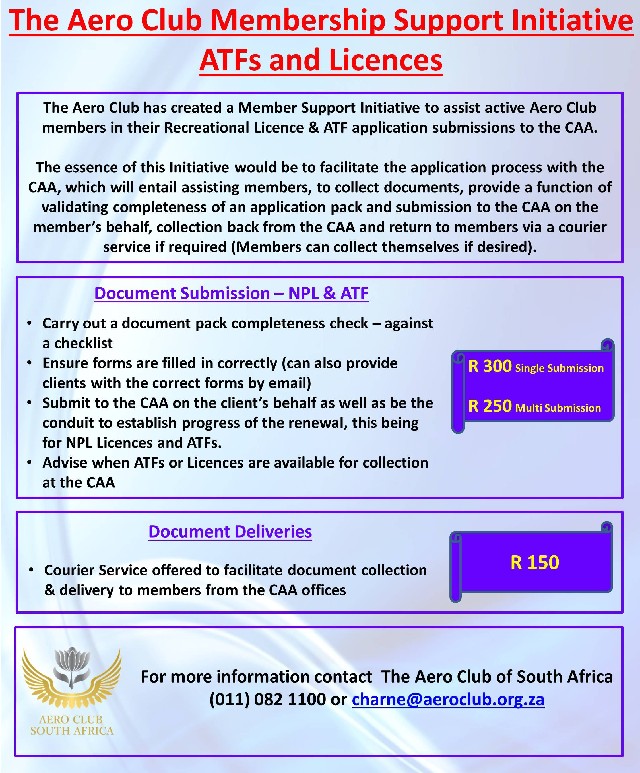 COVID 19 REGULATIONS, INITIATIVES AND AEROCLUB NEWS


OUR CENTENARY YEARBOOK IS NOW AVAILABLE TO PURCHASE FROM OUR NEW WEBSHOP

WWW.AEROCLUB.ORG.ZA/SHOP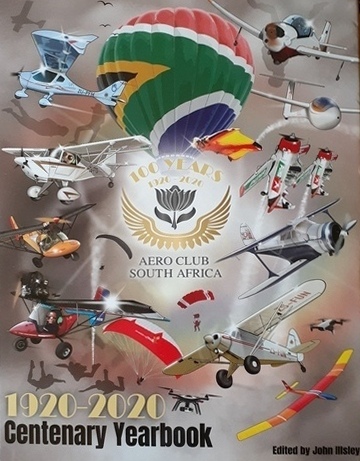 The following events will take place under the rules controlling the number of people congregating together and are therefore not open to the general public.

1 SEPTEMBER
EAA Chapter 322 virtual monthly meeting via Zoom. Contact Neil Bowden E-mail: neil1@telkomsa.net Cell: 084 674 5674

4 SEPTEMBER
Krugersdorp Fun Rally

4 SEPTEMBER
Steady Climb Fly-In at Rhino Park. Contact Dawid 073 338 5200

11 SEPTEMBER
RV Day Fly-In to Kitty Hawk. For more information Contact Dawie Pretorius Cell: 082 804 6979

17 to 19 SEPTEMBER
SAMJA Top Gun RC Jet Championships. For more information contact Dean Grobbelaar at dean@aerialconcepts.co.za

17 & 18 SEPTEMBER
EAA Silver Creek Fly-In and movie evening. Camping on the airfield. Contact Jeremy Woods Cell: 082 883 0436 or Neil Bowden Cell: 084 674 5674

23 to 26 SEPTEMBER
MISASA Africa Cup at Hotel Numbi in Hazyview. Contact Rob Mc Fie for more information Cell: 082 498 8590

24 SEPTEMBER
Peter Lawson Cup at Skydive Wonderboom.

24 & 25 SEPTEMBER
De Havilland 90th anniversary, a gathering of Tiger Moths at Queenstown Airfield. Contact Giel 082 555 4418 or Mark 082 921 2872

24 & 26 SEPTEMBER
POSTPONED TO 5 TO 7 NOVEMBER
EAA Sun 'n Fun at Brits airfield. Contact Neil Bowden E-mail: neil1@telkomsa.net Cell: 084 674 5674

24 SEPTEMBER
Heritage Day. Great Train Race, vintage cars and aircraft at Heidelberg airfield. Contact Van Zyl Schultz Cell: 082 560 2275 or E-mail: vzs@mweb.co.za








ANNOUNCING SONEX AIRCRAFT HIGH WING DESIGNS

SONEX HW





Sonex Aircraft is proud to present its newest kit aircraft design: the Sonex Aircraft High Wings. Designed for expanded utility, ease of pilot access and to appeal to the high wing enthusiast, the Sonex High Wing offers the legendary Sonex performance and handling
in a new configuration.

While many kit manufacturers today offer high wing aircraft with a backcountry mission in-mind, we are making our cantilevered wing aircraft in the Sonex tradition of sleek, efficient aerobatic and cross-country performance - The Best Performance Per Dollar!
With the Waiex-B leading Sonex Aircraft sales, it's clear that people love the looks and great handling of our Y-Tail designs, so we will offer both options for our high wing offerings. We will have both gear configurations available with both tail configurations: 4 model options available between tail and gear configuration options.
The Sonex High Wing will be capable of handling short grass strips exceptionally well, but winning a STOL competition or flying off a gravel bar is not the intended mission of the aircraft - so many other aircraft already fill that bill quite well. Instead, we wanted to bring expanded utility and ease of pilot access to the existing Sonex mission of fun everyday local flying, aerobatics and fuel-efficient & fast long cross-countries to the high wing world. All that being said, if you ever wanted to put floats, skis or big tires on a Sonex, have a go at it with our new high wing!

BEECHCRAFT DENALI MOVES CLOSER TO FIRST FLIGHT WITH SUCCESSFUL GROUND ENGINE RUNS



Textron Aviation has announced that it successfully completed initial ground engine runs on the prototype Beechcraft Denali single-engine turboprop powered by GE Aviation's new advanced Catalyst engine. The ground engine runs, which took place at Textron Aviation's west campus in Wichita, Kansas, verified the functionality of the fuel system and engine, as well as the interface with the avionics and electrical systems. The testing moves the clean-sheet design aircraft closer to its milestone first flight, which is anticipated by the end of the year.

"These successful engine runs are a significant step toward the upcoming inaugural flight for the Beechcraft Denali and they are a testament to the determination and collaboration from both the Textron Aviation and GE Aviation teams," said Chris Hearne, senior vice president, Engineering. "The Denali features a technologically advanced engine that burns less fuel. It has an intuitive avionics suite that eases pilot workload and boasts the most spacious cabin in its segment. We are excited to get this aircraft into the hands of our eager customers."
GE Aviation's Catalyst engine has completed over 2,450 hours of testing and is prepping for a first flight on its Beechcraft King Air flying test bed. The Catalyst engine is a more environmentally friendly engine that burns less fuel than older turboprop technologies. The engine can also use sustainable aviation fuel, which results in lower emissions. The 1,300-shaft horsepower (SHP)-rated turboprop engine eases pilot workload with its single-lever power and propeller control. The Full Authority Digital Engine Controlled (FADEC) engine provides trend monitoring, which allows for on-condition maintenance with no mid-life Hot Section Inspection required.
The Beechcraft Denali development program has achieved several important milestones in recent months. Earlier this summer, GE Aviation Catalyst engine was installed on the Beechcraft Denali prototype airframe and the aircraft was powered on for the first time. Two other Denali flight test articles are also in development. Three additional ground test articles will be used for the airframe static and fatigue tests and for cabin interior development and testing. The company anticipates certification for the Denali in 2023.
Technological advances
The Denali cockpit features the Garmin G3000 intuitive avionics suite featuring high-resolution screens and touchscreen controllers. An integrated Garmin autothrottle is now a standard feature, which interfaces with the Automatic Flight Control System (AFCS) and Flight Management System (FMS) to provide easy speed control throughout all regimes of flight from take-off to touchdown.
Other standard G3000 features include a 10-inch weather radar, Terrain Awareness Warning System (TAWS-B), and dual transponders with automatic dependent surveillance-broadcast (ADS-B) capabilities, which are compliant with the latest air traffic control requirements.
The aircraft is equipped with McCauley's new 105-inch diameter composite, 5-blade, constant speed propeller, which is full feathering with reversible pitch and ice protection. The propeller will undergo a series of certification tests and several are already underway.

TECNAM & ROLLS-ROYCE SHOWCASE THE FUTURE OF GENERAL AVIATION AT OSHKOSH



Tecnam and Rolls-Royce held a highly anticipated press conference at Oshkosh's EAA Media Centre to showcase P-Volt, their joint contribution to Green Aviation. Cape Air and Widerøe selected the P-Volt aircraft for its green transition path. In this modern world, full of challenges and changes, Tecnam and Rolls-Royce remain more focused on innovative solutions for the future of Green Aviation.

The P-Volt will leverage Tecnam's advanced achievements in the 11-seat category aircraft segment. Following decades of study, the P2012 Traveller has established a new global reference point within the twin engine piston marketplace. The P-Volt will be the first cargo, medical evacuation, special mission and commercial passenger aircraft to offer electric propulsion by a manufacturer, raising Tecnam's 'DREAM concept - which stands for "Durability, Reliability, Employability, Affordability & Manageability" - to a new, unrivalled level of efficiency.
During the Press Conference, Giovanni Pascale Langer, TECNAM Managing Director, announced that Cape Air is committed to the P-VOLT program. Cape Air, who is a Part 135 operator, will expand its fleet of Tecnam P2012 Travellers with P-Volt aircraft to provide Green Routes within the US. Cape Air and Wideroe, the major Norwegian Regional Airline and first European P-Volt launch customer, will share in this symbolic role towards a worldwide Green Aviation transition.
Dan Wolf, Cape Air Founder and CEO, said: "As the launch customer for the TECNAM P2012 Traveller, we are excited by the prospects of an all-electric version. In 2009, Cape Air was the first airline to adopt a strategic commitment to the environment. We look forward to taking the next step in mitigating our carbon footprint."
The Tecnam P-Volt aircraft, with its electric propulsion system completely designed by Rolls-Royce, are all engineered to deliver a sustainable solution for the commuter market. Innovative battery management and the dedicated swappable battery concept will ensure full power availability for quick turnaround times, while preserving battery life and significantly reducing the direct operational cost.
Giovanni Pascale Langer, Tecnam Managing Director: "Tecnam is proud to be part of the future of General and Commercial Aviation with partners like Rolls-Royce. Our plan is to provide solutions for a sustainable future that is possible and that is just a step ahead. Ensuring a green future for aviation is not an ambition anymore; it has become our main goal. Tecnam is committed to the P-Volt project. Starting from the baseline of our P2012 Traveller will also constitute an easier and smoother transition for all current and future P2012 Traveller operators. All-electric aircraft development is one thing; running it efficiently into commercial operation is something really different and this is what Tecnam wants to ensure."
Rob Watson, Director, Rolls-Royce Electrical, said: "We are delighted Cape Air has joined Widerøe in selecting the P-Volt aircraft to support its sustainable aviation ambitions. Rolls-Royce and Tecnam are focused on delivering this zero-emission aircraft for the commuter market. We are the leading supplier of all-electric and hybrid electric propulsion and power systems across multiple aviation markets and are committed to all our new products being compatible with net zero operations."
"Although the colour of our company is blue, the colour of the future is green," said David Copeland new Sales Director of Tecnam US. "This is why we decided to move towards the direction of pioneering sustainable flights. A zero emission, low noise multi-mission flight that will change the way we fly and we live."
Andreas Aks, Chief Strategy Officer, Widerøe, added: "We are highly excited to be offered the role as launch operator, but also humble about the challenges of putting the world's first zero emissions aircraft into service. Our mission is to have all new capabilities, processes and procedures required for a zero emissions operator, designed and approved in parallel with the aircraft being developed and certified."

OCEANIA AVIATION SELLS FIRST S-300CBI PRODUCED BY SCHWEIZER RSG

Oceania Aviation has secured the sale of what will be the first S-300CBi off Schweizer's new factory line. This is the first S-300CBi production model since the purchase of the Schweizer assets by Schweizer RSG in 2018 and a significant milestone for the Schweizer aircraft and its proven helicopter line.

Oceania Aviation, an approved distributor of Schweizer RSG aircraft, has confirmed the order of the factory-new Schweizer CBi model on behalf of Helifly. Helifly is an established client of Oceania Aviation based in NSW (Australia) and operates a significant flight training business alongside further flight operations. The client is a repeat customer for both Oceania Aviation and Schweizer, with Oceania's aircraft sales team having sold Helifly a classic 1970 S-300C in April 2014 and organized the export to Australia. Their components team has also been providing service for the 300C since the original sale. Helifly has been highly satisfied with the performance, design and safety record of the Schweizer and has subsequently chosen to replace its current 300C with a new 2021 S-300CBi model. The helicopter on order is due for completion by the end of this year.
This deal cements Oceania Aviation's strong relationship with Schweizer RSG as an approved maintenance facility and aircraft distributor. "Oceania is a valued provider for Schweizer. The relationships they forge and quality service they provide help ensure the fleet is serviced and continues to grow. We are very appreciative of their efforts in maintaining and growing the knowledge and interest of Schweizer amongst the rotor community throughout New Zealand. The purchase of the S-300CBi by Helifly is a testimonial of what an excellent alliance they have with their customers." Said David Horton, President, Schweizer RSG.
Since 2018, Schweizer RSG has demonstrated a strong focus on supporting the global fleet with comprehensive parts and service. As of 2021 the company has moved into production of new helicopters. The manufacture of Helifly's 300CBi comes shortly after Schweizer's announcement of their first 300C model, which has been built and delivered to a customer in Senegal in August 2021.

AMPAIRE DEMONSTRATES FIRST HYBRID ELECTRIC AIRCRAFT IN SCOTLAND



Ampaire, a leader in electric aviation, celebrates the first hybrid electric flights in Scotland, crossing the Pentland Firth from Kirkwall Airport (KOI) on the Orkney Isles to regional airport Wick John O'Groats Airport (WIC) in the north of mainland Scotland.


This milestone marks the first set of demonstration flights in the UK. The trials, the first to operate on a viable regional airline route, are part of the Sustainable Aviation Test Environment (SATE) project, which is being led by Highlands and Islands Airports Limited (HIAL).
Funded by UK Research and Innovation (UKRI) through the Industrial Strategy Challenge Fund, SATE is based at Kirkwall Airport in Orkney, which is also home to the UK's first operationally based low-carbon aviation test centre.
Ampaire's Electric EEL technology demonstrator, a modified six-seat Cessna 337, runs on battery power and a conventional combustion engine. The company is developing a line of hybrid electric powertrain upgrades that will reduce emissions and operating costs by as much as 25 percent initially, allowing regional airlines to better serve lifeline routes in Scotland and around the world.
Ampaire test pilot Justin Gillen commented: "The flight to Wick went without a hitch, flying at 3500 feet and 120 miles per hour. The Electric EEL is easy to fly and we've achieved a total five hours here so far."
"This is an important first step to decarbonizing Scottish regional aviation, while lowering the cost of air service," said Ampaire founder and CEO Kevin Noertker. "It's a model for what Ampaire will be able to offer regional carriers everywhere." The company sees its hybrid electric upgrades as a catalyst to zero-emission, all-electric aircraft, as battery technology advances and airport charging infrastructure matures.

BOEING UNVEILS F-15 QATAR ADVANCED JETS



Boeing [NYSE: BA], in collaboration with the U.S. Air Force and Qatar Emiri Air Force (QEAF), celebrated the naming and rollout of Qatar's advanced F-15, the F-15QA.

"The rollout of the F-15QA is momentous, not just in terms of capability but also in terms of the enhanced partnership it represents. The relationship the United States shares with Qatar is critical to the stability and security of the central command area of responsibility and we are grateful for our coalition partner's continued focus on building interoperability and combined readiness," said Lt. Gen. Greg Guillot, commander of 9th Air Force. "It is a privilege and honour to stand with our Qatari counterparts this day and every day."
The first set of F-15QA jets will ferry to Qatar later this year following the completion of pre-delivery pilot training.
"The Qatar F-15QA program further enhanced next-generation technologies in the advanced F-15 such as the fly-by-wire flight controls, an all-glass digital cockpit and contemporary sensors, radar and electronic warfare capabilities," said Prat Kumar, vice president of the F-15 program. "Driven by digital engineering and advanced manufacturing, these aircraft represent a transformational leap for the F-15. The F-15QA will enhance the superiority of the QEAF with more speed, range and payload than any fighter in the world."
Boeing has been providing maintenance and logistics support for the QEAF during pre-delivery pilot training, which began earlier this year. In addition, Boeing will establish and operate an aircrew and maintenance training centre for the QEAF at Al Udeid Air Base in Qatar through 2024 while also providing in-country spares and logistics support once aircraft are delivered.
"Boeing is proud to provide a holistic solution to our valued Qatari customer through tailored training and sustainment," said Torbjorn "Turbo" Sjogren, vice president of International Government & Defence for Boeing. "We look forward to our continued partnership with Qatar and further supporting their mission readiness needs."

LEONARDO: MERCY FLIGHT CENTRAL CONTRACTS FOR IFR-VARIANT AW119KX



Leonardo has announced that Mercy Flight Central, a medical provider located in western New York, has signed a contract for four IFR- certified AW119Kxs for EMS transport missions. Delivery of the first aircraft is expected in 2022.

These new IFR capable aircraft will allow in-flight critical care and the transport of patients within Mercy Flight's 150-mile service radius. The AW119Kx in its latest variant is the first single engine helicopter in decades to meet current IFR requirements without compromise, which will allow Mercy Flight pilots to operate the aircraft safely during low visibility and the challenging weather conditions common in this region, due to advanced avionics from Genesys Aerosystems and redundant flight systems.
The IFR-capable AW119Kx is an ideal entry point for commercial and public service operators who seek the highest level of safety and performance while operating in demanding conditions but keeping single engine economics. This combines with the AW119's unique light-twin like multiple redundancies of critical systems and cabin spaces, while delivering outstanding reliability and safety.
"We are very excited to introduce the AW119 to the communities we serve," said Jeff Bartkoski, President/CEO of Mercy Flight Central. "This aircraft will enable us to reach those in critical need with added safety and operational enhancements that will advance our care for decades of future use."
"We are incredibly pleased to continue our partnership with Mercy Flight Central," said William Hunt, Managing Director of Leonardo Helicopters U.S. "Their acquisition of an IFR-certified AW119 will greatly aid their first responders who routinely fly life-saving missions in inclement weather and will provide efficient cabin configuration for patient transport and care, enhancing the superior service they provide to their community."
The AW119Kx IFR received a first order in the US EMS market in 2020. This latest sale continues to grow the share of Leonardo helicopters in the North American EMS market, which now totals around 100 across a fleet of AW119s, AW109s, AW169s and AW139s.

BELL 360 INVICTUS BUILD MAKES SIGNIFICANT PROGRESS FOR ARMY'S FARA PROTOTYPE COMPETITION

Bell Textron Inc., a Textron Inc. (NYSE: TXT) company, has released new data on the build and testing for the Bell 360 Invictus competitive prototype. The Bell 360 program is rapidly progressing through manufacturing, assembly, components testing and systems integration work for the U.S. Army's Future Attack Reconnaissance Aircraft (FARA) program. The team has completed multiple design and risk reviews with the Army and is on schedule for all program requirements. The Bell 360, a low-risk, high-speed platform with proven technology and inherently reliable designs, will deliver soldiers transformational operational capabilities at an affordable cost.

"This team is achieving great results responding to requirements, reducing programmatic risk and delivering state-of-the-art capabilities for the Army," said Chris Gehler, vice president and program director for the Bell 360 Invictus. "We are combining Bell's unique knowledge of the demands placed on scout aircraft with engineering and technical expertise to give the Army a weapon system to dominate attack reconnaissance missions for decades to come."
Since beginning the build in late 2020, Bell has made significant progress on the Bell 360 Invictus fuselage, main rotor blades, gearbox assembly, cases and other high-value components. By implementing a design-as-built methodology that digitally connects the entire program throughout its lifecycle, Bell has increased its ability to collaborate in real-time with program partners and the army. This method accelerates decision-making among distributed teams using a common, secure data environment that creates a singular source of data for the program leading to reduced assembly, rework time and cost.
Along with assembling the Bell 360 Invictus, high-value components such as the main rotor gearbox, driveshafts and couplings are being tested at Bell's Drive Systems Test Lab (DSTL). The DSTL is used to carry out risk-reduction efforts that ensure the program has accurate and verified data to qualify components in advance of flight test.
A new FARA-specific Systems Integration Lab (SIL) is also operational at Bell. This facility allows Bell to integrate flight-critical components, software and mission systems for testing and verification as well as validation of functionality before they take flight on an actual aircraft. This approach reduces technical risk and aids in the safe, rapid and efficient execution of flight test program.
"The Bell 360 Invictus is an exciting aircraft that brings sophisticated digital systems together in a high-speed, reliable, maintainable vehicle for austere environments around the world," said Jayme Gonzalez, program manager, Bell 360 Invictus. "The Bell 360 offers the army the ability to modernize using simplified and inherently reliable designs to reduce costs and deliver enhanced effectiveness for the army."

LOCKHEED MARTIN AWARDED 5-YEAR CONTRACT TO SUPPORT INDIAN AIR FORCE'S C-130J SUPER HERCULES AIRLIFTER FLEET

Lockheed Martin (NYSE: LMT) has been awarded a $328.8 million, five-year contract from the Indian Air Force (IAF) to provide dedicated and comprehensive support for the IAF's fleet of 12 C-130J-30 Super Hercules Aircraft. Lockheed Martin is the original equipment manufacturer (OEM) of the C-130Js, which is the tactical airlifter of choice for 26 operators in 22 nations.

"As the C-130 OEM, Lockheed Martin brings forth an outstanding team of experts who offer deep knowledge and unmatched insights of the C-130 to our operators," said Rod McLean, vice president and general manager, Air Mobility & Maritime Missions, Lockheed Martin. "It is an honour to continue to partner with the Indian Air Force to support one of the most active C-130J fleets in the world. Through an integrated team and dedicated support, Lockheed Martin ensures the IAF's C-130J fleet is available and ready for every mission."
The FOS II contract includes Lockheed Martin's sustainment efforts for the IAF's entire Super Hercules fleet, as well as extended options including Lockheed Martin support for the C-130J airframe, Contractor Furnished Equipment (CFE), peculiar and common spareable items, engines, propellers, software, publication services, ground handling equipment (GHE), ground support equipment (GSE) and test equipment.
A total of eight employees representing Lockheed Martin, GE (propeller manufacturer) and Rolls-Royce (engine manufacturer) serve as on-site technical support for the duration of the contract. Additionally, through the FOS II contract, five C-130J Hercules aircraft will undergo 12-year servicing (depot maintenance) at a Lockheed Martin-approved Heavy Maintenance Centre (HMC) beginning in 2022.
The Government of India announced its purchase of six C-130J Super Hercules airlifters via a Foreign Military Sale with the U.S. Air Force in 2008. All aircraft were delivered on or ahead of schedule between 2010 and 2011. India received additional C-130Js in 2017 and in 2019.
The IAF's C-130J Super Hercules have a highly integrated and sophisticated configuration primarily designed to support India's special operations requirement. The aircraft also are equipped with air-to-air receiver refuelling capability for extended range operations. India's C-130Js are also used to support a variety of critical missions, including humanitarian aid, airlift, natural disaster support and search and rescue operations. Recently, the IAF has been extensively using its fleet of 12 Super Hercules for humanitarian efforts in the wake of the COVID-19 pandemic as well as for transportation of relief materials, equipment and personnel in the areas affected by cyclones Yaas and Tauktae.
India's connection to the C-130J goes beyond its fleet of Super Hercules with the Tata Lockheed Martin Aerostructures Limited (TLMAL) joint venture that is the single, global source of C-130J empennage assemblies included on all new Super Hercules aircraft. Located in Hyderabad, TLMAL exemplifies the Government of India's "Make in India" objectives and has delivered more than 120 empennages over its first 10 years of operations.




AUSTRALIA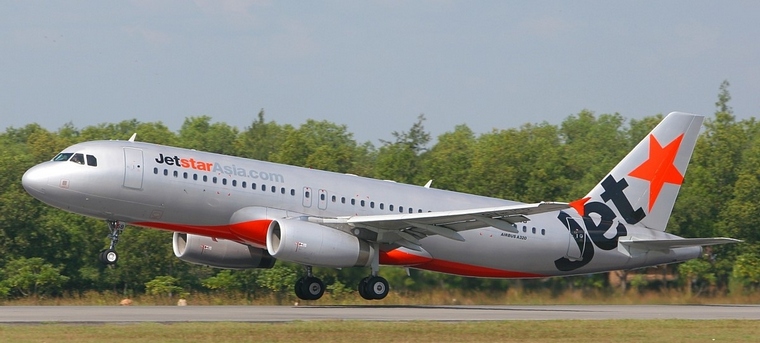 An engine power loss and rejected take-off incident involving an Airbus A320 at Brisbane Airport occurred after a screwdriver tip was left inside the engine during maintenance, an Australian Transport Safety Bureau investigation notes.
On 23 October 2020, the Jetstar Airways operated A320 was departing on a scheduled passenger flight from Brisbane to Cairns.
As power was being applied for take-off, the crew felt a vibration and heard a popping noise, which rapidly grew faster and louder. At the same time, the aircraft diverged to the right of the runway centreline despite the first officer applying full left rudder pedal.
The captain immediately selected reverse thrust and brought the aircraft to a stop.
Some of the passengers onboard the aircraft, a Brisbane tower air traffic controller and flight crew of a following aircraft reported momentarily seeing flames coming out of the right engine.
The aircraft was taxied back to the airport gate and all passengers and crew disembarked safely.
Engineers then reported finding metallic debris in the tailpipe of the aircraft's right engine. On disassembly, it was discovered the engine's high-pressure compressor had sustained significant damage. A removable screwdriver tip was found in the engine's combustion section.
The ATSB's investigation determined the screwdriver tip had been in the engine for over 100 flights.



Russia, Syktyvkar Airport: An UTair Aviation Boeing 737-524 on a scheduled passenger flight was forced to go around on approach to runway 18 at SCW due to the unauthorized presence of two individuals on the runway. The two individuals were apprehended and were found to be highly intoxicated.
USA, Capital Region International Airport, Lansing, MI: A Cirrus SF50 Vision Jet with four occupants was consumed by fire subsequent to a departure runway excursion at Capital Region International Airport (LAN/KLAN), Lansing, Michigan. ATC records show that after being cleared to take-off, the ATC advised of windshear alert, the airplane existed the runway, crashed through the airport fence and then the pilot reported that they were in the grass. A post-crash fire ensued. The four occupants and a dog were not injured.

USA, South of Fishers, IN: An experimental amateur built Acro Sport II biplane lost power and made a forced landing to roadway terrain, south of Fishers, east of Indianapolis Metro Airport, Indianapolis, Indiana. The aircraft suffered minor damage when colliding with roadside signage. The sole pilot onboard was not injured during the incident.
UK, RAF Marham, near Kings Lynn, Norfolk: A RAF Red Arrows BAe Hawk T.Mk 1A with only the pilot on board was forced into an emergency landing at RAF Marham after à bird strike during an aerobatics display. The aircraft landed safely and the pilot is fine. RAF Engineers are inspecting the aircraft and it will return to RAF Scampton once checked and cleared to do so.

Slovakia, near Mokry Háj, Trnava region: An Evektor VUT100-120IX Cobra VPR with three on board crashed under unknown circumstances near Mokry Haj, Trnava region in Slovakia. There were no survivors and the aircraft was destroyed by fire.
Russia, near Perm: A Russian Air Force Sukhoi Su-24 with two crew crashed near Perm under unknown circumstances due a training flight. Both pilots ejected safely.

Japan, Tokyo/Narita International Airport: A Cargojet Airways Boeing 767-35EER freighter with two crew suffered a tail strike incident while taking off from Narita. The tower controller noticed the tail strike on take-off and the runway was closed for one and a half hour for inspection and repair. A scar of 31 m long, 15 cm width and 1 to 2 cm depth were found and a runway centre line light was damaged. The flight continued to Vancouver, its destination. Six departure flights and another arrival delayed for 35 minutes maximum due to closure of the runway.

USA, Pacific Ocean offshore Marina Beach Park, Edmonds, WA: An experimental amateur built Van's RV-6A ditched into to the waters of the Pacific Ocean offshore Marina Beach Park, Edmonds, Washington, after an engine failure and sustaining substantial damage. The sole pilot onboard the airplane was not injured during the incident.

Australia, Essendon Airport: An Aviation Utilities Pty Ltd Eurocopter AS 350B3 Squirrel suffered severe damage when struck by an out-of-control Challenger 600 jet which was undergoing engine test runs. A possible third aircraft, a Merlin SA227-TT, may also have been damaged, but it is unconfirmed.






27 AUGUST 1910

Radio is first used to send messages between the ground and an airplane when James McCurdy both sends and receives messages from a Curtiss biplane at Sheepshead, New York, using an H. M. Horton wireless set.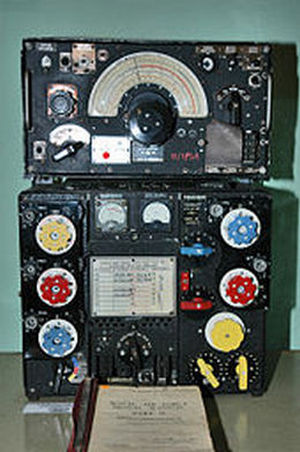 The early days of flight proved quite difficult for air-to-ground communication. Ground crews would rely on coloured paddles, hand signs and other visual aids. This was effective for ground crews, but it offered no way for pilots to communicate back. In the beginning of World War I, planes were not outfitted with radios, so soldiers used large panel cut outs to distinguish friendly forces. These cut outs could also be used as a directional device to help pilots navigate back to friendly airfields.
As technology developed, planes were able to use telegraph systems to send messages in Morse code. Telegraphs used a plunger to complete an electric circuit. When the circuit was completed, it sent out a signal as a dot or a dash. By depressing the plunger devise in a rhythmic pattern, a telegraph operator could spell out words, with each dot-dash sequence representing a corresponding letter in a word. Using this technology, planes were able to call in accurate artillery fire and act as forward observers.
In 1912 the Royal Flying Corps had begun experimenting with "wireless telegraphy" in aircraft. Lieutenant B.T James was a leading pioneer of wireless (radio) in aircraft. In the spring 1913, he had begun to experiment with radios in a B.E.2a. James brought the science of wireless in aircraft to a high state of efficiency before he was shot down and killed by anti-aircraft fire on 13 July 1915.
In April 1915, Captain J.M. Furnival was the first person to hear a voice from the ground when Major Prince said "If you can hear me now it will be the first time speech has ever been communicated to an aeroplane in flight."

PLEASE GO TO
www.youtube.com/channel/UCCuRVZAGodT6sztTeXBGeMw
and subscribe to our YouTube channel